AN OULTON PARK SCORCHER FROM BRSCC & TCR UK!
CATEGORIES:
The BRSCC and TCR UK were blessed with beautiful clear skies, sunshine and hot temperatures for their visit to Oulton Park for the latest rounds of the 2023 TCR UK Touring Car Championship. Thankfully, the racing on track was just as heated as spectators and live stream viewers were treated to a feast of top quality tin-top racing from start to finish on the Island circuit!
---
TCR UK TOURING CAR CHAMPIONSHIP
Heading into the third TCR UK race weekend of the season, championship leader Bruce Winfield had ambitions of holding on to his advantage come the end of the day at Oulton Park, and right from the outset in qualifying Bruce was able to show another superb turn of pace. A mega final sector on his best flying lap allowed him to score pole position ahead of Hyundai teammate Alex Ley, with Jac Constable, Chris Smiley and Adam Shepherd lining up right behind them.
Ley got the better jump from the start of Race 1, managing to lead the pack and initially begin to pull away in the opening couple of laps. Winfield didn't need too much time to start reeling him back in, leaving Constable to depose Smiley from 3rd place and push on to catch up to the top two. Smiley now had to contend with both Carl Boardley and Shepherd in what proved to be a race long fight for fourth place on the road, although Boardley would end the race with 15 seconds worth of time penalties for track limits which demoted him to 10th in the final result.
Relief for Winfield came when the Audis of Garry Townsend and George Heler tangled at the hairpin, and with Heler's car stranded the runyourfleet.com Jaguar safety had to be called for the clear-up. Ley was able to score a good jump on Winfield on the restart initially, but his grip levels began falling away and came under more pressure from 2nd place. Eventually, a move into the hairpin gave Winfield the pass for the lead he wanted and from here he was able to extend a gap out in front.
As Winfield charged on to become the first driver to win more than one race in TCR UK in 2023, Ley had to deal with a rapid Jac Constable, as the Audi driver applied his own pressure to Ley's Hyundai in the final minutes. Jac had to leave it late to make the pass as an error at the final corner from Ley helped Constable to outdrag and pass for 2nd on the sprint to the line. As Ley resided himself with 3rd, Smiley took 4th place in the new FL5 Honda Civic, ahead of Shepherd, Joe Marshall, Brad Hutchison, Jenson Brickley, Darelle Wilson and the penalised Boardley in 10th.
A silver lining for Boardley would be reverse top 10 pole position for Race 2, giving him a prime chance to score the win he missed out on at Croft. He kept the lead from the start to leave Wilson, Hutchison and Boardley to run three abreast into Old Hall for the first time over 2nd place with Wilson prevailing before Cascades. The safety car was quickly called, however, due to Callum Newsham's car unable to be moved to safety in time after it ground to a halt on the formation lap.
Boardley restarted well, but Wilson wasted no time in trying to chase after the CUPRA in the lead, Darelle using all of the Vauxhall Astra's available pace to try and make a challenge. The field remained status quo until a second safety car was called after Ley clipped the tyre stack at Knickerbrook and suffered broken suspension, forcing his car to pull to a stop just before Clay Hill.
A better reaction from Wilson kept him on Boardley's tail on the second restart, while behind them Marshall and Brickley came together at Hislops with the Audi ending up spun across the nose of Brickley's CUPRA. Boardley managed to find his rhythm again and didn't take too long to start pulling away again, leaving Wilson to fend off both Hutchison and Brickley behind him and hoping to do enough to keep them at bay.
In the end, Boardley finally managed to take the chequered flag for his first TCR UK win, with Wilson taking a very popular 2nd place in the aging Vauxhall Astra to everyone's delight. Brad Hutchison was equally happy with 3rd place in his Gen 1 Audi RS3, with Adam Shepherd and Bruce Winfield also scoring strong points in their Hyundais in 4th and 5th. TCR UK now gets set to make its way north of the border for its second ever visit to Knockhill in Scotland next month!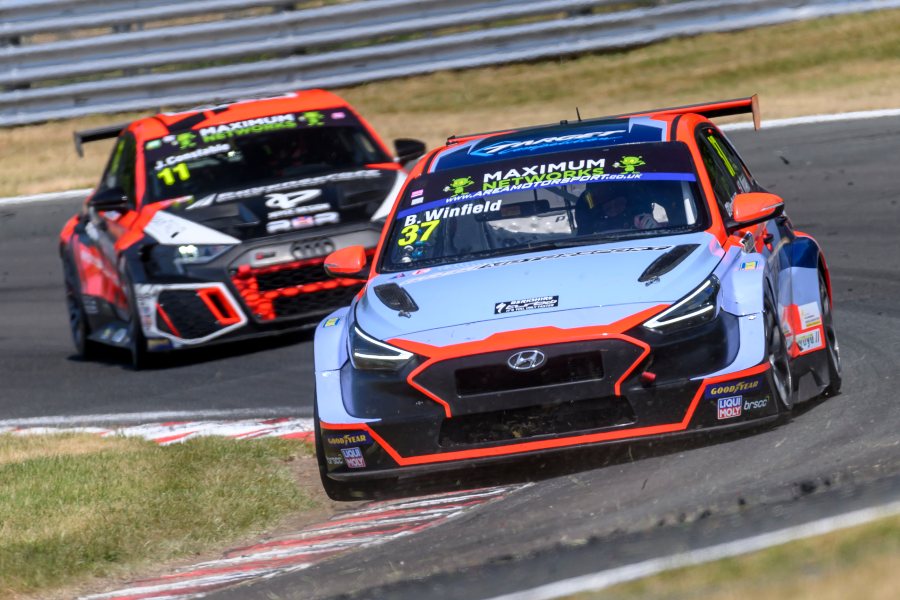 ---
MILLTEK SPORT CIVIC CUP
The Milltek Sport Civic Cup ended up providing the perfect compliment as the regular support series to TCR UK, with two very fine races in the summer sun at Oulton Park to thoroughly entertain spectators and live stream viewers alike. With three winners from the first four races and bags of potential for more to be added to the list, the stage was set for a pair of thrilling encounters in Cheshire.
Morgan Bailey made a strong start from pole in Race 1 to lead the pack into Old Hall, but just seconds into the race double winner Dan Thackeray was spun round onto the grass on corner exit and out of action straight away. This immediately brought the out safety car, ensuring the field stayed bunched at the end of the first lap. Bailey jumped well again on the restart and began to break away with Alistair Camp in 1-2 formation, while Jack Harding battled with Max Edmundson, Danny Hobson and co over the final podium place.
However, Bailey would sadly not see victory or the flag as on the approach to the Island hairpin, Jack Harding's car lost control under braking and ended up colliding rear end first into Bailey's car, forcing both out on the spot. Both both cars not running when the red flag was thrown and a result declared, it gave Camp the victory in the end ahead of Max Edmundson and Hobson on the podium followed by Ryan Bensley and Alex Kite.
By the time the second race rolled around, the sunshine had been replaced by darker skies and the threat of an oncoming rain storm. Thankfully for the second 15 minute encounter of the day it remained dry as Nick Charlier prepared to start from the top 10 reverse grid pole alongside Tommy Knight. With both Bailey and Harding out of action afte their Race 1 shunt, this opened the door for a very interesting and entertaining second race.
Charlier lept well from pole and comfortably led the early stages as Knight and David Buky began to try and reel him back towards them. A quick starting Will Redford wasted no time to get up to 3rd place before the end of Lap 2, and a sensational outside pass at Old Hall gave him 2nd at Knight's expense, allowing Will to push on and catch Charlier. It wasn't long before Redford was applying pressure for the lead.
Daring to look on the outside at Cascades, Redford got the move done into Island hairpin and moments later, Charlier ran wide exiting Kickerbrook allowing Buky to move past a couple of corners later. Meanwhile, Camp was enjoying his own antics behind them as he tried to go three wide into Lodge, forcing him to rethink his attack.
Not long afterwards, Charlier tapped Bensley sideways at Island Hairpin, allowing Camp to slip by both drivers into 3rd place whilst everyone else ended up dicing frantically for 4th place downwards. In the closing minutes, Camp was able to reel in Buky to make a potential challenge for 2nd, but before he had a chance to mount an attack the chequered flag had to be called a lap early due to circuit curfew restrictions.
This left Redford to collect his first Civic Cup win of the season at his home circuit to his and the team's delight, while Buky was also overjoyed with 2nd place at a track he also calls home too. Camp rounded off an exciting podium with 3rd place after some brilliant outside moves to complete the podium from Oulton Park.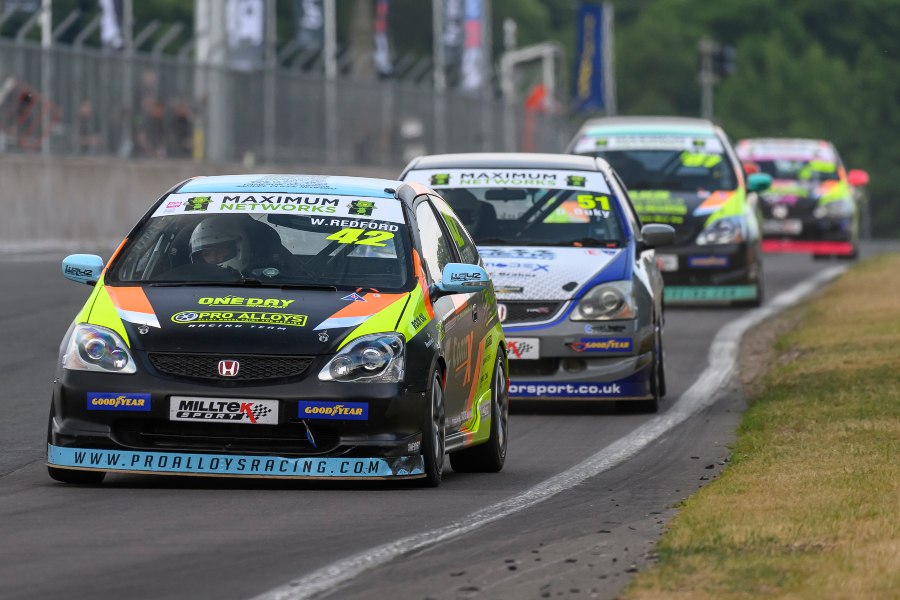 ---
BRSCC FIESTA JUNIOR CHAMPIONSHIP
The BRSCC Fiesta Junior Championship headed to Oulton Park in Cheshire with another 22-strong grid racing on the Island variant of the circuit and ready to entertain the spectators with two competitive FJC races in store. Ben Mulryan headed to Oulton as the championship leader having picked up his and the new Mk7 next-gen Fiesta Junior race car's first two race wins at Croft and hoping to build on this momentum.
In qualifying, it was Snetterton winner Luke Hilton who had rediscovered his pace after finding himself out of form at Croft, and catapulted himself back the to the front of the grid with a lap time that put him on pole by just over eight tenths of a second. Sam Neser managed 2nd fastest to take up the front row, while Mulryan's best effort put him 3rd for Race 1 ahead of Ryan Micallef and Dan Lewis.
Hilton and Neser drag raced towards Old Hall as Race 1 got underway, and it was Hilton that remained in front as the pack charged down The Avenue towards Cascades. The top four of Hilton, Neser, Mulryan and Micallef left the rest of the squabbling pack behind them as they ran away into a race of their own from the opening lap. As Hilton extended his lead, Mulryan tried everything he could to find a way past Neser, with one opportunity into Lodge resulting in Neser closing the door and being tapped sideways as a result. 
Micallef passed both heading towards Old Hall moments later to skip from 4th to 2nd and as a result, it allowed Dan Lewis to close in to make it four cars for P2 has the second half of the race ticked over. Micallef lost 2nd back to Neser and both Mulryan and Lewis also quickly slipped past to demote him back to 5th, and after another ambitious attempt from Mulryan to pass Neser for 2nd was also denied, he continued to bat away any further challenges all the way to the finish.
Hilton was unchallenged on his run to the chequered flag, clinching his second win of the season and valuable points to help him climb back up the table from 10th heading into the weekend. Neser weathered the storm to hold on to 2nd ahead of Mulryan, who was given a 5 second penalty for track limits which demoted him to 4th overall behind Dan Lewis, with Maks Solarski completing the top five. Hilton was top of the ST150s from Neser and Solarski, while Lewis topped the Mk7s from Mulryan and Ben Doughty.
Another equal launch from Hilton and Neser once again worked out in Hilton's favour exiting Old Hall as Race 2 began and as he started to run up the road once more, Neser was again holding back the tide with Micallef, Mulryan and Lewis hot on his heels. Micallef charged into 2nd at Old Hall at the end of the first lap, but was repassed at Druids further round the lap. Losing the pace back again moments later, Neser again had to absorb big pressure from the cars behind.
Racing was halted when Rashan Chigorimbo found himself off the road at Knickerbrook, allowing the marshals and recovery teams to move his car to a safer place. On the restart, Hilton held off Micallef into the first corner, but just a couple of cars back it was Mulryan in trouble after he was unfortunately tapped by both Lucas Hayden and Ben Doughty exiting Old Hall leaving him out of the race. Unable to get going, the race was halted again with the cars regrouping for a third start.
Hilton again started cleanly to remain in front with Neser going with him once more, while a fast start for Hayden helped him into 3rd ahead of Solarski and the equally rapid Ronnie Smith. The remained in status quo until the flag, as Hilton completed the double ahead of Neser in 2nd and Solarski in 3rd, who defended well to hold back the chasing pack. The overall top three also took out the ST150 podium, while Dan Lewis was top Mk7 ahead of brilliant first podium finishes for both Flame Airikkala in 2nd and Wesley Swain in 3rd.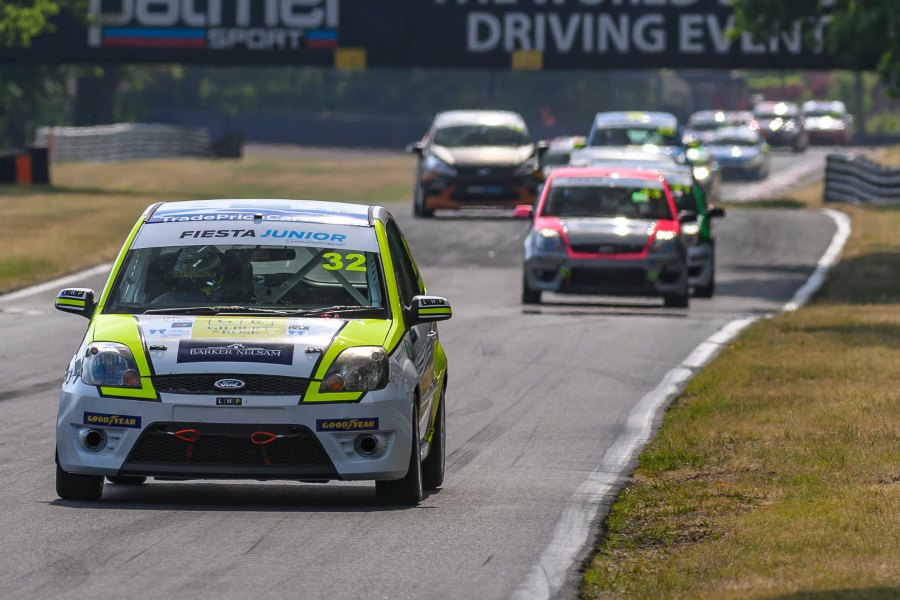 ---
AIRTEC MOTORSPORT FIESTA ST240 CHAMPIONSHIP
So far in 2023, the AIRTEC Motorsport Fiesta ST240 Championship has seen Alastair Kellett as the main man to beat with three wins from the first five races of the season. Now as the championship headed to the North West of the country and Oulton Park, Alastair and co were keen to put more solid points on the board to strengthen their campaigns further.
Qualifying saw many of the usual suspects grouped together towards the front, with just over two tenths of a second covering pole sitter Zachary Lucas, Simon Horrobin, Albert Webster and points leader Kellett. Horrobin got a great jump to take the lead into Old Hall, but seconds later Lucas and Kellett tangled on corner exit with Connor Blackburn also involved, while John Cooper and guest driver Graeme Colfer also spun in their own separate incident but both got going relatively unscathed.
The safety car was called while the cars were moved to safety, with racing getting underway again just past half distance. Horrobin's restart wasn't quick enough to shake off Joseph Knight on his tail initially but with better pace Simon was able to escape. Behind him, Albert Webster was making moves to first pass Olly Turner just after the restart, and then picked off Knight for 2nd a lap later before setting off after Horrobin.
As Webster began the chase for the lead, Matt Luff was finding a turn of pace and potentially looked as though he was preparing to shape up for a move for 3rd place and his first ST240 podium. Luff applied the pressure in the closing laps, but Knight defended well to hold the place all the way to the flag. Horrobin, meanwhile, collected his first win of the season, leading Webster home in 2nd just a couple of seconds behind and Knight successfully holding on to 3rd place. All three headed up the Pro Class podium, with Sean Reynolds collecting Club honours ahead of Barry-John McHenry and Morgan Kidd.
Another great start for Horrobin gave him the lead as Race 2 got underway, and while most of the pack made it through safety, John Cooper was unfortunately caught up with another car and ended up glancing off the barriers before The Avenue. Knight poached 2nd from Webster at Island Hairpin and Luff almost made a classy outside move stick at Hislops but to no avail. Cooper's stranded car forced an early safety car to bunch the pack together again.
Horrobin's restart couldn't quite help him escape the three young guns behind him and Knight's attempt to try and pass at Island hairpin was robustly defended, allowing Webster to take full advantage and pick up 2nd at Knight's expense. Webster immediately pushed on to try and catch and pass Horrobin out in the lead. Or at least he was on the road…
Horrobin was hit with a 10 second time penalty for starting too far forward in his grid slot during the race, which in turn would mean that Webster was in fact the net race leader. Knowing this, all Albert needed to do was hold firm for the remainder of the 20 minute encounter. The rest of the race was something of a formality, as the leaders reeled off the remaining laps and while Horrobin crossed the line first on the road, his time penalties (Simon was award a further five seconds for track limits) pushed him down to 8th in the result.
An overjoyed Albert Webster celebrated the very first win of his car racing career, having missed out during three seasons of Fiesta Junior racing but finally getting the victory he'd been searching for. Joseph Knight, a fellow FJC graduate, collected another podium with an excellent 2nd, while Matt Luff also took his first Fiesta podium with 3rd overall and in Pro class. Club class was won by Barry-John McHenry in the end, ahead of a great 2nd place for guest Graeme Colfer and Morgan Kidd picking up another podium with 3rd.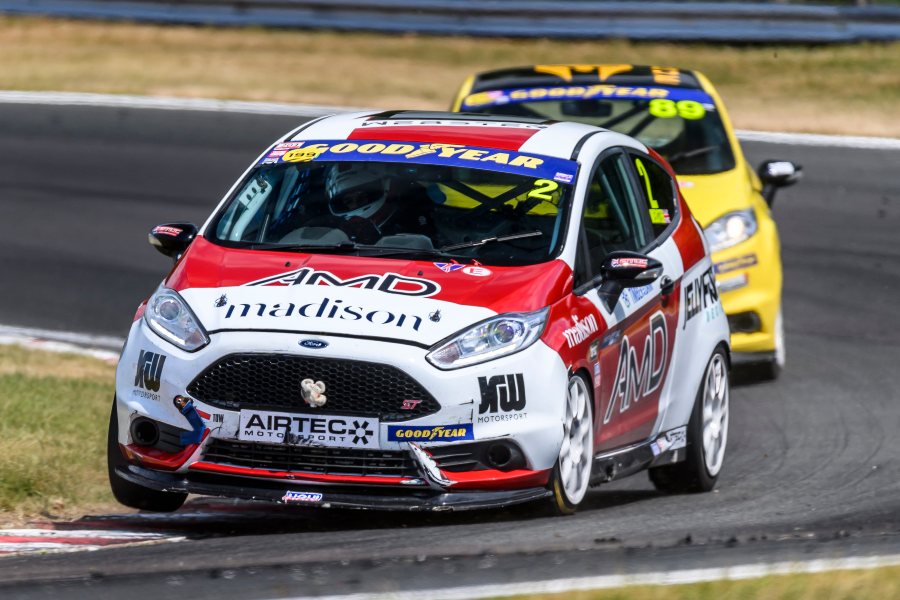 ---
VINYL DETAIL FIESTA ST150 CHALLENGE
Having begun the season at Snetterton and then moved on to Silverstone's GP circuit, there was something rather more homely about the next rounds of the Vinyl Detail Fiesta ST150 Challenge season, as they made the trips to one of their "home circuits" for the first time this year. With this championship's history of typically being more North Western based, it was great to see a healthy entry of over 20 cars on the grid for the two races in store across Saturday's timetable.
Sam Watkins started the first race from pole position ahead of Sam Beckett and Michael Blackburn, and while Watkins stole the hole shot into Old Hall for the first time, a fast start from Blackburn quickly moved him up to 2nd place. A quick few corners from Paul Dobson also saw him charge from 6th to 3rd by the Island hairpin, before steaming past Blackburn into Hislops to grab 2nd place. Meanwhile, Matthew Pimlott was also making moves early doors, only needing a couple of laps to go from 8th to 4th.
Watkins created a small gap to Dobson behind, who was doing his best to close him down with some quick lap times of his own. Heading into the final couple of minutes, Dobson was just about on Watkins' tail. On the penultimate lap, Dobson found a way past to lead, but running wide at Druids only lost him the place and put him under big pressure from Blackburn, Beckett and Robinson behind him. But it was the final lap and what happened afterwards that really changed the result.
As Watkins headed to the chequered flag, he was oblivious to the face that he was about to get a time penalty for starting too far forward in his grid spot, meaning he won on the road but lost out-post race. Then to add further drama, Dobson lost drive exiting Lodge for the final time and ended up slipping from 2nd to 7th in the end. As Blackburn had to deal with Dobson slowing right in front of him, Beckett charged past him on the sprint to the line and took what eventually turned out to be the race win, with Blackburn in 2nd and Robinson completing the top three.
Blackburn got the better jump at the start of Race 2 as he headed the pack on the opening lap, while behind him there were skirmishes involving Aiden Vickers, Jamie Lewthwaite and Thomas Ikin which sadly put all of them out of the race. At the front, Blackburn's lead was immediately under threat from the trio of Beckett, Pimlott and Dobson, with further interest coming from the quartet of Robinson, Mark Blunt, Rogers and Chris Chisnall.
The dynamic of the race changed when Blackburn was tagged sideways at Cascades on Lap 3 by Beckett, leaving Beckett down the order and Blackburn sadly forced to retire the car down at Hislops. This kicked off a sensational couple of laps with first Pimlott immediately taking the lead, but then coming under attack from Dobson at Lodge which only brought Rogers into play as well. Heading down the pit straight, Rogers managed to slot past both drivers to go from 3rd to 1st in one more and take the lead from 9th on the grid!
The racing at the front of the field was sensational with the top six putting on an almighty dice for positions for the spectators, and Rogers was able to hold the lead for a couple of laps until Dobson launched an attack inside at Cascades. Unable to pass there, the undercut exiting Island hairpin allowed Dobson the inside line to take the lead, making him the fourth different driver to head the pack. Rogers would then drop back with what appeared to be an intermittent problem and despite staying with the fight for 3rd on the last lap initially, his pace faded and Rogers limped home to 9th. Pimlott also temporarily slowed moments later, but still managed to finish 7th.
As for the race win, Dobson reeled off the final couple of laps to take his first win of the season and a hard fought one at that. Dan Robinson was very pleased to take 2nd place in a very tough contest at the head of the field, while teammate Beckett came home in 3rd to complete the podium.
Scott Woodwiss