ANGLESEY BLAZES HOT THANKS TO BRSCC WEEKEND ACTION
The heat was certainly on in more ways than one at the BRSCC's race meeting this past weekend at Anglesey in North Wales, with the hot summer temperatures only adding to the magnificent surrounding views and the excellent on-track action that was being provided by those in attendance. With a full roster of Caterham Motorsport championships, plus single-seaters and endurance racing, there was enough variety to keep all comers satisfied.
---
FUN CUP ENDURANCE CHAMPIONSHIP – UVIO GET BACK TO WINNING WAYS TWICE IN ONE DAY
If there was one team in the Fun Cup Endurance Championship that needed to get back to some good fortunes, it was defending champions UVio/ Hofmann's Lotus. Fabio Randaccio and Farquini had suffered two separate hub failures in the previous two races and lost valuable points to their rivals, so heading to Anglesey they knew that they had to turn their form around and score strong this time in the day/night double-header.
By good fortune, they were drawn onto the front row for the Saturday afternoon alongside pole sitters Axiametrics, but rather predictably it was UVio that ran off into the distance from the very start with the lead. Two safety cars appeared within the first stint, the second coming right on top of the first pit window, but despite this UVio held on through the first hour ahead of Stobart Sport in 2nd and Team Olympian in 3rd. After both Olympian hit troubles in the second hour, this promoted GCI Racing up to 2nd while Stobart managed to hold station in 3rd, with another safety car coming at the end of this hour too. Once the final SC was completed with just 20 minutes to go, UVio had 2nd to 5th right on their tail again, but they controlled the pace until the flag and got back to winning ways for the first time since Croft. MJ Tec Giti did well to score a strong result with 2nd in the end, while Team Greenheath's Friday evening pit stop practice served them well with a fine 3rd.
Later on Saturday, the cars prepared for the "into the night" race with The James Gang and Track Focused on the front row this time. Barely a lap was completed before one car went spinning on the back straight, as Track Focused initially took over and extended a lead of over 12 seconds at one stage before the first stops. They eventually relinquished the lead to a charging UVio just before 90 minutes and from here, they were simply untouchable. However, the race's intended length of 3 hours was never reached as a heavy accident on the last corner brought out the safety car and then the red flag, and due to completing more than 75% race distance, a result was eventually declared. It gave UVio their fourth win of the season and their second of the weekend, followed by Stobart Sport with 2nd and another P3 for Team Greenheath.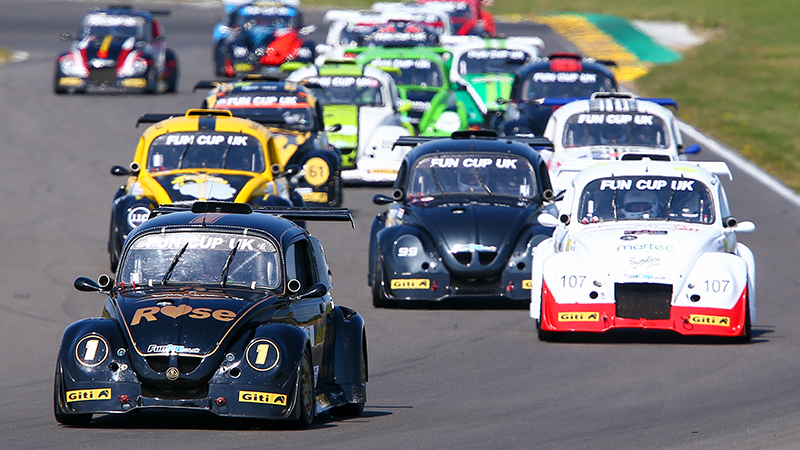 ---
CATERHAM ACADEMY – ROOKIE DRIVERS RELISH A WEEKEND'S RACING BY THE SEA
Another one of the venues they would visit for the first time in their freshman year of racing, the Caterham Academy arrived at Anglesey with two title battles perfectly poised as they prepared to do battle late on Sunday afternoon. Both Green and White groups were looking as competitive as ever, with the White Group heading out first.
Ben Timmons managed to beat pole man Matt Larbey away from the line and lead the opening corners, before Larbey took it back again just a few turns later before Lap 1 was over. It wasn't long before the top two began to break away into a race of their own and this became the theme of the race throughout the rest of the 20 minutes, leaving the rest to fight over the last podium spot. While Timmons kept pace with Larbey initially, in the end he finished more than two seconds back from Matt, who went on to capture his second win of the year. Tom McEwing battled his way up to 3rd by the flag, managing to gap the cars behind and make inroads on P2 at the same time.
Moments after they finished, it was the Green Group's turn to conduct their Welsh adventure, and Rrutuj Patki made sure to quickly convert his pole position into a lead from Ravi Patel and James Emson. Iain Hibbard and Toby Ballard would also join the fray too, but Patki could only be beaten to the timing line once all race and was kept honest by the four cars on his tail all the way to the end. Patki's winning margin was just under 0.8 seconds, with Patel and Emson ensuring their spots on the podium alongside him.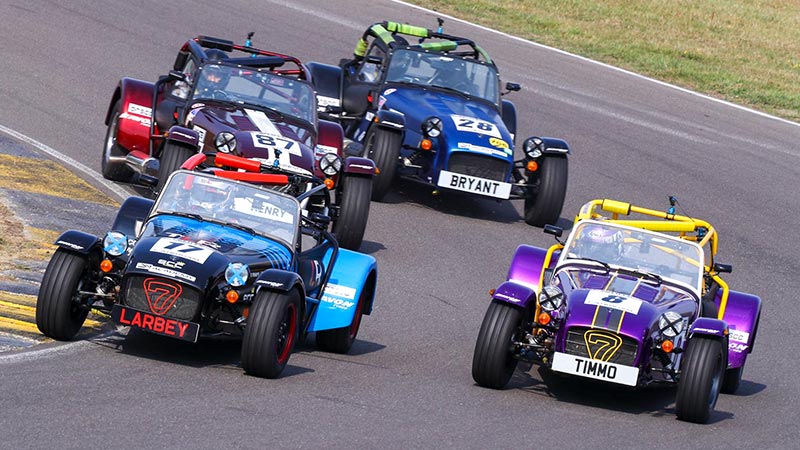 ---
CATERHAM ROADSPORT CHAMPIONSHIP – LOWER RAISES THE BAR WITH DOUBLE VICTORY
Charlie Lower's goal for his weekend of racing at Anglesey in the Caterham Roadsport Championship was to try and take as many points away from leader Geoff Newman and keep as close as possible to maintain his championship chances. As it turned out, he did more than enough and took advantage of one or two mishaps from his main rivals to score big.
Theo Theato took his first career Caterham pole in qualifying, but Lower was the one to get the better start and beat Theo to Turn 1 first. Both drivers were lucky to survive outbraking themselves at Rocket moments later with Lower still leading and Theato dropping behind Newman to 3rd, the latter immediately putting the pressure on for the lead. The race was then neutralised by the safety car when Philip Clark and Freddie Chiddicks tangled at the Hairpin, forcing Rocco Ainscough to spin in sympathy and then be collected by Ray Radford. Racing resumed with eight minutes to go, with Lower resisting an initial challenge from Newman, but eventually succumbing to the pressure on the penultimate lap. A retaliation pass on the last lap led to Newman sliding down to 5th, as Lower took victory followed by Theato in a delighted 2nd and Marc Jones making a late grab for 3rd.
Another clean start for Charlie in Race 2 gave him a small gap over Theato by the second corner, and with Newman managing to quickly move up to 3rd in the opening laps, a breakaway leading trio had formed by half distance. Newman moved to second in the closing minutes ahead of Theato and this is how the top three stayed to the end as Lower completed a crucial double victory. It will surely be game on for the championship now!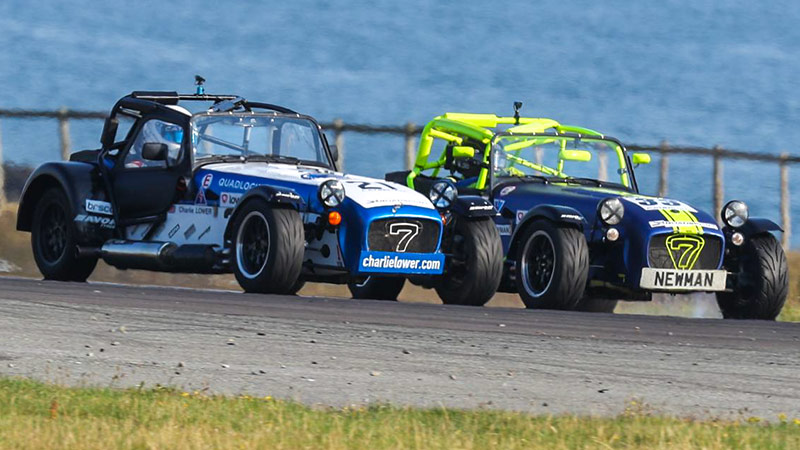 ---
CATERHAM SEVEN 270R CHAMPIONSHIP – BIANCHI BEATS THE USUAL SUSPECTS FOR FIRST WIN
At one stage this season, it was easy to forgive someone for thinking that no-one other than Taylor O'Flanagan, Hugo Bush and Domenique Mannsperger could win a race in the Caterham Seven 270R Championship this season. That was until one driver broke the chain and notch up his first victory, against the run of form.
Mannsperger was another easily convert pole into a lead at the start in Race 1, and to no-one's surprise both Bush and O'Flanagan were straight onto his tail. Intriguingly, so too was Philip Bianchi who had qualified 5th and was keeping good pace with the top three runners. While Bush took the lead at one-thirds distance, Bianchi picked off both O'Flanagan and Mannsperger in quick succession and did so in good time. Soon enough, he was on the tail of leader Bush and applied pressure for several minutes, eventually forcing Hugo to run wide onto the School straight and drafting past before Rocket. Even though Bush stayed on his tail, he mistakenly hit the brakes when changing gear on the final lap and dropped back, as Bianchi claimed an excellent first Caterham win. Mannsperger and O'Flanagan scrapped hard over the final podium place, eventually landing in O'Flanagan's lap.
Bush grabbed the lead as Race 2 began but quickly lost out to Mannsperger and O'Flanagan in quick succession. After passing Mannsperger for the lead not long after, O'Flanagan tried to get away from his pursuers but found them hanging onto his coattails through the opening minutes. It was just before half distance that his defence cracked when Bush made a pass at Rocket, only to retake the place a lap later and then drop to 3rd the lap after that when Bush and Mannsperger overtook again at the same corner. The final 12 minutes saw a constant back and forth as the lead was traded between the trio several times, but eventually O'Flanagan was in the right place when the flag fell, taking another win in 2022 with Mannsperger in P2 and Bush on the podium again in P3.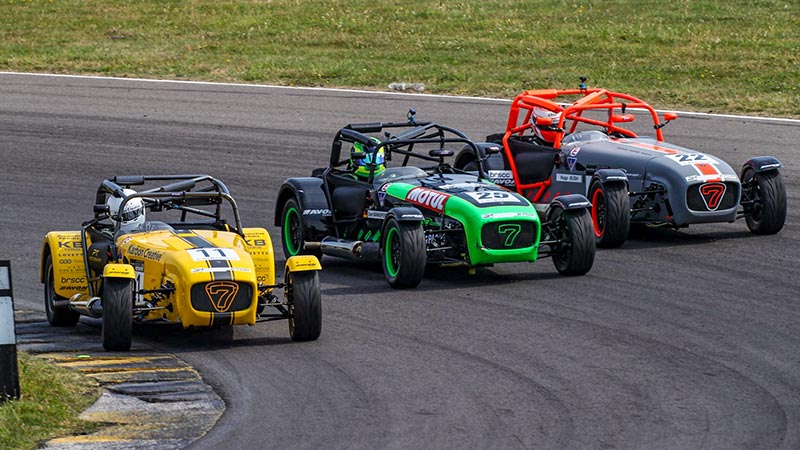 ---
CATERHAM SEVEN 310R CHAMPIONSHIP – COOK WHIPS UP A TASTY VICTORY
Competition levels in the Caterham Seven 310R Championship have been through the roof given the quality and quantity of top level drivers on the grid this season. Even so, Pete Walters was still breaking clear from the rest in the points standing, so Anglesey was a key weekend for his closest rivals to reduce the overall gap before dropped scores of 17 points.
A less than satisfactory qualifying saw Walters starting 8th for Race 1, while Harry Cook got the better of Blair McConachie off the start. Walters managed a quick getaway and leapt to 4th come the end of Lap 1 and after picking off Harry George, he set off after the top two. Cook was the next target with George following him through, and with a quarter of the race to go Walters made his move on leader McConachie and immediately tried to escape. He hadn't counted on George following suit, as he and McConachie retook the places with a melee breaking out for victory in the final couple of minutes. When the dust settled, McConachie was declared the winner ahead of George, who won the race on the road before a post-race penalty demoted him; Harry Cook took P3, while Walters lost out after running wide exiting Church.
The second race took three attempts to start, after a startline incident in the first followed by a starting lights problem in the next, the third getaway saw everyone away cleanly. George went to the end of Lap 1 followed by Cook and McConachie, although Cook was quick to push himself to the front soon after. Both George and Cook ended up taking turns to lead the way during the shortened 20-minute race, but eventually it was Cook's victory at the chequered flag followed by Jack Sales and George on the podium alongside him. Meanwhile, Walters had to settle for P6, meaning that the likes of George, Sales and McConachie clawed back big points.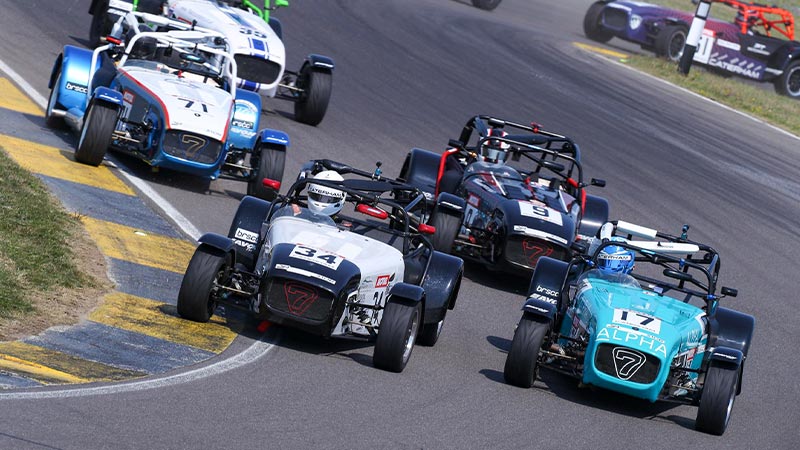 ---
CATERHAM SEVEN CHAMPIONSHIP UK – MURPHY LAYS DOWN THE LAW WITH A BRACE
The top level Caterham Seven Championship UK was starting to become something of a two horse race between Aaron Head and Henry Heaton as it headed to Anglesey, but there was one driver who chose this round to find his form and collect two race wins to further shake up the order behind them.
James Murphy started his weekend in the best possible way with fastest time in the SuperPole session to take three bonus points,and made sure to carry this speed into Race 1 where he lost out to Aaron Head and Henry Heaton. After dispatching Heaton back again at the end of Lap 1, it wasn't long before Murphy was back in front and he proceeded to defend like a champion from Head, Heaton and Lewis Thompson all the way to the chequered flag. Murphy did indeed take the win, with Head in 2nd and Thompson getting the better of Heaton in 3rd.
It was Head's turn again to lead the field beginning Race 2, but again Murphy got back in front a few moments later. A race-long tussle took palace between the pair with Heaton, Lee Bristow and Thompson making it a quintet of cars all squabbling amongst each other. The race played out much the same as Race 1 the day before, with Murphy again commanding from the front, battling hard with Head and just beating him to the line to be victorious again. Head and Heaton joined him on the podium.
Yet again, Race 3 began just as the other two had done and it appeared to be another race long fight at the front – that was until Murphy's race took a nosedive. Damaged and missing bodywork on the left front of his car forced him to pit and subsequently retire, forcing him to use this result as a dropped score. This put Head into a more comfortable position and he had enough gap to Heaton behind to run comfortably to the flag and win. Heaton's 2nd place was also a strong one, and Thompson collected his second 3rd place of the weekend too.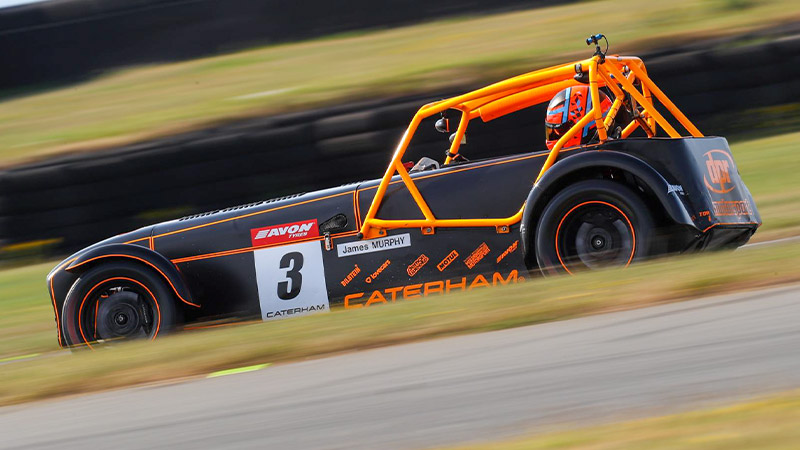 ---
AVON TYRES NORTHERN & SUPER CLASSIC FORMULA FORD CHAMPIONSHIP – SCHOFIELD AND MURPHY SPLIT SINGLE-SEATER WINS
Two months since their last points-scoring rounds here and only a few weeks removed from the amazing Moose Trophy races at Oulton Park in July, the Avon Tyres Northern & Super Classic Formula Ford Championship ventured back to Anglesey for two more rounds of the 2022 season. A healthy entry of 15 cars went to Wales with most of the main contenders in each of the Super Classic classes in attendance.
John Murphy returned to Anglesey keen to maintain his Super Classic C points lead and went about it the right way to start with by claiming pole for Race 1, ahead of Peter Daly, Garath Buckingham and Andrew Schofield. While Murphy maintained P1 from pole, Schofield was quick to move past Daly and Buckingham off the start to take up 2nd behind the leader and he ensured that he applied race-long pressure on the gearbox of Murphy's Van Diemen. After several laps of lining him up, Schofield made his move with three laps to go and secured the lead on Lap 8 and resisted any retaliations from Murphy to capture the Race 1 win in the end. Murphy, in turn, was merely two tenths behind at the flag, while Peter Daly collected the final overall podium place with 3rd, a further two seconds back.
The second race later on Sunday afternoon was a closer contest between the top three, as Murphy, Schofield and Daly were never collectively separated by more than just over a second at any one time. Schofield held the lead from pole courtesy of his Race 1 win, but Murphy's role as pursuer this time helped him make a move on Lap 6 to take over in front. From here the race order stayed the same with Murphy taking the win this time, with Schofield in 2nd and Daly again in 3rd.
Scott Woodwiss