ANOTHER BRSCC BELTER AT OULTON PARK AMIDST MIXED CONDITIONS
Even though the weather tried to revert to a typical British summer and try to make life more difficult on track, nothing could dampen the spirits of all those competing at Oulton Park this past Saturday, with a day full of racing from Mazda MX-5s, BMWs and Formula Fords to entertain the usual healthy collective of spectators, whether it was raining or sunny.
---
MOOSE TROPHY SUPER CLASSIC FORMULA FORD INVITATIONAL – GRANT DOMINATES THE DAY TO BECOME LATEST TROPHY RECIPIENT
As an addition to the BRSCC's Northern & Super Classic Formula Ford schedule, a non-championship invitational contest was arranged for the Oulton Park meeting in July with drivers racing for the Moose Trophy. A regional award created to honour Colin "Moose" Benn of the BRSCC North Western Centre community, it made its return for the first time since 2019 and appetite was strong for the event with an entry of just shy of 30 cars. Unfortunately, mechanical issues for a handful of drivers through Friday testing and Saturday practice forced them to withdraw before qualifying, but the grid was still strong heading into Race 1.
Simon Hadfield put his Lotus 51 on pole for the first encounter ahead of Samuel Harrison's Elden and Callum Grant's Merlyn, but none of them would lead the opening lap as Jordan Harrison worked his way from 4th on the grid to the head of the pack by the end of Lap 1. Grant, however, was on his toes straight away and swept past Harrison on the next lap after Jordan missed a gear. What followed was a constant game of cat and mouse as the Lola chased the Merlyn for the rest of the race, the pair never further apart by more than a couple of tenths each time. At the flag, Grant only just held on 0.096 seconds, with Chris Hodgen rounding off the overall podium in 3rd place ahead of legend Rick Morris' Royale in 4th.
With one half of the job done, Grant now had the chance to go for the Moose Trophy with another race win being enough to secure it. However, just as the race was moments away from getting started, the heavens opened and a rain-saturated circuit added an extra element of unpredictability to the encounter. The race was quickly neutralised with an early safety car for three laps, but once underway again it was more of the same from Race 1. Grant and Harrison resumed their battles for the lead and in the closing stages were also joined by a charging Morris, but late damage to Harrison's car pushed him back to 3rd in the end. As for Grant, he was left unchallenged on the last lap and wrapped up the double to successfully clinch the Moose Trophy for 2022, having driven superbly in one of the older chassis on the grid against many of the regular Northern & Super Classic drivers in cars some 10-20 years plus their junior. His efforts were also enough to see him as joint winner of the Driver of the Day award along with his father Nigel.
We received some great feedback from many of the competing drivers, including Jordan Harrison who has already declared that he'll be back for more should the Moose Trophy run again next year!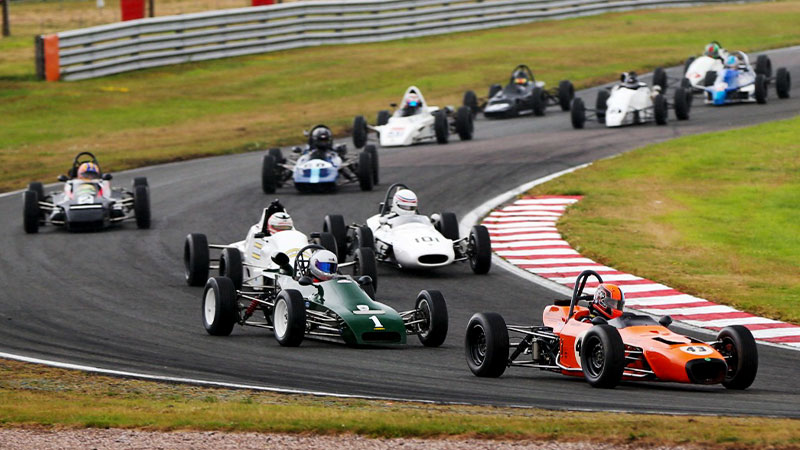 ---
BRSCC MAZDA MX-5 CHAMPIONSHIP – FENWICK AND FODEN VICTORIOUS AT A CRAZY DAY OUT IN CHESHIRE
Unquestionably the largest contingent of drivers in the paddock, the BRSCC Mazda MX-5 collective of championships rolled back into Cheshire for the first time since 2019 to write another chapter into their 2022 story. The Mazda MX-5 Championship was still being dominated by Fraser Fenwick, with his sole clear aim to maintain his healthy points lead while the rest still had some chasing to do. Qualifying at Oulton produced a surprise new pole sitter, as Adam Craig's stellar lap put him top of the times by less than a tenth ahead of Michael Knibbs, while Fenwick was only just a fraction slower in P3.
Knibbs got the better of Craig to lead the opening lap while Adam dropped to fourth behind Fenwick and Steve Foden. First Fenwick and then Foden both took their turns out in front, the latter staying in P1 through a mid-race safety car. Not long after the restart, Knibbs took the fight to Fenwick and regained 2nd place as both he and Foden held the championship leader back to 3rd and the order remained the same at the chequered flag – well, on the road at least. Despite crossing the line 1st and 2nd, both Foden and Knibbs respectively were slapped with 5-second time penalties for track limits, promoting Fenwick to another race win in the process while Foden dropped to 2nd and Knibbs down to 5th. Jason Greatrex was therefore moved up the order into the final podium place.
However, Fenwick's run of race wins was about to come to a halt when he was collected by Knibbs at the Shell Oils hairpin, and while Michael's race lasted no longer than Lap 2, Fenwick could get his car quickly straightened out in the pits and carry on. He could quickly catch the back of the brief safety car queue and would charge through from the back to an eventual 6th place, thankfully performing some successful damage limitation. As for the battle out front, the leading group looked a little different than usual. Foden led the way, with Thomas Langford ahead of Brad Jones and Courtney Milnes, with Oliver Graham also throwing himself into the mix too before dropping back. After Jones also fell away, it left Foden to claim the win with Langford holding 2nd to score his first Championship podium, while a fantastic effort from Courtney Milnes also saw her clinch 3rd and her first silverware too.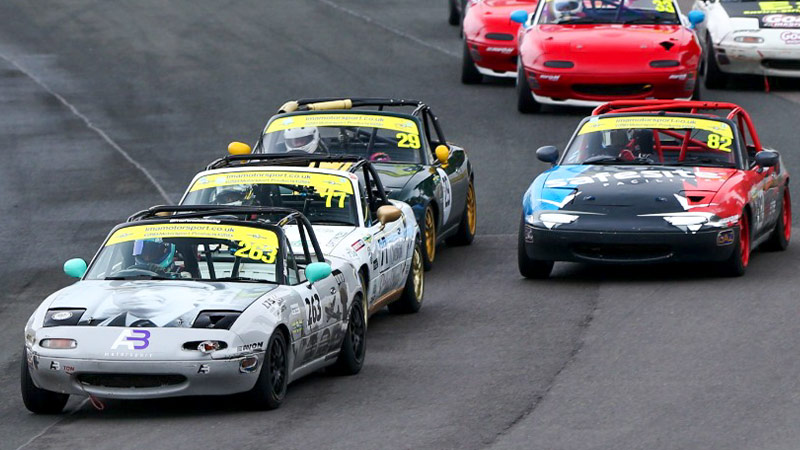 ---
BRSCC MAZDA MX-5 CLUBMAN CHAMPIONSHIP – CHISNALL AND MCDONNELL SPLIT THE POTS BETWEEN THEM
With no Matthew Fletcher present on this occasion, MX-5 Clubman Championship leader Declan McDonnell had a prime opportunity to extend his advantage even further from Oulton Park and take one step closer towards the 2022 title.
He began the task at hand from 3rd on the grid in Race 1, starting behind pole man Jon Pethick and Christopher Stapleton, with Pethick keeping the lead from the start while McDonnell slotted quickly into 2nd ahead of Kevin Bird. McDonnell's turn out front only lasted a lap too before Neil Chisnall muscled his way to the front. Incredibly, his pace was far beyond anything that anyone else could match, pulling away in front by some 2-3 seconds a lap! By the chequered flag, he was victorious by over 18 seconds from Storer in 2nd and an excellent 3rd for Jack Warry, returning to the MX-5 paddock in his first Clubman race and scoring a podium. As for McDonnell, he had to settle for 4th and finished off the podium.
Storer made sure he reminded many why he sports #1 on the side of his door at the start of Race 2, jumping straight into the lead from the start from Pethick and Warry, but Pethick wasn't content holding station in 2nd and took the lead on Lap 2. However, unlike Race 1, Pethick couldn't pull out the same kind of gap he had done in the dry as he could in the now wet conditions. McDonnell immediately set about picking off the cars in front of him, only needing four laps before passing on Lap 5. Despite Pethick remaining on his bumper for the remaining minutes, he couldn't repass and McDonnell tightened his grip on the points lead with Race 2 victory. Jack Warry also capped off another excellent first day back in Mazdas with another 3rd place.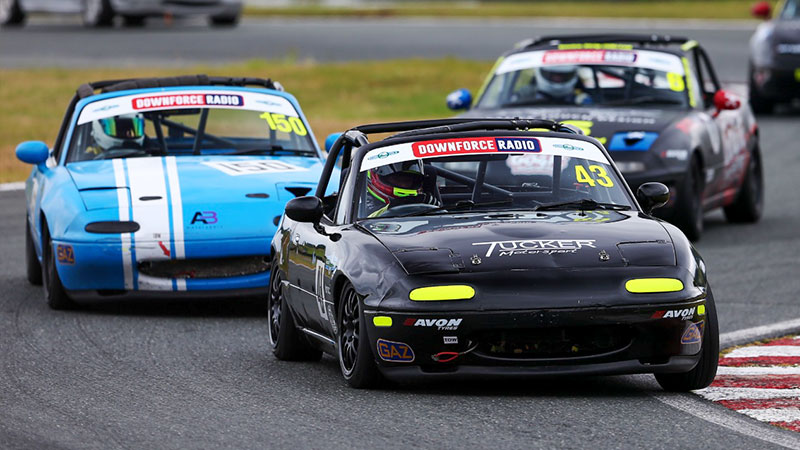 ---
BRSCC MAZDA MX-5 SUPERCUP – AMOS TAKES A HAMMER BLOW WITH DOUBLE DNF AS KNIBBS AND BLACKWELL-CHAMBERS CLINCH WINS
Championship leader Richard Amos was hoping for another day's racing within the Mazda MX-5 SuperCup that would help further solidify his current place at the top of the Pro class standings, but as he quickly found out, this was light years away from how his fortunes would actually play out over the course of the day…
Pole position went the way of Will Blackwell-Chambers, joined by Michael Knibbs on the front row for both of the day's races as both drivers went in search of their first SuperCup wins. The third place starting Amos got the best of both front row men to lead by the end of the opening lap, but it didn't take long before Richard appeared to struggle. He dropped from P1 to P5 in just three laps, before his race came to a premature end and was forced to DNF. By this time, James Cossins had moved into the lead position in the pack, but Knibbs found good pace midway through the race and soon caught and passed him. The pair duelled back and forth until the final lap when a fuel pickup issue hampered Cossins, forcing him to limp home to 7th. Knibbs crossed the line unchallenged, followed by a tight battle for 2nd which saw Blackwell-Chambers beat Patrick Fletcher by just over two tenths.
Now in the wet, Race 2 saw Blackwell-Chambers shoot into the lead from the start, much as he had done at Brands Hatch and also just it had been in Kent, he was forced to get his elbows and resist a ton of pressure from those behind him. For more of the race, WB-C had the lead under control, but deja vu kicked in when Fletcher found a way past on Lap 9. However, this time Will knew he still had plenty of chances to repass and it only took him another two laps to reclaim P1. From there, he regained control and held firm to finally take his first MX-5 SuperCup win and his first BRSCC Mazda victory since he left the Mk1 ranks. Fletcher's car perished with just two laps to go, leaving Colin Bysouth to pick up 2nd and Knibbs to claim 3rd. As for Amos, he again hit problems and suffered his second DNF in as many races mid way through.
The Club class saw a new race winner in Robert Way, as he proved to be untouchable by anyone else in his class, even the main title contenders. In both races he could not only pull a substantial gap over the rest, but also get in and amongst some of the Pro class runners in the overall order. He won both contests at a canter, while Scott Wright just beat key rival Stephen New to 2nd in Race 1 before he had to settle for 3rd behind Kevin Brent in the second race.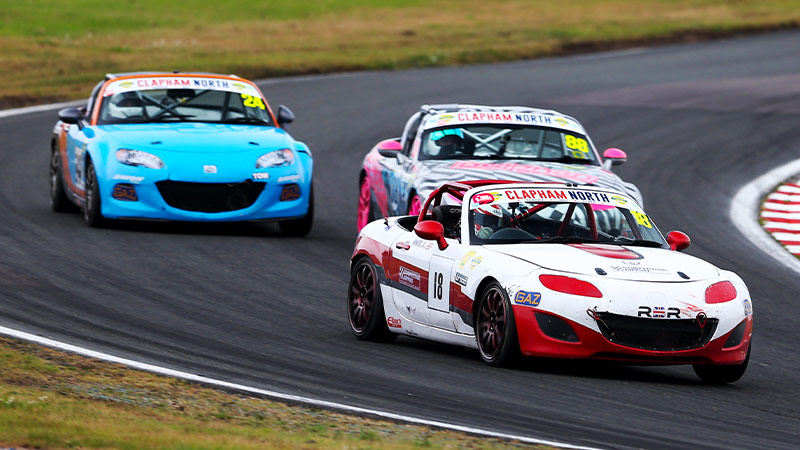 ---
NANKANG TYRE BMW COMPACT CUP – DOBLES RUN RIOT OVER THE BIMMERS IN CHESHIRE
Mikey Doble arrived at Oulton Park for the latest rounds of the Nankang Tyre BMW Compact Cup with only one aim – to turn over what had been a disappointing weekend at Anglesey the previous meeting and get back on track with his ambitions to win the title. For Mikey, nothing less than another pair of victories would do – and that's exactly what he achieved.
He had to settle for a front-row spot alongside pole sitter Ian Howes after qualifying, but straight away from the start of Race 1 Mikey was jumping into a lead that he would not lose any time soon. While Howes was left to deal with another of his main rivals in Lee Dendy-Sadler as they diced over 2nd place, Doble was pulling out a substantial gap over the rest and was quickly out of sight from everyone else. By the end of Lap 1, he was just over 3 seconds ahead and continued building until he finished over 11 seconds in the lead at the flag. Dendy-Sadler could break away into an equally unchallenged 2nd place, while Howes was eventually shuffled off the podium by Mike Doble Snr, pushing Ian down to P4 and putting two of the three Dobles on the rostrum.
From the completion of Lap 1 in Race 2, Mikey Doble could once again keep the rest of the pack at arm's length and secure his visit back to the top step of the podium, his second of the day. Howes pushed him as hard as he could and reduced the much smaller lead gap in the last few laps to just under a second at the flag, but settled for P2 while Matt Flowers took up the final podium place after a strong drive through from 8th on the grid. It now puts Mikey Jnr and Mike Snr in the top two positions in the points standings, with just 14 separating them leaving Cheshire and just three weekends still left to go.
Scott Woodwiss