BRANDS HATCH BRINGS A BRSCC BELTER TO LIFE ACROSS BOTH DAYS
With clear and bright weather complimenting the on-track action, the BRSCC's first visit to Brands Hatch in 2022 on the Indy circuit was a thoroughly pleasing affair with plenty of sensational racing provided across both days. Many championships were just beginning their seasons, while a couple more were heading out on track for the second time this year.
---
CATERHAM SEVEN CHAMPIONSHIP UK – AARON HEADS THE FIELD ON 420R RETURN
Caterham Motorsport's fine factory roster of championships enjoyed very healthy registration numbers all around for this year and this was evident at Brands Hatch with increases in entries practically across the board for the Brands Hatch opener. Top of the pile was the Caterham Seven Championship UK, searching for the third ever British Caterham Champion after John Byrne and Stephen Nuttall had both moved on. Returning former Superlight R300 champion Aaron Head's SuperPole for Race 1 ended up being for nothing after he appeared to stall on the line and struggled to getaway. It gave Henry Heaton the chance to jump into the lead and he held the advantage for the rest of the race, which ended up being flagged slightly early due to an incident at Druids. James Murphy was on his tail at the stoppage, confirming him in 2nd place ahead of Lee Bristow in 3rd on his Caterham return.
Murphy launched well to lead Race 2 on Sunday on the opening lap, but he was quickly shuffled back to 4th behind Heaton, Moore and Aaron Head, before Moore took the lead and began swapping places with Heaton over the next few laps. Several drivers ended up taking turns in the lead, landing on Aaron Head for most of the duration, although Heaton put him under pressure in the closing laps. Head resisted all attacks and just held on to beat Henry by 0.023 seconds, with Murphy rounding off the podium in 3rd. Aaron then managed a better start from pole in Race 3, proceeding to charge to a dominant 13-second winning advantage at the end followed by Heaton again in P2 and Jake Swann ending a mixed weekend on a high with a podium just three-tenths behind Henry.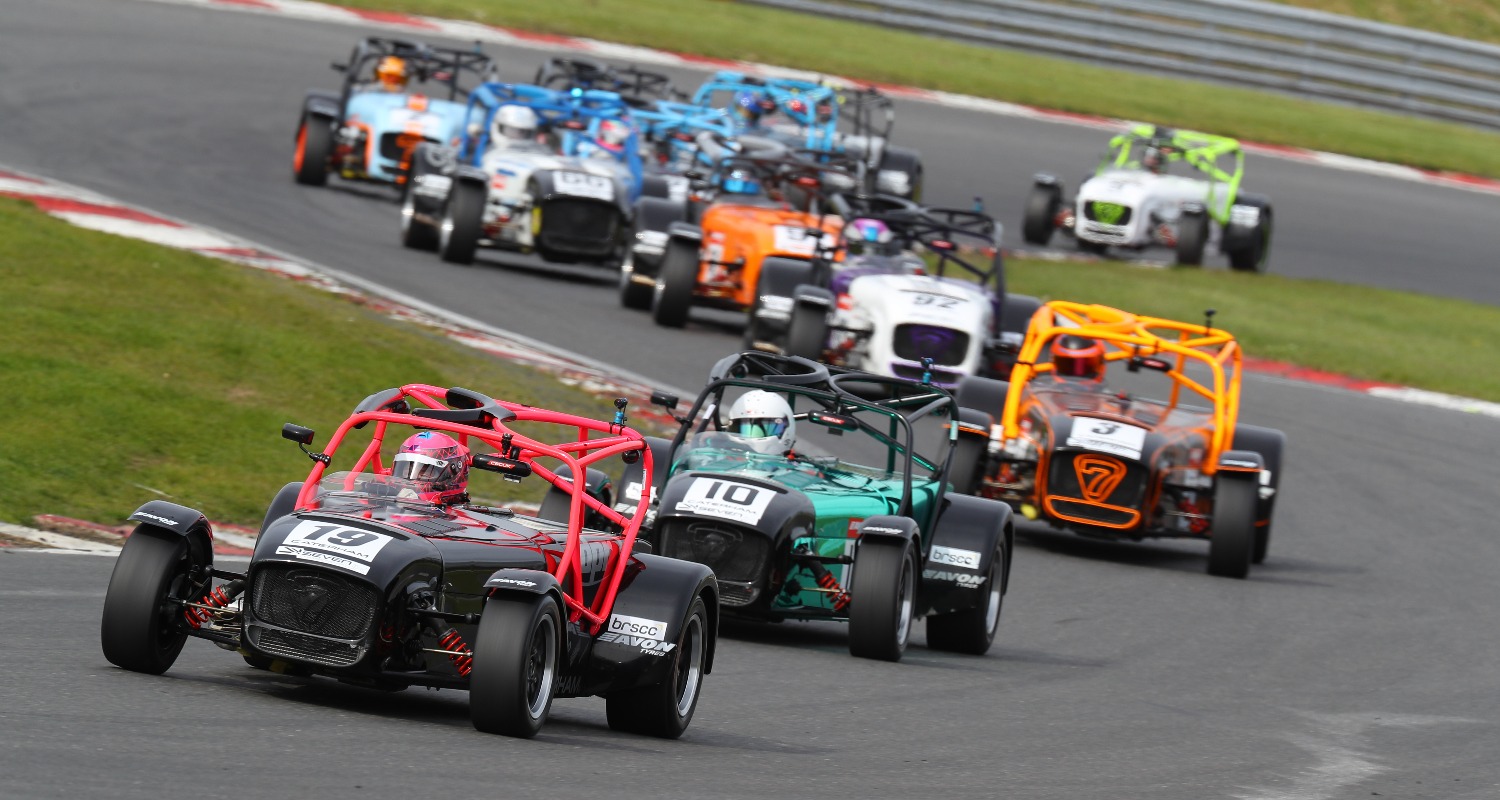 ---
CATERHAM SEVEN 310R CHAMPIONSHIP – WALTERS AND WYLLYS LAY DOWN THEIR MARKERS
Without question the biggest and best supported Caterham Motorsport championship in 2022 has to be the Seven 310R Championship where so many top drivers that have progressed up the ladder have congregated this year. With around 40 cars in total entered, the field had to be split into three groups, each racing twice against the other two. Groups A and B went first on Saturday, as title favourites Pete Walters, Blair McConachie and guest driver Tom Wyllys quickly established themselves as a leading trio ahead of the chasing pack. All three took turns to lead early on, but Walters would be the one to extend a lead over several seconds and was unstoppable in winning by 11 seconds. A frantic group of cars battling over 2nd and 3rd eventually shook out with Tom Cockerill and Alan Cooper, respectively.
Next, it was Groups A and C on track on Sunday, where Stephen Lyall grabbed the lead early doors followed by Andrew Murgatroyd and Harry George, while Wyllys looked on in 4th in the opening laps. The lead group comprised the top nine cars, which then became seven in the closing minutes and Lyall did a stellar job holding back every single attack for as long as he did, but despite creating a gap and winning on the road, a five-second penalty for exceeding track limits warnings dropped him to 8th in the result. It left Wyllys as the winner in his place, followed by David Yates in 2nd and Harry George completing the podium.
Groups B & C completed the trifecta of 310R races with Walters and Lyall quickly gapping the opposition on the opening lap, but soon enough it became a six-pack scrapping over the podium order. Both Lyall and Walters took their turns to lead along with Lars Hoffmann also holding P1 for a few laps too and the lead group even went three-wide into Paddock Hill Bend at one stage, with all three cars somehow surviving in one piece. A late safety car brought everyone back together and Lyall made a great restart with just two laps to go, but a last gasp charge on the sprint to the flag saw Walters steal the win on the line by 0.073 seconds, denying 2nd placed Lyall with Hoffmann completing the top 3.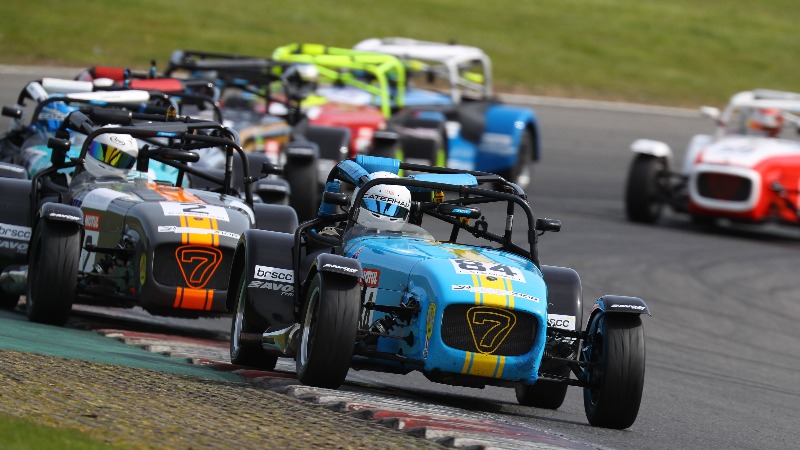 ---
CATERHAM SEVEN 270R CHAMPIONSHIP – BUSH & O'FLANAGAN SPLIT MIDDLE STEP HONOURS
There were plenty of Roadsport graduates that made the natural step forwards into the Caterham Seven 270R Championship, the middle step on the factory series ladder and with so many of the front runners from Roadsport 2021 back to compete against each other again, many predicted a battle at the front just as intense as it had been last year.
The opening laps of Race 1 late on Saturday afternoon had three familiar faces battling over the lead – Taylor O'Flanagan, Hugo Bush and Domenique Mannsperger. As they fought throughout the race, the chasing cars being got closer and closer until the top 10 were all together just after half distance. Michael Chaplin and Ben Buckley soon pushed themselves into contention and on the final lap Chaplin was all over the rear of Bush's car. On the sprint to the flag, Chaplin appeared to cross the line completely level with Bush, initially making an indistinguishable tie between both drivers. But, after the race Chaplin was disqualified on a technicality, leaving Bush to claim the win ahead of O'Flanagan and Mannsperger.
With Chaplin starting at the back thanks to his HQ, it left five cars to go at it in the opening laps for the lead as Buckley and Mannsperger initially took turns to head the pack in Race 2. O'Flanagan only needed a couple of tours of the Indy circuit to work his way into the lead, but once again both Bush and Mannsperger made it difficult for the outgoing Roadsport champion as their pursuit was relentless. By half distance, O'Flanagan had pulled out a small gap, but Bush chasing his roll cage again come the final minutes having left Mannsperger behind. That was until a spin at Paddock pushed him off the podium, leaving O'Flanagan to be victorious unchallenged, while Mannsperger just held off Buckley to remain in the runner up spot.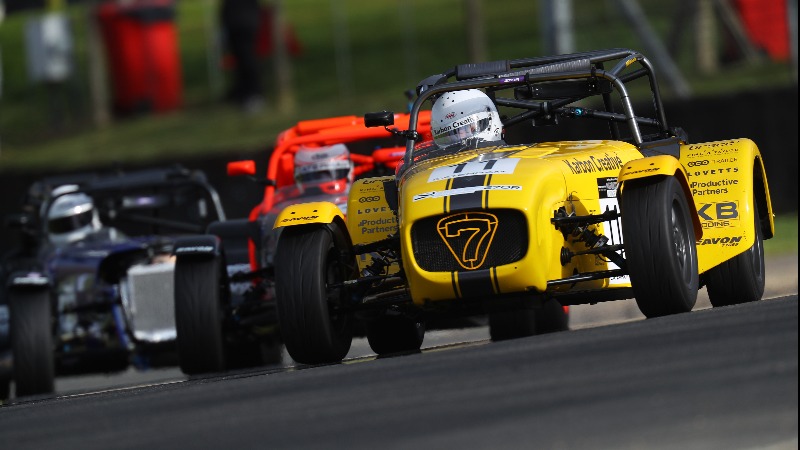 ---
CATERHAM ROADSPORT CHAMPIONSHIP – LOWER UP ON THE TOP STEP TWICE
2022 is a big year for all drivers graduating up from the Academy championships into the Caterham Roadsport series for their second year of racing. This is a season for all drivers involved to take the lessons learned from 2021 and put them into practice to develop further throughout their year as sophomores. With both of last year's champions on track against each other in points paying competition for the first time, there's always an air of anticipation.
Green Group champion Geoff Newman battled again with the man he'd stolen the title from at the final rounds, Freddie Chiddicks, through the first few laps, the pair switching places on more than one occasion, while behind them a number of drivers were involved in incidents further back in the pack. All of this saw the safety car called, but as it headed on track on the Cooper straight, William James misjudged the cars in front braking to slow down and hit the back of Newman's car as a result, damaging his front end. Eventually, the race was red flagged to clear the stricken cars, and on the restart the safety car was thrown again just moments in for more cars off at Paddock Hill Bend. When racing did restart again until the end, Newman managed to hold the lead but came under late pressure again from Lower, but even so he was unshaken as he took victory – on the road, at least. A 10 second penalty for a false start pushed Newman down to 9th in the result, giving Lower the win ahead of William James and Paul Woodman, who was delighted with his first podium finish.
A four-car incident at Paddock at the start of Race 2 forced another early red flag to restart proceedings, but Lower made the most of pole to head Woodman at the second getaway, but Woodman would be pushed down the order after a late braking William James made contact with him at Druids, lightly damaging both cars. Meanwhile, Lower was a cut above everyone else this time, keeping Chiddicks and Benja Hedley at arm's length to comfortably clinch the win – two victories that kicks off his 2022 season perfectly.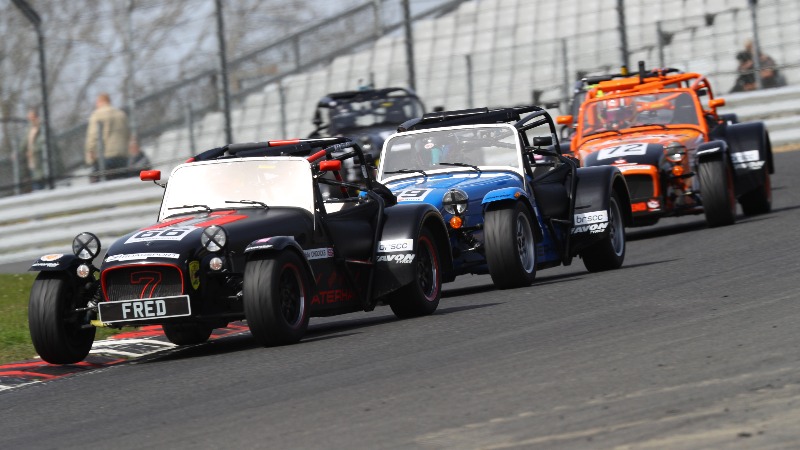 ---
AIRTEC MOTORSPORT FIESTA CHAMPIONSHIP – SIMON SAYS IT'S HORROBIN'S OPENING WEEKEND
With a new title sponsor and a pumped up grid thanks to an influx of new turbo cars, the AIRTEC Motorsport Fiesta Championship looked in great shape heading to its opening rounds at Brands Hatch. Last year's Fiesta Junior champion Jenson Brickley seriously impressed many people with pole position in qualifying first time out in the ST240 class, although the lead would in fact go straight away to 3rd place starting Simon Horrobin. He quickly worked his way to the front on the opening lap and initially fended off attention from Alastair Kellett in the first few tours, before Brickley worked his way back into the fight to make it three cars for the lead. Despite both Kellett and Brickley taking turns to put pressure on, Horrobin absorbed it all to clinch the season opening race, the top three covered by not much more than half a second. Zachary Lucas also impressed by driving from the back of the ST240 class grid to 4th overall, while Nick Moore captured the win in the ST150 class ahead of Joseph Knight and Thomas Davis.
A day later, Horrobin again managed to get a great start and head the field, but an early safety car was called after an incident exiting Paddock involving Kellett and Smith among others. After two laps of safety car running, Horrobin tried to rebuild his lead again, but Brickley made sure he had no time to relax at all. For almost the entire race, Jenson kept up a relentless pursuit of Horrobin around the Indy circuit, but despite pushing as hard as he dared, the wily and experienced Horrobin had enough in the tank to keep him at bay and complete a brace of wins on the opening weekend. An excellent drive from John Cooper put him 3rd at the flag, while Moore was again top ST150 in this race followed by Davis and Matt Chambers.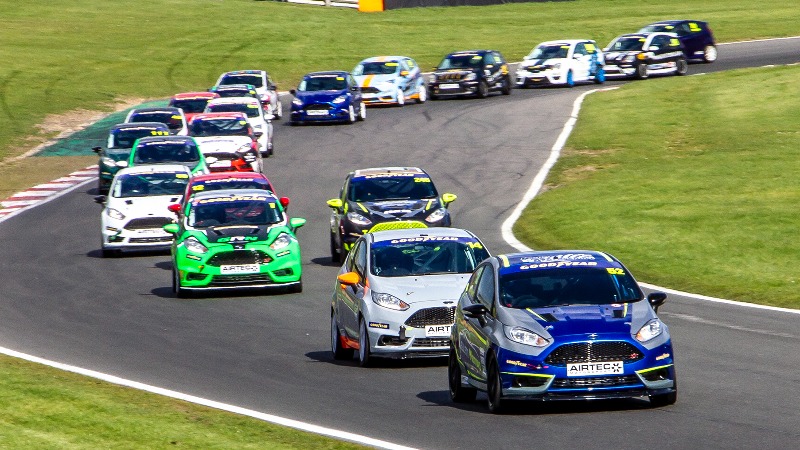 ---
BRSCC FIESTA JUNIOR CHAMPIONSHIP – NEW CARS JOIN THE FUN AS SMITH AND LEE TAKE THE SPOILS
Many people were highly anticipating what was to come from this year's BRSCC Fiesta Junior Championship, especially the impact the brand new next-gen Mk7 Fiesta race cars were going to have on their competitive debut. Both Harry England and Aaron Walker looked in good form in the new cars and will certainly be helping to encourage others to take steps to build and race their own.
At the head of the field. 2021 star Deagen Fairclough marked his return straight away with a pair of pole positions in qualifying, but come Race 1 his fortunes took a severe nosedive. Neither he or Albert Webster wanted to concede the first corner at Paddock Hill, leaving both tracking through the gravel and Fairclough's car beginning to leak fluid. This in turn meant the other cars had to tackle a very tricky Graham Hill Bend a few corners round, which caught several drivers out in a slightly frantic opening race. At the head of the field, Sid Smith jumped into a lead he would never lose, driving away with ease to collect his first on-track FJC win by 13 seconds from new boy Thomas Jack Lee and Jake Maynard joining him on the podium.
The second race was a little calmer later that afternoon, with Fairclough enjoying a better start at the head of the field to lead the opening lap. Smith made it through on Lap 2 and lead a four car group also featuring Lee and Maynard. Midway through, Lee took his turn at the head of the pack and then Maynard did so too before losing out on the final lap as Lee stole it back to claim his first FJC win on his debut weekend. Sid Smith still managed 2nd place despite a five second penalty, while Fairclough was pleased to claim a 3rd place to brighten up his weekend too. As for the new Mk7 cars, Harry England managed a very strong 6th place overall ahead of Walker in 8th, before Aaron took his turn with a class win with 8th overall ahead of England's 11th.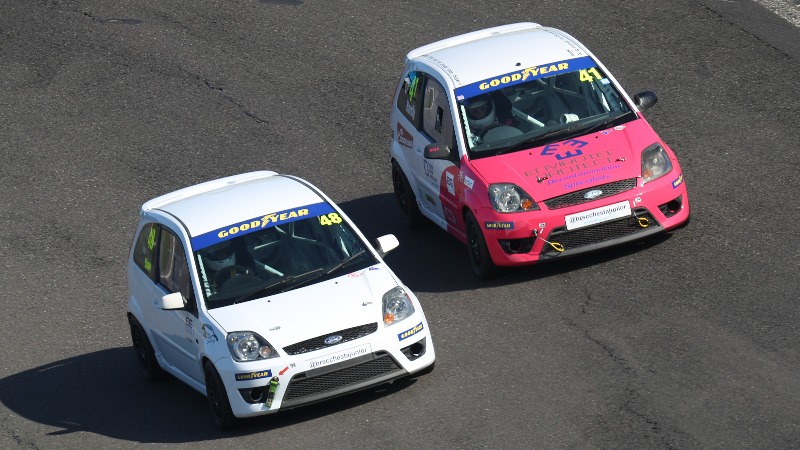 ---
NANKANG TYRE BMW COMPACT CUP – DOBLE AT THE DOUBLE
The first BMW Compact Cup season for a while to begin without five time champion Steven Dailly began at Brands Hatch with the title now vacant for a brand new driver to take up the mantle. With plenty of capable drivers ready to gun for the crown, the early contenders began to mark themselves out in the opening rounds.
Mikey Doble wasted no time in setting his stall out early by claiming pole position for Race 1, but he initially lost the lead to former Fiesta racer Lee Dendy-Sadler off the front row. Lee's advantage only lasted the opening three laps before Doble took it back again on Lap 4, as he managed to keep both Dendy-Sadler and Guy Davis at bay by less than a second collectively as the laps ticked on. The three cars were undoubtedly the class of the field and they continued circulating on their own out in front with Doble holding them both back to the flag, opening his 2022 account with victory in Race 1.
For the second race, it was Ian Howes that got the best launch of them all to muscle his way through to the lead while Doble got shuffled back to 5th behind Rudi Macmillan, Matt Flowers and Gordon Macmillan. Mikey was quick to work his way through back to 2nd place by the time the safety car was called after Rudi retired on Lap `10, putting him right on Howes' tail for the restart. Ian's lead only lasted another lap as Doble finally broke his way through back to the lead on lap 14 and drove on to complete a double victory from Brands Hatch. As for Howes, he agonizingly dropped off the podium initially in the final laps, losing out to Dendy-Sadler and Ian Jones on the road before Jones found himself disqualified, promoting Howes back onto the rostrum in 3rd.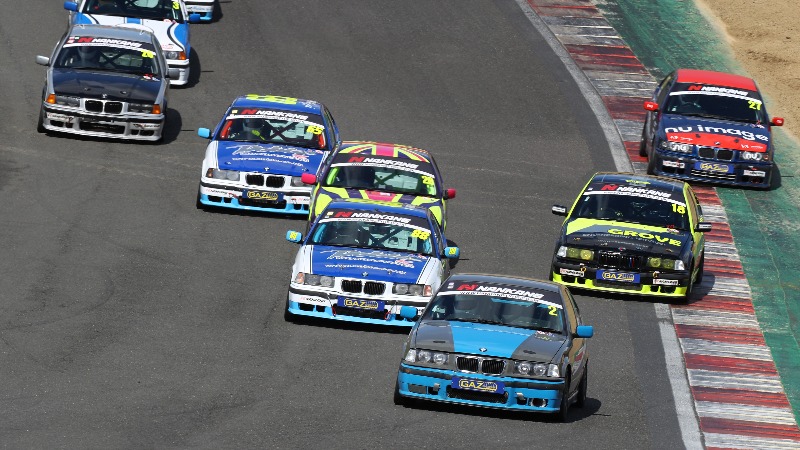 ---
MODIFIED FORD SERIES – COCKELL ENJOYS A WEEKEND AT THE INDYS
Off the back of their incredible entry for their first races of 2022 back at Silverstone, the Modified Ford Series were out in force again at Brands Hatch with another strong and varied entry. So much so, that it had to be split into three groups like other series competing over the weekend, meaning each competitor got two races, one against each of the other two groups. As per usual, there was the excellent selection of Ford Escorts, Fiestas, Sierras, Pumas and more on display in this magnificent series.
First out was Groups A and B and the car everyone had to chase was undoubtedly the fearsome Escort Cosworth of Dave Cockell, known for boasting sensational power numbers and lightning acceleration. His pole for his first race was of little surprise to many, and on the short 1.3 mile confines of the Indy circuit he was in blistering fashion as he drove superbly to a cool and calm lights to flag win by over three seconds. Double Silverstone winner Malcolm Harding performed just as well here with 2nd place overall, although he just held off the rapid Dan Minton aboard his own Escort Mk2, who settled in the end for 3rd place.
Groups A and C headed out next on Sunday and Cockell was back in action once more, picking up exactly where he'd left off on Saturday and putting in another commanding performance, even more so than he had done the day before. Crossing the line to take the flag, Cockell's silver Escort Cosworth took him to his second win with an 11 second margin back to Neil Jessop's Escort Mk2 Zakspeed and Rod Birley's own Escort Cosworth WRC rounding off the rostrum.
All that was left was for Groups B and C to go head to head later on Sunday. Gadd and Jessop took to the front row, and the pair would be split by the end of the opening tour by Harding's Mk2 in 2nd place. A lap later, Harding was again in the lead but it only lasted for a while before Jessop was back in front by Lap 5. From here, Harding tried to pull away but Gadd had other ideas and continued to harass the Mk2 with his Mk1 RSR. Lap 11 saw Gadd make it past and although Harding dropped back initially through the traffic, by the final lap he was back on Jack's tail. With one last push, Harding found a way past and just pipped Gadd to the flag by a quarter of a second to round off a sensational weekend's racing for the Fords. Jessop managed to recover well from dropping back to pick up 3rd place.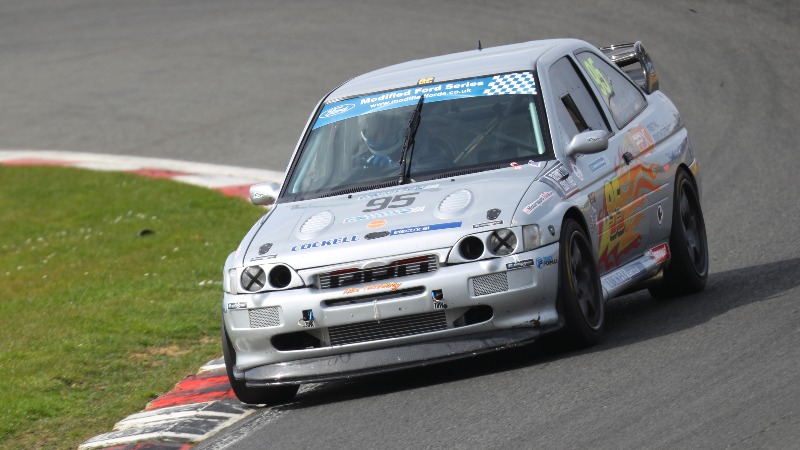 ---
TRACK ATTACK RACE CLUB – BMW POWER REIGNS AS SHEAD WINS BOTH RACES
Sunday also saw some excellent multi-car, multi class racing from the Track Attack Race Club, which had a great mix of French, German and Japanese cars all battling it out on circuit together at the same time. Race 1 saw the rapid little Renault 5 GT Turbo of David Clark take pole position, but it was the BMW Compact of David Shead that would lead the field from the start and hold on until the race was red flagged and declared a result, thanks to a Peugeot 206 GTi gently rolling over in the gravel. Shead won overall from the Classic VW Cup entrant of Chris Adams in his VW Golf GTi and Clark's Renault 5 GT Turbo.
Race 2 would be very much more of the same as Shead held P1 from the start from pole and was never headed despite constant attention from Clark's Renault, the two cars appearing to be surprisingly evenly matched on the short Indy circuit, but in the end nothing could shake Shead from the lead, staying there once again until the chequered flag to make it two out of two for the day. Clark and Adams were also on the podium once more, albeit in reversed positions from Race 1 with Clark 2nd this time and Adams in 3rd.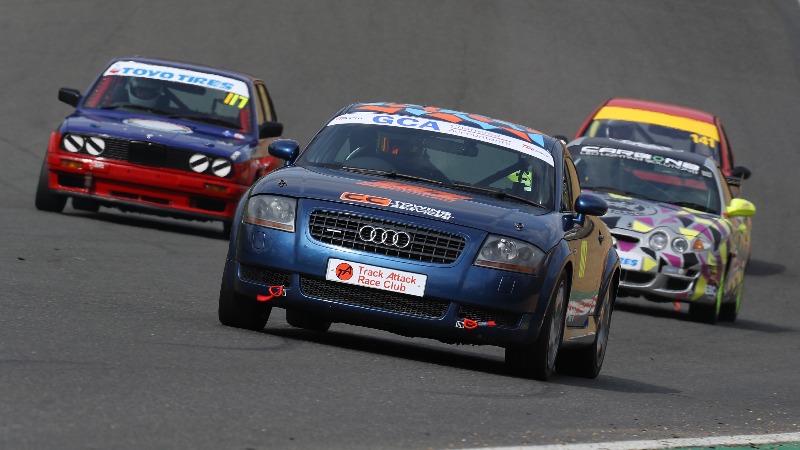 Scott Woodwiss
---