BRITISH GT READY FOR ANOTHER #DONINGTONDECIDER TO CROWN 2023 CHAMPIONS
CATEGORIES:
Intelligent Money British GT champions will once again be crowned at the #DoningtonDecider this Sunday when James Cottingham goes head-to-head with Darren Leung and Dan Harper for the GT3 crown, and Jack Brown and Charles Clark lead a six-way GT4 title fight.
Kevin Tse and Chris Froggatt start as marginal GT3 Silver-Am favourites, while Michael Johnston and Chris Salkeld already have one hand on GT4's Pro-Am trophy.
Separating them all from this year's silverware is a two-hour race traditionally steeped in unpredictability. 12 months ago it was Ian Loggie who almost stole championship defeat from the jaws of victory by spinning on the opening lap, while countless other contenders – and often points leaders – have seen their dreams dashed at the final hurdle.
Cottingham and Brown/Clark would naturally like to avoid such pitfalls. Certainly, both start with odds stacked in their favours following events at Brands Hatch last time out.
A mixture of late-season withdrawals and fresh additions has resulted in a 34-strong entry across the two classes. New names include former British GT drivers turned TV stars Ben Collins and Abbie Eaton – of Top Gear and The Grand Tour fame, respectively – as well as 2022 BTCC champion Tom Ingram who makes his British GT bow.
The event is best enjoyed trackside. But qualifying and the race are also live on SRO's GT World YouTube channel for those who can't make it to Donington this Saturday and Sunday, while Sky Sports F1 is also showing the championship showdown live.
---
GT3: CAN CENTURY CASH IN ON ADAM'S ABSENCE?



Jonny Adam's long-standing European Le Mans Series commitment has added an extra dimension to this year's title showdown between 2 Seas and Century whose respective #4 Mercedes-AMG and BMW start 13 points apart.
Mr British GT has already won four GT3 titles but missed out on a fifth back in 2013 due to a quirk of the regulations. Now he's likely to be the bridesmaid once again at the end of a season in which Cottingham has arguably become the championship's standout amateur thanks to the Scot's guidance.
How he now performs in Adam's absence could decide the fate of this year's drivers' crown.
Mercedes-AMG have underlined their commitment to 2 Seas' cause by making factory driver Philip Ellis available for the finale. The Swiss ace knows the car inside out and is no stranger to a Pro-Am environment but has never raced at Donington nor in British GT.
Century will be hoping those factors can play into its hands.
Leung and Harper certainly need some help if they're to overcome 20 seconds of Compensation Time accrued for winning at Brands Hatch, as well as their 13-point deficit. Cottingham has 10 extra seconds during his pitstop, so the difference is more manageable, but Leung's qualifying performance and opening stint will play a critical role in fully overcoming it.
Needless to say the BMW's crew must come home ahead of the Mercedes-AMG, and fifth at worst, to have any chance of winning the championship. Should it finish first – something no GT3 entry with the maximum Compensation Time has achieved since 2016 – then Cottingham will have to finish second.
In terms of Donington's recent results the championship contenders couldn't be more evenly matched. Cottingham and Adam won there in late May when maximum Compensation Time restricted Leung/Harper to fifth. However, Century's BMW was victorious 12 months ago when Leung overcame 10 seconds en route to a dream GT3 debut.
There is one more thing to consider: if Leung/Harper appear unlikely to finish at least fifth, 2 Seas might elect to retire their car or drop out of the points-paying positions so that Cottingham can share the title with Adam.
The same drivers are also battling for Pro-Am honours, although Cottingham's advantage there is greater. So, instead, GT3's class championship interest centres on Silver-Am where Chris Froggatt and Sky Tempesta could add to their recent Fanatec GT World Challenge Europe Powered by AWS crown.
The Garage 59-run McLaren, which also features Kevin Tse, starts 9.5 points ahead of Mark Sansom and Will Tregurtha's Barwell Lamborghini but will have a five-place grid penalty to contend with. And with the difference between finishing first and second 10.5 points, the winner will take all.
RACE LAB's Iain Campbell and James Kell are also within a victory of clinching the title. However, starting 34.5 points behind Tse/Froggatt means they're relying on retirements to overcome the substantial odds.
2 Seas clinched the teams' championship at Brands Hatch, so those without titles to play for are either eyeing strong ends to the season or – in several cases – third in the final drivers' standings.
Outgoing champion Ian Loggie currently occupies that spot. And with no Compensation Time to serve, as well as Jules Gounon for company, 2 Seas' second Mercedes-AMG appears on course to finish there. It would be the third time in as many seasons that the Scot has finished inside the top-three.
But he will face considerable opposition from Barwell's Shaun Balfe and Sandy Mitchell who clinched pole position at Donington in May, while Beechdean AMR's Andrew Howard and Ross Gunn, RAM's John Ferguson and Raffaele Marciello, and Optimum's Mark Radcliffe and Rob Bell also remain mathematical third place contenders.
Elsewhere, Fox Motorsport returns with a new Lamborghini for Eaton and John Seale, while Morgan Tillbrook makes his first appearance since British GT's last visit to Donington. He and Enduro co-driver Marcus Clutton were winners there in 2021 and '22.
And Garage 59's McLaren is also back after missing Brands. Miguel Ramos, who appeared on home turf at Portimao, is joined by 19-year-old FIA Formula 3 race winner but GT debutant Jonny Edgar.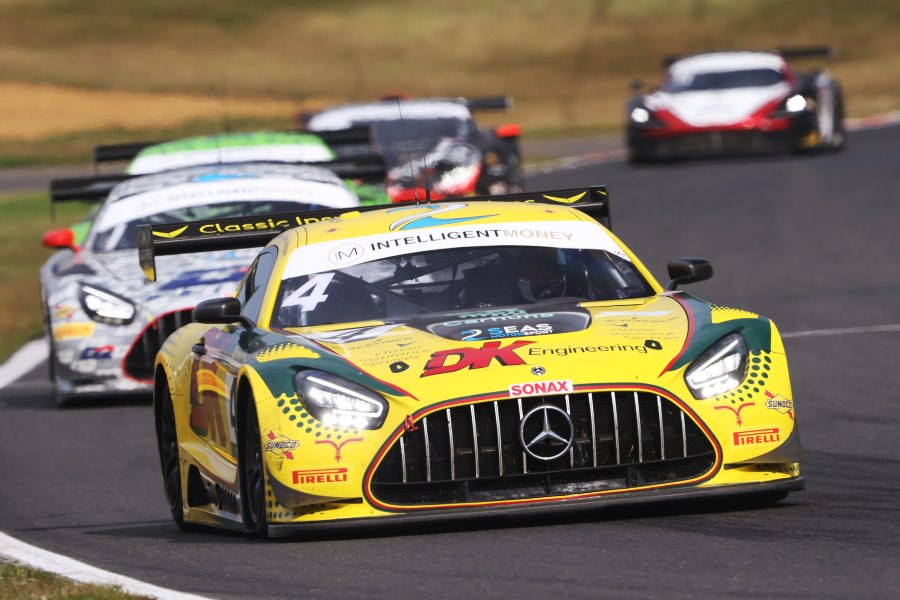 ---
GT4: SIX OF THE BEST
Six crews retain a mathematical chance of becoming 2023 GT4 drivers' champions on Sunday. But only the top-three have a realistic chance. And those in second and third both have extra Compensation Time.
Might as well crown Brown and Clark before the weekend, then? Well, steady on. This is #DoningtonDecider after all!
The maths and extra time certainly count in the Optimum McLaren crew's favour. And what's more, they won on the road at Donington in May before Silverstone's Compensation Time was retrospectively applied. But the first half of their campaign – 88.5 points scored – has also been dramatically different to the second, which has yielded just 36. And 25 of those were for winning at Snetterton.
A DNF last time at Brands, albeit not of their making, ended Brown and Clark's second opportunity to clinch the title ahead of Donington where they now head with a 10.5-point lead. It was 48 before the Algarve…
And yet the fate of this year's drivers' title remains firmly within their grasp. Yes, their 26-second Silver class handicap will count against them. But it's only 16 more than Johnston and Salkeld's Compensation Time, which the closest challengers must serve during their pitstop. What's more, Erik Evans and Matt Cowley – who clawed their way back into contention by winning at Brands – have 20 + 26 seconds.
Academy's Mustang therefore must climb a proverbial mountain if it's to overturn that handicap and its 16.5-point championship deficit. Have stranger things happened? Possibly not! But Cowley is at least a former Donington winner and GT4 runner-up who will be counting on a fortuitously timed Safety Car period this Sunday.
Johnston, meanwhile, must stick with Optimum's McLaren before the driver changes if Salkeld is to have a shot at winning the overall title. Miss out and Century's #14 crew should at least clinch the Pro-Am crown thanks to their 33-point advantage over BMW team-mates Carl Cavers and Lewis Plato, while Ian Gough and Tom Wrigley (RACE LAB) also remain mathematical contenders. Both must win their class to have any chance of toppling Johnston and Salkeld.
The latter pairing scored 54 points in the first six races but have added 60 in the last two – including the maximum at Portimao – to coincide with Brown and Clark's troubled run in. Completing the comeback at Donington would make Johnston and Salkeld the first Pro-Am crew to clinch GT4's overall title since Graham Johnson and Mike Robinson in 2016.
Gough/Wrigley and Cavers/Plato could also achieve that feat, although their respective 34 and 36-point starting deficits make things very difficult. Indeed, both must win – something RACE LAB's McLaren did achieve, in fairness, at Donington in May – to have any chance of doing so.
The same goes for this year's sixth and final championship contending crew, Josh Rowledge and Aston Millar, who start equal fifth with Cavers/Plato. DTO's McLaren has been quick throughout 2023 and would likely have been better placed in the showdown were it not for the DNF at Donington, which robbed its teenage duo of a probable victory. Don't discount this car from winning the finale but falling just short in the standings.
Meanwhile, Century is also contending for the teams' title, which – like Pro-Am – it's in prime position to win thanks to a 44.5-point advantage over Academy. 64.5 points are still available for finishing one-two.
The rest of this weekend's 17-strong entry list features one new car – MKH Racing's Aston Martin crewed by BTCC ace Ingram and former British GT racer Ron Johnson – as well as two more new drivers. Collins is best known for his stint as The Stig on Top Gear but did previously compete in British GT all the way back in 2005. Tom Gamble also has previous experience, albeit in the GT3 class four years ago when he claimed pole at Snetterton. Now a McLaren factory driver, he joins Kavi Jundu in Paddock's Artura.

Tom Hornsby