BRSCC AND TCR UK PUT ON A KNOCKHILL THRILLER!
TCR UK and co made a successful trip across the border to Scotland as they joined the BRSCC in what became two magical days of racing at Knockhill. With plenty of exciting action on track, the Scottish crowds were treated to plenty of entertainment, on a weekend where some of the local talent came to the fore and won on home soil!
---
TCR UK TOURING CAR CHAMPIONSHIP
For only the second time in its history, the TCR UK Touring Car Championship ventured across the border to Knockhill in Scotland for its only triple header of the season. Heading into the weekend, Bruce Winfield remained as the championship leader but by its conclusion, the table looked a little different as his rivals made big gains on his early advantage.
Carl Boardley continued his excellent form from a race-winning day at Oulton Park and landed pole position in qualifying ahead of the first of the weekend's races on the Saturday, with Jac Constable lined up alongside him ahead of his teammate Joe Marshall and Alex Ley's Hyundai. Boardley's clean start helped him leap into the lead with the two Rob Boston Racing Audis falling into line behind him straight away, while Adam Shepherd and Jenson Brickley powered past Ley on the opening lap to demote him to sixth place, before gaining a place back on Brickley moments later.
Boardley began to steadily edge away from the two RBR Audis in the lead, edging the gap out to more than three seconds after ten minutes of racing, and it wasn't long before both Marshall and Brickley were on the tail of Constable and Marshall in their bids for a podium finish. Their bids were aided when Constable was hit with a time penalty for track limits, which in turn seemed to allow Shepherd to relax a little despite Brickley still being on his tail. Eventually, Jenson dropped back to leave the Hyundai to resume the podium chase, closing back up to the Audis in the closing minutes.
Ahead of them Boardley was driving in a class of his own, driving on to take his second win of the season and in a row in race one to further strengthen his championship charge. Constable's fine drive was rewarded with second place while Shepherd did indeed gain third courtesy of Marshall's time penalty. More time penalties allowed Winfield to end up classified in fourth ahead of Brickley in 5th, while Ley's own five second addition left him down in sixth.
The grid being partially reversed for race two on Sunday morning, Matt Wilson found himself on pole next to defending champion Chris Smiley. Wilson's CUPRA got the same great start as Boardley had the day before, but behind him there were dramas in the opening corners as Marshall was shuffled off through the gravel at MacIntyre's before Winfield was tagged by Brickley and spun down the order moments later. Meanwhile, Smiley had also grabbed the lead from Wilson on the opening lap and led the way early doors in the new FL5 Honda Civic.
Behind them, there was plenty of action as Brickley, Shepherd and Constable went three wide exiting Clark's with the Audi left on the grass at high speed. Then Smiley's terrible luck struck once more as damaged suspension left him pitting after just a couple of laps, promoting Wilson back to the lead but with Ley and Callum Newsham in hot pursuit on his tail. Soon enough Brickley, Shepherd and Boardley would join them just as Ley took the lead at Taylors Hairpin, before Brickley swept past Newsham at Duffus Dip for third place. This became second when he too found a way past Wilson's CUPRA, with Boardley also making quick progress up to third too.
Ley and Brickley were soon nose to tail for the lead and ran so for several laps, eventually allowing Boardley to creep up behind them to create a leading trio. Eventually Brickley had to start defending from Carl's advances for second place, but soon enough both were right underneath Ley. Into the hairpin, Brickley nudged the back of the Hyundai for the lead with Boardley following him through, and on the last lap of the race the two CUPRAs were bumper to bumper. On the final sprint to the line the pair were dead level heading to the flag, but while Boardley only just got his nose ahead on the road by 0.017 seconds, a five second track limits penalty initially handed the win to Brickley.
That was until Jenson was given a post-race penalty too for contact, thus promoting Ley to the victory eventually once it was all settled. Brickley was again demoted to second ahead of Shepherd in third, the penalised Boardley back to fourth with Matt Wilson and Marshall rounding off the top six.
Boardley was back on pole for race three, once again alongside Brickley only this time on the front row. As he did in race one the day before, Carl got the better launch to lead Brickley and co from the outset with Marshall, Shepherd and Newsham giving chase initially before the latter's Hyundai was tipped into a spin on the second lap exiting the chicane by Ley. 
Once again, Boardley had the pace to quickly draw away from the rest out in front, leaving Brickley to deal with the pair of RBR Audis and Shepherd behind him. In fact, this race was the simplest of the three for Boardley to run as for its duration he was completely unchallenged and ended up cruising home to a very straightforward win by more than five seconds in the end. Despite a race long pursuit, Marshall couldn't do anything to unseat Brickley from second place, leaving the Rob Boston cars to settle for third and fourth. Shepherd and Ley rounded off the top six in their pair of Hyundais.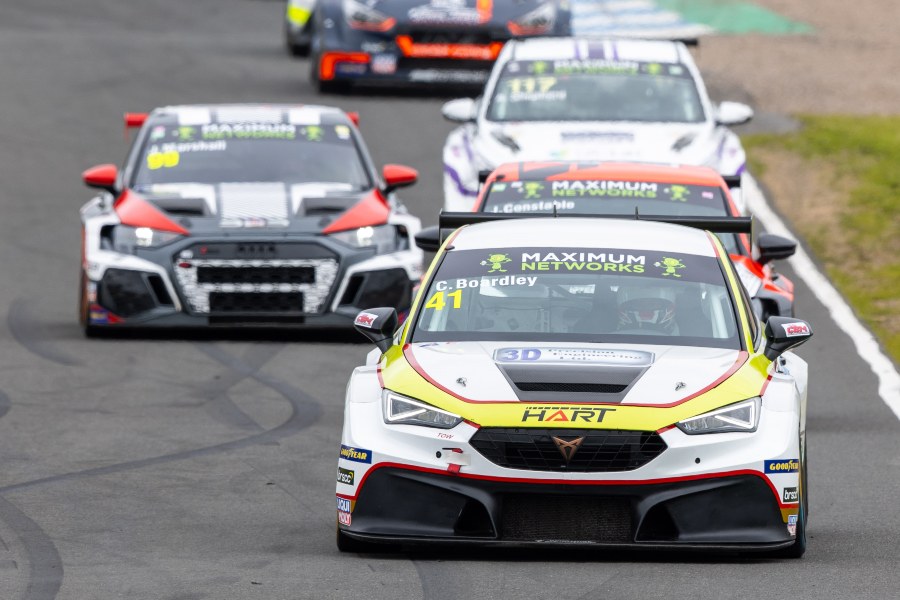 ---
MILLTEK SPORT CIVIC CUP
The rapid and exciting Milltek Sport Civic Cup made the long trip to Scotland to visit Knockhill for the very first time since it began, an incredible landmark when you consider how long the championship has been running! With three races on this weekend, this would present plenty of opportunities for many of the fastest drivers in the field to bank a large haul of points from the weekend.
Points leader Alistair Camp began where he'd left off from Oulton Park with pole in qualifying, while Jack Harding back on the grid in second quickest in a brand new car after his original Civic was written off in an accident in the previous rounds at Oulton. Camp got the jump and the hole shot into Duffus Dip for the first time while Harding lost second to Dan Thackeray with Max Edmundson also looking quick in fourth.
All seemed straightforward for Camp in the lead as he set the fastest lap of the race, but moments later a huge loss of control saw him sliding across the grass inside of MacIntyre's, slipping down to sixth and incredibly lucky not to get collected by anyone else as he rejoined. This gave Thackeray the lead, aided by Harding's car faltering and forcing him to pit. With Edmundson up to second and Bensley up to third, the fight for fourth was on between local newcomer Liam McGill and Camp, the former managing to get away from the championship leader heading into the final minutes.
The trio dueling for second, third and fourth remained close but still nose to tail for the remaining minutes, unable to do anything about catching Thackeray out in front. Dan headed back to the top step once more with victory in race one, with Edmundson and Bensley remaining second and third as they took the flag. Track limits penalties for Camp and Will Redford dropped them down the order, promoting McGill to fourth, Morgan Bailey to fifth and Alex Kite up to sixth.
There was good fortune for McGill as he was planted on the partially reversed grid pole for race two on Sunday, joined by Dan McDonald with Camp starting third after his penalty from the day before. McGill headed a three wide squeeze for second into Duffus Dip with Camp winning out from Sam Kirkpatrick and Edmundson also making moves to rise to fourth.
McGill wasted no time in using his experience around Knockhill and was quickly able to keep Camp and co at arms length after the opening few laps, leaving Camp to chase while teammates Kirkpatrick and Edmundson scrapped over the final podium spot. Eventually Max made a move at the hairpin to take third, and by this time Camp was back in their sights again with less then four minutes to go.
Meanwhile, McGill was delighted to take his first Civic Cup win in his inaugural weekend in the championship, driving brilliantly to claim victory by more than four seconds. In the end, Edmundson wouldn't unseat Camp from second on the road, but inherited it after Camp was hit with another track limits penalty. Therefore, Kirkpatrick was promoted to third, a race long duel for fourth between Dan McDonald's way ahead of Ryan Bensley, while Camp's penalty again demoted him back down to sixth.
Camp had a third shot at victory starting on pole for race three, but this time Edmundson got the the better launch and beat him to the hole shot, but Max's chance to get away was scuppered when the safety car was called for Jack Ruddell's Civic against the barriers. A solid restart helped Max make that initial escape once more, leaving Camp to deal with Thackeray on his tail in third.
As the pair battled over second with McGill and Bensley closing in too, the pair had a great scrap over fourth with Bensley almost taking the place outside at Duffus Dip to no avail. At the front, Camp came close but couldn't end the weekend with a win as Edmundson sprinted to the line to clinch race three victory. Camp settled for second place and kept it this time, while Thackeray finished the podium in third and Bensley, Kirkpatrick and Harvey Caton filled out the top six places.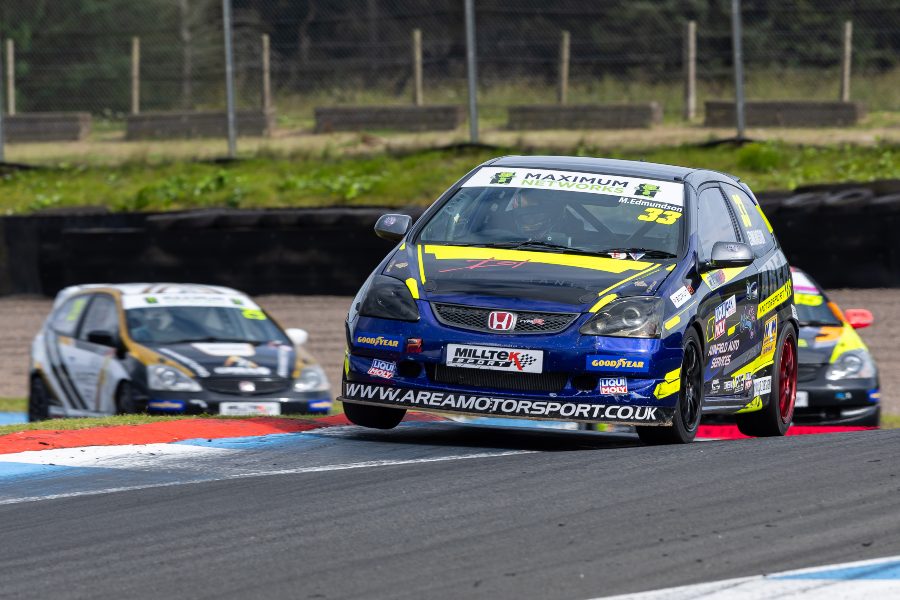 ---
BRSCC FIESTA JUNIOR CHAMPIONSHIP
Continuing their inaugural season supporting TCR UK as their official junior series, the BRSCC Fiesta Junior Championship ventured back up to Knockhill for only their second ever visit to Scotland after making their debut there the year before. On this occasion, they would race solely in the regular clockwise direction and would see 18 of the 22 drivers that had currently raced throughout the season making the trip.
Ben Mulryan clinched another pole position in qualifying, but beginning race one he couldn't get the power down quickly enough on a slightly damp and patchy circuit, allowing Sam Neser to leap into the lead by the first corner. Mulryan was quick to get back underneath him, making the move at Clark's to quickly get the lead back, and with good timing. The safety car was quickly called thanks to Jasmine Shaw's car stranded on the pit straight with an engine problem, which required recovery.
Mulrayn severely stacked the pack up behind him on the restart with Neser sat on his rear bumper before they got going again. Hodgkiss tried to sweep past Neser to no avail, but all this was letting Mulryan escape up the road unchallenged, as he left the battling back squabbling over places. Hodgkiss then began to drop back with an issue and lose places as several cars found a way through in a number of corners, demoting him down the order as a result.
Neser's pursuit of the lead couldn't see him reel Mulryan back in and eventually he was caught and passed on the road by both Maks Solarski and Luke Hilton in the closing stages. In the end, it was Ben's race to lose as he clinched his third victory of the season, but behind him there was a change to the result after amendments later in the weekend (more on those later). Solarski finished 2nd on the road, but in the result the place went to Hilton with Neser back in 3rd, followed by Hadley Simpson and Jenson Mason.
Neser got the better jump again starting race two, covering off Mulryan into the first corner and allowing him to come under attack from Solarski in the process. Solarski then found himself off the road at the chicane dropping him back several spots. All of this brought Hodgkiss and Bell into play while Neser began to quickly extend his lead. It wasn't long before Hodgkiss' pace helped him reel the leader back in, only needing a handful of laps to get onto Neser's tail.
A cool pass inside at the hairpin allowed Hodgkiss to claim the lead and was allowed to quickly escape when a skirmish between Neser and Solarski broke out over second place. It took them a couple of laps before Solarski finally made a move stick, leaving Neser to deal with Mulryan, Simpson, Mason and Bell on his tail. The race finally managed to settle down somewhat heading into the closing stages as Hodgkiss reeled off the final laps to take a momentous first Fiesta Junior win and the second driver to win a race in the new Mk7 model too. His win also carried a sentimental tone as Jacob won wearing the same overalls that his brother Nathanael wore to take his first FJC win back in 2019 too.
While Hodgkiss celebrated the win, Solarski took second on the road but was then subsequently disqualified from both race results post race, meaning he would leave Knockhill with zero points. This then handed runner up spot to Mulryan who welcomed the boost in points ahead of Neser in third, with Simpson, Daniel Lewis and Mason all completing the top six.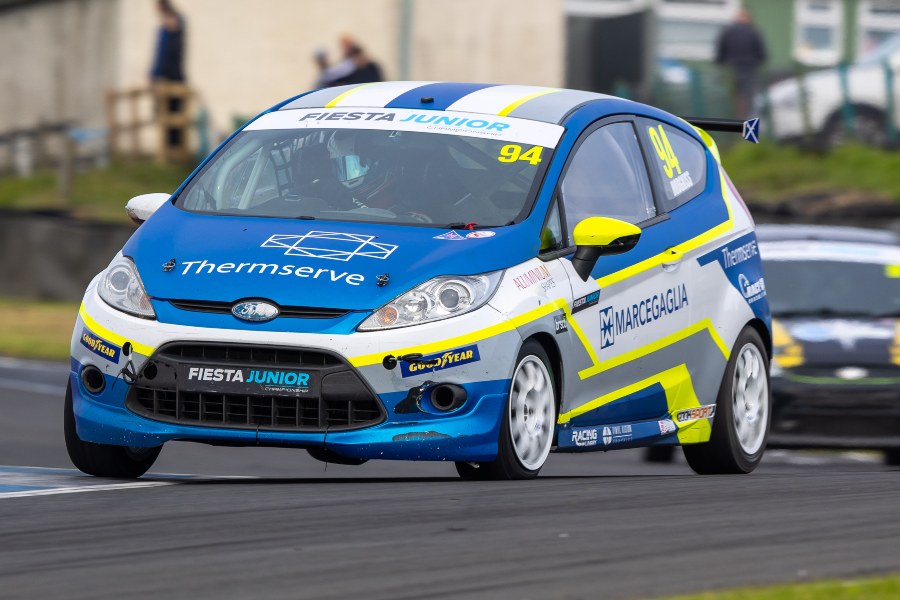 ---
AIRTEC MOTORSPORT FIESTA ST240 CHAMPIONSHIP
After its thrilling triple header in 2022, the AIRTEC Motorsport Fiesta ST240 Championship ventured back to Knockill in Scotland for another three action-packed races, as the season progress through the half way point with the battle for the Pro and Club class titles still all to play for.
John Cooper reignited great memories of his victory last year by planting himself on pole for race one on Saturday, managing to get the better start over front row mate Matt Luff who had scored his best Fiesta qualifying result to date. Luff was only able to hold second for a lap before relinquishing it to Alastair Kellett, who then set off in his pursuit of leader Cooper.
It didn't take long before the two cars were together at the head of the field and Luff was quick to make the duo a trio, leaving William Kellett to deal with the attentions of Simon Horrobin, Albert Webster and Zachary Lucas. However, Cooper's good luck appeared to be temporary as it was deemed mid race that he'd jumped the start and copped a ten second penalty as a result. This would effectively had the win to Kellett on a plate. At the chequered flag, Cooper still crossed the line first but was demoted down to fifth as a result – however, that wasn't the end of the story.
Post race, Cooper appealed his jump start penalty and was able to prove his innocence, therefore getting it rescinded and being handed back his victory. This meant he won from Alastair Kellett in second, Luff in third, William Kellett in fourth, Albert Webster in fifth and Joseph Knight finishing in sixth. Club class was won by Connor Blackburn ahead of Barry-John McHenry and Caitlyn May, while Morgan Kidd had to battle back from a first lap collision with Sean Reynolds to take fourth in class.
Cooper and A. Kellett were dead level heading to turn one starting the second race on Sunday morning, with Alastair winning the initial duel while Cooper was immediately under threat from Luff and Webster behind, who were also beginning their own scrap for third. Thankfully, Cooper was fast enough to chase Kellett as the pair again pulled away from the rest, while the younger Kellett, William, held on to third place.
The race appeared to play out much like the first had the day before with the top two in a race of their own while everyone else diced for the final podium spot backwards. William Kellett now had Luff and Webster on his tail while they were also caught up in their own battle for position, and this eventually allowed William to make his own escape and bring Zach Lucas into play. Lucas then dropped back for more battles with Horrobin, and after several laps of pressure Webster made a superb late dive at the hairpin to set up a move into Duffus to claim 3rd.
Meanwhile, there was no change at the front as Alastair Kellett kept Cooper at arm's length to secure the race two victory, with just over half a second separating the two cars at the flag. Webster was thrilled with another podium finish in third while Matt Luff got the better of William Kellett in the end to take fourth place, with Knight finishing off the top six. It was victory in the Club class for Barry-John McHenry this time, with Morgan Kidd fairing much better on this occasion with second in class ahead of Caitlyn May, followed by Archie Johnson and Connor Blackburn.
The reverse grid draw planted Luff on pole for the first time with Horrobin drawn alongside as his main opponent to sprint to the first corner. Luff held his line to retain the lead while Horrobin lost control at Leslies and spun far down the order with it all to do. From the outset, it was clear that Luff was comfortable in the lead and had the pace to secure his first win and made an early sprint in the opening lap to create a gap back to second placed William Kellett.
This left Webster to lead the battle for third place downwards and soon enough he was joined by Cooper on his tail shortly before half distance. For several laps Cooper applied the pressure but the championship leader wasn't to be intimidated and ensured he held on for as long as possible. Finally, though, Cooper found a way through at the hairpin to steal away third place. In front, the same pursuit was taking place between Luff and William Kellett with the young Irishman trying everything he could to try and mount an attack. However, his chance would never come.
Zach Lucas' car suffered what appeared to be a mechanical failure that left him stranded in the gravel at MacIntyre's, prompting the runyourfleet.com Jaguar safety car to neutralise the race. With the clear-up time required taking longer than the remaining minutes left, there was no choice but to end it under safety car. This in turn secured Matt Luff's first Fiesta ST240 win ahead of William Kellett in second, followed by Cooper, Webster, Alastair Kellett and Knight. Club honours once again went the way of Barry-John McHenry, followed home this time by race one winner Blackburn, Kidd, May and Johnson.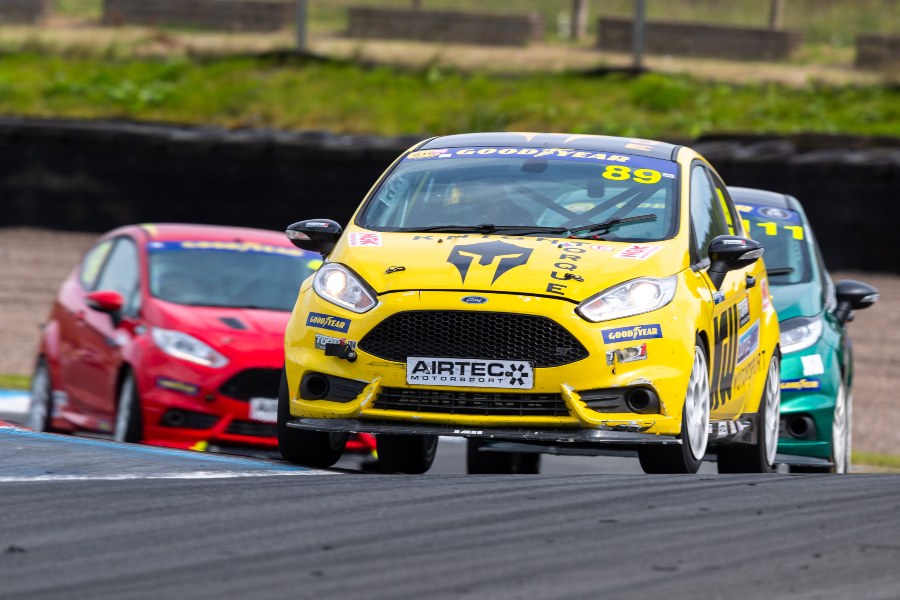 ---
VINYL DETAIL FIESTA ST150 CHALLENGE
After missing it last season, the Vinyl Detail Fiesta ST150 Challenge made a return to the Knockhill circuit in Scotland after its last visit in 2021. Heading into this race meeting, the battle at the top of the championship standings was starting to get pretty competitive and this would be another chance for the main contenders to take a step forwards.
As it turned out, it was a previous front runner making a one-off appearance as a guest that ended up on pole position for the first race after qualifying, as Tensport Performance boss Chris Grimes that set the fastest time to line up alongside points leader Matt Pimlott on the front row. Grimes' start was essentially perfect, clearly leading by the first corner to leave Paul Dobson to overhaul Pimlott for second before the end of the opening lap. Immediately, Sam Beckett was also putting the pressure on for third too, but soon enough all of the top four cars were together in a line.
Grimes ended up rubber banding back and forth in his gap to Dobson and co behind, finding a little time to pull away slightly and then finding the trio reel him back towards them shortly after. That was until said trio decided to start fighting amongst each other, which only drew both Thomas Ikin and Dan Robinson into play too. Eventually, Beckett's persistence paid off and third was his at Pimlott's expense, immediately putting the points leader under threat from Ikin behind before he was caught up in his own fight with Robinson and Mike Blackburn.
In the closing moments of the race, both Dobson and Beckett went on the offensive on Grimes, but they too couldn't help but battle each other which only allowed the leader to remain unchallenged and take victory – or so he thought at the time. Chris had been initially deemed to have jumped the start and therefore was penalised ten seconds to push him down to eight in the result. However, he was able to prove his innocence and in a post-race appeal, he was able to have it rescinded and indeed keep his win. Dobson, who had been handed the victory thanks to Chris' penalty, did end up with second from Beckett, Pimlott, Ikin and Robinson in the top six.
This all allowed Grimes to start on pole again for race two the next day, and like on Saturday Chris got the launch he needed to take the lead while Dobson slipped back to third behind Beckett. Sam was keen to ensure Grimes didn't get away up the road and harried him in the opening laps to try and force an early mistake to pass, but his efforts were curtailed when Mark Blunt's incident in the gravel at Leslie's (coupled with Matthew Morton's stranded car) brought out the safety car.
With the race resuming with just under six minutes to go, Grimes didn't have long to hold on for his second win of the weekend and a strong restart allowed him to keep the rest of the pack at bay. He rounded off the final laps to take a victory that would stand first time this time, with Beckett a close second and Dobson surviving a late challenge from Pimlott to hold on to third. Ikin, Pimlott and Robinson rounded out a close top six.
That top six was then inverted for race three, promoting Robinson on to pole position for this one with Pimlott on the outside of the front row once again. This time, Pimlott's side of the grid was gripper and gave him the start he needed to lead through Duffus Dip, but had to deal with an early challenge from Robinson at the hairpin as teammate Beckett, Dobson, Ikin and Grimes all made a bid to join the lead group from the outset.
As Pimlott led, Dobson gave chase to Beckett who was now up to second, but Sam decided instead it was his turn to go on the offensive for the lead. Getting the overlap onto the pit straight, Beckett completed the pass on Pimlott at Duffus Dip before Dobson lost third to Ikin moments later and then found himself off through the gravel at Clarks a few corners later. From here the top three remained in status quo and Beckett drove on for his first win of the season, followed by Pimlott in second who did well to fend off teammate Ikin in third. Robinson, Blackburn and Grimes would fill out the top six behind them.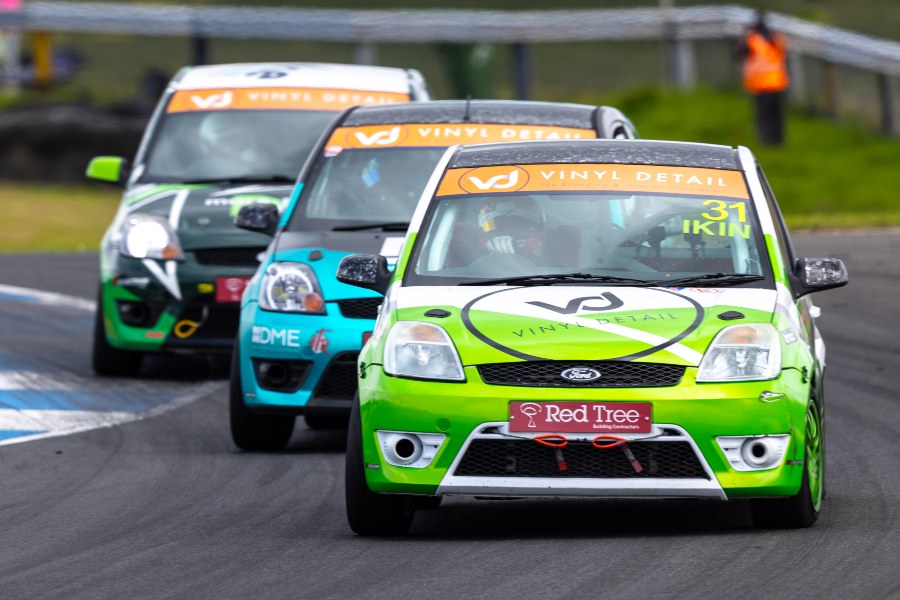 ---
NANKANG TYRE BMW COMPACT CUP
Knockhill is a circuit that's definitely no stranger to BMW racing, and with that said it was fitting that the Nankang Tyre BMW Compact Cup should make its next stop on the 2023 calendar in Scotland in support of TCR UK. This triple header would give plenty of chances for many drivers to score some big points towards their championship aspiration, but there was one returning guest driver who many not have been scoring anything but was certainly reminding everyone just how good he was…
The driver in question was former five time Compact Cup champion Steven Dailly, back on his home circuit for a one-off appearance to join in the fun. Unsurprisingly to many, it was Dailly that took pole position in qualifying but come the race, Steven's ability to get a Compact off the line may have been a little rusty. He initially slipped back to fifth as Mike Doble took the lead from Thomas Middleton, but Dailly wasted no time in picking them off one by one to reclaim second by the completion of lap one and then the lead from Doble on the next. Gareth Claydon was quick to follow him through, claiming second and locking on to Dailly's wheeltracks.
From here the top three was something of a formality for the rest of the race, leaving the rest behind them to fight for fourth downwards. Middleton and Dale Wherton enjoyed a healthy battle over fourth, while Richard Sutherland was proving himself to be one of the most entertaining drivers of the entire meeting from the outset as he battled Matt Flowers, let alone just in the Compact Cup.
For Dailly, though, it was an all too familiar sight as he drove to victory on home soil on Saturday followed by Claydon in second place and Doble in third, who was working his way towards taking the championship lead due to the absence of Oliver Faller. Wherton took home fourth, ahead of Middleton in fifth and Sutherland passed and held off Flowers to grab sixth.
Thankfully for Dailly, his start to race two of the weekend on Sunday was much better than his first and he comfortably led through the opening lap ahead of Middleton, Doble and Sutherland, while Claydon sadly found the gravel just before the chicane and was out on the spot. The safety car was called to recover Gareth's stranded car, giving the pack a chance to keep Dailly in their sights on the restart.
Once racing resumed, Dailly took off from the outset as Middleton tried to give chase and Doble had to defend from a racey Richard Sutherland. Middleton's second place didn't last long as running wide through the gravel on the exit of the chicane cost him the position to Doble at the hairpin a few corners later, while Wherton went on the offensive to pass Sutherland for fourth which he completed at MacIntyre's. The pair continued going back and forth until a clash at Duffus Dip damaged Wherton's front tyre and put him out of the race while Sutherland carried on.
Out in front, Dailly had everything under control and reeled off the laps once more to take win number two of the weekend. Doble picked up second place this time, while Middleton survived a wild late challenge from Sutherland in the final minutes to hold on to the podium spot. Sutherland still collected fourth place, with Flowers and Rudi Macmillan also in the top six.
The random top ten grid draw for race three produced a front row of Flowers and Sutherland, so entertainment from the off was practically guaranteed. Amazingly, it was Doble that shot the gap between the front row men and stole the lead at the first corner, with Sutherland quickly on his bootlid ahead of pole man Flowers. Sutherland only need a lap and a half to dive past Doble to take the lead as the gaggle of cars at the front jostled for places and racing room in the early laps. In that gaggle was Dailly, and he was wasting no time in collecting places one by one. By the end of the third lap he was in to third place, and he only needed another tour to grab second from Flowers. Now the chase was on to catch Sutherland ahead.
Despite catching him relatively quickly, Dailly found Sutherland to be a hard taskmaster to pass initially. But forcing Richard into a mistake at the hairpin was all the invitation Steven needed to slip by and into the lead. With the top two once again at a comfortable distance out in front, attentions were focused on the fight for third with Flower and Mike Doble going wheel to wheel at the hairpin while Joe Doble was getting stuck in battling Middleton and Claydon. Then Mike began to slow and drop back with a mechanical issue and while he lost ground to the cars around him, he eventually trundled past the chequered flag in a lowly seventeenth place.
But there was only one man who was going to own the top step in Scotland and it was local favourite Steven Dailly. Delighted with his weekend's work, Dailly completed the hat-trick in fine style, while Sutherland was met with plenty of cheers and support for his first Compact Cup podium in second. Flowers was kept honest all the way the flag by Middleton, Claydon and Doble in the battle for the final podium place, but only just held on for the spot.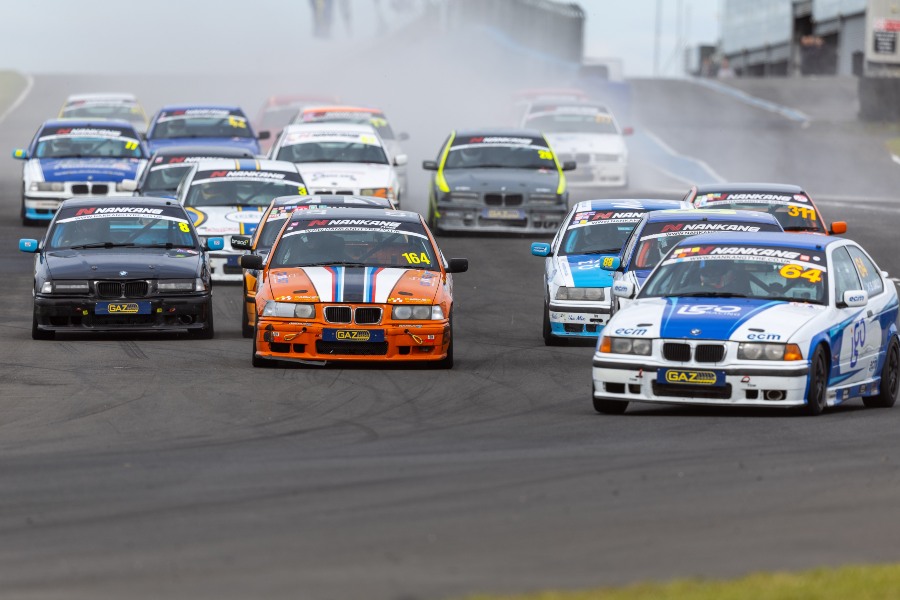 ---
AUDI TT CUP RACING
Continuing its inaugural tour and visiting another brand new circuit, the Audi TT Cup Racing series were present at Knockhill in Scotland to show the local fans just why this burgeoning new grid was proving to be immensely popular wherever it goes. While the entry was a little smaller than the previous rounds, that was certainly no reflection whatsoever on the quality of action on track across both days.
They say local knowledge counts for a lot in motorsport and that was true for Ross Makar, who planted his TT onto pole position in Saturday morning's qualifying session. He was joined by Richard Forber on the front row, and the better launch off the line helped him retain the lead through the first corner. Behind them, Luke Handley tagged Paul Maguire into a spin sending him straight to the back of the field and out of contention for a result.
Immediately it was clear Makar and Forber had the pace to dominate the rest of the field and they were already three seconds clear of the other drivers by the end of the lap. Handley (now sporting a slightly damaged car after the contact with Maguire) got himself into third with a move on Scott Parkin at Clark's, leaving Scott to battle Morgan Wroot over fourth as the race progressed.
Out in front, there was no stopping Makar as he continued to slowly edge away from Forber in second place to clinch a popular home win in race one. Forber's gap in the end was more than five seconds back as he took runner up spot, while Handley survived his first corner skirmish to claim third in the end. Parkin picked up fourth, with Wroot and Booth completing the top six.
Moving on to Sunday, Makar was keen to take another Scottish win in race two and looked as though he would set the tone for the race when he picked up another good start to lead the field away. Forber once again would go with him from the outset, leaving third place backwards to fight amongst themselves headed by Parkin and Handley. Maguire got a little revenge on Handley at the hairpin with a sublime dive up the inside to steal third place from under his nose.
Out in front, Forber had found plenty of pace in his setup overnight and rather than watch Makar drive away, he was right on his tail in just a few minutes. The two cars ran nose to tail for the remainder of the race up front, but even though Forber couldn't find a way past on track, in the end he didn't have to. Both Makar and Maguire were hit with track limits time penalties, thus demoting Makar back to second and promoting Forber to the win in the result. The fifteen seconds added on almost allowed Parkin to inherit second too, but there was enough of a gap to prevent Ross from dropping further back, while Handley, Booth and Wroot made up the rest of the top six.
Then it was Forber's turn to lead off from pole for race three later that afternoon, and that he did from the start while Parkin got the better of Makar from the second row to move to second. Despite even putting two wheels onto the grass to try and squeeze through, Makar didn't quite gain an opportunity from his initial attempts. It took almost half the race for Ross to finally move past inside at Duffers Dip to go second, but by this time Forber was well and truly clear and up the road.
As the top two looked settled, Parkin was coming under all sorts of pressure from the cars behind, led by David Robb who tried every which way to find a gap to pass. He kept up the pursuit for a few laps before dropping backwards after a bad exit from the hairpin, losing out to Handley, Maguire and Evans in the process. Eventually, Handley took his turn and made the move to demote Parkin to fourth.
Forber, meanwhile, was rounding off a commanding drive to take his second win of the day and the weekend with Makar almost twelve seconds back in second place. Handley confirmed third ahead of Parkin in fourth, followed by Maguire and Booth in the top six.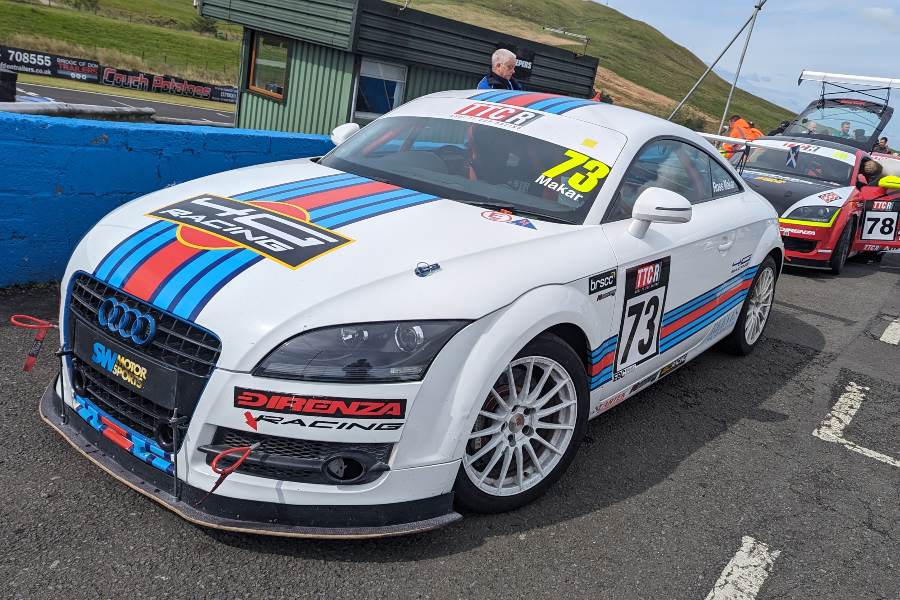 ---
BRSCC EVOLUTION TROPHY
The BRSCC's Evolution Trophy, the club's new development series for fledgling club racing series and projects, made a special visit to the wonderful Knockhill circuit in Scotland for three races supporting TCR UK. There was the usual great mix of Classic VW Cup, Cooksport Renault Cup and Mazda MX-5 Mk4 Trophy cars on the grid, all ready to mix it up on track together.
The pair of Team HARD VW Golfs of Tommy Gilham and Adam Marshall claimed the front row together, but both were beaten to the punch by the rapid starting Ken Lark and his VW Scirocco. Local man Michael Imrie was also quick to mount a challenge in his Clio through the first few corners before Gilham was able to maintain the place. It didn't take long for the superior handling of Gilham's Golf to allow him to catch and pass Lark before the end of lap two, where from hereon in it was clear track for the remainder of the race.
Gilham's teammate Marshall would follow him through just corners later to go second in Classic VW Cup and overall, with Imrie's Clio also joining in the fun as leading Cooksport Renault car. For the remainder of the race, it was mostly all about the two Golfs at the head of the field as they dominated the race all the way to the finish. Gilham led Marshall in a Classic VW 1-2, with Lark third in CVWC in the Corrado from Donald Dewar's Mk1 Golf and Chris Adams' Mk4 generation machine. Michael Imrie was third outright as well as a dominant Cooksport Renault victor ahead of Frank Pettitt, while Ed Cottam picked up the MX-5 Mk4 Trophy win after Ben Taylor ended up in the gravel in the final moments of the race.
The second race on Sunday morning began very much like the first with Lark again using the horsepower of the Corrado to beat Gilham and Marshall to Duffus Dip first. Marshall also got ahead of Gilham initially, but that was quickly inverted before the first lap ended and just a lap later, Tommy pulled off an outrageous outside pass at Clark's to reclaim the lead. Marshall also slipped by seconds later and once again, the two Team HARD cars were up the road.
Amongst plenty of battles up and down the field, including a great dice between Dewar's Mk1 Golf and Carey Lewis' Mk5 example early on, the only other dramas came when Cottam spun his MX-5 mid race while Steven Watson's Scirocco ended up in the gravel trap. Aside from that, it was plain sailing for Gilham and Marshall as they sealed up another 1-2 finish overall and in CVWC. Lark, Adams and Dewar completed the top five in VWs, Michael Imrie was the sole Cooksport Renault finisher after Pettit retired at half distance, and despite the spin Cottam still took his second MX-5 Mk4 Trophy win after problems for Taylor's car persisted and left him five laps down.
Starting race three, Gilham and Marshall were wise to Lark's rapid starts and ensured to box him in on the run to the first corner, inadvertently helped by Adams' Mk4 Golf that also got a good launch too. Leaping straight into the lead, the Team HARD pair were once again never headed in the top two positions and drove and steady and consistent race to ensure Gilham wrapped up a hat-trick of wins in Scotland. That wasn't to say it was any easier for Tommy this time as Marshall made sure he kept the pressure on and stayed on his tail for the majority of the race before dropping back.
While Gilham and Marshall ensured a fine weekend's work for Team HARD, Carey Lewis made the most of passing both Adams and Lark early on to take a fine third place overall and in CVWC. Adams and Lark themselves had a fabulous battle for fourth from thereon in, with the Golf ensuring it beat the Scirocco to fourth in category. Michael Imrie also enjoyed some early battles with them as he was undefeated in Cooksport Renault Cup, while Ben Taylor made sure Cottam didn't dominate the MX-5 Mk4 Trophy by taking a win for himself this time.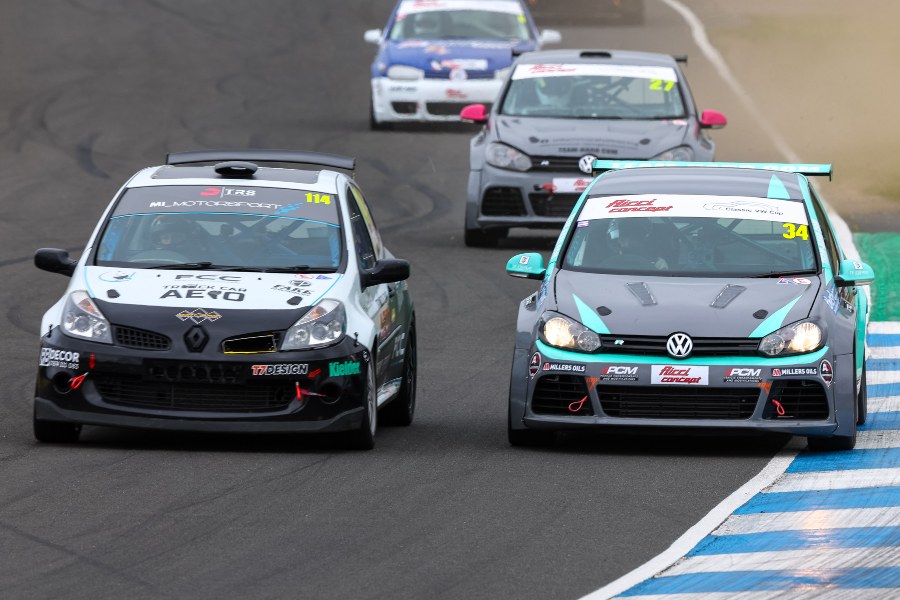 ---
KNOCKHILL MODSPORTS
As an excellent local addition to proceedings, the Knockhill Motor Sports Club's ModSports championship made an appearance on the timetable on the Sunday, with two races sporting a fantastic array of eclectic machinery. From a quartet of Radicals, to a Subaru Impreza, MINIs, Civics and more, there was a superb mix on display here too.
After a delayed start to race one after one car was forced to stop at pit exit with damaged suspension on the formation lap, Gordon Duncan and Lindsay McCracken sprinted down to turn one as the first race got underway with McCracken's white Radical beating Duncan's black PR6 to the hole shot. Duncan almost led at the end of the first lap, only for McCracken to just power past – fortuitous timing as the safety car was called after an incident involving Donald Dewar's V VW Golf and Paul Smith's Honda Civic.
Racing resumed with five minutes to go, with McCracken getting a solid restart to get a massive leap on Duncan, who lost second on the pit straight to the BMW M3 of Cameron Brydon. Duncan quickly repassed him at Clark's while Mark Thomson also bidded to join in the fun in his Radical too, passing Brydon into the hairpin and remaining ahead. Despite a lock up into the final corner, there were no dramas for Duncan as he claimed race one victory from McCracken, Thompson and Brydon, followed by Philip Russell's BMW and Marc Dawson's Honda.
Then came the second race and the one and only appearance of rain all weekend. Showers began to fall just as racing got underway, the field now joined by Fiona Kindness in the Subaru Impreza after she missed the start of race one earlier. As it turned out, four wheel drive is what you needed as Kindness used the advantage provided by her Subaru to make her way steadily towards the leading Radicals of Duncan and McCracken, also being joined by a rapid Marc Dawson in the Civic.
As rain continued to fall and intensify, it wasn't long before Kindness and Dawson had the two Radicals ahead in their sights. With less than five minutes to go, all four cars were together and provided a sensational battle between them for the podium. The Radicals were strong in some areas while the Subaru and Honda were better in others and this created a real back and forth between the quartet. At one stage, Kindness almost had second from McCracken but couldn't match the Radical's power to weight ratio on the straights.
In the end, Dawson passed McCracken for second and tried to mount a challenge on Duncan for the lead, but it wasn't to be. Duncan survived the pressure and the weather to complete the double with Dawson a fantastic second in the Honda, followed by McCracken third and Kindess in fourth. Shaun Davidson's BMW and Harvey Gillanders' Civic rounded out the top six finishers.
Scott Woodwiss