BRSCC ANNOUNCES UPDATED & REBRANDED FIESTA CHAMPIONSHIP STRUCTURES FOR 2023
The British Racing & Sports Car Club takes great pleasure in announcing some exciting news and updates to their Fiesta Championship structures ahead of the 2023 race season.
The updates for 2023 and beyond will see The BRSCC Fiesta Championship being renamed as the Fiesta ST240 Championship, this to provide a dedicated one-make race programme for the rapidly growing turbo engined Fiesta ST240 category.
The ST-XR Challenge will also be renamed, and will become the Fiesta ST150 Challenge, this to provide a stand-alone dedicated grid for owners of the numerous Mk6 Fiesta ST150 models that currently race within both the Fiesta Championship and the ST-XR Challenge.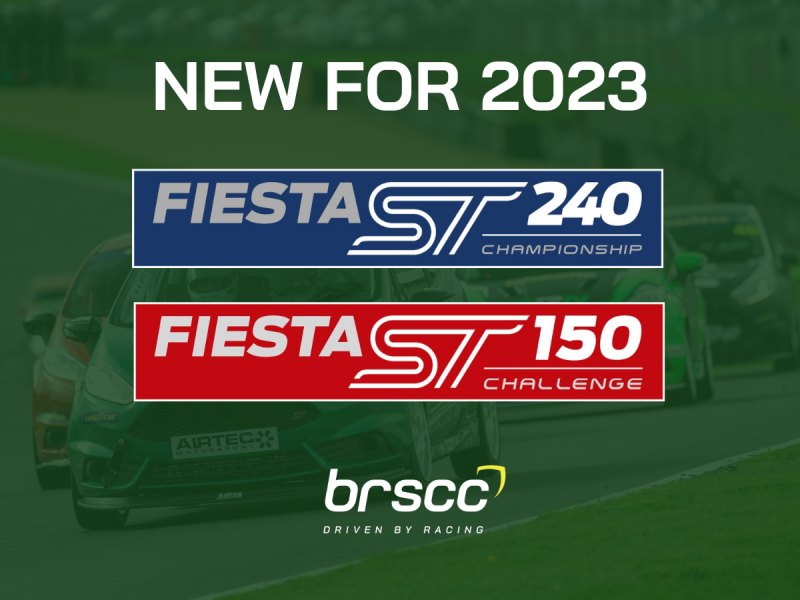 Both of the refreshed championships will share the same event calendar through the 2023 season.
The growth of the Fiesta ST240 class over the past few seasons has been phenomenal, with the 240bhp turbocharged cars creating a real racing buzz throughout the market. With 20 cars on the grid for the final rounds of the 2022 season, the goal in providing a single make grid is to allow even further development and growth through 2023.
Due mainly to the performance differentials between their Mk6 ST150 cars and the ST240 cars, many owners had requested that the club consider separating the grids, thus giving owners of ST150 race cars the opportunity to race their cars within a single make championship. After discussion between ST150 owners and teams from both the ST-XR Challenge and the BRSCC ST150 community, the Club have now progressed the proposal and are looking forward to delivering a stand-alone ST150 2023 race programme to the combined community.
The club along with various owners and race teams are currently working together on refinements to ST150 technical regulations to ensure equality of performance between all cars, and full details will be published when the process has been completed.
FIESTA ST240 CHAMPIONSHIP FACEBOOK PAGE – https://www.facebook.com/BRSCCFiesta
FIESTA ST240 CHAMPIONSHIP FORMULAE PAGE – https://brscc.co.uk/formulae/airtec-motorsport-fiesta-championship/
FIESTA ST150 CHALLENGE FACEBOOK PAGE – https://www.facebook.com/stxrchallenge
FIESTA ST150 CHALLENGE FORMULAE PAGE – https://brscc.co.uk/formulae/vinyl-detail-st-xr-challenge/
*Both social media pages and formulae pages will be updated with new names and branding shortly.