BRSCC BRINGS A PERFECT 10 TO DONINGTON PARK THIS WEEKEND
Summer is well and truly here and what better place to spend a weekend in July for motorsport fans than at the magnificent Donington Park in Leicestershire, where two days of racing will see plenty of action from sportscars, tin-tops and endurance racing. More incredible variety from the BRSCC as we prepare to visit a real favourite circuit for the drivers!
---
SILVERLAKE C1 ENDURANCE SERIES – SOLD OUT GRID READY TO RUMBLE FOR 3 HOUR "SPRINT"
So far this season, the C1 Racing Club's Silverlake C1 Endurance Series has proven to be a wonderful addition to the BRSCC roster this season thanks to brilliant races at Snetterton, the Silverstoen 24 Hours and the "Into The Night" race at Anglesey last time out. Now it's time for the series to make its next stop on the calendar, with a three hour race all set to take place on Sunday afternoon with a bumper grid of cars.
In fact it's not just bumper – it's sold out! No less than 50 teams are set to race across the 180-minute encounter, with many teams that sadly couldn't make the trip to Wales back in the paddock this time, plus many of those who did. Regular squads such as Quattro Formaggio, Emax Motorsport, Patrick Watts Racing, Silverlake Racing, WRC Developments, Amigo Motorsport and Team HARD are all in Sunday's line-up with plenty of position swapping expect throughout. Anglesey winners CSC Racing are also back too, albeit with just a single car entry this time.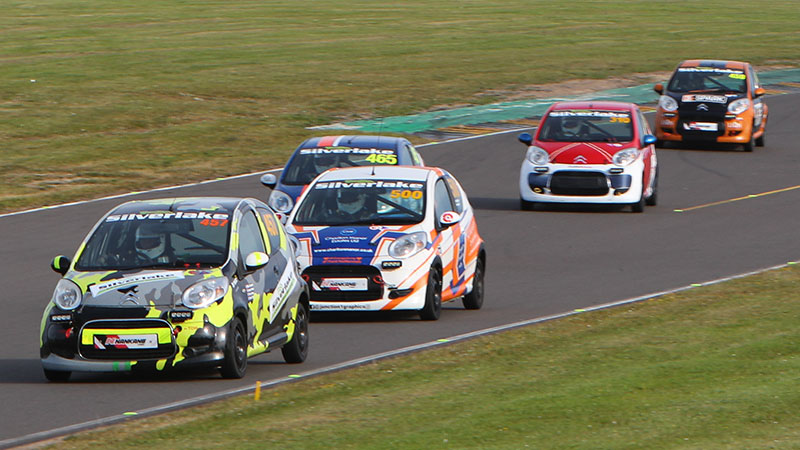 ---
CATERHAM ACADEMY CHAMPIONSHIP – ROOKIE RACERS CONTINUE THEIR EDUCATION
It continues to be a special year for this season's crop of first-time racers within the Caterham Academy, the novice-only championship that gives new drivers a factory-supported season of racing within the Caterham Motorsport paddock. They've managed to complete their first sprint, their first race and then compete as one giant grid on the Silverstone GP circuit, something none of them will ever forget for their first season. 
Now they head to Donington Park to continue their battles within the Green and White Groups respectively, given that the Academy is typically too big to fit onto one grid together at most circuits. So far, Ravi Patel has stood on all three steps of the podium including victory in his very first race start at Brands Hatch. Couple that with 2nd in the Curborough sprint and 3rd at Silverstone within his group and this now gives him a three point lead over sprint winner Harvey Lawrence, while Iain Hibbert currently sits 3rd with just a 2nd place at Brands to his name so far. Also, look for Silverstone victor Rrutuj Patki who will be keen to build on that success.
As for the White Group, it's already turning out to be quite a scrap for the top spot between Tom McEwing and Matt Larbey, with both drivers having taken a race win each as well as McEwing also coming out on top in the sprint. Ben Timmons is their nearest pursuer but is yet to stand on the top step so far, having managed two podiums to date and surely revved up to take his first win. If he does, he will surely hope to close the current gap of 10 points to leader McEwing in a bid to keep himself firmly in championship contention.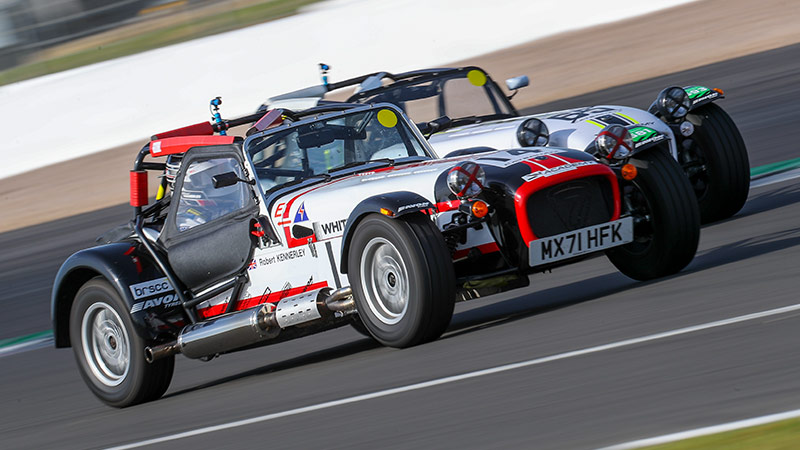 ---
CATERHAM ROADSPORT CHAMPIONSHIP – TANTALISINGLY CLOSE BETWEEN THE TOP THREE
The headline here doesn't lie – it really is incredibly close and competitive at the head of the Caterham Roadsport standings right now with three very evenly matched drivers once again proving to the class of the field from 2021's Academy graduates. Both of last year's champions are in the mix, with Geoff Newman and Charlie Lower merely separated by a single point heading to Donington Park. Newman's three wins, two podiums and three fastest laps currently place him on 166 points as opposed to Lower's two wins, two podiums and one fastest lap, but it's the results in between that make the difference. That single point gap means that the lead of the table could change on a sixpence, so the battles here are certainly not to be missed.
Then there's the third element – Freddie Chiddicks. As a reminder (not that Freddie will thank us for it), Freddie was on course to be Green Group champion last year until Newman stole the fastest lap from him on the last lap to swipe the title. This year, Freddie's clear motivation is to put that right and so far he's definitely been very consistent, having only finished off the podium once to date and taken a race win at Silverstone. On his day, he can match and beat both Newman and Lower, meaning these three shouldn't be too far away from each other all weekend.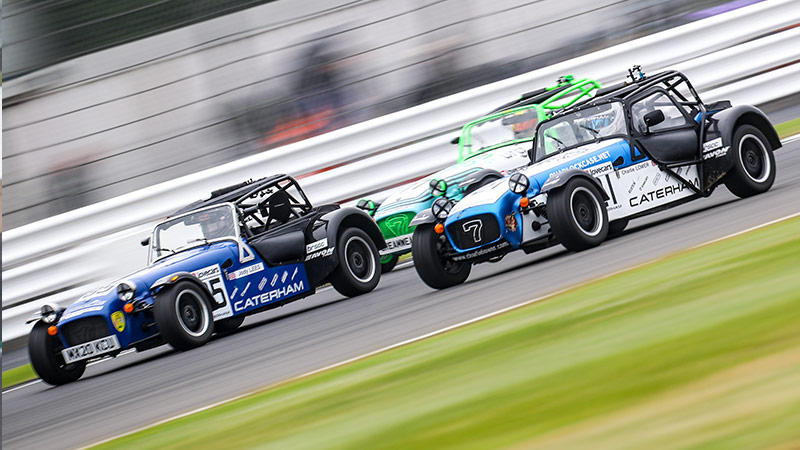 ---
CATERHAM SEVEN 270R CHAMPIONSHIP – O'FLANAGAN LOOKING TO MAINTAIN ADVANTAGE
Speaking of trios that are never far away from each other, the same can definitely be said for those within the top three of the Caterham Seven 270R Championship. With this being the "coming of age" step on the factory Caterham Motorsport roster, by now drivers here will be putting everything they've learned to date through the Academy and Roadsport ranks to the test. Each of the current top three have certainly done that, with a battle between them never too far away from kicking off at any time.
O'Flanagan has so far taken the bulk of the race victories with four to his name in 2022, book ended at this point by two 2nd places. His lead over Hugo Bush is nine points, with Hugo having a single win to his name from the Brands Hatch opener along with another five podiums. The third element in this trio is Domenique Mannsperger, with the German a further seven points away and also sporting a single victory, this one coming in the second race last time out at Silverstone. He too has been regularly on the podium, but a stumble at Snetterton that left him 7th in Race 1 is the only main blot on his copybook to date. This will be another title-battling trio to keep an eye on as well.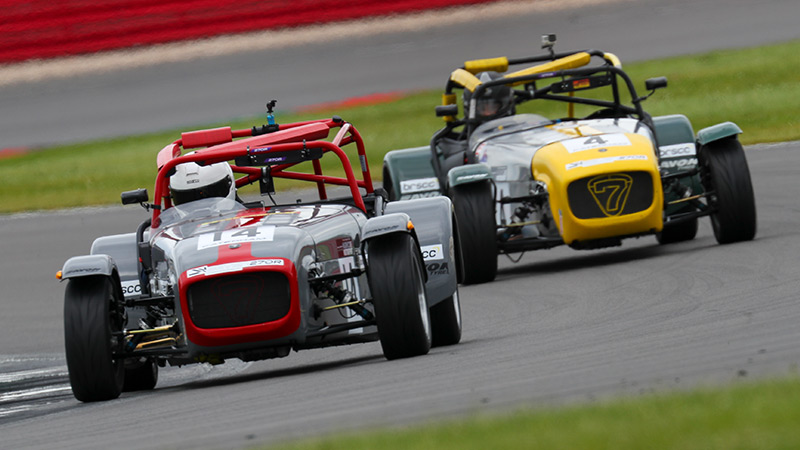 ---
CATERHAM SEVEN 310R CHAMPIONSHIP – HAVE RIVALS PUT THE BRAKES ON RUNAWAY WALTERS?
At Silverstone, something happened for the first time in the 2022 season that didn't look very likely – Pete Walters not winning a Caterham Seven 310R Championship race all weekend. Before that meeting, he'd taken three of the first four races and amassed quite a points lead, but the Home of British Motorsport was where his rival all managed to catch up with him. It's not surprising given that the ultimate evolution of the original Academy race car has prompted so many quick drivers to take part this year, so a weekend without a victorious Walters only seemed a matter of when rather than if.
Those two races winners were current 2nd placed man Harry George and the returning Jack Sales, who was back behind the wheel after a sabbatical away from racing. Jack proved he'd lost none of his pace and Harry continued to show quickly he's developed despite only stepping out of last year's Academy. But even then, that doesn't cover half of the drivers that all have race-winning abilities. When you reel off names like Tom Cockerill, Lars Hoffmann, Harry Cook, James Wingfield, Blair McConachie, Stephen Lyall, Carl Jones, Harry Landy, David Yates and Ben Lopez-Appleton, all of whom are no strangers to success in Caterhams, you'll realise why this year's 310R ranks are some of the fiercest and most competitive yet!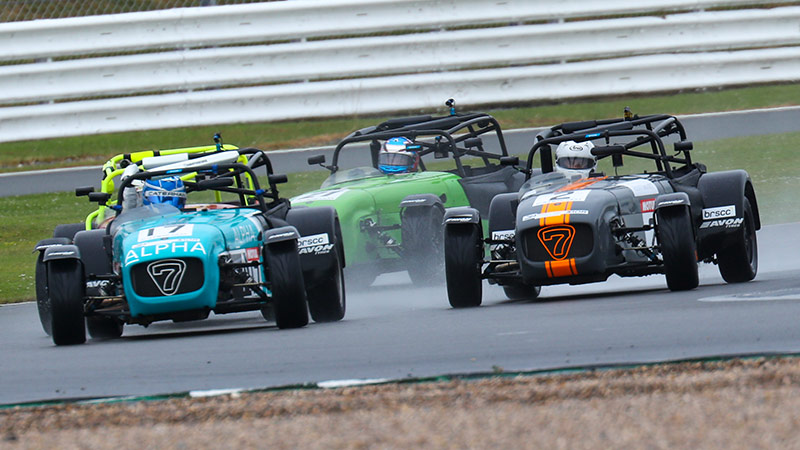 ---
CATERHAM SEVEN CHAMPIONSHIP UK – HEATON LEADS HEAD AS TOP CLASS BREACHES 20 CARS THIS WEEKEND
By far, the fastest cars on track this weekend will be those within the Caterham Seven Championship UK, which heads to Donington Park with one of its biggest grids since the switch to dedicated Avon slick tyres in 2021. At the time of writing, 20 cars are set to line up, ready to provide plenty of high-speed position swapping as only they can.
Despite only winning one race all season, Henry Heaton's solid consistency so far coupled with a little bit of good fortune have helped him leapfrog long time points leader Aaron Head to hold the lead by a single point heading to Donington. Henry's success in the very first race at Brands Hatch might seem like a world away at this stage, but former champion Head's lead only suffered when he retired from Race 2 at Silverstone. 
What this has also done is brought the rest of the competition back into play, albeit we have to remind ourselves that the current points totals don't start factoring in dropped scores just yet. That might be Aaron's saving grace come the end of the year, but right now he's eight points ahead of Lee Bristow in 3rd, knowing that he can't afford any more bad results if he wants to remain in the hunt.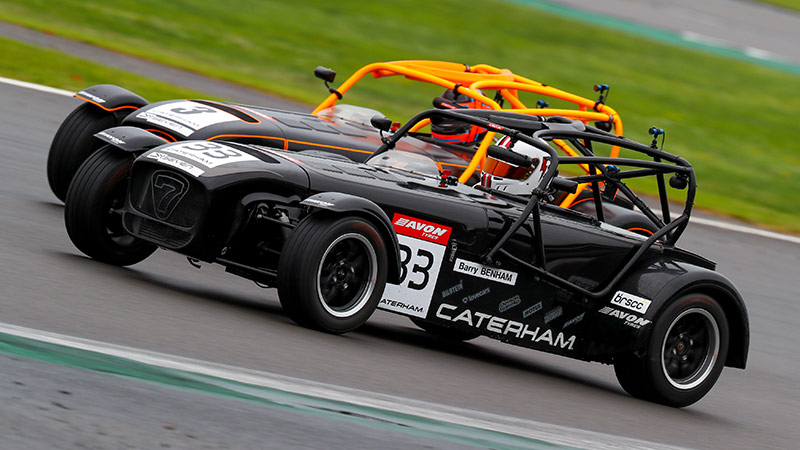 ---
VINYL DETAIL ST-XR CHALLENGE & CIVIC CHALLENGE – FORDS AND HONDAS BACK TOGETHER AGAIN FOR SECOND TIME
After they successfully ran on the same grid together back at Snetterton, and following the ST-XR's solo trip to Anglesey just a few weeks ago, there's another combined grid coming your way for the Vinyl Detail ST-XR Challenge and the burgeoning new Civic Challenge, with an excellent total number of some 25 cars set to line up across both series (at the time of writing).
In recent races, the ST-XR Challenge has been dominated by Michael Blackburn who so far remains unbeaten in the last five races across Snetterton and Anglesey. While some of his rivals have come close and momentarily gotten the better of him, in the end Michael's pace has been more than enough to see them off and remain victorious. Out in front, Blackburn has a clear gap to the rest of the pack as he leads the standings by almost 40 points at this stage, with the championship crossing into the second half of the season come the end of this weekend.
His nearest challengers right now are the Tensport Performance pair of Sam Beckett and Chris Grimes, who will both be keen to put Anglesey behind them after the pair unintentionally collided in Race 1. It's a big deficit to make up at this stage, but if their cars are in good form they'll no doubt be giving Blackburn the runaround. Also keep an eye on fellow ST contenders Mark Blunt, Chris Chisnall, Daniel Robinson, Matt Pimlott and Chris Lindley to score decent results, while defending champ Chris Jones is back in his ST150 this time and watch out for newcomer Aiden Vickers too. Plus, Simon Robinson keeps up the trend of the XR class being represented at almost every meeting so far this year, as he wheels out his Fiesta XR2 to do battle against the STs.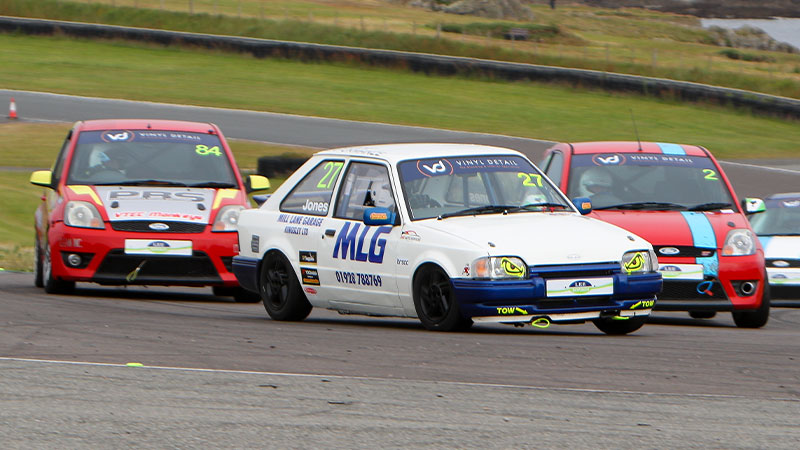 Over in the Civic Challenge contingent, the grid continues to expand with 10 cars lined up to race at Donington this weekend. Most of the names that took part at Snetterton are back such as Jon Peerless and Spencer Fortag to name a few, plus watch out for names such as former ST-XR racer Justin Roberts, Jamie Lewthwaite, Ross Craig and Matthew Stenning as they look to move through the pack.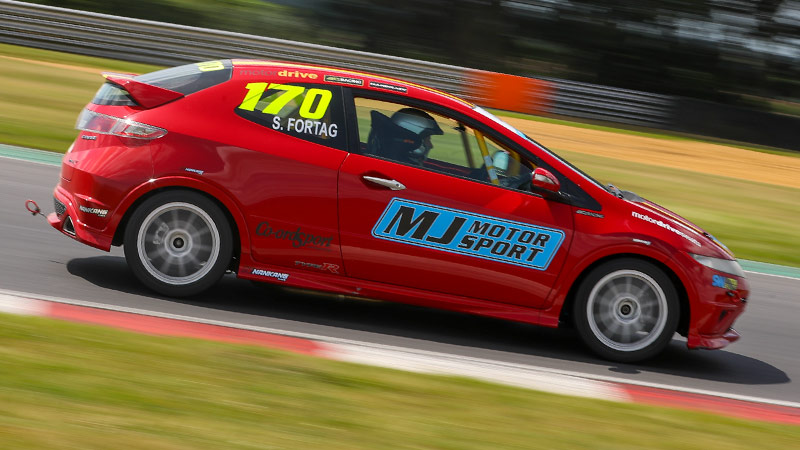 ---
MINI SE7ENS – TITLE RACE ON TENTERHOOKS – Written by Rich Williamson
With three wins further boosted by extra points for fastest laps, plus four more runner-up finishes, Connor O'Brien could easily be considered a firm favourite to take the 1.0-litre crown. However, last time out at Combe his campaign hit a figurative bump in the road, with last-lap knocks in both races, the first earning him a grid penalty, the second a DNF on the result sheet. This allowed former British GT champion (and father of Miglia frontrunner Andrew) to bridge the points gap despite having missed the Cadwell double-header in May, and take his race win total to four. Similarly, Thompson picked up his first victory of the season as his main rivals clashed, adding to several other podiums but with a pair of DNFs already will need to bank on further top scores to keep up the pressure. A trio of podium finishes sees Jo Polley currently lying second overall in arguably her best season to date, but she will no doubt be pushing to go one or two steps better if the leading trio slip up. Of the rest, Glen Woodbridge has produced front-running pace, while Ross Billison has been a winner in recent seasons. 
Reigning Mini-7 S-class champion Michael Winkworth is set to return to the milder-tuned 1275cc 'Scholarship' category having been absent last time out owing to the birth of his child, and no doubt will be aiming to regain his series lead. Matt Ayres and Jonathan Page benefited from Winkworth's absence at Combe to notch up a victory apiece, while Damien Harrington and Frazer Hack continued to rack up high points in the aim of keeping Winkworth behind them in the points standings. Also on the pace is Ryan Taylor, the former Under-17 champion having though suffered a few DNFs, however he did score his debut class victory at Donington last season so will be worth watching out for.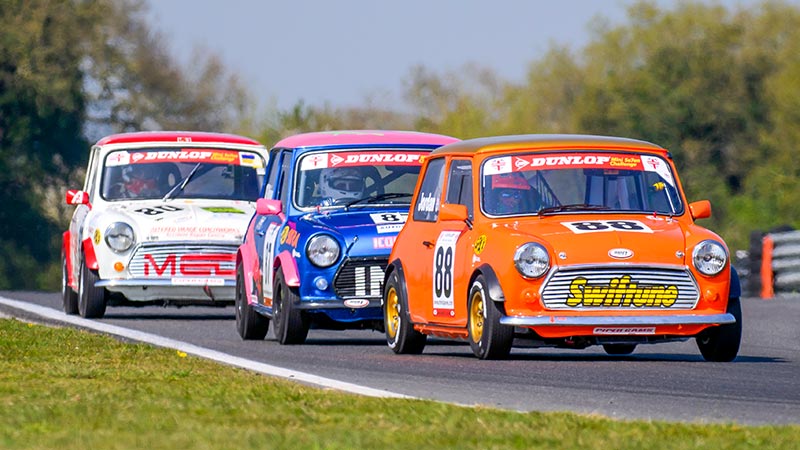 ---
MINI MIGLIAS – DEETH LEADS THE MIGLIA BIG HITTERS – Written by Rich Williamson
Having twice taken the Miglia title, Cambridgeshire-based Rupert Deeth holds a slim margin in the 2022 points race in his quest for a third, and has so far recorded a trio of victories from the eight races so far. Running him close are Aaron Smith and Jeff Smith from Kent and Bedfordshire respectively, and although not related share the honour of a win apiece this season. The former scooped a hat-track of Miglia titles between 2018-2020, while the latter is a former BTCC winner and is the reigning National and Winter Mini Se7en title holder. Former BTCC champion and the current reigning class champion Andrew Jordan has been first past the chequer three times but having missed a couple of meetings is further down the standings, along with Welsh fabrication expert Endaf Owens who won last time out at Castle Combe on his seasonal debut. Among the rest of the super-competitive field, the likes of Kane Astin, Ben Colburn and Ashley Davies have been knocking on the door for maximum points too.
Bolstering the Miglia grids is the eclectic mix of Mini Libres, with variations on engine set-ups based on A-Series blocks. Leading the way is veteran campaigner Richard Colburn who after a couple of early DNFs has since scored consistently in his 5-port, including a trio of class victories. Phil Harvey has twice won the class title with a similar approach but needs some top results from here-on-in to be in with a chance of a third, while the 8-ports of Dan Lewis and Craig Cox have been rapid winning combinations on occasion but reliability can be their Achilles heel.
Scott Woodwiss