BRSCC BRINGS MAZDAS AND ENDURANCE RACING TO BRANDS HATCH FOR THE SUMMER
CATEGORIES:
A race weekend at Brands Hatch is always an enjoyable one for the BRSCC as the Club's home circuit usually provides some excellent racing all round. This weekend on the Indy circuit should be no different, as an armada of Mazda MX-5s, saloons and tin-tops gets set to land in Kent, plus an endurance race on each day to satisfy long-distance racing fans too – another great variety!
---
BRSCC MAZDA MX-5 CHAMPIONSHIP – FENWICK HOPING TO BOOST CHAMPIONSHIP LEAD FURTHER
It's no surprise that the Mazda MX-5 Championship once again sports a sold-out grid as it usually tends to do and the short and tight speed bowl of Brands Hatch's Indy layout guarantees that every session will be busy out on track. For championship leader Fraser Fenwick, the goal will simply be to maintain the current 29-point lead he holds over the rest of the table, at a circuit that saw him firmly embroiled in the championship battle at the season finale. Having taken a win, a 3rd place and a fastest lap, his momentum is certainly strong heading to Kent.
Mike Comber continues to be his main pursuer and currently has a gap over the next three drivers in the standings, with Tom Smith, Jason Greatrex and Michael Knibbs sitting 3rd through to 5th and covered by 10 points. All of them will once again be expected to be pressuring for the lead at the head of the pack this weekend without doubt, and be sure to watch out for those wishing to break into the top five including Callum Greatrex, Luke Pullen and Steve Foden, the latter of the three surely set to be fast should the weather conditions take a turn for the worse.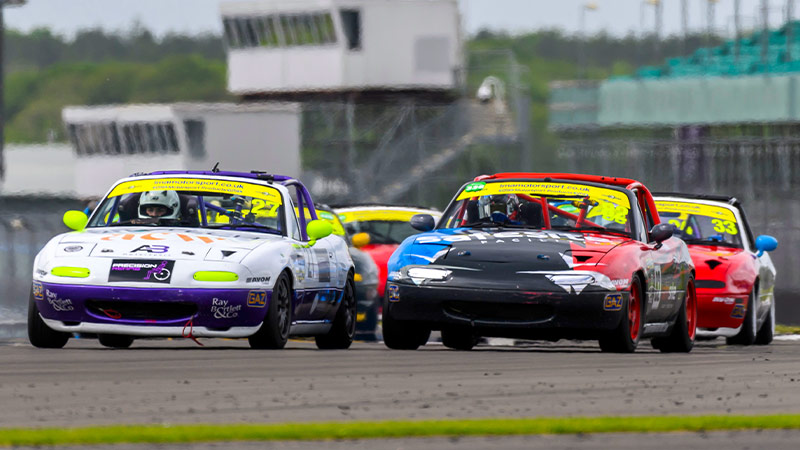 ---
BRSCC MAZDA MX-5 CLUBMAN CHAMPIONSHIP – SECONDS OUT, ROUND FOUR FOR FLETCHER/ MCDONNELL TITLE FIGHT
One of the definitive championship battles developing nicely in this 2022 BRSCC season is the fight for the Mazda MX-5 Clubman Championship. Defending champion Harry Storer is by all means firmly in the mix, but the main duel right now appears to be Matthew Fletcher and Declan McDonnell. For Fletcher, he's currently in the best form of his MX-5 racing career, while McDonnell is inserting himself into a championship battle in a season that he wasn't originally set to run in its entirety!
At Silverstone last time out, both drivers took a win apiece on the GP circuit and their current gap in the points to one another is just three, even before any dropped scores start getting taken into account. Storer, meanwhile, needs to find at least 19 points to gain on leader Fletcher and knows he has to start beating both men on track to remain in contention to retain his crown. Jon Pethick, Chris Dawkins, Alan Hawkins, Charles Boniface and more are also sure to be giving the current top three the runaround as much as possible as they look to keep them in their sights, while also scrapping amongst themselves for top five positions in the points.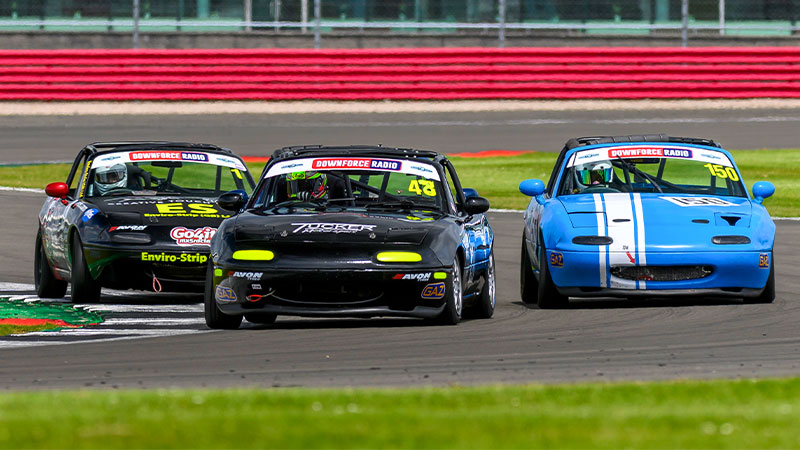 ---
BRSCC MAZDA MX-5 SUPERCUP – CAN ANYONE STOP THE RUNAWAY AMOS?
Out of the three Mazda MX-5 championships on display at Brands Hatch, the one that not only features both arguably the most competitive grid, but also the biggest points lead, is the Mazda MX-5 SuperCup. So far, current leader Richard Amos has only finished off the podium once this season, and of those podium finishes only two haven't been victories. His consistency against his rivals, who have been vigorously scrapping amongst each other since the opening lap of the first weekend, has helped him to extend a lead in the Pro Class standings to 47 points at this stage already. It's looking good at this stage for Paddock Motorsport as they quest for their first Mazda MX-5 title, but there's still plenty of drivers that can spoil the party.
The 2022 SuperCup grid is simply stacked full of talented drivers, many of whom are certainly able to achieve at least a podium finish, with the following all set to be in contention – Patrick Fletcher, James Cossins, John Langridge, Leigh Britten, Will Blackwell-Chambers, Colin Bysouth, Alex Miller, Tom Griffiths, Nic Grindrod, Jack Brewer and Michael Knibbs. The impossible task is now to try and work out which drivers from that group are going to be Amos' main challengers this weekend!
Also keep an eye on the burgeoning Club class points battle, as that's building quite nicely between Stephen New and Scott Wright. The two drivers are separated by a 28 point gap at this stage, while BC Cars Motorsport teammates Bruce Robinson, Adrian Burge and Clive Chisnall are all currently locked in their own inter-team battle for top 5 places in the standings, covered right now by 8 points.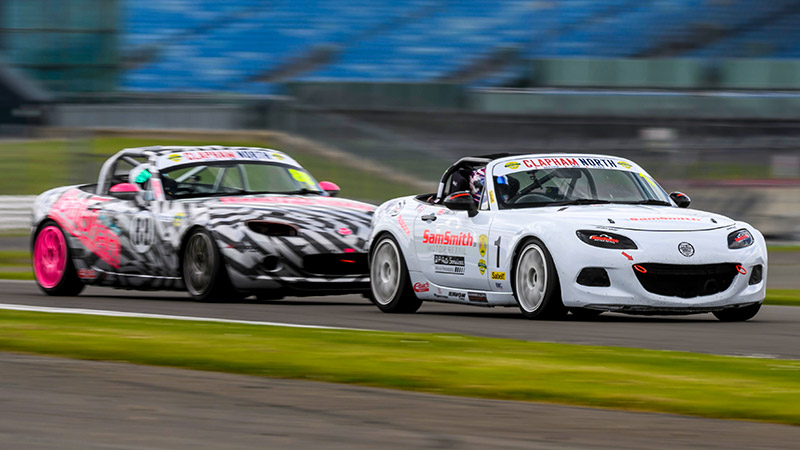 ---
FUN CUP ENDURANCE CHAMPIONSHIP – GCI LEADS BUT UVIO ON THE COMEBACK TRAIL
So far it's turning out to be a thrilling Fun Cup Endurance Championship this season, as defending champions UVio/ Hofmann's Lotus continue their quest to clinch yet another title. But after mechanical issues at Oulton Park marked a blot on their copy book early on, sandwiched inbetween two typically commanding race wins for the evergreen driver pairing of "Farquini" and Fabio Randaccio. However it's that Oulton drama that has prevented them from leading the standings.
That responsibility currently falls with GCI Racing, who haven't been shifted from the second step of the podium from any of the first three races, thus helping them to hold a 16 point lead at this stage. It's certain that UVio will edge closer should they continue winning races, but GCI needs to carry on banking the strong finishes in order to maintain their place at the head of the table. Meanwhile, Stobart Sport are leading what's turning out to be a very tight battle for 3rd place between four teams, with Team Viking, Kaizen Motorsport and Vapeclub with EDF Motorsports all in close contention as well. Don't be fooled for one second by the race length here – FunCup races are typically exciting, enthralling and usually go down to the wire on a regular basis!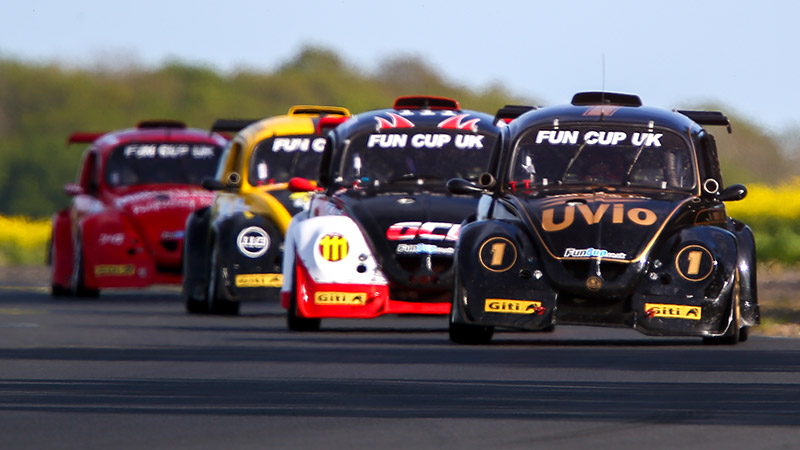 ---
BRSCC SUPERSPORT ENDURANCE CUP – HEALTHY ENTRY POPULATES GRID FOR FIRST RACE OF 2022
After the BRSCC SuperSport Endurance Cup made its pilot debut at Snetterton at the end of July last year, the Club elected to run two more races to gauge further interest and to develop the new season even further. The first of those races, both of which taking place at Brands Hatch, takes place this weekend and for their first run of 2022, they've managed to amass a rather impressive and respectable grid of 27 cars, consisting of many different marques and models.
The SuperSport Endurance Cup features five classes with four of them represented this time, plus two cars running as invitation entries. The fastest class, Pro-A will feature a rather intriguing face off between David May's Nissan 370Z and the Caterham 310R of regular racers Geoff Newman and Darren Burke, so straight horsepower will go up against handling and agility to win the class here. With no Pro-B class cars listed, the rest of the entry mostly features those listed in one of the three Clubman classes. Clubman-A has some very interesting machines featured, including a Mazda MX-5 Mk4, an Ford Fiesta from the ST240 Class of the Fiesta Championship, a pair of Honda Civics EP3 and the rare FD2 model of Ricky Coomber, and a Lotus Elise amongst others.
Clubman-B looks like it will also be a little unpredictable as Mazda MX-5s, a BMW Z4 and 330ci should certainly be the main players here. The final class is Clubman-C, with more BMWs and MX-5s populating this part of the entry, including a solo drive from BRSCC's very own Competitions Coordinator and qualified clerk of the course, Luke Souch.
The race will run for two hours with mandatory pit stops required to be made throughout. With refuelling and teams of up to three drivers also permitted, this should be a brilliant strategic race to watch play out, especially on the short confines of the Indy circuit which will guarantee plenty of traffic and battles on circuit!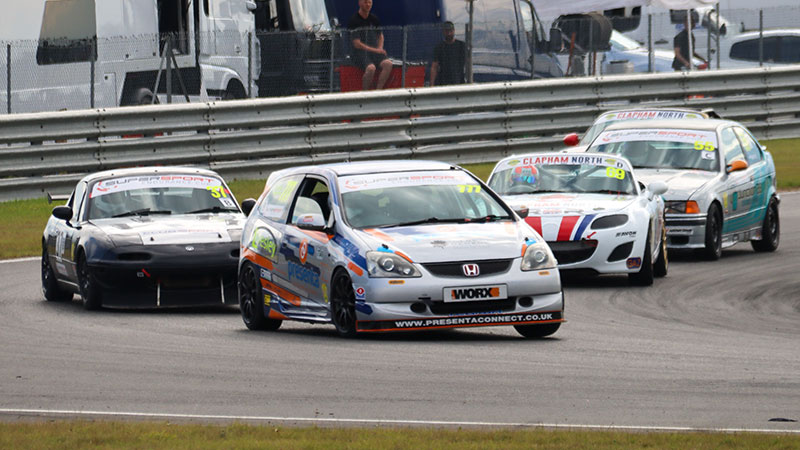 ---
CMMC SOUTHERN SUPER SALOONS & TIN TOPS – LOCAL RACERS BACK AGAIN AT THEIR HOME CIRCUIT
Once again guesting on a BRSCC timetable at the circuit they call their home, the Classic & Modern Motorsport Club Southern brings a large combined grid featuring their well-supported Super Saloons and TinTops series, which once again has a very diverse, eclectic and fascinating mix of machines on display.
Cars you cannot ignore include booming Super Saloons such as veteran Rod Birley's Ford Escort WRC, Alex Sidwell's ultra-popular Holden Commodore VF ex-V8 Supercar from Australia, Nick Sutton's Mitsubishi Evo X and Adrian and Ronan Bradley's pair of formidable BMWs. Meanwhile in the TinTops, look out for Warren Johnson's Peugeot 205 GTi, Ken Angell's BMW 3 Series, Vic Hope's Honda Civic Type R and Dominic Ryan's Ford Fiesta to be amongst some of the key players.
Scott Woodwiss