BRSCC BRINGS THE SPRING ACTION AT BRANDS HATCH
BRSCC's home venue of Brands Hatch was the location of the Club's next race event of 2023, as more championships and series began their campaigns in fine style in front of excited spectators and live stream viewers. With some series making their very first appearance and others having already chalked off one weekend of racing for the year so far, there were plenty of stories and headlines going into the event with many full of anticipation for the racing about to take place.
---
GAZ SHOCKS MAZDA MX-5 CHAMPIONSHIP
After getting underway on the Silverstone GP circuit a few weeks earlier, the GAZ Shocks Mazda MX-5 Championship arrived at Brands Hatch for the next three rounds in the schedule with all of the expected front runners towards the head of the pack, but not necessarily in the order many anticipated them to be in heading to Kent. Thomas Langford led the standings going into the weekend as the latest leading contenders looked to try and knock him off the top.
Adam Sparrow collected a superb pole in the wet qualifying session on Saturday morning for Race 1 later that day, but couldn't stop Steve Foden from beating him to Paddock Hill Bend just moments into the start. Sparrow initially went with him as the pair quickly gapped the rest, while a giant battle pack formed for 3rd place that provided constant entertainment all race long.
Initially, Steve Bartlett held P3 before Ted Bradbury took it and wasted no time in catching Sparrow, which in turn allowed Foden to get away. Sparrow's stringent defence only brought the rest of the group into place as Tom Smith, Langford, Brad Jones, Adam Craig and Luke Pullen were all in contention heading into the second half.
Smith's chances came to nothing when he found the barriers at Clearways late in the race, leaving Sparrow to somehow hold back the tide of constant attacks to remain in 2nd, while Foden took a dominant and unchallenged win with Bradbury ending up on the final podium step.
Race 2 began much as Race 1 had with Foden ahead of Sparrow off the line and the pair trying to pull away, but this time they had Adam Craig trying to join them as Jason Greatrex initially led the best of the rest before Bradbury was quick to squeeze through for 4th place. Craig then took 2nd from Sparrow just before half distance as the pair tried to keep Foden in their sights.
Incredibly, Bradbury managed to muscle his way up to 2nd and the three drivers locked onto Foden's tail in the final few minutes, further compounded by a late safety car for a car in the gravel at Paddock. On the short two lap restart, Foden kept his cool to collect his second win of the weekend, while the tussle behind left Bradbury in 2nd and Sparrow completing the podium in 3rd.
Great starts from Sparrow and Craig helped them swamp Bradbury off the start of Race 3 as they immediately pressured Foden for the lead and yet again, Sparrow locked himself onto Steve's bumper early on. Craig chase the top two for several laps before dispatching Sparrow for 2nd and from there, both he and Foden drove off into a race of their own.
This left all the drama once again to take place behind them as the fight for 3rd mimicked that which had thrilled for 2nd place the day before in Race 1. Sparrow yet again made his MX-5 the widest in the venue as he batted away constant attacks from Langford, Bradbury, Smith and Jones until Bradbury slipped by at Druids with four minutes to go. He then defended from all comers to keep P3, while Foden completed his hat-trick of wins and Craig was delighted with his first podium finish in P2.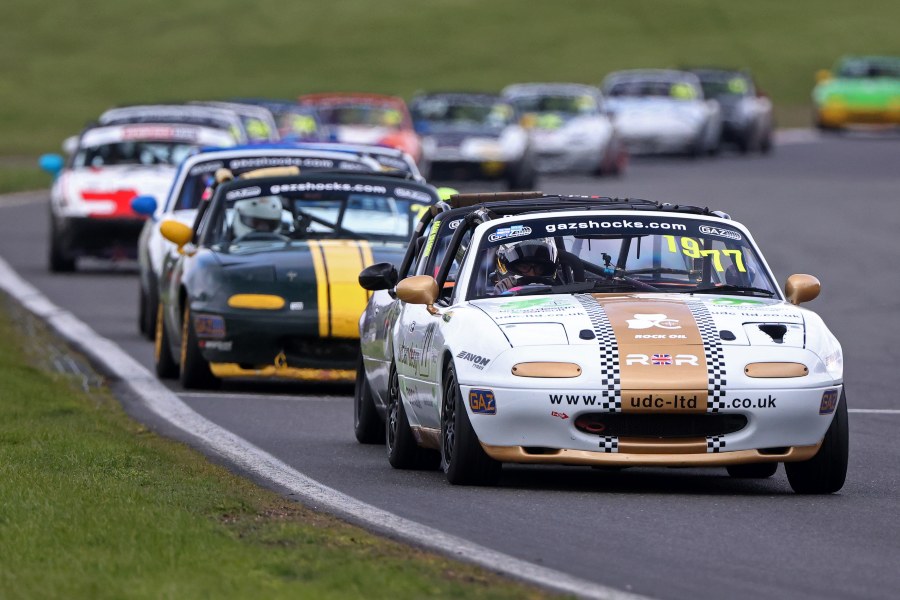 ---
DOWNFORCE RADIO MAZDA MX-5 CLUBMAN CHAMPIONSHIP
The second outing of the season for the Downforce Radio Mazda MX-5 Clubman Championship produced two different race winners from the day's racing, a contrast to the dominance of Brad Jones at the season opener at Silverstone a few weeks prior. More superb racing populated both encounters with tight lead battles in each.
Paul Bateman took an excellent pole in qualifying, matching that with a strong start to Race 1 and held his own in the early stages as he led the first few minutes. However, a strong move at Clearways from Jordan Pimley helped him into contention, also bringing Jamie Turner and Matt Fletcher into the mix too.
From there, an enthralling four car lead battle commenced for the remainder of the race, all of them constantly trading places, eventually settled when Pimley took advantage of Fletcher running wide at Clearways while lapping a backmarker and defending to the flag to take his and Close Racing's first MX-5 race win. Bateman still held on to 2nd in the end, with Turner completing the top three.
Track conditions got worse after heavy rain prior to Race 2, giving Pimley a bigger challenge to defend his pole in Race 2. Bateman took the lead from the outside of the front row, but Pimley quickly tried to put him under pressure while the rest of the field scrabbled for traction, grip and positions behind them. By a third's race distance, Pimley was back in front and pulling away.
Both Bateman and Fletcher found pace in the wet to close down Pimley's lead, before a big spin for Bateman exiting Clearways dropped him to an eventual distant 3rd. This left Fletcher to catch Pimley, managing to take over in front with a couple of laps to go and going on to pick up a first win of the year. Pimley was still satisfied with 2nd place despite a late off-track excursion, and Bateman survived his spin to take P3.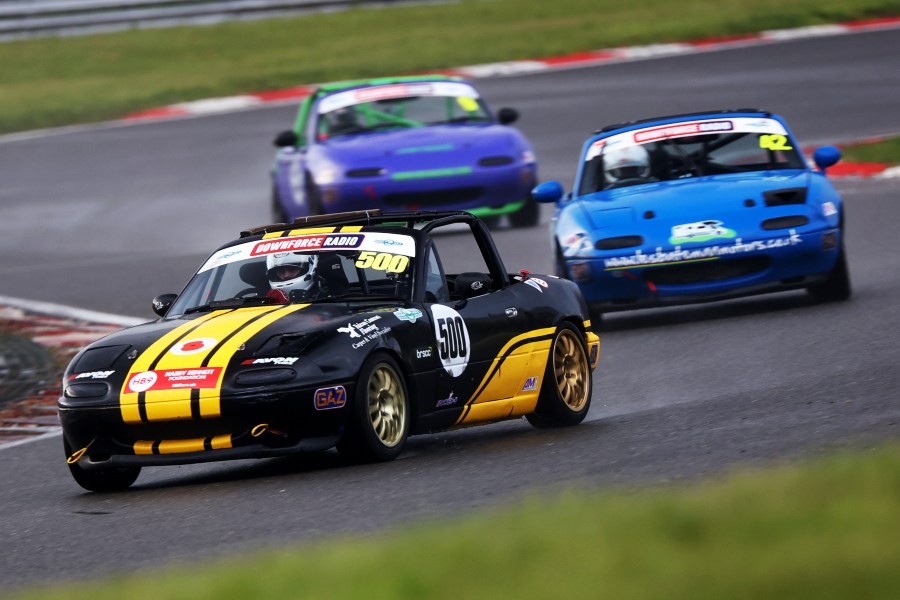 ---
CLAPHAM NORTH MOT MAZDA MX-5 SUPERCUP
Aidan Hills entered the second Clapham North MOT Mazda MX-5 SuperCup race weekend of the year at Brands Hatch as the unquestionable Pro Class points leader, courtesy of his hat-trick at the Silverstone GP opener. Many of his competition were hoping to keep him in closer attention this time, although Aidan clinching pole by three quarters of a second in a qualifying session peppered with red flags suggested that may not be the case.
A clean start for a damp first race seemed to initially confirm that, heading the field from Richard Amos and James Blake-Baldwin, the latter leaping from 9th on the grid to 3rd in a matter of moments. Joined by defending champion Will Blackwell-Chambers, the three cars were being left to their own devices with Hills, who continued to control the race out in front.
Hills' lead of some five seconds was then evaporated by a mid-race safety car, giving Blake-Baldwin and co a chance to attack with five minutes left on the restart. Despite James' best efforts, Hills had just enough to keep the rest at arm's length and collected his fourth win of 2023 ahead of Blake-Baldwin, while Blackwell-Chambers denied Amos a podium by stealing back 3rd before the flag. Robert Way was a dominant Club class win, taking the victory ahead of
Clive Powles and Kamal Kalsi.
Race 2 on Sunday morning marked the 200th MX-5 SuperCup race since it began in 2013, and it began in familiar fashion with Hills leading from pole chased by James Cossins, who had qualified the previous morning but had to miss Race 1 due to a prior commitment. He headed Amos as the pair tried to keep pace with Hills early on, but Aidan once again had enough to keep them at bay.
Cossins quickly dropped Amos who then lost 3rd to Blackwell-Chambers and from here the leading order remained static over the next few laps. However, racing was prematurely halted due to a multi-car accident approaching Druids involving Jack Brewer, Simon Baldwin, Nic Grindrod and James Wilson, forcing the red flag to be thrown and the result declared. Hills took his 5th win of the season in Pro Class from Cossins and Blackwell-Chambers, while Way again won Club class from Powles and Bruce Robinson.
Partially reversing the grid for Race 3 put Amos and Patrick Fletcher on the front row, and Fletcher got the jump to lead from the outset, leaving a bunfight for 2nd place early doors that went the way of Ali Bray with Blake-Baldwin following suit in 3rd. Another appearance for the Satefy Car was then called after an incident exiting Druids, bunching the leaders back together.
After a lengthy clear-up, Fletcher's restart wasn't enough to escape Bray, Blake-Baldwin and co and Bray pounced at Clearways in a move that eventually shuffled Fletcher down to 4th. Initially able to create a small gap, Blake-Baldwin and Hills traded 2nd between them and quickly reeled Bray back in as Hills attacked for the lead with three minutes to go but to no avail.
Blake-Baldwin then pounced on a missed apex from Hills to reclaim 2nd and pressed Bray all the way to the flag, the AB Motorsport holding him back to pick up the win on the road, However, a 1-second penalty post-race for Bray for avoidable contact pushed him down to 5th in the amended result.
This in turn handed Blake-Baldwin the victory ahead of Hills in 2nd and Patrick Fletcher securing a silver lining to his weekend with 3rd in Pro Class. Robert Way also wrapped up a hat-trick of Club class wins, this time victorious ahead of Adam Blair and Clive Powles.
---
FUN CUP ENDURANCE CHAMPIONSHIP
19 teams descending on the Brands Hatch Indy circuit for the opening salvo of the 2023 Fun Cup Endurance Championship, with four hours of enthralling flat-out racing in store as another season of the popular endurance series got underway in earnest. Defending champions GCI Racing were not present on the grid on this occasion, leaving a few more familiar teams to gun for early glory.
Axiametrics/ GRD Racing were drawn on pole in the random ballot and made the most of it to lead at the start, but it only took former champions UVio/ Hofmann's Motorsport five minutes to take over in front, but the pair were quick to scrap between each other soon after as Team Viking/ Ursus and PLR Racing watched on in 3rd and 4th respectively.
The quartet plus the #212 EDF Motorsports circulated together during the opening stint, including Viking and UVio taking turns to lead, before the first runyourfleet.com Safety Car appearance came barely 15 minutes in after the #99 JPR car beached itself in the gravel at Paddock. On the restart, the top eight cars circulated together barely separated by 2 seconds in total at points with UVio and Axiametrics again trading P1, as the first pit stop window loomed.
Through the first window, Viking/ Ursus hit mechanical troubles and dropped out of contention, while PLR Racing took over in front from GT Radial and UVio once the stops were completed. After lengthy battles with GT Radial, PLR also hit trouble after contact with #212 EDF Motorsport, forcing them to pit for a quick bodywork fix. UVio led comfortably towards the second pit window, although a safety car for another car in the Paddock gravel appeared just before it opened.
Just after the window concluded, the lengthiest safety car of the race was called after Axiametrics suffered a steering problem and pulled off at Clearways, and a longer than usual procedure to recover it also coincided with the arrival of rain, throwing another unpredictable element into the mix. Racing resumed again not long before pit window number three, where Team Olympian jumped from 3rd to 1st in a lap and led as half distance was breached.
After Olympian and UVio pitted together, another safety car was called for an off exiting Clearways, and when racing got back underway, it had shuffled the order to put the Smeeths in the Shire GB car to the front from PLR and Olympian, while UVio had to pit for an issue which dropped them to 6th. Late stops for Shire, PLR and Uvio elevated GT Radial to the lead in the penultimate pit window as heavy rain arrived once more going into the final hour.
Suddenly, Olympian woke up and carved its way through from 6th to 4th while UVio also found pace in the wet to move up to 2nd, while GT Radial still led. They were the first to make their final stop but were leapfrogged by Olympian and when UVio stopped, it put the top three nose to tail before Riley Phillips took Olympian to the net lead. Phillips then charged off out in front never to be seen again, leaving a fight for 2nd place.
GT Radial spun away a podium at Clearways and when PLR made their final stop, it promoted Olympian into P1 and from here the battle for the podium really heated up. PLR recaught UVio in the final stint and thus began an intense back and forth duel for 2nd place, the pair passing and repassing each other several times in the last 20 minutes. Ahead of them, Olympian opened their account with a victory at Brands Hatch, while in the end the fight for 2nd went PLR' Racing's way, with a late move on the last lap to clinch it from UVio in 3rd place. A thrilling conclusion to a superb opening race!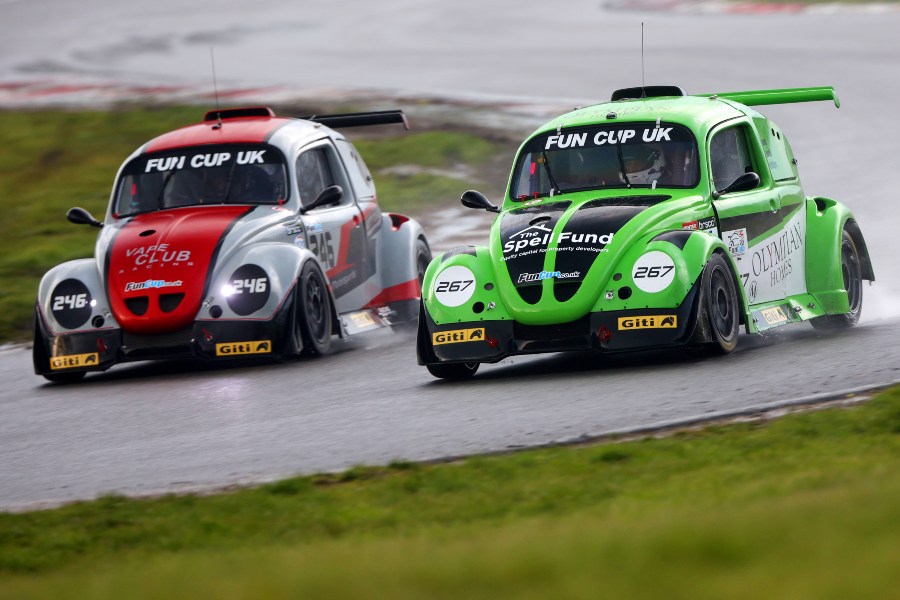 ---
NANKANG TYRE BMW COMPACT CUP
Sunday at Brands Hatch marked the start of a brand new season for the Nankang Tyre BMW Compact Cup and with defending champion Mikey Doble moving on to live his dream in the BTCC this season, it invited the potential for another brand new champion from the 2023 season. Two possible candidates could be Guy Davis and Oliver Faller, and they both staked initial claims with a front row start for Race 1.
Faller got the jump from the line and beat Davis to Paddock first as he led the pack on the opening lap with Rudi Macmillan and a fast starting Ross Stoner also trying to go with them. The front runners quickly settled into their pace with Davis ensuring he was locked onto Faller's tail from the early laps.
Davis' pressure on Faller was near relentless as the leading pair dropped the rest of the field, the pair ending up in a race of their own. It wasn't long before they were back and forth trading the lead between them for the remainder of the race in a fine display, battling hard all the way to the chequered flag where David collected the first win of the season. Behind them, action was just as frantic over 3rd place, shaking itself out in a mega last lap scrum that gave Rudi Macmillan the final podium spot.
The start of Race 2 was a little more energetic than Race 1 as Davis held the lead while Stoner got elbowed wide at Paddock by Macmillan who them jumped up to 2nd, while Dale Wherton briefly demoted Faller to 4th beginning the second lap. With less pressure from behind, Davis could extend a lead out in front while Faller chased down Macmillan to reclaim P2.
For the rest of Davis' race, he was unchallenged and look as though he would continue to extend it further, but an incident between Joe Doble, Sam Strong and Jim Barrett left the former two stranded in the road at Clearways, forcing the safety car and an eventual red flag. Davis was therefore given his second win with Faller and Macmillan again taking 2nd and 3rd respectively.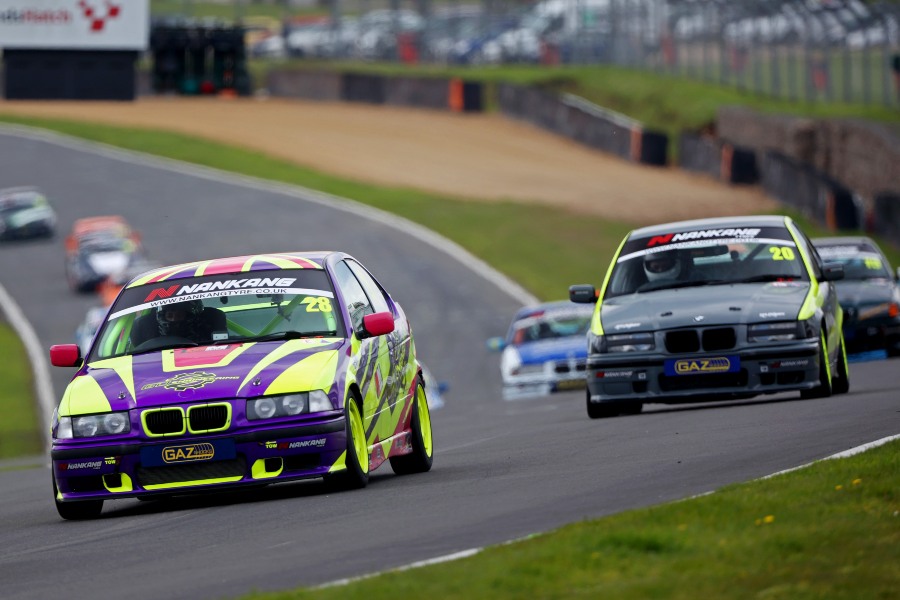 ---
AUDI TT CUP RACING
One of the most highly anticipated debuts on the BRSCC's formulae roster for 2023 was that of the all-new Audi TT Cup Racing series, one which had been causing ripples throughout out the club racing scene and inspired more than 40 sales of build kits for cars in various stages of completion heading to Brands Hatch. Impressively, some 17 cars are ready to race piloted by drivers of various experience levels and racing backgrounds, making it a real mixed bag heading into the weekend.
Qualifying was impressive straight out of the box, as incredibly the top 13 cars were all separated by less than a second, showcasing just how tightly matched and competitive the entry already was. Andrew Dyer took the first ever TTCR pole from Richard Forber and it was Dyer maintaining the lead from the start of Race 1 with Ross Makar latched onto his rear wing almost instantly from the outset.
It was immediately clear in the opening laps that the close qualifying times were translating into an equally close knit lead group, with the top seven running together in a breakaway from the rest. Makar carried on pressing Dyer for the remainder of the race, whilst also feeling the pressure from Max Lewis, Ross' teammate Patrick Booth, Paul Maguire and Richard Forber.
Booth and Lewis appeared to tangle at Paddock, leaving Lewis' car damaged and out at Druids, while Forber capitalised immediately to leap from 6th to 3rd in a matter of moments. Dyer controlled the rest of the race to the flag to secure the first ever TTCR race win, with Makar in 2nd and Forber taking 3rd, doing well to rebound after a poor start.
Unlike the first race, Makar won the sprint to Paddock this time beginning Race 2 but Dyer was quick to slot in line behind to give chase. The top two remained together with Makar trying to pull away from Dyer, but there was practically nothing to choose between them as the race continued. Around mid distance, Makar's front splitter came loose and began skittering along the ground as he continued to circulate, but didn't seem to slow Ross down much, if at all.
This was vindicated at the chqeured flag when Makar kept Dyer at arm's length all the way to the finish to end the first TTCR weekend with a victory. Andrew was still happy with a deserved 2nd place right behind him, while a distant Richard Forber rounded off the top three again. With more and more cars set to join in the inaugural Audi TT Cup Racing series as the season goes on, this was the perfect launch pad for the new formulae!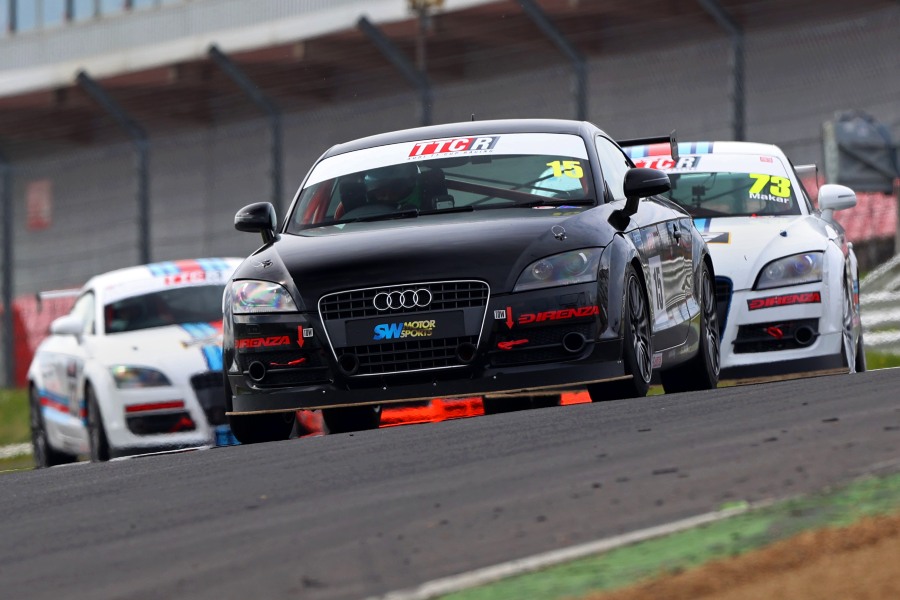 ---
BRSCC EVOLUTION TROPHY
Making its own debut amongst the festivities at Brands Hatch, the BRSCC Evolution Trophy premiered a new concept conceived by the club of creating a series dedicated to new and up and coming race series and projects looking to grow and prosper on track together as one combined grid. For its inaugural year, the Classic VW Cup, Classic TT Cup, Cooksport Renault Cup and Mazda MX-5 Mk4 Trophy all joined forces together to enjoy a fascinating pair of races.
Matthew Hollier topped the grid out right in his Renault Clio with Adam Marshall in Classic VW pole alongside him on the front row, but it was the second row pair behind them of Nick Gwinnett's Clio and Chris Adams' VW Golf that got the jump heading into Paddock for the first time. It wasn't long before Gwinett found his way back to the front and was two seconds ahead in the "outright" lead from Hollier in his Clio and Marshall in the leading Classic VW Cup car.
Gwinnett remained in a comfortable lead until a safety car was called after Dave Tyson's Clio Cup car skated off at Paddock, and it was down to a one lap shootout to decide the victory. Gwinnett held his nerve as they went back to green and kept Hollier at bay to be the first car home on the road, racing to the line first to win the Cooksport Renault Cup segment from Hollier and Tony Hunter, while 3rd overall was Classic VW winner Adam Marshall ahead of Chris Adams and Ken Lark. Harry Scott was the first of the Classic TT Cup drivers home, while Ben Taylor beat both Sam Hicks and Joseph Ritchie to claim Mk4 MX-5 Trophy honours.
Ken Lark got a great launch in his VW Corrado to the second race and managed to pick off Gwinnett into Druids to lead the pack beginning Race 2. He quickly made a break as Gwinnett and Hunter in their Clios headed the Golf of Marshall behind, but it wasn't long before both Gwinnett and Marshall were reeling the Corrado back into passing range.
Lark was able to lead for more than half distance, but eventually Marshall took his Golf past Gwinnett's Clio and then picked off the Corrado with less than five minutes to go, before Lark then dropped out with mechanical issues late in the race. From here Marshall held his own to take the flag first as the top Classic VW car, ahead of Cooksport Renault winner Gwinnett in 2nd overall, and Tony Hunter finishing P3 overall. Harry Scott yet again won Classic TT Cup, while both Ben Taylor and Sam Hicks enjoyed a thrilling battle for the MX-5 Mk4 Trophy win, eventually with Taylor coming out on top.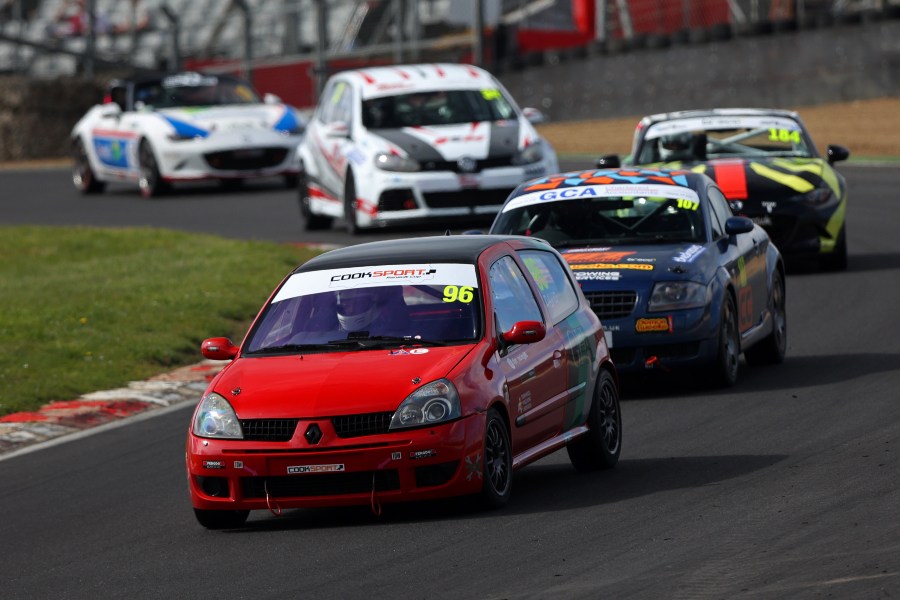 ---
HICKFORD CONSTRUCTION MG METRO CUP
The Hickford Construction MG Metro Cup made its full season BRSCC debut at Brands Hatch, a championship that's been actively in competition since 1992 and still going strong today. With many of the front runners from the 2022 season back again for more fun, including defending champion Mark Eales, the opening races were certain to be just as competitive once again.
From the third row of the grid, Eales made a superb start to go from 5th to 2nd in the first race including passing pole sitter Rhys Claydon, while front row starter Mike Williams jumped into an immediate lead. After Eales had caught Claydon and deposed him of 2nd, the pair set about catching Williams and in no time at all, the three cars were together in the lead group.
Claydon repassed Eales for 2nd and quickly left him behind to catch up to Williams. The pair ran nose to tail for the next few laps, with Claydon even surviving a scary slide into Paddock but gathering it together at the expense of several car lengths. Williams managed to continue without too much trouble from behind to take the first win of the season, keeping Claydon back in 2nd and champion Eales settling for 3rd.
Another great start for Mike Williams helped him lead again beginning Race 2, with Claydon again in 2nd ahead of Ben Williams with a rapid getaway to move into 3rd. It took a few laps of consistent pressure to finally give Claydon a move into Druids just past half distance to take the lead from Mike, and not long after the recovering Eales picked off Ben to move back into 3rd.
Claydon pulled a few seconds gap in front with a string of fastest laps, but his efforts were almost in vain due to receiving a 5 second penalty for track limits, leaving him with the tasking to trying to pull further ahead to negate it. Try as he might, Rhys could only get to the flag 3.9 seconds ahead of Mike Williams, pushing him down to 2nd with Williams the winner again, while Eales remained 3rd to take another podium for his troubles.
Scott Woodwiss