BRSCC & C1 RACING CLUB DELIVER SUCCESSFUL SILVERSTONE 24 HOUR MEETING
CATEGORIES:
Silverstone's Grand Prix circuit provided the setting for one of the most memorable and landmark race weekend in recent history for the British Racing & Sports Car Club recently, as it took on the running of the ever-popular Silverlake C1 Racing Club 24 Hour race for the very first time, and alongside a plethora of packed grids on the support race timetable, it's two days of racing many won't forget in a hurry.
SILVERLAKE C1 RACING CLUB 24 HOURS – HYBRID TUNE ENTERS LATE, THEN DOES THE DOUBLE
Just a couple of weeks ago, the name Hybrid Tune Motorsport was missing from the entry list for this year's Silverlake C1 Racing Club 24 Hours, but a last minute entry on the week of the meeting after a change of plans saw the defending champions back to defend their endurance crown. Lining up on a grid which totaled 61 cars, a handful more than last year's encounter, it was always going to be busy as the drivers ran twice around the clock.
The last-minute decision to enter paid off for Hybrid Tune Motorsport as they planted their car onto pole position during Friday evening qualifying, with Team Trojan on the front row ahead of Patrick Watts Racing's #507 car, Emax Motorsport's #346 car and Fighting Torque in the top five. From the start, Hybrid Tune held onto the lead through the opening 20 minutes before JW Bird Motorsport's #347 car that managed to climb up from 9th on the grid to the front. Not long after, the #503 BH Motorsport/ SCK Motorsport car took its turn in the lead with JW Bird and Hybrid Tune in tow as the three cars circulated together.
The #503 car was hit with a three minute time penalty for avoidable contact as the first set of pit stops played through, giving Emax the lead who held onto it as the race descended into darkness and managed to stretch as far as an entire lap out in front. Through pit stop cycles and brief safety cars, they slipped to 3rd behind Majestic Motorsport and Team Trojan, the latter benefitting from a strong stint as they took over in front as the race entered its long overnight run through the darkness.
Through the night, the race was peppered with a number of very brief safety car periods, and it was early on in this sequence that Hybrid Tune Motorsport took full advantage to climb back into the lead with Emax only a few seconds away. JW Bird Motorsport also got themselves past Emax into 2nd, and then managed to pass for the lead at around 1am, and as more brief safety cars kept the field bunched with several taking advantage for quick pit stops, the top three traded places with each other on and off as the early hours of the morning played out. First Emax and then Hybrid Tune reclaimed the lead, with the defending champions only then beginning to extend the gap that would help them work towards winning this race.
The nighttime gave way to the early morning dawn on Sunday and at half distance, the Hybrid Tune crew found themselves a lap ahead of the competition, ahead of JW Bird Motorsport and a strong charge from WRC Developments who had moved their #318 car into 3rd place at this point. Also making moves were the Fake Taxi squad, who managed to rise as high as 2nd at one stage during the dawn hours thanks to solid driving and slick pit work, but found themselves holding station in 4th come 9am.
It steadily became a two-horse race between Hybrid Tune and Emax, while WRC Developments and Fake Taxi duelled for 3rd place in between pit stops and traded places. Fake Taxi dropped further back in 4th after pitting to fix rear end damage and then a stop go penalty, but thanks to further safety cars were able to get back into 3rd as more pitstops cycled. But then another penalty for more than four people working on the car during a stop put their chances of a podium to bed.
Throughout the final few hours, Hybrid Tune Motorsport continued to hold the lead and shook off a potential wheel bearing issue and a brief challenge from evergreen race rivals Emax Motorsport, who in turn then got involved with WRC Development once again over 2nd place as they again traded places throughout the final sequence of stops. After a final late safety car, the race settled down to the end, leaving Hybrid Tune to strive on to their second C1 24 Hour race win in a row, as Phil Meehan, Stephen James, Mark James and Sam Weller retained their title from 2021. Emax Motorsport survived a late sticking throttle to give James Little, Jake Little, Stuart Ratcliff and Max Finn an excellent 2nd place, while David Drinkwater, Jonathan Salem, James Poulton and Toby Ward gave WRC Developments a hard fought 3rd place. Fake Taxi and JW Bird Motorsport completed the top five, ahead of BH Motorsport/ SCK Motorsport #504, Fighting Torque, Majestic Motorsport, AB Motorsport and Tipton Auto Centre Racing.
All in all, it was a wonderful first year for the C1 24 Hours with the BRSCC and there are already plenty of teams and drivers making plans to return next year, some even with expanded line-ups. For now though, both the BRSCC and the C1 Racing Club can hail the 2022 edition a roaring success!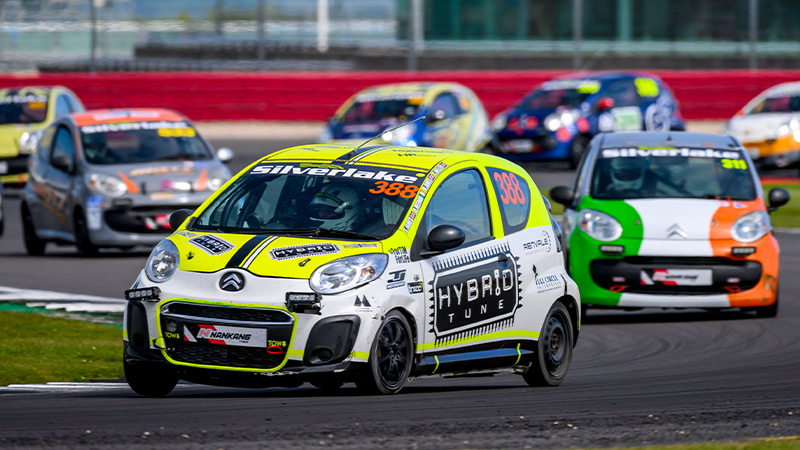 ---
BRSCC MAZDA MX-5 CHAMPIONSHIP – FENWICK & COMBER SHARE GP CIRCUIT HONOURS
Alongside the endurance main event of the race weekend, Saturday also saw a brilliant timetable full of supporting sprint races that provided their own dose on entertainment all day. The bulk of the races featured a sea of Mazda MX-5s, with the Mazda MX-5 Championship running two 30 minute races on this occasion, the longest races ever run since the championship was conceived in its current incarnation.
Current points leader Fraser Fenwick took pole in qualifying, but Tom Smith beat him from the front row to win the chase to Copse first time, followed by Mike Comber and the impressive Thomas Langford in the car that took the title last year in the hands of Oliver Allwood. Fenwick was shuffled back to 4th but quickly reclaimed 3rd from teammate Langford, then 2nd from Comber and finally the lead into Copse on Lap 2 to get back to where he started. What followed over the next couple of laps was a huge shuffle around of the top spots as Sebastian Fisher took his turn at the head of the pack, but had both Fenwick and Smith all over him as the front three tried to break away.
A definitive breakaway lead group of seven finally began to form, which then quickly split in two with Fenwick, Smith and Fisher now in their own private battle for the podium. Fisher dropped away slightly in 3rd place, while Fenwick was able to gap Smith for a while as the second half of the race progressed, but it was only in the final couple of laps that he came back in contention. Smith made a late challenge at Brooklands on the final lap, but Fenwick held firm to collect his 5th win from seven races, ahead of Fisher in P3 and a sprint to the line for 3rd it was Michael Knibbs who stole it from under the noses of Comber and the incredible Steve Foden, who came from 43rd and last on the grid in a storming drive through to 5th place.
Once again Fenwick was beaten to the first corner by Smith and again Comber went with him in 2nd, before passing him into Stowe to lead the opening lap ahead with Foden jumping well to move up to 3rd. Fenwick recovered from another ropey start to get back to 3rd midway through Lap 2 and began to drag Foden with him towards the top two, while Fisher attempted to do the same with Knibbs in 5th place. Fraser wasted no time in picking off Smith at Abbey, before doing the same to Comber at Copse to yet again take the lead, a pass that only lasted a handful of corners before Comber took it back again.
By this time the lead group had grown to seven cars deep and just past half distance, Fenwick repassed Comber again and not long after, the group split once more with the top four breaking clear. Fenwick was moved off the podium with three laps to go when all three cars slid past him and Comber hit the front heading into the final lap, with Smith once again applying the pressure and challenging at Brooklands. But again, he had to settle for 2nd as Comber claimed the win, while Foden took a superb 3rd ahead of Fenwick who finishing off the podium for the first time this season.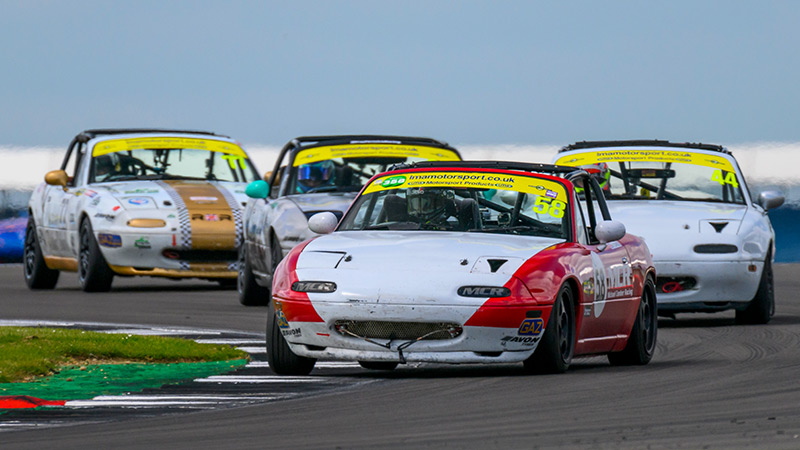 ---
MAZDA MX-5 CLUBMAN CHAMPIONSHIP – MCDONNELL AND FLETCHER LOCK HORNS AS TITLE FIGHT CONTINUES
After two weekends of racing, the Mazda MX-5 Clubman Championship has seen three different overall race winners already, two of which being guests, but in terms of those scoring the maximum points, so far it's been defending champion Harry Storer, Matthew Fletcher and Declan McDonnell. They were the three drivers setting the benchmark heading back to Silverstone on the GP loop.
McDonnell beat Fletcher off the line in Race 1 and was quick to create a gap by Stowe corner on the opening lap as he left Fletcher to deal with Jon Pethick and Neil Chisnall, but it wasn't long before Fletcher brought the chasing quartet back onto Declan's tail with Harry Storer also joining in too. The top five were now in a race of their own with McDonnell under big pressure as the next couple of laps progressed, but despite advances from Fletcher and Storer there was just no changing the man in the lead. A three way scrap for 2nd broke out briefly which landed in Fletcher's favour, but the real challenge came on the final lap when both Fletcher and Storer attacked for the lead at the Arena section. However, McDonnell stood his ground and held firm to take his second overall race win ahead of Fletcher and Storer.
Deja vu set in when Race 2 got underway as McDonell again had quickly gapped the rest by Stowe at the start, with Fletcher his main pursuer while Storer and Pethick were joined by Chris Dawkins in their initial scrap for 3rd. Again, Fletcher had the pace to wind McDonnell back to him and glued himself on to Declan's rear bumper from hereon in. Yet again, a five car lead group formed and in the closing minutes, Fletcher was able to finally prise the lead away from McDonnell for the first time all day and he had enough pace to keep the rest of the group at bay all the way to the chequered flag, which was thrown slightly early before the start of what would have been the final lap. This gave Fletcher his third career MX-5 Clubman race win and his first of the season, beating McDonnell back to P2 with Dawkins an excellent 3rd place.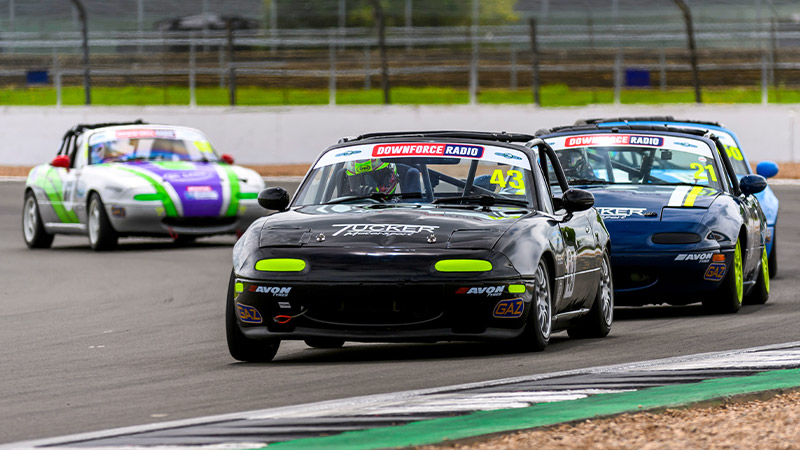 ---
BRSCC MAZDA MX-5 SUPERCUP & SUPERCUP CLUB – REIGNING KING RETURNS AND PROCLAIMS VICTORY
He was a very last-minute addition to the entry list, but on this special race meeting for the combined Mazda MX-5 SuperCup and SuperCup Clubman grid there was an equally special guest driver. The most recent two-time champion Sam Smith made a comeback to the grid he'd reigned over the last two seasons for a one-off guest drive, along with another former champ in James Blake-Baldwin. Smith was also here to provide backup to teammate Richard Amos, who led the Pro class standings heading back to Silverstone.
The two teammates locked out the front row and despite leading into the opening corners, Colin Bysouth put himself between the pair with Smith briefly dropping to 3rd before taking it back into Brooklands. John Langridge and Adam Bessell quickly joined the top three to make it a leading quintet, with Smith providing the perfect back up to Amos out in front. That was until a technical issue forced Smith to the pits, leaving Amos exposed to the trio behind. While Bessell and Langridge battled with each other for 3rd, Bysouth kept up his pursuit of the lead and found a way past int the closing stages to get out in front and resist Richard's retaliations to claim his first win of the year, with Langridge a comfortable 3rd after Bessell dropped out followed by Patrick Fletcher and an excellent 5th for Tom Griffiths, his best SuperCup result to date in only his third weekend of racing.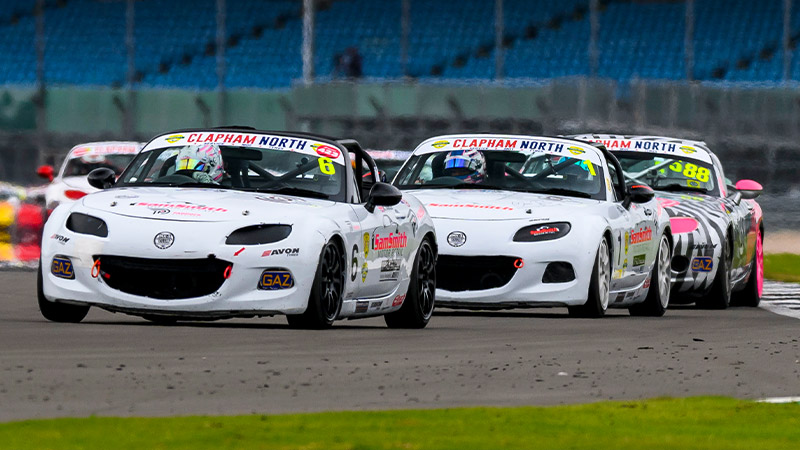 Amos and Smith were again front row occupants and this time Smith led away while Amos edged out Bysouth, instead allowing Will Blackwell-Chambers to latch onto Amos' bumper onto the Hangar Straight. However, a lap later and the two teammates were trying to gap the rest with Bysouth looking to foil that plan having got back to 3rd. He passed Amos for 2nd, who then fell back with problems towards the bottom of the top 10, leaving Smith and Bysouth out in front together, but Colin set to gain max points thanks to Smith's guest status. The two cars circulated as a pair all through the closing stages and Bysouth briefly led heading onto the final lap, but there was no shaking the defending champ from the win on the road as he repassed outside at Vale to reclaim the lead and take victory, with Bysouth's P2 netting him the 100 points. As for 3rd, Patrick Fletcher managed a distant 3rd ahead of Blackwell-Chambers and Langridge.
In the Club class, Scott Wright and Mike Chen shared a class win apiece across both races, while in the SuperCup Clubman ranks, there was no stopping Simon Fleet as he picked up a brace of wins in the category.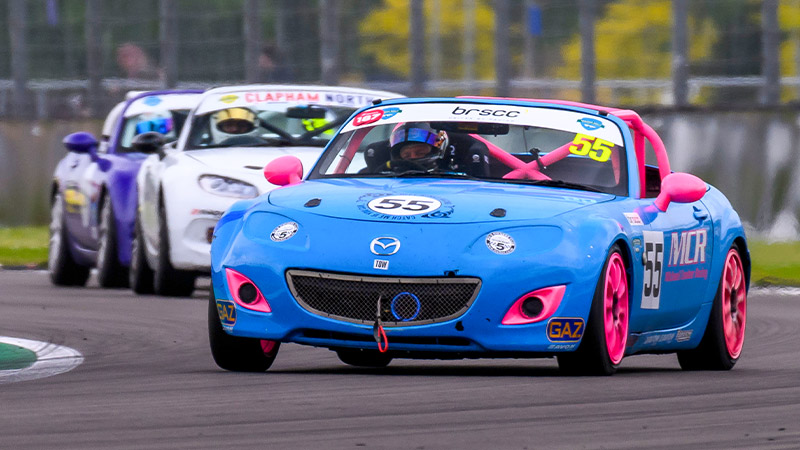 ---
CLUBSPORT TROPHY – CRILLY WINS HISTORY-MAKING RACE AMIDST RECORD GRID
There are good grids, there are big grids and then there are those that break records – and it was the latter of the three that occurred in the special 45-minute ClubSport Trophy. The hype and excitement were both justified as the cars lined up on the Saturday afternoon, with 59 of the 61 cars entered making the grid spanning a vast variety of super clubman race cars. It was an Invitation class car that took pole as Jasver Sapra's BMW M3, with Liam Crilly's BMW Z4 leading the series compliant cars on the front row overall.
The front row pair made contact through Maggots and Becketts, leaving Crilly to give Sapra the lead back heading down Hangar Straight. An opening lap safety car kept the field compressed, but once underway, Sapra quickly disappeared into a lead he would never lose, but being an Invitation car he would not be officially recognised as "winner" of the race. Behind him, Phiroze Bilimoria passed Crilly as several more cars joined in to create a definitive leading group including Ricky Coomber's unique Honda Civic Type R FD2 and Geoff Conner's Renault Clio Cup and Paul Hinson's BMW, plus the David Shead/ Malcolm Edeson BMW Compact which had to retire thanks to an engine issue.
Bilimoria dropped back briefly behind Crilly, Coomber and Conner but the VW Scirocco could only retake the Clio before another safety car was called, right as the pit window opened and practically everyone dived in for their mandatory stops. Bilimoria's stop was a lap later than the others which dropped him down the order, while Sapra continued to lead on the road as the race restarted into its final 15 minutes. Crilly was again leader of the series compliant cars from Conner and Paul Taylor's Civic, but charging late on was Coomber in the Civic FD2, passing Taylor not long after the restart and chasing after Conner, putting him under big pressure before passing into Brooklands before the start of the final lap. Sapra, meanwhile was untouchable and dominated out in front to take the win on the road, before Crilly captured the official Clubsport win ahead of Coomber in 2nd and Conner in 3rd. Crilly was also Class A winner, with Paul Taylor taking Class B in his Civic, Jonathan Pascall the winner of Class C in another Civic Type R, George Grant getting reward for his marathon day of racing with Class D victory in his MX-5 SuperCup car and the MINI of Christian White and Matt Mills coming out on top in Class E.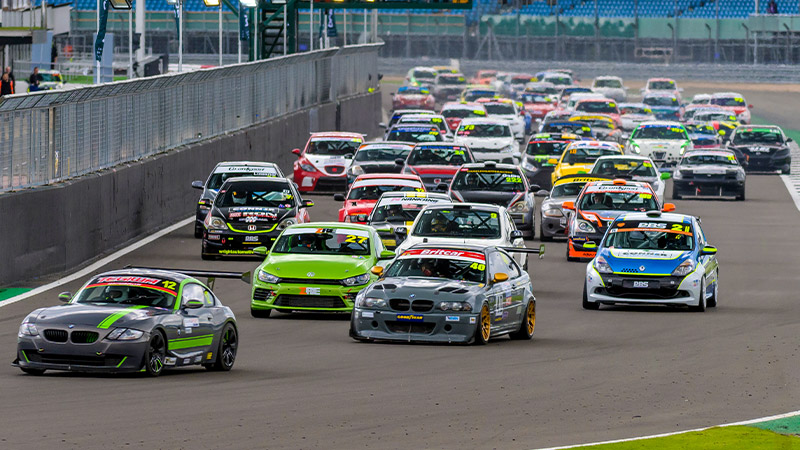 Scott Woodwiss