BRSCC DELIVERS EXCITING OULTON PARK RACE DAY
CATEGORIES:
Oulton Park once again produced another exciting BRSCC race day, as alongside the North Western Centre it provided a full programme of entertaining races from start to finish to complement the festivities of the Ford Power Live event. With two championships competing that were dedicated to the Blue Oval, there was plenty for spectators to enjoy both off-track, and indeed on it!
---
FUN CUP ENDURANCE CHAMPIONSHIP
The Fun Cup Endurance Championship made its first of two visits to Oulton Park, a circuit regularly loved and enjoyed by competitors up and down the pitlane and is typically the scene of their season finale each year. For their first 2023 encounter, 21 teams lined up to compete and after qualifying and the subsequent random grid draw, Team Ratters Racing were drawn on pole alongside Fuelled Up Racing on the front row. 
Many of the top teams found themselves in the second half of the grid, although Axiametrics/GRD and MJ Tec lined up 3rd and 5th respectively, while PLR Racing started from 10th, Team Olympian and Viking/ Ursus Capital on the seventh row and championship leaders UVio/ Hofmann's Motorsport starting at the back courtesy of their Anglesey victories.
Incredibly, it was the GT Radial car from the second row that took the lead in the opening corners, piloted by sim racing star and Praga Cup champion Jimmy Broadbent, but immediately the race was suspended under safety car when championship leaders UVio were caught up in a first lap incident which forced them to the pits for a length repair. This instantly put them out of contention for victory and made a major dent in their title charge.
Broadbent managed to hold onto the lead for one more lap on the restart before first MJ Tec and then the #106 JPR For Hire car both took turns out in front. As the first pit window cycled through, it helped PLR Racing to pick up the lead and remain there as the first hour completed, but not long afterwards it was Olympian that had worked their way to P1. From there, it looked as though the familiar trio of Chris Dovell, Kristian Rose and Riley Phillips had the race under control as they remained the leaders at half way with Viking/Ursus Capital moving into 2nd and PLR holding station in 3rd.
The top five remained unchanged throughout hour three with Olympian managing to hold a lead of just over six seconds over Viking/Ursus, and once the final stops were completed it was plain sailing for Dovell, Rose and Phillips as they cruised to their third win of the season in five races. Viking/Ursus Capital picked up runner up spot driven by Mark Holme and Colin Kingsnorth, while Ben Pitch and Neil Plimmer rounded off the podium for PLR Racing ahead of MJ Tec and EDF Motorsports.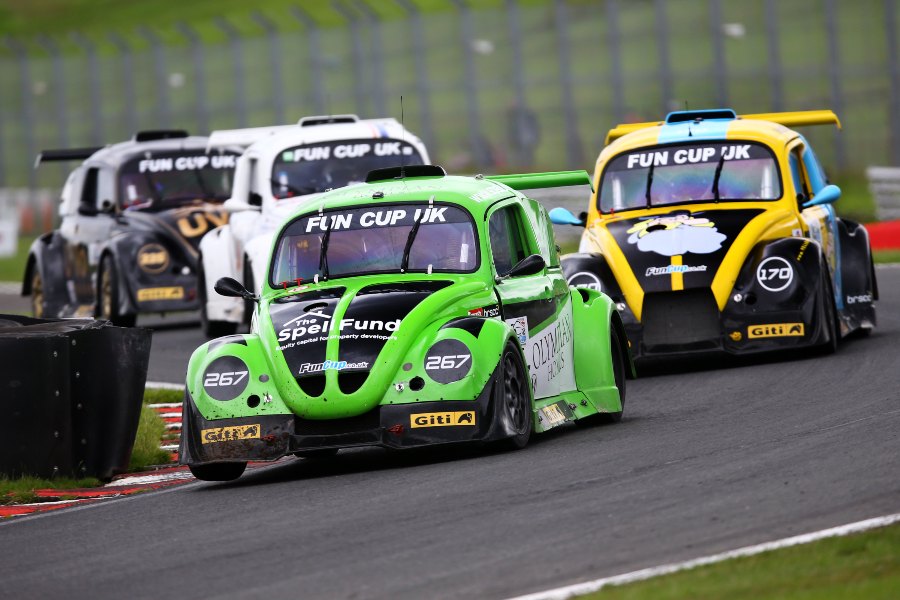 ---
SUPER CLASSIC PRE '99 FORMULA FORD CHAMPIONSHIP
The Super Classic Pre '99 Formula Ford Championship arrived back Oulton Park for its second visit of 2023, and did so under emotional circumstances. The day involved the scattering of the ashes of the championship's late coordinator and dear friend Ian "Diz" Smith who passed away earlier this year. Along with Diz's wife Di and son Steve, many of the Super Classic paddock and members of the North Western Centre were in attendance for the ceremony that took place during the lunch break.
On the racing side, Morgan Dempsey was back on the grid after missing the previous rounds at Anglesey and was looking to regain the lead in Super Classic A as a result. He began in the same fashion he had done with pole position in the morning's qualifying session, and lined up for race one alongside Richard Higgins on the front row of the grid. From the start, Dempsey was never headed and had the pace to pull away by several tenths per lap, easing away from Higgins in 2nd place and in the end managing to win by almost four seconds at the flag.
Higgins ensured P2 was all his, while third place ended up changing hands a couple of times throughout. Richard Freye had managed to work his way into 3rd at the start, but slipped down the order half way through and was out of contention. This allowed Andrew Schofield to move up and take the final step on the overall podium, followed by Robert Higgins and Scott Rawlinson in the top five. Dempsey, Richard Higgins and Rawlinson were all class winners in Super Classic A, B and D respectively, while Scott Guthrie took Super Classic C honours in 9th overall.
The second race later in the afternoon provided a little more entertainment, as a less than ideal start for Dempsey left him 3rd by the end of the opening lap behind Richard and Robert Higgins. After picking off Robert on the second lap, Dempsey then spent the rest of the race chasing after Richard as the pair circulated together. On more than one occasion, Dempsey tried to reclaim the lead, but Higgins' stubborn defence held him back. That was until the final lap, when the pair unfortunately tangled while dicing, leaving Higgins out of the race and Dempsey with a damaged nose cone.
Nonetheless, Dempsey still ran to the flag as race winner and victor in Super Classic A once again, this time more than 15 seconds ahead of Super Classic B winner Robert Higgins. Schofield took 3rd outright ahead of Richard Freye and Neil Hunt, and both Rawlinson and Guthrie were Super Classic C and D winners once more in 7th and 8th overall.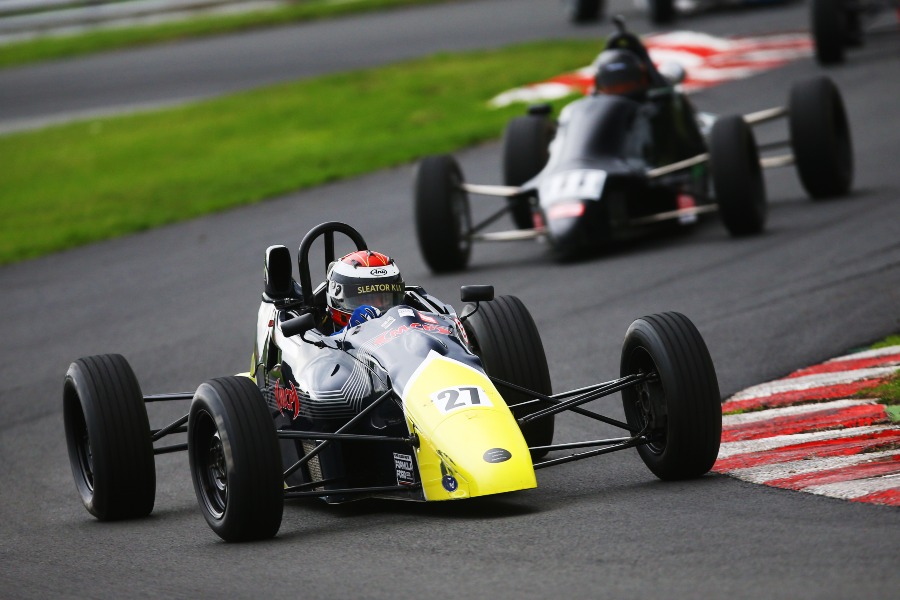 ---
SW MOTORSPORTS CLUBSPORT TROPHY
Another exciting, varied and healthy entry populated the grid for the SW Motorsports ClubSport Trophy's second visit of the year to Oulton Park in Cheshire, with over 30 cars present and the usual mix of familiar faces, newcomers and local racers.
Mark Jones made the most of the pace underneath him in his VW Golf to go quickest in qualifying and take pole position, with Justin Roberts and Michael Heath using all of their Oulton Park knowledge from their XR Challenge days to put their Honda Civic on the front row alongside them. Initially, the Civic was better off the line and led into Old Hall, but just a few corners in it was overhauled by both the Audi TTCR of Andrew Dyer and Richard Bliss, and the VW Scirocco of Phiroze Bilimoria, his car now back to full strength after tumultuous outings in the previous two ClubSport races.
The Audi led the Scirocco over the next few laps, briefly trading places as Bilimoria got in front on Lap 4 but then lost the spot back again a lap later. Bilimoria then retook the lead a couple of laps later, before electing to be one of the first to make their mandatory stop once the pit window opened. Dyer, meanwhile, stayed out for a few more laps before joining the last batch of stoppers to hand over to Richard Bliss, but when they rejoined they did so 3rd behind Bilimoria and Ben Griffiths in his Civic.
Out in front, Bilimoria's pace was strong and consistent and in a stark contrast to Snetterton and Donington Park where he was denied even completing a lap. Despite Griffiths pushing hard to reduce the lead gap in the closing stages, Bilimoria had enough to take the chequered flag to win in ClubSport Trophy, also clinching Class A honours in the process too. Griffiths ended up just under five seconds behind in 2nd overall and in class, while Bliss and Dyer took their Audi to 3rd overall and Class B victory ahead of Roberts and Heath's Honda and Ben Walkingshaw in his Scirocco.
Other class wins down the field went the way of Brendan Murphy in his BMW E36 Compact in Class C, Mark and Daniel Robinson in their Ford Fiesta ST150 in Class D, and Chris Flynn and Chris Jones in another Fiesta ST150 in Class E.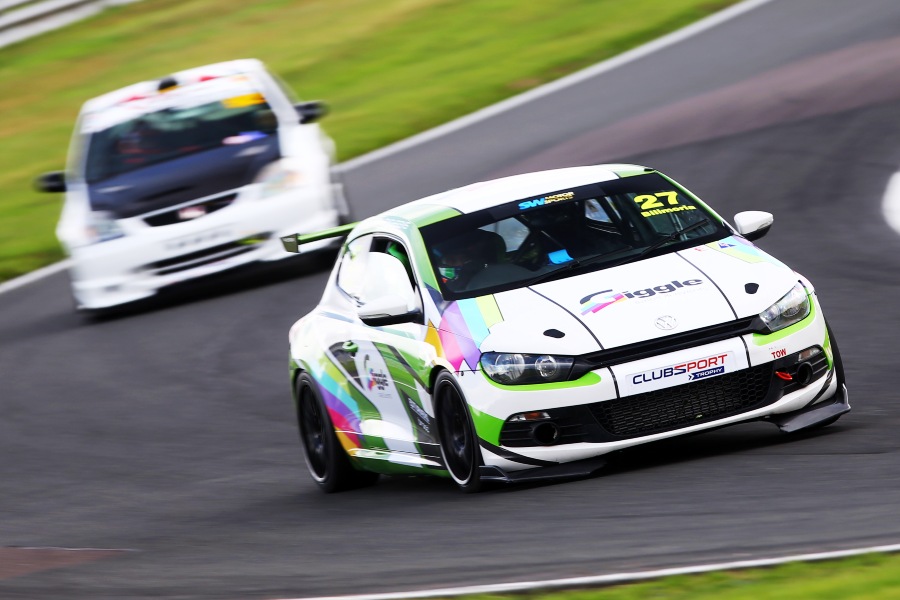 ---
MODIFIED FORD SERIES
The Modified Ford Series brought its usual exciting mix of Ford models to Oulton Park in Cheshire with the weekend's rounds sponsored by PRG Trailers. With the drivers having to deal with wet conditions in Saturday morning qualifying, the time spread was substantial between the entry, as Jason Davies wound up on pole in his Sierra Sapphire Cosworth by over 2 seconds ahead of Piers Grange's Mk2 Escort and a trio of Ecoboost powered Fiestas headed by Kester Cook.
Davies' pace all day long left him seemingly untouchable, as from the outset of race one he was in a league of his own. In just two laps, Davies had managed to pull out a lead of more than nine seconds and carried on steadily increasing it over the duration of the 15 minute race. By the chequered flag, the winning margin for Davies was 26 seconds in a dominant display, taking the Class A win in the process too. James Allen's ex-Time Attack Focus RS picked up 2nd place ahead of Grange's Mk2 Escort, followed by Paul Nevill in his Escort RS2000 and David Matthias' Sierra Sapphire Cosworth to complete the top five.
Class wins for race one alongside Davies (A) and Grange (B+) also went to Chris Baker's Escort (B) and Alex Boam's Fiesta ST150 (C).

The second race played out much the same as the first, with Davies leaping into the lead again from pole, ensuring he was unchallenged and winning in convincing fashion. Once more he extended his lead every lap and took the flag by an even bigger winning margin this time, more than 34 seconds in the end. Allen was again 2nd in the Focus, David Matthias took 3rd this time in the Sapphire Cosworth, with the top five completed by Ashley Shelswell's Sierra XR4i and Nevill's RS2000.
Scott Woodwiss