BRSCC FLIES INTO SCOTLAND FOR KNOCKHILL ADVENTURE
CATEGORIES:
Any time the BRSCC gets to head across the border into Scotland, it's always a special occasion when the club visits the incredible natural mini-rollercoaster that is the Knockhill Circuit. Nestled amongst the rolling hills of the Fife countryside, this circuit is small but mighty and certainly provides a unique challenge to anyone competing on it. This weekend, we bring a full squadron of Caterham Motorsport championships, plus BMW and Ford Fiestas are also along for the ride in what should be a very fun weekend – especially as the drivers will tackle the circuit in both directions across Saturday and Sunday!
---
CATERHAM ACADEMY CHAMPIONSHIP – FIRST YEARS TO ENJOY SCOTTISH RACING FIELD TRIP
We're nearing the conclusion of another year of racing for the first-year drivers in the Caterham Academy class of 2022 and to continue their on-track education, a visit North to Knockhill will certainly provide another stern test of their developing skills. It's a circuit that is the pure definition of "small and mighty" and one which the drivers will need to get to grips with quickly if they're to survive and thrive this time.
Ravi Patel is currently the main in control based on overall scores heading to Scotland in the Green Group, as he leads Iain Hibbert by five points and is a further four ahead of Toby Ballard in 3rd. Patel is the only driver from the current top three to have won a race so far this year, while Harvey Lawrence won the sprint at the start of the season and currently stands in fourth. However, we suspect that when dropped scores come into play for the final round, it might just be Rrutuj Patki that will end up on top, especially considering he's been unshakable from the top step in the last three races. Now 5th on overall scores thanks to a Snetterton DNF, his consistent victories are sure to put him top of the pile once everyone drops their two worst results, provided he can survive two races in Scotland and come out as victor in each.
Meanwhile, their counterparts over in the White Group find themselves in a similar situation with the top three here also separated by nine points. Matt Larbey tops the table, three ahead of Tom McEqing and another six ahead of Ben Timmons. Matt and Tom have two wins to their name each with Ben claiming the other and they have a clear gap on overall scores to the rest of the pack from 4th place downwards. Dropped scores also need to be factored in here at some stage, but right now it's looking likely that one of the top three will become champion. This weekend at Knockhill will help to determine which one will come out on top.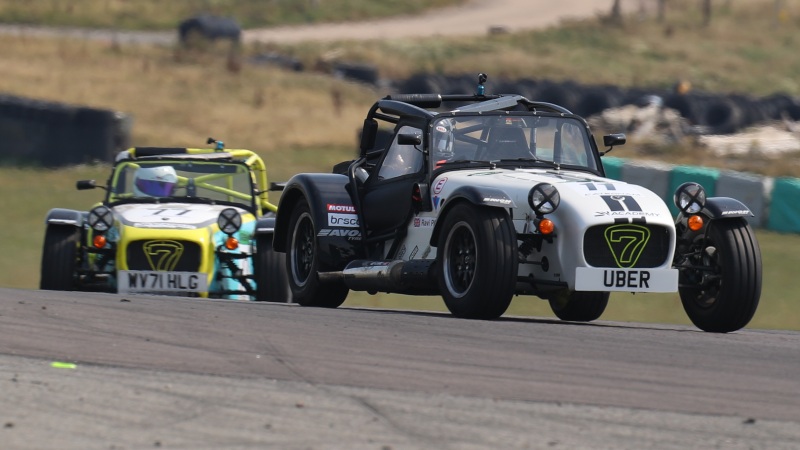 ---
CATERHAM ROADSPORT CHAMPIONSHIP – NEWMAN & LOWER LOCKED TOGETHER IN TITLE COMBAT
Right now, the competition is incredibly fierce between Geoff Newman and Charlie Lower in the battle for this year's Caterham Roadsport Championship title, with both drivers going back and forth trading the lead of the points standings on overall scores. While it's not yet clear where each driver stands on dropped scores, it could hardly be any closer at this stage – right now, Newman heads to Knockhill just a single point ahead of Lower with five wins to his name compared to four for Charlie and both also have two fastest laps to date too. Lower's impressive consistency has helped him finish every race no lower than 6th, while a 9th place for Newman is what stands in the way of a larger points lead. These two will continue trading punches in Scotland as the title fight rages on.
Working hard to keep on their tail will be Freddie Chiddicks, who may appear a little way off with a gap of 31 points to leader Newman on total scores, but is expected to be closer once drops come into play. His form has been a little shaky recently, with the last three races seeing him finish no higher than 6th, which will have been disappointing for Freddie given his super run of podiums and wins from Brands Hatch through to Donington. While he has the hardest task of the top three, don't count him out of the hunt just yet – a solid points haul from Knockhill will help keep his chances alive. Plus, if he also beats both Geoff and Charlie on track too, that'll certainly be a bonus.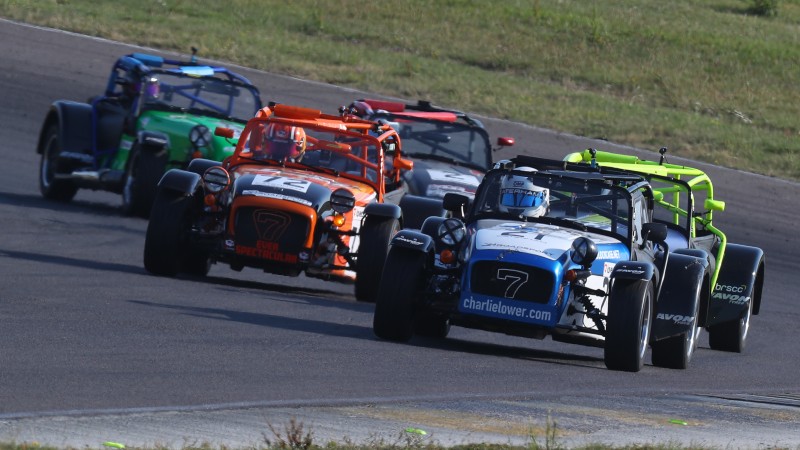 ---
CATERHAM SEVEN 270R CHAMPIONSHIP – THREE WAY DANCE STILL ON, BUT TIME IS RUNNING OUT
Here's another reminder of the common theme that's permeated the Caterham Seven 270R Championship ‌all the way through 2022 – the same competitive trio of Taylor O'Flanagan, Hugo Bush and Domenique Mannsperger qualify together at the front, shoot off into the distance in both races and typically all end up on the podium in any of the many potential top three combinations. It's something we saw all too often both in Roadsport last year and in their Academy season in 2020, so it's no surprise that all three are still just as good as each other. With two rounds left, this trio unsurprisingly hold the top places in points, but there are gaps forming between them as Knockhill approaches.
O'Flanagan's constant presence on the podium this year has allowed him to so far accumulate 248 points as the leader, while Bush's identical feat puts him in 2nd, albeit 14 points back. This is because of Taylor taking six wins from the ten races run, while Hugo has a solitary top step visit from the first race of the year at Brands Hatch. Constant 2nds and 3rds have kept him in the hunt, but frustrated not to be closer, and Knockhill will be another chance for Hugo to put this right and grab that second win of the season. As for Mannsperger, he is the member of the trio that has had a couple of mishaps which have put him just over 30 points back from O'Flanagan overall, but on current drops he's just two points behind Bush and 17 off the lead. If Domenique wants to stay in contention, he needs a big weekend in Scotland too and has to get the better of his two main adversaries if he wants to keep his chances healthy ahead of the Spa-Francorchamps finale in October.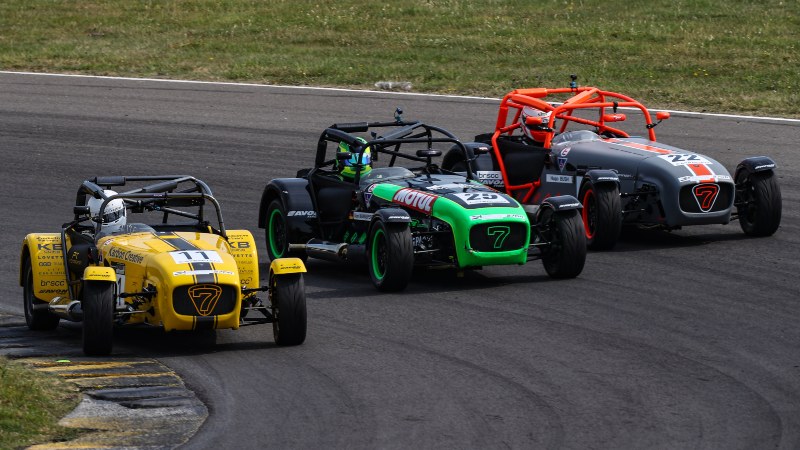 ---
CATERHAM SEVEN 310R CHAMPIONSHIP – WALTERS STILL AHEAD, BUT UNDER PRESSURE
Given his early form of three wins from the first four races, anyone would have been forgiven for thinking that Pete Walters looked set to have an easier time of it up front in the Caterham Seven 310R Championship than his competition, despite the field being stacked with talented drivers up and down the grid this season. However, said competition has now caught up with Pete over the course of the year and he now has a mere 8 point lead overall over current nearest rival Harry George with Knockhill looming this weekend. With the rest of the top five also keeping a watching brief too, Pete will need to watch his back, and his mirrors, if he wants to leave Scotland still as championship leader before dropped scores.
In total, Walters has five wins on his 2022 tally, but his up and down form throughout the campaign is what's contributed to the erosion of his early advantage. In contrast, Harry George may only have a single victory from Silverstone so far this year, but he's done incredibly well to finish outside the top four only once all season. In fact, had Harry not received six penalty points at one stage, he'd be just two behind Walters before dropped scores, proving just how rock solid he's been. The current fight for 3rd place is also looking tasty, with Caterham returnee Jack Sales driving like he'd never been away and scoring well in most rounds to put him just a point ahead of last year's 270R champion Blair McConachie who will be desperate to impress and succeed on home soil this weekend. Harry Cook rounds off the top five, currently in-form after his Anglesey win and will have the taste to take more before the year is through. With all of the top five being proven race winners this season, expect a lot more fireworks between them before the title battle is complete.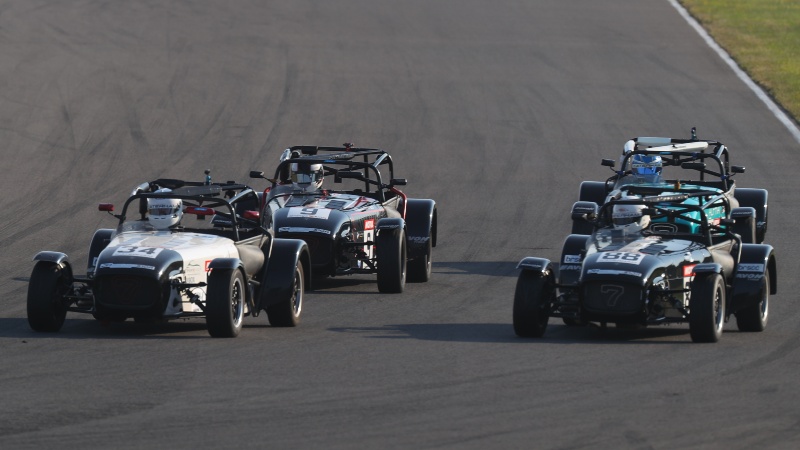 ---
CATERHAM SEVEN CHAMPIONSHIP UK –  AARON & HENRY GOING HEAD TO HEAD IN HEATED CHAMPIONSHIP SCRAP
Just like their counterparts in the Roadsport ranks, the title battle in the Caterham Seven Championship UK is now boiling down to a one-on-one fight between the top two in the standings – Aaron Head and Henry Heaton. Aaron's comeback season has been the kind that you'd expect from a former multi-time champion of Caterham's top factory race series, jumping straight back into the winner's circle as if he'd never been away. The only difference was that the competition had certainly caught up since his last full season, and has gotten involved in more battles as the season has progressed. Now heading to Knockhill with no less than seven race wins to his name in 2022, he stands just ten points in the lead ahead of Heaton with two weekends and six total races left to run.
Heaton, meanwhile, has so far gone since the second race at Brands Hatch without a race win, having taken his only victory in the very first race of the year. From there, he's only finished a race outside the top four once back at Snetterton and this is what's kept him high in the standings. Having missed out on championship glory the past couple of seasons and always been a favourite on race day, Henry knows that he once again potentially stands on the brink of winning a title. He just needs form and luck to go his way in these last two weekends to make it happen, and a strong Knockhill showing will do nothing but good things. The pace is clearly there – he just needs to convert that into at least a couple more wins to stand the best chance of overhauling Aaron.
The rest of the top five is a little more spread out with Lee Bristow in 3rd, James Murphy in 4th and Chris Moore in 5th. Murphy's campaign took a hit, quite literally, at Anglesey when contact caused damage that forced his worst race finish of the season outside of DNFs. It will certainly be a dropped score provided he doesn't retire from any more races, but if he wants to even have a small hope of getting into the top three, he too needs to keep his nose clean and score well. Being the fastest Caterhams in the paddock, Knockhill's short, narrow and winding nature is sure to provide a real test for these cars to perform.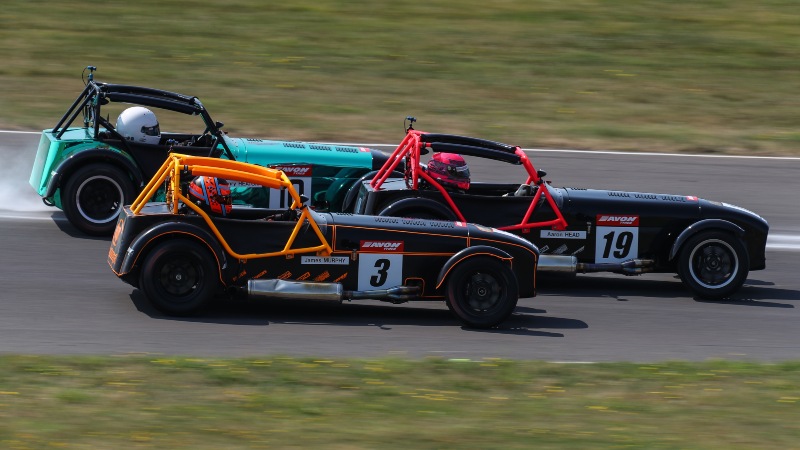 ---
AIRTEC MOTORSPORT FIESTA CHAMPIONSHIP – BRICKLEY NEEDS TO BUILD HIS LEAD AGAIN
It's not often that the AIRTEC Motorsport Fiesta Championship gets to visit a new circuit, or at least a venue it hasn't seen for a long, long time. However, this weekend the championship moves north across the border into Scotland for the first time in its current format, as Knockhill prepares to welcome a fascinating championship battle at the head of the points between youth and experience.
Jenson Brickley came into this season as the outgoing Fiesta Junior champion from 2021 and settled into the new ST240 class turbo Fiestas instantaneously. Pole position in his first senior qualifying session certainly justified his switch to the top class and since then, he's backed it up with three wins later in the season and several more podiums and all of this has helped him lead the standings heading to Knockhill with just six more races left to run this year. His main rival is Alastair Kellett, the overall champion in 2016 back in the days of four classes, and he has motivation to win the title again after frustratingly missing out in last year's Cadwell Park finale. He too has three wins to his name, but has also had a couple of races where either his pace hasn't been up to scratch or he's been the victim of misfortune from a DNF. Nonetheless, the current gap on dropped scores is eight points between them and Knockhill's unique nature could either spell success or misfortune for either driver, or both depending on fortunes.
Zachary Lucas and Rob Smith are also duelling over the final step on the championship podium, with Lucas sitting 15 points ahead of Smith on dropped scores currently. Both have also have a win to their names this season, with Smith in particular only taking the first of his title defence last time at Cadwell Park. While it seems almost certain that Rob won't be able to retain the #1, a spot in the top three come season's end will certainly be a silver lining for what's been a tough season all round for the defending champion.
There's also scraps aplenty set to take place amongst the ST150 class cars as Nick Moore and Thomas Davis look set to be chasing after one another all weekend once again. Nick finds himself almost 30 points ahead of Thomas at this stage, meaning Thomas will need all of the luck and good fortune possible in order to eat into the gap, but Nick is expected to once again be on good form too. Joseph Knight and Adam Burdis will also be set to give chase to the pair too.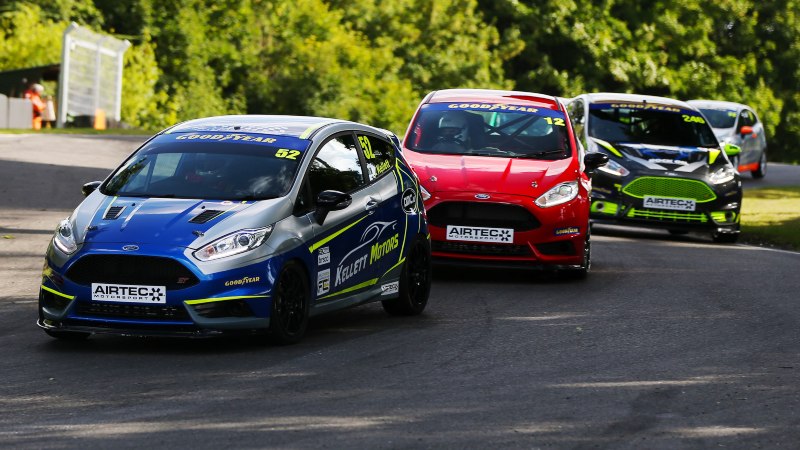 ---
BRSCC FIESTA JUNIOR CHAMPIONSHIP – SMITH HOLDS THE KEY AS JUNIORS MAKE SCOTTISH DEBUT
Since it started back in 2012, there are very few circuits left in the UK that the BRSCC Fiesta Junior Championship hasn't yet visited in its lifetime. One of those up until now had been Knockhill in Scotland, but this weekend the championship finally gets to cross the venue off its list with a first ever trip across the border to this awesome track. Quite fittingly, there's an exciting group of young racers ready to tackle the challenge it will provide, with a championship battle nestled in the middle of it.
Sid Smith had to bounce back at Cadwell Park last time after a difficult outing at Snetterton that only saw him come away with a 2nd place finish as his best finish of that meeting. Thankfully, Cadwell was a lot more fruitful with a hat-trick of wins to further catapult him into a sizable points lead, both overall and on dropped scores. Now heading to Knockhill, Smith has a dropped score advantage of 47 points over Thomas Jack Lee, who left Cadwell Park himself with mixed feelings. He countered retirement from Race 1 with 2nd place in Race 2 and definitely still has a chance to catch Sid, although he will need some good fortune to close the gap enough this weekend to put him in prime position for Brands Hatch.
One driver who is still waiting for his first FJC win is Albert Webster, who has come agonisingly close on more than one occasion. The pace is there, there's no question about it, but Albert just needs a smidge more luck in his favour to finally get over the line first before the junior segment of his racing career concludes come season end. George Foxlow and Lexie Belk currently populate the rest of the top five in the standings, while this weekend's entry list will feature a brand new name as Sam Neser makes his Fiesta Junior debut with Jamie White's JRW Automotive squad.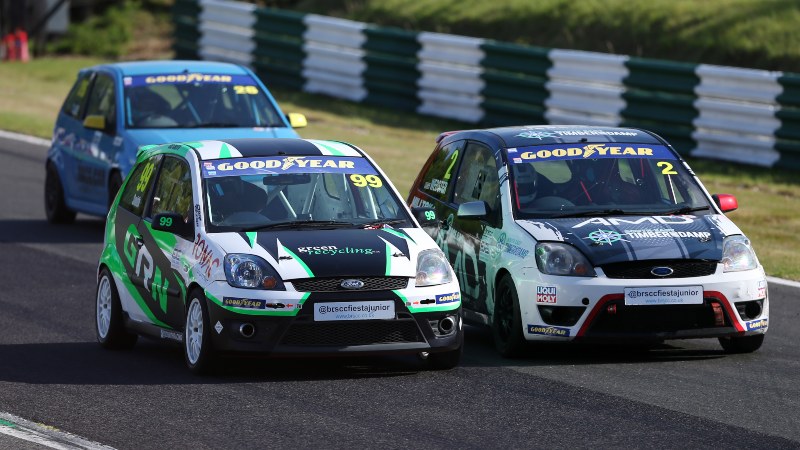 ---
NANKANG TYRE BMW COMPACT CUP – DOBLE LEADS THE CHARGE TO SCOTLAND
When the Nankang Tyre BMW Compact Cup made the trip to Knockhill in Scotland in 2021, the racing on display that weekend was some of the best seen both all weekend and indeed all season. Now as the 2022 season rumbles on and the end of the campaign comes into view, it's time to head back across the border for more Scottish action, especially with the man at the head of the points doing his utmost to chase down that title.
Mikey Doble has been increasingly tough to beat across 2022, having only been beaten on track on pure pace twice all season so far. Eight wins and a further two podiums have helped him to gather up a gap of almost a race win's worth of points on dropped scores over second placed man Lee Dendy-Sadler, with Ian Howes and Mikey's father Mike Doble Snr next in the pecking order. Incredibly, none of the three drivers just mentioned have won a race, as that honour has gone to Guy Davis who not only collected a hat-trick of wins at Anglesey when Doble suffered engine issues, but also got the better of Mikey on pace at Cadwell to increase his tally to four.
Both Dendy-Sadler and Howes have proven on more than one occasion that they have the speed to keep up with Doble and to pressure him for the lead, but both have had to settle for podium finishes aplenty throughout the year. Dendy-Sadler in particular started the season with five 2nd places in a row before his form tailed off a touch but remained towards the front. Howes will also carry confidence after he picked up a 3rd place at Cadwell, and he will wish to capitalise and lift himself above Dendy-Sadler come the end of the weekend. Another healthy grid of cars is in store once again in what should be yet more superb tin-top action!
Scott Woodwiss