BRSCC HAS A LATE SUMMER BLAST AROUND BRANDS HATCH
CATEGORIES:
Over at the BRSCC's home circuit of Brands Hatch, the Indy circuit was in action as six more championships and series continued their 2023 story while basking in beautiful summer weather conditions. The weekend provided another entertaining mix of sprint and endurance racing, with one of the long-distance epics going right down to the wire!
---
SILVERLAKE C1 ENDURANCE SERIES
The latest chapter in what seemed to be an eternal struggle for power between Trojon Motorsport and Emax Motorsport in the Silverlake C1 Endurance Series played out on the Brands Hatch Indy circuit amidst summer sunshine, with over 30 teams lining up to do battle over three hours. With Trojon sporting their usual two-car effort, Emax had elected to field just the one car in a more streamlined effort compared to previous rounds, while other regular frontrunners spied their chance for success.
As it turned out, neither team would start the race from pole, the front row or either the top five. BPC Motorsport scored fastest time in qualifying ahead of WRC Developments, AF Racing, Baycon Racing with Liqui Moly and Brimstone Racing, while Trojon's pair lined up sixth and twelfth, while Emax couldn't better fourteenth.
BPC led the opening two laps before WRC took over in front early on and the pair circulated in this order for the first twenty minutes, before swapping places just before the first safety car of the race was called on lap 25 just as WRC elected to make their first scheduled pit stop. The shuffle in the order promoted Trojon #508 to second and Oakley Motorsport to third. BPC then made their first stop not long after the restart, which was fortuitous when a second safety car was scrambled after three quarters of an hour.
Trojan would take their first pit call a handful of laps after the second restart, and by the end of the first hour it was Oakley Motorsport that led from BPC, Baycon Raicng with Liqui Moly, BPC's #409 sister car and Quattro Formaggio in the top five. After safety car number three, BPC made their move to reclaim the lead from Oakley and managed to extend a healthy lead until they stopped for the second time around half distance. Both Jelly Snake Racing and Trojon #508 subsequently inherited the top spot, the latter holding it either side of the race's fourth appearance of the safety car. 
This would last until the end of hour two when they also made their second scheduled pit stop, allowing the two Liqui Moly-backed cars of Jelly Snake and Baycon Racing to hold a 1-2 at the front ahead of Oakley, Trojon #508 which rejoined in fourth and Quattro Formaggio. Jelly Snake's lead was secure for another twenty minutes before they headed for the pits, and once other stops had cycled through it was Oakley that found themselves back in front.
The race still had one more safety car left to process, and when it did it left a thirteen minute sprint to the flag with Oakley leading but with Trojon, BPC and WRC in hot pursuit. All three eventually caught and passed them to push them back to fourth by the flag, but before the finish the leading trio put on a superb cat-and-mouse style battle between them for victory. Trojan almost looked set to take another 2023 win, but BPC managed to slip by with three laps to go and WRC following them through.
This was the order to the flag as BPC took the spoils courtesy of Josh Cook and Sylvain Rubio, ahead of WRC with David Drinkwater, James Poulton and James Larminie. Trojon #508 was handed a three and a half minute stop go penalty applied after the race for causing a collision, yet the distance to fourth placed Oakley was so great that Adam Willis, Charlie Bingham and Austin Munday retained their podium finish. Quattro Formaggio practically owned fifth place for the majority of the race, as Alistair May and Chris Parkes finished just 0.4 seconds behind Oakley in the end.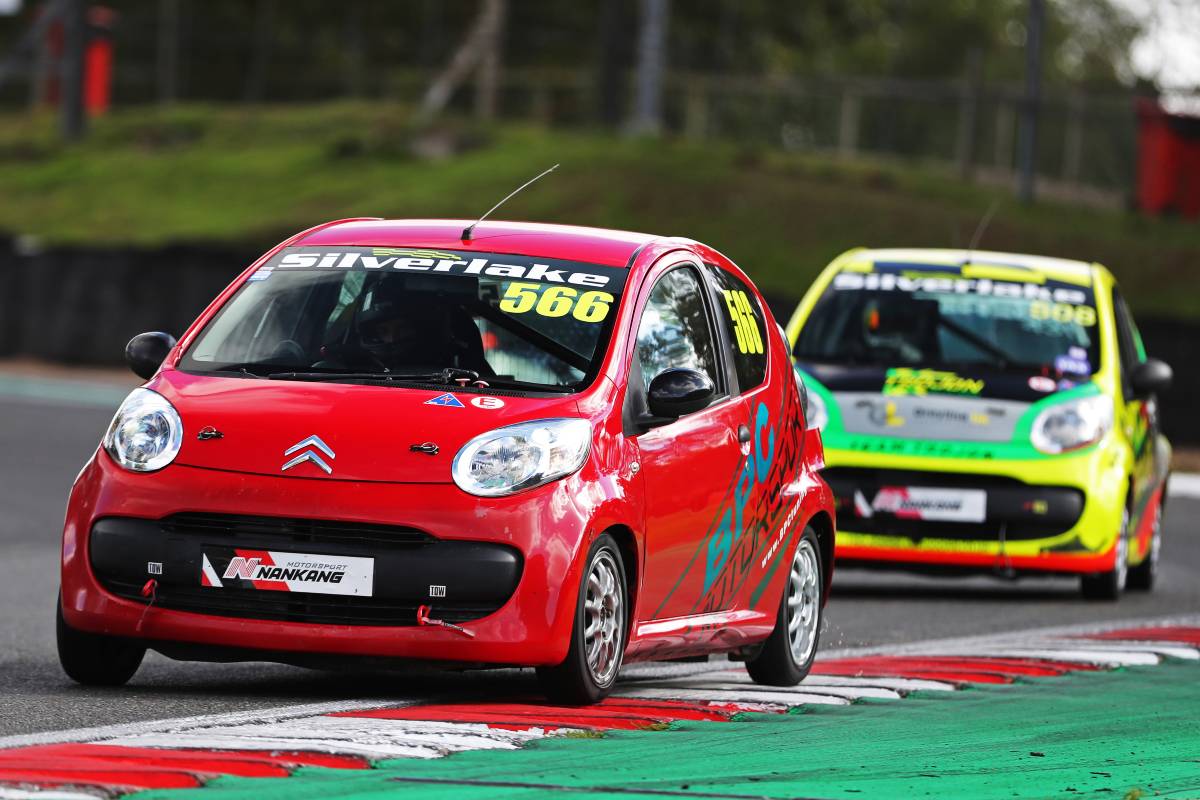 ---
BRSCC SUPERSPORT ENDURANCE CUP
The penultimate race of this year's inaugural BRSCC SuperSport Endurance Cup saw the championship revisit the circuit that had played such a big part in its development the year before. Brands Hatch had hosted two "pilot" races to test the format and to gain feedback ahead of 2023, and now with class and overall titles up for grabs it was the Indy circuit that would provide the next test for those in contention.
Julian McBride's BMW M3 and guest driver Jason McInulty's Lotus Elise S3 took up the front row rank ahead of Keir McConomy driving solo this time in the BMW 1 Series, then the pair of guest entered SEAT Leon EuroCup cars of Warren Tattersall and Philip Knibb. McBride's start from pole was a strong one, allowing him to remain in command for over half an hour a positions changed behind him. McInulty would stay second for almost as long as McBride led before Knibb displaced him just before the safety car was called.
McBride and McInulty chose that time to pit, leaving Knibb's SEAT out in front on the restart followed by Tattersall. Both took their turns to pit as McInulty took over having managed to leapfrog McBride by staying out longer before making his first stop. By this time Paul Hinson had risen steadily to second overall in his BMW Compact and was running incredibly as one of the leading cars from the Clubman classes, the smaller confines of the Indy circuit suiting his car well.
From here, the race settled down as the middle stint saw positions remain steady and regular scheduled fuel and driver stops made throughout. A second safety car just inside the last half an hour of the race didn't do much to cut into McInulty's advantage or trouble him, he set about rebuilding his lead on the restart and remained unchallenged until the flag.
McInulty took the first outright win for a Pro-C class car with fine solo drive, finishing 33 seconds ahead of Clubman-A winner Paul Hinson in second place after a heroic effort and a great play in strategy. Leon Bidgway also took his respective honours in Pro-B with third overall, but he was run close in the end by main rival McBride who only finished 0.2 seconds away at the line and settled for second in class and fourth overall. Lee Collins' Caterham completed the Pro-B podium and overall top five.
Other class wins down the field went the way of Michael Sanford, Lewis Noon and Sam Reuter in their Mazda MX-5 Mk3 in Clubman-B, Ricky Coomber's Honda Civic in Pro-A and Adam Read and David Drinkwater in Clubman-C. The championship now moves back to Silverstone on the National circuit to conclude its first full season and provisionally crown its first overall and class champions!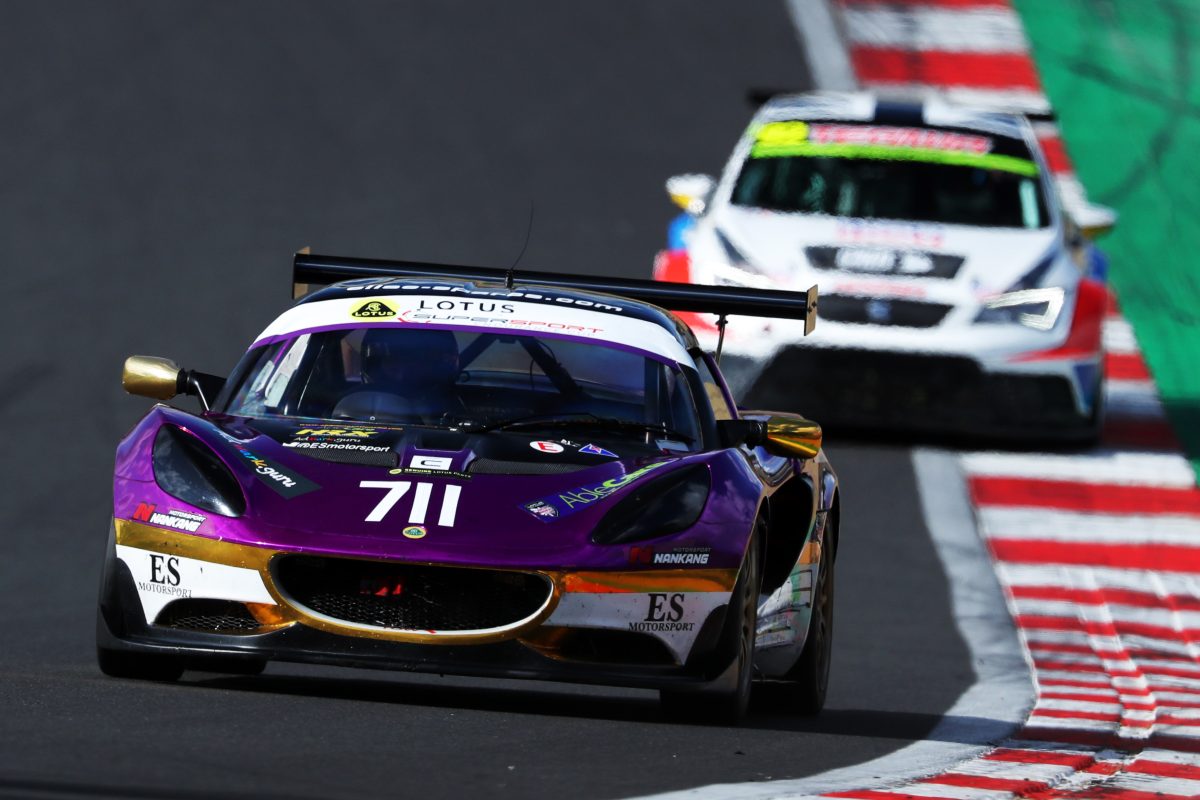 ---
NANKANG TYRE CITYCAR CUP & STUDENT MOTORSPORT CHALLENGE
Another chapter in the story of the 2023 Nankang Tyre CityCar Cup and Student Motorsport Challenge was written out for all to see at Brands Hatch Indy, and after the inclement weather brought a somewhat temporary halt to championship leader Elliot Lettis' win streak last time out at Snetterton, the pressure was on for him to pick up where he left off from the end of the Norfolk weekend. He'd concluded Snetterton with a win, but now he needed to rebuild his momentum.
Thankfully for Elliot, his Brands Hatch plan began accordingly with another pole position in qualifying, but only by the slimmest of margins as Jack Wheeler wound up second quickest (and on the Student Motorsport pole) by just 0.017 seconds come session's end. Stuart Bliss was also only a tenth away from the best time, while the likes of Richard Jepp, Liam Browning and Joshua Jackson not far away either.
The first race was forced to be stopped after David Williams and Arthur Simondet were involved in incidents that brought out the red flag. On the restart, Lettis' typical great start gave him a lead of just over a second by the end of the opening lap before Wheeler and co managed to bring the gap back down by a couple of tenths. Wheeler did his best to get closer to the lead, but both cars were evenly matched for pace.
With time for just six laps to run in the restarted race, Lettis had it under control once again and began the weekend in winning ways, just over a second ahead at the chequered flag ahead of the top three in SMC, as Jack Wheeler won for East Surrey College, Richard Jepp claimed second for Northbrook Racing and Liam Browning scored another podium for Boston College with third. Christopher Mackenzine completed the overall top five.
Sunday's first race went the full duration without any stoppages, with Lettis getting his customary good start to jump straight into the lead followed by Wheeler and Bliss, while behind them there were incidents involving Browning, Duncan Stone and Andrew Dyer which put all of them out on the spot in the first few corners. The safety car was then called on lap three to bunch the pack up after John Booth's race also came to an early end, in what turned out to be a lengthy clear-up before racing could resume.
When it did, Lettis only had time for two racing laps to try and hold on for his second win of the weekend, and that he did. Timing his restart well, Lettis again had just about enough to ensure the rest were left trailing and he drove to his third straight win in as many races, followed home this time by SMC winner Wheeler for East Surrey College and Stuart Bliss in the podium places. Jepp took another P2 and more strong points for Northbrook Racing's lead, and novice Joe Moss was impressive with fifth place overall.
No-one got off the line quicker in race three initially than Richard Jepp, who shot off from third after the reverse grid draw to take the lead into Paddock for the first time. However, early trouble at Paddock Hill Bend produced the safety car before the race was stuck to clear up those involved. On the ten minute restart, Jepp did the same again and was able to maintain the lead for a couple of laps while resisting pressure from behind.
Eventually, Bliss found a way past on lap three with Lettis quickly following suit to push Jepp down to third place, and from here the top two were once again in a world of their own. As in previous situations, Lettis sat on Bliss' rear bumper hoping for a chance to pass or for a mistake, but also as before Stuart had it under control. Putting a halt to Elliot's chance of anothe hat-trick. Bliss claimed race three as his own, forcing Lettis to pick up second instead, while Jepp was an unchallenged and SMC winner. 
Novices Joe Moss and Luis Torres got their best ever finishes with fourth and fifth, while Haydn Payne gave West Suffolk College a fine second place in SMC behind Jepp and Northbrook College, but some of the biggest cheers were reserved for Emilia Vincent and Wiltshire College as they claimed their first SMC podium and also the first top three finish on a CityCar podium of any kind for a female driver.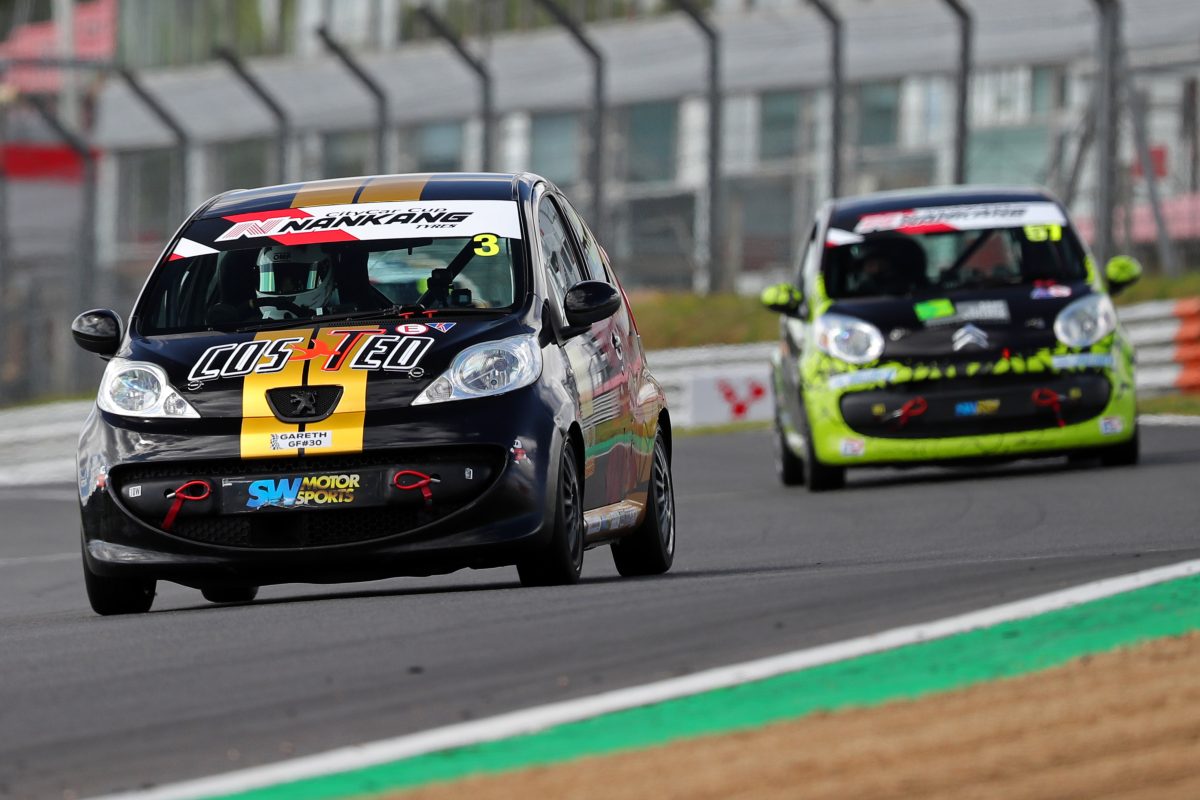 ---
NATIONAL FORMULA FORD CHAMPIONSHIP
Formula Ford and Brands Hatch are two things that are synonymous with each other, and at the place of the category's birth the National Formula Ford Championship touched down to give many of the main contenders an extra little bit of early practice ahead of October's main event. There was also still a championship battle to further develop, as three races lay ahead.
The action in store looked as though it was going to be close and intense, just from the times in qualifying. Morgan Quinn would take pole position, but only by ten thousandths of a second from Lucas Romanek in second ahead of Lucas Blakeley, Jamie Sharp, Nolan Allaer, Jordan Kelly and Elliot Budzinski. All seven drivers were covered by just a tenth of a second, meaning that race pace was going to be fierce from the get-go.
Romanek got the better launch from the front row to lead from Sharp and Quinn, while Jordan Kelly completed the opening lap in fourth but quickly set about picking off the top three one by one. He took third from Quinn on the next lap, then both he and Sharp passed Romanek two laps later for Jordan to go second, before Kelly then found a way around Sharp to lead by the end of lap eight.
The leading group remained tight together in typical Formula Ford fashion, but Kelly had enough to hold off Sharp and any advances to retake the lead no matter how close he got. His fine drive was rewarded with the race one victory with Sharp settling for second and Quinn taking third, with the top five completed by Romanek in fourth and Blakeley in fifth.
Sharp got the better start this time for race two, and for most of the encounter he managed to keep a buffer of over a second for the majority of the race. Kelly, Quinn and Romanek would give chase as much as they could, but it seems that only Kelly had enough to bring Sharp back towards him. Late in the race, Kelly made a challenge for the lead and managed to just get his nose ahead over the timing line to lead lap 13, however a lap later the safety car was called and was quickly followed by red flags. On the declared result, Sharp had managed to retain the lead and was thus declared the winner with Kelly and Quinn again taking to the podium alongside him, while Romanek and Blakeley completed the top five once more.
Despite Jeremy Fairbairn starting from reverse grid pole, the outside of the front row benefitted Allaer better and he would lead from the opening lap. Then Blakeley would work his way from second to the lead and from here, the F1 eSports champion showed his skills out in front. Using the Kevin Mills Racing Spectrum to full effect, Blakeley steadily increased his lead over the course of the race, edging away by a few tenths each lap and leaving the rest of the pack.
He left Brandon McCaughan, Allaer, Romanek and co to fight over the podium spots, although the former two and Tom Nippers would all cop track limits penalties which pushed them down the order in the final result. This left Romanek and Kelly in the battle for second which Romanek would eventually take, with Quinn and Budzinski rounding off the top five. But for Blakeley, he was in dream land as he charged to his first National Formula Ford win to his and the team's delight. A fine drive was rewarded with victory, and one he certainly won't forget in a hurry.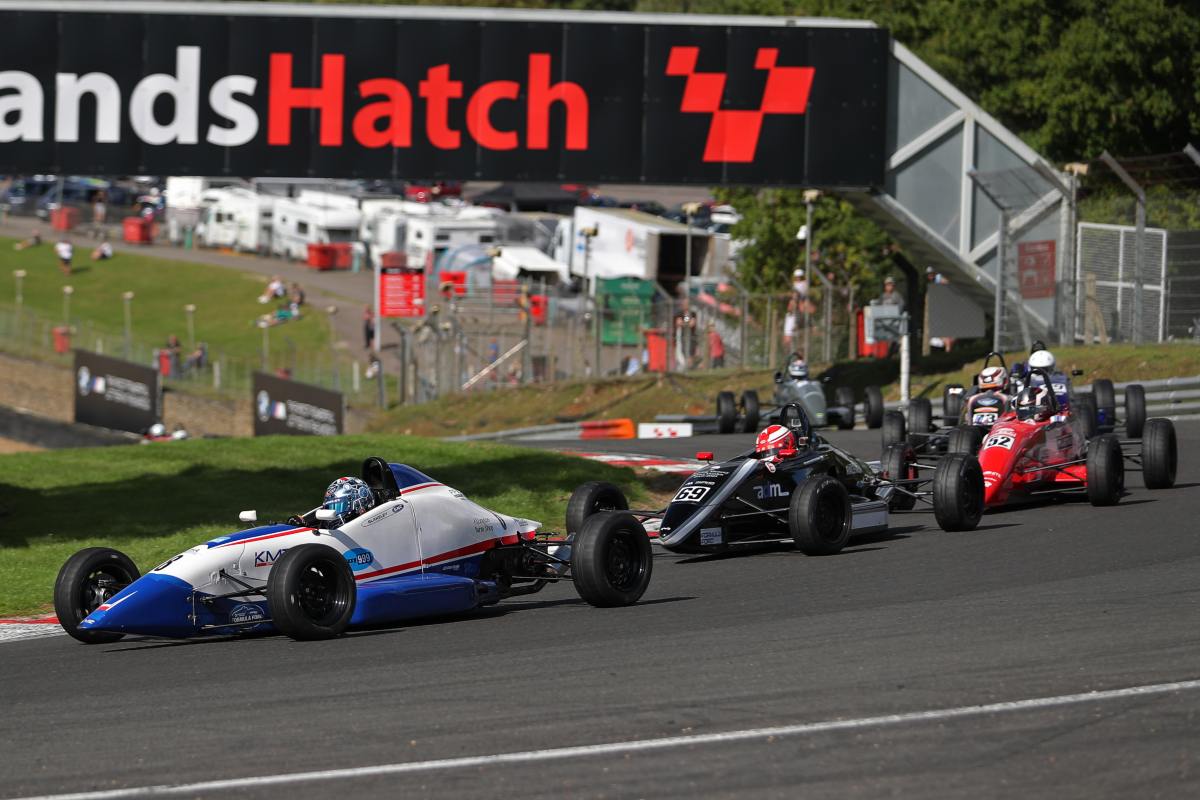 ---
ZEO PROTOTYPE SERIES
Venturing on track for their penultimate weekend of the season, the rapid ZEO Prototype Series tackled the short, sharp Brands Hatch Indy circuit with another varied and eclectic entry of sports prototypes on display, both closed and open-top. From Pragas and Radicals to a handful of home-developed specials, the mix of cars was once again superb.
Regular front runner Mike Jenvey was in top form from the outset as he claimed pole position in qualifying by more than half a second from the Pragas of Ruben Stanislaus and the shared car of Shane Kelly and Jess Hawkins, with Graham Charman's Juno third quickest inbetween and Max Windheuser's Norma starting in the top five.
Jenvey got away cleanly for race one managing to be almost a second ahead by the completion of the opening lap, but initially Charman's Juno had just enough pace to keep the Jenvey-Gunn in touching distance. This continued as the race wore on with the gap fluctuating between less than and just over a second between the two cars. Jenvey began edging away as the second half of the race played out, eventually finding a couple more seconds as the leaders battled through lapped traffic.
At the flag, Jenvey was a clear victor by three seconds in the end while Charman ended up dropping back into the clutches of Shane Kelly, who eventually passed for second place later on to put the Praga on the podium ahead of Charman's Juno. Stanislaus' Praga and Windheuser's Norma retained their top five positions for the race's duration.
Race two began like the first earlier in the day, with Jenvey out in front pursued again by Charman throughout the first half of the race. A mid-race safety car bunched the pack up once more, but it was during this brief neutralisation that Jenvey appeared to slow with a problem, eventually pulling up and retiring. This left Charman to take over in front and with a slight edge over the Praga of Jess Hawkins, he drove on to a superb outright win in the end. Hawkins was best of the Pragas home with second, followed by Windheuser in the Norma, and the remaining Pragas of Stanislaus and Alistair Boulton.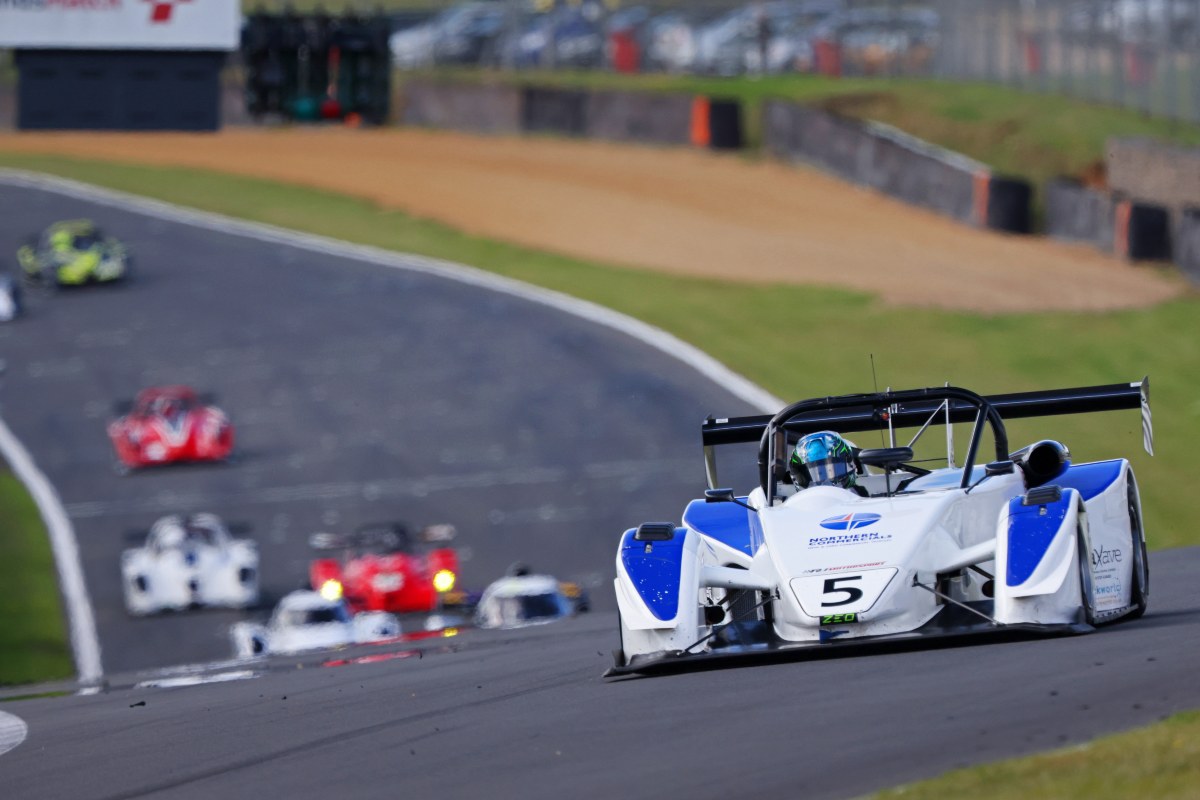 ---
CMMC SOUTHERN SALOONS & TIN TOPS
Providing extra entertainment to the timetable at Brands Hatch, both of the Classic & Modern Motorsport Club's Southern division's series, the Super Saloons and Tin Tops, made an appearance on the Saturday with two eclectic grids.
The Tin Tops ran a 30 minute pit stop race, where the Peugeot 306 GTi of Chris Bassett and Tom Burgess took pole in qualifying with a storming lap that put them at least two seconds ahead of the rest of the field, with Robert Hosier's SEAT Leon their nearest challenger. From the outset, the Bassett/ Burgess Peugeot was just untouchable, charging away to a lead of almost twelve seconds after just five laps and completing a perfect lights to flag performance to take a commanding win. The Citroen Saxo of Adam Harding and Stevie Everson took an excellent second overall ahead of Hosier's SEAT, followed by Rod Birley and Ken Angell in their BMW and Graham Richardson and Steve Dann in their Honda Civic Type R.
In the pair of Super Saloons races, Andrew Bradley took his BMW M3 to pole position, but only just from the booming Holden Commodore V8 Supercar of regular favourite Alex Sidwell and the evergreen Rod Birley, again in a BMW. Adrian managed to hold on to the lead for the opening lap, but the power and pace of Sidwell's Holden was too much to hold back and he powered past on the following lap to hit the front. He managed to gap the rest by as much as five seconds at one point before easing off to cruise home to victory, ahead of Adrian Bradley in second, Burley in third, then Martin Reynolds' Escort Mk2 and Clive Haynsford's Mazda RX-8 in the top five.
The second race started better for Adrian as not only did he hold the lead for the first lap, but in turn for all the others too. This time he had the speed to keep Sidwell firmly behind him as the Holden couldn't quite match the pace it reached in race one. Much like Sidwell did, Bradley was able to put in an unchallenged race performance, leading every lap to win but only by 0.6 seconds from Sidwell in the end. Birley took third, ahead of Reynolds and Peter Sheldon's BMW in the top five.
Scott Woodwiss