BRSCC HEADS TO DONINGTON WITH CHAMPIONSHIP BATTLES CONCLUDING
September in the motorsport calendar usually signals the run into the end of the season for many series up and down the UK club racing scene, and that's certainly going to be the case for a few of them competing this weekend with the BRSCC. The Club returns to action again as it heads to Donington Park on the full Grand Prix layout, in which three series will conclude their calendars, while others move into a critical stage where every single point matters.
---
FUN CUP ENDURANCE CHAMPIONSHIP
If there was one team in this year's Fun Cup Endurance Championship that needed a turn of good fortune after a mixed season, it was Fabio Randaccio and Farquini of UVio/ Hofmann's Lotus. Having jumped from winning races to suffering mechanical issues, they'd suffered hub failures in the previous two races at Brands Hatch and Snetterton before they headed to Anglesey, where there was no stopping them as they reasserted their dominance and won both the daytime and "into the night" races at a canter. These results have helped them leap back to 4th in the standings, but they're still more than 40 points off the top spot held by GCI Racing.
In Wales, GCI's run of consistent podium finishes and wins ended, as they could only manage a best of 4th place all weekend. Despite being outscored by both of their closest rivals in the evening race, they still hold a solid lead up top with Stobart Sport currently 33 points back with Team Viking only a further three behind. Teams drop a single score in this championship and when factoring this in, it tightens up the top four to just a 32-point spread, with a maximum of 140 points available for the final two rounds. Knowing that anything can happen in a FunCup race, the order of this quartet could be turned on its head completely ahead of the Oulton Park finale in October.
Additionally, there's a special guest driver competing at Donington this weekend as renowned sportscar ace Johnny Mowlem gets back into the endurance driver's seat with the Red River Sport team. The former Porsche and European Le Mans Series champion is sure to enjoy the unique challenge that FunCup Endurance provides and will do all he can to ensure both he and co-driver Gareth Williams finish as high up the order as possible. Look out for him in car #97!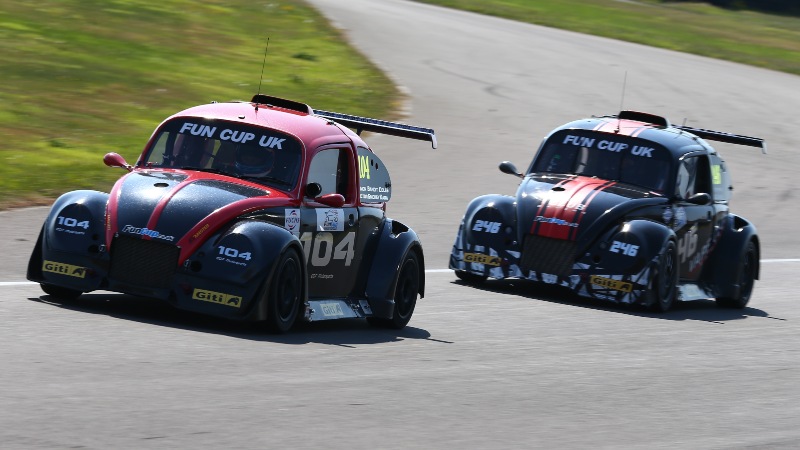 ---
BRSCC MAZDA MX-5 CHAMPIONSHIP
If you're Fraser Fenwick right now, you're in a good mood heading to Donington Park for the penultimate weekend of the Mazda MX-5 Championship. You've got a 50-point lead in the standings on dropped scores over your nearest rival and you're edging towards the championship title with just two weekends to go. Of course, with the points lead comes the pressure to maintain it and three more races this weekend will provide another test of Fraser's skills on another packed grid of drivers ready to rumble.
Steve Foden has managed to work his way into 2nd in points on dropped scores after some fine results in recent weekends. He appears to have firmly shaken off any of the lingering mechanical gremlins at this stage and is in top form having consistently finished within the top five in the last few meetings, including two wins. This run of form has lasted since Silverstone GP in May, and Donington will be another chance for Steve to keep the pressure on Fraser and take as many points away from him as possible before the Snetterton finale. There's a scrap brewing over 3rd place between current Masters points leader Jason Greatrex and Michael Knibbs, both of which have been trading results all the way through the last few meetings. There's 14 points between them on dropped scores, although penalty points prevent Knibbs from being closer but there's still a great chance for both drivers to take the final championship podium spot. 
Luke Pullen holds the final top five spot on dropped scores but sits 7th on overall points behind Oliver Graham and Courtney Milnes, two drivers that have been very impressive this year and could still end the season higher up the order in the end. Meanwhile, elsewhere on the grid there's a fun little inter-club battle brewing between three of the BRSCC's highest-ranking office staff. Paul McErlean (Chief Operating Officer), Greg Graham (Head of Formulae Development) and Luke Souch (Competitions Coordinator) will all be facing off against each other in a battle of bragging rights – one only has to wonder if all three end up on the same piece of track together at some point!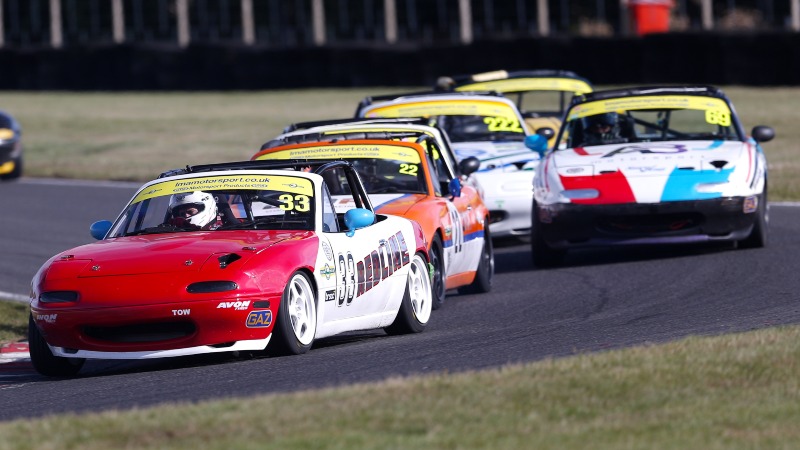 ---
BRSCC MAZDA MX-5 CLUBMAN CHAMPIONSHIP
Once again it's looking likely another fierce weekend of competition in the Mazda MX-5 Clubman Championship as it heads to Donington Park for their penultimate meeting of the 2022 season, as the battle for the title continues to be a tense one between defending champion Harry Storer and long time leader Declan McDonnell.
Based on overall scores, Storer has accrued more points outright than McDonnell heading to Donington, but now with two dropped scores being taken into consideration, it's McDonnell's lead by six points with four races left to run. Declan made the most of his early season form and ensured that he never dropped outside the top four before the previous rounds. Currently, both Cadwell results count as his drop scores, but should he fare worse, he'll have to rely on them as part of his overall tally. Ultimately, McDonnell has been more consistent across the year so far, while Storer has had a few dips in pace he's had to recover from. Whoever holds the advantage at Donington this weekend will certainly be in prime position.
However, there are two drivers that aren't quite out of contention just yet. Both Jon Pethick and Chris Dawkins only find themselves around 20 points away on dropped scores from the top two and they could upset the party if they're in good shape this weekend too. Pethick has a race win under his belt this season and has appeared at every round, while Dawkins missed Oulton Park but has been the only driver to stand on the top step in the last two meetings he attended (Brands Hatch and Cadwell Park). Chris will hope his car remains in good shape and can take the fight to McDonnell and Storer, because if he can, we might just have a three or four-way dance for the crown at Snetterton next month, pending what happens here.
Alongside many of the regulars, there are one or two interesting guest entries. Rob Greensmith will get some family support on this occasion as his brother Jonny Greensmith, a former Mk1 MX-5 and Porsche champion himself, lines up on the grid once again to rekindle some past memories. One driver he'll remember competing against is the BRSCC's Chief Operations Officer Paul McErlean, as he along with colleagues Greg Graham (Head of Formulae Development) and Luke Souch (Competitions Coordinator) take to the track together in another pair of races alongside their entry in the Mazda MX-5 Championship too. That means five races to decide who is the better driver out of the three!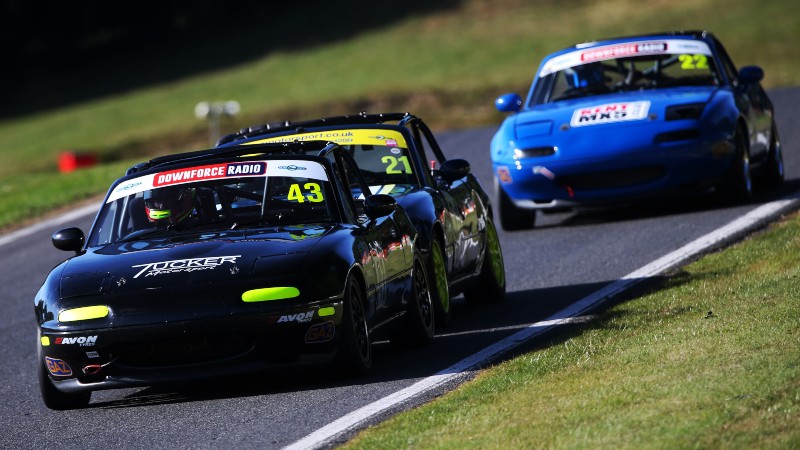 ---
BRSCC MAZDA MX-5 SUPERCUP
The Mazda MX-5 SuperCup has been one of the most competitive championships in British club racing for the last few seasons now and it's clear that 2022 has been no different. Any one of at least a dozen drivers have had a genuine shot at standing on the podium at last on any given weekend, and heading to Donington Park this weekend there's currently a tense four-way fight over the championship lead.
Leading the charge is Will Blackwell-Chambers, the former two-time MX-5 Mk1 champion that has now fully gelled with his Mk3 and is producing the same kind of form that brought him success previously. He holds a 13-point lead in the Pro class standings and has managed to win races in each of the last three race meetings, now that he and the car are finally in the groove. Keeping him honest is Colin Bysouth, who has claimed five wins himself but also had a couple of off days when he hasn't quite been able to match the pace of the leaders. Last time out at Cadwell, the top two traded results back and forth in a weekend-long scrap, so expect that to spill over here again.
Continuing their chase of the title are Patrick Fletcher and Richard Amos. Patrick's form and fortunes have been very mixed throughout this season. At times, he's been one of the fastest man on track, while at others he's struggled for fortune, pace or a combination of both. Therefore, this has been a season where you never quite know which Patrick Fletcher will turn up on any given day. He'll need to be on his a-game to keep the top two in touching distance on dropped scores. The same can be said for long-time points leader Richard Amos, who started 2022 with incredible form, but has seen his lead eroded thanks to on-track mistakes and misfortunes. Now in fourth on drops, he'll need to be back to his early dominant form to give him the best possible chance to stay in the hunt.
As for the Club class, there's just over 20 points between Scott Wright and Stephen New with a clear gap to the rest, meaning it's sure to be a straight fight between the two all the way to end of the campaign. Also keep an eye on the equally interesting scrap for 3rd between teammates Adrian Burge and Clive Chisnall, as they are merely separated by just six points on dropped scores. Over in the Masters contest, Nic Grindrod continues to dominate proceedings, most than 150 points ahead of Chisnall and Burge, who are also in a tight brawl over P2 in these standings as well.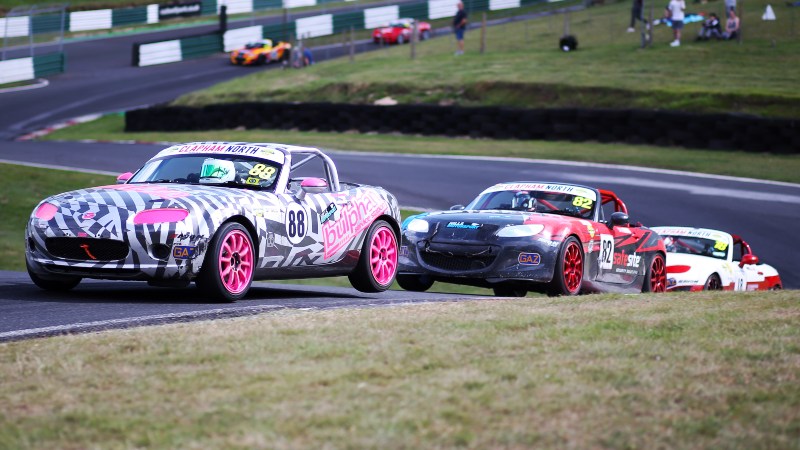 ---
AVON TYRES NATIONAL FORMULA FORD CHAMPIONSHIP
This weekend at Donington Park, the first of the BRSCC's in-house championships will be provisionally settled, as the Avon Tyres National Formula Ford Championship comes to its conclusion this weekend on the Donington Park GP circuit. Jordan Dempsey appears to have it all be wrapped up in the Pro Class, barring a nightmare weekend.
Going into the final races of the season, even if Jordan were to merely gain 2 points in all three races from retiring in each and main rival Colin Queen were to gain the maximum possible score with pole position and winning all three races with fastest laps, essentially this would still give Jordan the provisional title. In fact, Jordan would effectively need to be disqualified from all three races in the same scenario for Colin to still be able to steal the title from under his nose. While it's highly unlikely, it's still a minute possibility, meaning the job can't be considered provisionally done until at least the conclusion of Race 1.
A bigger battle will be found with the almighty bun fight that's sure to occur for position 3 down to 7 in the final standings, with Lucas Romanek also technically still in with a mathematical shout of the title too. Although, he too would need to take the maximum score and see both Jordan and Colin excluded from the entire weekend, this being another highly improbable scenario. Lucas will certainly switch his focus to securing P3 instead, holding a 38 point gap to Jamie Sharp on drop scores. Brandon McCaughan, Shawn Rashid and Morgan Quinn are also set to be in the hunt, while also embroiled in a battle of their own over what's likely to be 5th in points too. Rashid will also have his own title fight to worry about, as he is on the cusp of winning the Rookie class ahead of Gabe Tesch and Tom Nippers.
An addition to the regular runners on the grid, this weekend sees a few familiar returning names back on the grid again to shake off the race rust and continue preparations for next month's Formula Ford Festival at Brands Hatch. Amongst those joining in, three big names are sure to mix it up – Joey Foster in his Don Hardman prepared Firman, former champion Niall Murray back in a Team DOLAN Van Diemen and a welcome return to racing for Michael Eastwell, reunited with Kevin Mills Racing and one of his rapid Spectrums. Also look out for Vincent Jay, Tom Hawkins and Tom McArthur who also fancy coming out to play to round off an excellent season of National Formula Ford racing.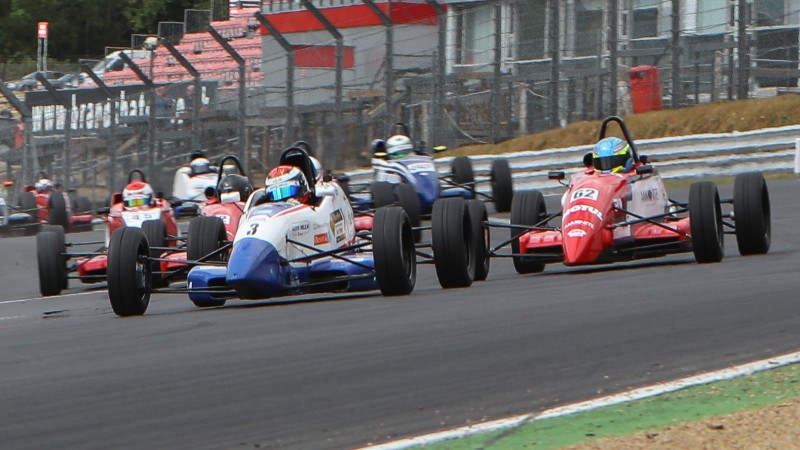 ---
AVON TYRES NORTHERN & SUPER CLASSIC FORMULA FORD CHAMPIONSHIP
Joining the National Formula Ford drivers on a shared grid for the final time in 2022, the Northern & Super Classic Formula Ford Championship gets its one and only "away day" of the season after visits to Oulton Park, Croft and Anglesey so far. There's a strong contingent full of the regular drivers as class battles continue to be waged in the hunt for points within and they will certainly provide an exciting show of their own while the National drivers engage in their own scraps elsewhere on track.
Super Classic A class leader John Murphy will have regular rival Neil Hunt to keep him company in their battle for the class title, while Paul Tucker, Seamus Wild and Jonathan Barnes will add to the entry with the youngest cars in the Super Classic entry. Super Classic B front runner Peter Daly is on clerking duties in Asia this weekend, leaving Andrew Schofield and Nick Barnes to duke it out for class victories, joined on track this time by Lorna Vickers, Garath Buckingham, Richard Ketterman, Richard Freye and Trevor Morgan.
Paul Crosbie keeps up his run as the sole Super Classic C entry in his Van Diemen and should be looking to take another set of maximum class points, while Super Classic D looks set to be a one-on-one duel between Phil Nelson and Roger Arnold.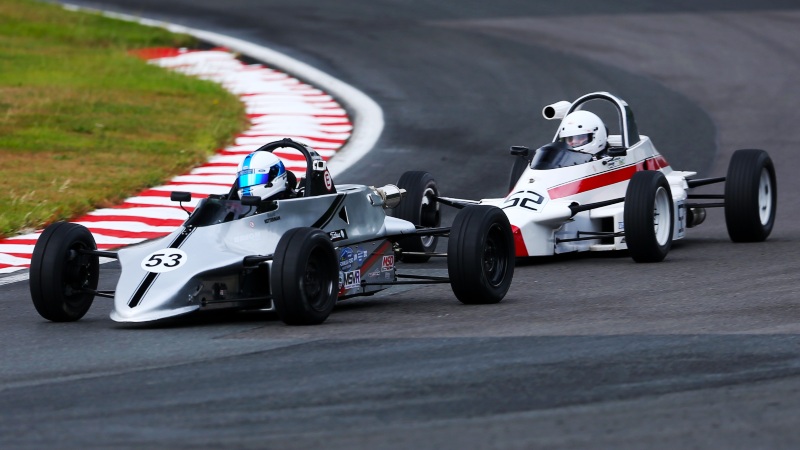 ---
MOTORSPORT UK BRITISH SUPERKARTS & BRITISH SUPERKART GRAND PRIX
Donington Park's racing activities will also include the conclusion of another championship season as well as the running of a special annual contest. This weekend not only hosts the final rounds of the Motorsport UK British Superkart Championship with all four classes of kart out in force, but it also doubles up with the running of the prestigious British Superkart Grand Prix, with the infamous and coveted GP plate up for grabs for the winner of the Grand Prix itself.
The top class, Division One, will certainly have reigning GP plate holder Lee Harpham looking to secure two crowns in one weekend, as he hopes to maintain his 20 point lead over main rival Liam Morley while Ross Allen looks content with P3 in class given the gap to the top two heading into the final races. In F250 National, it almost looks to be a foregone conclusion here at Lee Plain aims to make it back to back class titles with a 45-point gap over Tom Hatfield in 2nd and Shaun Lombardo a further 20 points back. 
The F450 Nationals sees the closest battle across all four classes for their respective title, as Kosta Kyritsis and Ami Jerger will square off with just five points separating them and Ami standing a real chance of overhauling Kosta. As for the 125 Open class, Jack Tritton should have enough to deny Shane Stoney to steal the title from under his nose, provided he stays out of trouble.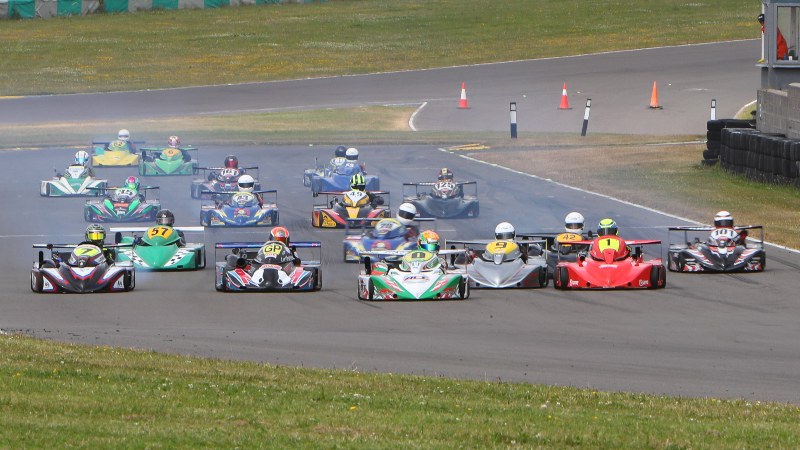 ---
BRSCC CLUBSPORT TROPHY
Those who follow and support the BRSCC ClubSport Trophy will know that it's a series that always attracts large, healthy and varied grids. This is especially true whenever the series has visited Donington Park and once again, this weekend's entry list has proven this statement true. At one stage, the reserve list for this round of ClubSport grew large enough at one point that it could have justified its own grid, proving just how popular this circuit really is! That list has been whittled down and now we enter the weekend with a capacity 42-car grid.
One car that looks likely to be favourite for overall on-track honours will be the Ginetta G55 of David May & Mark Skeats, but as it runs in the Invitation class it will be ineligible to be officially classed as the "winner" of this race. For that, we look to the five classes within ClubSport and the multitude of machines featuring again. Class A for cars reaching up to the maximum power to weight ratio of 235bhp per tonne has returning regulars such as David Shead's BMW Compact, the SEAT Leons of Alistair Lindsay and Martyn Culley, James Alford's VW Golf, Matthew Bolton's BMW M3 and Steve Jordan's Nissan 350Z, proving to be some of the most powerful cars in the entry. Just below them in Class B, cars to watch here have to include the Mazda MX-5 Mk4s of Brian Chandler and Aaron Bunning, Ashley Parson's Toyota Celica, the Renault Clio of Ben Parsons, Phiroze Bilimoria's formidable VW Scirocco and Scott Ferguson's supercharged Mk1 MX-5, providing an excellent competitive mix once again.
In Class C, it has this time become the domain of BMWs and Renault Clios, including David Weinberg's Z4, Mark Burton's E46 330ci, Charlie Hayes's Compact, Cameron McLean's Clio 182 and a welcome return of the BMW 1 Series SuperCup car as it makes its second ClubSport outing of 2022, with Bad Obsession Motorsport's Richard Brunning once again set to take the wheel as he did at Snetterton. 
There's a trio of Mazda MX-5 SuperCup cars in Class D driven by Tom Seldon, George Grant and Bruce Robinson joined by the Mk1 of Stephen Wiggins and Steve Hyde, Colin Whitehouse in his E36 BMW 3 Series, Daniel Silvester's Toyota MR2 and Craig and Gary Butterworth back once again in their Renault Clio 172 against Dominic Bowen's Clio RS 200. Finishing off in Class E, some favourites here have to be one of the trio of Mazda2s in the line up, plus multi-time class winners Adam Read and David Drinkwater in their BMW Compact, Ben Tunbridge and Rob Sawyer in one MX-5 and Chris Fantana in another to name a few. Except lots of busy pit activity come the pit window and track space to be at a premium come race time!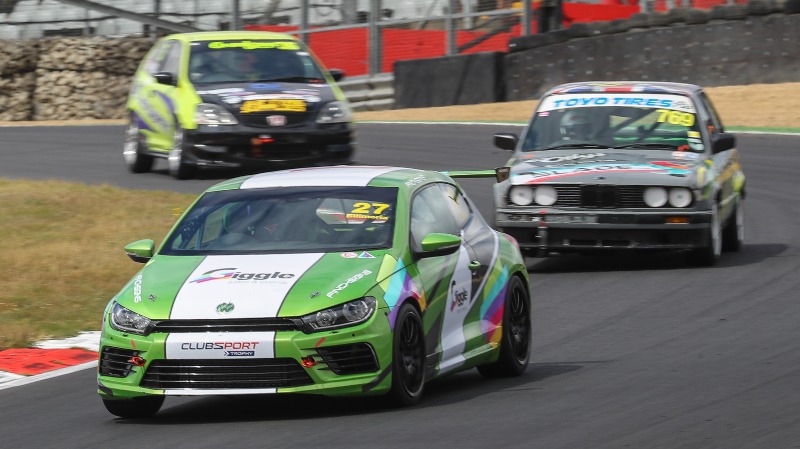 ---
ZEO PROTOTYPE CUP
Rounding of their second full season, the ZEO Prototype Cup adds another extra high-speed flavour to the weekend's timetable with an excellent lineup of sports prototypes ready to fly around the Donington Park GP circuit.
Matt Manderson heads a healthy Radical contingent on this grid, with the former British GT champion running as sole Class A driver, but his main rival is sure to be leading Class B runner Mike Jenvey in his Jenvey-Gunn TS6 with his own class competition set to come again from the Junos of Graham Charman and Andy Chittenden, the Chamberlains in their self built CTR01 and Radicals from Richard Hardie, Robert Gillman, Doug Carter and Dominic Langdon-Down. A pair of Radical PR6s populate Class C for Chris Child and Alastair Smart, the NP-01 is back in the hands of Jay Shepherd and Ed Worthington, and there's also cars joining in from the Sports Prototype Cup here too. Three Revolution 500SCs will be present in the hands of James Abbott, Richard Morris of Racing Pride and cycling legend turned champion racer Sir Chris Hoy, while Jim Booth rounds off the entry in his Radical RXC.
Scott Woodwiss