BRSCC HITS A HOME RUN AS BUMPER SILVERSTONE SEASON OPENER DUBBED A ROARING SUCCESS
CATEGORIES:
It was a sensational start to the British Racing & Sports Car Club's 2023 season this past weekend at Silverstone on the full Grand Prix circuit, with one of the largest total entries the club has received in recent years for a race meeting. Almost 350 cars were in attendance across seven grids, with some spectacular racing across the board and early front-running drivers coming to the fore.
---
Silverlake C1 Endurance Series
With an entry just as large as last year's 24 Hour race on the same Silverstone GP circuit last May, the Silverlake C1 Endurance Series began 2023 with the typical large entry that comes to characterise the series in recent seasons. Many teams were not only their to get the season underway, but to also use the race as the perfect preparation this year's 2023 C1 24 Hours in a couple of months, so data gained here would be vital ahead of the series' centrepiece.
Mac Tools Racing picked up pole courtesy of Sylvain Rubio alongside the Trojan Motorsport #508 car on the front row, ahead of some formidable teams such as Emax Motorsport, JW Bird Motorsport, #blessed and more. However, being in the wrong gear cost Mac Tools Racing the chance to lead into Copse at the start, allowing Trojan to do so instead before Scuderia Pollo Rosso took over and held a small gap by the end of Lap 1. #blessed's race lasted no longer than 15 minutes before a slide at Copse saw them end up rolling through the gravel and ending up on their side, although thankfully Chris Etheridge walked away unscathed.
As JW Bird, Mac Tools and Scuderia Pollo Rosso circulated as the leading trio and traded the lead between them until Pollo Rosso became the first front runners to make their first stop just before the hour mark, leaving Mac Tools to lead JW Bird and Quattro Formaggio as the first hour concluded. Rubio kept the Mac Tools car out for another 20 minutes before handing over to Jade Edwards, rejoining 4th behind JW Bird's leading #347 car while both chased the #449 JW Bird sister car and Oakley Motorsport's #455 car with both yet to make their first stops as half distance approached.
When both finally pitted, Philip House held JW Bird in the lead from Mac Tools, their sister car driven by Joe Roach, Emax's #346 car with the Littles at the wheel and Trojon Motorsport as the two hour mark ticked over. House made his car's second stop just after two hours to give Edwards the lead again and when she brought the Mac Tools car in for its second stop to hand over to Josh Cook, they rejoined still in 2nd place as JW Bird retook P1, while the Littles had moved Emax up to 3rd. This remained the status quo until Cook brought his car in for their final stop prior to the end of the third hour and given JW Bird's substantial lead gap, it looked like it was their race to lose.
Unfortunately, they did. At JW Bird's final stop, Philip House stalled the car and spent the next few minutes desperately trying to restart it; when they did, they rejoined down in 3rd place. This became 2nd when Emax #346 took its final stop, leaving the #566 Mac Tools Racing team of Sylvain Rubio, Jade Edwards and Josh Cook to claim the first Silverlake C1 Endurance win of 2023. They ended up 41 seconds ahead of JW Bird #347 of Nick Beaumont and Philip House in 2nd place, while Emax did well after an average qualifying to pick up 3rd with their #346 car courtesy of James Little, Jake Little and Stuart Ratcliff. Trojon Motorsport's #319 team picked up 4th place and Emax made it two cars in the top five with their #343 car crewed by Murdo MacLeod and Max Finn. After an exceptional first race, the next outing will be at Oulton Park on April 22nd!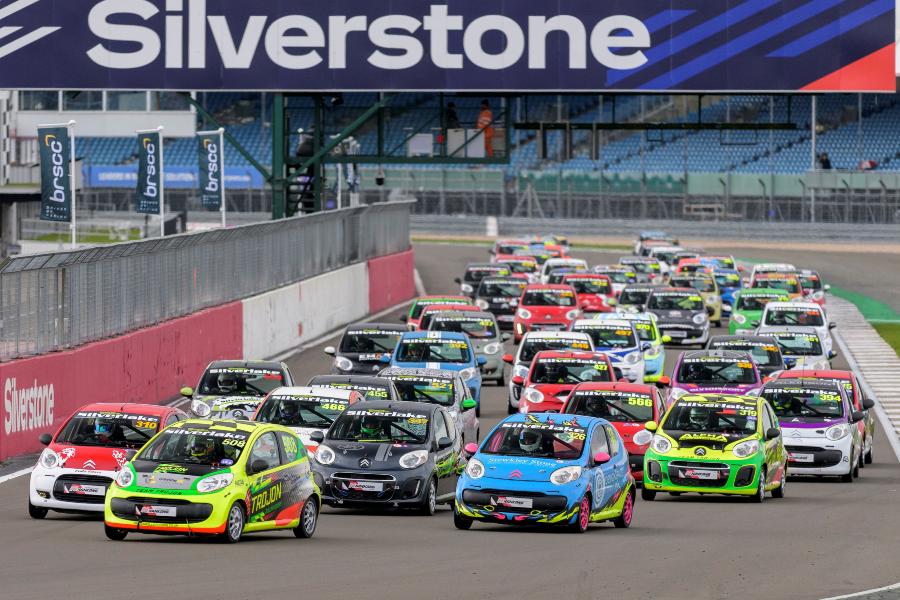 ---
GAZ Shocks Mazda MX-5 Championship
The new season burst into life for the GAZ Shocks Mazda MX-5 Championship at Silverstone with 30 cars entered for the opening rounds, and it began with a real surprise from qualifying on Saturday morning. In his first ever weekend in cars, AB Motorsport's new recruit Ted Bradbury ended the session with a sensational pole position, putting him on the front row alongside teammate Thomas Langford while pre-season favourite Steve Foden had to be pushed off the grid due to a fuel line problem.
Bradbury stumbled on his first ever race start leaving Langford to lead into Copse for the first time, but straight away was under threat from Jason Greatrex, Oliver Graham and Adam Sparrow on the opening lap and Greatrex led at the end of Lap 1. Langford repassed two laps later while Greatrex was shuffled backwards as Luke Pullen, Bradbury, Adam Craig, Brad Jones and Owen Mills all joined in the action in the lead group, shortly followed by the fast rising Tom Smith. Langford was elbowed from the lead by Jones at Brooklands late in the race, but quickly charged back through and survived the final two laps to take the first win of the 2023 season. He headed teammates Jones in 2nd and Bradbury in an incredible 3rd on his debut, after a late 5 second time penalty for Graham pushed him out of the top three.
Langford again made the jump to lead a damp Race 2 from the outset with Adam Craig on his tail early on, but in an incredible turn of pace it was Adam Sparrow that passed three cars in almost as many corners to go from 4th to 1st. From there, no-one could catch him as he romped away to an excellent first ever MX-5 Championship win by over seven seconds to his absolute delight. An equally exceptional drive from Steve Foden saw him recover from his fuel problems the day before to charge from 27th on the grid to an incredible 2nd place, with Langford following his Saturday effort with 3rd.
Race 3 saw Sparrow beat Foden from the line, but down to 4th by the exit of Club corner just moments later, as Foden quickly took over in front. This turned out to be the best of the three MX-5 Championship races all weekend as Foden, Langford and Smith quickly went into combat over the lead, as a nine car train quickly formed including the top three and provided incredible entertainment. Smith led for most of the encounter but batted away constant attacks from Foden and Langford until the three cars ended up trading the lead several times in the final seven minutes. In the end, Foden beat them all to collect his first win of 2023, followed by Langford and Smith respectively, making it three different winners from the first three races. If Race 3 was an indication of this year's lead group, then it means the next rounds at Brands Hatch will be very interesting to watch!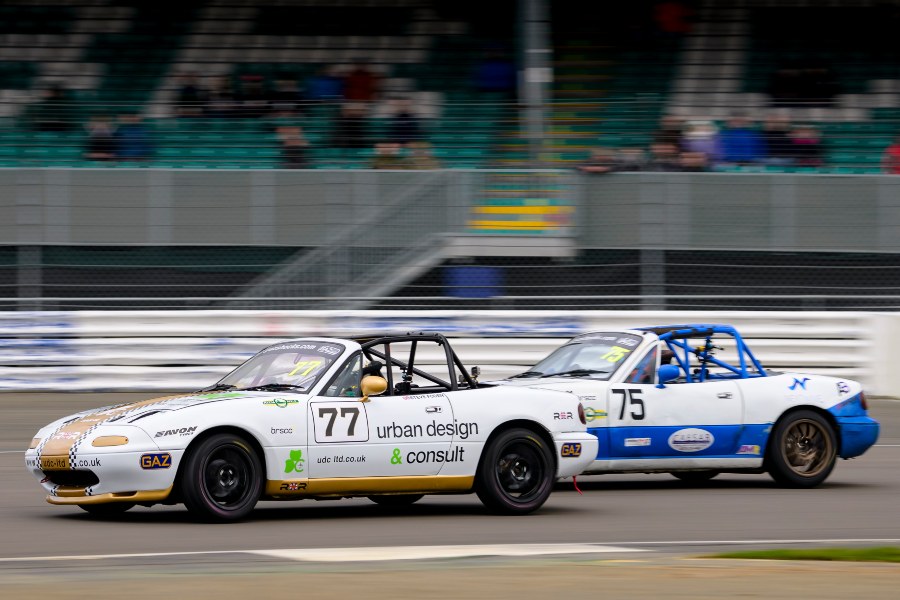 ---
Downforce Radio Mazda MX-5 Clubman Championship
Saturday's racing action began with the opening Downforce Radio Mazda MX-5 Clubman Championship of the new season with a very healthy 35 cars lining up for the first two races of 2023, bucking the trend of big grids across the board at this race meeting. Brad Jones instantly made an impact on his debut Clubman race after being an MX-5 Championship regular with pole for Race 1, with Michael Pearce's excellent effort putting him on the front row.
Despite being beaten to Copse by Pearce initially, Jones was in the lead moments later and after the opening lap scrap shook itself out, he was followed by Oak Richardson and Alan Hawkins in the early going, with Jon Pethick also going with the lead trio too. Jones was then allowed to escape by a few seconds in front as Richardson, Hawkins and Pethick were also joined by Kevin Dengate and Jack Warry in the almighty scrap for the podium, and would end up unchallenged for the remainder of the race. Jones went on to take the first MX-5 win of his career, while guest driver Richardson took 2nd and Pethick took 3rd from Hawkins on the final lap.
Later in the afternoon, the slightly shortened 12-minute second race (due to timetable constraints) saw Jones maintain his place as leader of the pack initially, as the drivers had to tackle a sudden rain shower which fell from the opening lap onwards. Squirming around with little grip on offer, Richardson pursued Jones until he charged past him around the outside exiting Copse and carried on in the lead. Jones took it back shortly after, but effectively threw the lead away on the final lap sliding wide at the Arena section, allowing Hawkins to make a late challenge for the lead. However, Richardson claimed the race win while Jones somehow outdragged Hawkins for 2nd place by just 0.028 seconds!
With Richardson a guest this past weekend and Jones' racing schedule uncertain going forwards, there's an element of unpredictability in this year's MX-5 Clubman season already – just what we like!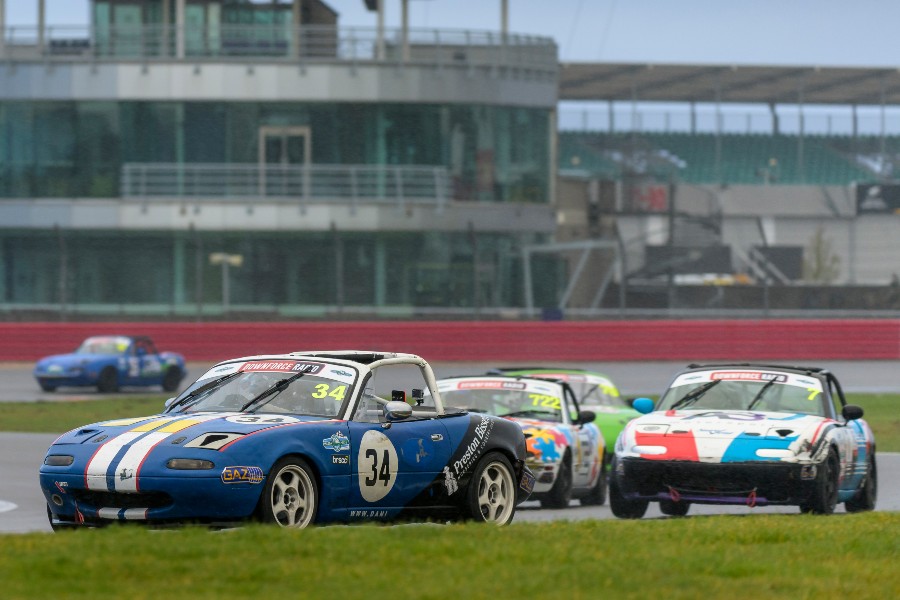 ---
Clapham North MOT Mazda MX-5 SuperCup
Of all the BRSCC's Mazda MX-5 contests on their roster, it's fair to say that the start of the new Clapham North MOT Mazda MX-5 SuperCup was being highly anticipated by many in attendance at Silverstone, not just for the sheer entry numbers with 49 cars on the grid for the opening rounds, but the massive depth in quality drivers lining up to compete. With so many former and current MX-5 champions and race winners in contention, it would in fact be defending SuperCup Pro Class champion Will Blackwell-Chambers on pole in mixed conditions by a second from Leigh Britten on the front row.
Neither driver would be in the top two by the end of Lap 1, with Aidan Hills in front ahead of Richard Amos and the rest trying to keep up. Amos's race wouldn't last longer than just after two laps completed, leaving Hills to deal with teammate James Cossins and Tom Griffiths in hot pursuit. Griffiths took 2nd from Cossins at half distance, but James quickly took it back and  throughout the final minutes the three cars were inseparable. Hills scored the Race 1 victory, while Cossins managed to just hold off Griffiths to take 2nd place. In the Club class, Kamal Kalsi took the win here from Robert Way and Will Powell.
Hills kept the lead beginning Race 2 on Sunday morning, as Griffiths and Amos gave chase on the opening lap, with Blackwell-Chambers and Cossins joining them before the end of the second tour. Amos wasted no time in picking up 2nd but soon enough Aidan was able to leave the quartet behind him to squabble over the podium spots. Eventually the race was flagged a lap early after Wilbur Tiley's car went off on the exit of Luffield, meaning Hills collected his second win of the weekend with Griffiths swapping places with Cossins this time and taking P2, before a time penalty for Cossins handed P3 to Blackwell-Chambers instead. Club Class played out much the same as Race 2, with Robert Way just beating Kamsi to the line this time and Powell again in P3.
With the grid for Race 3 featuring a partially reversed order, the top 7 positions were inverted putting Nic Grindrod on pole alongside Ali Bray. Both drivers went side by side from the start almost all the way to Stowe, when Grindrod got swamped by the charging pack behind them. Griffiths led before the end of the first lap, but it wasn't long before he, Blackwell-Chambers, Amos, Hills and Fenwick formed the leading group. Hills worked his way to the lead just before half distance and came under threat from Blackwell-Chambers in the final two laps but to no avail, as Aidan completed the hat-trick and the best possible start to his season. WB-C maintained 2nd, while Amos fended off Fenwick and Griffiths to fill the final podium place. As for Club class, an excellent last lap move gave Steve Brown, also known as SuperGT on YouTube, an exceptional class win from Way in 2nd and Steve Kite in 3rd.

If one thing's for certain, this year's MX-5 SuperCup is already living up to the pre-season expectations and more!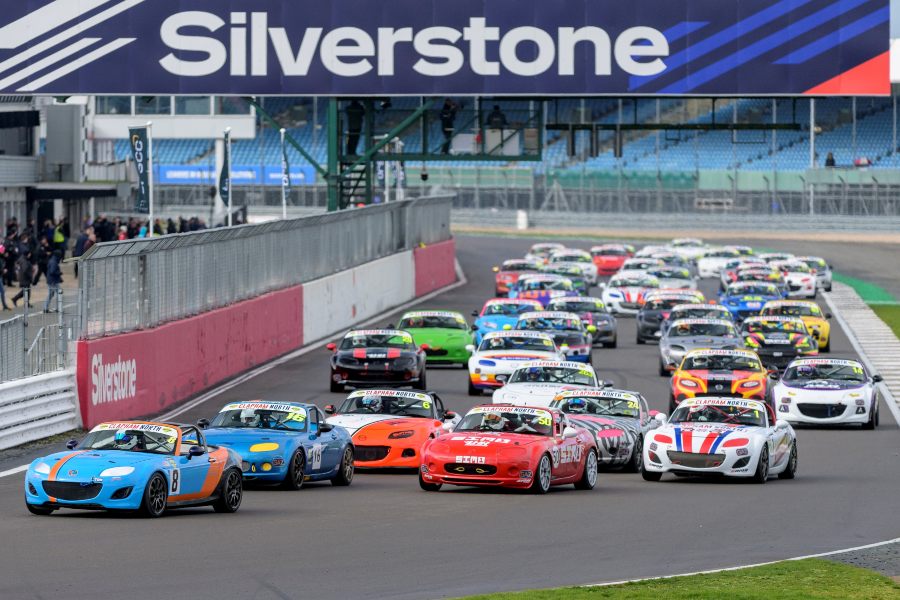 ---
SW Motorsports ClubSport Trophy
As expected by many, the SW Motorsports ClubSport Trophy proved to be exceptionally popular from the outset, as the new season kicked off on the Silverstone GP circuit with yet another sold-out entry packed full of variety with many different makes, models and specifications lining up. The first 45 minutes of pit stop racing action was always going to be busy and exciting, and that's exactly how it played out.
Scott Parkin took pole in his new Audi TT Cup Racing car alongside the BMW M3 of Matthew Bolton, and it was Bolton that beat the Audi to Copse before falling off the road at Becketts and tumbling down the order. Through all this, Liam Crilly moved his BMW Z4 to the lead from Parkin's TT and Phiroze Bilimoria's VW Scirocco, before Parkin dropped back to leave Crilly out on his own. Bilimoria drove well to only keep Crilly a couple of seconds out in front as Tom Stanway's BMW and James Alford's VW Golf diced over 3rd place overall behind them.
Crilly was one of the last drivers to pit as he did so towards the end of the 30-minute window, while most chose to make their stops around the middle and when Liam emerged his lead had extended further to some 14 seconds over Bilimoria and Alford. A late cloud burst saturated parts of the circuit making it damp and slippery for many drivers and although it caught one or two out the vast majority were able to cope without dramas. Once the rain had passed and the final minutes had ticked down, it was Crilly's race in the end as he won both overall and in Class A to claim the first ClubSport honours of 2023, with fellow Class A runner Alford in 2nd in the VW Golf and Class B winner Stanway in his BMW in P3 to complete the overall top three.
Fellow class winners alongside Crilly (A) and Stanway (B) were Andrew Bond in his Honda Civic in Class C, Chris Murphy's BMW Z4 in Class D and David Drinkwater's BMW E36 Compact in Class E and each had to work hard in order come out on top respectively. It certainly proved to be a race in which if you had a BMW, you were likely to do quite well!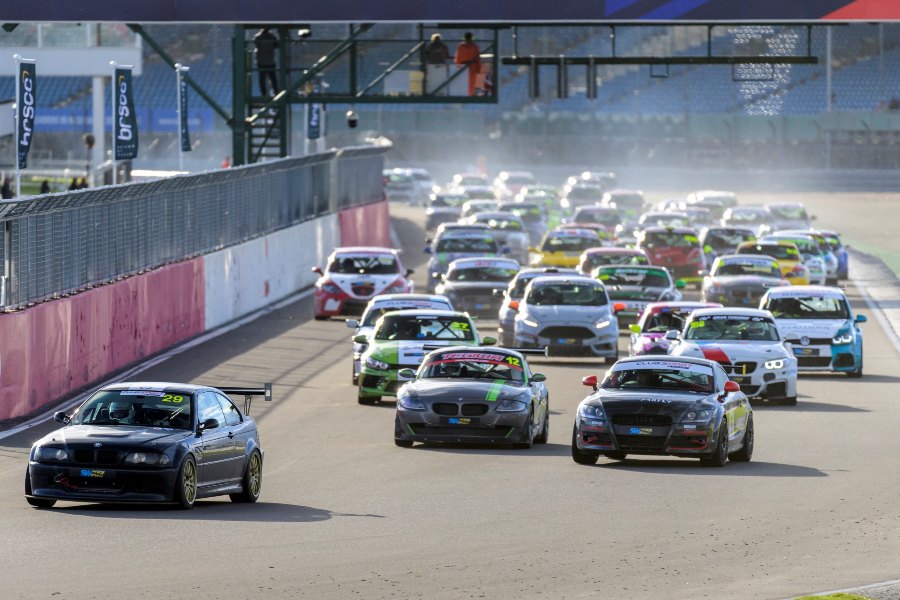 ---
Modified Ford Series
Having been one of the best new additions to the BRSCC's portfolio in the last couple of years, a lot of people were greatly looking forward to the new Modified Ford Series season as it began at Silverstone with a bumper entry of just under 50 cars, sporting a fantastic array of various Ford models that looked and sounded superb in equal measure.
Simon Light put his V8 engined Capri on pole position for Race 1 alongside the Sierra Cosworth RS500 of Steve Scott-Dunwoodie and it was the Sierra that had the punch off the rolling start to lead the way in the opening few corners, with Kester Cook's Ecoboost-powered Fiesta ST150 also helping demote Light to 3rd. Meanwhile, Rory Jose's race wouldn't last longer than the approach to Vale after he ended up in the barriers. Light was quick to reel in Scott-Dunwoodie with James Allen's ex-Time Attack Focus RS also on their tale as he brought Lloyd Jamieson's Escort Maxi Cosworth with him in an epic lead battle. Allen made a huge dive for the lead into Brooklands and charged away for a while, but difficulties negotiating traffic and yellow flags helped Light steal the lead back and head on to an excellent win. Allen took 2nd place while Jamieson finished off the top three behind them.
A safety car start to Race 2 due to time constraints and a change in track conditions allowed pole man Allen to get a great jump in the lead from the outset on a circuit that was wet from earlier rain. Some fierce jostling behind him allowed Craig Rainer's Mk2 Escort to close up briefly before Kester Cook took over in P2 in a bid to chase after the leader. Also following through was Josh Payton in the Cortina and the pair did their best to try and reel Allen back towards them, but in the end the Focus' better pace and traction proved too much for anyone to catch him. Allen did enough to claim victory from Cook and Payton in an excellent race to complete the Saturday timetable and a great weekend to start the Modified Ford season.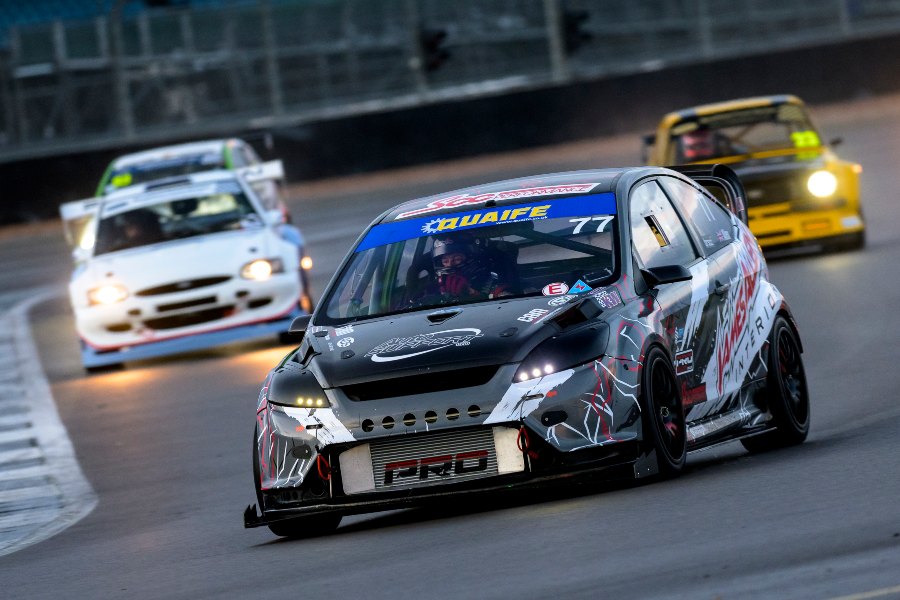 ---
Mini 7 Racing Club – Se7ens & Miglias
Choosing the Silverstone GP circuit to kick off their 2023 season, our friends at the Mini 7 Racing Club brought both the Mini Se7ens and Mini Miglias out to play for the first time this year on a mammoth combined grid sporting almost 60 cars. It certainly made for a phenomenal sight as they lined up for Race 1 on Saturday with many established front runners from both championships back for another exciting season.
Rupert Deeth only needed the run to Stowe corner to take the Miglia lead from pole man Jeff Smith in Race 1, but Jeff took it back a few corners later as the pair found themselves in combat along with Nick Padmore, Andrew Jordan, Aaron Smith, Kane Astin and Ben Colburn for company in the lead group. Padmore took turns in P1 with Smith as Deeth and Jordan also joined in the fun, but despite the race-long pressure Jeff was able to keep everyone at bay to take the first Miglia win of the season with Padmore in 2nd and Jordan in 3rd. For the Se7ens, it was Mike Jordan first past the post ahead of Spencer Wanstall and Joe Thompson, while Richard Colburn won the Libre class and Matthew Ayres topped the Se7en S runners.
A partially reversed grid put Aaron Smith and Mark Sims at the head of the grid for Race 2 on Sunday, but it only took a few corners for Andrew Jordan to get to the front as he passed Aaron Smith to head the field. He and Smith continued to scrap for the rest of the race as the pair had a significant grip advantage on a damp circuit compared to others, potentially due to their tyre selection. After several laps of dicing and switching back and forth, victory eventually fell Jordan's way overall and in Miglias with Smith in P2 and a distant Ben Colburn in P3. The finish to the Se7ens race was the closer of the two, with Joe Thompson claiming an epic last-gasp win to steal it away from Mike Jordan, with Wanstall completing the podium in 3rd.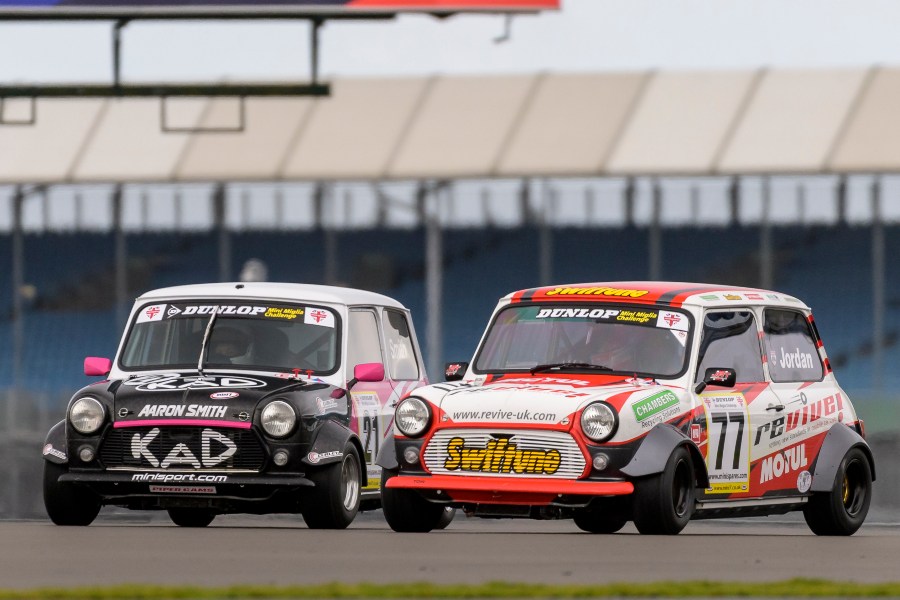 ---
A massive thank you has to go to all of the teams, drivers, coordinators, marshals, officials, volunteers and our live stream production crew and commentators from Digitex Television for all of their hard work across both days, which saw some excellent racing all weekend and almost 50,000 views of our live stream coverage to date at the time of writing. If this sets the tone for the rest of the 2023 BRSCC season, then we say BRING IT ON!
Scott Woodwiss