BRSCC PACKS UP FOR SUMMER MOTORSPORT WEEKEND BY THE COAST AT ANGLESEY
CATEGORIES:
Summer has well and truly arrived and what better way to kick off than with a visit to the coast! The BRSCC is heading back to the isle of Anglesey in North Wales for another weekend of top-class club racing action. We'll be experiencing motorsport both during the daytime and heading into the night with another fine mix of endurance and sprint racing.
C1 RACING CLUB – ANOTHER TASTE OF NIGHT RACING IN STORE POST-C1 24 HOURS
It's only been a few weeks since we enjoyed a fabulous Silverlake C1 Racing Club Silverstone 24 Hours, where Hybrid Tune Motorsport ran to their second consecutive victory at the event after a hard-fought scrap with their rivals from the start, all the way through the darkness of Saturday evening and all across Sunday. With just over 60 teams competing, it was a fantastic endurance racing spectacle, and now there's a chance for many of those crews to relive some of that 24 hour magic in Wales.
The third race of the 2022 C1 Racing Club season sees the teams qualify early afternoon before beginning their race at 6:30pm and racing for the next four and a half hours, whilst the sun sets and headlights take over to illuminate the circuit. Once again, pit stops and fuel strategy will be key for teams to try and come out on top. Squads like Silverlake Racing, eMax Motorsport, Patrick Watts Racing and more will be hoping that pace is with them and luck goes their way. On the whole, it's certainly going to prove to be another fabulous occasion for this ever-popular long-distance club racing series.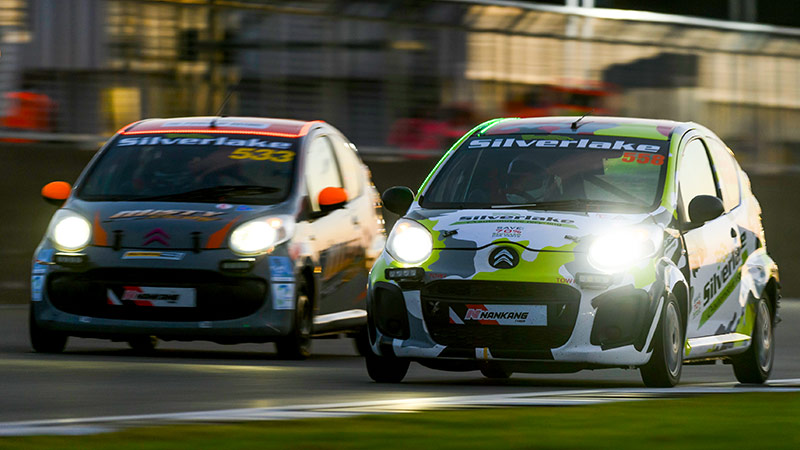 ---
AVON TYRES NATIONAL / NORTHERN & SUPER CLASSIC FORMULA FORD CHAMPIONSHIPS – SINGLE SEATERS VENTURE BACK TO THE WELSH COAST
Throughout the opening few weekends of the 2022 season, we've seen some exceptional racing across both of the BRSCC's ever-competitive Formula Ford championships, with both the National and Northern & Super Classic ranks producing excellent action up front. Now on the same grid together again, a combined lineup of over 30 cars should make for a superb display.
Jordan Dempsey has been the man in form over the first three-race meeting of the National Formula Ford season, as he's won four of the first seven races at Silverstone and Croft, but dropped points at Knockhill which included contact with his current main rival Colin Queen, who has two wins to his name so far in 2022 including stealing victory in the last race at Croft on the final lap. There's 15 points currently between the top two while Morgan Quinn has steadily taken his Team DOLAN machine up to 3rd. One driver hoping for a strong rebound is Lucas Romanek, who had to rebound from an accident in the first race while battling for the lead and a rebuild of his car by the Oldfield Motorsport team to salvage 5th place from the third race. He will want to bounce back strong in Wales to recover from 6th in the points currently.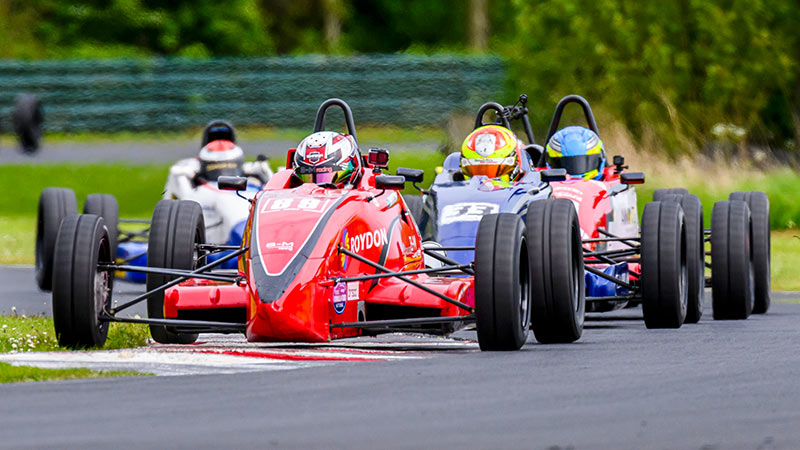 For the Northern & Super Classic contenders, four classes are represented this time, with Peter Atkinson's 2002 Van Diemen making its debut in the championship in Class P. He'll be looking to get in and amongst the four Super Classic classes that will scrap on track together with him, all of which are represented this weekend. John Murphy will go up against Alaric Gordon, Neil Hunt and Paul Tucker in Super Classic A, Nick Barnes will look to hold Peter Daly, Andrew Schofield, Richard Freye and co at bay atop Super Classic B, and there should be another battle royale in Super Classic D with all five points scorers so far this season back on the grid again.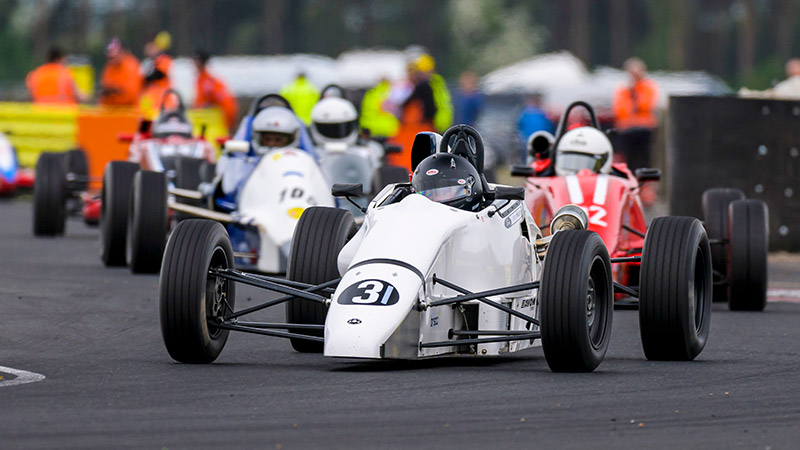 ---
NANKANG TYRE BMW COMPACT CUP – CAN DOBLE'S DOMINATION CONTINUE?
There's been one name that's topped the timing sheet of every race result so far in the 2022 Nankang Tyre BMW Compact Cup and so far dominated proceedings – Mikey Doble. He's taking up the mantle of outgoing multiple-time champion Steven Dailly and going on a win spree that is quickly marking him out as the runaway title favourite after just two meetings. After five wins plus a fastest lap, his lead has already stretched to 22 points, and last time the Compact Cup visited Anglesey, Mikey could only manage a best finish of 7th. He'll be hoping to go much better and to remain unbeaten this time to increase his advantage at the head of the standings.
A battle is also on for 2nd place already between regular podium finishers Lee Dendy-Sadler and Ian Howes. So far, Dendy-Sadler has owned the runner-up spot in the same fashion as Doble's win streak, finishing 2nd in every race to date, while Howes has taken four 3rd places and a trio of fastest laps from Snetterton. The gap between the pair is just seven points, but their aim will be to halt Doble's runaway dominance and prevent a carbon copy of Dailly's reign over the championship in recent years. Gordon Macmillan and Mike Doble (championship leader Mikey's father) also make up the rest of the top five, both having taken strong finishes this season between them.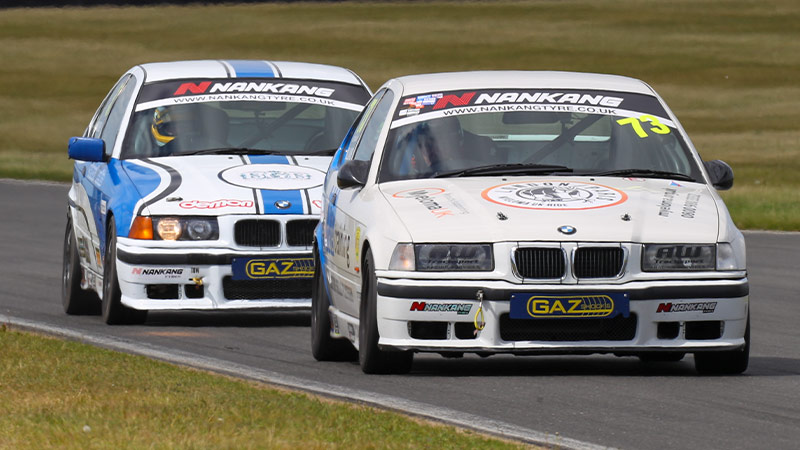 ---
NANKANG TYRE CITYCAR CUP – BLISS-FUL DOMINANCE SO FAR FOR TOYOTA PAIR
A name that you can't escape from the head of the Nankang Tyre CityCar Cup this year is the surname Bliss, as both Richard and Stuart currently have a firm grip on the top of the points standings already heading to Anglesey. After just four races, they are almost 20 points ahead of 3rd place, with only two separating each other. In terms of race wins, Richard has taken his Toyota Aygo to two, while Stuart has clinched one in his identical example. So far, they've been the pair that everyone has had to live up to and on CityCar's first-ever visit to the Welsh coastal circuit, it's going to be a real test for them to keep their advantage.
Andrew Dyer, whose Remapping The World company is a support sponsor of the championship this year is currently 3rd just four points ahead of Snetterton race winner Elliot Lettis, who took the fight to the pair of Bliss Toyotas last time out and broke their win streak with his first CityCar win. Also, ‌look out for others who are certain to ‌work their way towards the front like Andy Burgess, Christopher Mackenzie, Liam Burgess and more, plus the new Student Motorsport Challenge heads into its third round with teams of skilled students from participating colleges and universities go head to head in an active motorsport environment. Currently, East Surrey College leads the standings after taking every single win ahead of SHU Karting, MET Motorsport and Coleg Gwent's Blaenau campus, so monitor this internal battle throughout the pack.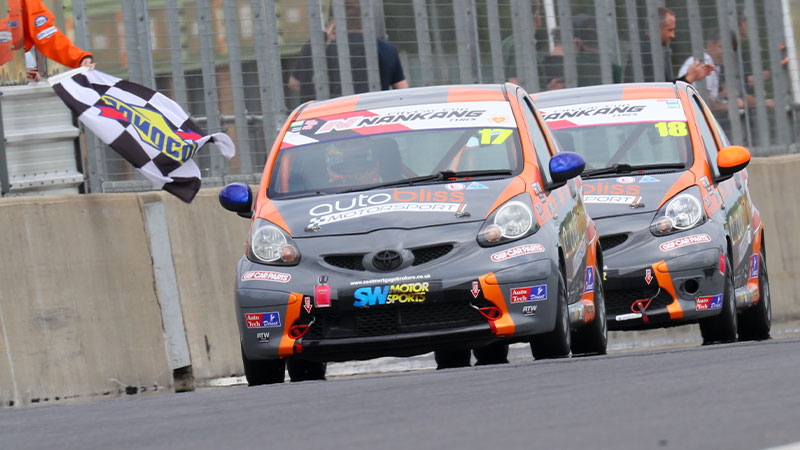 ---
VINYL DETAIL ST-XR CHALLENGE  – FORDS READY TO BATTLE ON WELSH COAST AGAIN
The Vinyl Detail ST-XR Challenge has so far ventured to both Oulton Park and Snetterton this season, and this coming weekend it's time for the championship to head back to another of its regular racing venues in the North West – Anglesey in North Wales beckons as the three-way scrap at the head of the overall points table is beginning to get close between the main contenders.
Back at Snetterton, the podium was dominated by the current top three drivers in the standings – Michael Blackburn, Sam Beckett and Chris Grimes. They proved to be the class of the field in Norfolk and benefitted strongly from the absence of some of their main rivals to sit collectively at the head of the table with just nine points separating the trio, Blackburn ahead of Beckett and then Grimes. It's the first visit for the ST-XR Challenge to the Welsh circuit since 2019, so there will be a few drivers in the entry this time that may not have experienced the delights of Anglesey before. Nevertheless, those who are back on the grid this time, including Mark Blunt, Chris Lindley, Matt Pimlott, Chris Chisnall, Chris Flynn and Adam Bissell are certain to try and make inroads by scoring solid points. Also, defending champion Chris Jones has swapped his now regular Fiesta ST150 for his trusty old Escort XR3i and he will be keen to prove his pace in the older car against the more contemporary models.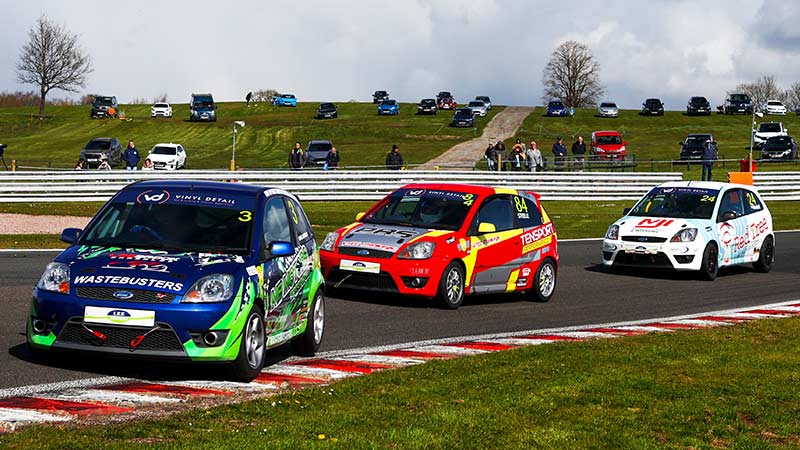 ---
LEGENDS CARS CHAMPIONSHIP WITH MRF TYRES – REIGNING CHAMPION RUDMAN IN BOX SEAT AS LEGENDS HEAD TO ANGLESEY – Written by Marc Orme

Marking the second of two back-to-back race meetings for the always sensational Legends Cars Championship with MRF Tyres, the visit to Anglesey this weekend also sees the 5/8 scale pocket rockets appear as part of a BRSCC event for the first time.
Providing sensational bumper-to-bumper and wheel-to-wheel action every single lap, the fast and furious Legends Cars – which have been a popular staple of British motorsport for 28 years – deliver an amazing spectacle each time they're on track.
If you've never watched the Legends Cars before, prepare for action like no other with two Heats and a Final each day – which constitutes a 'round' of the championship. While qualifying sessions begin each raceday, the times don't determine the grids for the races. Instead, the starting order for the Heats is drawn by ballot with the quickest drivers often lining-up lower down the grid.
For the Final each day, the highest scoring drivers from the Heats line-up at the rear of the grid with the lower scorers at the front. As you'd expect, incredible action is guaranteed up and down the field from a packed grid of spaceframe cars which are powered by 1250cc Yamaha motorcycle engines, this year utilising SulNOx fuel conditioner as part of moves by Legends to achieve greener racing.
Ahead of rounds eight and nine of the 2022 season, reigning and two-time Champion Miles Rudman leads the way by 490 points from five-time former title winner John Mickel. Third in the standings, just 50 points shy of Mickel, is Will Gibson – the driver with the most wins so far, eight in total. Both Rudman and Gibson raced to three wins apiece last weekend at Brands Hatch's American Speedfest.
With 200 points available for a race victory, there is clearly a lot of scope for the championship picture to change at Anglesey – just a couple of bad results or non-finishes from the six races can have a major impact.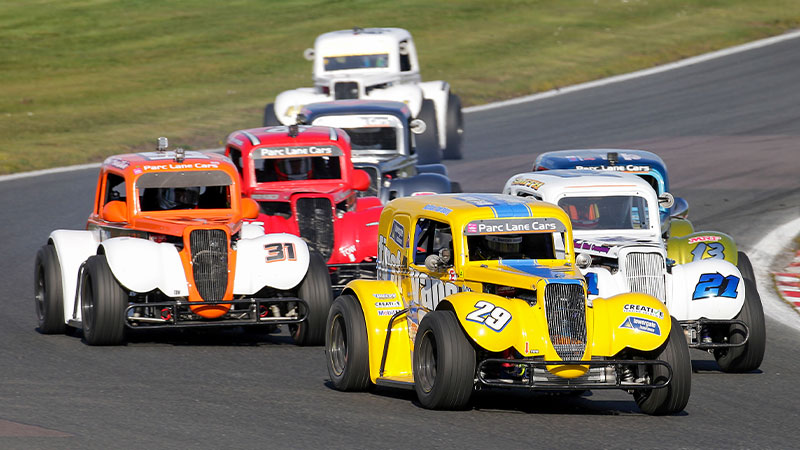 ---
MOTORSPORT UK BRITISH SUPERKART CHAMPIONSHIP – ANGLESEY MARKS SECOND STAGE OF 2022 SEASON – Written by Gary James
This weekend sees the second event of the 2022 motorsport uk British Superkart Championships with a further three rounds taking place over the 2.10-mile Trac Mon Anglesey International circuit. A driver's best two performances from the three races will count towards the championship and with 25 points up for grabs for a win it is nicely poised across all four Superkart classes at present.
Heading the twin cylinder Division 1 class championship is Lee Harpham who collected three wins at Cadwell Park in May. The MS Kart Harvey VM package was working well at Lee's local circuit, and he will be looking to extend his lead of ten points this weekend, but there are some very good drivers in the Division 1 category that will be out to stop that happening. Liam Morley is the driver that is ten points adrift holding second place in the championship. He was heading for a win at Cadwell in the final race until a big-end failure in his VM engine side-lined him just before half distance. Twelve months ago at Trac Mon, Liam dominated proceedings and set a new lap record so will be hoping for that level of success again to keep his title aspirations alive. Third place in the championship is held by the reigning champion Ross Allen who is only four points behind Morley. Ross picked up a second and a third at Cadwell and was in line for another podium finish until a carburettor fell off one of the IAME engines. The Jade driver had to play second fiddle to Morley in 2021 so would like to get the better of him this year and get on the top step of the podium.
Lee Plain, the reigning British Champion in the F250 National class has started his defence in the best possible way with three wins at Cadwell last month. After making a few aerodynamic tweaks he was rarely troubled on his way to securing maximum points. He was kept off the top step of the podium last year at Anglesey by Paul Platt, but the former champion is not competing this weekend which should allow Lee to pick up more wins. Parker Motorsport driver Tom Hatfield was Plain's closest challenger at Cadwell, leading briefly before settling for two runner-up slots. A gearbox issue meant he didn't start the final race so was unable to bid for a win. Can he beat Plain this time around? Hatfield's teammate Shaun Lombardo finished third in all three races at Cadwell and holds a similar position in the points standings. This is the first season that he has competed in the British Superkart Championships and will be hoping to continue his good run of results.
In the F125 Open class it is championship rookie Jack Tritton who leads the way after collecting two wins at Cadwell. This will be his first visit to Anglesey but that shouldn't deter him from further success. Tom Riley, the reigning champion, had a split link come off the chain in the first Cadwell encounter but bounced back with a second and a win to lie five points behind Tritton. Shane Stoney, son of multiple champion Chris Stoney, made an impressive Superkart debut at Cadwell and could be on the podium again.
At the time of writing there were no entries received in the F450 National class. The top two in the category, Kosta Kyritsis and Ami Jerger, are both missing this event as they are competing in the British Universities Karting Championship 24-hour race at Teesside Autodrome.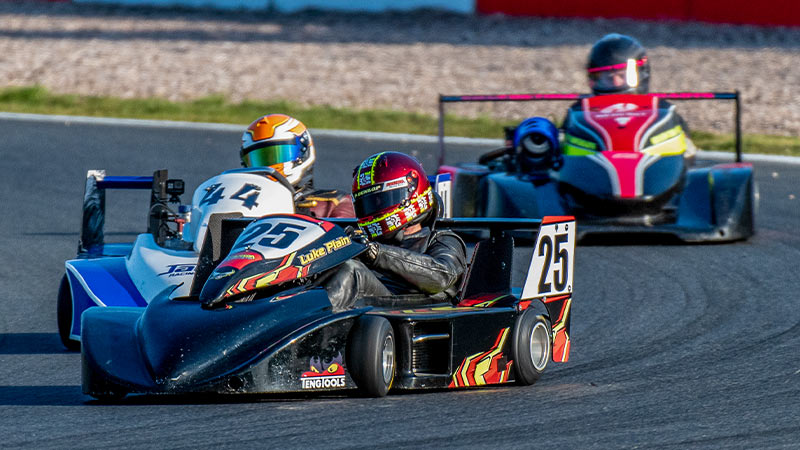 Scott Woodwiss