BRSCC PUTS ON A SCORCHER AT DONINGTON PARK
CATEGORIES:
The blazing sun at the recent weekend at Donington Park did its best to try and steal the limelight from the on-track spectacle that a number of championships were providing at the BRSCC's race meeting, but despite its efforts it couldn't quite match the exceptional racing across the board. Plenty of close finishes, lead changes and numerous pack battles meant those watching trackside were certainly entertained no end.
---
SILVERLAKE C1 ENDURANCE SERIES – TEAM TROJON INFILTRATES THE FRONT RUNNERS TO WIN
The runners and riders of the C1 Racing Club made a very impressive sight on track all weekend as they brought a sold out grid of 50 cars to Donington Park. Many teams were back after competing at the Silverstone 24 Hours and missing the Anglesey "Into The Night" race, and with a full line up of cars to contend with on track, this was always going to be a busy and frantic 3 hour race.
Emax Motorsport's #345 car started on pole and held the lead in the opening laps, through an early safety car and until lap 18, when they were passed by the #326 #blessed team car of Chris Etheridge and Mark Bennett. They only held the lead for a couple of laps before Emax took it back again and held on until the car, piloted by James and Jake Little, made its first scheduled stop on Lap 50. This handed P1 to the Team Trojon Citroen C1 of Charlie Bingham, Jonathan Munday and Adam Willis, who stayed out in front for a good portion of their stint before they pitted.
WRC Development and TOF Racing both took turns to head the field as the scheduled stops rotated through, but by the two hour mark the Team Trojon car was back out in the lead. As the last few stops were completed, it left the Trojon car out in front with Emax looking to try and close them down from some 30 seconds back, but despite their best efforts they couldn't catch them quick enough. Bingham, Munday and Willis captured a superb first C1 Endurance win by 11 seconds from the Littles in P2, while TOF Racing's Stephen Glynn & John Gladman were utterly overjoyed with their first ever podium finish in 3rd, managing to beat both Quattro Formagio and Baycon Racing with Liqui Moly.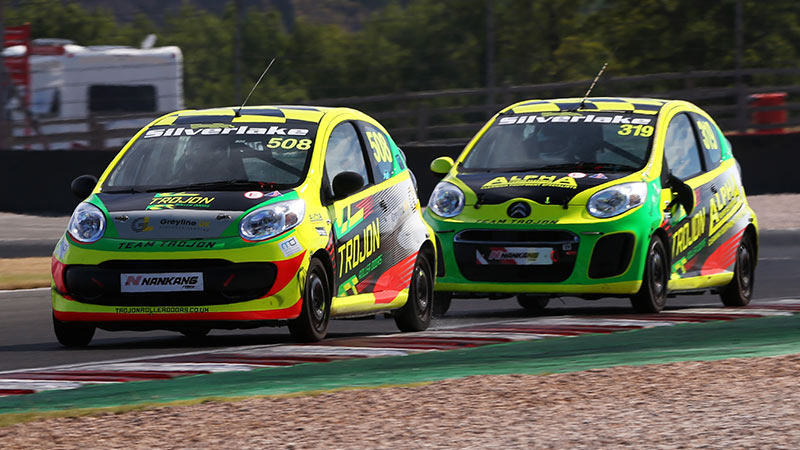 ---
DUNLOP MINI SE7ENS – JORDAN AND O'BRIEN SHARE SPOILS IN FRANTIC DOUBLE HEADER
One collective that was most welcome in the warm paddock of Donington Park was that of the exceptional Mini 7 Racing Club, who brought both of their evergreen and popular championships to play on the National circuit with plenty of close battle and constant position swapping guaranteed.
The Dunlop Mini Se7ens saw Mike Jordan line up on pole for the first race, but neither he nor fellow front row man Connor O'Brien would end up in the lead come the completion of Lap 1. Instead, the fast starting Ross Billison would jump everybody to head the pack initially, as both he and Glen Woodbridge traded the lead in the opening laps. The safety car was called out on Lap 5 to bunch up the field after Ollie Handley retired, but even though Billison maintained 1st on the restart, the close attentions of Jordan meant he was able to snatch it with two laps to go, holding off the rest to clinch his fifth win of the season. Woodbridge managed to work his way to 2nd in the closing laps, while O'Brien did the same to move up to 3rd. Matthew Ayres was top of the Seven-S category from Chris Prior and Jonathon Page.
While the first race had seen the leaders keep close, the same couldn't quite be said for the second. O'Brien wasted no time in leaping into the lead from the start and from here, he was essentially untouchable. Despite the likes of Joe Thompson and Race 1 winner Jordan trying to give chase, they were both so preoccupied with scrapping over 2nd place with the rest of the leading group that they allowed O'Brien to escape. In the end, Connor was the dominant winner by over 8 seconds, with Jordan managing to break free in 2nd place and Woodbridge only just taking his second podium of the weekend with 3rd as he pipped Billison to the flag. Another photo finish occurred in the Seven-S ranks, as Jonathon Page stole Ayres' double by just 0.137 seconds to win.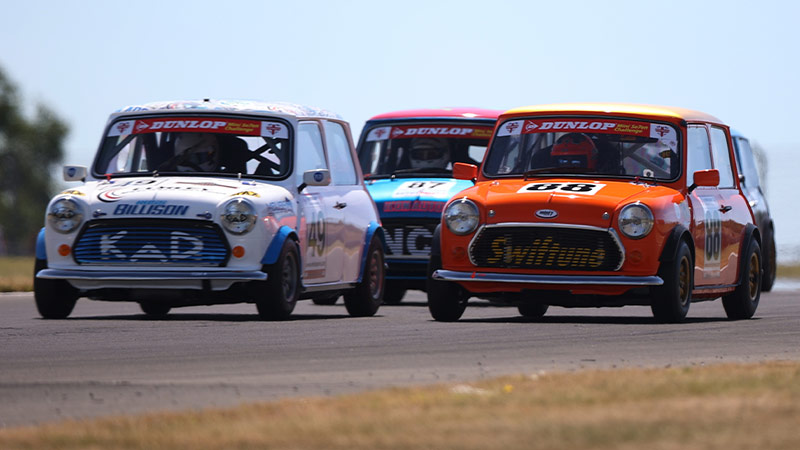 ---
DUNLOP MINI MIGLIAS – JORDAN KEEPS IT IN THE FAMILY AS DEETH MOVES TO POINTS LEAD
If their Se7en brethren were breathtaking enough, the same could certainly be said for their faster counterparts in the awesome Mini Miglias, who were certainly one of the highlights in Donington's energetic two days of racing all round. With top drivers in the field including ex-BTCC racers Andrew Jordan (2013 champion and defending Miglia champ) and Jeff Smith testing their mettle against the established racers, this was always going to be a fun pair of races.
Jordan and Rupert Deeth lined up on the front row together, and it was Jordan that led but not by much early on. For the first 8 laps, Jordan had a large gaggle of cars behind him in the lead group, but eventually their battling allowed Andrew to move away and extend a gap. Maintaining a steady and fast pace in the Donington sunshine despite the head, Jordan was able to charge to victory in Race 1 by more than six seconds, but it was the bun fight for 2nd place behind him that left everyone breathless. In the end, Aaron Smith and Kane Astin would fill up the podium spots respectively, with 2nd down to 6th covered by less than two seconds. Dan Lewis also dominated the Libre class, ahead of Craig Cox and Huw Turner.
It looked like more of the same for Jordan in Race 2 as again he was able to gradually extend a lead of a few seconds out in front by mid-distance. However, throughout the second half a better turn of pace from Deeth allowed him to catch and eventually pass Jordan with two laps to go. The pair ended up in a duel in the final two tours, with Deeth managing to just hold Jordan at the flag to take victory by just over a tenth of a second. Astin headed another busy group of cars battling over the final podium spot for 3rd, while Dan Lewis again was untouchable in Libre class ahead of Craig Cox and Andrew Dickinson.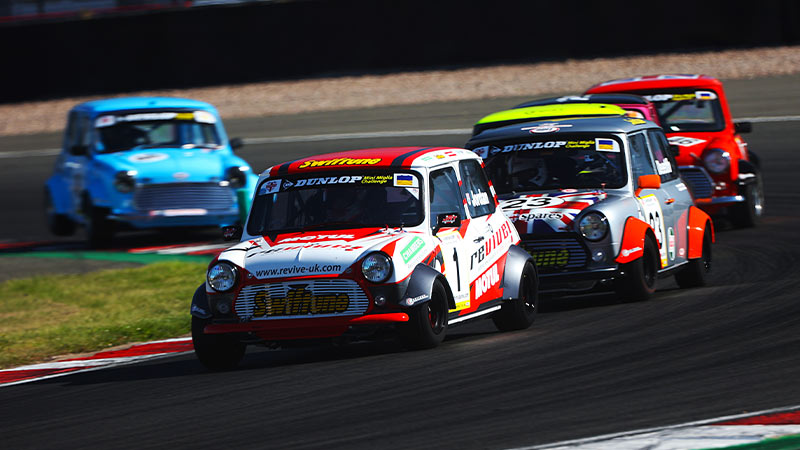 ---
VINYL DETAIL ST-XR CHALLENGE & CIVIC CHALLENGE – GRIFFITHS & JONES TOP HONDAS AND FORD RESPECTIVELY
Combining together on the grid again for the second time this season, the Vinyl Detail ST-XR Challenge and Civic Challenge turned out at Donington Park with a very solid total of 25 cars between them, with the Civics running their second meeting of the season while the ST-XRs wer running their fourth. For the ST-XRs, this was also the second of their "away" rounds outside of their regular Northern and North Western venues, and the grid was well supported with many drivers making the trip this time.
Chris Chisnall claimed an excellent pole in qualifying, but come the end of the first lap it was points leader Michael Blackburn who worked his way to the front of the ST-XR field. He managed to break away in a leading trio along with the returning Chris Jones and Sam Beckett, but Blackburn was only able to hold onto P1 until Lap 6 when Jones found a way past and hit the front. Now back in his championship winning ST150, Jones managed to push on and create a gap as Blackburn's pace started to fade a little. At the flag, Jones captured his third win of the season by 2.2 seconds, after Blackburn was able to find a little more speed again in the final couple of laps. This allowed Michael to remain in 2nd place, with Mark Blunt capturing another podium finish with 3rd.
As he had done in the first race, a great start for Blackburn again fired him into the lead at the end of Lap 1 of the second race, with Jones and Blunt immediately giving chase. However, this time it was Chris Grimes who managed to find some speed in the setup inbetween races and quickly rose to 2nd to challenge Jones. Sure enough, it wasn't long before the pair were nose to tail and in a battle of their own, and even though Jones was able to get away slightly for a few laps, by the end Grimes was again back with him. Once the race came to its conclusion, Jones was only the winner by just under two tenths from Grimes, while Blunt again took a very strong 3rd.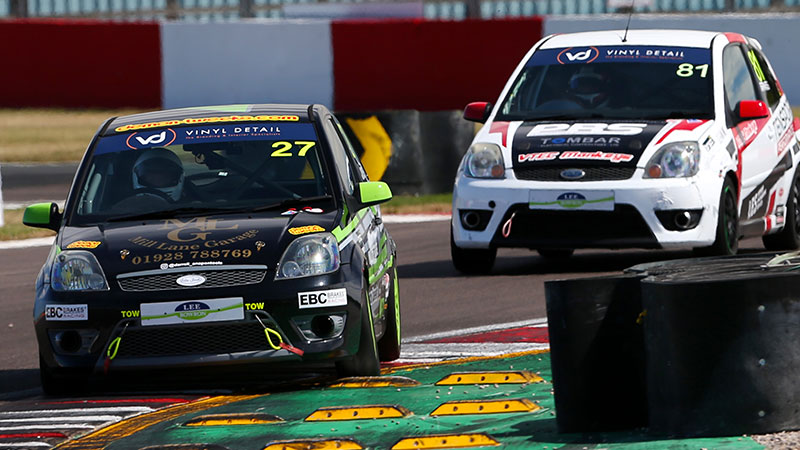 With the Civics, there was only one man who dominated proceedings both in the series and overall in the field – Ben Griffiths. Having taken Civic pole at a canter in qualifying, he set about commanding Race 1 from the front, charging into the lead and never being headed. He was 14 seconds clear at the end ahead of Mervyn Beckett and Jamie Lewthwaite, and despite a partially reversed grid starting him 7th for Race 2, it didn't take long to carve past the cars in front, stretch out a lead and dominate again by just over 10 seconds. Beckett and Lewthwaite once again filled out the podium spots in 2nd and 3rd respectively.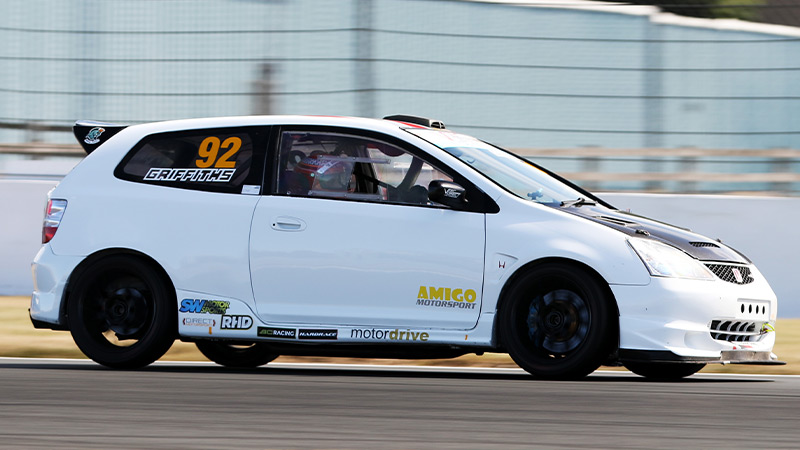 ---
CATERHAM SEVEN CHAMPIONSHIP UK – THOMPSON AT THE DOUBLE IN BLAZING HEAT
A first corner incident saw the opening Caterham Seven Championship UK race of the weekend at Donington Park quickly neutralized under the safety car in the opening laps, but when racing got underway again, James Murphy had the job of trying to hold the lead ahead of championship contenders Henry Heaton and Aaron Head. All three had turns out in front, but eventually it was former multi-time champ Head that worked his way into the lead with Murphy in tow. Head held on to win, but for 2nd it was Lewis Thompson that caught and passed Murphy after a frantic last lap battle, while Heaton also pushed Murphy off the podium to take 3rd.
Head led off from pole in Race 2 with Thompson giving chase this time and it wasn't long before the pair were trading places lap after lap in front. With a lead group of five cars quickly forming, which then expanded to ten, several cars took turns to head the field, including an audacious four wide pass into the chicane from Luke Stevens at one point. An incident at the final chicane prompted the safety car, before Stevens and Head got a massive jump on everyone else on the restart, but contact between both at the chicane jumbled up the lead pack completely. Thompson found himself in front and somehow held back the tide to win, with Stevens still taking 2nd and Heaton rounding off the top 3.
Thompson then picked up where he'd left off for Race 2, leading from pole at the start, then getting shuffled back to 4th in the lead group and steadily making his way back through to the top of the pack. He along with Heaton and Head all took their turns to lead the way throughout, and at one stage Head was able to create a small gap, but although Aaron would win on the road, he was one of four drivers who received a 5 second time penalty for track limits, relegating him to 2nd as Thompson inherited the win. Aaron's sibling Dale made it a family affair on the podium with 3rd place.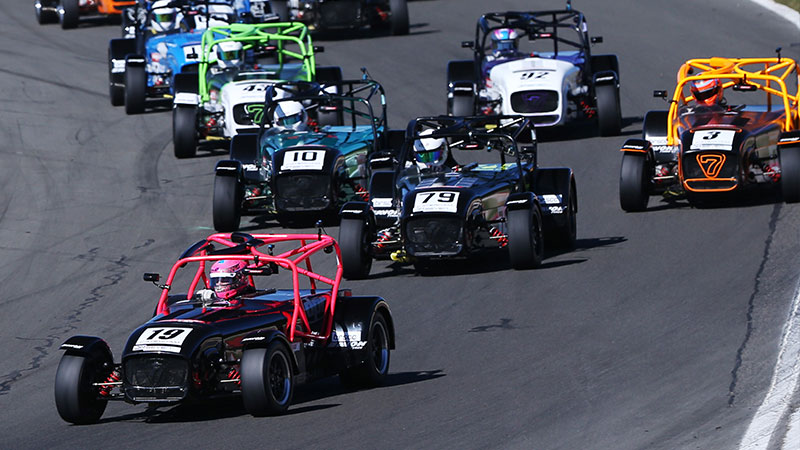 ---
CATERHAM SEVEN 310R CHAMPIONSHIP – SPEEDY PETE STILL THE MAN TO BEAT
Another Caterham 310R Championship weekend and another pair of races that saw Pete Walters come out on top in his quest to win another Caterham title. He ended the first lap of Race 1 in 5th place, which became 4th just before a safety car, and then fell back down the top 10 not long after. In the closing stages, he somehow worked his way back through a frenzied leading group, survived late contact with David Yates and holding everyone else off to pick up victory, with Harry George in 2nd and Ben Lopez-Appleton in 3rd.
Race 2 saw Walters chasing after early leader Harry George off the start and it only took just under five minutes for Pete and Harry to start trading places to try and pull away. When the safety car was called for another incident at the chicane, Walters was able to get a clean restart and began leaving his rivals behind after just a few laps. In the end, he was 3.7 seconds clear at the chequered flag as Jack Sales took a strong 2nd place and George managed to stay on the rostrum in 3rd.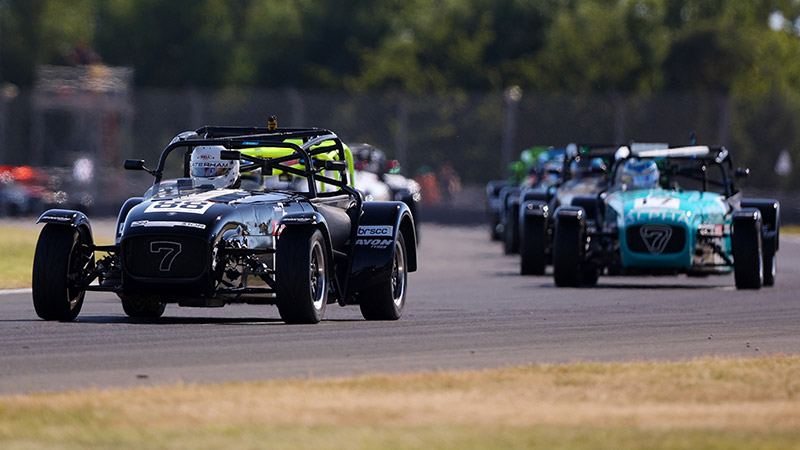 ---
CATERHAM SEVEN 270R CHAMPIONSHIP – HONOURS SPLIT BETWEEK MANNSPERGER AND O'FLANAGAN
Domenique Mannsperger may be known by many in the Caterham Seven 270R Championship as something of a wet weather specialist, but he proved he also has plenty of pace in the dry as he won Race 1 of the weekend on the Saturday. Initially running in 4th behind main rivals Hugo Bush, Taylor O'Flanagan and Michael Chaplin, he quickly disposed of Chaplin before getting into a fight with both him and O'Flanagan for what much have felt like an eternity. By the final lap, Mannsperger and O'Flanagan were in a duel of their own and the German only just managed to beat the points leader to victory by 0.195 seconds, while Bush took 3rd.
The front three picked up where they left off in Race 2 with Chaplin also firmly involved in the fight too, as O'Flanagan extended his lead with Bush in tow while Mannsperger head to deal with Chaplin and co. By the closing stages of the second half of the race, they had been joined by Philip Bianchi and the quintet had a gap to the chasing contenders. Some typical late shuffling between the five cars eventually fell with O'Flanagan picking up another win, while Mannsperger was dropped from 3rd on the road down to 14th after a 10 second track limits penalty, while Chaplin and Bush took to the podium.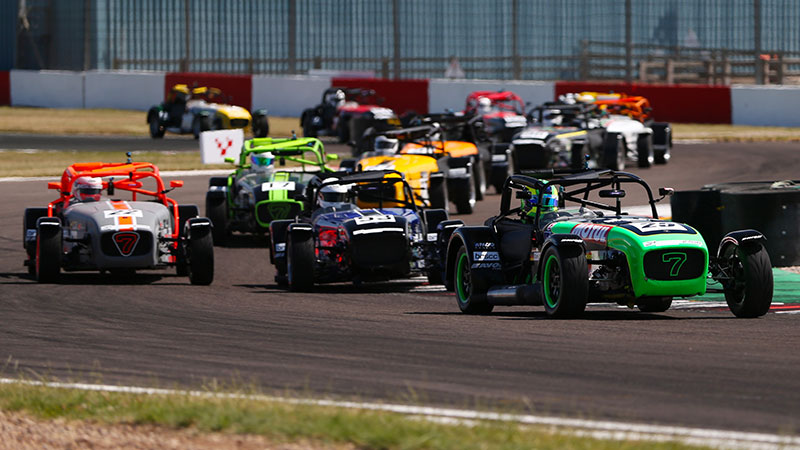 ---
CATERHAM ROADSPORT CHAMPIONSHIP – DIFFERENT CIRCUIT, SAME OLD NEWMAN!
Another driver that managed to continue a run of superb form throughout the 2022 season in the Caterham paddock was Geoff Newman, as one of the outgoing 2021 Academy champions continued to stake his claim to go back to back with titles. Back on pole for Race 1 and with one of his main rivals Freddie Chiddicks deep in the pack, it was no surprise to see Newman get out in front and for the others to find it hard to unseat him. No matter what anyone tried, there just seemed to be no way past Geoff at all and even a late safety car (with an exceptionally late restart too) hardly prompted a mistake or an advantage to anyone else. Newman held on successfully to win Race 1 with Chiddicks driving incredibly to come from the back to 2nd, with Marc Jones claiming 3rd.
Business as usual in the second race for Newman, as again he led from pole, defended and successfully countered all comers that tried to remove him from the lead of the race and headed a trio including himself, Charlie Lower and Chiddicks. When Chiddicks fell back after an off at the Old Hairpin, it left Newman to hold off Lower, which he did to successfully complete the double, as several seconds behind them it was Jones again taking a strong 3rd place finish.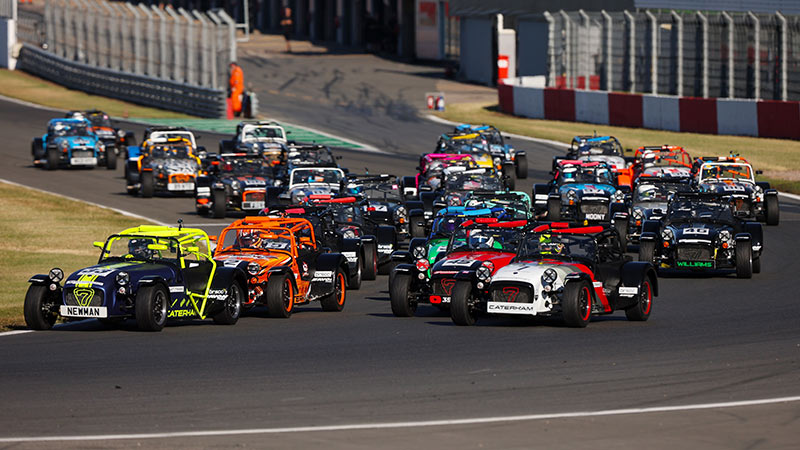 ---
CATERHAM ACADEMY CHAMPIONSHIPS – FRESHMAN DRIVERS HANDLE HOT CONDITIONS
Donington Park marked the next lesson for both the Green and White Groups for this year's Caterham Academy, as they ventured to another new circuit in their careers as well as coping with the exceptionally hot conditions, which would certainly have been a test of their basic car setup skills, especially tyre pressure to cope with the higher temperatures.
The Green Group ran first on Saturday, with Ravi Patel managing to get to the front of the field before the safety car was called for a first lap incident. When racing resumed, Patel was only able to remain in front for another two laps before Rrutuj Patki managed to slip through and take the lead. From here, despite the best efforts of his rivals in the lead group, Patki managed to hold on and pick up the win with Toby Ballard in 2nd and James Emson in 3rd.
For the White Group, Matt Larbey managed to beat pole man Duncan Mallett to the lead off the start and in the opening lap, and even though Ben Timmons tried to get through a lap later and was successful, Larbey got straight back through. Both drivers would end up going back and forth constantly in the lead, however once the flag fell it was advantage Timmonx who beat Larbey to the line by 0.132 seconds, with Tom McEwing also staying close throughout the entire race and ensuring the top three were only covered by 0.316 seconds in total!
Scott Woodwiss