BRSCC PUTS ON FINE DISPLAY IN CROFT SPRING SPECTACULAR
CATEGORIES:
Warm weather complimented the vast amount of superb racing on track at the BRSCC's recent race weekend at Croft Circuit in North Yorkshire, with endurance racing on Saturday complemented by a whole host of exciting sprint racing across both days.
FUN CUP ENDURANCE CHAMPIONSHIP – UVIO BACK TO WINNING WAYS
After hitting troubles at the previous round at Oulton Park, UVio/ Hofmann's Lotus made sure they put themselves right back where they belonged at the head of the field in the latest FunCup Endurance Championship at Croft. After finishing 12 at Oulton Park, both "Farquini" and Fabio Randaccio were keen to bounce back quickly.
They followed early race leaders Greensall Motorsport with Sam Smeeth at the wheel and after a few laps of pursuit, Farquini began to challenge Smeeth and by this time Sam car's owner Nigel Greensall brought the CCS Media car into play. The trio would constantly trade the lead between them until the first set of pit stops, but Greensall's early challenge faded when mechanical issues forced him to pit and tumble down the order. By the time the stops had shaken out and the first hour was completed, UVio had reclaimed their customary place at the head of the pack from GCI Racing and Team Olympian, while Greensall Motorsport had dropped to 4th.
The top two remained the same at the conclusion of the second hour of racing, but Team Olympian's race came to a shuddering halt after Kristian Rose crashed the car at Hawthorns not long after their second stop, putting them out on the spot. Despite the hefty impact to the rear of the car, Kristian was OK. GCI Racing were the leaders exiting the subsequent safety car period with UVio on their tail and this would set the tone for the second half of the race, as both teams went toe to toe in a bid to take race victory. After the final set of pit stops was completed, GCI only just held on to P1, but it wasn't long before Fabio Randaccio caught and passed Ian Wood to claim a lead he wouldn't lose.
In the end, UVio/ Hofmann's Lotus took their second win in three races this year to claw back valuable points that they'd lost at Oulton Park. GCI held on to 2nd only 19 seconds back, while 3rd place looked as though it was heading the way of veteran team PLR Racing – until heartbreak occurred when an engine failure knocked them out of the race with just 20 minutes left to go. This allowed Team Viking to rise into the podium in 3rd, followed by Vapeclub with EDF Motorsports taking their personal best finish of 4th and Agua Caliente securing a firm 5th place.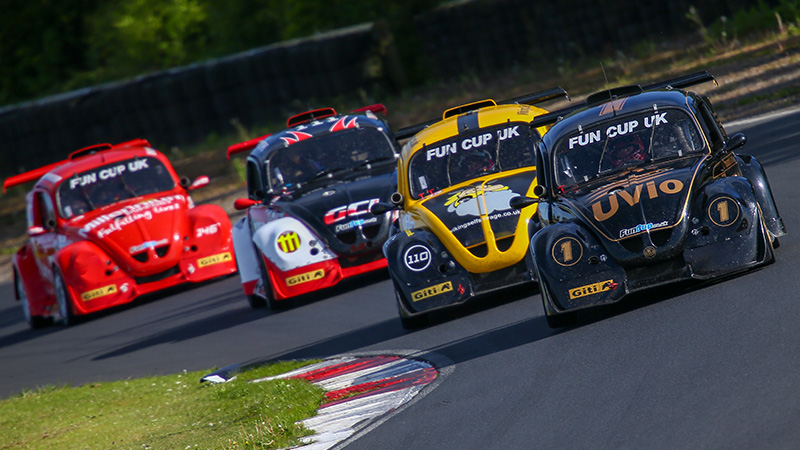 ---
AVON TYRES NATIONAL/ NORTHERN & SUPER CLASSIC FORMULA FORD – DRAMA, EXCITEMENT, THRILLS AND SPILLS
Combining onto one grid together and with additional cars lining up from the Scottish Formula Ford Championship, both the Avon Tyres National and Northern & Super Classic Formula Ford championships made for one mega grid which saw a maxed out line up of 32 cars!
Race 1 on Saturday produced an intense spectacle upfront in the National ranks, with pole sitter and Knockhill winner Lucas Romanek jumping into the lead early on from Jamie Sharp, Pro Class points leader Jordan Dempsey and Morgan Quinn. Throughout the race, Romanek and Sharp were nose to tail with the 2021 Formula Ford Festival champion pressuring Lucas all the way in a bid to get in front. Sharp did manage to find a way through to lead Lap 6, before Romanek was quick to get back in front before the next lap was completed, but it was the conclusion to this duel on the final lap that sparked the most dramatic moment of the weekend.
Battling with each other on the approach to Tower, the two cars tangled and Romanek was sent rolling into the field on the outside of the corner. The race was red-flagged and despite the incident and the damage caused, both Lucas and the car would be fit to race on Sunday. As for the result, with Romanek not running at the time of the stoppage and Sharp disqualified for his part in the incident, points leader Dempsey was declared the winner ahead of Colin Queen and Morgan Quinn.
Dempsey made the most of the subsequent pole position for Race 2 on Sunday to run away with Queen out in front as the two cars mimicked the lead battle from the day before, only this time with an outcome that was much less dramatic. Queen was able to keep Dempsey in his sights no more than around half a second in front of him, but it was traffic later in the race tha allowed the Kevin Mills Racing Spectrum to pull away in the closing stages. The time lost for Queen meant Dempsey claimed his second win of the weekend by a comfortable 4.5 seconds, while Andre Lafond drove an excellent race to claim his first podium in 3rd.
The reverse grid draw swapped around the top 7 drivers from Race 2, giving Ben Cochran pole and Jamie Sharp an excellent front row start after his earlier dramas forced him to recover through the pack. Even though Cochran led the opening lap, Sharp was in front after two laps, but rather than drive away comfortably, he would be slowly reeled back in by Queen, who had climbed from 6th to 2nd by Lap 3. For the rest of the race both Sharp and Queen were locked in combat, but the result wouldn't be settled until the final sprint to the line, when Queen incredibly just managed to steal victory from under Sharp's nose, followed by double winner Dempsey to complete the podium.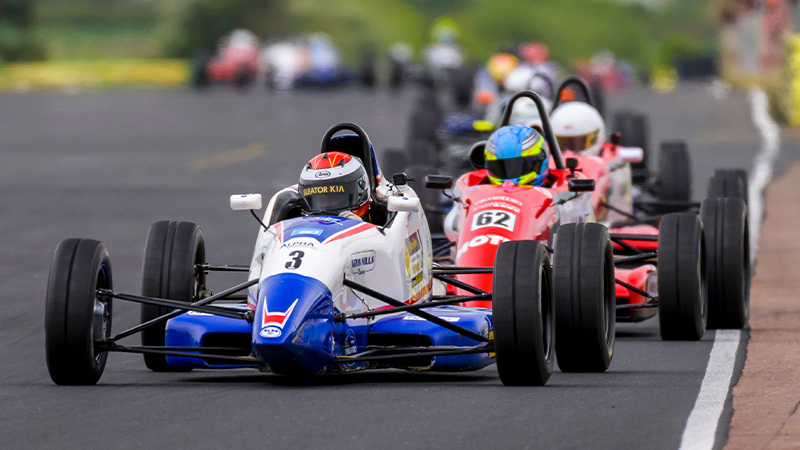 As for the Northern & Super Classic competitors, they would only compete in the first two races of the three being contested that weekend. Double overall Oulton Park winner John Murphy got his meeting off to a great start by winning his segment of the Formula Ford grid outright as well as Super Classic A, ahead of Super Classic B victor Nick Barnes and Alaric Gordon's 1997 Swift (SCA). The top two were then reversed in the second race with Barnes managing to win ahead of Murphy, followed by the 1988 Reynard of Richard Freye (SCB), while Paul Crosbie won Super Classic C both times, and Super Classic D honours were split between Phil Nelson and Roger Arnold.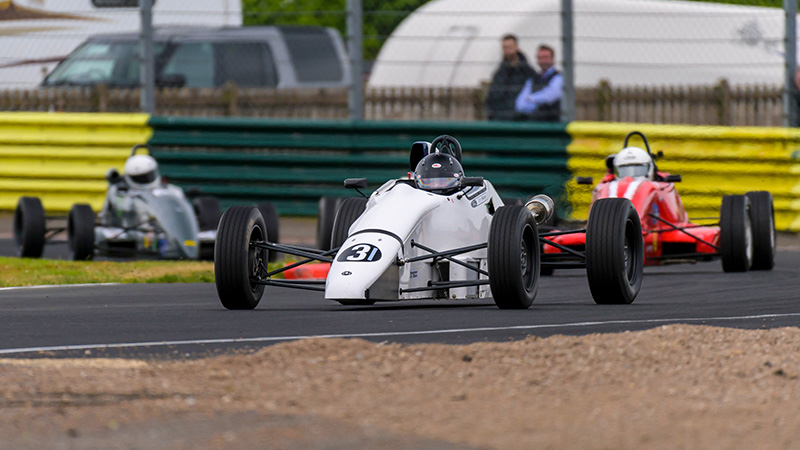 ---
AIRTEC MOTORSPORT FIESTA CHAMPIONSHIP – KELLETT CATAPULTS BACK INTO CONTENTION
After Simon Horrobin managed to claim both wins at the opening rounds of the AIRTEC Motorsport Fiesta Championship, the rest of the pack looked to try and halt what could have been the start of a run of results, with former champion Alastair Kellett from Ireland leading the line on this occasion.
A strong lap in qualifying gave Kellett pole with Jenson Brickley alongside him on the front row and from the outset, the two drivers appeared to have the race under control between them. A couple of early retirements brought about a brief safety car, before Kellett set about trying to build up his lead again with Brickley still giving chase. By the chequered flag, the Irishman had taken the win by two seconds from Brickley in 2nd, while Horrobin had worked his way up well from 7th on the grid to eventually claim the final podium spot in 3rd, thus helping to maintain his points lead. Meanwhile in the ST150 class, Thomas David claimed his first class win ahead of Adam Burdis and Caitlin May.
The first of the two races on Sunday played out much the same as Saturday's encounter had, albeit minus any safety car interruptions. Kellett again jumped into the lead from pole with Brickley again taking up 2nd place, the gap steadily but surely eeking out by a few tenths per lap as Kellett eased away. He wasn't challenged throughout and made it two from two in North Yorkshire with the young charger Brickley again claiming another runner up spot. This time, it was defending Fiesta champion Rob Smith who took the #1 car to 3rd place. Nick Moore recovered from an accident in testing and Race 1 retirement to take the ST150 class win ahead of Davis and May on this occasion.
An accident between May and Matt Chambers led to Race 3 being red-flagged for a while as both cars were cleared away, but when it did restart with a partially reversed grid, Horrobin jumped from the front row to lead from John Cooper, Brickley and David Nye. Brickley managed to take over a couple of laps later, but his time in P1 was short-lived as damaged bodywork rubbing against a tyre eventually forced him to pit to make repairs, eventually leaving him at the back of the field and finishing in 13th place. Back at the front, Nye had captured the lead just before a safety car was called, and with just two laps left on the restart it left him with Smith on his bumper until the flag. Nye took his first win of the season, Smith his second podium of the weekend and Jamie Going found some strong form towards the end of the weekend to take 3rd. Nick Moore took another ST150 win behind them, followed by Thomas Davis as the sole surviving car in class.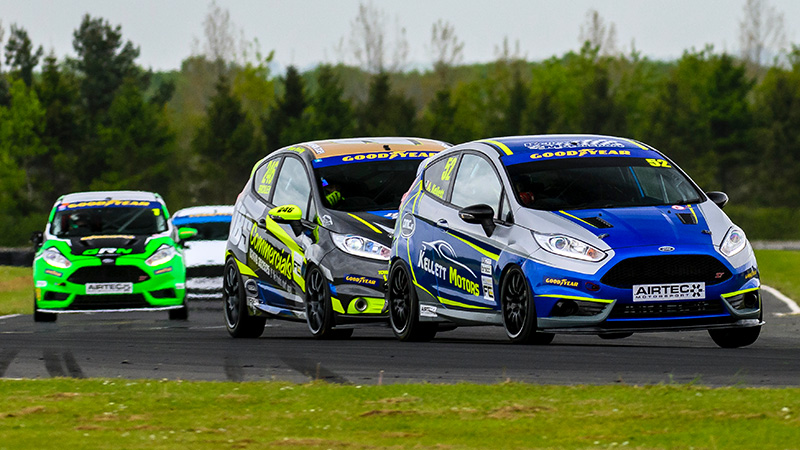 ---
BRSCC FIESTA JUNIOR CHAMPIONSHIP – SMITH'S GRAND SLAM HANDS HIM POINTS LEAD
The points lead in the Fiesta Junior Championship leaving Brands Hatch was tied between Sid Smith and Thomas Jack Lee as the young racing stars of the future travelled to Croft for their second meeting of 2022. Leaving Yorkshire on Sunday, however, there was a clear leader instead.
Through practice and qualifying, Smith was untouchable and throughout the first race same proved to be true. All the way throughout the 15 minutes, Smith consistently increased his lead over eventual 2nd place finisher Albert Webster, managing to take several tenths out of the Race Car Consultants driver per lap until the flag. In the end, Smith was a dominant winner by a fraction over six seconds, while on the road it was Lee that cross the line in 3rd place. However, a post-race inspection of Thomas' car found it to be underweight and was thus disqualified from the result. It wasn't all bad for David Ellesley's team, however, as replacing Lee in P3 would be another of their drivers, Ben Mulryan, as he claimed his first FJC podium finish in only his second weekend of circuit racing.
For the second race, a fantastic three way duel raged from start to finish as this time Webster was able to keep Smith in much closer attention than he'd managed earlier in the day. Albert managed to snatch the lead at the start and held it through an early yet brief safety car and on the restart did his best to try and pull away. However, Smith's pace was enough that he kept Webster in his crosshairs for several laps before managing to reclaim the lead on Lap 7. By this time, another rookie in the form of Luke Hilton had caught the pair and proceeded to turn the leading duel into a three-way dance in the closing stages. Hilton was able to pressure Webster for 2nd place which gave Smith a very slight reprieve and in the run to the chequered flag on the final lap, Sid took his 3rd win from four races while Hilton managed to make a last gasp move stick at the hairpin to beat Webster to the flag for 2nd, also claiming his first Fiesta Junior top three in his sophomore weekend.
The brand new Mk7 Fiesta Junior race car was also out in force too in the hands of Harry England, who overcame problem in Race 1 with a DNF to claim a respectable 12th place finish in the second race later that day. More of these new cars are currently in the works and will be appearing throughout the season in due course.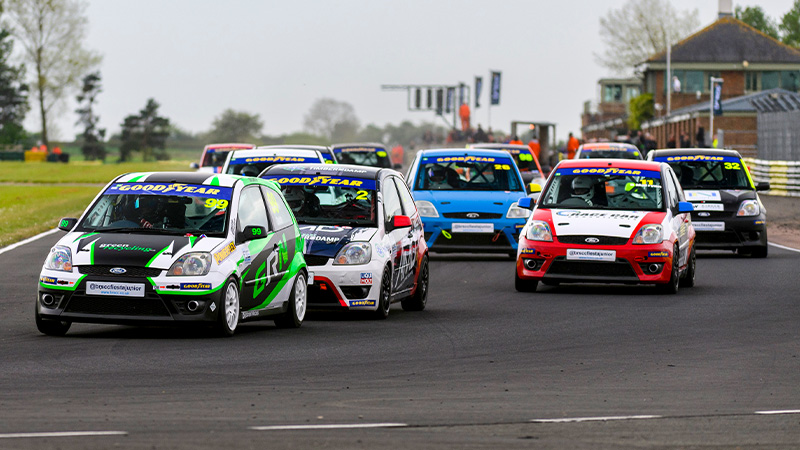 DDMC NORTHERN SALOONS & SPORTS CARS – LOCAL HEROES PUT ON A QUAD OF TOP RACES
Providing an excellent support to the BRSCC content on the timetable in Croft was a local favourite of a series – the ever eclectic line up of the Darlington & District Motor Club's Northern Saloon & Sports Car Championship. Such was the size of their entry that after qualifying together, they were split into two grid with two races each, four in total.
Group A for Classes A1, A2, E1 and E2 saw Jon Woolfitt's Spire GTR come out on top in their first race ahead of Matt Cobb's rapid and unique VW Beetle and the Caterham 420R of Simon Griffiths, before Woolfitt did it again in Race 2 albeit this time from the Solution F BMW M3 of Paul Brydon while Griffiths again took his Caterham to 3rd overall. Group B's pair of races would be for Classes B and C, with Race 1 topped by Mike Williamson's Mitsubishi Lancer Evo 4 ahead of Kirk Armitage's BMW M3 and the Lotus Exige of Alan Gibson. The top three was duplicated again in Race 2, with the same finishing order of Williamson, Armitage and Gibson.
Scott Woodwiss