BRSCC READY TO BRING THE ACTION DAY AND NIGHT AT ANGLESEY
While we're still amid Summer, there's still time to squeeze in another trip to the coast before Autumn arrives, meaning the BRSCC gets ready to head back to the wonderfully picturesque Anglesey Circuit in North Wales for another weekend of exciting racing. There's sports cars, single seaters and endurance racing all on the bill, it's sure to be a busy two days of action once more by the Irish Sea.
---
FUN CUP ENDURANCE CHAMPIONSHIP – GCI RACING IN FORM AFTER CLAIMING MAIDEN WIN
At the previous round of the 2022 FunCup season at Snetterton, one team finally achieved something they'd been severely overdue – a race win. After having to take runner-up spot in the first four meetings of the year, points leaders GCI Racing brought all the pieces of the puzzle together and came out victorious in Norfolk to further extend their advantage. Now as the championship heads off to Anglesey in North Wales, it's up to Ian Wood and Craig Butterworth to try and stay in front. This is one of the centrepiece events of the FunCup Endurance season every year, as Anglesey hosts a special double header of 3 hour races – one during Saturday afternoon and the other starting at sunset, heading into twilight and finishing under the cover of darkness at night!
Their nearest rivals remain the Stobart Sport pair of Richard Webb and Colin Kingsnorth, double winners so far this year at Oulton Park and Brands Hatch, trailing at this stage by 20 points but knowing how quickly fortunes can change in a FunCup race, this doesn't seem as large a gap to GCI as it may seem. This is the same situation with 2nd and 3rd, as Team Viking's Mark Holme and Nick Nunn are also a further 20 back and sporting two podiums including 2nd at Snetterton. Although all three aren't always the absolute fastest cars in the field, it's their consistency and ability to keep out of trouble that's helped them rack up the results.
VapeClub with EDF Motorsports and PLR Racing come next to round off the top five, but you have to look further down that arguably could and, some say, should be higher given their calibre. 6th place is where you find defending champions UVio/ Hofmann's Lotus, mainly because of the #1 car having suffered mechanical problems in three of the five meetings, but still winning the other two. Others such as Team Olympian, MJ Tec Giti and Greensall Motorsport have all been regularly seen towards the head of the pack, but either lacked ultimate pace or faced their own issues. One could consider them all out of the title picture, but with 70 points for a win and the top 11 teams covered by just over 100, it only takes a few of them to have a bad day and the table could get another big re-shuffle.
This meeting's Fun Cup racing at Anglesey is being split into two three-hour encounters, one of which will take place during Saturday afternoon before a break heading into the early evening, where the teams will then prepare for another 3 hours starting in the twilight, racing into the evening and ending in darkness. It will surely add an extra little bit of spice to the action on the day.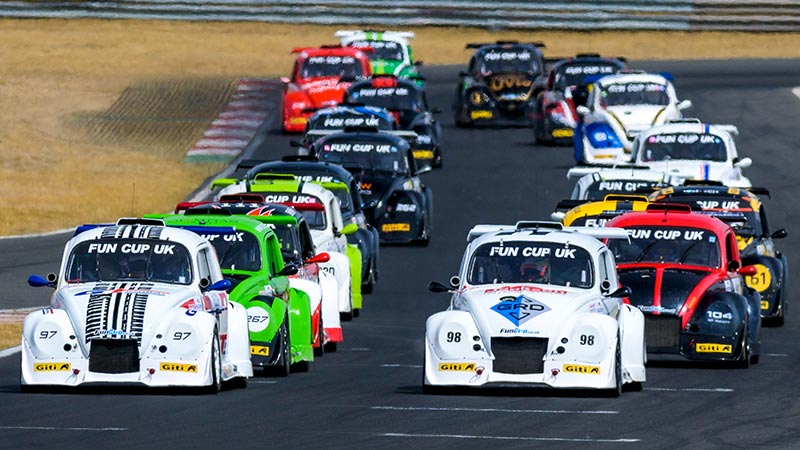 ---
CATERHAM ACADEMY CHAMPIONSHIPS – ROOKIE RACERS HEAD NORTH WEST TO THE COAST
Caterham Motorsport's five levels of championships of their factory roster are all making their way back to Anglesey on this meeting's timetable, with points battles raging between most of them as the season's end creeps into view on the horizon. Just two weekends will remain until they finish their freshman years at Silverstone in October, this year's group of Caterham Academy drivers get to experience the circuit located on the coast of North Wales for the very first time as part of their racing education. Once again, both Green and White Groups are out in force ready to do battle in what's been another pair of exceptionally competitive title fights.
Speaking of competitive, the Green Group looks to be sporting one of the strongest front running groups for a couple of years now, as on overall scores there's just six points separating the top four – something pretty remarkable given that only two of them have won a race to date. Ravi Patel currently holds top spot with a Snetterton victory to his name, four points ahead of fellow winner Harvey Lawrence in 2nd who came out on top in the Curborough sprint. Iain Hibbert comes next tied on points with Lawrence, while Toby Ballard's form of late has seen him secure two 2nd places on the Silverstone GP circuit and at Donington last time out. You could also argue that Rrutij Patki should be the points leader at this stage with two wins from the past two meetings, but retirement from Snetterton lost him points and left clawing back ground to sit in 6th. Another strong day's racing in Wales should put him firmly back in the hunt.
It's also looking rather close in the White Group at this stage too, albeit the gap between the top four here is a slightly larger margin of 9 points. However, Tom McEwing and Matt Larbey have merely a point between them having taken the bulk of the podium places so far. McEwing's two wins compared to Larbey's one are what make the difference, but Larbey does have more 2nd place finishes and a fastest lap point to his name right now. Perhaps these might make a difference should they end the year potentially tied on points. Ben Timmons has a 7 point deficit to make up from P3 and heads to Anglesey off the back of his first Academy win, while Duncan Mallett's solid consistent scoring has helped him to 4th, just 4 points behind 3rd.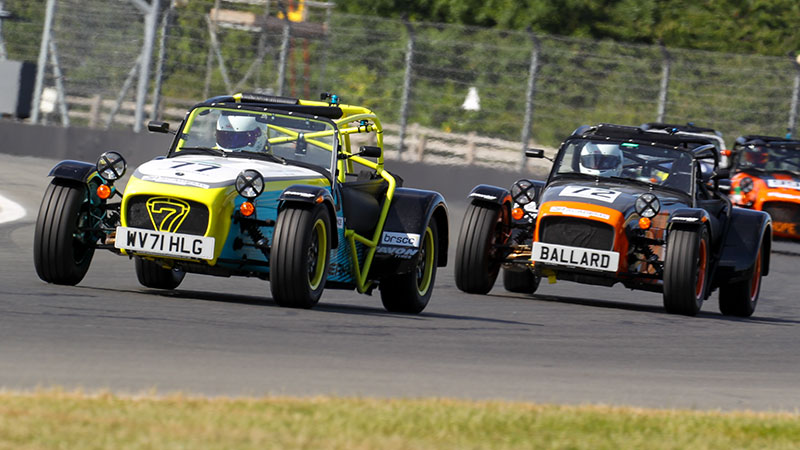 ---
CATERHAM ROADSPORT CHAMPIONSHIP – NEWMAN UNABLE TO RELAX BY THE COAST THIS WEEKEND
Even though the stats for the 2022 Caterham Roadsport Championship clarify that Geoff Newman is still favourite to win the title in his sophomore year of racing, the hard numbers don't tell the entire story. He still has two very formidable rivals from his Academy days keeping him honest and giving chase, and Anglesey will be another chance for him to extend his lead or for the pair behind him to close him down further and keep it tight at the top.
From the eight races run, Newman has won five of them, with the other three going to fellow 2021 champion Charlie Lower at Brands Hatch at the beginning of the season, and then Freddie Chiddicks gaining the other at Silverstone. The spread between all three drivers at the head of the table is 15 points, but dropped scores still have to come into play and that could close the gaps even tighter heading into the final rounds. There's a substantial gap back to 4th place downwards of over 40 points, with James Cook sitting as best of the rest and set to further cement his place there with immediate threat Paul Woodman not due to race this weekend. That also gives the chance for Mark Kendle and Marc Jones to close in, too.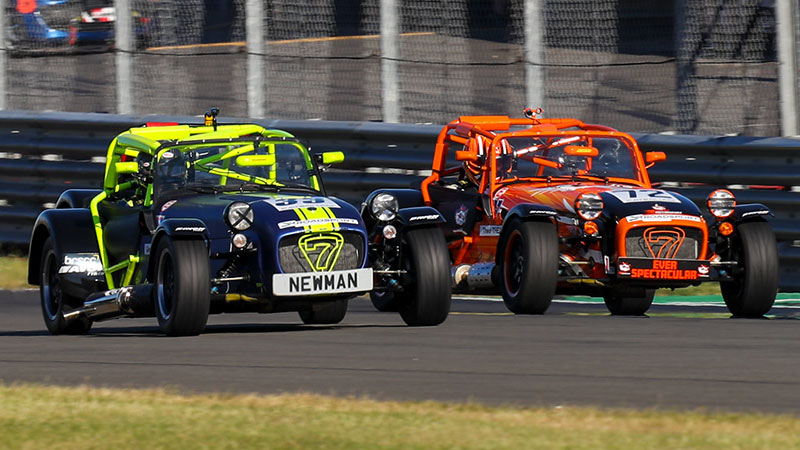 ---
CATERHAM SEVEN 270R CHAMPIONSHIP – O'FLANAGAN V BUSH V MANNSPERGER – SECONDS OUT, ROUND 5!
Taylor O'Flanagan, Hugo Bush and Domenique Mannsperger – how long has it been since we last speak a sentence about Caterham racing without these three being mentioned all at once in the same breath? Wherever one goes on track, the other two are never far away and just as it was in Academy and then Roadsport, the usual suspects are at it again in the 270R Championship ranks. While dropped scores haven't been factored in yet, two of them seem to be trying to break away, leaving one to do the catching up.
O'Flanagan has a run of form to uphold this weekend, as so far in 2022 he's yet to finish a race any lower than 2nd with five wins to boot. This has unsurprisingly left him as championship leader going to Anglesey, while Hugo Bush has currently locked himself into 2nd place just 7 points behind him. Bush has also been another beacon of consistency, although after winning the season-opening race at Brands Hatch, he's yet to find the top spot again having mostly picked up a bunch of 3rd places. Meanwhile, Domenique Mannsperger is the one with a deficit to make up – his mishap at Donington that left him finishing down in 14th will surely count as a dropped score, but right now it's put him nearly 30 points behind O'Flanagan with three weekends left. There isn't much time for the German to get back on terms, although dropped scores will certainly help him stay in contention.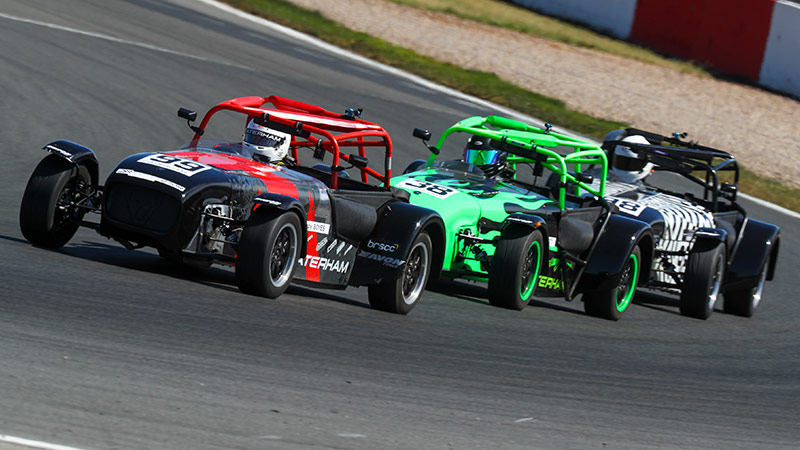 ---
CATERHAM SEVEN 310R CHAMPIONSHIP – WALTERS CONTINUES TO WANDER AWAY FROM THE PACK
If there was an award to be given out at the end of the season for the most competitive Caterham Motorsport championship of the year, it's almost certain that the Caterham Seven 310R grid would win it hands down, as the level of driving talent on display is certainly at its peak this season. Even so, there's one name at head of the points table that everyone is still chasing and looking to dethrone – Pete Walters.
A former Caterham champion in the lower ranks, Walters is no stranger to stringing together a successful title charge. So far 2022 is playing out exactly as he would have hoped, and despite dropping the ball briefly at Silverstone GP, Pete's been a regular feature at the head of the grid. He too has collected five wins so far this year and will be primed and ready to add more to that tally this weekend in Wales. Harry George, his current closest pursuer, would be only 11 points behind had he not incurred penalty points at one stage this year, hence he's now 17 back and hoping that dropped scores keep him close enough to stay in contention. He's looked good this season too, having taken a win at Silverstone despite only jumping out of Academy the previous year.
But it's the war that's raging over 3rd place that should take everyone's attention this weekend. Jack Sales currently holds it and he's one of five drivers separated by just 8 points between them right now. Sales has the task of holding off outgoing 270R champion Blair McConachie, James Wingfield, Lars Hoffmann and Harry Cook, but with so many other notable drivers trying to close up to them, deciding which of these five has the best chance of coming out on top is almost impossible. It'll be left to Sales to do his best to defend his 3rd place, while the others will be in attack mode to try and climb into P3 come the close of the meeting.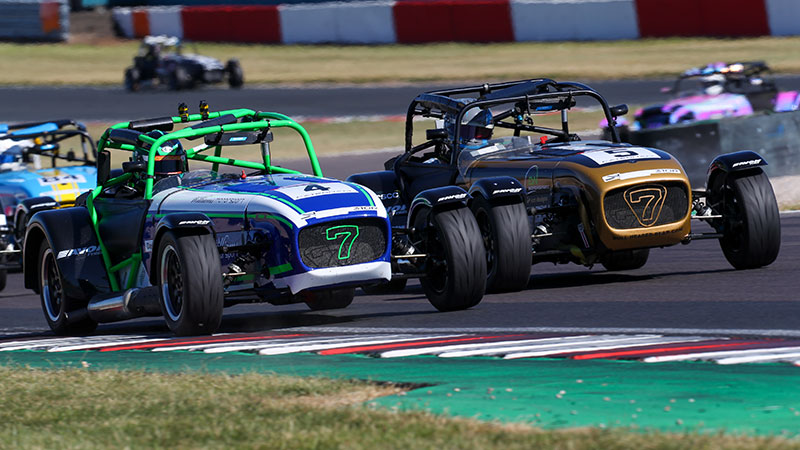 ---
CATERHAM SEVEN CHAMPIONSHIP UK – HEATON AND HEAD GET READY TO GO WHEEL TO WHEEL AGAIN
Another tight contest is also occurring over in the Caterham Seven Championship UK, with the points lead changing hands after Donington Park and a gap of 10 points across the top three, proving that Caterham's factory championship are all proving to be ultra-competitive all round this season. After losing the lead to Henry Heaton, Aaron Head could climb back to the top of the points at Donington Park.
Henry may only have taken just the one win right at the start of the season at Brands Hatch, but throughout the first part of this season he has stayed as consistent and rock solid as possible, as he has added a further eight podium finishes. In fact, had Heaton not incurred 9 penalty points at one stage, he would be currently leading on overall scores by 5. As it stands, though it's Head that's back on top. As for Head, the former multiple champion has seven race victories from a possible twelve with his current two dropped scores being a DNF and a 12th place. This would gain him back 13 points, compared to Heaton needing to currently drop 34 points in contrast. In either points scenario, it's still Head that's in command right now.
In 3rd place, Lee Bristow has only taken three podiums but has been able to steadily pick up points over those who have stumbled and had setbacks, and he's the second highest placed driver to finish every single race. While it means he'll have more points to drop, his ability to get to the flag when others can't only strengthens his current position and given that on overall total scores he's just 22 away from Head means that any more slips from the top two puts him straight into the hunt. Whether he can take that elusive first Seven UK win remains to be seen this weekend.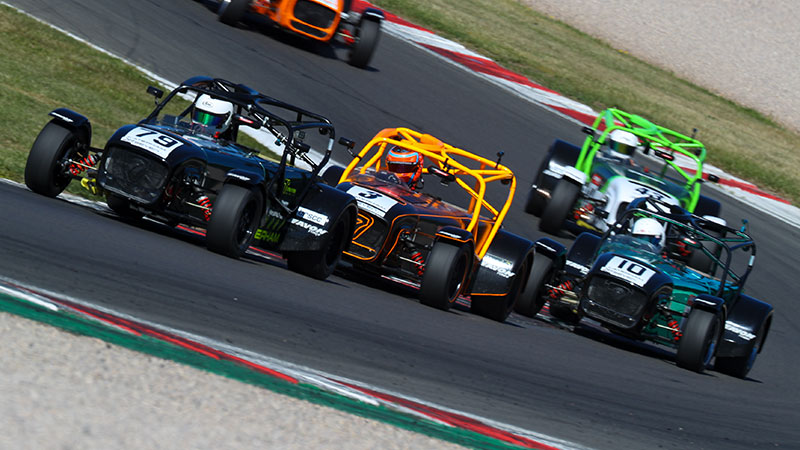 ---
AVON TYRES NORTHERN & SUPER CLASSIC FORMULA FORD CHAMPIONSHIP – FF1600 REGULARS BACK IN ACTION FRESH OFF MOOSE TROPHY BUZZ
While may have only been a one-day, two-race invitational contest for a classic award, the Moose Trophy Super Classic Formula Ford races at Oulton Park a few weeks ago really inspired a brilliant entry of almost 30 cars, plus some excellent action in both races and Callum Grant eventually claiming the prize. Now many of the Northern & Super Classic regulars that competed that day are back again for another of their scheduled championship rounds.
The three usual suspects from Super Classic A will do battle again with class leader John Murphy ready to go another round with Neil Hunt and Alaric Gordon, while Super Classic B makes up the bulk of the entry this time with no less than eight cars set to contest it. More familiar faces return including Peter Daly, Garath Buckingham, Andrew Schofield, Nick Barnes, Richard Ketterman and Lorna Vickers in what will undoubtedly be the most competitive class on track this weekend. Paul Crosbie will again ride solo in Super Classic C aboard his Van Diemen, as will Super Classic D leader Phil Nelson in his Hawke, and another appearance from Peter Atkinson in the sole P Class car as he continues his development driving a 2001 Van Diemen.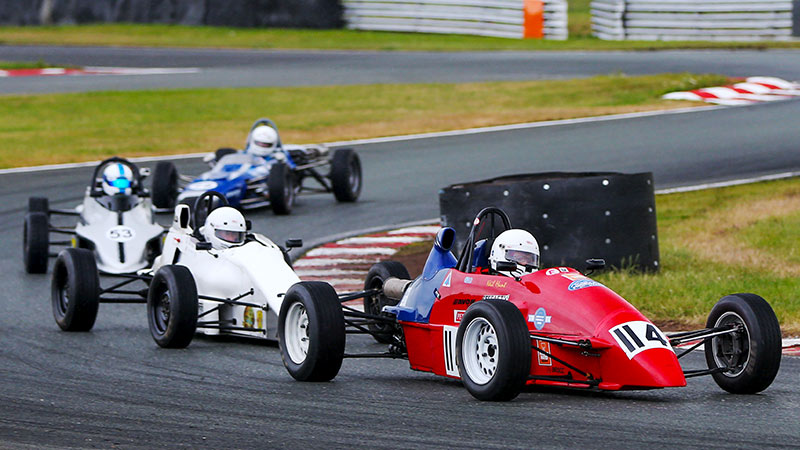 Scott Woodwiss