BRSCC READY TO FEEL THE POWER AT OULTON PARK
CATEGORIES:
The BRSCC is back in action after a three week summer break and is back with the North Western Centre once again for another exciting one day thrash at Oulton Park in Cheshire. Amidst the festivities of Ford Power Live, four championships and series get ready to provide on-track entertainment for all in attendance.
---
FUN CUP ENDURANCE CHAMPIONSHIP
This season's Fun Cup Endurance Championship has been quite the back and forth battle between two former champion teams – Team Olympian and UVio/ Hofmann's Motorsport. So far they've taken a brace of wins each after four races and arrive at Oulton Park for the first of two visits this season looking to try and break the deadlock. With 21 teams on the grid on Saturday, it looks set to be one of the most competitive races of the year to date.
So far, the season has played out like this – Olympian took the first two races at Brands Hatch (despite a wet finish) and then an incredible charge at Snetterton to double up. However, Anglesey's double header last time out was the perfect chance for UVio to push themselves back to the front, winning both the day and night races on the same day. This coupled with results elsewhere have helped the duo of "Farquini" and Fabio Randaccio pull out an 18 point lead over the Olympian trio of Chris Dovell, Kristian Rose and Riley Phillips. Both teams have strong records at Oulton Park, something they'll each want to keep up this time.
PLR Racing currently makes up the top three after four races, even though they only have just one podium to show for their efforts so far. Neil Plimmer and Ben Pitch got the better of UVio at Brands Hatch in a thrilling battle in the wet to take 2nd, but a mix of fortunes in the three races since then have seen them score consistently but not as high as they would have liked. Anglesey's second race did produce a 4th place, but it's podium silverware they really want.
GT Radial head to Oulton Park in 4th place, with Ellis Hadley once again joined my sim racing superstar turned racing driver Jimmy Broadbent. The Praga Cup champion has fond memories of FunCup at Oulton Park having scored a 3rd place in one of his previous outings, and at a circuit he fondly enjoys racing at, we're anticipating he'll do well here again.
Other solid teams who are hoping for step ups in pace include Greenheath in 6th, Viking/ Ursus Capital in 7th, MJ Tec in 10th and Axiametrics/ GRD Racing in 11th. All four have shown excellent pace at times throughout the opening four races, but the results don't match their evident speed. Perhaps Oulton Park will be kinder to them on this occasion and give them a strong result on this occasion.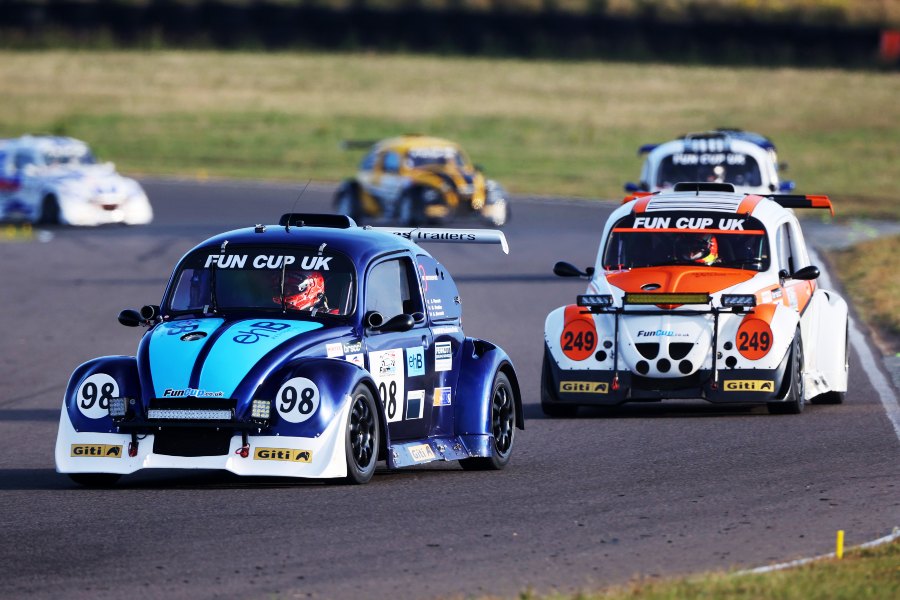 ---
SUPER CLASSIC PRE '99 FORMULA FORD CHAMPIONSHIP
It's a circuit that's always a favourite in this series and after the first visit in April produced an exciting start to proceedings, the Super Classic Pre '99 Formula Ford Championship is back in action just three weeks removed from its last outing at Anglesey on the Welsh coast. At Anglesey, the four class points battles took another step forward with more of the same expected here.
Super Classic A points leader Paul Mason is unable to line up at Oulton Park this time and as of writing this preview, neither is second placed John Murphy. With these two drivers absent for this round, it gives the perfect opportunity for Morgan Dempsey to sweep in and reclaim the points lead come the end of the day. Morgan was on top form in the opening two weekends at Oulton and Mallory Park, but after missing Anglesey he's back in action to get is SCA title ambitions back in order. His rivals this weekend will be two other van Diemens driven by Richard Freye and Richard Higgins, along with Neil Hunt in the Irish-built Mondiale.
Andrew Schofield's lead in Super Classic B continues to stretch even further with a current gap of no less than 90 points heading to Oulton Park. He heads back to Cheshire as the favourite to success once again, as he heads up a trio of Reynards alongside Trevor Morgan and Richard Ketterman, while Robert Higgins makes up the other half of the Beastworx duo in his Van Diemen to complete the class.
Another points leader is looking to defend his advantage in Super Classic C, with Scott Guthrie hoping for two more class wins in his Crossle 25F. He's over 100 points out in front, with 3rd placed Grace Parkington his closest challenger in the standings. With Grace also in her own 25F chassis, both will be up against two drivers making their season debuts as Tim Ricketts and Paul Crosbie prepare to line up in a brace of Van Diemens.
As for Super Classic D, the top two in the points prepare to duel once again for victories, with current leader Scott Rawlinson read to face off against the Titan of Ian Fernihough. Both will hope that they can make some solid progress up the overall grid and mix it with the younger chassis around them.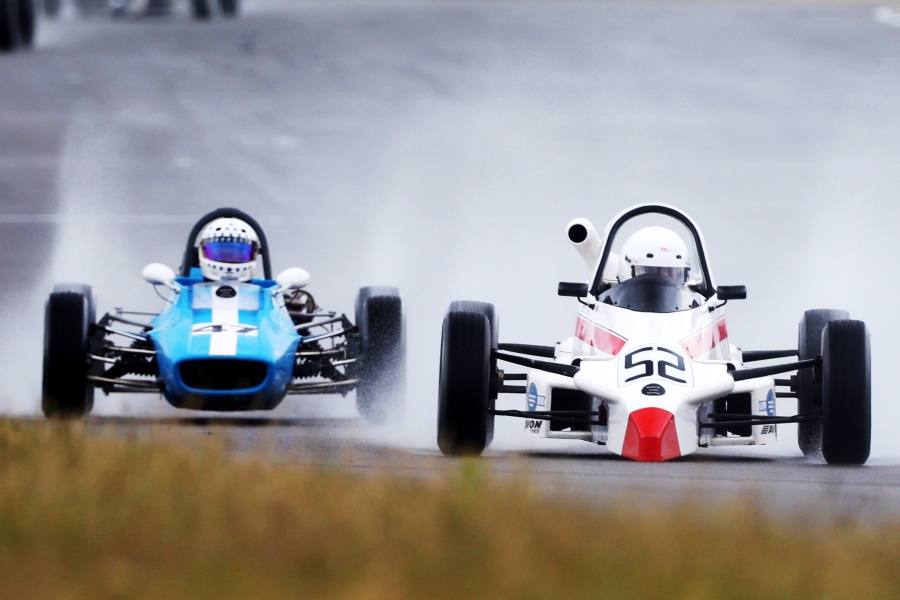 ---
SW MOTORSPORTS CLUBSPORT TROPHY
Another race day is upon us for the SW Motorsports ClubSport Trophy in the 2023 season, and it's the first time this year that we're heading back to a circuit that we've already visited this year. Oulton Park in Cheshire welcomes the series back after it made its first visit of the season back in April. There's a near-capacity entry list once again with just over 35 cars set to make the start on Saturday afternoon.
Class A will sport one of its biggest ever entries with no less than 13 cars set to contest it at Oulton Park. There's familiar faces amongst them including Jonathan Hunter in his Honda Civic and Matthew Bolton in his BMW M3, along with Phiroze Bilimoria who will be desperate for better luck this time after failing to even complete a lap in the last two races at Snetterton and Donington Park. With his VW Scirocco back to full strength, he should be one of the initial favourites. Amongst a line-up that includes renowned team boss Rob Boston and Michael Sanford in a Lotus Elise,  Eliot Dunmore in a Subaru, and Julie and Clifford Butler in a Holden V8, this should make for a very interesting contest at the front.
In contrast, Class B may have just four entries but that doesn't mean the competition between the quartet will be any less fierce. Two Honda Civics (Chris Sparks in one, Justin Roberts and Michael Heath in the other) will square up to Ben Walkingshaw's Scirocco and the Audi TTCR shared by Tim Evans and Chris Coomer in what should be a close contest.
Class C will mainly be a contest between BMW Compacts and Honda Civic Type Rs too, with Brendan Murphy and Charlie Hayes representing the Bavarians while Graham Waterhouse and Chris Stone are ready to take care of business for the Japanese. They're joined by Nick Tasker in another VW Scirocco, this time shared with Jonathan Hunter after his regular Civic wasn't ready to race.
Over in Class D, it's going to be an all out war for supremacy between five different hot hatches. Jonathan Salem and James Poulton prepare to put their MINI R53 into battle against a pair of Renault Clio 200s driven by Richard Bancroft and Kate Morris respectively, along with Lewis Bowron in his Ford Fiesta ST150 and Jonathan Hobbs in his potent little Peugeot 106 Rallye. There's no telling which of the five will come out on top, but Bowron's local knowledge from his former ST-XR Challenge days could come in handy here.
Finally in Class E and speaking of what was the ST-XR Challenge, there appears to be a small invasion from the Vinyl Detail Fiesta ST150 Challenge with four cars lining up on the grid to be shared between a number of championship regulars past and present. These include Mark and Daniel Robinson, Lee Bowron, Ralph Fernihough, Chris Flynn, Chris Jones, Sam Beckett and Antony Sullivan. All of them would love to take away the bragging rights, so don't be surprised to see these cars circulating together in their own private battle.
Alongside the Fiestas, there's another great little variety in the line-up, including the regular Mazda2s driven by Nick Dougill in one and Neal Shore and Colin Risbridger in the other, Christian White's MINI, a Mk2 VW Golf GTi for Paul Connell, a Ford KA for Christopher Salyer and James Rogerson, and a Citroen C1 for Harvey Blake-Jones.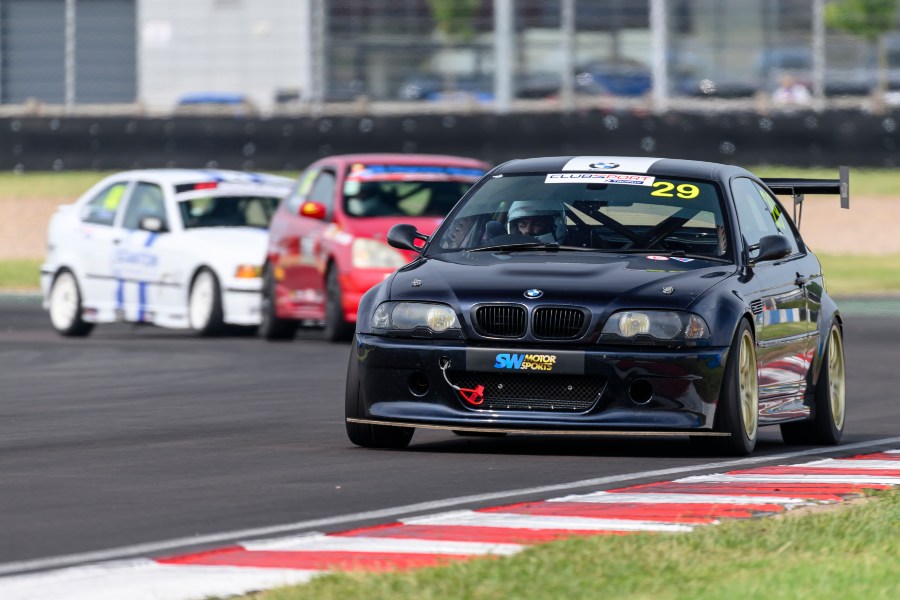 ---
MODIFIED FORD SERIES
The Modified Ford Series has had quite the past few weeks enjoying a couple of weekends racing at some pretty spectacular circuits, with Spa-Francorchamps at the beginning of June and then Anglesey in Wales just a few weeks ago. Now they're heading to Oulton Park in Cheshire for the next stop on their 2023 schedule, with this Saturday's rounds sponsored by PRG Trailers and, fittingly, helping provide the perfect on-track compliment to the Ford Power Live event takling place at the circuit on the same day!
One of the favourites to go for overall victory in both races can be found in Class A, as James Allen's monstrous ex-Time Attack Focus RS will certainly be on the pace from the outset. He's got a quartet of serious Sierras to contend with, as Ashley Shelswell's XR4i and a trio of Sapphire Cosworths from Scott Matthias, David Matthias and Jason Davies will all be trying to make it difficult for him and keep up.
Next in Class B+, triple Anglesey winner Piers Grange will wish to pick up where he left off in Wales in his Escort Mk2 whilst dealing with more familiar faces including Paul Nevill in his Escort RS2000, Daniel Cowan, Kester Cook and David Guthrie in their rapid Fiesta ST150 Ecoboosts, Colin Robinson's Escort Mk1 and Sam Daffin in his own Ecoboost powered Mk5 Fiesta. While Piers' car may or may not have enough to keep with Allen and co, expect him to be one of the main front runners.
There are a bunch more Fiesta ST150s in Class B, with no less than six present on the entry list as of writing this preview. Top contenders will certainly be Tim Sandhu and ST150 Challenge racer Jason Hennefer, while the others will do their utmost to be contenders too. Complementing them further will be Chris Baker's Escort Mk3 RS1600i and Paul Solbe in his Mk1 Focus.

In addition, there's plenty of variety amongst Class C too. With five cars in the line-up, it's going to be a case of Fiesta Zetec S (Dave Barrett) versus Fiesta Mk1 Crossflow (Jimmy Neophytou), versus Puma (Kevan Hadfield), versus Fiesta ST150 Zetec (Alex Boam), versus Fiesta XR2 (Jason Rudge). This little lot are sure to be fighting hard amongst each other to win the class.
And finally, Class Super A for four wheel drive cars has three rather fine machines present here as well. Malcolm Wise brings his Escort Cosworth out to play, and he'll be joined by the Mk1 Escort and Piers Warwick and the Focus of Joe Oates sporting a two litre Cosworth tuned engine – tasty!
Scott Woodwiss