BRSCC SERVES UP A SUNNY SPRING SNETTERTON SIZZLER FEATURING DEBUT C1 ENDURANCE RACE
CATEGORIES:
With glorious sunny weather providing the perfect complement to the meeting, the BRSCC was pleased to enjoy two fantastic days of club racing over the Easter weekend at Snetterton in Norfolk, as the combination of sprint and endurance racing was a firm favourite with both spectators trackside and views on the live stream coverage.
---
MAZDA MX-5 CHAMPIONSHIP – FRASER CANES THE OPPOSITION
There was only one name at the top of the timing sheets at the end of all three races at Snetterton in the Mazda MX-5 Championship, as championship leader Fraser Fenwick put in the kind of performance all weekend long that began to mark him out as a serious championship favourite.
From pole in qualifying, Fenwick held the lead as Race 1 got underway and took early challenger Tom Smith with him in the opening laps. Smith kept Fenwick under pressure all the way to the end as the pair pulled away from a mammoth scrap for 3rd and while Smith did most of the chasing throughout, he did manage to pass Fenwick for the lead just before they began the final lap. Fraser chased Tom all the way until the Bentley Straight where a bold outside pass into Brundle and Nelson gave him the win, but only by the margin of just over a tenth of a second. It was also tight for 3rd as Jason Greatrex only just lost out on a podium after he was out-dragged to the flag by Seb Fisher.
Sunday morning produced more superb weather as Fenwick again got away flawlessly from pole, only this time chased immediately by Jason Greatrex. Jason only needed a lap and a half to overhaul Fenwick and take the lead, only for Fraser to take it back just corners later on the next lap and so began a constant back and forth between the two over the next few tours. For the most part, it appeared to be Greatrex in control out in front but he was kept honest by Fenwick until he pounced to retake the lead with three laps to go. From here, he left the rest of the pack to fight over the podium and took his second win of the weekend in the process. The Greatrex siblings ensured the family locked out 2nd and 3rd with Jason only just retaining P2 and Callum taking P3.
Yet again, Fenwick couldn't be beaten off the line and led from the start, and for the third time he had a different challenger behind him – AB Motorsport teammate Luke Pullen. The pair once again has the measure on everyone else, but at one stage it looked as though Pullen would put up a challenge on Fenwick for the lead, although it wasn't long before that faded and Mike Comber crept into contention for 2nd as Fraser pulled away again. On the penultimate lap, Comber had caught Pullen and on the final tour, a switchback move at Wilson gave the place to Mike in the end. While the pair took 2nd and 3rd respectively, it was a perfect hat trick for Fenwick as he completed the treble and began to extend his championship lead further.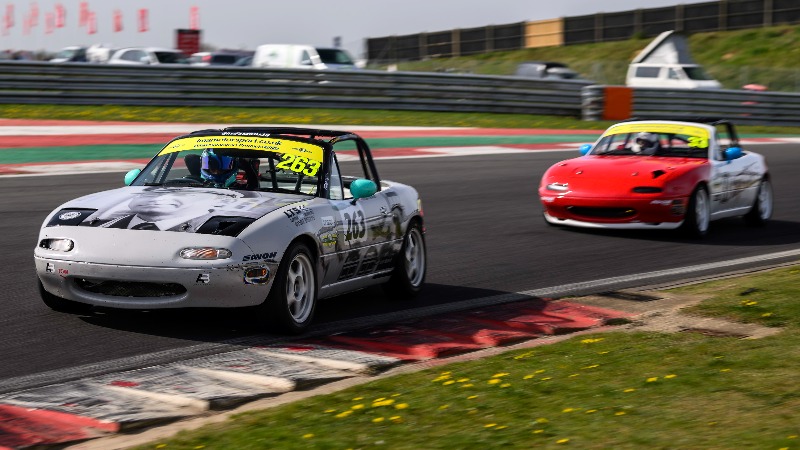 ---
MAZDA MX-5 CLUBMAN CHAMPIONSHIP – MCDONNELL AND FLETCHER STAKE THEIR CLAIMS
After picking up maximum points at the season opener at Silverstone, defending Mazda MX-5 Clubman champion Harry Storer headed into the unknown at Snetterton, a circuit he'd missed out on in 2021 and one he was hoping would see him on the top step to maintain his points lead. As it happened, he didn't have it quite so simple this time…
Guest driver Thomas Langford put his ex-Oliver Allwood title-winning Mk1 on pole for his first Mazda race weekend, but he was beaten from the front row in Race 1 by Matthew Fletcher and the pair manage to break away from the multi-car scrap going on behind them for 3rd place. Langford didn't take long to repass Fletcher, while a duel for 3rd between Neil Chisnall and Marcus Bailey ended prematurely when the two cars tangled on the Bentley Straight, leaving Bailey out on the spot and Chisnall able to continue. Out in the lead, Langford lost it to Fletcher just before the start of the final lap at Brundle/Nelson, but managed to get it back again half way around the next tour and resist Fletcher's final attempts to take the win. Fletcher would receive the 100 points despite finishing 2nd thanks to Langford being a guest, while McDonnell was able to create a gap in 3rd in the closing stages to take the final podium spot.
Langford managed to get the better start from the front row in Race 2 this time, but unlike Fletcher in Race 1, it was McDonnell that clinched the lead before the opening circuit had been completed. Soon enough, both Harry Storer and Neil Chisnall has joined the leading trio of McDonnell, Fletcher and Langford, with Jon Pethick and Chris Dawkins also joining in the fun early doors and Alan Hawkins also tacking on not long after. Eventually, those initial five at the front went back to their original quintet battling over the podium and by the final lap they were all over each other, but through it all there was no displacing McDonnell who held back the tide and scored his first MX-5 Clubman win, followed by Fletcher and Langford to make it a reverse of the Race 1 top 3. Declan admitted in the post race interview that while his original plans were to only contest a part season, his early success may just make him rethink his calendar for the rest of the year!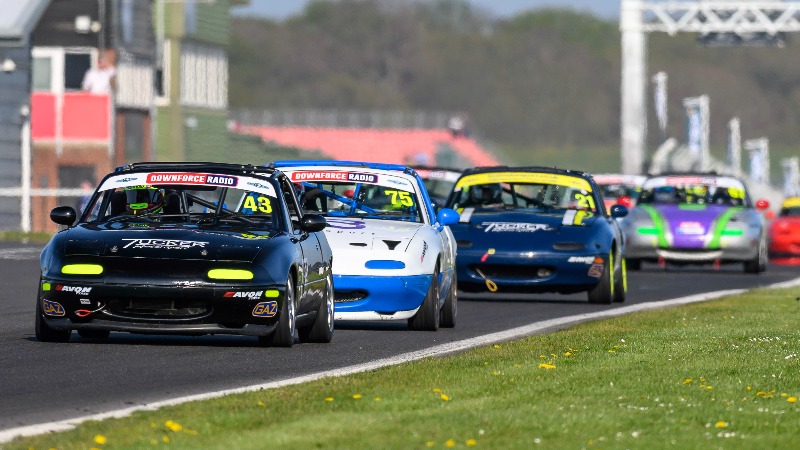 ---
MAZDA MX-5 SUPERCUP & SUPERCUP CLUBMAN – PHOTO FINISHES GALORE AS LEADING GROUP TIGHTENS UP
The competition level continues to rise and rise in the Mazda MX-5 SuperCup and this was evident at Snetterton when the top nine cars were separated by just over a second in qualifying, something that looked set to carry over into the race. With Adam Bessell taking pole for Race 1 ahead of a sterling effort from Leigh Britten to line up a personal best 2nd fastest, it was certain that the lead battle was always going to be fierce.
Race 1 was halted before a lap was completed thanks to a multi-car incident on the exit of Riches, but on the restart Britten got the better jump to lead with teammate Tom Seldon briefly behind before he made a mistake at Agostini. His lead only lasted a lap before James Cossins quickly took over in front with pressure from Colin Bysouth behind, but then Colin himself would drop out with an issue of his own a couple of minutes later. This left Cossins to maintain the lead with Britten, Richard Amos and Patrick Fletcher chasing him all the way for the remainder of the race. It only kicked off properly on the final lap when Fletcher took 2nd and attacked Cossins for 1st. Both cars tangled at Brundle/Nelson, damaging Fletcher's steering which only became evident at Murray's as he ran wide. Cossins' lost momentum allowed Amos to pounce and on the drag to the flag, he just stole victory by a mere 0.036 seconds, while Britten claimed his first SuperCup podium with 3rd place.
Cossins' misfortune continued at the start of Race 2 after contact sent him spinning out over the grass outside Riches and through all the commotion Bessell worked his way into the lead with Michael Knibbs following suit. Amos quickly took 2nd from Knibbs and began the chase after leader Bessell. Richard chased Adam for several laps before Fletcher passed both in the same lap, helped by fluid down at the Bomb Hole causing Bessell to get out of shape and allow him through. It kicked off on the last lap again as Bessell tagged Fletcher at Wilson Hairpin and then allowed him back through to avoid a penalty. He attacked again at the Brundle/Nelson complex and timed his move to perfection just before the yellow flags for debris, and despite Fletcher creating the second photo finish in as many races, it was Bessell's win by just 0.034 second this time with Amos right there in 3rd!
John Langridge took full advantage of his reverse grid pole for Race 3 by getting the jump on everyone else to lead the opening laps in what became a staggering 14-car lead pack after just five minutes, but soon enough Amos dived inside at Brundle to take 1st away from the former Mk1 champion. Corners later, Bysouth did the same at Wilson Hairpin and then immediately set about Amos. After a few laps behind him, Bysouth was through with around 6 minutes to go, while behind him Britten made a late attempt to steal the lead but out-braked himself at Wilson, before getting himself into trouble for tagging Patrick Fletcher into a spin at Nelson. Bysouth was left free to drive on to victory – or so he thought. Early in the race, Colin had made contact with Fletcher at Nelson too, this time forcing Patrick off onto the grass. This was deemed avoidable contact, hence Bysouth was hit with a 5-second penalty which demoted him to 3rd. Thus, Amos was promoted to his fourth win from six races, but it could have been Will Blackwell-Chambers' first MK3 success had he managed to find a way through; nonetheless, he was satisfied with a new personal best result of 2nd.
Over in the Club class, Scott Wright won the first two races to make up for lost ground from Silverstone, while Race 3 saw class victory go the way of Silverstone winner Stephen New. The SuperCup Clubman Championship also saw its first races since its creation as it joined the regular SuperCup runners for two of the three encounters. Simon Fleet took Race 1 honours before retiring in Race 2, which instead saw Robert Way come home victorious on that occasion.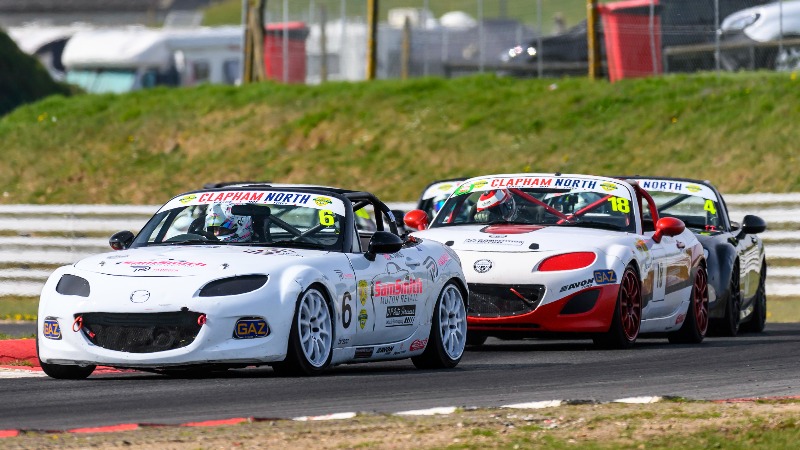 ---
SILVERLAKE C1 ENDURANCE SERIES – SUCCESSFUL DEBUT 5 HOUR ENDURO SEES ARDCOR TAKE THE FLAG
Sunday, April 17th 2022 will go down as an important moment in the history of both the British Racing & Sports Car Club and the C1 Racing Club, as it officially marked the successful beginning of their brand new partnership together with the running of the first ever Silverlake C1 Endurance Series race under the guidance of the BRSCC on the Snetterton 300 circuit.
Snetterton saw the largest entry the series had ever received at the Norfolk circuit with a record 57 Citroen C1s lining up for the five-hour contest. The race itself was close at the front in the opening stages as the #Blessed and Emax Motorsport teams ran together and pulled away in their own private battle, with #Blessed taking the lead. The gap between them had started to close up as the first pit window began to open, but the race's one and only safety car froze the order as other front runners just managed to do so before the race was neutralised.
Through the pit stops, both leading cars shared the top spot along with Oakley Motorsport who took the lead going into the second hour, only to pit shortly after it elapsed. #Blessed then put their car back in front courtesy of Colin Bysouth, but they had issues later on when they were forced to pit again with fuel issues, dropping them back down the order. WRC Developments also took their turn before a puncture forced them to make an unscheduled stop too, and then Ardcor Modelmakers used their strategy to move forwards and take the lead themselves. Across the second half of the race, between Ardcor, eMax, CSC and Oakley, the four teams traded the lead between them, and heading into the final hour no less than 8 cars were still on the lead lap.
After late pit stops shook out the true order of the race, it was Ardcor's John Ardis and Mike Graham that came home as winners, ahead of Oakley Motorsport's Graham Oakley and Harry Newman-Oakley, with Emax Motorsport's Jake Little, James Little and Stuart Ratcliffe completing the podium. All in all it was an incredible first weekend working together for the BRSCC and the C1 Racing Club and now the full focus is on the next event, that being the centrepiece race of the year for the series – the magical Silverlake C1 24 Hours of Silverstone in May!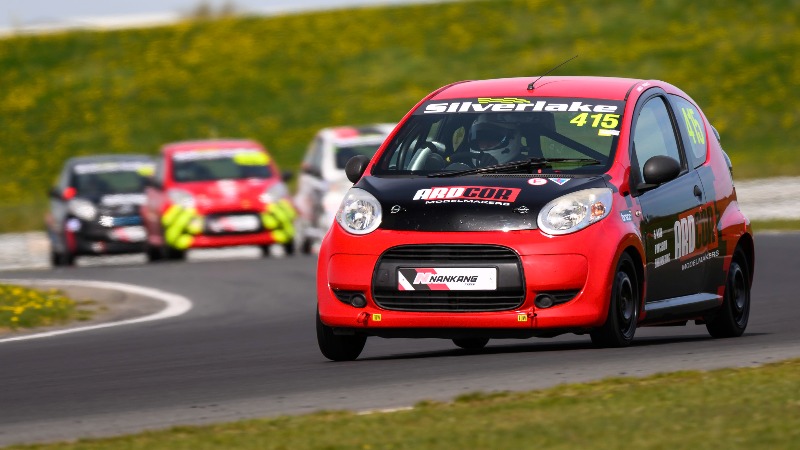 ---
BRSCC CLUBSPORT TROPHY – BIMMERS DOMINATE WITH CLASS AND OVERALL VICTORIES
If one thing was clear at Snetterton on Saturday afternoon, it was this – if you wanted to be in contention to win the first BRSCC Clubsport Trophy race of the season that day, you needed a BMW. This was made all the more obvious when four of Munich's finest locked out the first two rows of the grid in qualifying with Liam Crilly's Z4 and the evergreen M3-engined E36 Compact of David Shead and Malcolm Edeson lined up at the front of a 28-strong grid.
From the off, it was Crilly's Z4 that held the advantage with Shead & Edeson's Compact in hot pursuit, and it only took 10 minutes for the red E36 to find a way past Crilly into Riches and into the lead. Crilly kept in close attention all the way to the pit-stop window, while the top four domination of BMWs was broken not long before one third's distance when Phiroze Bilimoria put his VW Scirocco into 4th ahead of Paul Hinson's Compact. Crilly was first to stop in a bid to try and gain track position, and once Shead handed over to Edeson at their pit stop, the two cars were back together again separated by less than a second. Crilly pushed Edeson all the way in the final 10 minutes and came close to claiming the lead more than once. However, the superior straight line speed of the Compact helped keep the Z4 at bay and Shead & Edeson claimed their second overall Clubsport win, but only by just half a second.
Both BMWs topped Class A as well as overall, while other class wins went the way of Mark Burton's E46 330ci in Class B, the all new BMW 1 Series SuperCup car driven by Bad Obsession Motorsport's Richard Brunning in Class C, Tom Seldon's Mazda MX-5 SuperCup racer in Class D and Chris McGinley's Compact in Class E, meaning BMWs won four out of the five regular classes competing. The Mazda MX-5 Mk4 Trophy was also out in force in this race, with former Mk1 champion Brian Chandler winning the category ahead of Andy Baylie.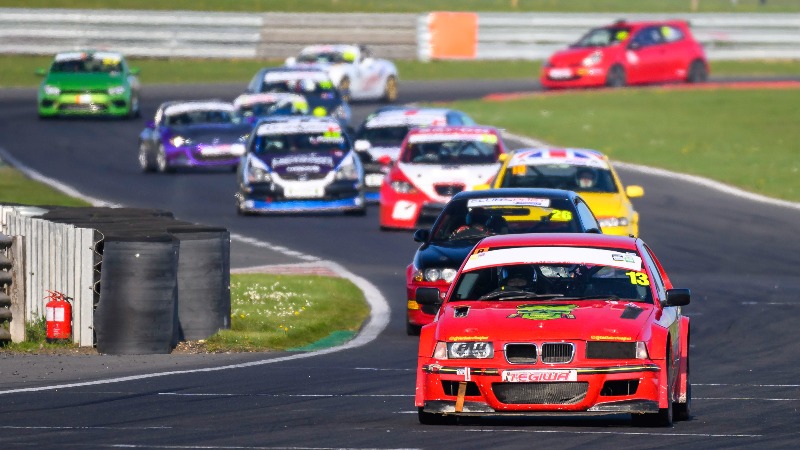 ---
MINI SE7ENS – JORDAN AND O'BRIEN SPLIT THE DIFFERENCE
The BRSCC was truly honoured and privileged to be joined across the Snetterton weekend by the highly established and much adored Mini 7 Racing Club, which brought all four of its classes to compete on the 300 circuit for their second meeting of 2022. First out were the Se7en and Se7en S classes with championship leader Mike Jordan taking up pole in qualifying to attempt to continue his winning ways from Silverstone.
Connor O'Brien got the better jump off the line in Race 1 and headed a three car leading group that also included Jordan and Joe Thompson. Both O'Brien and Jordan traded the lead numerous times throughout the rest of the 20 minutes with Thompson constantly on their tail and looking for any opportunity to make a clean pass, and once it was time to drop the chequered flag it would be Jordan making it three wins from three races with O'Brien and Thompson on his tail right to the end. In the Se7en S class, points leader Michael Winkworth fluffed the start and dropped to the tail of the class, but incredibly only needed half the race distance to work his way back through to the leaders and take over in front, picking up an excellent win from Fraser Hack and Damien Harrington.
A day later for the second race, O'Brien immediately got the jump on everyone once again but this time managed to quickly create a substantial lead in the opening couple of laps, so much so that it left him effectively unchallenged out in front. This left a massive seven car pack battling over the podium place. Thompson held it early on before Jordan got in front at half distance while the pair were chased hard by Spencer Wanstall who kept a watching brief in 4th. Try as Thompson might, it was only until the final lap that he was able to find a way past the former British GT and Eurocar champion, claiming 2nd place with Wanstall still firmly behind the pair, as O'Brien practically cruised to victory. It was business as usual for Winkworth in the Se7en S class, leading all the way from start to finish to win the class by almost 7 seconds and even finishing 9th overall in an impressive drive.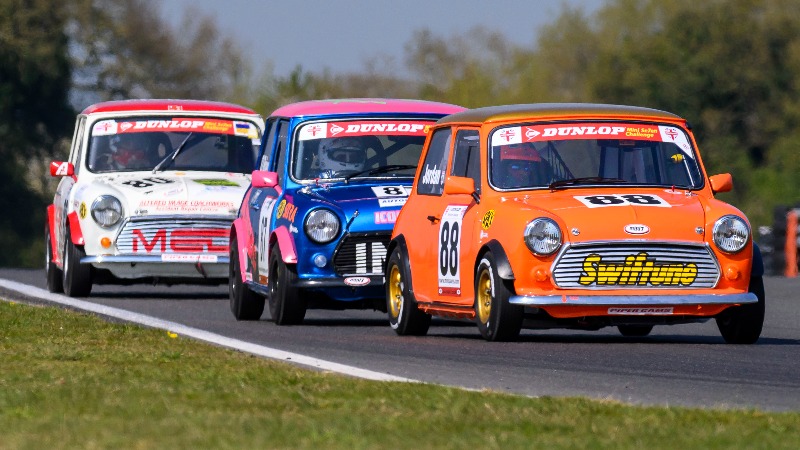 ---
MINI MIGLIAS – DEETH AND SMITH SHARE HONOURS IN TWO MINI THRILLERS
If the Se7ens were great entertainment, it was certain that their faster kin in the almighty Mini Miglias were going to be just as energetic for their pair of 20 minute races, if not more – and in typical Mini racing fashion, they more than delivered.
Even though Kane Astin took pole it was Jeff Smith that swept across the first corner and took the lead for himself from the start, while Astin and points leader Aaron Smith gave immediate chase. With Rupert Deeth and Ben Colburn joining in too, a leading quintet quickly formed and began to move away in the opening laps to stage their own private battle. Deeth didn't take long to manoeuvre his way to the front as he picked off Astin and Jeff Smith in quick succession, but then had to make his car the widest Miglia in the venue to hold back constant attacks lap after lap from the four cars chasing him. Both of the Smiths made it past inside the last five minutes and both took their turns to lead, but Deeth left it until the Bentley Straight on the last lap to retake P1 and hold it to the flag, with Aaron in P2 and Jeff in P3 to complete the podium.
On Sunday, the partially reversed grid put Rob Howard on pole, but the fast starters behind him saw the field go five abreast towards Riches with Colin Peacock the man to lose out after contact, although a quick stab of the brakes to control the car helped him stay on track. Jeff Smith quickly took up the lead before Astin took it himself before the end of the opening lap and then lost it again as Lap 2 began. Jeff then wound up 4th and survived a tap from Ben Colburn heading to the Bomb Hole which saw him briefly run wide onto the grass. Aaron Smith took over as leader, but despite plenty of side by side and three wide action lap after lap, the pace was relentless as the two Smiths and Astin constantly changed places throughout. Eventually, victory fell the way of points leader Aaron Smith, claiming it in a superb final lap photo finish as he headed Jeff Smith, Astin and Deeth as the four cars were covered by less than a second. Richard Colburn was also solid in his pair of races as the sole Mini Libre competitor that managed to compete, finishing both races to take points.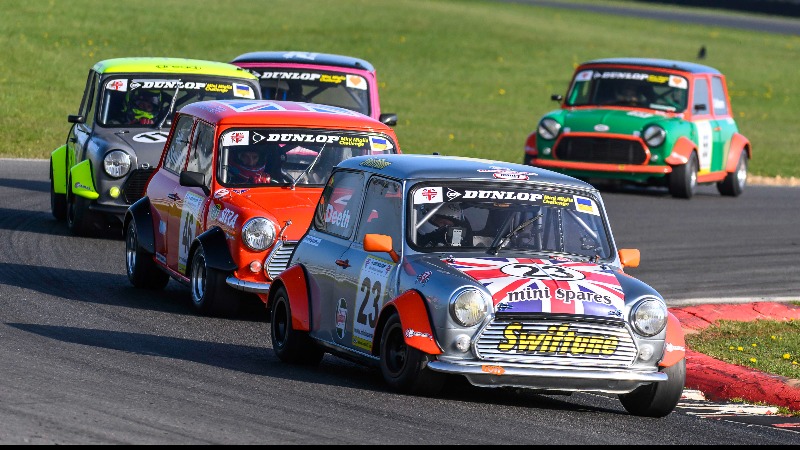 ---
ZEO PROTOTYPE CUP – JENVEY JUST WALKS IT
The 2022 season also kicked off for the superb ZEO Prototype Cup, which featured a smaller line up of cars than usually expected with several drivers still working on their cars to get them finished in time to compete later in the season. For those that did make it to Norfolk, there was a great mix of machines between the attendees.
As for both races on Saturday, they were taken by former OSS champion Mike Jenvey in his self-developed Jenvey-Gunn TS6 that took a dominant pole position in qualifying by two seconds over Graham Charman's Juno and Jason Rishover's Radical, and that's how it would end up come the flag after 20 minutes in Race 1 as Jenvey comfortably dominated by 20 seconds out in front. A partially reversed grid put Mike Chittenden's Juno on pole, but it didn't take Jenvey long at all to work his way to the front again and once again build a comfortable lead. Jenvey completed his day's work with the double, this time beating Chittenden by 16 seconds ahead of Rishover in 3rd once more. So far almost 30 cars are expected to turn out for their next rounds on the Silverstone GP circuit in a couple of month's time!
Scott Woodwiss