BRSCC SLIDES BACK INTO NORFOLK FOR SNETTERTON SIZZLER
CATEGORIES:
This already feels like it's going to be a long, hot summer right now with record temperatures across the country – which will at least guarantee one thing: the weather for this weekend's BRSCC race meeting at Snetterton in Norfolk is surely going to be glorious! The increased heat is undoubtedly going to play its part on both cars and drivers, as both will look to stay as cool as possible both on track and in the paddock. The only thing that won't stay cool will be the racing itself, which is guaranteed to be red hot (pun fully intended) as championship battles continue to shift and change with every race.
---
FUN CUP ENDURANCE CHAMPIONSHIP – UVIO & STOBART STILL UNDEFEATED, BUT GCI STILL POINTS LEADERS
There's a theme to this year's Fun Cup Endurance Championship season already – either UVio/ Hofmann's Lotus ("Farquini"/ Fabio Randaccio) or Stobart Sport (Colin Kingsnorth/ Richard Webb/ Jonathan Hoad) take race victory, while GCI Racing (Grahame Butterworth/ Craig Butterworth/ Ian Wood) finish in 2nd and take the lead of the points. That's exactly how it's played out so far across the first four races of the year, as GCI's consistency has helped them into a 16-point lead heading to Snetterton. However, it could have been so different for the leaders at Brands Hatch last time, as they were seven minutes away from a first victory when contact with a backmarker denied them the honours. In turn, Stobart Sport (who had been chasing them down throughout the second half of the race) took victory instead and now hold 2nd place in their pursuit of the title.
Incredibly, 3rd place in points right now goes to Vapeclub with EDF Motorsport (Vlad Vassiliev/ Matt Dorkings), who haven't finished a race higher than 4th all season, yet have managed to pick up points where others have dropped them due to mechanical issues or errors. Just staying out of trouble counts for a lot in this championship, especially with such long race lengths, so the hope here will be to try and get that first podium of the year whilst also keeping their noses clean.
Plus, they're currently ahead of a lot of very good teams in the standings. With Team Viking, UVio, PLR Racing, Kaizen Motorsport, Agua Caliente, CCS Media, Team Olympian, MJ Tec Giti and Greensall Motorsport all having hit strife at some stage so far this year, they are all doing the chasing as we cross the half-way stage in the 2022 season. This might be a crucial race in the story of this year's title race, with several teams needing to rebound strongly to stay in the hunt, while others simply need to maintain their advantage while they still can. This is sure to be very fascinating indeed!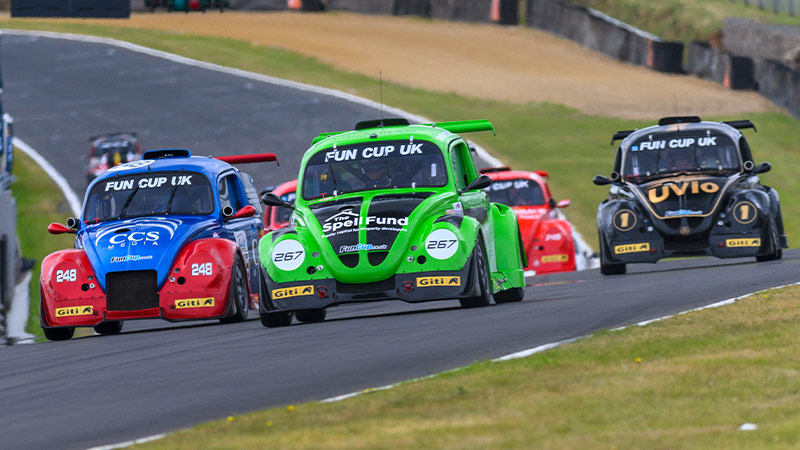 ---
AIRTEC MOTORSPORT FIESTA CHAMPIONSHIP – BRICKLEY SET TO BUILD UP POINTS LEAD FURTHER
After a string of very strong results in his first few senior-level races, outgoing Fiesta Junior champion Jenson Brickley could finally reach the top step for the first time outside of junior racing in the latest AIRTEC Motorsport Fiesta Championship races at Oulton Park last time out. Now that he's got the taste for winning again, he'll surely want more and Snetterton will be his next target. His 19-point lead isn't a giant one and given how competitive this year's field is, there is always the chance he goes from the lead to the middle of the top ten faster than you can blink.
Those who would oppose him on track are mainly Alastair Kellett and Simon Horrobin at this stage, both of which have won at least two races this year to date. Kellett has remained closer thanks to his additional three 2nd places, although a DNF from the second Brands Hatch race will have been a lost opportunity for him and could have even given him the points lead at this stage. He is the one currently doing the chasing and will certainly be on Brickley's tail all weekend.
As for Horrobin, he is another 31 points back in 3rd and may fall into the clutches of defending champion Rob Smith, plus the likes of John Cooper, Zachary Lucas, Jamie Going and more that will hope for good results. As for the ST150s, Nick Moore currently has 8 points over the next best driver in class, Thomas Davis, who will look to close him down, along with Matt Chambers, FJC graduate Joseph Knight, Adam Burdis and a championship debut for Thomas Horton, who races in the Fiesta paddock for the first time since his FJC days. Plus, look out for ST240 debuts for Sean Reynolds and Caitlin May, the latter switching from her ST150 after her unfortunate start line accident at Croft.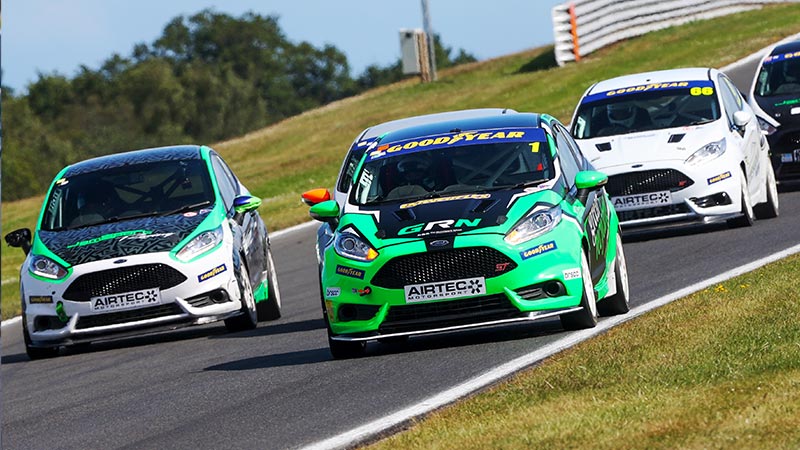 ---
FIESTA JUNIOR CHAMPIONSHIP – SMITH IN CONTROL WITH LEE GIVING CHASE
The young guns of the BRSCC Fiesta Junior Championship will be very keen to get back on track this weekend at Snetterton, especially as they were unfortunate to only complete only approx. 3 racing laps all day last time out at Oulton Park because of unforeseen incidents and timetable adjustments elsewhere in the meeting. With that in mind, all of our juniors will have plenty of time to make up for it with five sessions this weekend, including a triple header of races.
Sid Smith is the current championship leader after three wins from the first five races run, plus 2nd place at Brands Hatch. In fact, Oulton Park was the first race all year that he'd finished off the podium with 4th, but that still allowed him to hold a 50-point lead leaving Cheshire. His nearest rival is Thomas Jack Lee, who won the sole Oulton race and also has another to his name from Brands Hatch too and these two are sure to be battling at the front all weekend. Also sure to join them at the head of the pack will be the likes of Albert Webster, Luke Hilton, Jake Maynard (expected to be back after missing Oulton) and Ben Mulryan, plus watch out for Lexie Belk, George Foxlow, Jasmine Shaw, Daniel Lewis, Archie Handy, James Pope and JamSport Scholarship winner Lucas Hayden who have all been racking up steady and consistent points scores.
Also amongst the regular names, Harry England will wheel out his next-gen Mk7 Fiesta Junior race car and there's a new face joining in this weekend, as Hadley Simpson prepares for his FJC debut alongside the second appearance of Croft debutant Lewis Hodgin.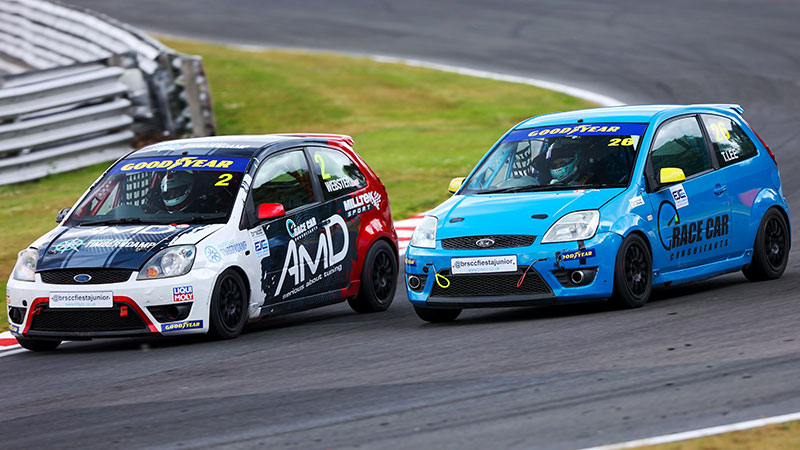 ---
AVON TYRES NATIONAL FORMULA FORD CHAMPIONSHIP – QUEEN CURRENTLY ON COURSE TO BECOME FF1600 KING
The tide has turned in this year's Avon Tyres National Formula Ford Championship as long time points leader Jordan Dempsey now trails currently man on top Colin Queen by four points heading to Snetterton.
Even though Colin has won just two races to date this season, it's the oh-so-important consistency when he hasn't been on the top step that's helped him rise to where he is right now. Of course, dropped scores will have to come into play very soon, but for now Queen has a slender lead to defend. He hasn't finished outside of the top five all year and seen the flag in every race, something that's proven crucial given some of his rivals' fortunes. Case in point, Dempsey's Anglesey weekend was one to forget with the only silver lining being a 2nd place in Race 3, but his bad luck prior to that proved to be a catalyst in him dropping the points lead. His mission objective this weekend at Snetterton will be clear – bounce back strong and get back on top.
Someone else on the recovery trail is Lucas Romanek, after the Oldfield Motorsport driver had to drive out of his skin at Anglesey to make up for a nightmare Croft meeting. Two wins and a 3rd place were his reward and although he'll end up closer once dropped scores start to factor in, he currently has some 55 points to make up overall. Given that he's currently the in-form man, Lucas will hope Snetterton is kind to him too and allows him to close the lead gap further. Others giving chase are fellow Anglesey winner Jamie Sharp, Morgan Quinn, Ben Cochran and Andre Lafond, all of whom will want to try and stay amongst the leaders as much as possible.
This weekend also marks the end of the first sub-contest within the National Formula Ford Championship. The Tourist Trophy comprises of rounds at venues taking in three of the four home nations – Knockhill (Scotland), Anglesey (Wales) and Snetterton this weekend (England). With the first two already run, Snetterton will see its conclusion with Romanek currently on top by 23 points here over Queen and Sharp. Plus, keep an eye out for our teen racers in the field as they continue to battle towards the end-of-season prize shootout in a GB4 car, with the winner of that contest earning a £20,000 cash prize towards a season in the GB4 Championship!
This weekend's winner of the second National Formula Ford race will also win the Henry Rilett Trophy, named after the BRSCC East Anglian Centre's former long-standing Chief Scrutineer and typically awarded to the winner of a specific single-seater race such as Formula Ford.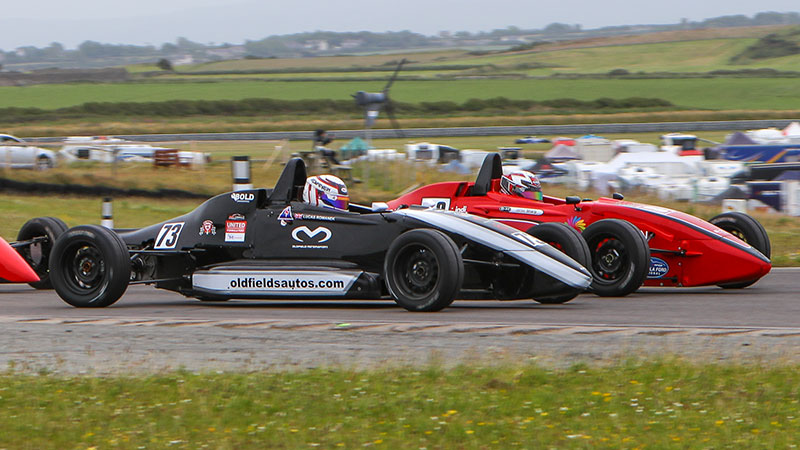 ---
NANKANG TYRE CITYCAR CUP CHAMPIONSHIP – DYER SPLITS THE BLISS BROTHERS AHEAD OF SNETTERTON RETURN LEG
It was only a couple of months ago that the Nankang Tyre CityCar Cup was racing at Snetterton in the sunshine, and now in July we find the CityCar Cup making their next stop on the 2022 calendar – *checks notes* Snetterton in the sunshine! Wait, hold on a second…
Yes, the CityCars are back for more on Snetterton's technical turns, long corners and even longer straights for more bumper-to-bumper, slipstreaming fun. There's another excellent turnout of approx. 30 cars on the grid again this time, proving that the championship is certainly inspiring plenty of new drivers as well as experienced hands gaining a new challenge. Right now, Richard Bliss continues to hold the points lead for his Autobliss team, but instead of brother Stuart following behind him in 2nd, it's Andrew Dyer that sits in the runner-up spot. While Richard has captured three wins so far this year, Andrew's also been a beacon of consistency with finishes in every race and even taking a victory at Anglesey to boot too. Meanwhile, Stuart also has a win and five second places to his name as well, but the only blot on his copybook was getting tangled in a late incident in Anglesey's third race. That pushed him back to 3rd, just a point back from Dyer with plenty of chances to make up that ground going forwards.
Aside from the main championship battle which also includes the likes of Elliot Lettis and Christopher Mackenzie, there's also the superb new Student Motorsport Challenge which has been giving motorsport students from participating colleges and universities the chance to develop their engineering and mechanical skills working on real race-prepared cars in real racing environments. No less than seven teams are set to line up at Snetterton this weekend, with MET Motorsport currently leading the Challenge with a nine point lead over East Surrey College, followed by both of Coleg Gwent's campus teams (Blaenau and Newport) and West Suffolk College.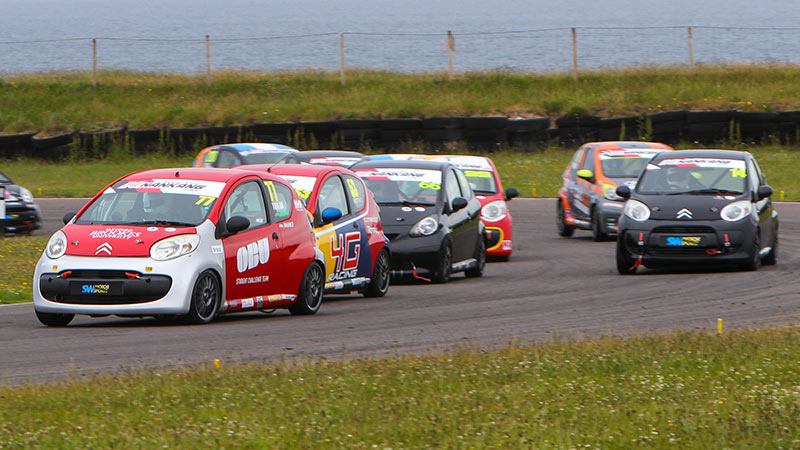 ---
BRSCC CLUBSPORT TROPHY – POPULAR MINI-ENDURO SERIES RETURNS TO NORFOLK

If one series has been able to constantly provide massive, well-supported grids and racing that's left a smile on every competitor's face, it's certainly the ever-popular BRSCC ClubSport Trophy, which continues to go from strength to strength in its fourth season.
This weekend is also a return leg visit to Snetterton after the series started their 2022 campaign here back in April and there's another solid entry looking to rumble around the 300 circuit once again. As a reminder, entries can either run solo or with two drivers and compete in one of five pre-determined classes based on a car's power to weight ratio. A cap of 235bhp per tonne along with a mandatory pitstop all ensures both a wide variety of cars are eligible to compete and an extra element of strategy thrown into the mix.
Looking down the entry list, cars of note include regulars such as David May's Nissan 370Z which has previously won outright at Snetterton, Olly Samways' formidable Toyota MR2 V6 "SuperGT" Roadster, Phiroze Bilimoria's VW Scirocco and Martyn Culley's SEAT Leon Cupra R. Being in Class A, all four of these cars are sure to be in contention for the overall race win, potentially along with the Caterham of Malcolm Ash.
Class B is sure to see battles between Kevin Talbot's Honda Integra and Brian Chandler's Mk4 Mazda MX-5, plus Scott Ferguson's supercharged Mk1 MX-5 and the Renault Clio Cup car of Thomas Smith. Class C will contain the likes of the Jeakins Race Prep pair of Honda Civics wheeled by Alfie Jeakins and Loui Hounsell along with Stuart Kilroy's Peugeot 207 GTi, a BMW E36, Toyota MR2 and Mk1 MX-5 make up the main contenders in Class D and one of the leading Class E cars is sure to be the MOT Motorsport run Mazda2 driven by Nick Dougill. They will be amongst the usual additional general mix of MX-5s, BMWs, Clios and Civics that populate the rest of the entry.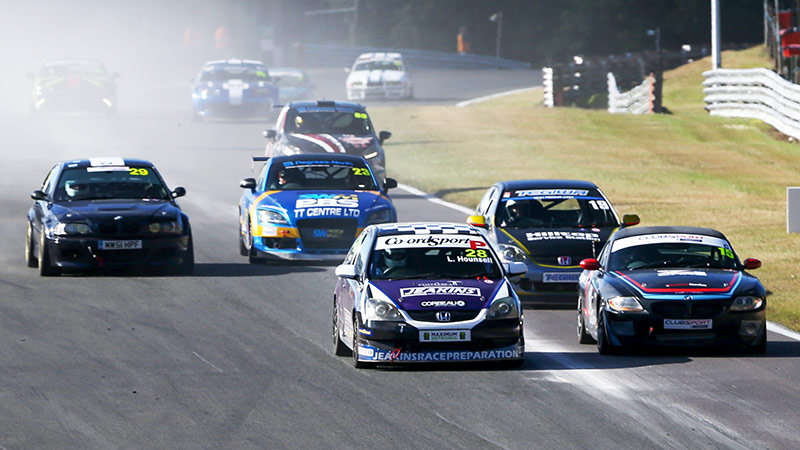 ---
MODIFIED FORDS – BUMPER BLUE OVAL ENTRY READY TO STRETCH THEIR LEGS IN SNETTERTON SUNSHINE
There are many excellent series and championships on this weekend's timetable, but this one might just have the potential to steal the show. The incredible Modified Ford Series continues to draw big grids, more and more fans and major interest wherever they go in the UK club racing scene. A series that simply caters to a wide variety of race-prepared Ford models, there are around 35 cars amongst the packed entry list covering a wide spectrum of the Ford portfolio here, and with three races on the timetable, it should be a belter.
It's hard to pick out just one or two standout cars in the entry as there are so many superbly prepared machines in this paddock that only choosing a couple would be a disservice. A good place to start is the rocketship that is Dave Cockell's Escort Cosworth which usually takes the role of favourite to win every time it lines up. Given its astronomical horsepower numbers, Snetterton's long straight should in theory make the three races ahead a breeze for Dave.
That said, that doesn't mean there won't be many contenders worthy of trying to stop him – James Allen's Time Attack-spec Focus Mk2 will certainly pack a punch and could well be Cockell's main rival, plus you can never count out the sublime Mk1 Escort "RSR" of Jack Gadd, the replica Zakspeed Mk2 Escorts of Neil Jessop and Malcolm Harding, Simon Light's thunderous blue Capri and Ashley Shelswell's ever formidable Sierra XR4Ti. Plus, you definitely need to watch out for the bright pink Mk2 Focus of Rory Jose, the wonderfully unique Mk1 Focus Estate in the hands of AJ Howe and the expected presence of ClubRacingUK's very own Rob Lewis wheeling out his Focus ST170 to come and play.
As an additional prize, we will also present the winner of the second Modified Ford Series race of the weekend at Snetterton with the Barn Ruche Trophy. This trophy was originally given back in 1973 by local saloon car driver Teddy Savory and has been periodically awarded to local drivers doing well in national or local saloon car championships. On this occasion, it will be the Modified Ford Series that will inherit the presentation of this long-standing trophy.
Scott Woodwiss