BRSCC SPRINTING BACK TO SNETTERTON WITH SPORTSCAR AND TINTOPS
CATEGORIES:
Just a month after the club made its first visit of the year, the BRSCC makes the journey back to Snetterton in Norfolk on the 300 circuit, with two days full of sprint racing in store featuring saloon cars, sports car and hot hatches. With Summer just around the corner, we're expecting superb weather to compliment the heated action on track!
CATERHAM ACADEMY – ROOKIE DRIVERS PREPARE TO START THEIR RACING JOURNEY
This weekend marks a special moment of every racing season for Caterham Motorsport – the first-ever race meeting for their fledgling rookie racers taking part in the Caterham Academy. For those who have never come across it before, the Caterham Academy is a special championship reserved solely for novice drivers who have never raced or held a competition licence prior to entering. All drivers competing are split into two groups – Green and White – and take their ARDS licence tests together before taking part in pre-season handling and test days and a competitive sprint event, all preparing them for their first circuit racing event which has arrived this weekend.
The aforementioned sprint event took place at Curborough a few weeks ago giving the drivers the first chance to drive their cars in anger in a competitive environment. At the sprint, the Green Group was headed by Harvey Lawrence ahead of Ravi Patel, Rrutuj Patki, Iain Hibbert and Craig Boyle, while over in the White Group it was Tom McEwing that topped the times from Matt Larbey, Ben Timmons, Duncan Mallett and Edward Cozzi. Despite these results, they're never a guarantee of who will come out on top when competition switches from a sprint to a racetrack, but it does give us an initial indication as to who has gotten to grips with their new cars the quickest. This will be a fascinating pair of races (one for each group) as we discover who has what it takes to secure their first race victory on their very first attempt – good luck, everyone!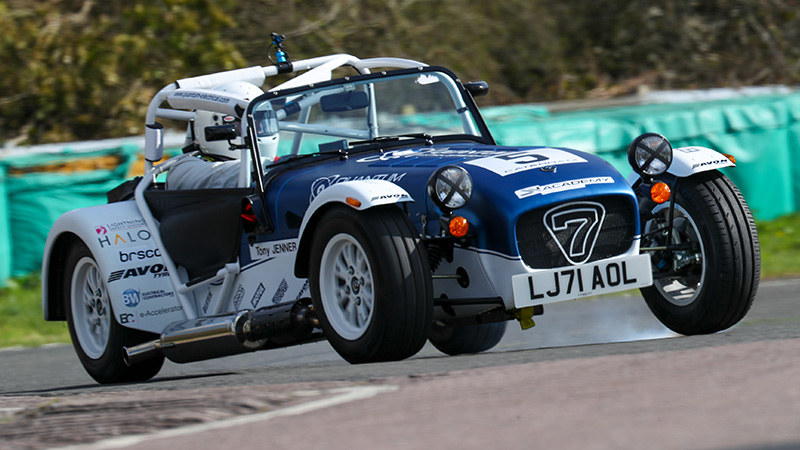 ---
CATERHAM ROADSPORT CHAMPIONSHIP – LOWER AIMING TO REMAIN AT THE TOP
The drivers in the Lovecars Caterham Roadsport Championship know all about what this year's new Academy competitors are about to experience, having gone through the same process the previous season. Now they're already getting stuck into their sophomore year of racing and come to Snetterton fresh off the back of the opening contests of 2022 at Brands Hatch a few weeks ago. The road-legal Roadsport race car is a simple development of the 125bhp Ford Sigma powered Academy car; its performance is significantly enhanced by the addition of a rear anti-roll bar and Avon ZZS road-legal track tyres (developed jointly between Avon Tyres and Caterham).
In Kent, it was last year's White Group champion Charlie Lower that couldn't be shifted from the top spot as he picked up both races win at Brands Hatch, the first coming after on-track winner Geoff Newman was handed a 10-second penalty for a false start and the second thanks to an excellent drive from the front where he was unchallenged throughout the entire 20 minutes. He will be keen to maintain his early nine point lead ahead of Benja Hedley, who took a podium from the opening weekend and lies in 2nd. Theo Theato was impressive and sits level 2nd with Hedley after he was consistent in his scoring, while Freddie Chiddicks will be please to be currently ahead of his Academy Green Group rival from last season in Newman, only separated by two points with Newman also tied with Mark Williams. Other names to certainly watch out for given their form from last season and at Brands Hatch include Paul Woodman, Mark Januszewski, William James and Gareth Lucas. This is the first season that all drivers from both 2021 Academy groups are racing together in the same championship table, so the competition is already very fierce indeed!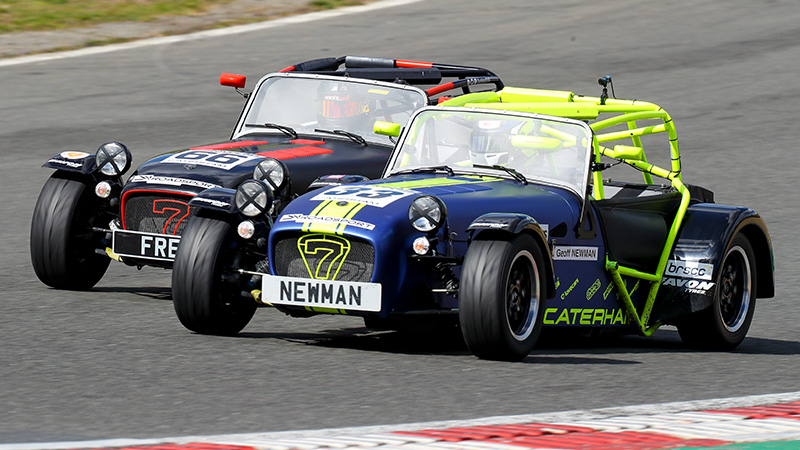 ---
CATERHAM SEVEN 270R CHAMPIONSHIP – BUSH READY TO LEAVE RIVALS BEHIND
After their frantic battles scrapping over last year's Roadsport title, the front runners of this year's Caterham Seven 270R Championship were ready to do it all again and with Brands Hatch providing a superb launch pad to start the 2022 season.
The Caterham Seven 270R Championship is firmly established as the 'coming‑of‑age' championship for those progressing out of the Academy through Roadsport. The Seven 270R cars have typically made their way up from the Academy from 2014 onwards, with most originally being modified 2016 Academy cars. Road suspension is replaced by stiffer dampers and race springs, with a wider track front suspension and track orientated tyres, while the engine is given a higher rev limit.
Heading to Norfolk leading the points after Brands Hatch is Hugo Bush, who only has a single point advantage over fellow opening weekend winner, the pair taking a victory each to start their season in a fine way. The pair know each other well from the last two season, as well as the rapid German Domenique Mannsperger, with all three drivers locking out the podium places in both races. They are without question the benchmark that everyone has to try and live up to, although both Ryan Erroll and Ryan Lovett are their immediate threats in the early championship standings in 4th and 5th. There were one or two drivers who have been strong previously that will want to pick themselves up and take more solid points scores, so be sure to look out for William Brunt, Gwyn Jones, Andy Lund and indeed Michael Chaplin, who had taken a race win on the road at Brands Hatch in a very impressive display but was disqualified on a technicality. He will wish to bounce back in Norfolk this weekend.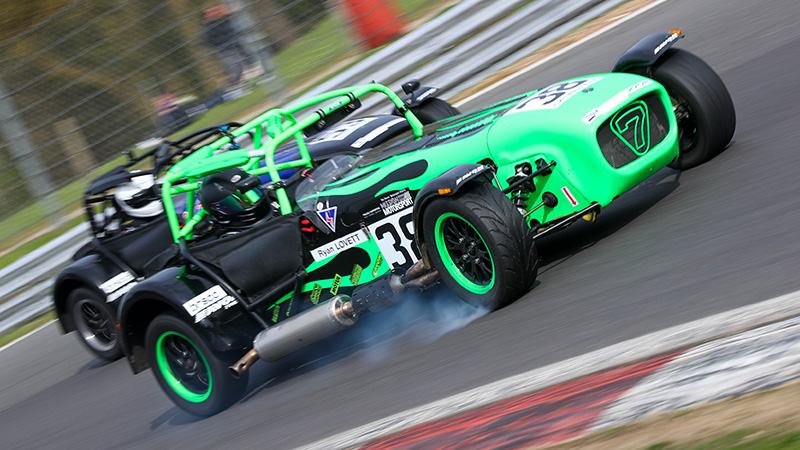 ---
CATERHAM SEVEN 310R CHAMPIONSHIP – ULTRA-COMPETITIVE ENTRY LOOKING TO CHASE DOWN WALTERS
Just one look at the entry list for this weekend's Caterham Seven 310R Championship races and a little knowledge of some of the key drivers to watch out for are all you need to conclude that this is certain to be another strong pair of 30 minute races with plenty of contenders in line to fight for the podium spots. Snetterton's long straights are perfect for Caterham racing, meaning overtaking and slipstreaming is certainly going to be in abundance.
The Caterham Seven 310R Championship represents a well established and successful formula in Caterham racing. It sees the ultimate evolution of the Academy car, with power increased to 152bhp giving it a power-to-weight ratio in excess of a Porsche 911 and requiring a limited-slip differential to transfer that to the track. The 310R race car carries all the upgrades from the previous Roadsport and Seven 270R specifications, plus an increase in power and a limited slip differential for increased traction and improving cornering.
As a former champion, Pete Walters knows all about leading from the front and commanding  race, this being something he did plenty of at Brands Hatch as he drove on to win both races. Pete picked up a near perfect score from Kent after just missing out on the fastest lap point from Race 1 to come away with the initial championship lead and 61 points. Fellow stalwart David Yates has done his best to hit the ground running and sits in 2nd, five points off the top having taking the points for the victory in his first race at Brands due to on-track winner Tom Wyllys racing as a guest and invisible for points. Stephen Lyall and the returning Jack Sales come next in 3rd and 4th, while there are two three-way ties for 5th and 8th respectively. Lars Hoffmann, Alan Cooper and David Baldwin all head to Snetterton on 49 points, the trio all two points ahead of Ben Lopez Appleton, Harry Cook and Carl Jones. Throw in Geoff Price, Blair McConachie, Harry Eyre, Tom Cockerill, James Wingfield and more and trying to pick a definitive podium trio for either race is proving almost impossible!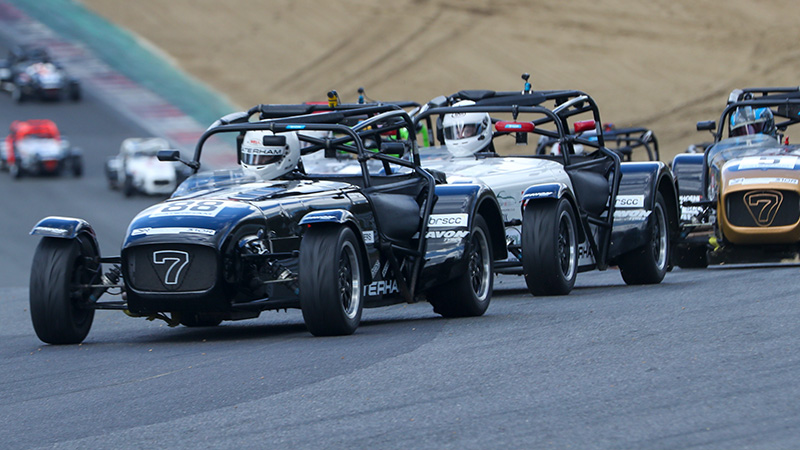 ---
CATERHAM SEVEN CHAMPIONSHIP UK – HEAD KEEN TO CARRY ON LEADING THE PACK
For those looking for the fastest race cars you'll see all weekend at Snetterton, look no further than the Caterham Seven Championship UK, which sees some of the best drivers that the factory Motorsport series can accommodate in a bid to become the official British Caterham Champion. Brands Hatch's short, sharp speedbowl layout makes way for Snetterton's multitude of long straights and corner types, meaning there should be plenty of scraps on track up and down the field.
A 180bhp 2.0 Caterham Motorsport Tuned Engine, paired to a six-speed sequential gearbox, is nestled within the bespoke racing chassis. One seat, no lights, this thing means business. It also features specifically engineered dedicated Avon slick and wet tyres and bespoke Bilstein race dampers. The slick tyres introduced in 2021 offer a step up in performance to GT4 pace, whilst being sufficiently durable. Unlike other national racing series, this is pretty much out-of-the-box competition, meaning the season is included with the cost of the car, and there is no need for expensive testing and setups. It's all down to the skill of the driver.
Former top level champion Aaron Head made a fruitful comeback to the Caterham ranks at Brands Hatch, picking up two wins, a fastest lap and three bonus points from winning the Superpole on Saturday morning too. Having filled most of his time racing historics, mainly at the wheel of a Porsche, Aaron has been able to keep his eye in and was able to return to a format of racing he knows well and is particularly successful in. Henry Heaton was the other race winner that weekend at Brands and he must be feeling as though this season has to be his best opportunity to win the top title, although his competition is mighty fierce with James Murphy, Chris Moore, Lee Bristow and Tim Dickens all ready to pounce should either Henry or Aaron slip up.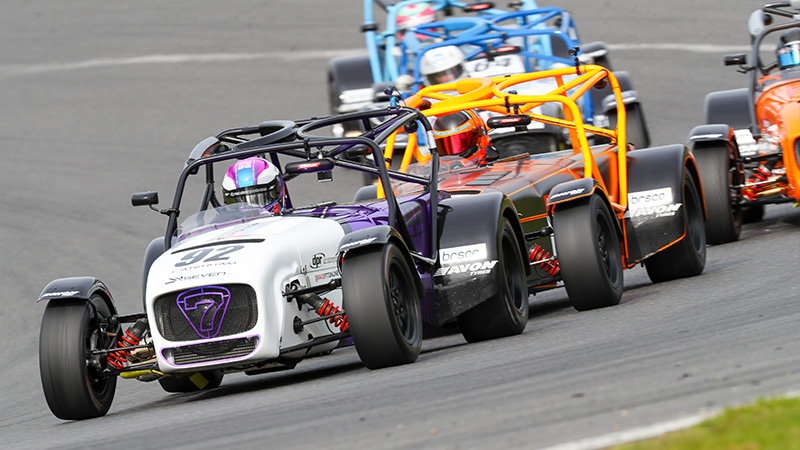 ---
NANKANG TYRE BMW COMPACT CUP – DOBLE LOOKING TO DO THE DOUBLE DOUBLE IN NORFOLK
Moving away from sportscars, there's plenty of tin-top action complimenting the Caterhams this weekend at Snetterton, starting with the next rounds of the Nankang Tyre BMW Compact Cup. They too also started their 2022 campaign at Brands Hatch and with their first two races in the bag, the 300 circuit welcomes back the beaut little Bimmers just a year on from their last visit when a sudden rain shower disrupted their first ever 30 minute race. Thankfully, the weather conditions look a lot more promising this time.
As for the drivers in form, unquestionably the main man right now is Mikey Doble, who opened his 2022 account in fine style with two victories and a fastest lap to take the lead early doors with an impressive margin of 13 points already. Former Fiesta racer Lee Dendy-Sadler got off to his best Compact Cup start to date with two 2nd places to currently hold runner up spot, only a point ahead of Ian Howes who came agonisingly close to a first win before slipping back in the second race. Matt Flowers and Mike Doble – father of points leader Mikey – are also separated by a point in 4th and 5th, while Gareth Claydon and Gordon Macmillan are also looking good currently tied in 6th. Add in other regular front runners like Ian Jones, Guy Davis, Oliver Faller, Rudi Macmillan and Ray MacDowall and it should be another superb scrap at the head of the field.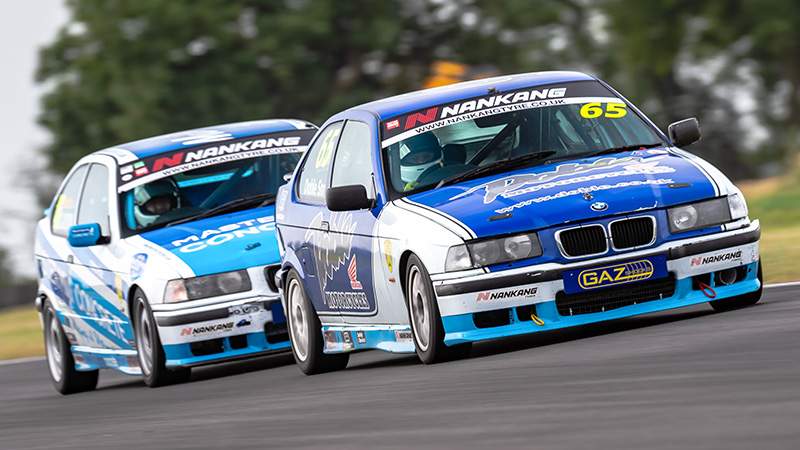 ---
VINYL DETAIL ST-XR CHALLENGE & CIVIC CHALLENGE – FORDS AND HONDAS GET TOGETHER FOR SNETTERTON ACTION
This weekend will see a combined grid for both the ever great Vinyl Detail ST-XR Challenge for various models of Ford XR and ST cars and the brand new Civic Challenge, created by Jon Peerless as a home for any and all race-ready Honda Civics that wish to race together in multi-class competition.
With the ST-XRs, they are fresh from their own opening races of the season at Oulton Park where defending champion Chris Jones picked up where he'd left off and took two victories to open his scoring perfectly, with Mike Blackburn, Chris Grimes and Sam Beckett all sharing podium finishes between them. Out of this quartet, all but champion Jones are on the grid this weekend at Snetterton, so this trio will certainly claw a large haul of points back and will be keen to scrap amongst themselves at the head of the group. They'll be joined on track by the likes of Mark Blunt, Matthew Pimlott, Chris Chisnall and Chris Flynn, while Ross Craig also joins the entry as a guest, and all will compete in Class D in the ever popular Fiesta ST150s.
Alongside them on the grid will be the new Civic Challenge, with 10 cars set to contest their first race as a series. Featuring in the line up include Civic Cup youngsters Alfie Jeakins and Loui Hounsell, both of whom were here merely a few weeks ago competing in the opening Clubsport Trophy race of the season on the same circuit, Bradley Lane, Ross Darlington and series creator Jon Peerless will also line up too, as well as Spencer Fortag, Nick Charlier, Matthew Stenning, Edward Sibbald and Tate Taverner. More Hondas are sure to join in as the season goes on, but this should be a fine weekend to see them get underway for the first time.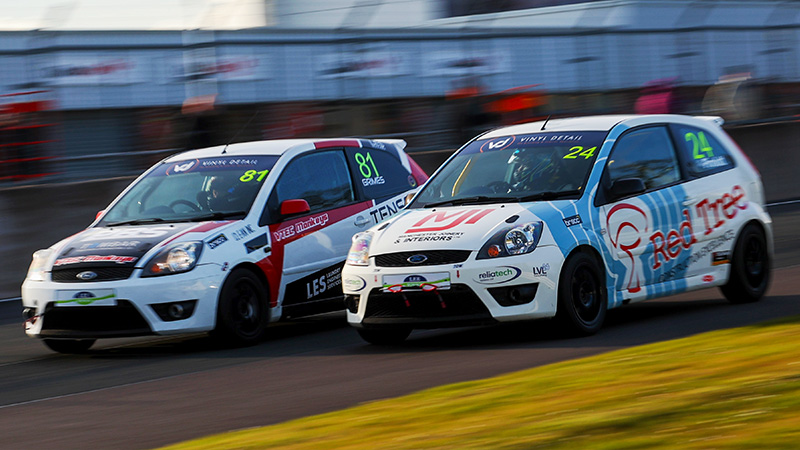 ---
NANKANG TYRE CITYCAR CUP – BLISS PAIR HOPING TO REPEAT OULTON DOMINATION
For those who know how the first-ever championship season for the Nankang Tyre CityCar Cup, it was complete domination from eventual runaway champion Nic Grindrod and when he elected to move on to the MX-5 SuperCup, it paved the way for a brand new champion for 2022. However, any thoughts of the competition for the top spot being wide open were slightly quashed when the Autobliss pair of Toyota Aygo driven by siblings Richard and Stuart Bliss ended up owning the top two spots on the podium all day. This put them equal on points at the top with 97 each and already eight clear of Christopher Mackenzie in 3rd and then Andrew Dyer and Richard Snuggs in the top five. With three different manufacturers represented in Citroen, Peugeot and Toyota on the grid, there will certainly be plenty of competition for positions and points, with battles sure to features drivers such as John Nicholson, Ellliot Lettis, Adam Reynolds, Liam Browning, Dan Sellick, Andy Burgess, Adam Reeves and Craig Flynn towards the head of the group.
Over in the Student Motorsport Challenge contest for college and university teams running cars within the championship, Oulton Park produced a double win for East Surrey College with their Peugeot 107, while Coleg Gwent (Blaenau) took a pair of 2nd places and Sheffield Hallam University (SHU) Karting picking up a brace of 3rd. They're sure to face more competition from MET Motorsport, West Suffolk College, Chichester College and a second car entered by Coleg Gwent, this one representing their Newport campus. It's a wonderful setup for the young motorsport mechanics and engineers of the future to learn their craft and set themselves up to work in the highest echelons of the sport!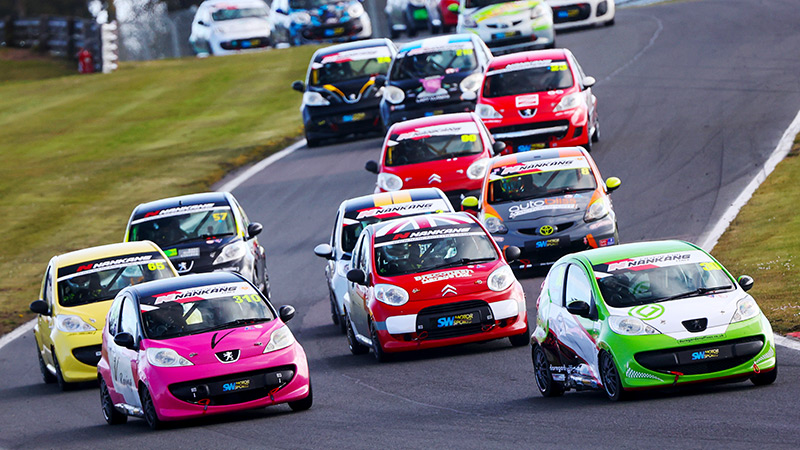 ---
TRACK ATTACK RACE CLUB – FRENCH, GERMAN & JAPANESE RACERS FLY INTO SNETTERTON
Making their second appearance on a BRSCC race weekend in 2022 will be the superb variety of the Track Attack Race Club, who bring their usual excellent mix of hot hatches, coupes saloons on an increasingly eclectic grid. The Classic VW Cup will be present once more, with Ken Lark's VW Corrado up against Castle Combe regular and recent TCR UK racer Alex Kite in a VW Vento VR6, and adding to the German flavour are five cars in the Deutsche Marques Cup – three cars from the Audi TT Trophy, Andy Presswell's Opel Astra VXR and Jason Jesse's VW Bora. Over in the Nippon Challenge, Rich Hockley and Spencer Fortag prepare to put their Honda Civics against a trio of Mazda MX-5s, while the Tricolore Trophy features no less than ten cars from the 206 GTi Production Cup, a quartet of Renault Clios, Michael Bland's Peugeot 306, Jordan Holmes' Citroen Saxo and David Clark's ever rapid little Renault 5 GT Turbo.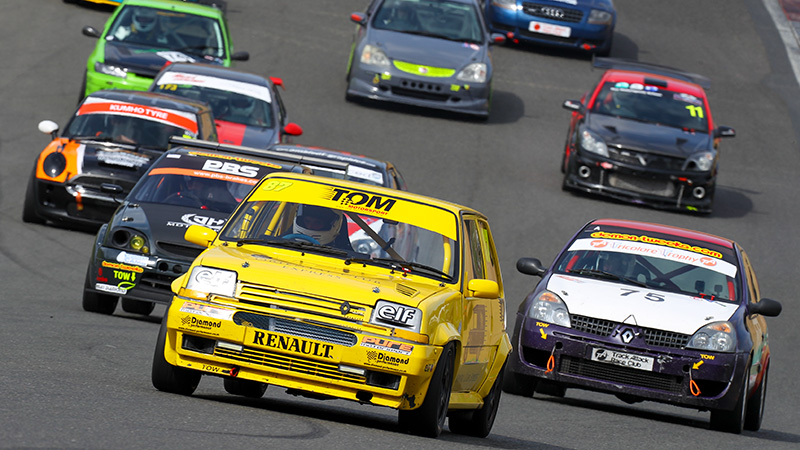 Scott Woodwiss