BRSCC & TCR UK PRODUCE A ROYAL VARIETY PERFORMANCE AT CROFT
CATEGORIES:
On a weekend that saw the coronation of Britain's new king, there were plenty of subjects vying for their own crowns over at Croft Circuit in North Yorkshire, as the British Racing & Sports Car Club and TCR UK both touched down for the second rounds of this year's touring car season. An action packed two days was in store with plenty of exciting racing guaranteed from the main event and throughout the support timetable too!
---
TCR UK TOURING CAR CHAMPIONSHIP
TCR UK returned to Croft for the first time since 2019, as Bruce Winfield looked to try and extend his championship lead after a successful opening salvo at Snetterton a few weeks prior. However, unlike the opening round when he'd qualified on the front row, this time he only managed 10th quickest on the grid for Race 1 in Yorkshire as Jac Constable put the Rob Boston Racing Audi RS3 Gen II top of the time in Saturday qualifying. An improved performance from Carl Boardley courtesy of a brand new setup put him 2nd quickest in his CUPRA ahead of the Hyundais of Bradley Kent and Callum Newsham.
A damp but drying track put everyone starting on slicks, and it was Boardley who beat Constable at the first corner to claim the lead. An early attempt to repass the CUPRA left Constable squeezed onto the wet grass, but the Audi kept close to Boardley and soon enough the pair were in a race of their own. Although the top two positions would end up remaining the same at the chequered flag, a five second penalty for track limits handed Constable the victory on the timing screen instead. 
While the top two ran away out in front, Bradley Kent battled back from 5th at the end of lap one to finally take his first podium in the Veloster, helped by misfortune for defending champion Chris Smiley after an faulty exhaust sensor forced his new FL5 Honda Civic TCR to retire mid way through. Callum Newsham's Hyundai and Jac Constable's Audi completed the top five finishers.
The partially reversed grid put Alex Ley on pole alongside Brad Hutchison for Race 2, and yet again the outside of the front row gave better traction to Hutchison as he lept into the lead straight away. A rallycross style moment exiting the Esses on the second lap forced Hutchison to drop to 3rd behind Ley and Jenson Brickley, but just a lap later and it was Brickley's turn to lead exiting Tower Bend. A very brief safety car called due to Dan Kirby being briefly stranded at the Complex closed the pack back together and with Adam Shepherd now in 2nd, it was down to Brickley to rebuild his lead from scratch.
That he did and with a clear road in front of him, Brickley reeled off the remaining minutes to take a special first TCR UK win in only his fourth start in the championship, charging to the chequered flag from Adam Shepherd in 2nd place, who was also awarded Driver of the Weekend after he hadn't even been able to race until late Friday evening, and Joe Marshall picking up his first TCR podium with 3rd ahead of Bruce Winfield and Carl Boardley.
Now there's a break just over a month before the touring cars get back to the track at Oulton Park!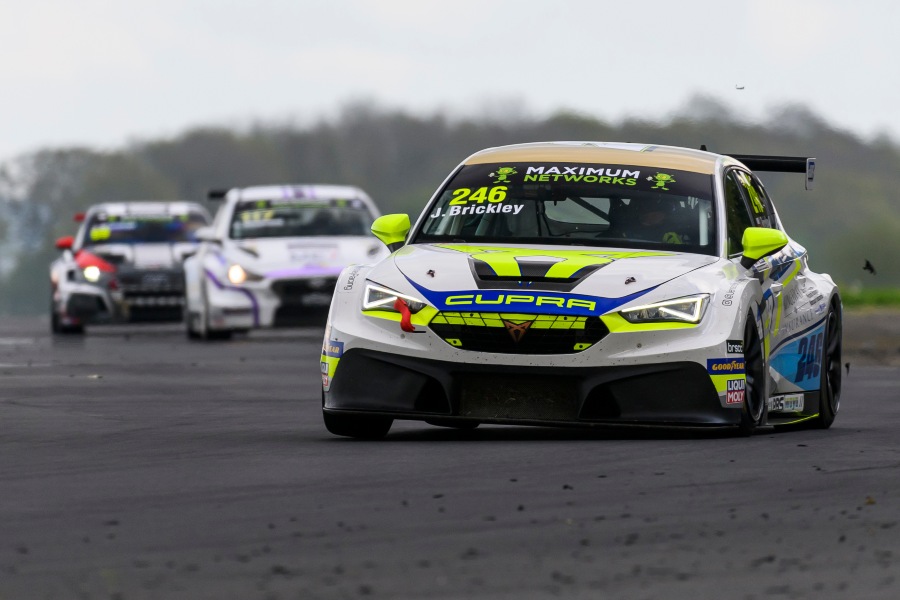 ---
MILLTEK SPORT CIVIC CUP
In what proved to be a pair of very energetic, intense and exciting 15 minute encounters, the Milltek Sport Civic Cup delivered yet more spectacular racing, thrills and spills in Croft as more top front runner cars came to the fore this past weekend.
From pole position in Race 1, Max Edmundson made the jump down to Clervaux for the first time with front row mate Will Redford on his heels straight away followed by Danny Hobson in 3rd. The jostling for 2nd continued to intensify as Edmundson tried to escape as further battles raged up and down the pack, but soon enough Redford was on Max's tail and attacked for the lead with five minutes to go.
Edmundson did his best to put up a stonewall defence against Redford with Jack Harding and Ryan Bensley also joining the battle up front in the closing minutes. What followed in the final two minutes was a thrilling multi-car scrap for victory, with positions swapping to put Bensley in the lead while Edmundson battled with Morgan Bailey and Redford crashed out on the back straight. This forced the red flag before the cars got back round to the chequer, handing Bensley the win while after Edmundson was disqualified, followed by Jack Harding in 2nd and Bailey completing the top three from newcomer Sam Kirkpatrick and Harvey Caton.
A misfire on Danny Hobson's car left Alex Kite on his own on pole for the partially reversed grid for Race 2, but a cracking start for Dan Thackeray helped him steal the lead exiting Clervaux. Caton, Bailey and Alistair Camp quickly demoted Kite to 5th and soon enough Caton latched onto the rear fo Thackeray for the lead as the pair pulled away in their own race. A short one lap safety car for a stranded Civic at the Complex bunched the rest of the pack back together led by Morgan Bailey, allowing Caton to challenge for P1 on the restart to no avail.
This gave Bailey a glimpse at 2nd, but in doing so he opened the door for Camp to squeeze past, giving the former champion the final step on the rostrum. Ahead of him, Caton's last gasp attempts couldn't depose Thackeray from the lead and Dan clinched his first Civic Cup win of the year. Bailey and Harding completed the top five, the latter maintaining his championship lead as the Civics move on to Oulton Park next time out!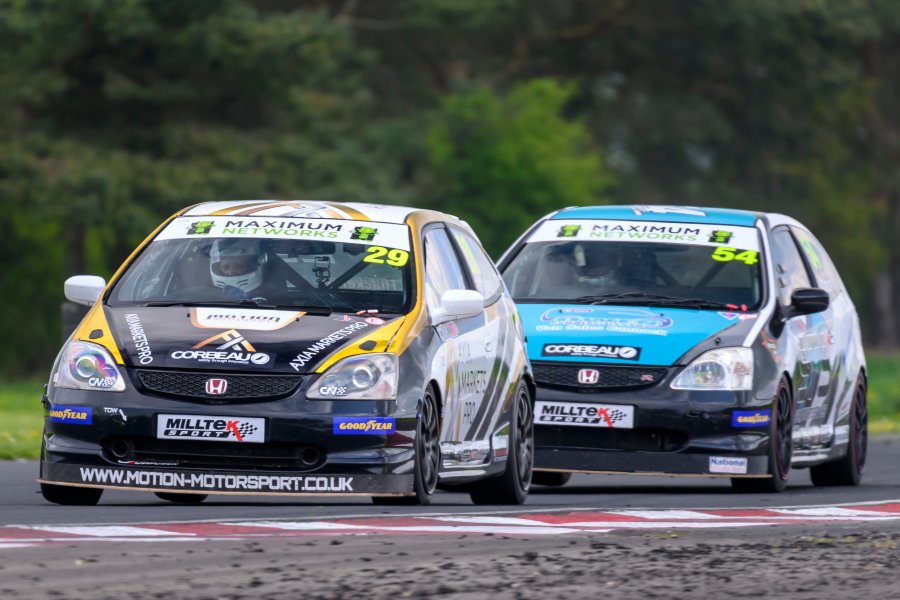 ---
BRSCC FIESTA JUNIOR CHAMPIONSHIP
With the same 22-strong entry that had populated their grid at Snetterton a few weeks prior and set a new championship record in the process, the BRSCC Fiesta Junior Championship was back in action at Croft with the real prospect of another little piece of championship history ready to be made.
Free practice pace for Ben Mulryan saw him top the times in the session in his Mk7 next-gen Fiesta Junior race car, before putting in a stellar lap in qualifying to take the new car's first outright pole by over six tenths of a second. With so much pace available to him as the first race loomed on Sunday, the chance of Ben converting pole into the first overall win for the new Mk7 FJC race car was very real indeed.
However, a poor start from Mulryan allowed Rashan Chigorimbo to lead from the outside of the front row as Ben slipped to 4th behind Dan Lewis and Ronnie Smith. After Lewis suddenly dropped back, Mulryan quickly picked off Smith seconds before the safety car was called for an incident behind the, allowing him to close right back in behind Chigorimbo for the restart. Straight away on the restart, Mulryan was in attack mode and putting P1 under big pressure.
After tailing for several corners and failing to make a move stick at Tower, Mulryan eventually found a way past into the Complex on the penultimate lap and led home an incredible eight car train all the way to the chequered flag and to make history. Mulryan scored the first ever outright win for the new next-gen Mk7 FJC car to his and his team's delight, as he was followed home by Ronnie Smith in 2nd and Chigorimbo in 3rd, both taking their first Fiesta Junior podiums in the process too.
After an unfortunate incident on the first start of Race 2, Mulryan was able to get away much cleaner on the restart to lead the pack from Smith and Lewis, with Jacob Hodgkiss and Henson Bell also making quick starts too. Lewis kept Mulryan honest from the outset while their teammates Smith and Hodgkiss had their own battle for 3rd, and the quartet would stay this way until a late red flag brought the race to a conclusion. 
This ensured Mulryan doubled up on race wins with Lewis in 2nd and Smith on the podium again in 3rd, while Hodgkiss ensured a 1-2-3-4 lockout for Race Car Consultants. Benjamin Doughty also drove superbly in his first weekend in the new car to pick up 5th place in the second race, ensuring four Mk7 FJC cars in the top five. Now let's see if they can keep that momentum and form up next time out at Oulton Park!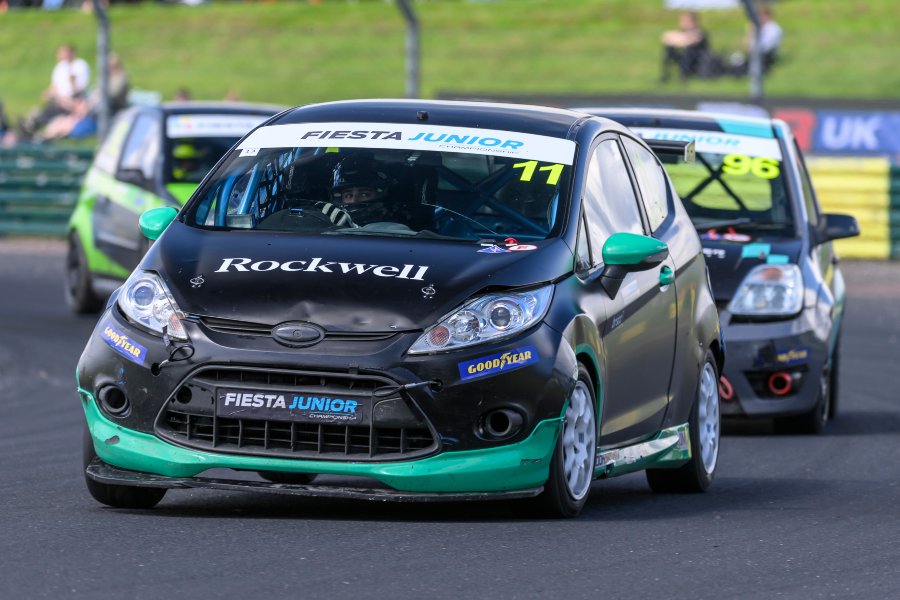 ---
GAZ SHOCKS MAZDA MX-5 CHAMPIONSHIP
The GAZ Shocks Mazda MX-5 Championship has showcased plenty of exceptional close racing over the first two weekends of their 2023 season with a new crop of front running drivers coming to the fore. Championship leader Thomas Langford wasn't able to make the trip to Yorkshire, meaning that the rest of his rivals had a prime opportunity to steal some big points hauls in his absence.
Adam Sparrow took pole for Race 1, and he used the better traction off the line to beat Steve Foden into Clervaux for the first time. Immediately both Foden and Tom Smith were on Sparrow's tail from the outset, applying big pressure as the leading group continued to stack up and grow behind them. Foden quickly passed Sparrow at Tower on Lap 2, and from here Adam and co would find themselves chasing Steve. First Sparrow and then Tom Smith took their turns in pursuing Foden, and while Sparrow dropped to the back of the top five it was Jack Noller that put himself into contention in 3rd place.
Despite their best efforts, none of Steve Foden's pursuers could stop him taking his fifth win of the season and in a row in 2023, crossing the line only just ahead of Smith in 2nd and an overjoyed Noller taking his first podium in 3rd, while Jason Greatrex and Sparrow completed the top five.
Foden picked up where he'd left off the next day as he led from the word go in Race 2 as Noller and Sparrow mounted the attack this time from the opening lap. The early fighting between Noller and Sparrow for 2nd only benefitted Foden further initially, Steve only being reeled back in once they'd stopped. Sparrow went on the attack shortly after the start, but his failed attempts only brought Noller and Greatrex into the mix as the race ticked over. 
With Sparrow holding back the rest of the group to defend 2nd place, it only allowed Foden to edge away in the closing stages and completed a double in the end by 1.7 seconds from Adam Sparrow, while Greatrex survived late pressure from Noller to hold onto the final podium place.
Sparrow once again took the lead from lights out in Race 3, slightly shortened due to incidents elsewhere on the timetable. Greatrex quickly moved up to 2nd and put Sparrow's lead under threat, before Jason had to deal with his own attentions from Foden behind him, giving Sparrow brief respite. The three cars continued to argue over the lead during the next 8+ minutes with Noller, Adam Craig and Ted Bradbury also throwing themselves into the mix in the closing stages.
Despite all the pressure, Sparrow held back the tide and clinched his second win of the season, closely followed by Foden in 2nd place while Noller only just missed out on his second podium of the weekend in the drag race with Greatrex to the line; Adam Craig completed the top five at the flag.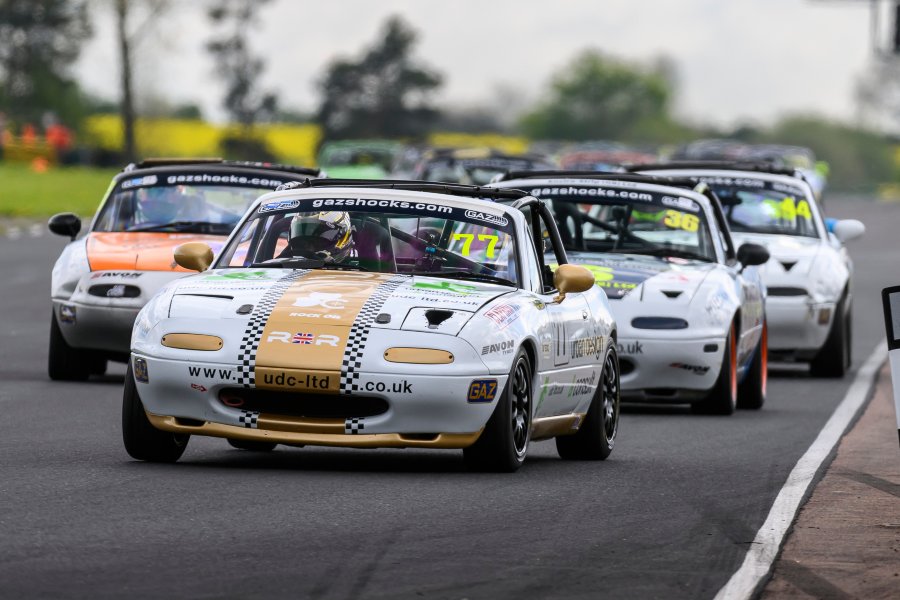 ---
DOWNFORCE RADIO MAZDA MX-5 CLUBMAN CHAMPIONSHIP
Saturday at Croft Circuit welcomed the contenders of the Downforce Radio Mazda MX-5 Clubman Championship with two more races in store as the first half of the season was already beginning to near its conclusion. Despite three different winners from the first four races it was Paul Bateman that led the points heading to North Yorkshire, but wasn't one of the aforementioned victors. At least, not yet…
Harry Deane took a surprise pole on Saturday morning in the ex-Brian Trott Mk1 MX-5, but by the time the pack arrived at Clervaux at the start of Race 1, it was Bateman leading thanks to a super start from the second row. This initial lead would only last until Sunny In-Out when running wide allowed Deane, Jon Pethick and Matt Fletcher past before the opening lap was done. Bateman quickly worked his way back to 2nd past Deane and Fletcher, quickly catching back up to Pethick and retaking P1 before half distance.
With Fletcher following him through to 2nd, the big task was for Bateman to hold on for the remaining minutes. Thankfully, his efforts were successful and despite late pressure from Fletcher in the final couple of laps, Bateman held his nerve to score his first MX-5 Clubman win of his career and of the season. Fletcher maintained a strong 2nd place while Jon Pethick held off Harry Deane for 3rd and Beau Parry had one of his best results to date with a solid 5th place.
Bateman was incredibly lucky not to end up in the barriers exiting the Esses at the start of Race 2, after losing traction on the exit forced him to stand on the brakes to avoid an accident. This left Fletcher out in front followed by Pethick and Deane, while Bateman began his climb back up the pack.  Pethick went on the attack just past half distance to try and claim the lead form Fletcher, but an unsuccessful attempt only left him to deal with Deane behind as Fletcher continued on.
The order remained unchanged until the chequered flag with Fletcher picking up his second win of the season, while Pethick and Deane remained status quo to join him on the podium ahead of Beau Parry who went one better in 4th and Haydn McDonald completed the top five; Bateman, meanwhile, made steady progress back up the order to finish in 11th place.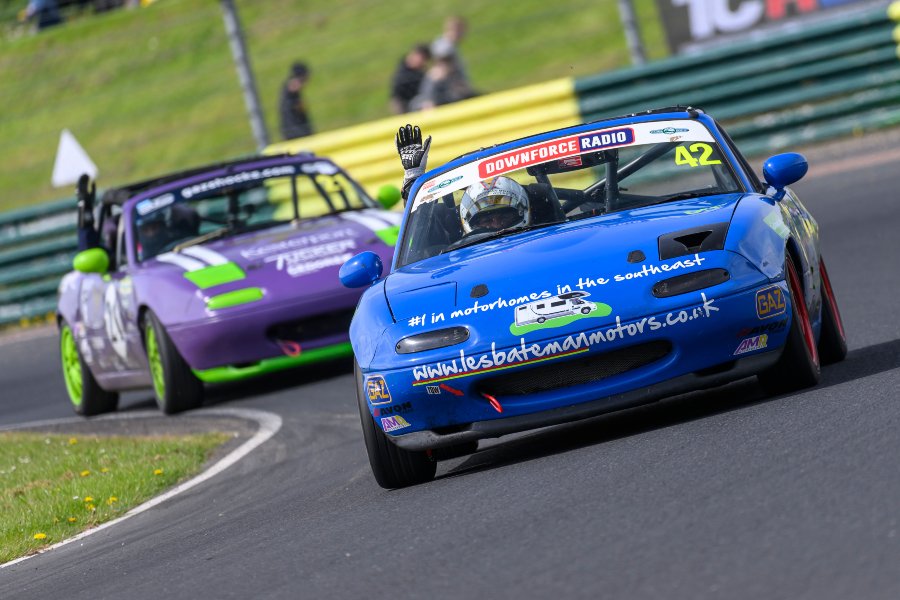 ---
CLAPHAM NORTH MOT MAZDA MX-5 SUPERCUP
Going into the weekend at Croft Circuit, Aidan Hills was proving somewhat difficult to knock off the top spot in the Clapham North MOT Mazda MX-5 SuperCup. Five wins out of the first six races had given him a sizable lead of over 70 points heading to Yorkshire and after qualifying on Saturday morning, a front row start alongside Race 1 pole sitter made it seem as though more of the same was in the pipeline.
A first lap set of incidents forced a red flag before opening lap was complete, but on the restart Hills appeared to move a little too quickly before the lights went out (something that would come back to haunt him later) and his stumbling start left him back in 2nd behind pole man Fletcher. Straight away, Hills went on the attack and after a couple of laps of tailing Fletcher he was able to make a pass stick through the Jim Clark Esses. Fletcher kept in close attention for the remainder of the race, but even though he couldn't get past on track, he would still get a little help from the clerk of the course.
Hills' jump start had earned him a 10 second penalty and once applied at the end of the race, it meant that from crossing the line first he was demoted off the podium and down to 4th instead. This gave Fletcher a first win of the season overall in Pro Class followed by Ali Bray in 2nd and James Cossins in 3rd. In Club Class, Kamal Kalsi picked up the victory ahead of Wilbur Tiley and Bruce Robinson.
An off for George Grant forced another first lap restart for Race 2, Hills not only timed his start correctly this time but also took the lead on the run to the first corner with relative ease. Again, Fletcher tagged along as the pair pulled away from the chasing tussle for 3rd place headed most of the way by Ali Bray, and while Fletcher came very close in the last couple of laps to repassing Hills, he had to settle for 2nd on track once again. 
This time, the positions stuck and Hills took win #6 ahead of Fletcher with Bray on the Pro podium once again. Clive Powles took his turn as Club winner this time ahead of Kalsi and Tiley in 2nd and 3rd respectively.
The partially reversed grid landed Leigh Britten pole alongside Fraser Fenwick for Race 3, and it was Fenwick who won the hole shot into Clervaux ahead of the quick starting Sam Heading who wasted no time in climbing to 2nd place. Incredibly, Heading just put his nose in front to lead the opening lap and held on to P1 as Fenwick gave chase on his tail, managing to slip by again exiting Tower with James Cossins following through and immediately challenging for the lead.
Despite daring to go wheel to wheel with Fenwick more than once over the next couple of laps, Cossins did manage to squeeze past with a huge dive into Sunny In that instantly paid off, allowing him into P1 while Richard Amos and team leader Hills pressured Fenwick for 2nd. Aidan would indeed make his move at Tower, followed by Will Blackwell-Chambers a few corners later and from here the order was set on the podium. 
A late move from Hills allowed him to pick off Cossins and take a 7th win from nine starts, while Blackwell-Chambers was just relieved to end a tough weekend on the Pro podium after he stole 2nd on the final lap to demote Cossins to 3rd. Wilbur Tiley took his turn as Club class winner, this time ahead of Bruce Robinson and Christopher Ginn.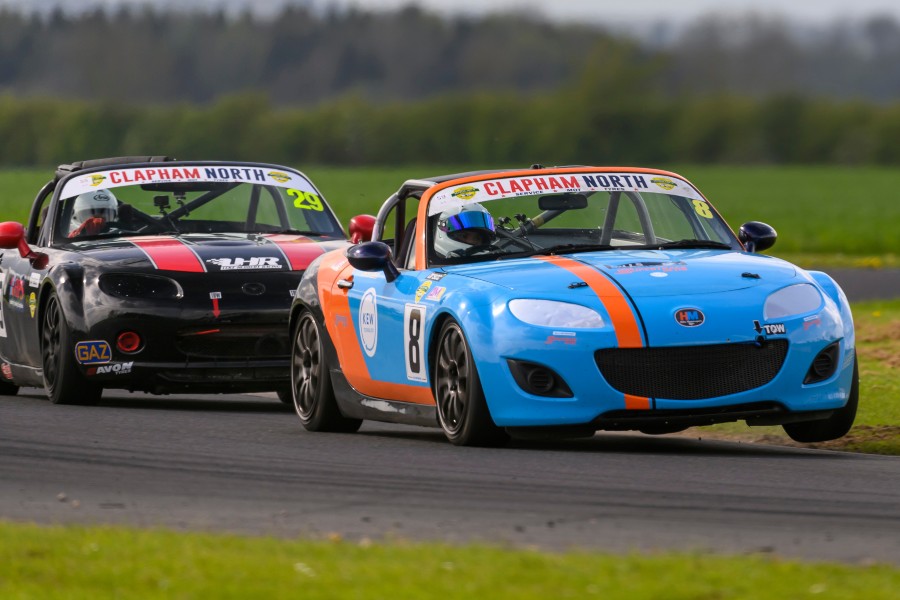 ---
NANKANG TYRE CITYCAR CUP CHAMPIONSHIP & STUDENT MOTORSPORT CHALLENGE
Elliot Lettis left Snetterton firmly cementing his status as initial favourite for the Nankang Tyre CityCar Cup title challenge for 2023 with two wins and a second place. Now with Croft next up on the schedule he was looking to continue the fantastic form his showed and try to rack up more race wins to further build his initial points lead. With the Student Motorsport Challenge also on the grid, it was another chance for Richard Jepp to ensure Northbrook College's 100% win rate remained intact with the Challenge's biggest entry to date with eight teams, including newcomers Queen Ethelburga's and Wiltshire College.
A first corner incident caused an initial stoppage, leaving a 10 minute restart for pole man Stuart Bliss to try and gun for victory in Race 1, with runaway SMC pole sitter Jepp alongside for company. Straight away the top two and Lettis ensured they had the podium places locked down, although it didn't take long for both Bliss and Lettis to drop Jepp and fight in a race of their own.
Getting a better run through the Sunny corners in the closing stages, Lettis carried enough momentum to complete the pass on Bliss into the complex and take the lead with three minutes to go.  Despite pushing hard to retaliate, Bliss didn't have enough to repass and it was Lettis who held firm to capture his third win, while Jepp did the same in fending off Christopher Mackenzie in the final couple of laps to remain 3rd overall. 
Jepp, of course, also dominated the SMC for Northbrook, winning at a canter once again – but a bigger story was behind him in 2nd. In their very first race in the Challenge, Queen Ethelburga's sixth form race team incredibly took an incredible 2nd place courtesy of Arthur Simondet's excellent driving, allowing him to pick up the runner up spot ahead of Duncn Horlor for Barracksport.
Lettis made sure he led from pole into Clervaux first time starting Race 2, but another first lap safety car also saw the arrival of a sudden inclement rain shower to make the circuit a little slicker on the restart after just one lap. Once again it was Lettis versus Bliss for victory with the pair nose to tail in another one on one duel out in front, only this time Lettis had enough to ensure Bliss couldn't attempt a pass. 
The race was halted just before its conclusion after the West Suffolk College car driven by Leon Wilde ended up on its side at the Complex, handing Lettis his second win of the weekend ahead of Bliss, while Jepp again scored 3rd overall and another SMC win, followed home this time by Horlor in 2nd for Barracksport and Jack Wheeler fighting back from a retirement the day before to pick up 3rd for East Surrey College.
By some amazing fortune, the random partial grid draw landed double winner on pole yet again, only this time with Craig Flynn alongside him on the front row. A fracas exiting the Esses saw Bliss caught up in the melee as he spun down the order just a handful of corners after the start, leaving Dominic Fletcher to take up Autobliss honours chasing Lettis in 2nd place and Bradley Porter in 3rd.
As Lettis further extended his lead with Fletcher attempting to give chase, Porter was eventually closed down and passed by Christopher Mackenzie after a bold move exiting Hawthorn, but he was able to keep Jepp at bay for the remainder of the race. As for Lettis, he was on a pace that no-one seemed to match and capped a near perfect weekend by completing the hat-trick of wins ahead of first time podiums for Fletcher and Mackenzie. As for the SMC top three, it was six out of six for Jepp and Northbrook, yet again victorious and leaving Wheeler for East Surrey and Horlor for Barracksport firmly in his wake.
Scott Woodwiss