BRSCC & TCR UK READY FOR A LATE SUMMER SOIREE AT DONINGTON PARK
CATEGORIES:
The 2023 season is just flying by as September is already upon us, and this weekend marks the BRSCC's second visit to Donington Park in Leicestershire just as summer begins to give way to autumn – although you'd never know it given the late influx of warm weather. This weekend sees the National circuit in service as the next chapter in this year's TCR UK Touring Car Championship prepares to be written, along with packed grids across the board for one of the Club's busiest race weekends of the season as more enthralling sprint and endurance racing is in store.
---
TCR UK TOURING CAR CHAMPIONSHIP
Just four races remain to decide who leaves 2023 as the latest TCR UK Touring Car champion, and Donington Park National is the next stop on this year's tour. The opening rounds at Snetterton still feel like they happened yesterday, but now with the main contenders locked in for the battle to become this year's number one, it's going to be a struggle for supremacy between now and the finale at Brands Hatch.
Carl Boardley added another victory to his tally at Silverstone, thus aiding him in extending his lead at the top of the standings to fourty five points. This means he's in the pound seats as he travels to Donington this weekend, but will also be feeling the most pressure in order to keep the rest of the pack at arm's length. Another clean and trouble-free weekend is what he needs to head to Brands Hatch with one hand on the championship trophy, but knowing how determined his competition is, they'll be setting out to make life as difficult as possible this weekend.
Bruce Winfield was the early leader in the points, but heading to Donington he's back in second place. Wins at Snetterton and Oulton Park helped his cause massively, but his fortunes and pace have resembled a yo-yo more often than not this year. A race winner one weekend yet struggling to keep with the leaders the next, Bruce has had to deal with differing pace throughout the season, and after bad luck at Silverstone saw him performing damage limitation, he knows that scoring well at Donington is critical to stop Boardley from running further out in front.
Third place is occupied by Jenson Brickley who has been mighty impressive in his first touring car season with victories and podiums aplenty. He currently shares the place with Jac Constable on 227 points apiece, although Jenson has more wins and therefore holds the place currently on countback. Jac too has been a race winner this season and taken his share of podium finishes too, but results in general have fluctuated up and down the top ten depending on fortunes. Both Jenson and Jac will be optimistic that Donington can provide positive fortunes.
Alex Ley will be on a high off the back of his Silverstone victory, while teammate Adam Shepherd will just be praying for some good fortune that lasts all weekend. A superb pole position at Silverstone was only followed by mechanical issues in the first race, then contact in the second which forced him out of contention. The pace is there without question and his results don't reflect just how fast he is, but bad luck has plagued him more often than not and he will be hoping that something good comes from Donington this time.
In all, 22 cars will line up on the grid for Sunday's pair of races, a grid which will feature the return of Civic Cup points leader Alistair Camp in his Pro Alloys Racing Hyundai, along with Mark Smith also set to make his first start of the season aboard his Richmond Fire Motorsport prepared CUPRA.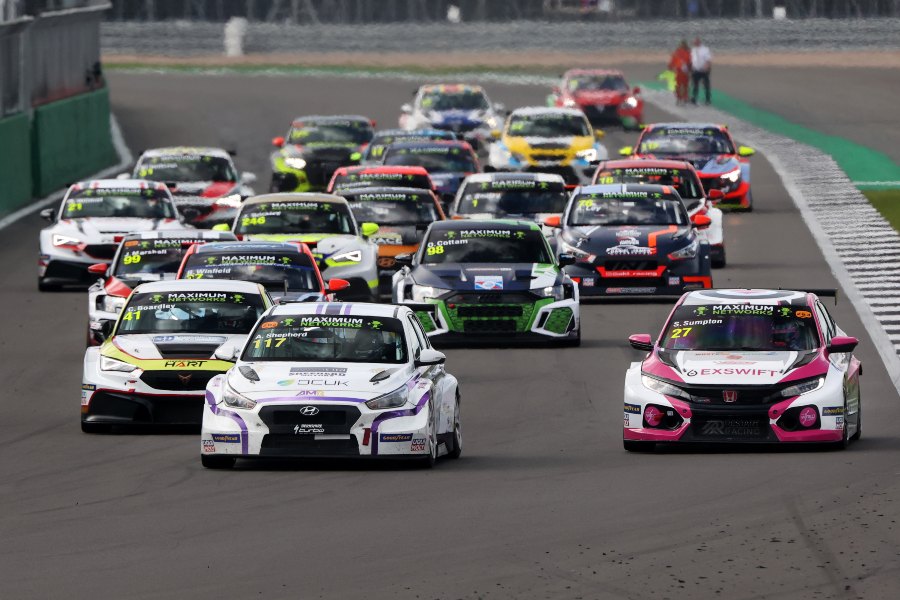 ---
FUN CUP ENDURANCE CHAMPIONSHIP
If there's one thing that's for certain in 2023, is that the Fun Cup Endurance Championship has really stepped up in terms of the quality and level of entertainment and excitement in its races. That was evident last time out at Silverstone, where it produced quite simply one of the best four hour encounters the championship had seen for a very, very long time with so much great racing, intense battles and a winning margin of less than a tenth of a second. Donington Park is another venue that typically produces a thrilling FunCup Endurance race or two, and we expect this year's visit to be no exception.
Silverstone turned out to be a weekend where the main title contenders both hit their own problems. Early points leaders Team Olympian were caught up in contact early on, forcing them out of contention and having to essentially drive in damage limitation mode just to salvage as many points as possible. As for UVio/ Hofmann's Motorsport, their chances of a podium finish literally ground to a half at Luffield just minutes from the finish as they wound up finishing deep in the pack in the end. Both are now second and fourth respectively, having allowed others to take full advantage.
The team that took the most was Viking/Ursus Capital who duelled in the closing stages back and forth with returning former champions Racelogic before a photo finish saw them just cling on to victory at the chequered flag. They became the third different winners of 2023 alongside Olympian and UVio and the win completed a trio of podiums from the last three races to lift them up to third in points, just one ahead of UVio and thirteen behind Olympian.
Despite not winning a race in 2023 thus far, it's PLR Racing that in fact lead the Fun Cup standings by almost twenty points over Olympian with three races left to go. This is down to their incredible consistency that has been them never finish a race lower than sixth all year and take two podiums along the way for good measure too. This rock solid form while others had faltered has lifted them up to the top of the standings, and now the challenge will be to stay there even with a healthy lead.
Other teams who are sure to showcase their form include Greenheath, GT Radial, EDF Motorsports and Axiametrics, the latter of the four putting on an incredible comeback drive at Silverstone to go from a lap down at one stage to stealing third on the final lap of the race. Amongst the rest of the teams lining up, Racelogic are back for more as it's clear that Julian Thomas and David Denyer's Silverstone cameo reignited their love of the series. Whether or not they can spoil the party for the championship contenders once again remains to be seen.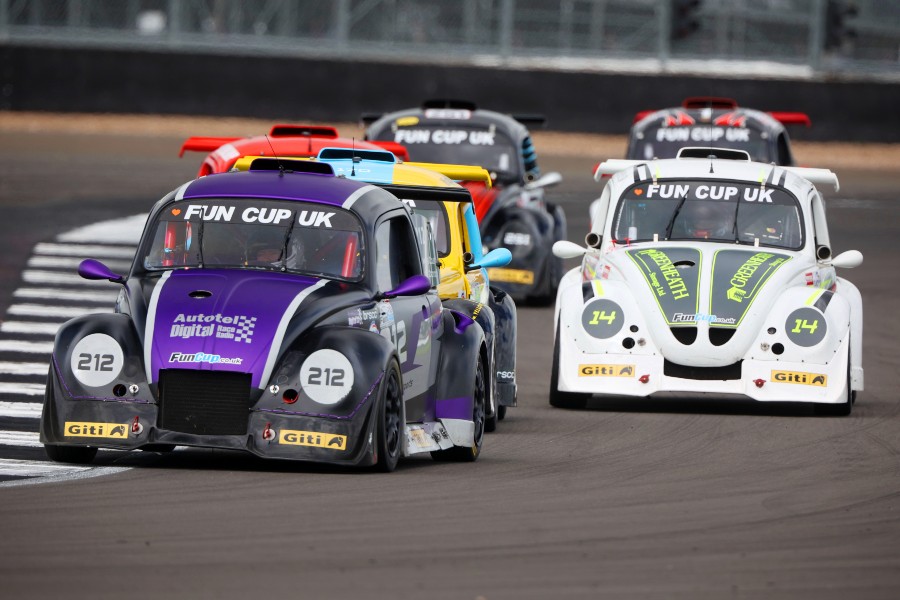 ---
BRSCC FIESTA JUNIOR CHAMPIONSHIP
Coming off the back of an all-time high on many fronts last time out at Silverstone, the BRSCC Fiesta Junior Championship is positively booming right now as it currently sports the largest group of drivers it's ever had in one season and has produced exceptional racing up and down the order everywhere it's gone. This weekend, the championship is back in action at Donington Park, where we're expecting another grid of some 26 drivers set to turn out, including another four brand new names making their debuts – that's ten new drivers in the space of two race weekends!
The all-important battle at the top of the championship continues to rumble as Mk7 leaders Ben Mulryan and Daniel Lewis hold first and second both overall and in class. The new-spec Mk7 Fiesta Junior race cars have not only expanded almost into double figures, but they've also gotten faster and faster as teams and drivers finally begin to figure out how to get the most out of them. This was evident in the second Silverstone race, where Mk7s filled out seven of the first eight places in the result including a complete lockout of the overall podium.
As for Mulryan and Lewis, both had slightly mixed fortunes at Silverstone. Mechanical issues in qualifying forced Mulryan to start both races from deep in the pack, and he managed to pick up the equivalent of third place points in each to take his lead to fifty points at this stage. This essentially puts him an entire race win ahead of the rest of the field at least, with Lewis recovering from a race one retirement to charge through to claim the points for a win despite finishing second on the road.
This was due to rookie guest Finn Leslie making an instant impact on his Fiesta Junior debut. Putting his Mk7 on the front row for both races, he went on to take second overall in the first race before charging to an amazing first win in only his second ever start. Being a guest, he was invisible for points, thus allowing those behind to pick them up instead. Finn will hope that his Silverstone form carries over to Donington and that he can pick up more race wins.
Sam Neser and Luke Hilton currently lead the charge for the Mk6s, both third and fourth in the standings respectively. Luke picked up another overall win at Silverstone before a puncture in race two lost him points, but his form at times has seen him comfortably as the fastest man on the grid, but other times he's suffered bad luck and dropped back. He will wish to keep on pushing and trying to reduce the gap to the top two, provided he can get in front and stay there. Neser, meanwhile, had his own misfortunes at Silverstone and will be fired up to get back on the pace to keep his rival in touch.
Jacob Hodgkiss completes the overall top five having taken a podium at Silverstone and is getting stronger with every race he completes. Ronnie Smith's had a superb first season to date sitting in sixth ahead of Lucas Hayden, while Marcel Laczycki, Ben Doughty and Jensen Bell currently complete the top ten. This weekend will also see another four new drivers make their FJC debuts, with Joshua Watts, Jenson O'Neill-Going, Thomas Brown and Charlie Ellis all lining up on the grid for the first time.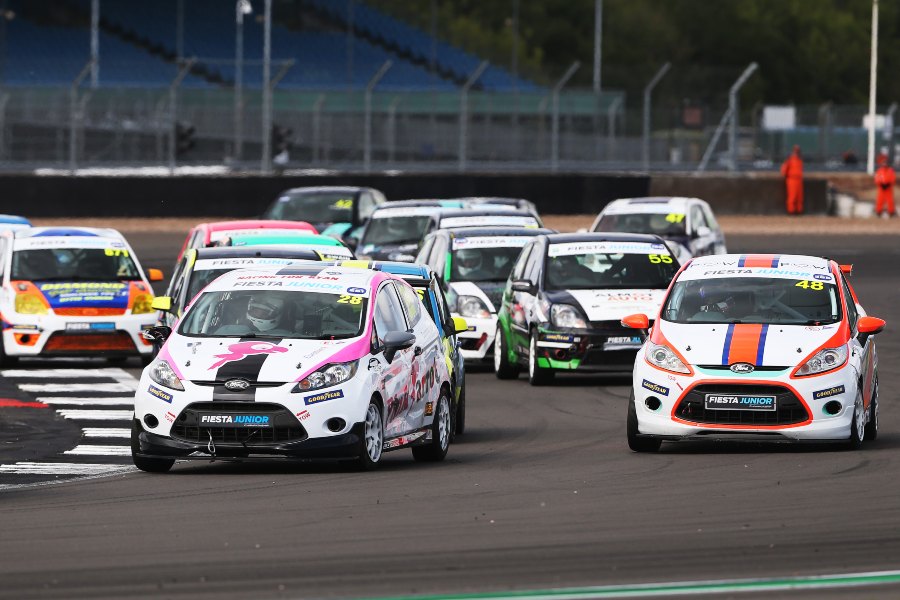 ---
GAZ SHOCKS MAZDA MX-5 CHAMPIONSHIP
Just six races remain in this year's GAZ Shocks Mazda MX-5 Championship and the battle at the head of the pack is getting closer and closer with each passing weekend. Donington Park in Leicestershire is the penultimate stop on the 2023 calendar with the National circuit in use this weekend, and also being on the TCR UK support timetable with a field of over thirty cars on the entry list, it's set to be one of the most entertaining and energetic weekends of the season.
Two more wins at Cadwell Park took points leader Steve Foden's tally to twelve for the season and with a dropped score lead of just under fifty points, the championship is in his command. It's been quite the journey for Steve as he's had to battle back from not even starting the first race of the season, but having taken a race win at every single event so far this year and only finished off the podium just once at Snetterton, it's his near bulletproof consistency that has catapulted him into the pound seats for championship contention.
His closest rival is Adam Sparrow, who has been one of a few drivers to have a real breakout season in MX-5s. A victory in the wet at Silverstone at the start of the year set the tone for what was to come, and since then he's increased his count to four with a number of podiums to go with it. Even leading the standings at one stage, Adam has really pushed himself to become one of the fastest drivers in the championship and although the advantage is still with Steve, there's no way that Adam's giving up the pursuit.
Jason Greatrex is both third in outright points and the leader in Masters points too, and despite coming close on more than one occasion to taking a win he's had to settle for podium finishes at best. No stranger to race wins and success in previous years, Jason will keep on pushing until the end of the year as he knows that capitalising when others slip will give him the chance to close up further to the top two. Especially since the results from the final races of the year at Silverstone next month cannot be dropped.
Rookie sensation Ted Bradbury is only four points behind Greatrex in fourth, while Thomas Langford currently completes the top five and is just another twelve back heading to Donington Park. It appears as though it'll be these three duelling over the final podium place in the standings while still pushing to try and disrupt both Steve and Adam ahead of them. Ted already taken pole positions, podiums and his first win at Snetterton this year, while Thomas led the championship in the early stages before missing Croft, forcing to catch up on his return.
Also keep an eye on the likes of Luke Pullen, Adam Craig, Owen Mills, Oliver Graham, Jack Noller, Neil Chisnall and Harry Storer, all of which are usually found amongst the leading group or at least in and around the top ten. The Donington Park National circuit typically lends itself to superb racing, and this weekend is expected to be no exception.
---
DOWNFORCE RADIO MAZDA MX-5 CLUBMAN CHAMPIONSHIP
2023 has proven to be the most competitive, enjoyable and intense Downforce Radio Mazda MX-5 Clubman Championship season since it started two years prior. All throughout this year, the battles at the head of the field have been thrilling to watch. Donington Park's National circuit is next on the schedule as we reach the tail-end of the season, and there's a title battle that still needs to be resolved.
In control of that title battle right now is Matt Fletcher. After recovering from a shaky start at Silverstone, Matt has picked up on the form he had last season and run with it throughout. The only blip from Brands Hatch onwards was a final corner error that cost him victory at Snetterton, but aside from that he's been a constant at the head of the field and continues to lead the way by 23 points at this stage. This includes five wins to his name, and Donington Park will be his next chance to increase that to as many as seven.
Jordan Pimley is his nearest challenger, and he's been having the season of his life with Close Racing this year. From his first win at Brands Hatch to consistently pushing on as one of the established front runners, Jordan's in a rich vein of form right now as he comes to Donington off the back of an amazing pair of wins at Cadwell Park which followed a sensational last-to-first drive in the wet at Snetterton prior to that. Pimley is by all means up for the fight, and even with only four races to try and turn around the deficit to Fletcher, he won't give up until it's over.
Even though Jon Pethick may not have managed a race win yet this year, his consistency has helped him to rise to third in the points by this stage. Seven podium finishes have been an indicator of said consistency, but Donington will again be another chance for him to reach the top step. Behind him, there's a storm brewing over fourth place as Jack Warry is currently seven points ahead of a tie for fifth between Del Paice and Jamie Turner. Del also leads the Masters contest too, so he'll have double the pressure to handle too.
This weekend is also a bumper line-up at that, with a maxed out entry of 40 cars turning out for one of the biggest events of the year for MX-5 Clubman, as it once again runs on the support timetable for TCR UK, meaning this is set to be a memorable occasion all round.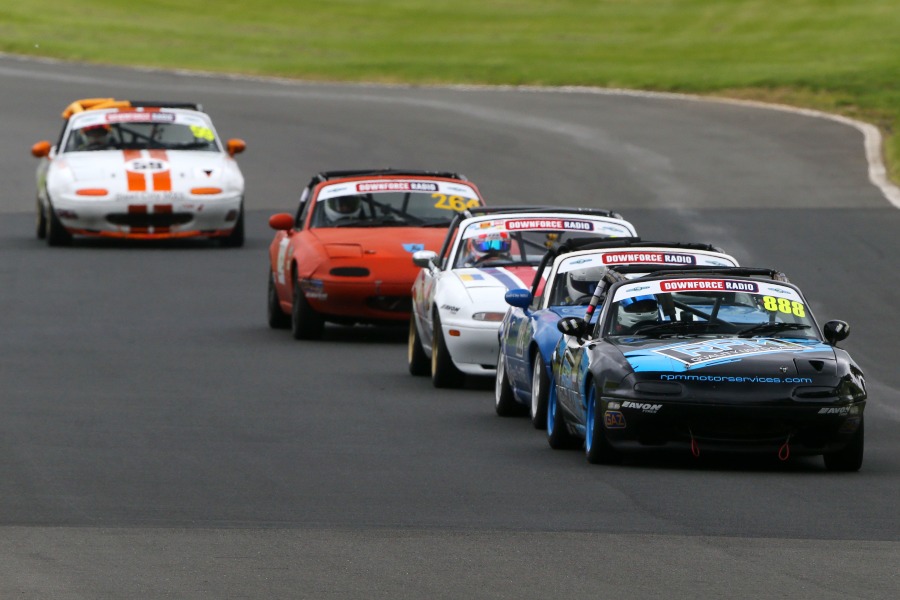 ---
CLAPHAM NORTH MOT MAZDA MX-5 SUPERCUP
The Clapham North MOT Mazda MX-5 SuperCup heads into the final stretch of the 2023 season as it visits Donington Park's National circuit this weekend with championship battles honing in on their conclusion in Pro, Club and in Masters. Once again supporting TCR UK as they did at Croft, the championship is finely poised with just six races to go, with each class providing its own unique stories.
Pro class is looking increasingly likely that Aidan Hills has it all to lose. From the start of the season, he's been the man to beat on most weekends but has found competition getting stronger and closer as the year has gone on. Despite this, his current lead on dropped scores is over seventy points, meaning he would need monumentally bad luck to be caught and overtaken. However, with six races left to run, anything can happen as we know.
Aidan will just be looking to score well and attempt to increase his win tally further, as he currently sits with ten for this year to date. Adding another at Cadwell Park along with two more podiums only served to enhance his lead, so more of the same will be required this weekend. Teammate James Cossins is his closest rival in a current Hills Motorsport 1-2 at the top of Pro class. James is yet to win so far this, but has come close on several occasions including four second places. Donington will be another chance to finally climb the top step for the first time in 2023, but his task will still be tough as usual given the strength of his competition.
That competition comes in the form of Patrick Fletcher, who is just three points away on dropped scores from Cossins and has every chance of stealing second back. Patrick has taken three wins to date, most recently a double in changing conditions at Anglesey in both the dry and in the wet, but it was his rough start to the season that's forced him to play catch-up since then. Nonetheless, he's been able to take wins either by beating Hills in a straight fight or taken advantage when Aidan has lacked a little pace or hit trouble, which hasn't been often. Both Patrick and James will hope they can give Hills the runaround this time.
Others in Pro class who are sure to try and stake their claim include Tom Griffiths, Will Blackwell-Chambers, Leigh Britten and Ali Bray to name a few. Tom's second season in SuperCup has seen him show glimpses of the pace needed to win races, and all he needs is a weekend to string it all together and score a first victory. Blackwell-Chambers has had a character building defense of his title and is also awaiting his first win of the season too. While form and fortunes have been something of a rollercoaster, he's still be a regular front runner whenever things have gone right, so he'll be hoping Donington is kind to him this weekend.
Britten will be on cloud nine after finally scoring a first SuperCup win at Cadwell Park last time, having to resist race long pressure from many of the above names to avenge coming up short by two laps at Anglesey due to mechanical issues. As for Bray, he's looked deadly whenever he and the car are in sync together, so don't be surprised to see the AB Motorsport boss muscling into the fight whenever he gets the chance.
Club class is a slightly more open affair compared to Pro at this stage of the season. Robert Way leads the class on dropped scores, albeit he only has a 28 point advantage over second placed Kamal Kalsi while Wilbur Tiley currently holds third but is a further 26 back with six races left. There's also a competitive fight brewing over fourth in Club class between Bruce Robinson and Chris Ginn, the pair only separated by nine points and set to take their scrap down to the wire.
As for Masters, Nick Rutter leads this table but was caught substantially by teammate George Grant at Cadwell Park. The Clapham North man scored a perfect hat-trick of Masters wins in Lincolnshire to his delight, and this has seen him leap to just eleven points off the lead. If his form continues like this and he continues to outscore Rutter, there's a real chance he could even steal the crown. Robinson and Ginn will have more cause to battle it out given that there's just two points between them here in the fight for third, while former champion Martin Tolley may well have to conceed that fifth is the best he'll end up managing this season, after bad luck at Cadwell saw him lose a chunk of points with mechanical issues.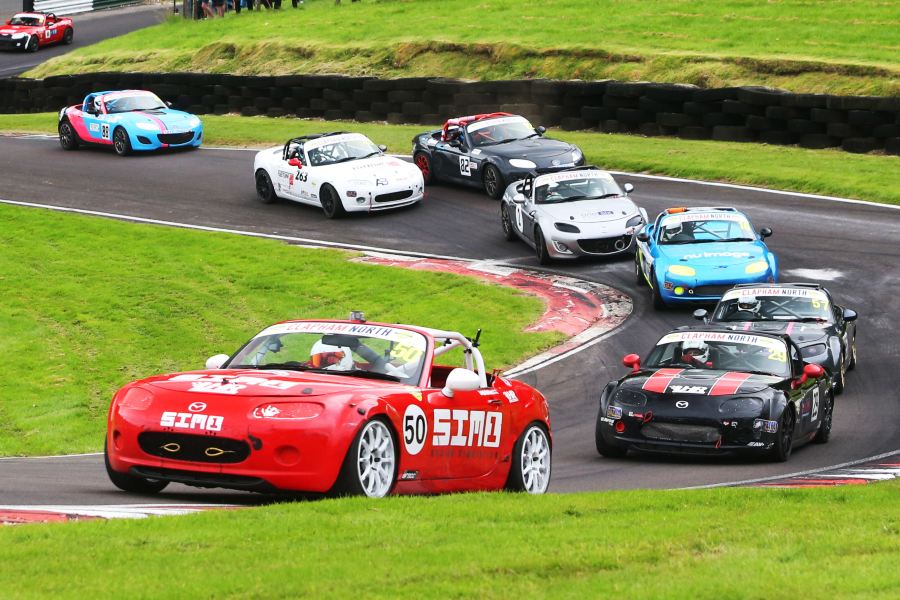 ---
NANKANG TYRE CITYCAR CUP & STUDENT MOTORSPORT CHALLENGE
It's been one entertaining season for the Nankang Tyre CityCar Cup and Student Motorsport Challenge in 2023, as the little pocket rockets have put on a superb show wherever they've touched down throughout the season. Now they arrive at Donington Park for the penultimate meeting of the year, as they prepare to tackle the National circuit as part of the support timetable for TCR UK this weekend. An exciting occasion has produced a grid of no less than 31 entries, just seven off the number of cars that lined up for the first ever championship race all the way back in 2021 in CityCar's first full season.
The question we keep on asking every single time is simply "Can anyone stop the near domination of this season by Elliot Lettis?", something which continues to lean closer and closer towards a no. Brands Hatch produced another brace to add to Elliot's count for the year, taking him to eleven victories from fifteen races which is an incredible feat. One even has to wonder if he's trying to emulate a season like that of 2021 champion Nic Grindrod who was near untouchable to become a dominant winner of the very first CityCar title.
However, Elliot's not having fortunes totally his way all the time, as he has been beaten four times by main rival Stuart Bliss. In fact, Stuart has only finished a race lower than second only once this season, meaning he's stayed latched onto Lettis' tail the entire time. Indeed, despite Elliot's win record this year, he's only ahead of Bliss by 24 points and that means it's not over by any stretch at this stage. With four races left, it's looking increasingly likely that it's Lettis' title to lose, but as we know – anything can happen in motorsport.
Richard Jepp is comfortably in third place, almost in something of a "no man's land", given his gap to the drivers around him. The Team Northbrook Racing man is also focused on trying to earn his squad a second SMC title, but is showcasing just what some of these teams can really do being this high up the standings at this point in the season. It leaves him clear of the fight over fourth between Richard Snuggs and Bradley Porter, where Richard is having his best season to date that's included a first podium at Anglesey, while Bradley has really established himself as a regular top five and top ten runner. This battle over the remaining top five spots could go right down to the final race at Silverstone.
Over in the Student Motorsport Challenge, Northbrook Racing's lead continues to be impressive, as they are more than fourty points ahead of East Surrey College in second. East Surrey's Jack Wheeler has been in great form recently having taken four SMC wins from the last six races in a bid to reduce the gap. While he's made a small dent, a DNF in the third Brands Hatch will have been a set back in his aims to catch Jepp and Northbrook. Barracksport currently hold third place in the points, ahead of West Suffolk College in fourth and Queen Ethelburga's in fifth, the sixth form team doing an incredible job in their first season.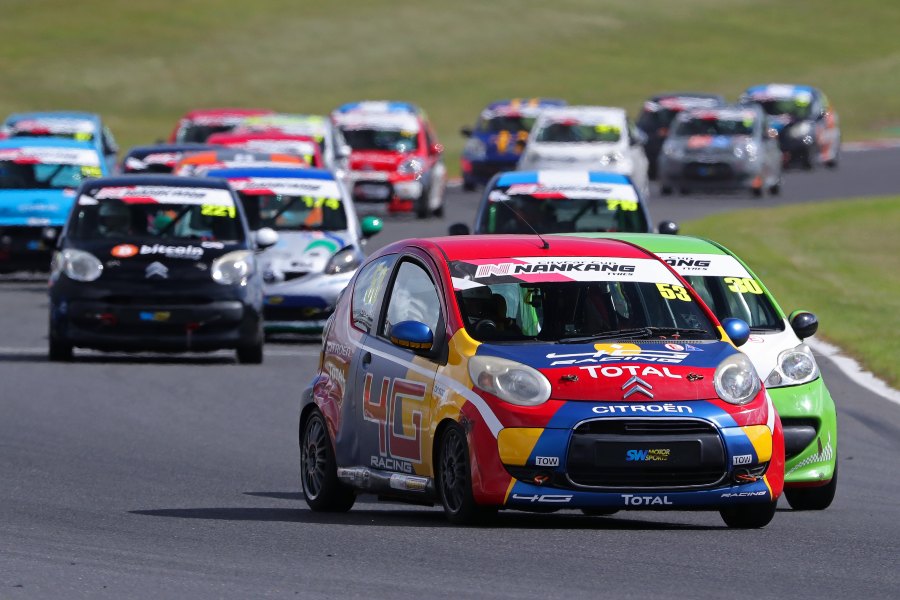 ---
SW MOTORSPORTS CLUBSPORT TROPHY
It's no surprise that as we head into another weekend of racing for the SW Motorsports ClubSport Trophy, there's a grid full to bursting ready for more mini-endurance pit-stop racing over 45 minutes. With the maximum capacity of 40 cars set to be full come Sunday afternoon's race on the National circuit in support of TCR UK, there's plenty of familiar names, returning faces, regular Donington racers and some new machines too.
Class A may only feature three cars, but it should be an entertaining battle between the three. Silverstone winner David May is back in his Nissan 370Z and will go head to head with Oulton Park victor Phiroza Bilimoria in his VW Scirocco, the pair joined by James Alford's VW Golf in what should be a fascinating three-way scrap.
Class B is looking as busy as ever, with more cameos from a trio of Audi TT Cup Racing cars. Series regulars Andrew Dyer, Scott Parkin and Patrick Booth are back for more at Donington after the TTs raced on the GP layout a couple of months ago. Paul Hinson's rapid BMW E36 Compact has to be a contender for class honours too, as will the pair of Lotus Elises of Johnathan Mee and Steven Summers, Eliot Dunmore's Subaru BRZ and Philip Hart's Honda Civic to name a few.
It's another hot hatch battleground over in Class C, with favourites to succeed here including Brendan Murphy in another BMW E36 Compact, returning regular Stuart Kilroy's Peugeot 207 GTi, the Honda Civics of Chris Stone and Graham Waterhouse, Jonathan Hunter's VW Scirocco and Paul Adams' Renault Clio. The only anomaly here is the BMW 330 E46 of Craig Emmerson, which could be the surprise package come Sunday.
There's more hot hatches in Class D as they prepare to face off against a selection of small sports cars, mainly Mazda MX-5s. On the hot hatch side, there's Renault Clios aplenty for Kate Morris, Dan Blake, Jared Coulson and Steven Watson sharing with Stephen Harrison, complimented by Jonathan Salem's MINI and the MGZR of Scott Bonsor and Alex Hackett. On the sportscar front, MX-5s appear courtesy of a pair of Mk3s, one shared by Ben Tunbridge and Rob Sawyer, while the other will see ex MX-5 SuperCup pilot Kevin Silvain back behind the wheel. Cameron Bell will also be present aboard his Toyota MR2.
Finally in Class E, there's many familiar regulars to the class back out again this weekend. These include Chris McGinley's BMW, the evergreen Mazda2s with a brace out in force this time, plus Silverstone winner Paul Connell in his VW Golf GTi Mk2, a trio of Mk1 Mazda MX-5s and the unique little Fiat Panda of Dean Lomas and Josh North. Who says ClubSport Trophy doesn't give you variety!
Scott Woodwiss