BRSCC UNVEILS A NEW BRAND IDENTITY AHEAD OF THE 2022 SEASON
CATEGORIES:
The British Racing & Sports Car Club is delighted to unveil a refreshed corporate identity ahead of the 2022 season, as the club presents a distinctive and modern new branding direction…one that is aligned with today's digital world.
The BRSCC is a racing club with a vast amount of history and heritage, its roots going back to 1946 when it was originally formed and branded the 500 Club. It subsequently became the Half-Litre Club in 1950 and then changed again four years later to what we now recognise as the British Racing & Sports Car Club (and more commonly abbreviated to the BRSCC). There is a justified sense of great pride when looking back at what the BRSCC has achieved through these years, such as creating entities like the British Saloon Car Championship (now known as the BTCC), and The Racing Car Show (now Autosport International), as well as the much lauded Formula Ford Festival (which celebrated its 50th anniversary in 2021), and also involvement with iconic racing brands like World Sportscars and IndyCar…and none of that will be forgotten.
The BRSCC has always been an innovative and forward-thinking club, and this philosophy continues to be part of the BRSCC's DNA today…with the club constantly adapting to the shifting landscape of motorsport in the UK. The new branding and corporate imagery perfectly encapsulates the modern and efficient outlook of today's BRSCC, and along with this the club have also invested in the introduction of a new internal IT system, new customer registration and entry portals, with these to be followed by a brand new website. These will be introduced in a staged release over the next few weeks, with all of them aimed at providing BRSCC members, partners and customers with the best levels of support and ease of use.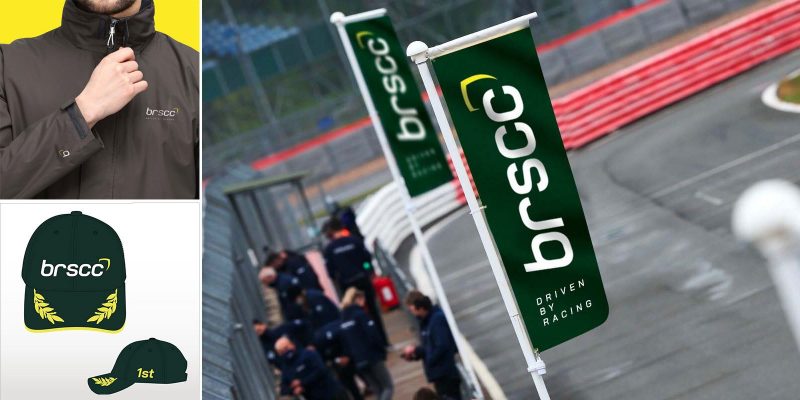 The new branding features a "digital friendly" modern direction in design and font, while also retaining a nod to the club's iconic yellow shield in the blade element…plus a brand new tag line that perfectly reflects the BRSCC's motivation and passion – Driven By Racing.