BRSCC UNVEILS EXCITING AVON TYRE OFFER AND PRICING DETAILS FOR 2021 MAZDA MX-5 CHAMPIONSHIP & MX-5 CLUBMAN CHAMPIONSHIP
Hot on the heels of the 2021 calendar announcement and championship sponsor news, some further fantastic news for all BRSCC Mk1 MX-5 Championship and MX-5 Clubman Championship competitors!
The club are delighted to announce that to offer the best level of continuity for our racers, both BRSCC MX-5 Championships will use the Avon ZV7 as their control tyre.
Whilst the tyres are exactly the same as those used in the 2020 season, all tyres supplied in 2021 will be identifiable by means of tamper proof Avon sidewall patches. (The 2021 technical regulations will allow competitors to use up their old tyre stocks through the first 2 race meetings). As in 2020, Avon will supply the tyres in 2 different specifications, one being a shaved version with a 4mm tread depth, and the other being a fully treaded tyre.
In recognition of the prominence of BRSCC MX-5 racing, and as a bonus to our loyal competitors, Avon have also agreed to a REDUCTION in cost from the 2020 prices!
For the 2021 season, the shaved tyre will be supplied by Avon to racers at £56 plus Vat each, and the fully treaded tyre will be supplied at £41 plus Vat each.
And that's not all!!
The first 50* registered 2021 season competitors, will be given 2 FREE tyres by Avon when they purchase a minimum of 2. This means that their first set of 4 shaved race tyres will cost ONLY £112 plus Vat!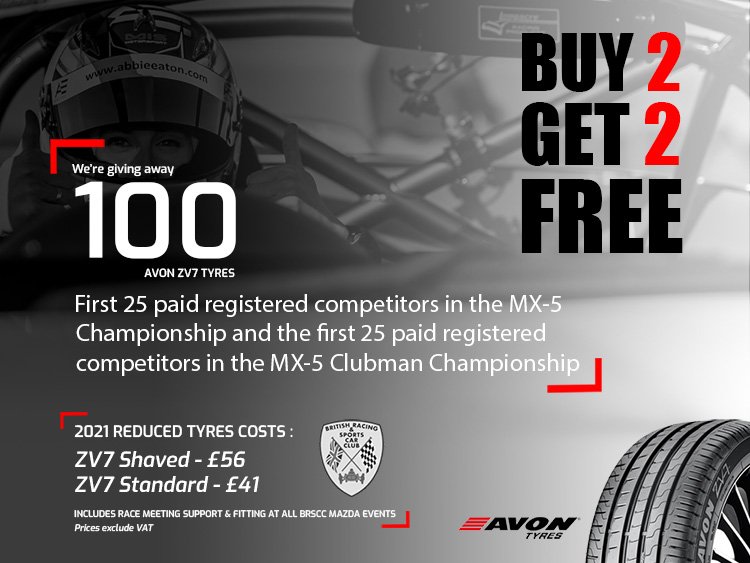 * First 25 registered & paid competitors in the MX-5 Championship and the first 25 registered & paid competitors in the MX-5 Clubman Championship
If all of the above isn't enough to back up our belief that the BRSCC offer the best value and best supported Mk1 MX-5 racing in the UK, then add into the mix that Avon will again be providing technical support and FOC tyre fitting at all MX-5 race meetings, and the MX-5 Hospitality unit will again be available for everyone's use and enjoyment in the paddock as well.
2021 Registration for both the MX-5 Championship and MX-5 Clubman Championship will be opened at midday on Monday 14th December, so don't miss out on those 2 FREE Tyres…get ready, and get registered!