BRSCC'S BRANDS HATCH SUMMER SPECTACLE PROVIDES SPRINT & ENDURO THRILLERS
CATEGORIES:
Brands Hatch in Kent once again didn't disappoint as the BRSCC made their second visit of the 2022 season, bringing a host of sprint and endurance racing onto the timetable. Regardless of the respective race lengths, each series in attendance provided some great action, much of which could prove crucial for championship battles later in the year!
---
BRSCC MAZDA MX-5 CHAMPIONSHIP – FENWICK FLATTENS THE REST WITH ANOTHER TRIPLE
As has often been the case so far in the 2022 season, Fraser Fenwick has been the dominant force on any given BRSCC Mazda MX-5 Championship weekend to date and has rarely been beaten throughout. Brands Hatch proved to be another opportunity to continue that run of form as well as extend his lead at the top of the points.
Pole for Race 1 backed up that potential and even though he initially lost the lead to front row man Steve Foden into Paddock Hill, Fenwick was back inside at Druids and back ahead. It didn't take long for a breakaway group of four to pull away in front with Fenwick leading Foden, Adam Sparrow and Michael Knibbs. The quartet were soon joined by Adam Craig, before the safety car was called to finish recovery of Martyn Compton from the Paddock Hill gravel trap. Restarting at half distance, Fenwick saw off an early challenge from Foden at Druids again, and then another with 5 minutes to go before commanding the pack to the flag, clinching victory with Foden resided to 2nd and Sparrow taking one of his best finishes to date with 3rd.
Fenwick began Race 2 in much the same fashion, leading from pole position while Foden and Sparrow gave chase. Mike Comber inserted himself into the mix and soon enough it was Sparrow ahead of Comber pursuing Fenwick, while Foden had been bushed down to 9th on Lap 9 and was forced to work his way back through. Despite Sparrow trying his best to keep up, nobody could touch Fenwick in the end as he collected his second win of the weekend, while Sparrow managed to keep Comber at bay to remain in P2, improving on his best result from the day before.
After recovering to 4th in Race 2, Foden managed to get the start he wanted to leapfrog Fenwick, Sparrow and Comber off the line to lead Race 3 from the start. His glory would only last until Lap 4 though, when Fenwick managed to squeeze back past and into his now seemingly customary lead position. Again, Foden found himself being shuffled around the top five but eventually settled into 3rd place for most of the second half of the race, until the closing laps when he pulled off a pass on Sparrow to get back to 2nd. As for Fenwick, he had enough keep the charging Foden at bay despite his close attentions at the end to complete another incredible hat-trick, while Sparrow rounded off by far his best MX-5 weekend with another 3rd, leaving him with three trophies to take back home for his troubles.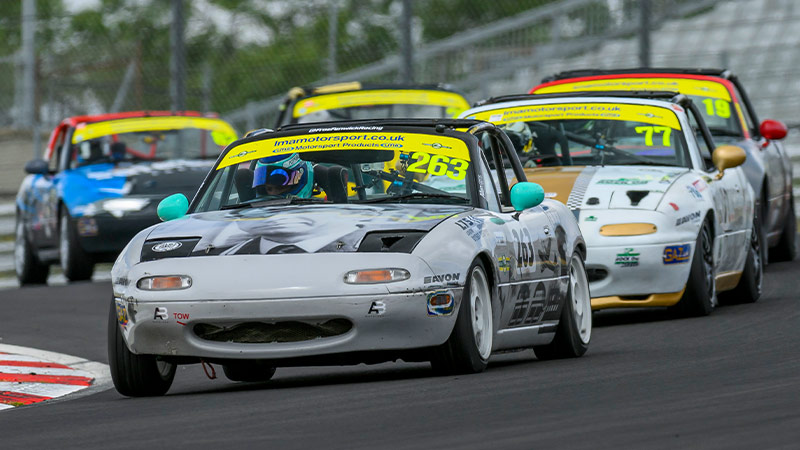 ---
BRSCC MAZDA MX-5 CLUBMAN CHAMPIONSHIP – DAWKINS GETS THE BETTER OF MCDONNELL AS FLETCHER STUMBLES
The championship battle in the Mazda MX-5 Clubman Championship was beginning to get tense as a three point gap between Matthew Fletcher and Declan McDonnell was always going to fluctuate one way or the other over the course of the day's racing at Brands Hatch. But for points leader Fletcher, his fortunes took a nosedive before the race had even started – well, for everyone else at least…
Lining up on pole position for Race 1, Fletcher appeared to drop the clutch as the lights came on rather than off, causing him to jump the start in front of the entire grid. When the race did officially get underway, Chris Dawkins made easy work of the stumbling Fletcher to pinch the lead as the pole sitter slipped to 4th on the opening lap. Both McDonnell and Harry Storer were ahead of Fletcher now, but Matthew quickly picked off Storer to reclaim 3rd and set about catching the top two. Sure enough, Fletcher was tailing McDonnell in no time at all and after several laps of chasing, Fletcher tried a move at Druids which left him sliding wide and back to square one. With McDonnell now free again and Fletcher in the clutches of Storer, Dawkins reeled off the remaining laps to take a superb win, his first of the year and another at a circuit he's always run well at in the past couple of seasons. McDonnell remained in P2, while Fletcher's expected 10 seconds penalty for his jump start pushed him down to 5th in the result as Storer inherited the final podium step.
Dawkins made the most of pole for Race 2 by managing to hold the lead from the start and through the opening lap. Behind them, Fletcher's first few corners saw him sliding wide again at Druids and them edged onto the grass on corner exit, pushing him down to 12th by the end of the lap, but managing to climb back to 6th by half distance. Back out in front, Dawkins was again being chased in the lead by McDonnell, Storer and now Jon Pethick on this occasion. Storer and McDonnell traded 2nd place between them in the closing stage, and then Pethick found a way past to pinch 3rd. The race was flagged with just under a minute and a half to go thanks to a car in the gravel exiting Clark Curve, meaning Dawkins did the double ahead of McDonnell again, with Pethick holding Storer back to remain in 3rd.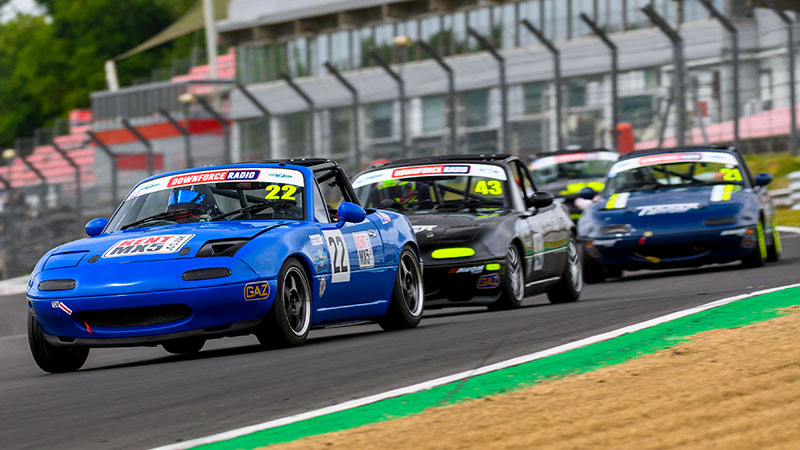 ---
BRSCC MAZDA MX-5 SUPERCUP – BYSOUTH MAKES PROGRESS UP THE TABLE WITH TWO WINS
Another weekend and another competitive grid for the BRSCC Mazda MX-5 SuperCup at Brands Hatch where the battle at the top of the points was starting to look a little thin given the current gap of erstwhile leader Richard Amos. The goal for Brands was a simple one – bag more solid points and hold the top spot. That said, given the level of competition and as was proven over the course of the weekend, that was very much easier said than done.
Amos took the lead of Race 1 from the front row as he beat pole man Colin Bysouth to Paddock Hill first, before Colin lost two more places to guest driver Rob Boston (filling for George Grant due to a family emergency) and Will Blackwell-Chambers. Some frantic scrapping and positions swapping occurred over the next few laps with plenty of panel rubbing and battles galore from the front group, but it didn't take long to settle down a little with Boston leading, but before long Bysouth swept through with a superb outside pass at Paddock. The second half of the race was mostly a much calmer affair with Bysouth extending a gap, but this came to zero when the safety car was thrown for Alex Jones stuck in the gravel outside Paddock. Amos quickly picked off Boston on the restart, but quickly lost the place back again just before the chequered flag was thrown early, after Bruce Robinson took his turn to be stranded in the Paddock gravel. Thus, Bysouth won with Hills P2 and Boston P3, while Amos lost out to both Patrick Fletcher and Cossins exiting Clark Curve to finish 6th.
The second race was red flagged mid way through due to barrier damage on the approach up to Druids courtesy of Alex Jones, but before that a moment had occurred heading into Surtess earlier in the first start. Both Amos and Hills ended up bounding across the grass with Amos narrowly avoiding making contact with anyone and bunching up a large gaggle of cars in the process. When racing did get back underway, Bysouth launched himself back into the lead and remained there for the six laps run, clinching his second win of the meeting and his fourth in a row ahead of John Langridge and Patrick Fletcher.
Blackwell-Chambers took advantage of his P2 starting spot for Race 3 to head the pack, and he was able to do so for the most of the 20 minutes as he held back a relentless squad of cars chasing him down, headed by Aidan Hills. He bravely managed to hold the lead until lap 9 when Hills managed to find a way through, and from here he was never headed. Even after a brief safety car bunched everyone back up again and after WB-C tried everything in his power to get back through, Hills clinched his third win of the year as Patrick Fletcher took another 3rd.
Over in the Club class, there were two wins for Scott Wright in the opening two races before Marcus Carlton picked up a victory for himself in Race 3. Other drivers who made it onto the class podium throughout the weekend included Kevin Brent and Daniel Parrans-Smith.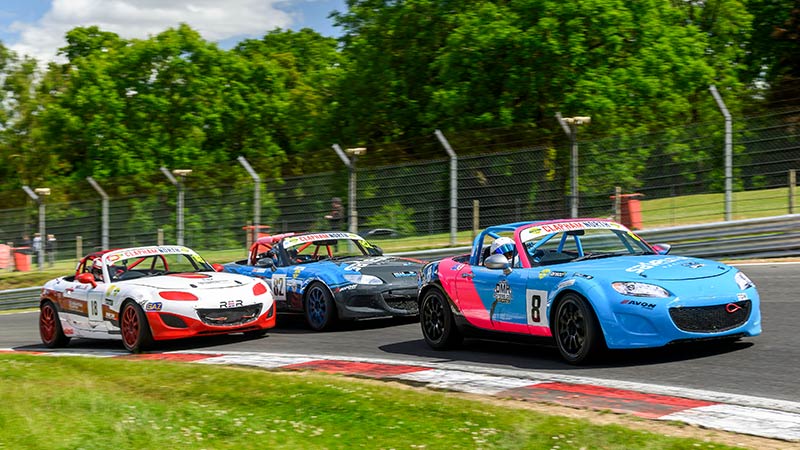 ---
FUN CUP ENDURANCE CHAMPIONSHIP – STOBART SPORT BREAKS GCI'S HEART AFTER GRABBING LATE WIN
Those in the know will tell you that regardless of the race length, you should never pre-judge a Fun Cup Endurance Championship race as typically, there's action from start to finish and always the potential for any last-minute dramatic changes. This definitely proved to be the case as one team's heartbreak was another's incredibly good fortune.
From the off, Stobart Sport took the lead from their randomly drawn grid with Colin Kingsnorth at the wheel, but before Lap 2 was complete Sam Smeeth took the Greensall Motorsport into the lead before Kaizen Motorsport followed them through moments later courtesy of Ravi Ramyead. Smeeth's car owner Nigel Greensall didn't take long to join him at the head of the pack as he worked his way up to 2nd before 15 minutes had passed. The first safety car of the race was called after Ramyead put the Kaizen car off into the Paddock gravel, and on the restart the top trio of Smeeth (Greensall M'Sport), Greensall (CCS Media) and Fabio Randaccio (UVio/ Hofmann's Lotus) were quick to gap the rest out in front.
Despite a moment between the two Greensall-associated cars at Druids when both locked wheels and ran wide, the three leaders swapped places with no troubles heading through the first pit window. Through this, UVio were now into their almost customary place in the lead with points leaders GCI Racing up to 2nd and Team Viking holding station in 3rd. All was well until a wheel bearing issue for UVio led to a snapped driveshaft, forcing it to a halt on the exit of Graham Hill Bend. Another safety car was scrambled while UVio were recovered back to the pits.
This put points leaders GCI Racing into 1st and now made them favourites to take their long-awaited first win. Oulton Park winners Stobart Sport were now their closest rivals for victory and through the remaining two and a half hours it was a case of trading places throughout the pit stop windows until eventually, they exited their final pit stops just a couple of seconds apart. At this point, both CCS Media and Greensall Motorsport were circulating together and near the top two. GCI ended up getting into an on-track tussle with Sam Smeeth, which in hindsight wasn't something either car needed to get involved in. With Stobart Sport trying to close them down, both GCI and Greensall Motorsport tangled at Clearways with just seven minutes left in the race, leaving GCI facing the wrong way and Stobart moving past into P1.
Over the final minutes, the GCI car pushed as hard as it dared to bring the now 7 second gap down to try and claim the lead again, but at the flag Stobart Sport could still keep them at bay by two seconds to clinch their 2nd win of the year. GCI was left heartbroken despite taking their fourth consecutive 2nd place in 2022 and maintaining their points lead, knowing they had their first win in the palm of their hands but were cruelly denied. PLR Racing kept themselves out of trouble throughout to claim the final podium spot with 3rd.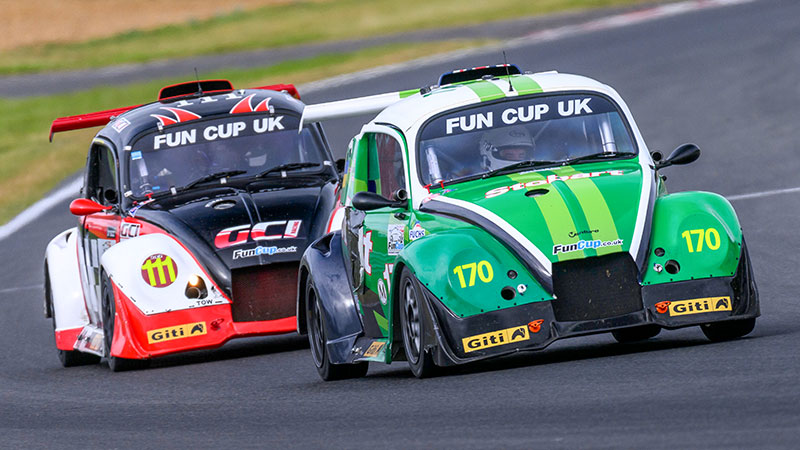 ---
SUPERSPORT ENDURANCE CUP – CATERHAM DOMINATES SUCCESSFUL FIRST 2022 ENDURO FOR NEW SERIES
After a successful first race back in July of 2021, the BRSCC put on the first SuperSport Endurance Cup race of the year at Brands Hatch with a wonderful variety of cars ready to take part in the 2-hour pit stop race. While the entry for Sunday's race had been as high as 28 cars, last minute pre-event withdrawals for some and mechanical issues during practice and qualifying for others reduced the field a little, but still provided 22 cars to line up for the start.
The front row saw the Caterham 310R of Geoff Newman and Darren Burke on pole position alongside the SEAT Leon TCR of Philip Knibb, and despite the early challenge from both Knibb and the Ginetta of Andre & Jake Severs, both cars would fade and retire early on due to mechanical issues. Eventually the Caterham's main pursuer would be the VW Scirocco of Mark Lloyd-Jones and Stuart Mead, who ran consistently all the way through to end up in 2nd overall and winners of their class. From start to finish the Caterham was never headed and Newman & Burke charged to the chequered flag to win the first SuperSport Endurance race of 2022 by a margin of 5 laps in a truly dominant display, taking overall victory and the win in Class Pro-A.
The Lloyd-Jones/ Mead VW Scirocco's 2nd place overall also gave it the Pro-B class win, while behind them there were additional class wins for John Cooper and Simon Horrobin in their Ford Fiesta ST240 in Clubman-A, Brian Chandler's solo drive aboard his Mazda MX-5 Mk4 in Clubman B and the trio of David Drinkwater, Adam Read and Colin Hughes in their BMW Compact in Clubman-C.
All round, the feedback from the race by the competitors was incredibly positive and this now lays a solid foundation to build on at the next SuperSport race taking place once again at Brands Hatch on August 21st!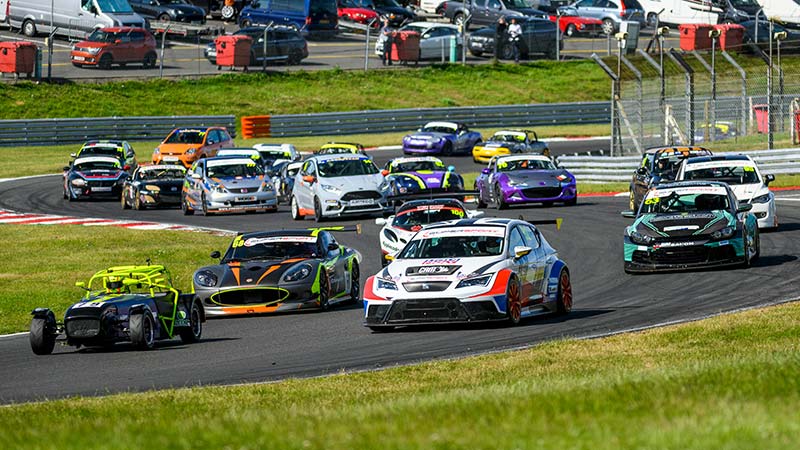 ---
CMMC SOUTHERN SALOONS & TIN TOPS – BMW AND HOLDEN SHARE OVERALL BRANDS HATCH SPOILS
Adding further variety to the excellent timetable was a pair of races for the Classic & Modern Motorsport Club's Super Saloons and TinTops on a combined grid. The mix of cars in this line-up was exceptional, with the usual Renault Clios, BMWs and Honda Civics being accompanied by cars such as an Ford Escort Cosworth driven by Rod Birley, Nick Sutton's Mitsubishi Evo X and Alex Sidwell's booming Holden Commodore V8 Supercar.
The first race ended up with a rather dramatic ending when Rod Birley's Escort Cosworth suffered a broken differential which ended up dumping oil onto the circuit. Several drivers would slip up on the oil, including one of the leading BMWs driven by Ronan Bradley, forcing the race to be red-flagged and a result declared. The victory was given to Adrian Bradley in his BMW M3, followed by Sutton's Evo and Sidwell's Holden.
In the second encounter, Sidwell wasted no time in charging into the lead while others such as Sutton's Evo fell by the wayside with mechanical issues. Despite advances from Adrian Bradley, Sidwell had enough power on the straights to keep the BMW at bay and win the second race. Bradley maintained P2 while Mark Cripps ended his first weekend of racing in his new BMW E46 M3 with an excellent 3rd.
Scott Woodwiss