BRSCC'S SNETTERTON SUMMER SOJOURN AWAITS THIS WEEKEND
CATEGORIES:
After visiting in both April and May, the BRSCC ventures back to Norfolk and the Snetterton 300 circuit for another weekend full of sprint and endurance racing. With a total of seven hours of long distance racing complimenting a timetable full of Mazdas and CityCars, it's sure to be another thrilling two days!
---
SILVERLAKE C1 ENDURANCE SERIES
Cast your mind back to the previous round of the Silverlake C1 Endurance Series at Donington Park and you'll remember that the race was interrupted by a rather heavy inclement rain storm, which forced the race to be red flagged for over half an hour before it could resume. In the end, Emax Motorsport managed to work their way through the tricky conditions to take victory and looking ahead to this weekend's latest round at Snetterton, the forecast suggests more precipitation could be on the way…
C1 24 Hour winners Trojon Motorsport had been in control of the race for most of the way with both of its cars circulating together in 1st and 2nd, before the shake up in pit stop strategies thanks to the red flag pushed them down to 2nd and 5th respectively at the chequered flag. Their usual pair of cars will be on the grid again this weekend in a bid to beat the competition and the conditions this time. Emax, meanwhile, have their usual squad of entries with three cars lining up, including Donington winners James Little and Stuart Ratcliff with Jake Little back in their line up, along with Max Finn and Murdo MacLeod.
CSC Racing/ FDL Packaging managed fourth at Donington and will be wishing to go a step higher on the podium this time and the same will be true of Jelly Snake Racing, who put in a superb effort to take sixth place last time out and would very much like to crack the top five. Silverlake were a standout squad from Donington with both cars running strong in the top ten at one point and the team seemingly looking reinvigorated. Allen Prebble's squad have been working hard on their cars since the start of the season and all the fruits of their labour are starting to pay off.
Other established competitive teams that will certainly hope they're in the mix for a good result too include Red Sky Racing, MLP Developments, WRC Developments with CB Autoservices, BPC Motorsport and Ardcor Modelmakers. One team that's also making a welcome return is Scuderia Pollo Rosso, who were forced to miss Donington after suffering three engine failures at the C1 24. Now with their car back at full strength, they'll want to make an instant impact.
Plus, there is also one rather notable addition to the grid this weekend as a certain British Touring Car champion joins the ranks. After he made a cameo appearance at the final round at Snetterton last year just a week removed from his 2022 title success, Tom Ingram is back in the OPC-PR machine no doubt looking forward to racing at a slightly more relaxed pace than that he finds in the BTCC!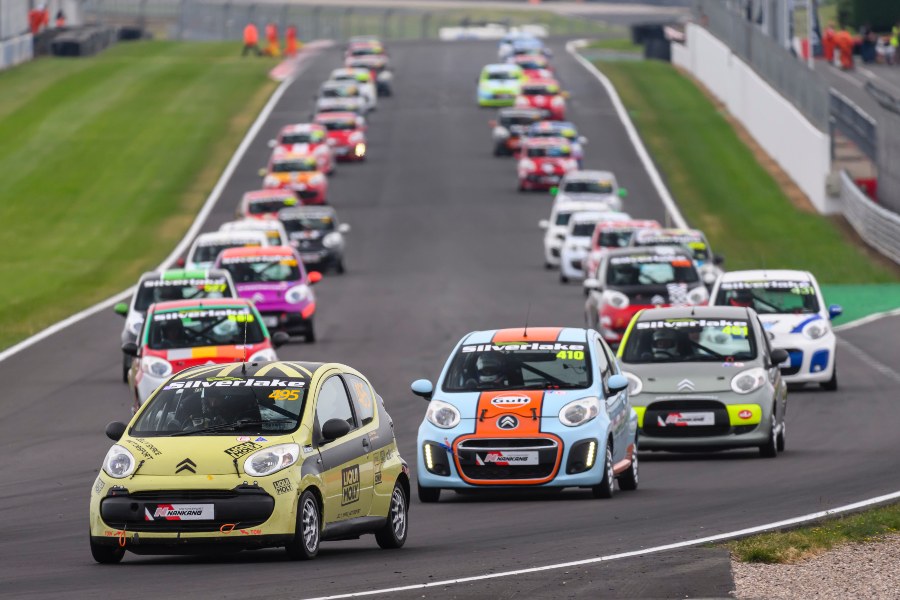 ---

GAZ SHOCKS MAZDA MX-5 CHAMPIONSHIP
Four race weekends down, four still to go in the GAZ Shocks Mazda MX-5 Championship and it's safe to say that this year's competition has been pretty fierce. 2023 has certainly produced a new crop of leading drivers this season and they've been battling hard since it began back at Silverstone in March. Now the second half begins this weekend at Snetterton as the fight at the top of the points continues to heat up.
At Anglesey, Steve Foden continued his rocket-propelled rise up the points table with another clean sweep of all three races to go third in the standings behind current leader Adam Sparrow. Foden has been rebounding after failing to start the first race of the year at Silverstone, and since then hasn't finished lower than 2nd place, which he's done twice. Aside from that, every other race has been a win with nine from the twelve races run. Snetterton is another chance to add to his tally and get even closer to the lead.
Sparrow, meanwhile, has been on an excellent run of consistency that's seen him finish outside of the top five just once from the last nine races, including one of two victories he's taken this year. This has also been backed up by five podiums too and he's certainly putting up a great fight to hold onto the lead. He's 26 points ahead of Ted Bradbury, the impressive young rookie who is on the verge of taking his first race win having finished on the podium six times so far. Provided he keeps up this momentum, that first top step visit is surely a matter of when rather than if.
Adam Craig and Luke Pullen make up the top five at this stage, with Adam comfortably enjoying his best season to date and Luke continuing to live up to his potential. Both have scored a handful of top fives each this year and both have also taken a podium each with Adam in particular grabbing his very first at Brands Hatch. Perhaps Snetterton will be a good opportunity for them to make further progress.
Also keep an eye on the likes of Owen Mills, Jason Greatrex, Thomas Langford, Neil Chisnall and Harry Storer, all of whom are able to show flashes of brilliance and prove their pace on more than one occasion. In particular, Greatrex will be on a high after clinching two 2nd places at Anglesey, while former points leader Langford will hope he can get closer to a second win of the year after taking his first at Silverstone.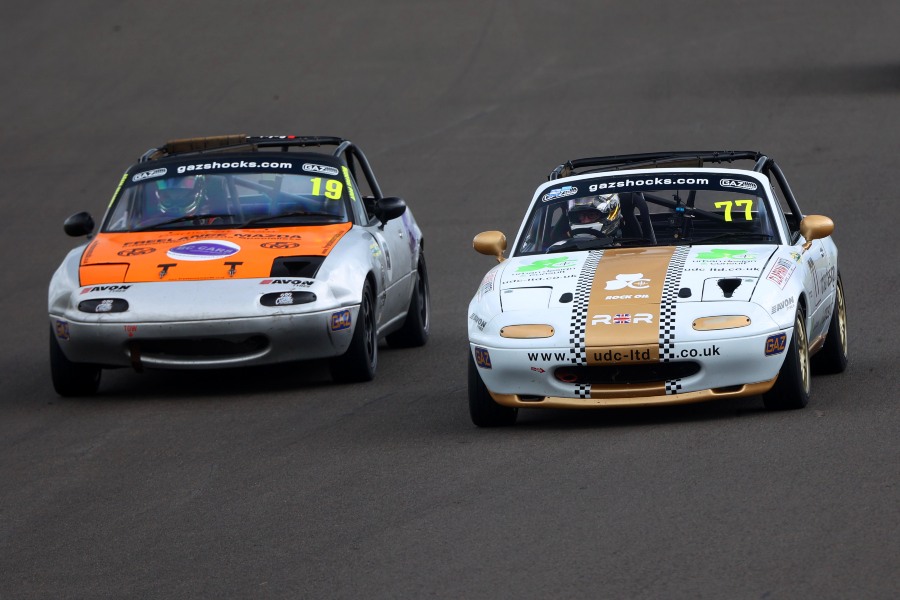 ---
DOWNFORCE RADIO MAZDA MX-5 CLUBMAN CHAMPIONSHIP
It's the half way stage of the Downforce Radio Mazda MX-5 Clubman Championship and the paddock now moves across to the Snetterton 300 circuit in Norfolk to begin the second part this weekend. So far it's been a real entertaining contest across the first four meetings of the season and as the championship prepares for its fifth weekend, there's a tussle forming at the top for the points lead.
So far, Matthew Fletcher has been the man to beat in recent races, managing to take five wins from the last six races and really set his stall out as a contender for the championship. His hat-trick of wins at Anglesey last time out was a real statement to the rest of the field, especially to those closest to him in the fight for the title. Snetterton is another circuit he has winning history at, so expect Matt to be on the pace from the outset.
Nearest challengers at this half way stage are currently Jon Pethick and Jordan Pimley. Jon has had an incredible run of five podiums including four 2nd places on the trot and currently sits in the runner up spot 18 points back, while Jordan is a further 19 back in 3rd and has a first victory to his name already from Brands Hatch. Both were able to give Matt the runaround as much as possible at Anglesey, but neither could knock him off top spot. Snetterton will be another chance for them both to do so.
Del Paice and Jamie Turner currently round off the top five and in something of a league of their own in the fight for fourth place, while the rest of the top ten is populated by Kevin Bird, Michael Pearce, Nick Le Doyen, Beau Parry and Thomas Davis. Beau in particular was very impressive at Anglesey after he captured his first two podiums of the year with a pair of 3rds and will hope that momentum carries him back to the front of the pack again. Both Kevin and Michael have also proven themselves to be regulars in and around the top ten and could make some progress here at Snetterton.
---
CLAPHAM NORTH MOT MAZDA MX-5 SUPERCUP
The Clapham North Mazda MX-5 SuperCup heads to Snetterton in Norfolk this weekend to commence the second half of its 2023, following four very intense meetings that ensured the first half produced exceptional racing and competition across the board.
With Silverstone, Brands Hatch, Croft and Anglesey now in the rear view mirror, the half-way point in the season has left Aidan Hills remaining in the lead of the Pro Class standings, despite not winning a race last time at Anglesey and only even grabbing just one 2nd place for his troubles. While his advantage is still a comfortable 82 points, that gap was eroded slightly by double winner Patrick Fletcher whose pair of wins and P2 in Wales helped him firmly sit in 2nd. Aidan will be desperate to get back to winning way and to ensure that his points lead doesn't shrink any further.
Fletcher will do all he can to add to his win tally, which sits at three for the season and also finds him in a purple patch form wise after a shaky start to proceedings in the first two weekends. He himself has over fourty points over 3rd placed man Tom Griffiths, who may not have had the best luck all the time but certainly proven his pace on the days it's all come together. He'll be keen to pick up more silverware to go with his two podiums from Silverstone at the start of the year, but will know his competition continues to get stronger.
James Cossins has done well to sit 4th at this stage but will certainly feel he can go better based on his performances in previous seasons. His teammate Alex Stott, on the other had, hasn't even broken into the top five yet and finished no better than 8th so far, but managing to score well when others couldn't has helped to lift him into a very impressive 5th place. Whether he can stay there depends on the fortunes of others.
Ali Bray was victorious at Anglesey and is 6th, ahead of defending champion Will Blackwell-Chambers who hasn't had the smoothest of title defences to say the least. Currently 7th, he may not be totally out of it but the rest of year is going to be a steep uphill climb. Tom Seldon, Leigh Britten and James Blake-Baldwin complete the top 10, Leigh in particular hoping for better luck after his car gave out just two laps from his first SuperCup win in Anglesey's third race.
Over in the Club class, it's still Kamal Kalsi that continues to lead the way but just like Hills in Pro Class, he too has seen a reduction of his lead. Both Robert Way and Clive Powles were able to take the winners' trophies home while Kamal settled for three podiums. Thankfully, any damage to his lead was minimised thanks to Bruce Robinson and Christopher Ginn finishing behind him, so he'll still have a comfortable enough advantage not to worry too much about those immediately behind him.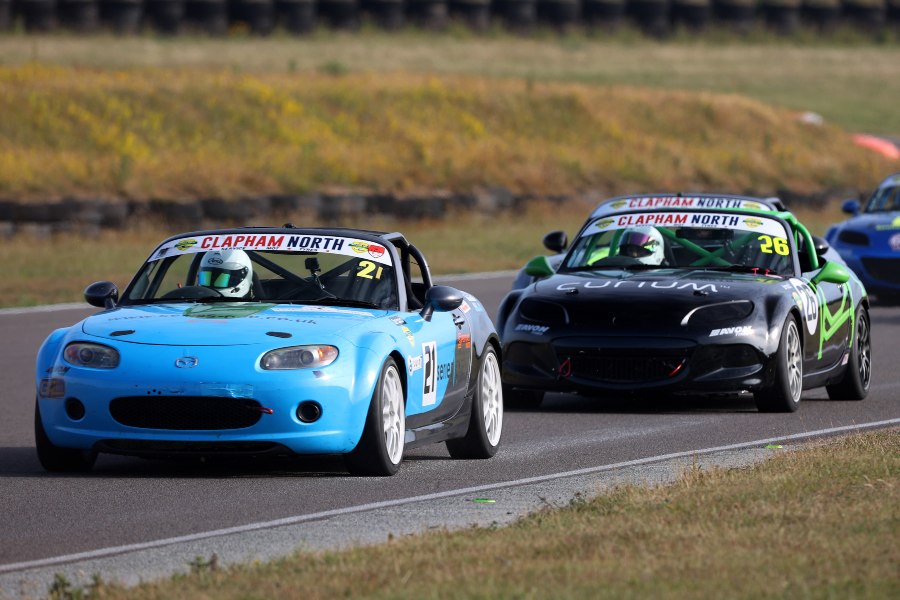 ---
NANKANG TYRE CITYCAR CUP & STUDENT MOTORSPORT CHALLENGE
If there is one name on everyone's lips within the Nankang Tyre CityCar Cup paddock, it's most definitely Elliot Lettis. Primarily, it's due to the fact that the man just can't stop winning! Fresh off the back of another hat-trick of wins at Anglesey, he and the rest of the grid make the return leg back to Snetterton this weekend with those who would challenge him bidding to knock him off the top spot at last.
In fact, cast your mind to the opening rounds at Snetterton in April and you'll find the one time to date that Lettis has been beaten in 2023. Stuart Bliss managed to defeat Elliot in that weekend's third race, but aside from that no-one else has managed to come away from a CityCar meeting this year with a overall 1st place trophy. This means he's won eight of the first nine races and doesn't look like he's showing any signs of slowing down.
Bliss, meanwhile, has only finished off the podium just the once at Croft and even then, he has consistently continued to rack up 2nd places outside of that and Snetterton's win. Right now, he's by far and away the biggest challenger to Lettis up top, but if Elliot keeps this run up then all Stuart can do is keep on scoring as best as possible to keep him in his sights should he slip up. There's a fight brewing for 3rd place behind them as Christopher Mackenzie holds the place only four points ahead of Richard Jepp, with Bradley Porter currently completing the top five just another three back.
As for the Student Motorsport Challenge, currently it's still Team Northbrook Racing that hold a handy lead over the rest of the teams, although one bugbear will be the loss of their 100% win streak at Anglesey after Jepp was turned around on the opening lap of Race 3. Despite this, he and the team still just over 60 points out in front, but this weekend might see a bit of a turning point.
Barracksport are currently in 2nd in SMC, but they're about to get a boost in the form of established CityCar race winner and front runner Andrew Dyer. Having already raced this season in an Autobliss-run Toyota Aygo, Andrew is back in the championship to help the team formerly known as Oxford Brookes take the fight to Northbrook. As for East Surrey College, their win at Anglesey helped them maintain 3rd place thanks to Max Wheeler's efforts, while West Suffolk College and Queen Ethelburga's Motorsport complete the top five. Also keep an eye out for Boston College with Liam Browning at the wheel, as the team will be looking to build on an amazing debut podium at Anglesey after Liam managed to score a third place.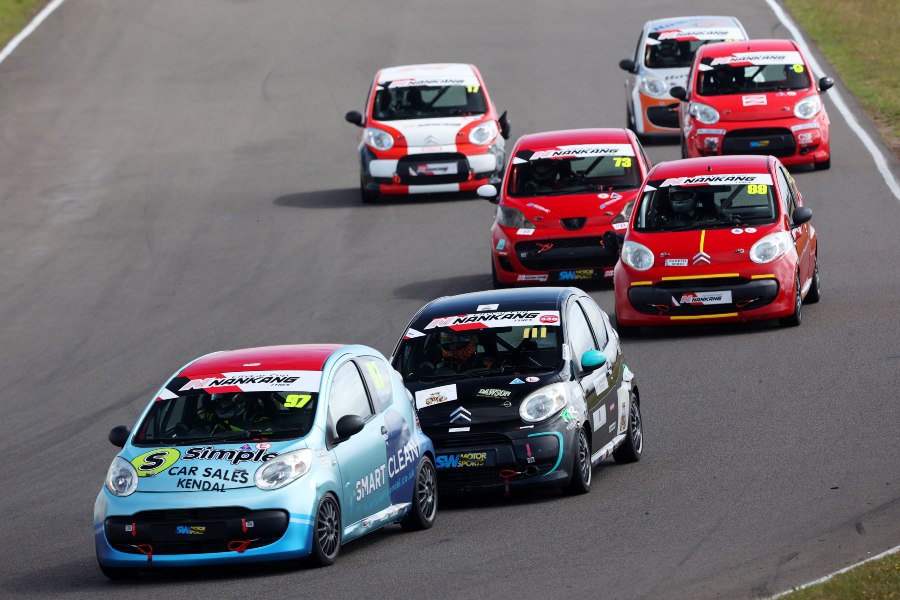 ---
BRSCC SUPERSPORT ENDURANCE CUP
On a weekend where many BRSCC championships and series get stuck into their second half of their seasons, such is the case too for the BRSCC SuperSport Endurance Cup. The first three events have cemented the new championship as an absolute triumph with healthy grids across Snetterton in April, Silverstone GP and Donington Park and now they head back to Snetterton this weekend to commence part two.
One thing to remember is that it's not just individual honours amongst the six classes that are up for grabs, but the overall SuperSport Endurance title too.  The outright top four places are all held by class leaders with Julian McBride in Pro-B ahead of Keir McConomy and Bart Horsten in Pro-A, then Adam Read and David Drinkwater in Clubman-C and Paul Hinson going solo in Clubman-A.
Pro-A appears to feature the three usual suspects, all of which sit at the top of the standings. Leaders McConomy and Horsten have won the class on all three occasions so far in their BMW 1 Series and have a 23 points lead over Ricky Coomber's Honda Civic, while the BMW M3 of Jasver Sapra and Bryan Bransom is further back in 3rd. While the current leaders head into the weekend as favourites again, of course anything can happen.
McBride looks comfortable for the moment in Pro-B in his BMW M3, now 35 points ahead of 2nd place, but that P2 looks pretty vulnerable considering there's no less than five teams separated by just 15 points. Silverstone GP winner Leon Bidgway currently holds 2nd with his Lotus Exige, but with both the Lynch's and the Browes not racing this weekend, it's a perfect chance for Andy and Chris Etheridge to move up to 3rd. 
The SEAT of Jamie Hayes and Alex Read could also lift itself into the top five, while Lee Collins' Caterham and Simon Mauger's ex-British GT Vauxhall VX220 will also hope to score well here. Also keep an eye out for experienced racer Nigel Greensall making his SuperSport debut, sharing a BMW with Christopher Parkes.
All of the main contenders in Pro-C are in action, with leaders Stuart Mead and Tim Hartland trying to hold onto their slender three point advantage over John Wyatt's MINI, while the battle for 3rd looks set to be even more fraught with Michael Edwards in his Lotus Elise heading Chris and Luke Hayes in their SEAT and Matthias Radestock in another Elise.
Paul Hinson looks as though he's set to further increase his Clubman-A lead, and will pit his BMW Compact up against main rival Graham Price's Renault Megane, shared this weekend with ST150 Challenge regular Jason Hennefer. Amongst the other entries, watch out for C1 Racing Club boss Robin Welsh getting back behind the wheel as he races as Ford Fiesta Mk7 ST180 alongside Josh Watts.
Even though he doesn't have Richard Amos alongside him this time, Bruce Robinson will be hoping to do enough to remain the Clubman-B class leader, although his competition his time looks to be pretty stiff. Alongside two more Mk3 Mazda MX-5s, one of which prepared by Rob Boston Racing and driven by Michael Sanford, Lewis Noon and Sam Reuter, there's also a pair of Audi TT Cup Racing cars in the line up, one to be driven by CityCar Cup regulars Andrew Dyer and Richard and Stuart Bliss. Andrew and Richard are fresh from winning their class in ClubSport Trophy at Oulton Park this weekend and are hoping to repeat that success here.
Finally, Clubman-C is going to be a straight up one-on-one duel between leaders Read and Drinkwater and Phil and Matt Adcock. The Adcocks will be out for redemption after a damaged oil sump in the dying seconds of the race at Donington forced them out of a certain victory, meaning Read and Drinkwater kept their 100% win record in class. Will it be a different story this time out?
Scott Woodwiss