CATERHAMS AND CO PERFORM BRSCC SNETTERTON SPRING SPECTACTULAR
CATEGORIES:
The inclement summer sun made an early appearance in Norfolk as Caterham Motorsport recently headlined two days of energetic club racing action around the Snetterton 300 circuit, with the addition of various tin-top championships and series providing the perfect compliment. Even a brief bout of pre-event wet weather didn't change the quality of the on-track entertainment!
CATERHAM SEVEN CHAMPIONSHIP UK – HEAD AND SHOULDERS ABOVE THE REST
After making a triumphant comeback to Caterham racing at the opening races of the season at Brands Hatch the previous month, former champion Aaron Head set out to maintain the early advantage he'd built up in the Avon Tyres Caterham Seven Championship UK as the fastest Caterhams on the factory roster headed to Norfolk.
The plan didn't quite work out in qualifying as he missed the SuperPole by finishing 10th fastest, as Lee Bristow took the three bonus points ahead of Chris Moore and Tim Dickens. Moore was able to get the jump from the front row to lead Bristow away from the lights, before Tom Eden stole 2nd just moments into Lap 2. Eden then hit the front on the next lap, but by the time the race hit half distance, it was the usual suspects of James Murphy and Henry Heaton that held 1st and 2nd. Bristow also got himself amongst the leaders, but he wouldn't stand on the podium, as Murphy ran to victory with a charging Aaron Head methodically moving his way to P2 by the flag ahead of Heaton in 3rd.
Head now had a clear shot at Murphy as Race 2 began on Sunday, slotting in behind the DPR Motorsport driver before he and Heaton demoted him to 3rd on the opening lap. Heaton fended off Head briefly, but it wasn't long before the pair started swapping the lead between them in the early stages. Jake Swann-Dixon stuck with them as the second half of the race played out as he took 2nd from Heaton and then the lead from Head at Riches, all the while allowing Bristow to close up to the trio too. After some frantic position swapping in the final minutes, Head left it to the last lap to repass Swann-Dixon, who spun exiting the Bomb Hole after contact with Heaton and out of podium contention, leaving Head to win with Bristow benefitting from the drama to take 2nd place, while Heaton remained 3rd.
For Race 3, Head converted pole into the lead instantaneously but lost out to Bristow and Heaton before the lap was done. As a sizeable lead pack formed, Head was desperate to get back in front and it wasn't long before he'd dispatched both Bristow and Heaton to lead again. More place swapping occurred between the front three with each taking turns in P1, but Bristow's chances evaporated after contact with Murphy at Wilson Hairpin dropped him back. With Heaton's car also smoking from rubbing bodywork, both ended up off the podium as Head took his second win of the weekend followed by Swann-Dixon and Moore, both of which moving up after late contact between Heaton and Dickens in the final laps to join Aaron on the rostrum.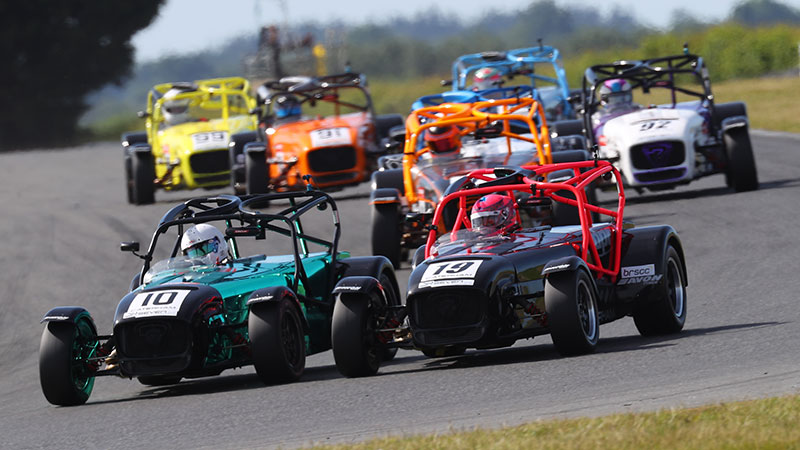 ---
CATERHAM SEVEN 310R CHAMPIONSHIP – WINGFIELD WINGS IT, WHILE WALTERS REMAINS TOP
A packed entry of more than 30 cars populated the grid for the next pair of Bilstein Caterham Seven 310R Championship races, with the pack looking to try and stop the initial domination of proceedings from former champion Pete Walters – and he definitely wasn't short of competition on this occasion.
Blair McConachie couldn't sustain pole at the start of Race 1 as Walters immediately took over to lead, but pretty soon he found himself in a four-way scrap for P1 with Stephen Lyall, James Wingfield and Harry Cook, with the rest of the pack snapping at their heels. Both Lyall and Wingfield traded the lead along with Walters, and beyond half distance the same three cars held the podium places with Walters still leading. They continued switching places all the way into the closing stages, but the deciding moment was out of the last corner when Walters missed a gear and Wingfield won the sprint to the flag to steal victory from under Pete's nose by a tenth of a second. Lyall did claim 3rd on the road, but he was one of two drivers given a time penalty for an out of position start, dropping him to 10th in the result and giving Tom Cockerill 3rd in his place.
Walters did it again from the front row in Race 2 to lead initially and despite half a dozen cars giving chase, they scrapped amongst each other so much that Pete was able to create a small gap by half distance. However, the breakaway man from the pack was 2021 Academy graduate Harry George who sprinted up to the back of Walters and challenged for the lead, passing him twice in one lap. He in turn began to briefly pull away leaving Walters to deal with the contenders behind, but the pair ended up drifting away for the fight over 3rd as the pair combated each other in the closing laps. George led going into the final lap but in another typical Caterham photo finish, Walters timed his run off the final corner to perfection to snatch victory by 0.052s, while McConachie joined in the sprint to claim the final podium spot.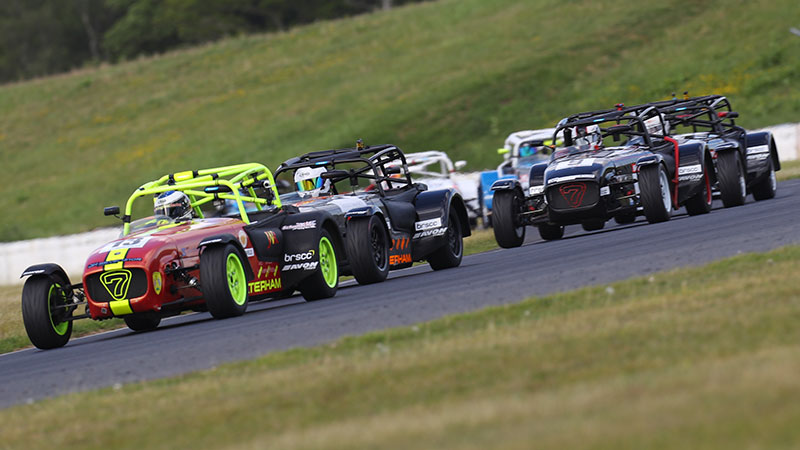 ---
CATERHAM SEVEN 270R CHAMPIONSHIP – TAYLOR O'FLANAGAN STITCHES TOGETHER A BRACE OF WINS
Trading both a win and a 2nd place with Hugo Bush at Brands Hatch, Taylor O'Flanagan had the target of breaking the deadlock at the head of the Motul Caterham Seven 270R Championship points table as the drivers headed to Snetterton, and qualifying ahead of his fellow early leader to take a front row spot alongside pole man Gwyn Jones marked a strong start to proceedings.
It only took a lap before O'Flanagan took the lead from Jones into Riches with Domenique Mannsperger and Philip Bianchi also following suit, and soon enough Bush also joined in to create a definitive leading quartet with Jones, impressive rookie Michael Chaplin and Peter Mott also in the mix behind them. O'Flanagan and Bianchi conducted the brunt of the lead changes between them as their rivals stacked up in 3rd backwards, and it was Bush that broke their deadlock inside the last 10 minutes as he passed both into Riches to lead himself. Mannsperger then made an outrageous four-wide pass a lap later to lead himself, before being shuffled back to 3rd. Bush and Mannsperger touched into Agostini on the final lap leaving the latter spinning, and while Bianchi led onto the final straight, once again a classic photo finish left O'Flanagan pinch the win by a nose and a mere 0.005 seconds! Bush was a more cavernous four tenths off victory as he claimed the final rostrum place.
Taylor continued in Race 2 with the lead from pole on Sunday but again was usurped before the opening lap was finished with Bush taking over on the Bentley Straight, before losing it again heading to Riches moments later. More position trading occurred as Bush again led with Mannsperger also following suit in 2nd, and it would be these three cars that would end up on the podium together in the end – but not without the leading group switching around several times more. Bush, Mannsperger, Bianchi and O'Flanagan all took turns in P1 at one point during the race, and with a couple of laps to go O'Flanagan had a clear gap out front, something he wouldn't lose as he took the double from Snetterton by almost 2 seconds, leaving Bush to head Mannsperger in 2nd and 3rd respectively.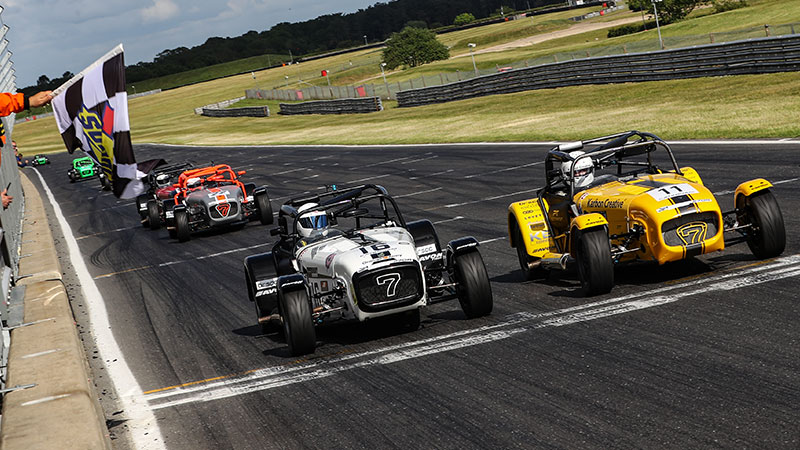 ---
CATERHAM ROADSPORT CHAMPIONSHIP – NEWMAN IN FORM ON RETURN TO TITLE WINNING VENUE
Wind the clock back to Snetterton in October and Geoff Newman was snatching the Academy title with the fastest lap point on the final lap of the season, leaving it until the death to become champion for 2021. Now in May of 2022, Geoff was keen to try and replicate that success once again, this time in the Lovecars Caterham Roadsport Championship as he looked to climb from 5th in points after a mixed opening meeting at Brands Hatch.
From pole in Race 1, Newman beat the pack to Riches for the first time and defended an early challenge from his Green Group rival from the previous year in Freddie Chiddicks – only for points leader and fellow outgoing Academy champion Charlie Lower to pass them both. All three drivers would again engage in plenty of position swapping, setting the tone once more for the remainder of the race ahead, and again each would take turns to lead over the line. More cars joined in the fray as the minutes ticked down, with Newman defending well on the final lap to win from Lower and Chiddicks in that order.
While it looked like Lower might have beaten Newman away from the third start of Race 2 after two initial red flags, a better turn into Riches allowed Geoff to retain the place and the same top three from the day before quickly formed the leading trio once again. On this occasion, Newman and Chiddicks elected to work together to pull away and sure enough, it only took them a handful of laps to be clear of the chasing pack. That was until a mistake from Chiddicks dropped him back late on after being stuck in 4th gear, right into the clutches of Lower and Marc Jones who were embroiled in their own battle for 3rd. Chiddicks would hold on to 2nd ahead of Lower, as Newman cruised home to  an easy and very non-typical 8 second winning margin.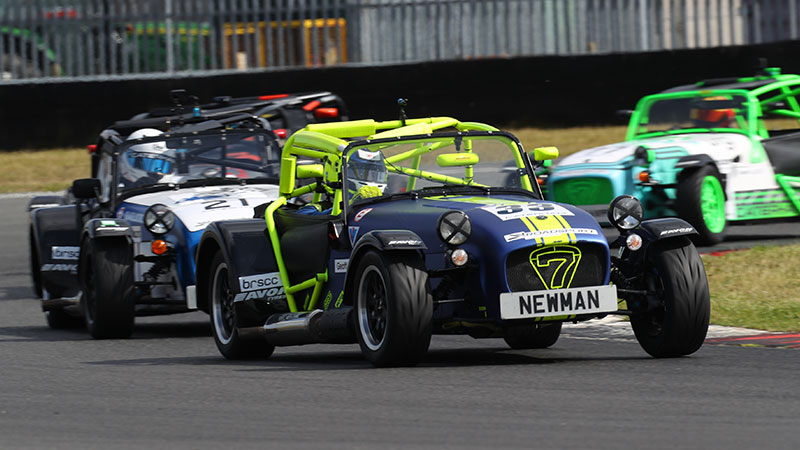 ---
CATERHAM ACADEMY CHAMPIONSHIP – NEW STUDENTS TACKLE THEIR FIRST EVER CIRCUIT RACES
If there's one special moment within a Caterham Motorsport season every year, it's when the brand new set of drivers coming through the ever successful Caterham Academy make the step up from the opening sprint at Curborough a few weeks earlier into the first-ever circuit races of their fledgling careers. With Snetterton's wide track and long straights, that meant plenty of real estate for both Green and White Groups to get to grips with circuit racing life for the first time.
The White Group had the honour of racing first on the Saturday, with Matt Larbey claiming the coveted first pole of the season alongside Tom McEwing, but neither got the jump they wanted and were almost left on line together as Ben Timmons got a flyer from the second row to lead initially, but Larbey managed to get back in front heading towards the Brundle/ Nelson complex. Losing it again towards Riches once more, a leading group of five quickly formed with Larbey, Timmons and McEwing proving to be the main contenders early on. Once again, P1 was traded between these three with Duncan Mallett also in close attention, but Larbey lost his chance after running too hot into Riches in the final minutes and spinning down to a distant 3rd place. McEwing claimed the race win in the end, but only just ahead of Timmons by four tenths at the flag.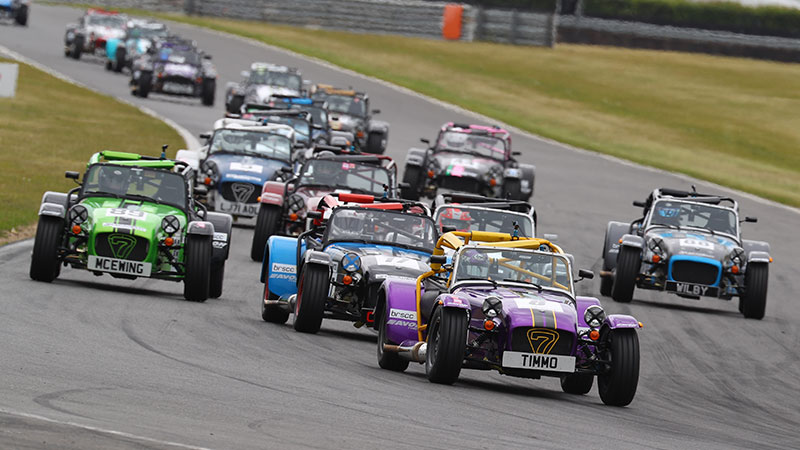 Shortly afterwards, the Green Group took their turn on track for their opening race, as the front row comprised of pole-sitter Ravi Patel and Darren Butler alongside him, while Curborough Sprint winner Harvey Lawrence couldn't replicate that single lap pace with 8th fastest. The front two remained in grid order from the start, but it was Patel that maintained his place while Butler was shuffled back down to 8th by the chequered flag in a late incident, as more contenders made their presence known. Rrutuj Patki took over in front for a couple of laps, but he and two more cars were caught up in an incident at Agostini and the ensuing switch-around put Butler and Patel back in the top two places. Mishaps and mistakes from several of the leading cars incredibly changed the order almost lap on lap, and despite a spin at Wilson Hairpin, it was Patel that climbed back from a distant 4th place late on and picked his way through a late tangle between the leaders, retook the lead starting the final lap and won with the next four cars in a train heading to the flag. Iain Hibbert and James Emson took up 2nd and 3rd after a final sprint to the line.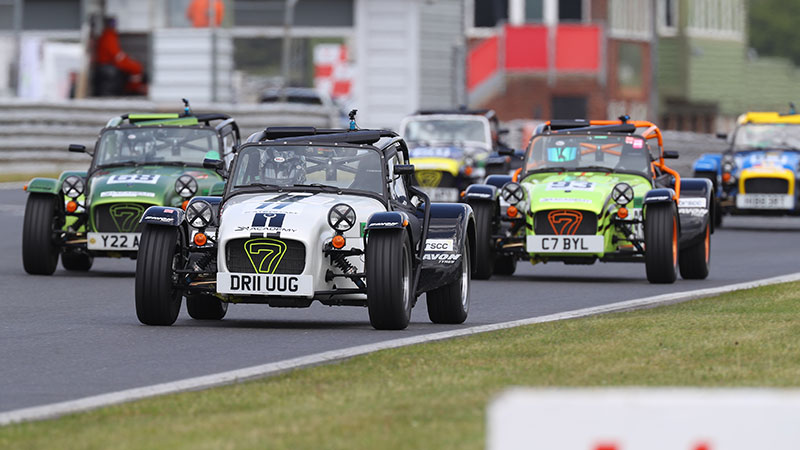 ---
NANKANG TYRE BMW COMPACT CUP – DOBLE STILL UNTOUCHABLE UP TOP
With Steven Dailly having moved on from the Nankang Tyre BMW Compact Cup, the mantle of being the driver everyone has to chase has so far landed on the shoulders of Mikey Doble, who looked set to continue his opening weekend domination from Brands Hatch where a brace of wins kicked off his 2022 campaign nicely.
Doble had to come from the second row of the grid and get past both pole sitter Ian Howes and Lee Dendy-Sader. Howes was dispatched on the opening lap to grab 2nd and then Dendy-Sadler was next a lap later as Mikey swiftly picked off both in quick succession to take the lead. From here, he was never headed despite the close attentions of Dendy-Sadler and while Howes initially dropped back as far as 2.5 seconds, a late burst of pace helped him claw some of the time back before the flag.
The next two races saw the exact same top three both times, although this time Doble was able to take the lead from pole in Race 2 rather than a row further back. From the initial jump, Doble had the field at his command, steadily building up his lead lap on lap to eventually take his fourth win from four starts this year by just over three seconds, as he left both Dendy-Sadler and Howes to duel amongst each other over the runner up spot. For Race 3, the result showed the same three drivers yet again, but that was far from the entire story. A frantic first lap saw Matt Wilkins surprise everyone to lead the opening lap, Thomas Middleton shuffled into 3rd and Doble down to 4th place with plenty of work to do. But Mikey wasted no time in getting back to 2nd place in just a couple of laps, by this time Dendy-Sadler had taken over as leader. It wouldn't be until Lap 6 when Doble managed to overhaul the former Fiesta racer, taking thelead anf staying there to maintain his 100% win record this season. Howes also found a way past shortly after and took 2nd place on the road, before a penalty for avoidable contact put him back behind Dendy-Sadler to 3rd.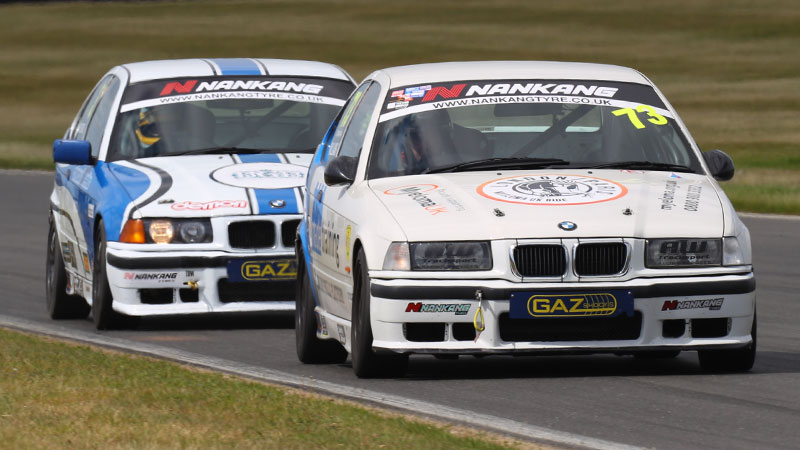 ---
NANKANG TYRE CITY CAR CUP – BLISS AND LETTIS TAKE HONOURS FOR TOYOTA AND PEUGEOT
The Bliss siblings of Richard and Stuart proved that they were the benchmark everyone in the Nankang Tyre CityCar Cup had to live up to this season after they shared a win apiece in a safety car affected opening pair of races at Oulton Park. They looked to capitalise on their good form once again at Snetterton, as two 20 minute races beckoned this time.
They locked out the front row in qualifying with Richard on pole ahead of Stuart, and the two cars remained in this order from the off, initially getting a decent jump on everyone else before the pack quickly caught back up, led by Elliot Lettis on this occasion. Lettis initially had the pace to stick with the top two, but two slower laps in the closing stages dropped him far back into the range of Andrew Dyer in 4th, although thankfully Elliot regained his speed quick enough to hold him off. As for the Bliss duo, they were simply dominant as Richard and Stuart cruised to an easy 1-2 finish for the pair of Toyota Aygos with Lettis' Peugeot over 9 seconds back.
The second race would only last just three laps after an incident for Andrew Payne left race control with no choice but to throw the red flag, and with the race being run late in the day there was insufficient time remaining to restart it properly. However, one person who was glad (in a way) to see the race end when it did was Lettis, as he'd run in 3rd behind the two Aygos of the Blisses through the opening two laps, but had found a way past both to lead the last complete lap before the stoppage. Therefore, it was a significant win for two reasons, the first victory for Elliot in the championship and the first-ever points-scoring win for a Peugeot in CityCar Cup too (Steve Laidlaw had won a race in the standalone Croft races in 2020, albeit when CityCar was still a series). This now means that all three marques represented (Citroen, Toyota and Peugeot) have won a race in the championship since it began last year!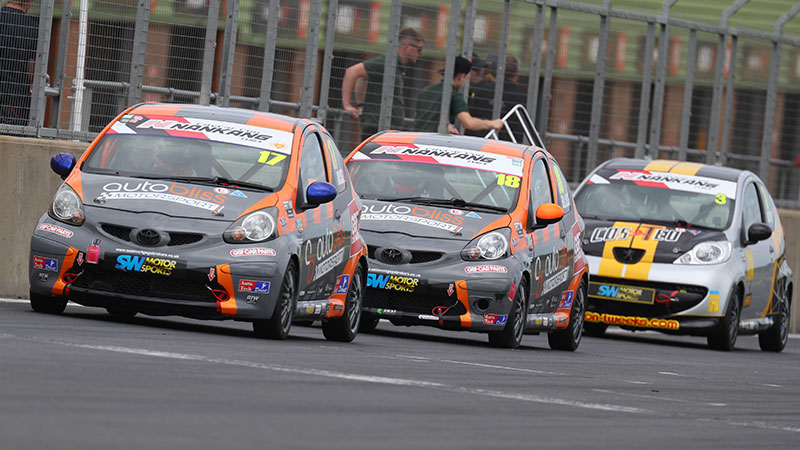 ---
VINYL DETAIL ST-XR CHALLENGE & CIVIC CHALLENGE – BLACKBURN BEATS THE REST AS NEW HONDAS JOIN IN
The Vinyl Detail ST-XR Challenge made their second trip of the season after the opening two races at Oulton Park, this time heading to Snetterton with an entry that may have been slightly shorter on numbers, but certainly wasn't lacking in quality drivers. For the first time, they would share the grid with a brand new series as the Civic Challenge made their debut for the very first time with the BRSCC and lined up on a combined grid with the ST-XRs.
Michael Blackburn wasted no time in setting out his marker early on with a lap in qualifying that put him a quarter of a second ahead of Sam Beckett with Chris Grimes on the second row alongside Mark Blunt. From the start of Race 1, it was Beckett who got the better start to lead the ST-XRs, but his advantage would only last two laps as Blackburn's pace came through to give him the lead that he would not lose despite Beckett keeping the pressure on for the remainder of the 15 minutes. Blackburn's winning margin was less than half a second at the flag, as Grimes ensured he wasn't far away in 3rd either. More of the same occurred in the second race later in the day, as Blackburn managed to hold onto the lead from pole this time, but yet again was put under constant pressure from Beckett in a bid to take the win himself. Despite never being more than half a second away all race, Beckett again settled for 2nd with teammate Grimes on his tail in 3rd, as Blackburn completed a double from Norfolk.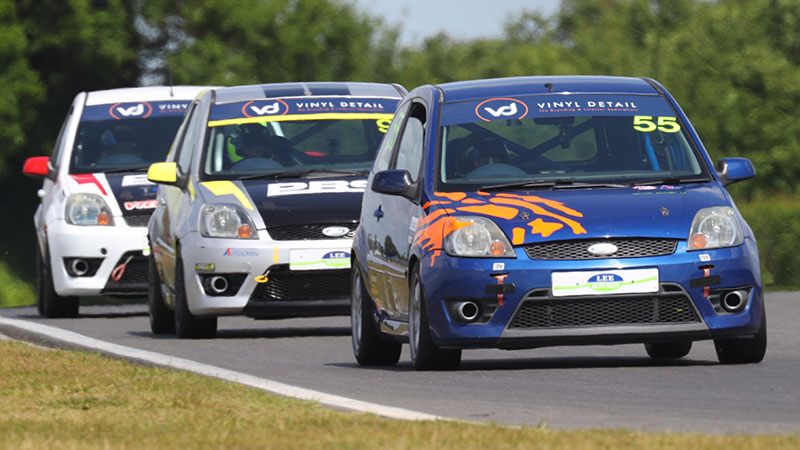 Over in the Civic Challenge, their two races were taking place on track ahead of the Fiestas, as Bradley Lane asserted near-total dominance right from the start. After just nicking pole from Tate Taverner, Lane's race pace was untouchable as he lapped at least a second quicker than the rest of the field to storm to the first Civic Challenge race win by nearly 10 seconds, followed by Taverner in a distant 2nd place and Alfie Jeakins even further back in 3rd, his gap to winner Lane over 20 seconds. If Race 1 was dominant, then Lane's advantage in Race 2 was stratospheric as nobody could remotely come close to him all race. His fastest lap was nearly five seconds better than the next, as he thumped the opposition to win by over 30 seconds! Teammates Jeakins and Loui Hounsell managed 2nd and 3rd in a team formation finish.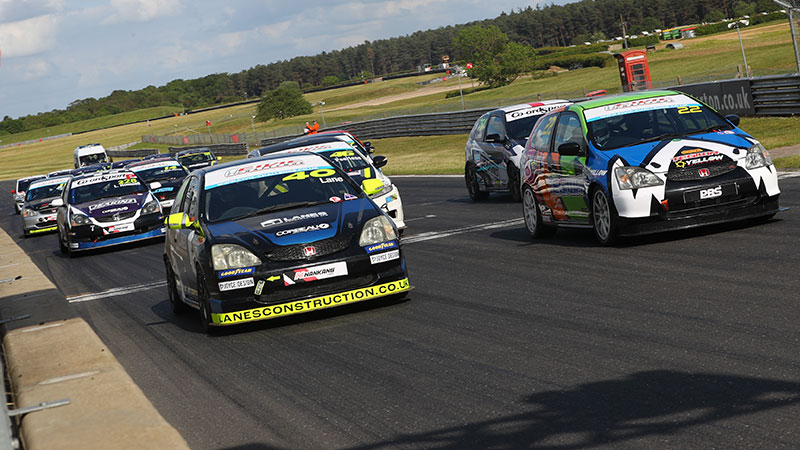 ---
TRACK ATTACK RACE CLUB – TINY RENAULTS PROVE TO BE THE CARS TO BEAT
Also back on a BRSCC timetable for their second appearance of the was the Track Attack Race Club, whose combination of French, German and Asian cars on one grid together always makes for an entertaining spectacle. Their presence at Snetterton was no different, albeit there was one nationality of car that proved to be head and shoulders above the rest.
It seemed as though that if you wanted to succeed at Snetterton in this pair of races, a French car was the weapon on choice. David Clark proved this in qualifying when his ballistic little Renault 5 GT Turbo beat Classic VW Cup racer Ken Lark's VW Corrado to overall pole, and incredibly carried this momentum into the race as he managed to steadily pull away in front over the next 15 minutes to be victorious by nine seconds. Lark maintained 2nd place, with Robert Buckland finishing off the overall podium for Race 1. Clark couldn't claim a second win after retiring four laps into the second race, leaving Buckland's Clio to work its way to the front and lead home a Tricolore Trophy 1-2-3 with Jordan Holmes' Citroen Saxo in P2 and Michael Bland's Peugeot 306 in P3.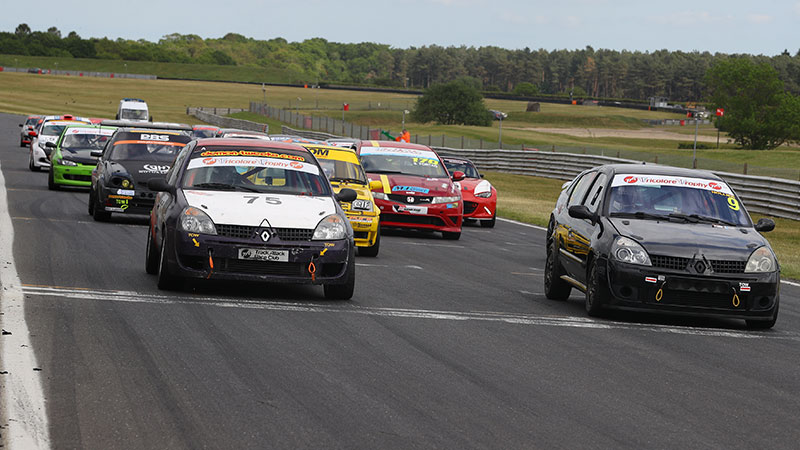 Scott Woodwiss