CATERHAMS, BRITCAR & ZEO READY FOR SPECIAL BRSCC SILVERSTONE GP WEEKEND
CATEGORIES:
A blockbuster weekend of racing is in store as two major motorsport entities within the British club racing scene share the paddock together, as the BRSCC provides the exciting Silverstone Grand Prix circuit to host both Caterham Motorsport, plus both the British Endurance Championship & Britcar Trophy and sports prototype action from the ZEO Proto Cup.
CATERHAM ACADEMY CHAMPIONSHIP – NEW STUDENTS PREPARE FOR SOPHOMORE RACES
Snetterton marked a special day in the life of Caterham's brand new crop of Academy drivers, as they took part in their first-ever circuit races after completing their first competitive event at the Curborough sprint a few weeks earlier. Now it's time for these rookie racers to put what they've learned from their adventures in Norfolk into further practice, as they get a rare and exciting opportunity to take to the Silverstone GP circuit in only their second race start.
It's already quite close at the top of both Green and White groups in the points standings – Ravi Patel won the Green Group race at Snetterton to add to his 2nd place finish in the sprint to lead his rivals by three points ahead of sprint winner Harvey Lawrence and a further point ahead of Iain Hibbert. As for the White Group, Tom McEwing has put all of his sim racing practice into good use with wins in both of the opening events, giving him a five-point advantage ahead of an early tie between Ben Timmons and Matt Larbey. However, as it's still early days this has every chance of turning on its head. These drivers will take away both a memorable experience and plenty more lessons learned from this weekend's racing.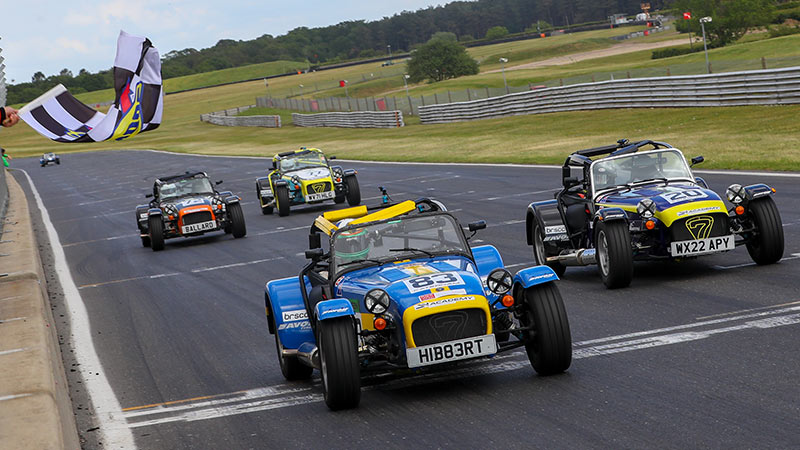 ---
CATERHAM ROADSPORT CHAMPIONSHIP – NEWMAN LOOKING TO CONTINUE FIGHTBACK AGAINST LEADER LOWER
So far in the Caterham Roadsport ranks, it's been honours even in terms of race wins between both of the outgoing Academy champions from last year, and they look set to be locked in a battle for supremacy all season long. All the drivers here are putting all the lessons they learned throughout their freshman year of racing in 2021 to good use to further develop their careers and skills.
Charlie Lower (2021 White Group champion) started the year as the double winner at Brands Hatch, but dealt with a rebounding Geoff Newman (2021 Green Group champion) who pulled off the same feat a few weeks later at Snetterton last time out. Despite both also scoring 27 points from a race each, it's Lower's 2nd place and fastest lap in Norfolk that makes the eight-point difference compared to the P8 Newman ended up with at Brands. What's more, Geoff's main rival from last year, Freddie Chiddicks is also lurking just a further two points back, so the pressure will come at him both ways and Newman will have to be on his a-game again to beat both and potentially claim the lead again.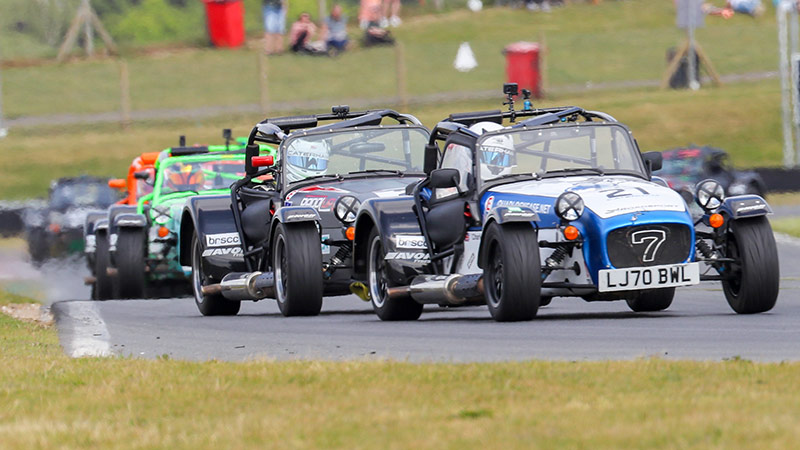 ---
CATERHAM SEVEN 270R CHAMPIONSHIP – BUSH HOPING TO CUT DOWN O'FLANAGAN'S POINTS LEAD
It's not uncommon for the champion of a previous year's Caterham campaign in the step below to immediately pick up where they left off, adapt to the required upgrades instantly and carry on their winning form. This has once again come to pass in the Caterham Seven 270R Championship, the middle step on Caterham Motorsport's racing roster that's seen by many as the "coming of age" championship that allows drivers to put all of the skills and experience they've gained in Academy and Roadsport to effectively become complete racing drivers in their own right.
Taylor O'Flanagan has so far only been beaten once in the four races contested so far, and even in the only one he didn't win, it was still a 2nd place. It gives him a five-point lead in the championship at this early stage, and he has two rather familiar adversaries for company that are chasing him in 2nd and 3rd. Hugo Bush was the man that took the other race victory in the very first contest at Brands Hatch and will be keen to keep up his pursuit, while Germany's own Domenique Mannsperger hasn't had the smoothest of starts to his 2022 campaign, but has managed to claim three podiums to hold 3rd place, albeit 14 points behind O'Flanagan. The objectives for all three will be clear – for O'Flanagan to hold and increase his lead, for Bush to close it down and even take over, and for Mannsperger to regain ground and push himself further into the title fight.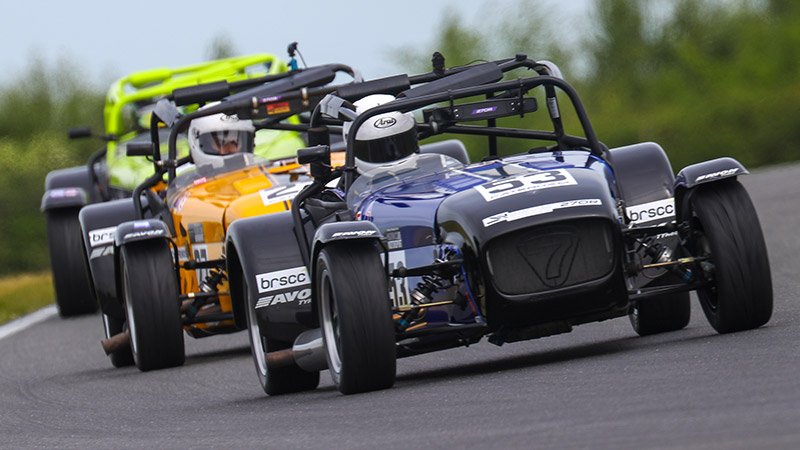 ---
CATERHAM SEVEN 310R CHAMPIONSHIP – WALTERS CONTINUES TO WALTZ AWAY OUT IN FRONT
One driver who is no stranger to Caterham championship success either is Pete Walters, who is once again proving that when he's in form, he's almost untouchable within the Caterham Seven 310R Championship ranks. With such a competitive field of drivers this year, and numbers totalling nearly 40 registered for the 2022 season, the ultimate evolution of the original Caterham Academy car is clearly bringing out the best in many of the talented contenders on the grid.
Walters has three wins to his name to date, having collected a pair at Brands Hatch and then one at Snetterton, with an additional fastest lap helping him stretch out an initial lead of 13 points heading to Silverstone. Right now, his closest challenger is David Yates, who also collected a race win from Brands Hatch (the weekend running a three-race, A-B-C group system) to add to an impressive string of top-five finishes, showcasing that David's in some of the best form of his Caterham racing career right now. Incredibly we have to look to 11th in points to find the other race winner this year, James Wingfield, who has a DNF to recover from to climb back up the table. Those ahead of him such as Harry George, Lars Hoffmann, Blair McConachie, Harry Cook and more have all scored consistently too and will hope to try and break Walters' current stranglehold at Silverstone, or at least loosen it to their advantage.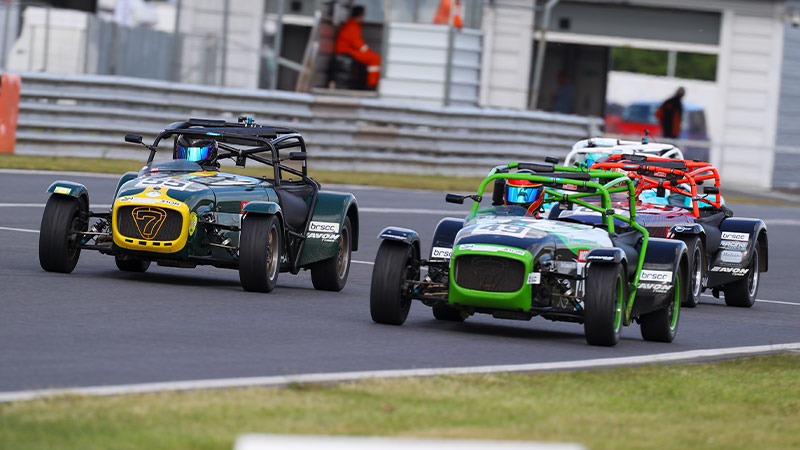 ---
CATERHAM SEVEN CHAMPIONSHIP UK – HEAD CURRENTLY TEACHING HIS RIVALS SOME LESSONS
For sheer pace, excitement and racecraft at close quarters, the Caterham Seven Championship UK will showcase the very best and the very fastest racing action that the manufacturer's motorsport arm offers. With their dedicated Avon slick tyres, ultra-lightweight purpose built chassis and race-ready suspension, these cars will produce a spectacle on track that will set a benchmark for the rest of the Caterham paddock to live up to and aspire to.
So far, it's been a successful return to the paddock for former multiple-time champion Aaron Head, as he's provided everyone with a strong reminder of why was and still is a driver to be feared and respected. From six races across Brands Hatch and Snetterton, Aaron has captured victory in four of them with 2nd and 4th in the others, plus two fastest laps and bonus points for SuperPole at Brands. All of this now gives him a clear 19-point lead out in front, and if his current three main rivals want to do anything about that, they're going to have to first try to avoid fighting amongst each other. Henry Heaton, Lee Bristow and Chris Moore cover 2nd to 4th by just five points between them, and if they can all put their focus on beating Aaron on track, at least one of them has a clear chance of making some inroads. Watch out for the likes of James Murphy and Tim Dickens too.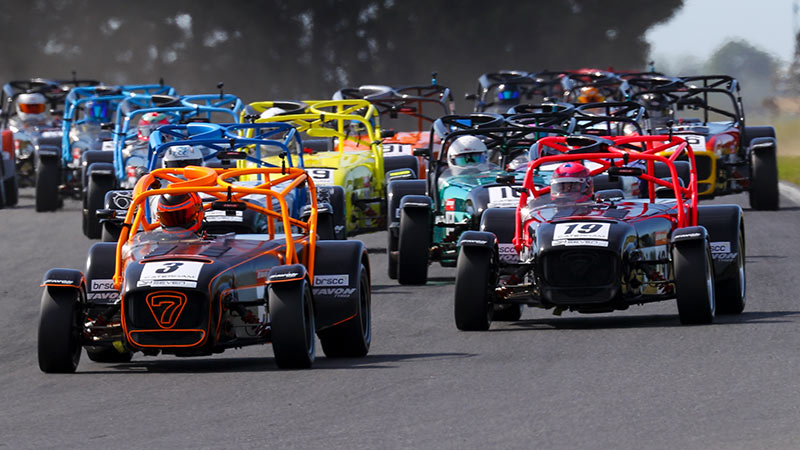 ---
BRITISH ENDURANCE CHAMPIONSHIP – SIX COVERED BY SEVEN IN ENDURO POINTS BATTLE- Written by Steve Wood
Already we are at the mid-point of the British Endurance Championship calendar, and just seven points separate the top six overall contenders. Jointly topping the table with 83 points apiece are Class C rivals Chris Goddard/Charlie Hollings in the RNR Performance Ferrari 458 Challenge, and Carl Cavers/Lewis Plato, whose similar Valluga-run machine has been temporarily replaced by a lower-spec Cayman as an interim measure. Just two points adrift is the Team Hard Ginetta G55 of Josh Hislop / Michael MacPherson / Ray Harris, which heads the Class D contingent, ahead of Class A leaders Wayne Marrs and Tom Jackson in the Rob Boston Racing Mercedes GT3.
Jointly on 77 points are the Team BRIT pairing of erstwhile overall leaders Andy Tucker and Luke Pound in the Class D Aston Martin Vantage, and the newer T7 Motorsport version of Peter Montague, who has been variously assisted by pro-drivers Stuart Hall or Dan Brown, and they are just one point ahead of fellow Class D runners, father and son duo James and Jake Little in a Valluga Porsche Cayman.
But points don't tell the whole story – in Class A, the Mercedes has faced stiff opposition from the ING Sport BMW Z4 and the Lamborghini Huracan of Lee Frost and Lucky Khera, while the unique MacG Racing Taranis, and Venture Innovations' stunning Aston Martin Vulcan are always front-runners too. Class B has seen the Lamborghini of Claude Bovet/David McDonald most successful, while the Porsche 911 of Peter Erceg and Marcus Clutton has generally set the pace in Class C, but has had issues.
It's fitting that TCR UK supremo Stewart Lines heads the points table in the TCR-specific Class E, sharing his VW with Anton Spires, but it's a close-run thing, with Beeson/Heler, Hull/Avery and Dasy/Foster all equally on 65 points, though we have yet to see the best of frontrunners Ash Woodman and Martin Byford's EDF-run Cupra, while in Class F, the Porsche of father-and-son duo Mark and Jake MacAleer is up against the Jaguar F-Type of brothers Callum and Adam Thompson.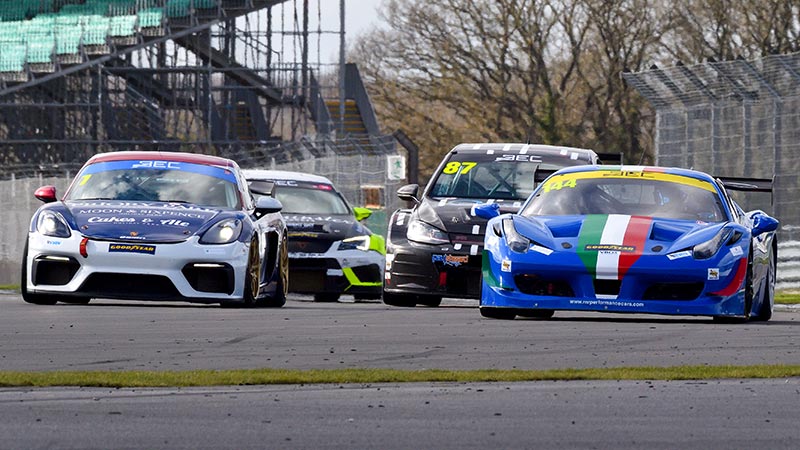 ---
BRITCAR TROPHY CHAMPIONSHIP – CLASS LEADERS DOMINATE TOP THREE AS SILVERSTONE GP BECKONS – Written by Steve Wood
It's tight at the top of the points table as the Championship reaches mid-season, and the Class 2 Team BRIT BMW 240i of Paralympians Chris Overend and James Whitley heads the overall standings with 178 points, taking in four class wins out of six races, and a clean sweep of poles and fastest laps. Just one point behind, though, is Junior Saloons graduate Charlie Hand, also leading the Clio Class in his Westbourne Motors machine. Third in the standings is Ginetta G40 Cup competitor Peter Dilnot, who has become the man to beat in that class over the last four races. The Clios, mixing it with the Golfs in Class 3, are providing some exciting racing, and heading Class 3 is the TCR squad, with their #77 Golf shared by all team members – Rodgers, Taylor, Mark Jones and Fynn Jones, variously through the season, with teenagers Harry Yardley Rose/Rhys Hurd posing a threat in the Chandler Golf; they share 159 points with second-placed Clio pairing James Black and Jack Meakin, while in the G40 class, Julian Daniel has had a run of podium finishes that claim him second place in the class standings.
You have to look down the overall order to find the leading Class 1 contenders, such has been the competitiveness and mixed fortunes. It's basically a BMW vs Ginetta G56 affair, with the G56 of Mark Lee / Owen Hizzey 14 points ahead of Axel van Nederveen in a similar machine, with the BMW E46 of Jasver Sapra and Bryan Bransom third.
The lure of the Silverstone GP circuit has attracted a number of registered returnees, and a host of Invitation entries, which could well cast a new perspective on the points table, and will no doubt have an influence on race positions – the BMWs of Lucky Khera/Lee Frost and Kevin Clarke/Aldo Riti starred here last month in the National circuit.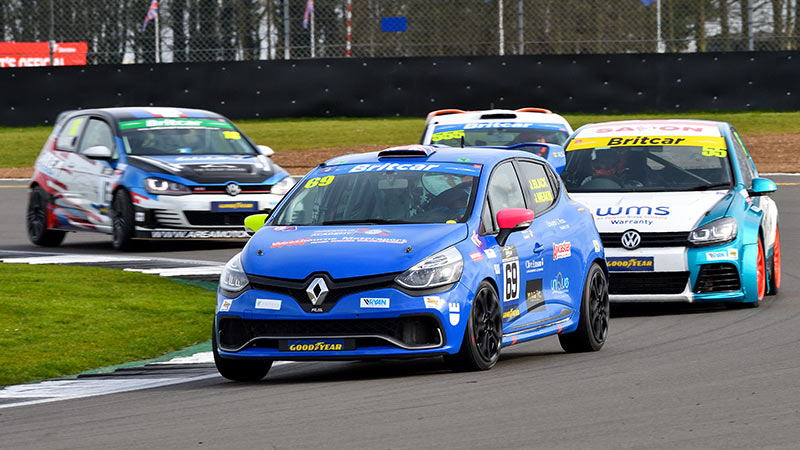 ---
ZEO PROTO CUP – SPORTS PROTOTYPES READY TO STRETCH THEIR LEGS ON GP LAYOUT
If the amount of sports car racing action isn't already fully stocked on this timetable, there's even more in store with a pair of races for the thriving ZEO Proto Cup, which is a home for all eligible sports prototypes to race together in high-speed, multi-class competition. After a steady start to 2022 at Snetterton, the pace has picked on for this Silverstone GP visit, with another excellent variety of cars.
Former OSS champion Mike Jenvey was the runaway winner in both races at Snetterton and he will look to carry his momentum forward at ZEO's centrepiece event of their season. His self-developed Jenvey-Gunn TS6 has always been a formidable car to go up against and the GP circuit's sweeping high-speed corners will really favour both it and him. In terms of immediate competition, the best bets are sure to be the Junos of Graham Charman and Andy Chittenden, Matthew Chamberlain's home-built CTR 01 and also the returning Graham Cole, whose turbocharged Jade was always in the hunt for race victories in past OSS seasons. Now Graham returns with a self-prepared special of his own, as he wheels out the Bicknell PS7 for the first time in the series. He will certainly hope for a trouble-free first run out in order to gain valuable development mileage.
Plus there's set to be the usual selections of Radicals on the grid, plus for this event another set of cars that will only compliment the line-up will join the series. Alongside the ZEO Proto competitors will be approx. 10 cars from the Sports Prototype Cup, which will mainly comprise several Revolution A-One chassis that are contesting races on a selection of European grand prix circuits. On the whole, this should be a very enticing pair of races that are sure to get race fans' mouths watering.
Scott Woodwiss