As part of a mega weekend of racing where championships are set to be provisionally settled, the BRSCC heads to the Home of British Motorsport to settle a few more scores within the club's vast portfolio of championships and series. There's an excellent mix of Caterhams, BMWs, CityCars and a guest appearance from the Mini 7 Racing Club in store, plus another packed out grid from the ClubSport Trophy and more tin-top racing from the Track Attack Race Club.
---
CATERHAM ACADEMY CHAMPIONSHIPS
It's been an exciting and wondrous year for the first season racers in this year's Caterham Academy students as they've been developing their skills on the race tracks of the UK as part of the overall racing package that Caterham Motorsport provides for novice drivers who have never raced before entering.  Both the Green and White Groups head to Silverstone for their last races of their regular season to find out who walks away from their first ever year of competition as a champion.
In the Green Group, it appears as though the title is all but wrapped up for Rrutuj Patki, as his lead heading to Silverstone on dropped scores is substantial enough at this stage, meaning that his decision to sit out the final race to assure his champion status will be seen by many as a wise move. This means that the focus will mainly be on who finishes runner-up to Rrutuj in the standings as Ravi Patel, Iain Hibbert and Toby Ballard get ready to decide which of them will end up on the championship podium. Three into two won't go, so something has to give!
For the White Group, it's a much closer affair at the top with Matt Larbey leading on 130 points after dropped scores, eight ahead of Tom McEwing and a further three ahead of Ben Timmons in 3rd place. All three have taken race wins throughout the year are now set for a tense three-way showdown that is sure to leave us on the edge of our seats until the chequered flag. It should also be a close one for 4th place between Nick Bryant and Ryan Wilby that could also intertwine itself between the championship fight.
For one last race to sign off their freshman year, drivers from both Academy groups will take part in the special annual Autumn Trophy non-championship race. With just bragging rights on the line, this will be the first time that both Green and White Group drivers will face off directly against each other on track all year, after both groups took to the track together on the Silverstone GP circuit but were ultimately racing against those in their own group. It's the perfect way for the drivers to graduate in style!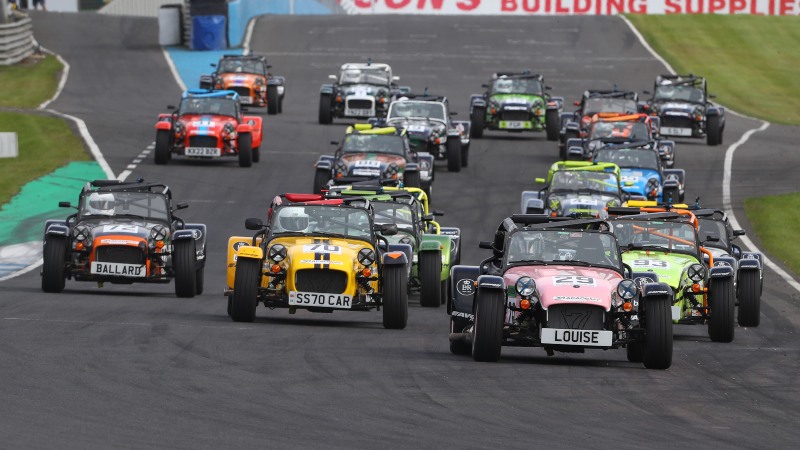 ---
CATERHAM ROADSPORT CHAMPIONSHIP
Also joining the Academy drivers at Silverstone, the Caterham Roadsport Championship competes on this Super Finale weekend with the 270R, 310R and Seven UK championships contesting their final races of the season over at Spa-Francorchamps in Belgium. This means that the Roadsport drivers will get the chance to shine in their own spotlight at the fastest Caterhams attending Silverstone.
It's been tense and it's been tight all year, but at long last we arrive at the final rounds with a three way dance for the championship between outgoing 2021 Academy champions Geoff Newman and Charlie Lower, and perennial front runner Freddie Chiddicks. As expected, these three have dominated proceedings all year and now reach Silverstone with 13 points separating them after dropped scores. Newman leads Lower by five, with Chiddicks a further eight back meaning he will have to work hardest of the trio to not just overhaul them but outscore them as much as possible.
Behind them there is also a titanic scrap for best of the rest outside the overall top three, with James Cook heading a group of six drivers covered by 21 points. With two races over the weekend, there's any manner of different combinations of finishing positions and connotations at stake, so they'll be putting the calculators and spreadsheets into overdrive to really figure out who finishes where when the chequered flag drops.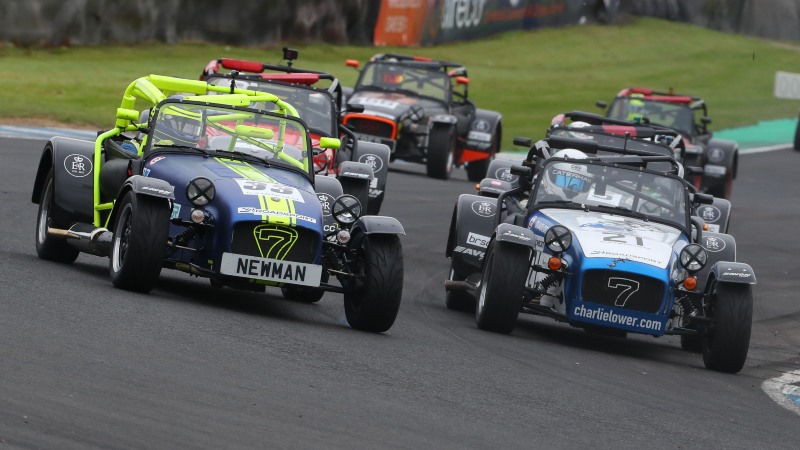 ---
NANKANG TYRE BMW COMPACT CUP
A driver always feels pressure when they're in the hunt for a championship title. Just coping with the pressure from a grid full of hungry drivers doing their best to pressure you into a mistake is tough enough to have the stamina and fortitude to cope with. Now imagine if you were in the hunt for not one, but two championships in different series, heading into the final rounds that were taking place just miles apart from each other. Incredibly, this farfeched scenario is about to play out in the Nankang Tyre BMW Compact Cup!
Points leader Mikey Doble heads the table in the BMWs going to Silverstone, but that's not the only group of drivers he'll have to race against and worry about. Amazingly, Mikey also has a shot at the Ginetta GT5 Challenge title that's up for grabs up the road at Donington Park supporting the British GT Championship's final rounds too. If he manages this incredible feat it will certainly go down as one of the most memorable moments of the club motorsport year and while it may seem nigh on impossible, Mikey and all involved are up for the challenge.
To secure the BMW Compact Cup title this weekend, Doble needs to make sure that Ian Howes' deficit of 65 points isn't surpassed, meaning that Mikey make choose to take the safe route and race at his own pace to negate any potential points his rivals will score to close up as much as possible. Nearest to him after dropped scores is Ian Howes with a single win to his name compared to Doble's nine from the season, while Howes in turn is just five ahead of season-long rival Lee Dendy-Sadler. Mikey's father Mike Doble Snr is not just 4th in points but also best placed to win the Masters accolade too, so two of the Doble family might be leaving this weekend with their arms full of championship winning silverware!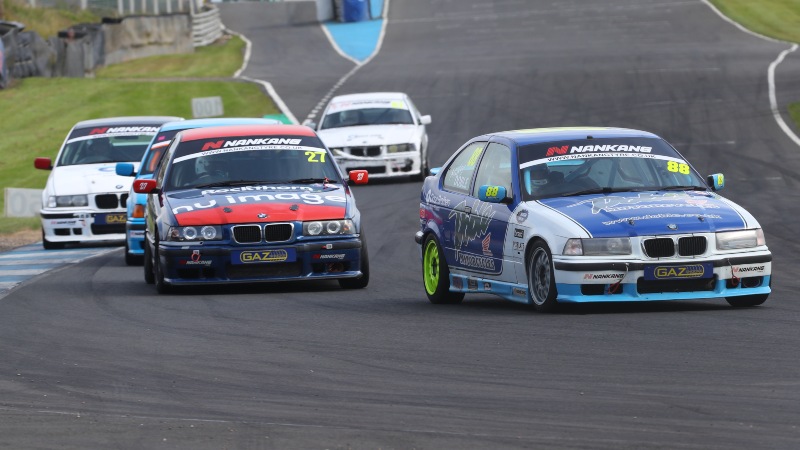 ---
NANKANG TYRE CITYCAR CUP
After the overwhelming success of the first full season of racing as a championship, the Nankang Tyre CityCar Cup has again been thrilling drivers and fans up and down the racetracks of the UK and now in October, the time has come to write the final chapter of what's been an incredibly tense, close, competitive and action-packed year. This weekend is already a special one, made even more so by the largest entry CityCar has ever achieved for a race meeting – a new record at a whopping 40 cars!
It appears as though there's a two-in-three chance that by the end of the weekend, the provisional champion will be someone called Bliss. Whether or not it turns out to be Richard or Stuart remains to be seen, but they along with Andrew Dyer cover 1st to 3rd on dropped scores right now by 15 points. Richard has done the bulk of the winning this year and hopes that more of the same will help immortalise his lead with the provisional championship title having six wins compared to Stuart's two and Dyer's four. It will be fascinating to see who makes the moves needed to become champion.
Elliot Lettis is another name to keep an eye on as he was strong at the outset but has had some tough results in the last couple of race weekends and slipped out of title contention. Don't count him out completely as he could still get amongst the front runners and cause a stir if needed. Also make sure to look out for names such as Christopher McKenzie, Richard Snuggs and Patrick Booth amongst many, many others on the grid this weekend as they will all be gunning for the strongest possible finish to their season.
Then you have the other title fight going on at the same time – that which is going down for the first-ever Student Motorsport Challenge. The amazing incentive for colleges and universities up and down the country to compete on track together and to give their students real-world experience in the motorsport field. The first-ever SMC champions will either be current leaders East Surrey College, 2nd placed MET Motorsport and 3rd placed Oxford Brookes, the latter making a late surge after starting mid-season and making history at Croft as the first Student Motorsport car to win a CityCar Cup race outright. In the hands of Ben Creanor, he has more than enough to do it again, but both Andy Burgess (East Surrey) and Richard Jepp (MET) will hope to keep their teams in the top two by the end of the weekend!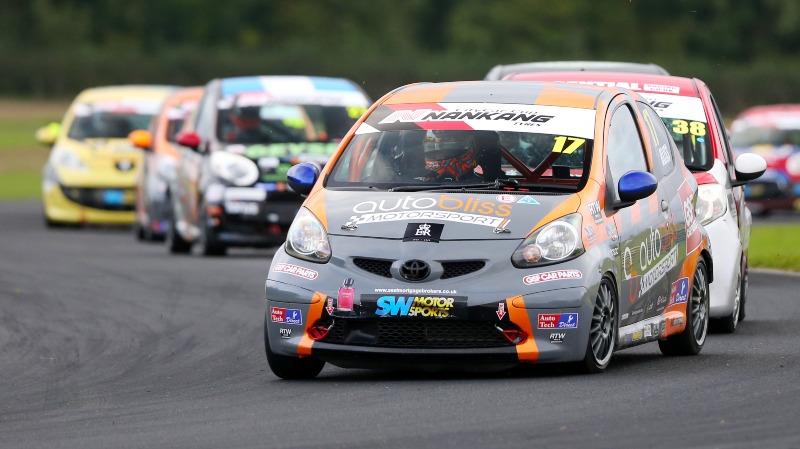 ---
MINI 7 RACING CLUB
After making guest appearances on the BRSCC portfolio twice already this season at Snetterton and Donington Park, we're thrilled to welcome back onto the timetable the utterly bonkers, thrilling and spellbinding Mini 7 Racing Club, with both their Se7en and Miglia championships contesting their final rounds of the regular season before their winter series races at Brands Hatch in November.
Mike Jordan is still head of the table in the Mini Se7en championship standings, merely 14 points in the lead after dropped rounds over Connor O'Brien. Jordan has used all of his speed, talent and experience to pedal faster than anyone else on most weekends, having taken eight wins to date and hoping he can pull another incredible pair of races out of the bag to get his championship win over the line at last. Jo Polley isn't far off either in 3rd, 25 back to leader Jordan and wishing to make some late gains on the top two, while she also has a sizeable gap over 4th and 5th with Joe Thompson and Glen Woodbridge sure to be in the mix as well. Damien Harrington also appears to be in line for S-Class honours and will want to hold his advantage to go on and provisionally become the champion over 2nd and 3rd place Frazer Hack and Matt Ayres.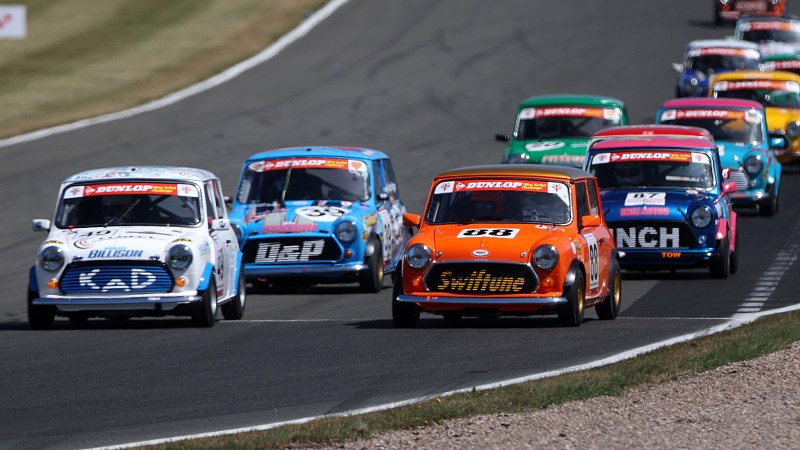 The faster Miglia and Libre cars have a title battle that seems a little more straightforward – Rupert Deeth has managed to claw his way into the lead and holds on by 23 points ahead of Aaron Smith, then former BTCC aces Jeff Smith and champion Andrew Jordan. In recent races, Jordan has been the one in-form recently, winning three of the last five to help him rise up to 4th. Missing two race weekends means his chance of retaining the title is all but gone, leaving Deeth and the Smiths to dice this one out between each other. Mini Miglia race is always fantastically close and we're confident more of the same will occur here.
A small note on the Libre class competing this weekend too on the Miglia grid, as that has Richard Colburn with a runaway lead ahead of Les Stanton and Craig Cox. These slightly more modified Miglias have a very healthy entry this weekend, so plenty of battles are expected on this part of the grid too.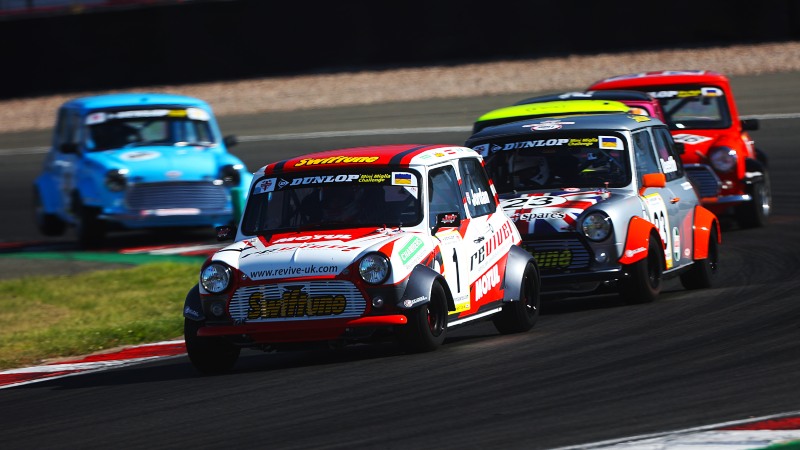 ---
BRSCC CLUBSPORT TROPHY
The BRSCC ClubSport Trophy visited Silverstone earlier in May on the GP layout as part of the Citroen C1 24 Hours support timetable and produced a record grid of nigh-on 60 cars for that race on that day. Now with the ClubSport season rolling into its final stages, the series is back at Silverstone again – only this time on the International circuit.
As a quick reminder, each ClubSport "mini-endurance" race is 45 minutes in duration with a mandatory pitstop and both solo and two-driver entries permitted per car. The class structures caters more towards clubman level race cars with a maximum power to weight ratio cap of 235bhp per tonne. Cars must also run on List 1A/ 1B/ 1C tyres as found in the Motorsport UK Yearbook. With such a wide variety of cars that turn up regularly to ClubSport Trophy races, grids are usually incredibly healthy with entry numbers usually near capacity each time.
Class A has more usual suspects back for another chance at glory. That includes Phiroze Bilimoria's VW Scirocco, Paul Hinson's BMW Compact, Alistair Lindsay's SEAT Leon and James Alford in his VW Golf. Also gracing the class are a returning Mark Court and Colin Newbold in their Honda Integra Type R DC5 and a debut for Nathalie McGloin in her specially adapted Porsche Boxster. Class B should also be a fascinating contest, with another Porsche Boxster for Jess Wilkinson alongside John Wyatt's MINI, Mike Parsons' VW Golf and the Honda Civic Type R of James Butcher.
A smaller Class C than usual has Brendan Murphy's modified BMW Compact against Ben Creanor, making his second outing in the new BMW 1 Series SuperCup car, which itself runs its third competitive race after appearing at Snetterton and Donington earlier in the season. There's also a pair of cars representing Class D too as Chris Coomer and Jared Coulson's Renault Clio squares off against Stephen Wiggins and Steve Hyde aboard their Mazda MX-5. The bulk of the entry lies in Class E, usually the domain of BMW Compact Cup cars like that of Philip and Matthew Adcock, the ever present Mazda2s of which there are three once again, a couple of Mk1 Mazda MX-5s and a Peugeot 206 GTi for Nick Tasker and Mark Robinson. We're expecting this to be the most competitive class of the race on this occasion!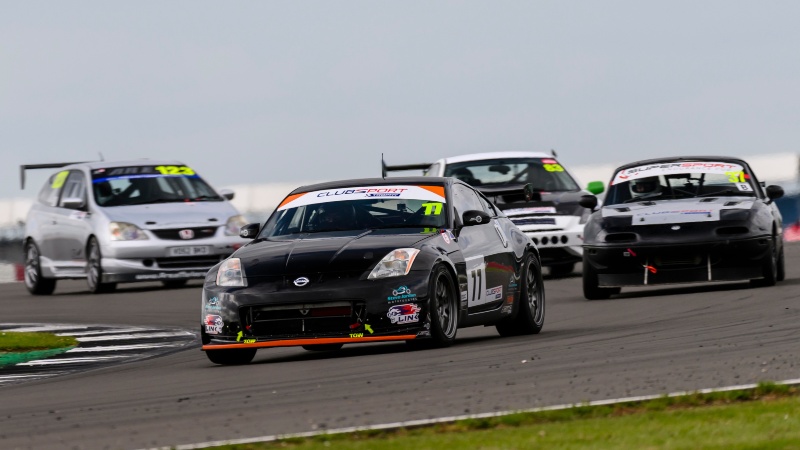 ---
TRACK ATTACK RACE CLUB
Speaking of massive variety, we're also hosting the Track Attack Race Club on this weekend's timetable too, as they also bring their usual mass of cars representing French, Japanese and German manufacturers. There's quite a substantial entry on this occasion at Silverstone which of course means it's going to get extremely busy on track.
The Tricolore Trophy has many familiar regulars back on the grid here, including Tony Hunter's Renault Clio, David Clark's always-impressive Renault 5 GT Turbo, and more Clios driven by Nick Gwinnett and Frank Pettitt. They are also tied in with the ever growing Peugeot 206 GTi Production Cup, which continues to expand its entries and no fewer than 11 on the grid this time. There's BMW Minis, Audi TTs, an Opel Astra VXR and BMW E30s representing the Deutsche Marks Cup along with a handful of cars from the Classic VW Cup, which has just joined the BRSCC's roster for 2023 after a recent announcement. Look for Ken Lark's Scirocco, Chris Adams' Mk4 Golf, Donald Dewar's Mk1 Golf and Tony Absolom's Mk2 example in particular.
There's also plenty on the grid representing the Nippon Challenge too, such as a Toyota MR2 Mk3 for Kristian White, Jeremy Shipley's Mazda MX-5, Lewis Porto's own example, a Mazda2 making a cameo appearance and David Thomas in a Mk1 MR2 as well. All of these cars combined make a grid that's not only full to capacity but even has two reserves on the list at the time of writing!
Scott Woodwiss