FIESTAS, FORDS AND INTERMARQUES READY TO DELIGHT IN FORMULA FORD FESTIVAL SUPPORT RACES AT BRANDS HATCH
CATEGORIES:
While the focus of this weekend at Brands Hatch will be all of the action, drama, intensity and euphoria in the 51st running of the BRSCC Formula Ford Festival, what shouldn't be overlooked is the excellent support package on the timetable that should be just as entertaining in between races for the main event. There's something of a return to the Ford theme this year with the pair of successful BRSCC Fiesta championships ready to conclude their 2022 seasons with title battles to settle, plus exciting racing in store from both the Modified Ford Series and the Classic & Modern Motorsport Club Southern's Intermarques. Get ready for some immense saloon car and junior action around the Indy circuit!
AIRTEC MOTORSPORT FIESTA CHAMPIONSHIP
Having begun a successful period of growth once again in 2021, so far the AIRTEC Motorsport Fiesta Championship has enjoyed another successful and competitive year of racing this season, with the powerful ST240 class turbo Mk7 Fiestas dominating the pack and producing some exceptional tin-top action. Back once again on the support timetable for the BRSCC's blue-riband Formula Ford Festival, the Fiestas arrive in Kent with a fight for the title to be resolved.
The story of the season has been a back and forth affair between youth and experience – last year's Fiesta Junior champion Jenson Brickley has taken to the senior levels of racing with aplomb and heads to Brands Hatch in the championship lead overall in the ST240 class. Over the course of the year he's taken three victories and a further nine podiums, and this currently puts him level on points overall and in the lead by 16 after dropped scores. The man who chases him is 2016 champion Alastair Kellett, who also has three wins and seven podiums, but his other results have helped him score exactly the same amount of points overall as Brickley, but ends up dropping more than his rival heading to Brands.
What will make the results from the final three races more crucial is that none of the points scored over the weekend can be used towards dropped scores, meaning every single one has to count in the final tally. That means every single point counts this weekend and one small slip from either title contender could spell disaster. A fine balance will need to be struck between risk and caution for either to come out on top.
While the top two are out in a league of their own, there's a battle to resolve for the final step on the overall championship podium. Rob Smith, outgoing champion, currently resides here but his gap over nearest challenger Zachary Lucas is just 20 points, while a little further back Simon Horrobin and John Cooper are ready to scrap over the last top five place with a gap of 16 points between them too. Many of this season's usual suspects will also be out in force again to round off the season, including Spencer Stevenson, Barry-John McHenry, Gary Miller and Connor Blackburn to name a few. Also making his return to Fiesta racing is former Fiesta Junior racer Nicholas Reeve as he takes to an ST240 for his first senior Fiesta start.
There's also a battle to resolve amongst the evergreen ST150 class, with the winner decided by which drivers sits highest in the overall standings. This accolade appears to be on its way to Nick Moore having won the class several times this year, but Joseph Knight, Adam Burdis and Matt Chambers will be amongst those trying to delay the almost inevitable outcome.
After what's been a superb year in which the Fiesta Championship's grid have continued to grow healthy again, the stage is set for what is certain to be a very fine climax to the 2022 season!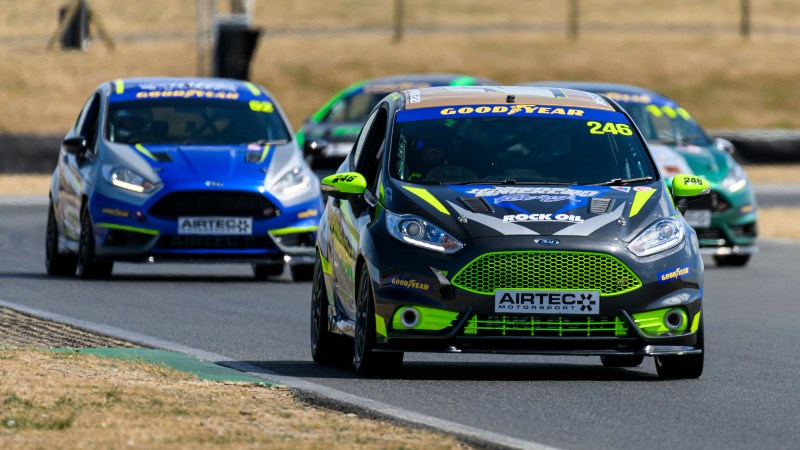 ---
BRSCC FIESTA JUNIOR CHAMPIONSHIP

Cast your mind back to this very race meeting at Brands Hatch back in 2019. On the grid lined up three cars to take part in the final rounds of that year's BRSCC Fiesta Junior Championship. Many would have believed that after that day's action that the series was enroute to cease existence before the 2020 season began. However, such as been the incredible turn around performed by the championship and the BRSCC that it returns to the Formula Ford Festival three years later looking very, very different and having proved the naysayers wrong.
Now the Fiesta Junior grid enters the weekend with a very healthy entry of 18 cars and a healthy championship battle to go with it. All of the regular drivers from this season have made the trip to Kent and to the circuit where their 2022 journey began, after the championship visited Brands to start the season back in April. Since then, they've been on a rollercoaster ride up and down the UK and visited Croft, Oulton Park, Snetterton, Cadwell Park and most recently headed across the border for their first trip to Knockhill in Scotland. Along the way, the racing has been intense and enthralling and it all concludes against the backdrop of the legendary Formula Ford Festival once again.
So, let's break down the main contenders for this year's crown. Top of the pile is Sid Smith, now completing his third and final Fiesta Junior season and heading to the final rounds leading the championship. His early form set the tone for the rest of his campaign with four wins and a podium from the first six races. Two more came at Cadwell Park along with another trio of 2nd places and couple that with finishing every single race and scoring well, this leaves him 28 points in the lead heading to Brands Hatch.
From the outset, Sid's main rival has been Thomas Jack Lee, a graduate from the Ginetta ranks that has settled into Fiesta life near effortlessly. Winning a race on his first weekend at Brands Hatch, Thomas has gone on to win another seven races including two hat-tricks at Snetterton and Knockhill. Arguably, his exclusion from the first race at Croft is most likely the main reason why he doesn't lead the championship, but with no ability to drop any scores from the final rounds, one slip from either of the top two could decide which way the title swings.
As for 3rd place backwards, Albert Webster all but has the position sewn up but could still mathematically steal the title if Smith and Lee both have nightmare weekends. It's highly unlikely, but one thing Albert could definitely achieve is that illusive first FJC win. This is certain to be his final weekend in the championship before graduating to the senior ranks and having come desperately close in the last three weekends, surely his last role of the dice will produce a winning number at last.
There have been consistent drives from Ben Mulryan, George Foxlow and Lexie Belk amongst many others, in a season that has seen no fewer than 11 different drivers take to the podium, making it one of the most competitive Fiesta Junior seasons in its history. Plus, this year has also been a special one in terms of the cars, as 2022 has seen the debut of the next-generation Mk7 Ford Fiesta Junior race car developed by BTCC star Josh Cook and his Cooksport Performance outfit. Harry England has driven one all season long, while this weekend looks set to see Race Car Consultants debut their Mk7 build for the very first time. Newcomer Connor Duncan will look to ensure it's competitive from the first lap out of the box, and he will debut alongside fellow new boy Jacob Hodgkiss, the brother of former FJC race winner Nathanael as he rounds off his season of racing having campaigned regularly in Ginetta Juniors all year. Both will run as non-scoring guest drivers alongside Hadley Simpson and Sam Neser, both of which made their first appearances earlier in the season.
It's a season that has been truly special for the Fiesta Junior Championship and with many exciting developments on the horizon for 2023, we're set to mark the final chapter of a thrilling year with a title battle going right down to the wire!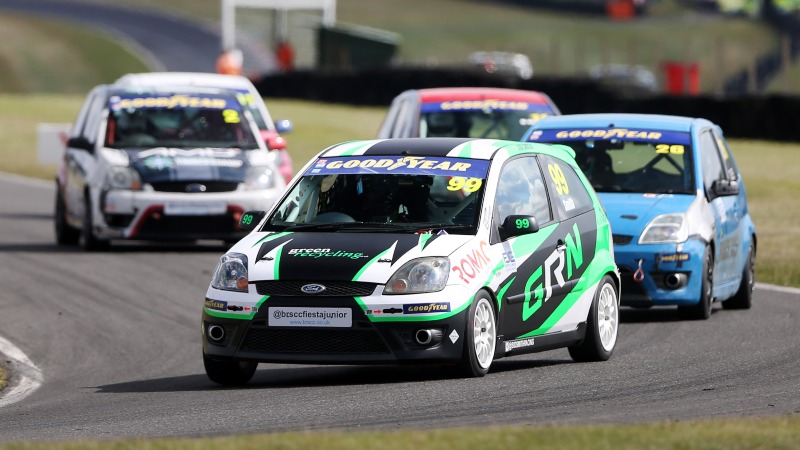 ---
MODIFIED FORD SERIES
The Modified Ford Series has been an exceptional addition to the British Racing & Sports Car Club's portfolio of formulae ever since it signed on over the winter of 2020. Led by series coordinator Paul Nevill, who is also an avid racer himself, Modified Fords is a home for any and all Ford models built no later than 2010. This is done to encourage cars that are more classic, welcoming the RS marque, the sporting pedigrees and everything fast in between.
Such has been the popularity of the series that you'll find just about any and every major Ford model from '70s, '80s, '90s and 2000s passing through the series at some point. On every given weekend, the entry list is typically populated with a phalanx of Ford Escorts, be they Mk1s, Mk2s or even the mighty Escort RS Cosworth, along with a raft of various models for Sierras, Fiestas, Capris, Pumas, Focuses and even slightly more unique cars such as a Mustang or an RS200 on the odd occasion. Wherever it races, the sights of a grid packed full of Blue Oval machines is a sight to savour and adore.
Going into this weekend's final races of the 2022 Modified Ford season, sponsored very generously on this occasion by SVG Motorsport, there is unquestionably the biggest entry of the year with almost 50 cars set to line up across the weekend. Such is the size of the grid for this exceptional weekend supporting the Formula Ford Festival, that the entry is split into three groups, each of which will race the other two once (e.g. Group A & B, B & C, A & C), ensuring every competitor will get two races.
So, let's break down this incredible lineup of cars class by class. Starting with Class A, one of the standout favourites has to be Brands Hatch regular Rod Birley, who will be keen to increase his ever-expanding tally of wins in his formidable Escort Cosworth WRC. While sometimes temperamental, if it holds together he will be dicing with the likes of fellow Escort Cosworth pilot Lloyd Jamieson, the Sierra Sapphire Cosworth of Malcolm Wise, Brian Lilley's Sierra RS500 and Rory Jose's shocking pink Focus ST.
Class B is very much the domain of the Escort Mk1s, Mk2 and Fiesta ST150s as they populate the majority of the class with names to look out for here including Colin Tester (ST150), Steve and Matthew Cripps (Escort Mk2), Neil Jessop (Escort Mk2 Zakspeed) and Rob Lewis (Focus ST170) among many, many others. Also keep an eye out for former Formula Ford veteran Wil Arif back at Brands Hatch in an ST150 too. Class B+ is another class typically filled with older Escorts such as Wayne Crabtree, Nigel Craig and Paul Nevill in their Mk2s, plus Dave Gadd in his Mk1 and the wonderfully unique Focus estate (no, that's not a typo!) of AJ Howe, which always makes a brilliant sight and sound when on track.
Class C features no less than five Ford Pumas of various specifications, including regulars Kevan and Mark Hadfield, who will also have the Fiestas of Jimmy Neophytou and Gary Littlewood to contend with as well as another Escort Mk1 in the hands of Nick Proudlock. Last but certainly not least, two cars will also turn out in the Super B+ class, with Jack Gadd's rapid Escort Mk1 "RSR" ready to battle for the class and overall win against Kester Cook's pumped-up Fiesta ST150.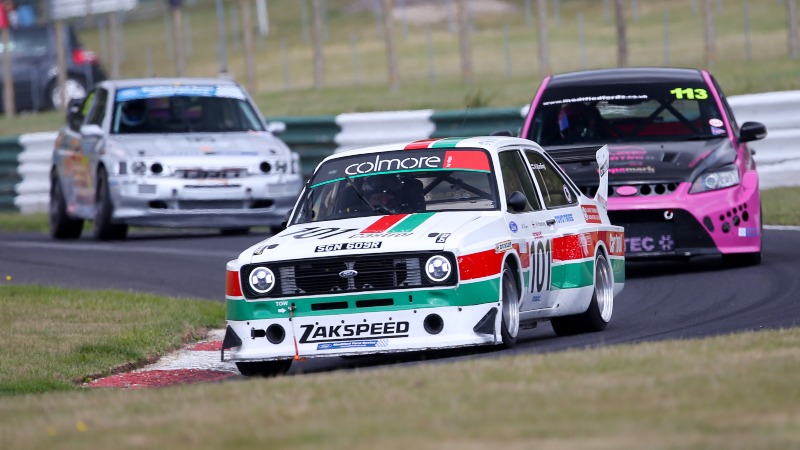 ---
CLASSIC & MODERN MOTORSPORT CLUB SOUTHERN INTERMARQUES
The Avon Tyres/Image Wheels Intermarque series returns to Brands Hatch, which is its spiritual home. So far this year there have been four different winners. Currently the most successful of those four is Daniel Smith in the No.33 blue Mercedes SLK. Hot on his heels is Malcolm Blackman, who has enjoyed a good number of wins on the Indy circuit in his red Vauxhall Tigra.
The similar car of Steve Burrows also goes well here and he won the second race back in August at the Vaux valves event. Unfortunately, our most recent winner (Ian Hales) is sadly absent today. Nevertheless, there will be other drivers keen to make their mark before the season's end. One of those is likely to be Lewis Smith (brother of Daniel) in his Mercedes.
It then becomes slightly confusing, as we have two more Smiths on the entry list. They are not related to Daniel or Lewis, instead they are father and son Colin and Danny. Colin either races a Ginetta or a Vauxhall Tigra, whilst Danny relies on his own Vauxhall Tigra. Another Tigra is in the very capable hands of Eric Boulton, whilst we have two Peugeot 206s driven by Scott Aprigliano and Philip Blackford. One of the most reliable, although perhaps not the quickest car, is the Mitsubishi Colt of Philip Young. Known by his nickname Mr Cheese, he always enjoys his racing and has been one of the longest-serving drivers in this series.
Unfortunately, the senior class entry is a bit thin on the ground for this meeting. It caters for drivers over 55 years of age, but is no less competitive than the main class. Mick Robertson (VW Corrado) and Paul Knight (Vauxhall Tigra) are the main protagonists but don't discount former world hot rod champion John Steward (Mercedes). John hails from nearby Paddock Wood where he runs a very successful transport business.
The second race will feature a partially reversed starting grid to spice up the action. This is sure to guarantee plenty of overtaking.