FIRST TIME WINNERS STEAL THE SHOW AT SUPERB CROFT BRSCC RACE WEEKEND
CATEGORIES:
The BRSCC's second and most recent visit of the 2022 season to Croft Circuit in North Yorkshire provided an entertaining mix of endurance racing and tin-top sprints, featuring some incredible back-and-forth racing action amongst all that were competing that weekend. As the end of the season looms, many teams and drivers were either already thinking about 2023 or had their sights firmly set on their respective championship charges.
---
SILVERLAKE C1 ENDURANCE SERIES
For the first time in 2022, the Silverlake C1 Endurance Series took to a race weekend with two races on the timetable, as a pair of three-hour encounters began to mark the beginning of the conclusion to their very first season running under the BRSCC. 35 cars made the trip to Yorkshire and were ready to go on the Saturday afternoon, albeit started by the Union Jack flag after the starting lights suffered a glitch which forced the pack to run another formation lap.
When racing did begin, JW Bird Motorsport immediately took the lead from pole position, extending a initial gap over Emax Motorsport and Quattro Formaggio from the outset. Pretty soon, JW Bird and Emax were out in front by themselves as the top five remained static all the way to the first pit stops, where it eventually shook out as Emax in the lead after JW Bird's first stop came before the first hour was complete. Once one hour had elapsed, JW Bird were back in front from Scuderia Pollo Rosso, Team Trojon and CSC Racing with Emax back in 6th. There was a slight shake up in the order going through the second hour, particularly when the safety car was called on Lap 47, at which point both the leading Emax car and JW Bird had yet to make their second stops. They did so just after the restart, allowing Pollo Rosso to be marked as race leaders as the second hour completed, and when they too took their turn to pit, Emax were out in front again. Another late safety car threatened victory, although JW Bird's chances took a set back when they had to make their final stop, but eventually the race ended with just a few minutes to go due to a red flag incident in the final moments. This gave James and Jake Little their first win for Emax of the year, followed by Nick Beaumont and Philip House of JW Bird in 2nd and CSC Racing's David Scotting and Nick Cunniffe completing the top three finishers.
Sunday afternoon provided another chance for all the teams to go for glory over another three hours of racing, this time with the lights working properly and starting the pack first time! As they had in Race 1, JW Bird jumped into the lead again with Emax on their tail and this time Ardcor Modelmakers went with them in P3 for the first couple of laps, before Emax's second car moved into a podium place. The top trio once again pulled away in their own race out in front, but this time JW Bird were first to blink when they stopped on Lap 19. They ended up rejoining just inside the top five as Emax took over as leaders with their overcut helping their #346 car get back into the lead. Through the pit stops, both Emax cars, both Trojon cars and JW Bird were all on the lead lap together and this remained the case as the next round of stops progressed and the race continued through its second hour. By the time the closing stages came around, Emax held a firm 1-2 out in front and even through their final stops, were also able to extend their gap further to JW Bird in 3rd. It stayed this way until Max Finn and Murdo MacLeod had to pit with just a couple of laps remaining, giving the Littles an easy second win of the weekend, a promotion back to 2nd for JW Bird and Team Trojon also moving up onto the podium too with 3rd. Another pair of 3 hour races await as the season finale sees the C1 return to the venue they began the season at, with Snetterton in a couple of weeks' time ready to welcome another packed grid yet again.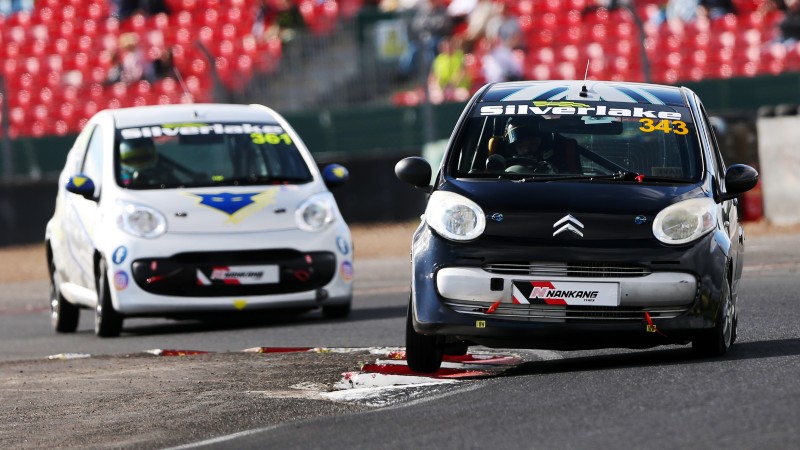 ---
NANKANG TYRE CITYCAR CUP
As the scrap at the head of the Nankang Tyre CityCar Cup continued to be as close as ever, the championship moved onto its most recent rounds at Croft with the Bliss brothers Richard and Stuart, Andrew Dyer and Elliot Lettis all still with a shout of clinching the crown. While conditions were overcast, thankfully it stayed dry and this helped no end as history was made on the Sunday.
Richard Bliss qualified on pole alongside Andrew Dyer with an excellent effort from Ben Creanor putting his Oxford Brookes run car 3rd quickest overall and on a clear Student Motorsport Challenge pole. The first race was fairly straightforward as Richard Bliss led Dyer, Creanor and Stuart Bliss for the majority of the 15 minutes, before Creanor made his move and managed to go from 3rd in 1st in one lap in the closing stages. He was unable to hold the position, however as first Richard Bliss and then Dyer slipped back past in consecutive laps, leaving Richard to run to the line to claim the first win of the weekend. Dyer and Creanor completed the overall podium, while Creanor was also an unchallenged Student Motorsport winner for Oxford Brookes ahead of Richard Jepp for MET Motorsport and Andy Burgess for East Surrey College.
Richard picked up where he left off on Sunday afternoon in Race 2, once again taking the lead from pole but this time with a fast starting Creanor on his tail from the outset. Starting from 3rd, Creanor beat Dyer into Clervaux at the start and kept the pressure on all the way from the beginning. Richard's experience shone through has he expertly held Creanor back despite his advances on numerous occasions and only just ensured he held on to the win at the flag by just over two tenths of a second, with Dyer just behind in 3rd to ensure the top three were covered by just 0.7 seconds in the end! Creanor once again headed up the same SMC top three as he won again from Jepp and Burgess.
Now on the front row for Race 3, Creanor arguably had his best shot at taking his first CityCar Cup win as he started ahead of Bliss and Dyer and Andy Burgess starting on the reverse grid pole alongside guest driver Ross Makar. Burgess did well to survive in the lead for an entire lap before he was pushed backwards by Makar on Lap 2, but both would succumb to the charging Blisses and Creanor soon enough. With Toyota Aygos both in front and behind, Creanor did everything he could to find a way past and with three laps to go, he found a gap big enough to squeeze the C1 through into the lead. 
The Blisses then fell into combat with each other, only aiding's Ben's cause as the last couple of laps ran out. Keeping it on the straight and narrow throughout, Creanor took the chequered flag for his first overall CityCar Cup win and the first outright victory for a Student Motorsport challenge car since it began this season. Both Ben and the Oxford Brookes team were beyond delighted with the result and they received the plaudits of everyone in the paddock for their achievement. The Bliss brothers finished 2nd and 3rd with Richard ahead of Stuart, while Jepp and Burgess once again made up the Student Motorsport podium. Now the championship moves onto Silverstone's International circuit where both the overall and SMC titles will be decided!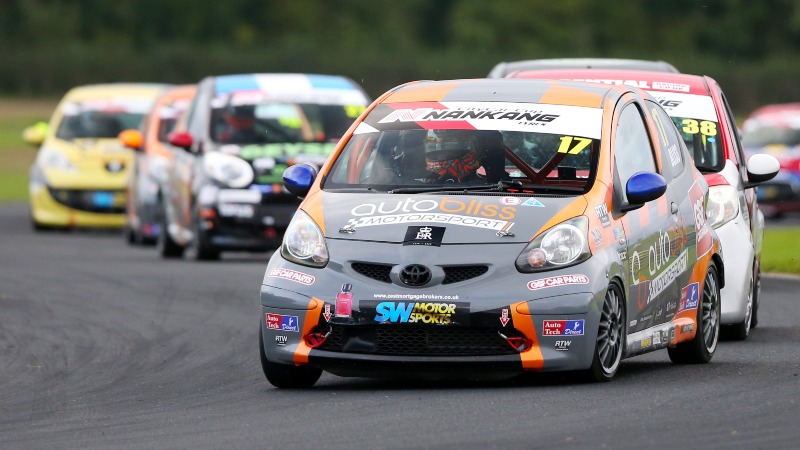 ---
VINYL DETAIL ST-XR CHALLENGE & CIVIC CHALLENGE
Michael Blackburn needed a strong weekend to rebound from a less than satisfactory conclusion to the previous outing for the Vinyl Detail ST-XR Challenge at Cadwell Park as the championship moved on to Croft for its latest rounds, where it was also joined on the grid by the Civic Challenge once again. With the likes of Sam Beckett, Matt Pimlott, Mark Blunt and co all looking to try and reduce Mike's lead further, he knew he would have to give it everything to stay in contention.
Beckett began his weekend in fine style by taking pole position in Saturday qualifying, with the returning Chris Jones ending up on the front row next to him and Blackburn back on the second row alongside Pimlott. From pole, Beckett jumped into the lead with Jones on his tail but any chance of getting away was halted thanks to an early safety car, as Daniel Cooper, Ron Loffstadt and debutant Ashley Gregory had all retired in the opening two laps. When back underway, Beckett defended hard from Jones in the remaining three laps and held him off to take the flag and his first ever ST-XR win, something that left Sam and his team full of emotion. Jones was 2nd, and while Blackburn finished 3rd on the road, he was disqualified for the second time in as many races for overtaking under the safety car. This promoted Paul Dobson into a podium position in his place.
Race 2 had to be started twice, after the first start was red flagged due to incidents for Greg Speight and Matt Pimlott which put them out straight away. On the second start, Jones got the better of Beckett this time and made sure that no matter what Sam had in retaliation, it wasn't good enough to unseat him from the lead. Keeping in front from start to finish, the outgoing ST-XR champion got back to winning ways with victory but only by a quarter of a second this time from Beckett while Mark Blunt completed the top three this time.
With both race winners on the front row together again, it would be a sprint to Clervaux to decide who held the initial advantage for Race 3. That sprint was won this time by Beckett, with Jones taking up 2nd ahead of Pimlott in 3rd, although Matt wouldn't stay in a podium place for long. That was taken by Blackburn, who had been on the recovery trail all day after Saturday's DQ and wasted no time in taking 3rd before chasing after the top two. Even so, their pace appeared to be a little too much and he settled for 3rd place and the points to go with it, Beckett kept Jones at arms' length to remain in front and take his second win of the weekend with Jones just over two seconds away.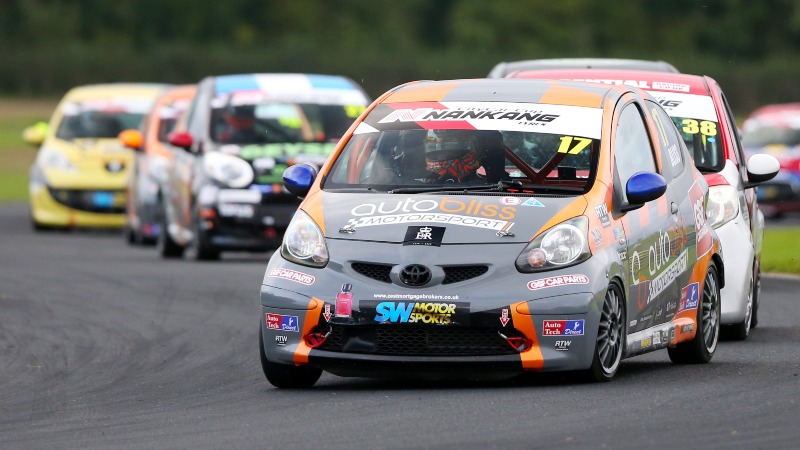 In the faster Civic Challenge cars, Jamie Lewthwaite took his first win in his Civic in Race 1, followed by Simon Waite in 2nd place and Nick Charlier in 3rd, Jamie only victorious by 0.3 seconds in the end. Waite took advantage of technical issues for Lewthwaite's car to charge out into a dominant four second lead to win Race 2 from John McLaren's unique EK Civic saloon and Charlier in 3rd, before he doubled up in the final race with victory again, this time beating Lewthwaite in 2nd and Charlier again on the podium in 3rd.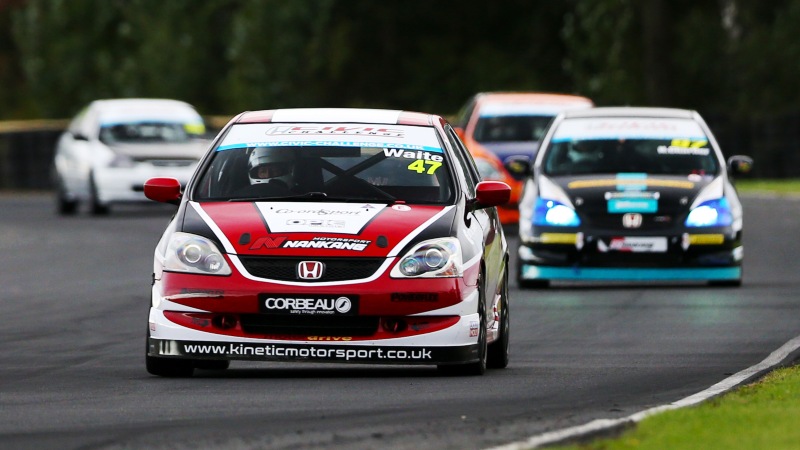 ---
TRACK ATTACK RACE CLUB
Once again bringing an excellent mixture of cars representing Japan, France and Germany, the Track Attack Race Club made an adventure up North to Croft with the Nippon Challenge, Tricolore Trophy, 206 GTi Production Cup, TT Challenge, Deutsche Marks Cup and Classic VW Cup all represented in Yorkshire.
A quick start from Ken Lark from the front row put his VW Corrado into the lead ahead of Paul Roddison's Mazda MX-5 and the VW Golf of Chris Adams, but the Mazda slipped back to 5th on Lap 2 and soon enough the fast-charging Renault Clio of Robert Buckland had driven his way into 2nd place to chase down Lark. Simon Tomlinson's VW Cup-spec Golf was also following suit into 3rd place but a few seconds back from the top two, and after a few laps of pressure Buckland made the move on the final lap to claim the lead and the win , pushing Lark back to 2nd as Tomlinson finished in a distant P3.
The second race saw Ken Lark hand his Corrado over to Tony Absolom after Tony's own car suffered mechanical issues which forced it to be a non-starter. As a result, Tony would start from the back but wouldn't take long to carve his way through. Out in front, Buckland was again out in front with Adams on his tail and Roddison holding 3rd ahead of Tomlinson, but mid way through the red flag was thrown due to an incident further down the order. Once this had been cleared away, the race was restarted with enough time for just three laps. In that time, Adams got the better start and lead the first restart lap, but Buckland was able to slip by again and hold firm to round off his second win of the weekend, while behind Adams an excellent charge through the pack from Absolom earned him the final podium place.
---
MGCC COCKSHOOT CUP
Contesting the latest rounds of their 2022 season as a guest on the Croft timetable, the MG Car Club's Cockshoot Cup provided a small but very varied and eclectic mix of MG models, although one classic example would dominate proceedings all day on the Sunday.
David Morrison's incredibly rapid little MG Midget put the entire field on notice by dominating qualifying and then doing the same in both races. The first saw Morrison take the chequered flag by almost 27 seconds, as he ended up lapping around a second and a half quicker than the rest ahead of the MGFs of Christopher Greenbank and David Coulthard. Later in the day, Morrison completed the double but only won by 22 seconds this time after Karl Green recovered from a Race 1 mishap to claim 2nd place ahead of Greenbank's MGF which took to the podium again in 3rd.
Scott Woodwiss