MAZDAS & CO MARCH TO SNETTERTON FOR BRSCC CHAMPIONSHIP FINALS
CATEGORIES:
March seems but a distant memory now as the 2022 British Racing & Sports Car Club season draws to a close and now that we're in October, the time has to start provisionally crowning some champions for the year. On the busiest weekend of the calendar for the Club, Snetterton plays host to the finale of the BRSCC Mazda paddock as well as the last rounds for the C1 Racing Club and additional support racing from Classic & Modern Motorsport Club too. If all series racing are true to form, this will be a very entertaining finals weekend!
---
BRSCC MAZDA MX-5 CHAMPIONSHIP
With just three races left to play out in the 2022 Mazda MX-5 Championship, once again it comes down to the last weekend of the season to decide which way the pendulum swings for the title. Snetterton's races cannot be used as dropped scores as per the championship regulations, meaning every single point scored here matters. If any of the main contenders makes one slip-up or has one drama that forces a mistake or a retirement, it could be the difference between becoming champion or ending up second best.
Right now, the situation stands as such – long-time points leader Fraser Fenwick is 26 points ahead of second-placed man Steve Foden after dropped scores are taken into account up to the conclusion of Donington Park. This means that Steve would need to outscore Fraser by an average of nine points per race in order to snatch the championship from his grasp, and judging on his blistering form last time out at Donington with three commanding wins, it might not be outside the realms of possibility. Fraser, meanwhile, just needs to keep his nose clean, keep out of trouble and score well to get the job done. His AB Motorsport teammates will do their best to help him, but ultimately it's Fenwick's title to lose at this point.
Jason Greatrex looks in line to not only take home the Masters title after leading just about the entire season to date, but also be locked in combat for 3rd in the overall points standings with Michael Knibbs as both are separated by 24 points. They too could gravitate closer or further apart from one another depending on results but need to stay sharp to avoid dramas. Other front runners like Oliver Graham, Seb Fisher, Courtney Milnes, Luke Pullen, Adam Craig and Jack Noller will all hope to end their seasons on a high too, amongst another strong entry of more than 30 cars. All of them are ready to rumble one last time to sign off the 2022 season in style!
Amongst another bustling entry list of over 30 cars, one notable guest entry regular C1 Endurance Series racer Aimee Watts making her MX-5 debut in something of a family throwback. Her father, former BTCC ace Patrick, was a champion in one of the first original MX-5 championships back in 1990 and now 32 years later, the Watts family tree comes full circle with Aimee getting her first shot in a Mk1. We're sure Patrick will only be too obliged to offer her some tips!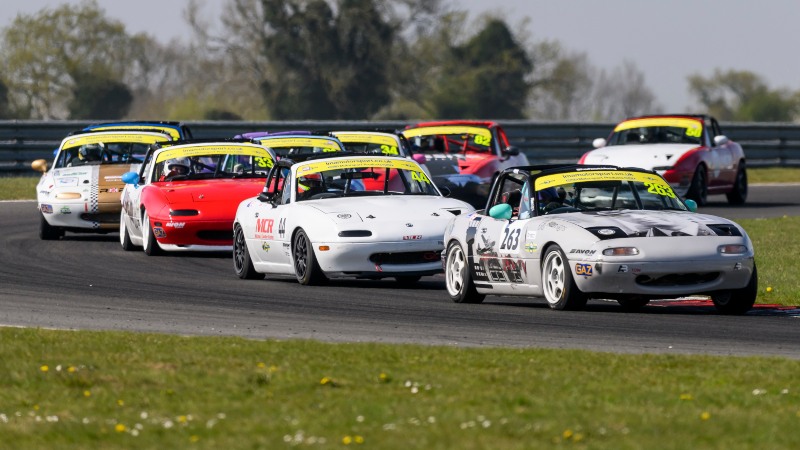 ---
BRSCC MAZDA MX-5 CLUBMAN CHAMPIONSHIP
In what will certainly be the most competitive of the three Mazda MX-5 series competing this weekend at Snetterton, the Mazda MX-5 Clubman Championship realistically could see any one of the top five drivers in the points standings leave Norfolk as champion. The second season for the Clubman grid has been another resounding success and with more than 30 cars lining up for the finale this weekend, it's further proof that there's still plenty of appetites to race a Mk1 MX-5.
With no ability to use any of the results from this weekend as dropped scores, it leaves the head of the points table looking like this – Declan McDonnell heads defending champion Harry Storer by 17 points, with Jon Pethick a further 11 back and 3rd to 5th covered by just 5 points with Matthew Fletcher and Chris Dawkins still very much in the mix. All but Fletcher are shown as on the grid at the time of writing, meaning all four will be out for glory. McDonnell has been the rock-steady points leader since the first visit to Snetterton back in April, having only picked up three wins but also a bucket load of 2nd and 3rd place finishes on the day he couldn't stand on the top step. The only blot on his copybook was Cadwell Park, although arguably not of his own doing, and he now stands on the brink of becoming champion should he keep it all together. For a driver who began the season not planning to contest every round, his results have certainly changed his situation somewhat!
Storer hasn't won a race on the road but took maximum points from the first two races at Silverstone by finishing 2nd twice behind on track winner Ali Bray. He too has finished every race so far and hasn't scored lower than 8th all year to date, meaning on overall scores before drops he's only accrued one point less than McDonnell. He'll need to be on his a-game to overhaul the points deficit but it's not impossible. The same can be said for Jon Pethick and Chris Dawkins, the latter on stellar form having won five of the last six Clubman races he's contested (missing Oulton Park in between). Pethick also has one from Donington last time out and that will be a confidence boost heading to Snetterton to try and replicate it.
McDonnell also looks odds on to clinch the Masters honours having been a dominant leader all the way from the outset. While Declan's focus will mainly be on the overall championship crown, this will be a neat extra piece of silverware to take home should he succeed in both.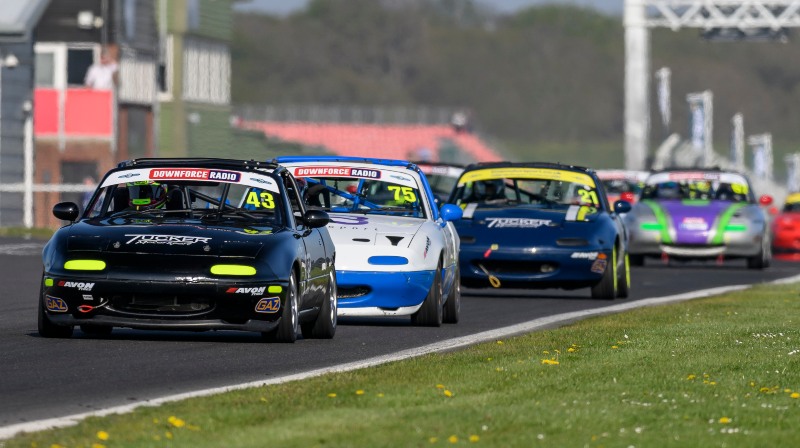 ---
BRSCC MAZDA MX-5 SUPERCUP
While it's relatively close in the pair of Mk1 championships, the most intense of the three Mazda series in attendance at Snetterton this weekend might just be the Mazda MX-5 SuperCup. It heads to Norfolk with the closest gap between the leading drivers in the points standings and thanks to the rule indicating result from this final meeting cannot be used as dropped scores, everyone will be feeling the pressure to perform and stay out of danger.
For the Pro Class, it comes down to a straight fight between Will Blackwell-Chambers and Colin Bysouth. After dropped scores are accounted for, there's just four points between the pair at the top of the table and both are almost 100 points clear of the rest of the pack. Colin holds the higher win tally with eight including three taken at Donington in the previous rounds, but Will's slightly more consistent results, including three victories of his own throughout the year helped him climb into the lead in the last couple of rounds and resist Colin's charge back towards him. Realistically, it will be one of these two drivers that will walk away with the provisional Pro Class title, but watching this battle play out to its conclusion will be fascinating to watch all weekend.
The Club class looks like it will be something of a formality compared to the Pro contest. Scott Wright heads to Snetterton knowing that a solid trio of finishes will be enough to deliver the class title, given that his season long rival Stephen New is not expected to be present due to damage sustained in the previous rounds at Donington. This would be Paddock Motorsport's first title in Mazdas since they joined in 2020, so Scott will be wishing to do it for his long-term friend and team boss Martin Plowman. BC Cars Motorsport teammates Clive Chisnall and Adrian Burge will also be locked into an intra-team scrap over who sits where on the class championship podium.
As for the Masters title, that looks as though it's destined to land with the experienced Nic Grindrod who has been getting grips again with rear wheel drive after his CityCar Cup title win last year and commanding the contest for drivers aged 45 and over. He's over 200 points ahead of Clive Chisnall in 2nd, with Martin Tolley looking likely to wrap up the final podium spot with 3rd in the points.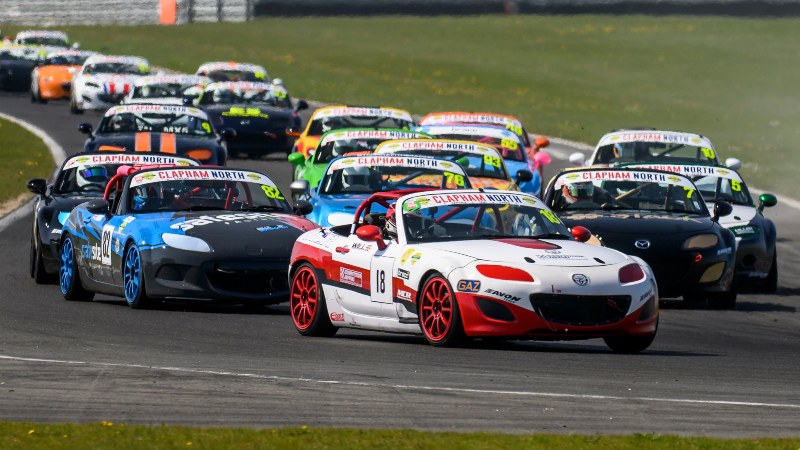 ---
SILVERLAKE C1 ENDURANCE SERIES
After beginning the new partnership with the BRSCC at this very circuit back in April, the C1 Racing Club and its Silverlake C1 Endurance Series concludes of its first full season alongside the Club with double the fun in store once again. Just like Croft, another pair of 3 hour races will take place with one on each day and to round it off in style, there's a sold out entry for the finale which means it will be another busy affair.
Defending race winners Emax Motorsport are ready to go all out to repeat their feat from Yorkshire as they played a blinder with their strategy and took James and Jake Little to the head of the pack both times. Now they come back to Snetterton with a five-car assault to end 2022 as the definitive best outfit of the year. They're joined on the grid once again by fellow race winning teams Team Trojon and CSC Racing, both looking to add to their tallies. Plus, there are many strong teams that are yet to be victorious this year but surely have the potential to make it happen this weekend. Watch out for Scuderia Pollo Rosso, WRC Developments, JW Bird Motorsport, Team HARD, BPC Tuning and series sponsors Silverlake.
Plus there's some current touring car talent on the grid for the last two enduros of the year, and in particular a certain newly crowned British Touring Car champion – Tom Ingram! Fresh from capturing the 2022 title at Brands Hatch for Excelr8 Motorsport, he heads to Snetterton as part of the OPC-PR team for something of a fun cooldown after a hard-fought campaign. He's joined on the grid by BTC Racing stars Josh Cook and Jade Edwards in the Mac Tools Racing car, the team hoping to have better luck after their up-and-down outing at Croft a few weeks ago. There are plenty more great stories and teams up and down the grid and it's certain to be a superb final two races to round off a successful first year of racing together between the BRSCC and C1 Racing Club!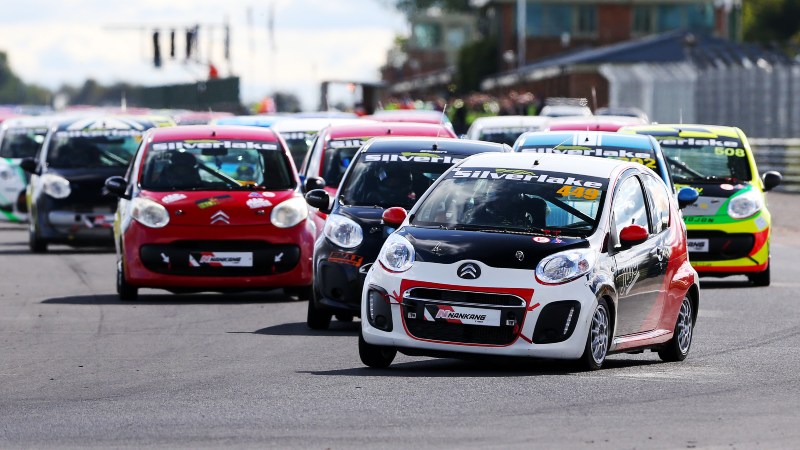 ---
CLASSIC & MODERN MOTORSPORT CLUB SOUTHERN
Bringing some excellent support action to the BRSCC content on the timetable is the Classic & Modern Motorsport Club Southern division with an fantastic array of cars in their Super Saloons & TinTops grid.
In the Super Saloons, the main contenders are certain to be Rod Birley's formidable Ford Escort WRC, Nick Sutton's Mitsubishi Evo X, Mark De'Ath's Subaru Impreza, Ronan and Adrian Bradley's pair of BMW M3s and the booming Holden Commodore V8 Supercar of Alex Sidwell. Expect the overall front running pack on this combined grid to be populated with most of these machines, along with the regular mix of fellow BMWs and Fords.
With the TinTops, expect some of the front runners here to include Dominic Ryan's Ford Fiesta, the BMWs of Ken Angell and Jacques Whitehead, Liam Pauling in his Citroen Saxo, Dave Charlton's SEAT Leon, the Honda Civics of Matt Rowling and Alexander, and Adrian Matthews in his unique Volvo C30. They will be keen to enjoy their own private battles amongst the faster Super Saloons on track against them at the same time.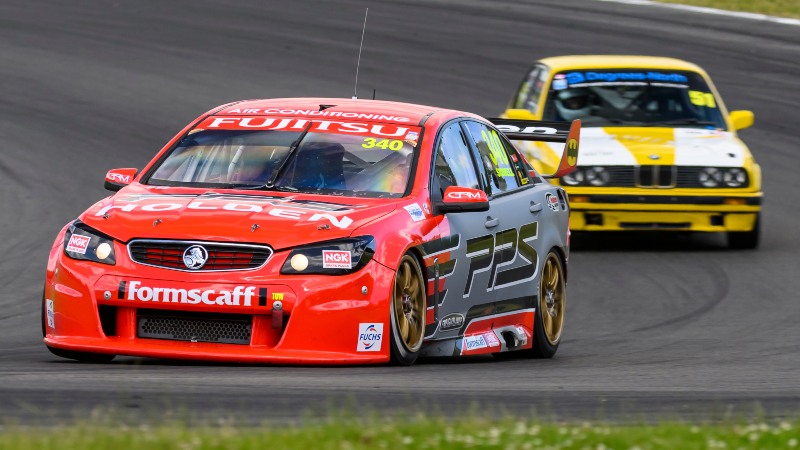 ---
BRSCC MAZDA MX-5 ENDURANCE INVITATIONAL
As a special end-of-season encounter to allow all of our BRSCC Mazda drivers the chance to complete their Snetterton weekend with something a little bit different, there will be a Mazda MX-5 Endurance Invitational race at the end of Sunday's timetable featuring many of the cast of 2022 taking part to let their hair down one last time.
The race is very much inspired by the successful BRSCC ClubSport Trophy which regularly sees Mazda competitors taking part on the same weekend. The MX-5 Endurance Invitational will feature a 40-minute race with a mandatory pit-stop, with classes present for Mk1, Mk3 and Mk4 generation championship-spec cars. Entries can also run either solo or with a co-driver too, adding an extra element of strategy to proceedings. There's plenty of familiar names and faces on the grid for this one, including a few of the team bosses looking to enjoy the final race of the year too. It's certain to be a fitting way to celebrate the completion of another incredible year of BRSCC Mazda MX-5 competition!
Scott Woodwiss