OULTON PARK HOSTS BRSCC WITH MAZDAS, BIMMERS & THE RETURN OF THE MOOSE
Oulton Park is becoming a popular venue this season with the BRSCC, as this Saturday's one-day event marks the third visit to Cheshire this year, and as always the Club prepares to bring an excellent little mix of championships. Mazda MX-5s dominate the timetable alongside a sprinkling of BMWs and a rather special pair of invitational races for Super Classic class Formula Fords, with a special returning accolade up for grabs too!
---
BRSCC MAZDA MX-5 CHAMPIONSHIP – FENWICK CONTINUES TO COMMAND THE PACK
The story of this year's Mazda MX-5 Championship has been one that may well feel like deja vu or a tale we've heard before. One driver ends up as the class of the field, dominates most of the season to date and finds themselves with a substantial points lead, almost leaving their competition firmly in their wake. That's exactly the case for one Fraser Fenwick this season. He's already at the head of the table by 51 points and seems well on his way to his first senior-level championship in his career. The former Ginetta Junior Scholarship candidate has eight wins from the eleven races so far, and he will be hoping to carry on his strong momentum here in Cheshire.
This will be the first visit to Oulton Park for the MX-5 Championship since 2019, so many drivers not have raced here for a while, if never. Mike Comber is certainly one who has and right now is sitting runner-up to Fenwick with an impressive run of scores, finishing no lower than 7th all season to date. A further 30 points back is Michael Knibbs, who found a turn of pace last time out at Brands Hatch when he collected a steady string of three 5th places, and he'll want to get back onto the podium having taken two so far in 2022. Jason Greatrex and Steve Foden currently round off the top five, the latter having driven superbly at Brands Hatch and narrowly missed out on victory in all three races.
Just behind in the top 10, Oliver Graham leads Silverstone International winner Callum Greatrex, Luke Pullen, impressive rookie Jack Noller and Adam Craig, all of whom have shown great turns of pace throughout the season and will look for more this weekend at Oulton Park. Jason Greatrex also leads the Masters contest for drivers aged 45 and over, with a healthy margin of over 100 points on 2nd placed Richard Bartlett, with Tim Dore also trailing in 3rd.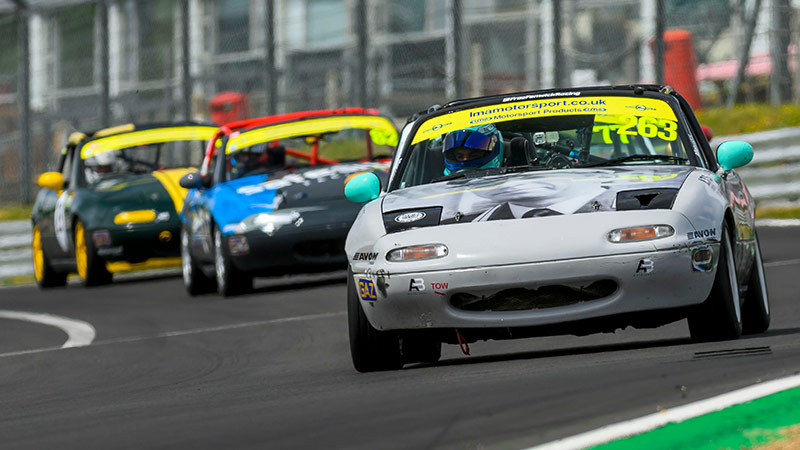 ---
BRSCC MAZDA MX-5 CLUBMAN CHAMPIONSHIP – MCDONELL'S LOVING IT AT THE HEAD OF THE PACK
The fight at the head of the points table in the BRSCC Mazda MX-5 Clubman Championship is proving to be one of the more intriguing and intense in the 2022 season and it remains close between the top two. Declan McDonnell was able to extend his lead a little further over chief rival Matthew Fletcher, helped no end when Matthew jumped the start in Race 1 and received a penalty, meaning he left Kent with two 5th places compared to McDonnell's pair of 2nd places. Now the lead has crept out to just 7 points and being this close, it's clear that anything could happen that could tip the scales in either driver's favour. This is the first-ever MX-5 Clubman visit to Oulton, so perhaps a new circuit might level the playing field a little more.
As for defending champion Harry Storer, he now finds himself 22 points back from the top but has scored as healthily as possible on the days he hasn't been able to win. Not since Silverstone International has Harry taken the points for victory (finishing 2nd twice behind guest driver Ali Bray) he's had a further two podiums and two top fives. Storer hasn't raced at Oulton either and he may need to rely on a little bit of good fortune to take his first on-the-road win, but he'll certainly push as hard as he dares.
Harry will also want to monitor his two closest challengers behind him in the standings – Jon Pethick and Chris Dawkins. Pethick has been another beacon of consistency, mostly keeping out of trouble and either finishing 3rd, 4th or 5th to keep on banking great scores. As for Dawkins, he laid down a marker for those chasing him by scooping both Brands Hatch races, reducing the gap to Pethick to 8 and to just 14 behind Storer. Others who will definitely mix it up in the lead group include Charles Boniface, Kevin Bird, Neil Chisnall, Alan Hawkins and Graham Rumsey, all of whom are sitting in the second half of the top 10 in points.
A small note on the Masters contest too, with overall leader McDonnell also on top there, but only 10 ahead of Brands double winner Dawkins.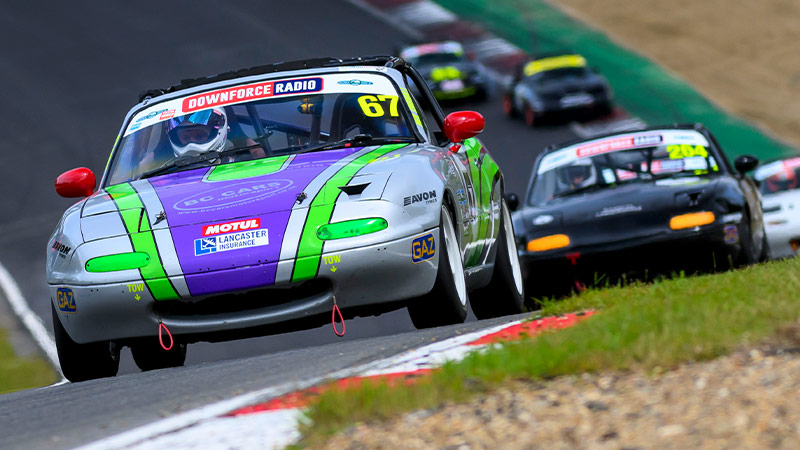 ---
BRSCC MAZDA MX-5 SUPERCUP – AMOS CONTINUES TO CONTROL THE NARRATIVE
For almost the entire season so far, Richard Amos has held the lead of the Pro Class points in the Mazda MX-5 SuperCup. Taking up the mantle of his former teammate and double champion Samuel Smith, Amos has kept up the excellent form he found often in 2021 and is currently on course to help Paddock Motorsport towards potentially capturing their first MX-5 title since joining the championship a couple of seasons ago.
Even though he hasn't won a race since Snetterton in April, the four he took from the first six races (the two at Silverstone International being points victories behind guest driver winner Aidan Hills) built that solid foundation to allow him to rack up strong results when he couldn't reach the top spot. His lead at the top is 45 points, and although dropped scores still have to be factored in, right now he's sitting in a relatively comfortable position. That said, he won't take his foot off the gas, as 2nd placed Patrick Fletcher will want to not only maintain his high standing but also try to close the gap. Doing that will mean getting the better of Amos and on his day, that's not an easy task.
But given just how competitive the Pro Class really is this year, it's the fact that so many drivers are always in contention for podium finishes, top fives and even race victories that means the order from 3rd downwards is so close and so jumbled up. Only two points separated John Langridge in P3 and James Cossins in P4, while Will Blackwell-Chambers is ahead by 9 from Colin Bysouth, who has looked very formidable every time he's lined up this season. The rest of the top 10 comprises Masters leader Nic Grindrod, Tom Griffiths, Alex Miller and Michael Knibbs, but even then there are still at least another 6 drivers outside that who are also considered strong drivers. Given how frantic it's been so far this year, we expect Oulton Park to be another day full of close, tight and thrilling racing.
Over in the Club class, it's much tighter at the top as a duel between Stephen New and Scott Wright is raging for the title. Just seven points separate the pair at this stage heading to Oulton Park and both will know that one slip could be the difference between a strong result and a possible dropped score. Clive Chisnall will also be embroiled in his own fight for 3rd in points, with fellow BC Cars Motorsport driver Adrian Burge only 4 points behind him.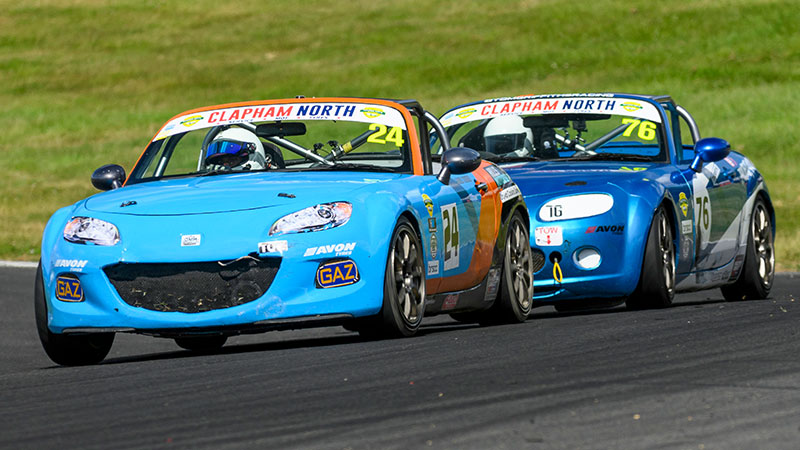 ---
THE MOOSE TROPHY SUPER CLASSIC FORMULA FORD INVITATIONAL – BUMPER FF1600 ENTRY HEADS TO CHESHIRE FOR SPECIAL TROPHY REVIVAL
Not since 2019 has the Moose Trophy been awarded to the winner of a Formula Ford race at a North Western venue, but thankfully the trophy that was created in honour of Colin "Moose" Benn is back once more with a very healthy entry of cars ready to battle for it!
The 2022 edition of the Moose Trophy has been set as an invitational contest for all Kent-engined Formula Fords that fall underneath any of the BRSCC's four Super Classic classes, essentially allowing cars built between 1967 and 1998 to take part. With two free practice sessions, a qualifying session and two races making up the day's events at Oulton Park, the drivers are going to have a busy day of it, especially with so many cars on the grid.
Speaking of cars on the grid, there's a fabulous turnout for this Saturday's races as no less than 29 drivers will compete for the Moose Trophy at the time of writing. The field is comprised of many regular runner from this year's Northern & Super Classic Formula Ford championship, along with a few more familiar names and veterans of historic FF1600s and even one or two brand new faces too. Super Classic A will see current Northern class points leader John Murphy back in action and looking for outright wins, with main opposition coming from Paul Tucker, Jonathan Barnes, Neil Hunt, Nigel Grant and former National FF1600 racer James Clarke, now at the wheel of a Van Diemen RF90.
Super Classic B looks like it could be topped by Andrew Schofield or Chris Hodgen, but there's sure to also be competition in the shape of Richard Freye, Richard Ketterman, Trevor Morgan and Colin Williams. Over in Super Classic C, Formula Ford legend Rick Morris tops the bill here along with fellow long-time Classic FF1600 stalwart Stuart Kestenbaum, plus Alan Fincham, Ian Wood, Jake Shortland and the very capable Jordan Harrison aboard his Lola. And while we're talking about capable driver with the same surname, the very rapid Samuel Harrison has to be favourite for Super Classic D in his Elden Mk10, although both Simon and James Hadfield will be sure to keep him honest, as will Callum Grant, Stuart Dix, Michael Wales, John Roberts, Ted Pearson and Roger Arnold. What an incredible turnout!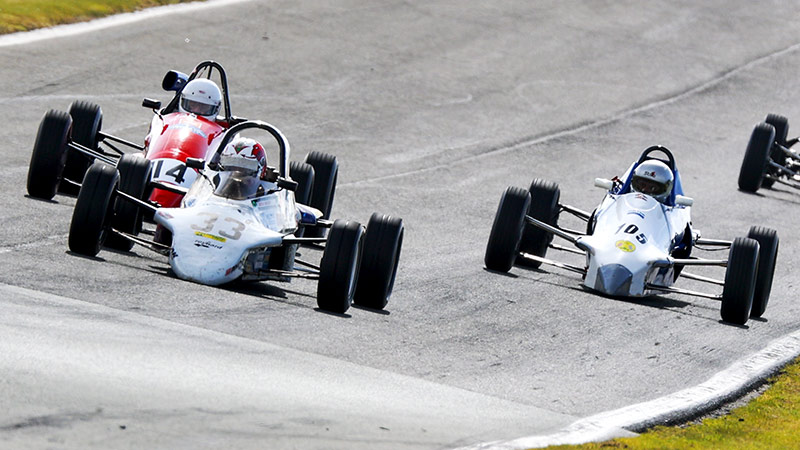 ---
NANKANG TYRE BMW COMPACT CUP – DOBLE LOOKING TO HIT THE RECOVERY TRAIL AFTER ANGLESEY NIGHTMARE
Mikey Doble left the most recent rounds of this year's Nankang Tyre BMW Compact Cup Championship at Anglesey a few weeks ago rueing his bad luck and mechanical woes, as engine problems in two of the three races that weekend forced him to drop crucial points in his bid to become champion. While dropped scores are still yet to become a factor in this year's title race, Mikey will wish to bounce back strong this Saturday when the Bimmers tackle Oulton Park.
As a result of Doble's car troubles, it means that he goes to Cheshire having lost the championship lead. It and the status of current top Masters driver now rest in the hands of Gordon Macmillan, who hasn't won a race all season just yet but has managed to rack up some very consistent top 5 scores, including two 3rd places at Anglesey. This coupled with Doble's misfortunes now give him a 15 point lead to defend, but he'll need to find another gear if he wants to stay with Mikey if he's on top form this time. Mikey does have back up in the standings from father Mike, who has pretty solid pace himself, so watch for this father and son duo circulating together.
Anglesey was a weekend where all of the top three drivers in points going into that meeting hit problems of their own. Both Lee Dendy-Sadler and Ian Howes dropped points too, albeit mostly from making contact with each other in Race 2, and while Dendy-Sadler remains in 4th at this stage, Howes has dropped to 6th behind Gareth Claydon. Gareth is another that might not always have the total outright speed to live with Doble and co, but he's able to score solid results fairly often, even taking a 2nd place at Anglesey. Martin Gadsby, Matt Wilkins, Joseph Doble (the youngest of the Doble racing clan on the grid) and Jim Barratt complete the current provisional top 10.
Scott Woodwiss