OULTON PARK PREPPED FOR FINAL BRSCC RACE DAY OF 2023
CATEGORIES:
The British Racing & Sports Car Club gears up for what will be its final regular race weekend of the 2023 season, as Oulton Park prepares to welcome the Club and its North Western Centre for the last outing of the year. Three championships have titles left to decide, including a double header of races to round off the Fun Cup Endurance Championship, along with Formula Fords and MG Metros to produce an excellent little collective of variety to the timetable.
---
FUN CUP ENDURANCE CHAMPIONSHIP
It's been a fascinating back and forth battle in the standings in this year's Fun Cup Endurance Championship, and now with the final day of racing ahead of them with a 1 and 3 hour double header to complete the season. Heading to Cheshire, there's still as many as nine teams that could leave as champions, although many will need a lot of fortunes and results to go their way to stand any realistic chance.
Top of the pile going to Oulton Park is former champions Team Olympian, who have proven time and time again as a team that just always seems to find a way to win. From the first seven races, they've won four times, finished second once more and claimed six of the seven fastest laps and the bonus points to go with them. The team of Kristian Rose, Chris Dovell and Riley Philips have always found a way to dig deep when they've needed to charge back to the front and more often than not, they've managed it. Oulton's two races could give them the crown if they can be victorious again, but as they fully well know, it's never as simple as that.
Second in points is PLR Racing, another former champion team that could be on the cusp of bringing the #1 back to them, albeit for the first in its current guise having previously tasted championship success as Team Honeywell three times before. Neil Plimmer and Ben Pitch are twelve points behind leaders Olympian, which is made even more amazing when you consider they haven't won a race all season to date. Their best has been two podium finishes and they've only finished outside the top six once after mechanical issues at Donington forced them to be classified 16th. PLR will most likely have to reach the top step and/or hope Olympian hit trouble in at least one of the two races to try and overhaul the deficit.
Then there's UVio/ Hofmann's Motorsport, with four titles to their name and naturally no strangers to winning. The duo of "Farquini" and Fabio Randaccio have won two of the three races that Olympian didn't claim this season, plus two third places and a second have aided their tally. However, they've also suffered their share of reliability issues with problems at Oulton Park in July and then again at Silverstone. When all is well, there's hardly a quicker car on the circuit, but they just need the luck to match the speed and title number five could still be on the cards for this team.
One of the first outside shots for championship victory is Team Viking/ Ursus Capital, who collected at Silverstone but only just, after a thrilling late battle with returning former champs Racelogic dicing wheel to wheel with them in a cameo appearance. Jonathan Hoad and Colin Kingsnorth take to the wheel this weekend in the hope they can rise from fourth, starting the weekend 22 points off the lead. Their task will be tough, but not impossible.
Then we come to the rest of the contenders who have all had mixed fortunes throughout 2023, but still find themselves with a loose shot at stealing the title. Team Greenheath have been a constant top ten presence with occasional dips into the top five a couple of times and if they can run strong, a best result of the year could come their way. EDF Motorsport find their #212 car in sixth having taken two top fives themselves and tried their best to finish consistently, Axiametrics/ GRD Racing have have true flashes of superb pace, but have been let down more often than not due to a combination of mechanical problems and bad luck. A super comeback drive at Silverstone to claim third on the final lap proves this team is quick when it all comes together, so perhaps they can end the year in style.
GT Radial has a rather special driver line-up for the Oulton Park double-header finale. Instead of Ellis Hadley and one of a selection of different co-drivers, this time the team have rather generously provided an incredible opportunity to a team of marshals to make their racing debut this weekend. Tyler James, Tom Pledger and Joe Smith will take to the wheel of the #97 car with Craig Ballantyne on standby as a reserve driver, while Dan Lloyd and Joshua Lee will join the pit crew for this event too. It's an incredible incentive put together in conjunction with the British Motorsport Marshals Club, and we look forward to see how they get on. Vapeclub with EDF Motorsports is the last of the potential title winners, but they'll need an awful lot of good fortune to come close to beating the top eight ahead of them.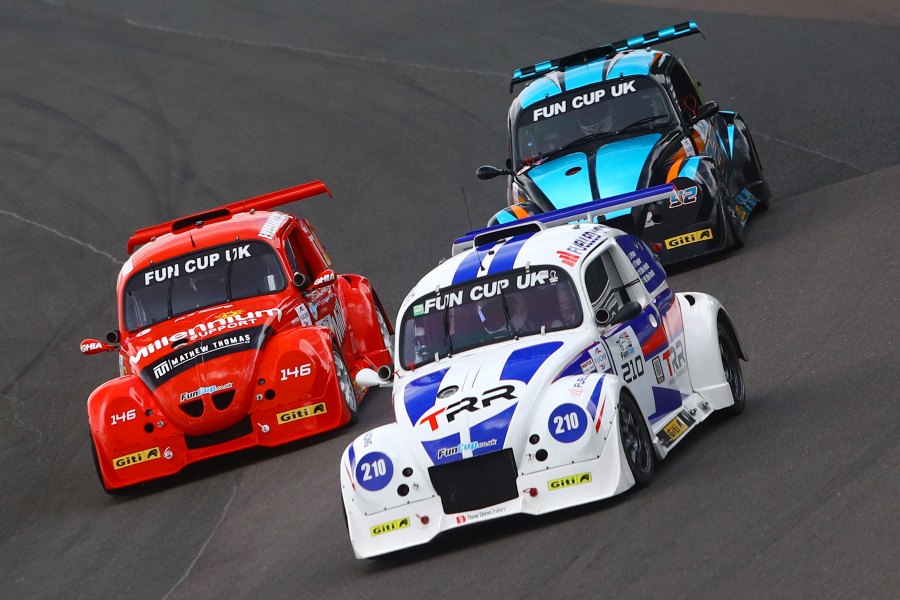 ---
SUPER CLASSIC PRE '99 FORMULA FORD CHAMPIONSHIP
Completing its first season exclusively as a championship for older Formula Ford chassis built between 1998 and 1967, the Super Classic Pre '99 Formula Ford Championship comes to its conclusion at one of its regular race circuits of Oulton Park in Cheshire, also marking the last round of the Champion of Oulton contest which will see one driver walk away as the outright winner of the local contest.
Heading to Oulton, all four class titles are essentially provisionally wrapped up already, with each of the current class leaders more than 70 points (the maximum a driver can score in class this weekend with pole, both class wins and fastest laps) ahead of their nearest rivals in second place respectively. That means that Morgan Dempsey (Super Classic A), Andrew Schofield (Super Classic B), Scott Guthrie (Super Classic C) and Scott Rawlinson (Super Classic D) are all effectively champions-elect before a wheel is even turned this weekend.
That being said, there will still be some fierce battles amongst the contenders. Super Classic A will feature Paul Mason, Richard Freye and Neil Hunt, all of which will be scrapping over who joins Demspey on the championship podium. Pre-Oulton, Mason heads Freye by 14 points with Hunt a further 19 back in fourth and all three will be determined to get the better of each other to finish the season in the top three. Ultimately one driver will have to miss, but deciding which one it is will be entertaining to watch.
Super Classic B should be rather interesting with second placed Trevor Morgan looking to solidify his place on the podium, particularly with leader Schofield and third placed Robert Higgins not in attendance. His rivals are set to be Christopher Stones, who makes his second appearance of the year after joining in at Mallory Park in May, and the ever enigmatic Juiceie Bruceie who will hope for some good luck aboard his Reynard. Grace Parkington should be able to move into second place in Super Classic C, with the young lady racer looking for a solid pair of results to end the season in her Crossle 25F against the PRS of Colin Williams, while Super Classic D sees the only class leader of the four to line up on the grid as Scott Rawlinson looks to seal the deal whilst fending off attentions from guest drier Raimund Fein in his Lotus 61.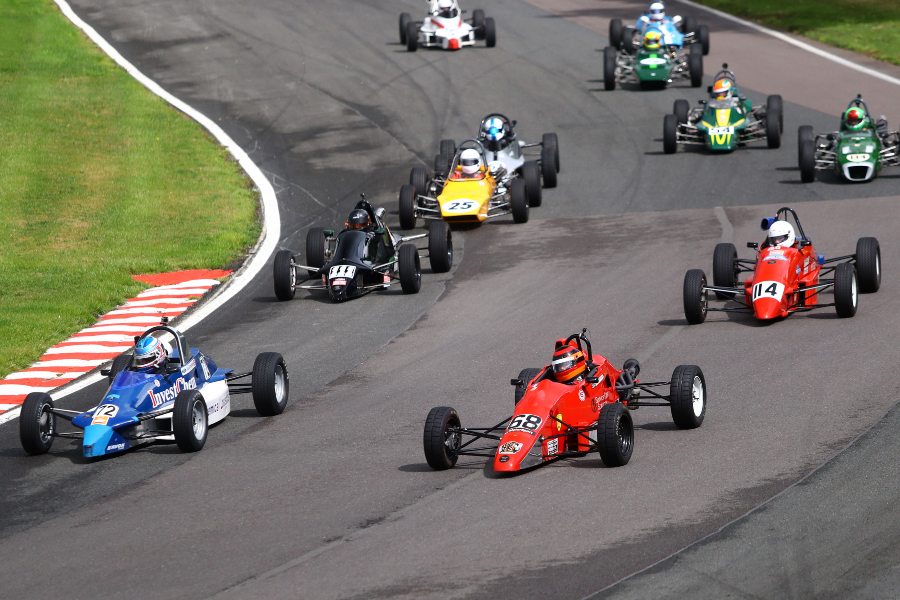 ---
HICKFORD CONSTRUCTION MG METRO CUP
Ready to round off their first season racing under the BRSCC banner full time, the Hickford Construction MG Metro Cup is ready to rumble for its final rounds of 2023 at Oulton Park, with a championship battle still hanging in the balance between the top two.
That top two is Rhys Claydon and Mike Williams, who head to Oulton separated by 23 points. It looks like a simple task for Rhys, as all he has to do is ensure that he isn't outscored by Mike by enough points to overhaul him. However, given that he already has the retirement from Cadwell Park as his one dropped score losing him just a single point off his overall total, he really cannot afford another one. 
If Williams were to win the first race and get fastest lap while Claydon suffered a DNF, that would put the two drivers just a point apart from each other going into the final race of the year. Then it would simply be a case of who can outscore the other in order to claim the title. However, Rhys will be hoping he can win from the front and pick up two more wins to take his tally to eight for the season, increasing his current win streak to five and becoming provisional champion at his first attempt fresh out of the BMW Compact Cup.
Williams himself will be pushing as hard as he can, knowing that all he can do is drive as fast as possible and hope that he can beat Claydon as well as other fortunes also going his way. Mike started the year strong with a brace of wins at Brands Hatch, and added a third at Cadwell Park after battling with Claydon before he retired. Since then, a mix of 2nd places and top fives have been his results and he'll hope to at least end the year with as strong results as possible.
Behind the top two, there's going to be a major scrap over the final championship podium spot with Matthew Simpson, Ben Williams and Phil Goodwin. All three are separated by just eight points between them and each have all stood on the podium this season at least once. That means they could end up being best of the rest both in the races and the championship behind the top two if Claydon and Mike Williams dominate once again, and watching these three go at it to secure third is set to be fascinating.
Tim Shooter and Jon Moore will also battle it out for sixth position with just two points separating them at this stage, while Dan Willars will be hoping for good enough results to pick up eighth in the final standings.
Scott Woodwiss