SILVERSTONE DELIGHTS AS 2022 BRSCC SEASON FIRES INTO LIFE
CATEGORIES:
After a long five months of waiting for racing to get back underway, it duly did so for the BRSCC as the Club kicked off its calendar of 2022 events at the home of British motorsport – Silverstone's International circuit at the magnificent Wing complex. Entries were impressive across the board with packed grids in most championships, while the weather played its part to enhance the feel good factor with two days of glorious sunny and bright Spring conditions, despite the chill and wind in the air.
MAZDA MX-5 CHAMPIONSHIP – GREATREX PAIR ON THE REDLINE
The Mazda MX-5 Championship once again produced the biggest grid of the weekend with 43 cars lining up for their initial trio of races to get their season underway, one less than a full capacity grid. Fraser Fenwick claimed pole which he turned into the lead after an initial first lap duel with Michael Knibbs, before pulling away unchallenged to collect the first win of the year by 3.5 seconds, while the scrap for 2nd was more frantic. Eventually, it settled in Mike Comber's favour as he eased away to P2, while Sebastian Fisher won the sprint to the flag for 3rd against Tom Smith.
Fenwick initially led a packed leading group in Race 2, which saw him break away briefly with Knibbs and Callum Greatrex, the latter taking over in P1 as the rest of the group caught up. Jason Greatrex, Knibbs and Comber also took turns in the lead before Callum worked his way back to the front. Greatrex would capture his first MX-5 Championship win in the end after resisting late pressure from Knibbs with Saturday winner Fenwick completing the podium. A notable drive came from Adam Sparrow who charged from 40th on the grid to 6th!
Race 3 turned out to be equally as energetic as Knibbs again led front the front row and the podium trio from earlier in the day again made an early break, but this was eradicated when the safety car was called for a handful of cars off the road at various points. It was a quick interlude, however, with just one lap before racing restarted and when it did, a landrush began to take the win as Knibbs and Comber also took turns leading before the Greatrex pair hit the front and stayed there. Jason took the win with Callum 3rd after he lost the runner up spot to Knibbs on the final lap.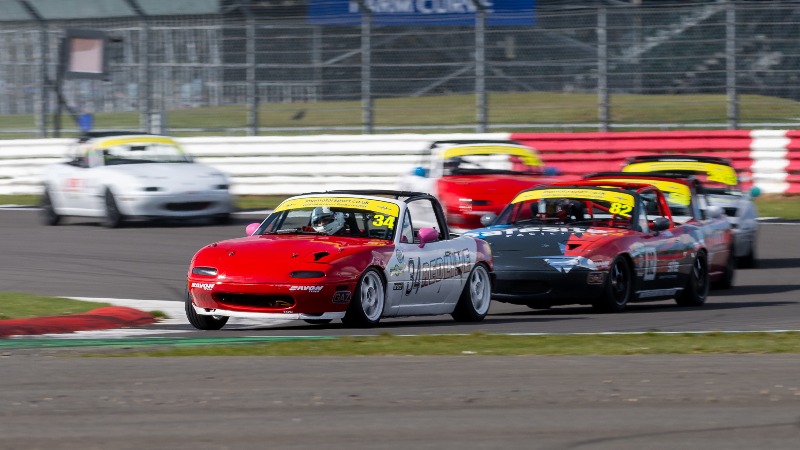 MAZDA MX-5 CLUBMAN CHAMPIONSHIP – BRAY KICKS ON FOR A DOUBLE
AB Motorsport team boss Ali Bray was expecting a regular opening to the season, running his fleet of MX-5s as usual – until Kevin Dengate had to withdraw late. This prompted Ali to get behind the wheel as a last-minute guest entry for the Mazda MX-5 Clubman Championship and he quickly got back into the swing of things with pole for Race 1. He led the entire way from lights to flag with defending champion Harry Storer on his tail at all times and while Bray won on the road, his guest status made him invisible for points and therefore handed Storer the maximum score. Matthew Fletcher took P3 on the road and 2nd place points, while a last lap collision between Declan McDonnell and Neil Chisnall gifted Jon Pethick 4th place and the points for 3rd.
It was mostly a carbon copy of earlier in the afternoon in Race 2 as Bray again got the jump from pole and held on for the 15-minute duration, but Storer did make a challenge midway through to try to win on the road which came to no avail. The top two remained in the same order at the flag, while McDonnell picked off Pethick early on and then resisted pressure from Fletcher to claim 3rd place in the end.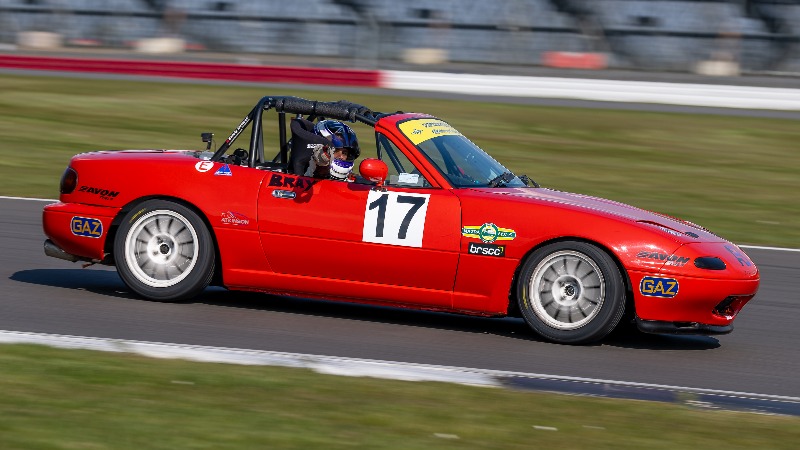 MAZDA MX-5 SUPERCUP – AIDAN RUNS FOR THE HILLS
A bumper 37 car entry turned up for the opening three Mazda MX-5 SuperCup race of the 2022 season, with a surprise guest entry winding up on pole position. Hills Motorsport's boss Aidan Hills got back to his Mazda racing roots at Silverstone and was in dominant form all weekend as he escaped up the road in Race 1, leaving the remaining 36 drivers to scrap amongst themselves. Richard Amos also broke away himself to be unchallenged 2nd place (while taking points for P1 thanks to Hills' guest status), while an enormous multi-car scrap for 3rd raged for the duration which was eventually topped by Will Blackwell-Chambers. Stephen New was the first Club class winner of the season, ahead of Bruce Robinson and Kevin Brent.
Aidan escaped early again in Race 2, so the main action again fell to those battling over the podium places in the leading group. After plenty of back and forth between the front few drivers, Patrick Fletcher made a break with six minutes to go and was joined in his efforts to escape the melee by Amos, as everyone else tried to be 4th. Hills' winning margin this time was a little smaller at some 12 seconds, but it was still just as commanding with Fletcher heading Amos by three seconds himself.
Race 3 partially reversed the grid to put Alex Miller and Blackwell-Chambers on the front row together and Miller held the lead throughout the opening lap, before being overhauled by Bysouth and WB-C. As Miller and James Cossins recovered from spinning at Vale on Lap 2, Hills needed just over five and a half laps to get back into the lead, which again he ensured he wouldn't lose from thereon in. While Aidan made it three from three, he left early leader Bysouth to fend for himself, but he could only do so temporarily before Amos took 2nd and Bessell collected 3rd.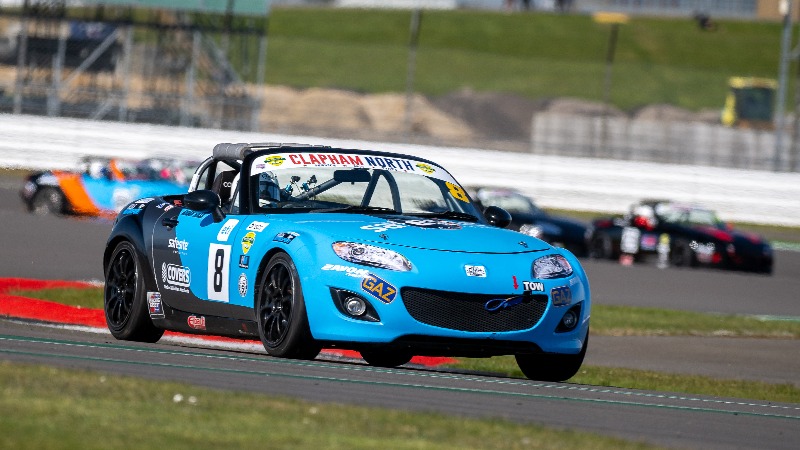 AVON TYRES NATIONAL FORMULA FORD CHAMPIONSHIP – DEMPSEY'S DOUBLE K.O. PERFORMANCE
His deal was a late one before the start of the season, but Jordan Dempsey's decision to contest the National Formula Ford Championship in 2022 with Kevin Mills Racing proved to be a prosperous one. The Irishman duly claimed pole position in qualifying, but then had to survive an early assault from the rest of a leading five-car group containing Rory Smith, Thomas Mills, Colin Queen and Lucas Romanek. Both Smith and Mills tried hard to wrench the lead away from Dempsey, but they ended up so preoccupied battling each other that Jordan could briefly escape before the safety car was called. When it resumed, Dempsey was again under assault from the quartet behind, but again benefitted from their squabbles to pull away and secure the first win of the year. Daring moves from Romanek saw him brilliantly rise to 2nd with Mills (only contesting odd races due to his GB4 commitments) completing the podium.
An attrition filled second race started badly for Jamie Sharp as he found himself out in the opening corners after contact, prompting another safety car appearance. Another one-lap bunch up got racing back underway fairly swiftly and it was again Dempsey's race to lose from that moment. With Romanek and Mills forced out with mechanical problems and others involved in incidents, Dempsey's second win of the weekend saw him followed home by Smith in P2 and Queen in P3.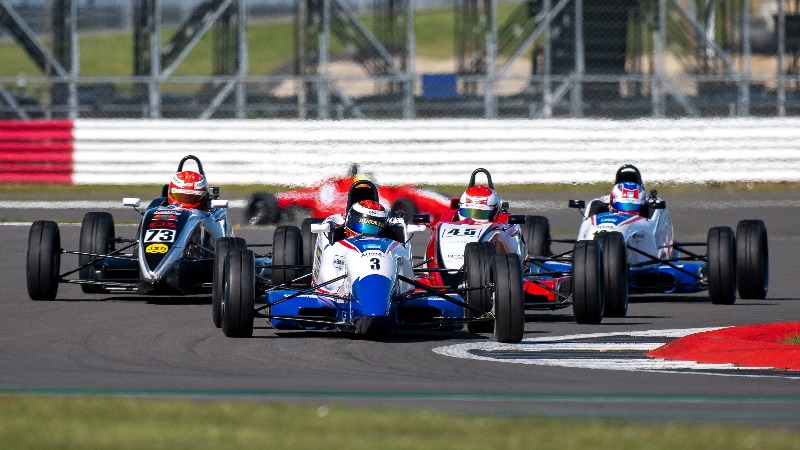 FUNCUP ENDURANCE CHAMPIONSHIP – UVIO PICKS UP WHERE THEY LEFT OFF
As per FunCup rules, the defending champions UVio/ Hofmann's Lotus started the first four-hour race of 2022 from the back of the grid while the rest of the field's starting order was decided by random ballot, putting GCI Racing and PLR Racing on the front row together. GCI battled with CCS Media and Greensall Racing in the first stint as the trio constantly swapped the lead between them, while UVio didn't need long to get as high as 4th before the first pit window open. 
CCS Media rotated at Vale, giving GCI Racing the lead in the second stint with PLR and UVio moving up to 2nd and 3rd, but the #1 of "Farquini" and Fabio Randaccio didn't take long to move to runner-up spot and this would be the top 3 order through the second round of stops. With "Farquini" back behind the wheel, UVio caught and pass GCI for the lead and the two cars would circulate together heading towards pit stop #3. In that phase, GCI would slip to 5th as Olympian, PLR and MJ Tec Giti all moved up ahead of them, before that order completely reversed in the next set of stops as the pursuit of leaders UVio resumed.
With no more major positions changes as the final couple of pit windows played out, the race was on for GCI to try and catch UVio in the lead, but this came to nothing as "Farquini" and Fabio Randaccio were too far in front to be headed. The defending champions started their title defence with victory at Silverstone, with GCI in 2nd and Olympian benefitting from late heartbreak for MJ Tec Giti, who suffered a mechanical issue with 15 minutes to go that forced them out. This promoted Olympian into the final podium spot in 3rd, but only just after late pressure from PLR Racing. Another ominous win for UVio that could once again set the tone for the rest of the season once more.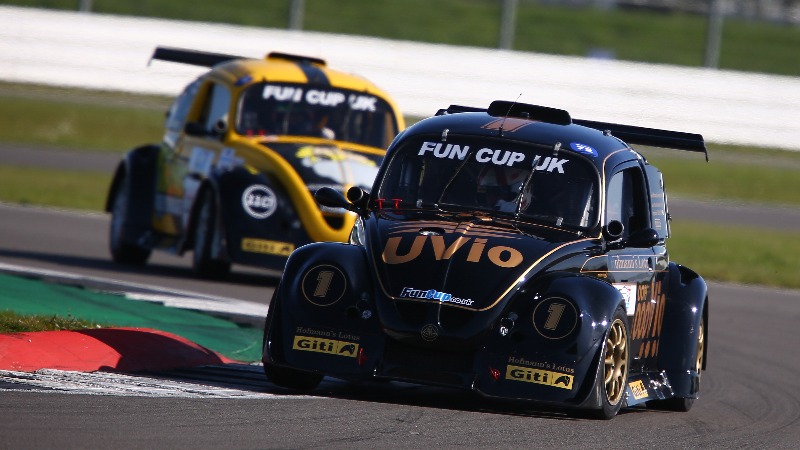 MODIFIED FORD SERIES – BLUE OVALS BRING THE THUNDER
Undoubtedly sporting one of the most impressive grids of the weekend, the ultra popular Modified Ford Series brought an entry that was admirable not just for its size with numbers in the mid-30s, but for its quality and diversity as it showcased a vast array of different Ford models all in one.
Dave Matthias's Escort Cosworth got a lightning start to get to the head of the field in the first few corners, but his race then came to a shuddering halt when contact at the end of Lap 1 left him deep in the Club corner gravel. Now in the lead, Malcolm Harding's Escort Mk2 Zakspeed held on for the majority, but was chased down and passed late on by the Focus RS of James Allen, who took the win on the road. However, James was disqualified for overtaking under yellow flags and then for prohibited use of pit to car radio, promoting Harding back to the overall race win ahead of Paul Nevill's Escort RS2000 and Craig Rainer in his Mk2 Escort.
Harding's start in Race 2 was a blinder as he led Rainer easily from the opening lap and streaked away with relative ease as he completed the job from pole and made it two from two for the first meeting of the season. His Mk2 Escort Zakspeed would take Race 2 ahead of a solid drive from Ashley Shelswell in his V6 Mustang-engined Sierra XR4i in P2 and Craig Rainer again picking up a podium overall with 3rd.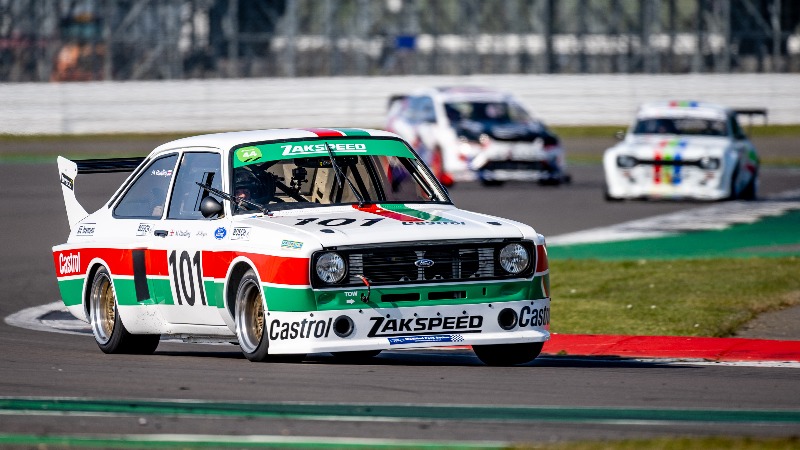 CLASSIC & MODERN MOTORSPORT CLUB SOUTHERN – SUPER SALOONS, TINTOPS & INTERMARQUES ENTERTAIN
Alongside the BRSCC content, there were four great races from CMMC Southern's pair of grids on Sunday at Silverstone. The Intermarques were up first where Daniel Smith took his Mercedes SLK silhouette to Race 1 victory ahead of the Vauxhall Tigra pair of Malcolm Blackburn and Steve Burrows, before Burrows improved two places to win Race 2 from the SLKs of Daniel and Lewis Smith.
Over in the Super Saloons & Tin Tops, it would be a straightforward double for the BMW M3 GT4 of Charles Hyde-Andrews-Bird as he picked up a brace of wins in the afternoon, with Alex Sidwell's brand new Holden Commodore VF V8 Supercar collecting 2nd place both times and 3rd place finishes split between Martin Reynolds' Escort Mk2 and Peter Seldon's BMW.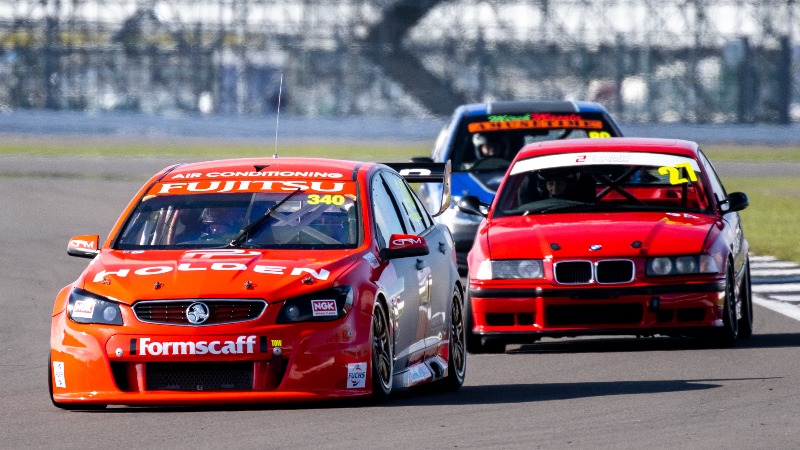 Scott Woodwiss

Photos: Jon Elsey & Stewart Finley