SNETTERTON DELIVERS ANOTHER BRILLIANT BRSCC SUMMER RACE-FEST
CATEGORIES:
Clear skies, warm temperatures and a busy paddock made for an excellent atmosphere at our most recent race weekend at Snetterton, with a healthy mix of sprint and endurance racing providing a wonderful variety of cars on track across both days. Now moving into the second half of many championship campaigns, every point scored here was going to be crucial to keep contenders in the hunt for the title!
---
FUN CUP ENDURANCE CHAMPIONSHIP – GCI FINALLY GET THE JOB DONE, WHILE UVIO FALTERS AGAIN
The story of the 2022 Fun Cup Endurance Championship had been a constant cycle of the same results at the head of the field – a race win for either defending champions UVio/ Hofmann's Lotus or Stobart Sport, while GCI Racing seemed destined to own the runner up spot on the podium after finishing P2 in all of the first four races, including an agonising denial of victory at the previous round at Brands Hatch. Snetterton gave them another chance to shake off the label once and for all and finally become race winners.
The random grid draw produced one of the stories of the weekend before the race had even begun, as the #97 GT Radial car was drawn on to pole position sporting the first ever all-female crew of drivers. Michelle Hayward, Zoe Burke and Wendy Ellis-Smith would start the race right from the front and from lights out, they managed to hold the lead for the opening lap before the cars around them started to move through. The #98 JPR For Hire car driven by Simon Rudd in the opening stint initially took the lead, before GCI Racing and then Greensall Motorsport (driven by team boss Nigel Greensall with Sam and Ted Smeeth on this occasion) took their turns out in front.
Greensall led for the remainder of the first stint, but after the first pit stop window shook out it left UVio out in the lead, with "Farquini" and Fabio Randaccio once again rising from deep in the pack to reach P1. Through the next couple of pit stop phases the #1 remained in 1st place and it looked as though they were on course for a third win of 2022, but their bad luck struck once again when a front left wheel hub failure forced them to slow on track and pit to fix the damage, losing them several laps and any chance of victory in the process.
Their misfortune turned out to be GCI Racing's good luck as they were instantaneously promoted into the lead of the race, but memories of Brands Hatch were still vivid and the team were cautiously optimistic going into the last hour. Thankfully, there were no dramas for Ian Wood and Craig Butterworth as they calmly negotiated their final pit stop and drove on to at long last capture their first Fun Cup Endurance win. Team Viking were solid all day to take the runner-up spot in 2nd place for Nick Nunn and Mark Holme, while double winners Stobart Sport had to settle for 3rd this time courtesy of Jonathan Hoad and Richard Webb.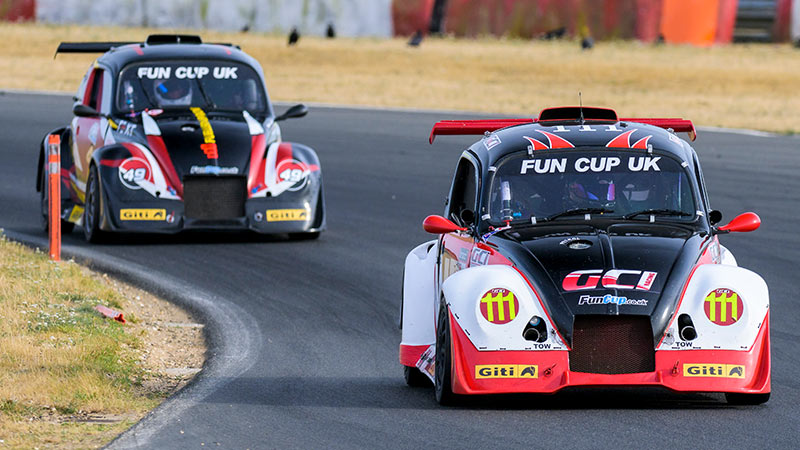 ---
AIRTEC MOTORSPORT FIESTA CHAMPIONSHIP – TITLE RIVALS TAKE A WIN APIECE IN NORFOLK
The hot hatches in the AIRTEC Motorsport Fiesta Championship headed to Snetterton with a battle at the top of the standings between Oulton Park race winner Jenson Brickley at the head of the points and main rival Alastair Kellett. Both had taken victories across the season thus far and it was set to be another battle of youth versus experience.
Brickley drew first blood in qualifying with a blistering pole lap that put him a second faster than Kellett on the front row, while 3rd to 6th were another 0.6 seconds back but covered by less than one tenth between them. Kellett was able to get a better jump off the lights in Race 1 and led Brickley into Riches, but before the end of Lap 1 it was Brickley back in front. Jenson quickly set about building a lead, leaving Kellett to deal with 3rd place man Zachary Lucas in his mirrors. The top three remained static with Brickley comfortable enough in P1, but a safety car call for the expired Fiestas of Sean Reynolds and Joseph Knight missed the top seven cars and picked up Ethan Rogers in 8th. After a couple of laps of circulation, the race was stopped past 75% distance to declare a result, handing a third win in a row to Brickley from Kellett and Lucas. Nick Moore also managed to add another ST150 class win to his 2022 tally from Thomas Davis and Matt Chambers.
Thankfully the second race later in the afternoon ran to the full 20-minute distance as again Kellett was better off the line than Brickley and took the lead from the outset. Unlike Race 1, Brickley didn't repass straight away and tailed his Irish rival before Lucas squeezed into 2nd at Nelson on Lap 2. With Brickley's pace starting to fade a little as he dropped back in 3rd, Lucas set about catching and passing Kellett for the lead and initially wasn't able to keep up, but in the closing stages of the race, a late slow puncture allowed Zachary to sit on Kellett's rear bumper and apply pressure. Despite the challenges, Kellett survived to take the flag to win just a quarter of a second from Lucas, while Brickley ended up a somewhat lonely third, but still scored a valuable haul of points. It was a carbon copy top 3 from Race 1 in the ST150s, with Moore again clinching another class win from Davis and Chambers.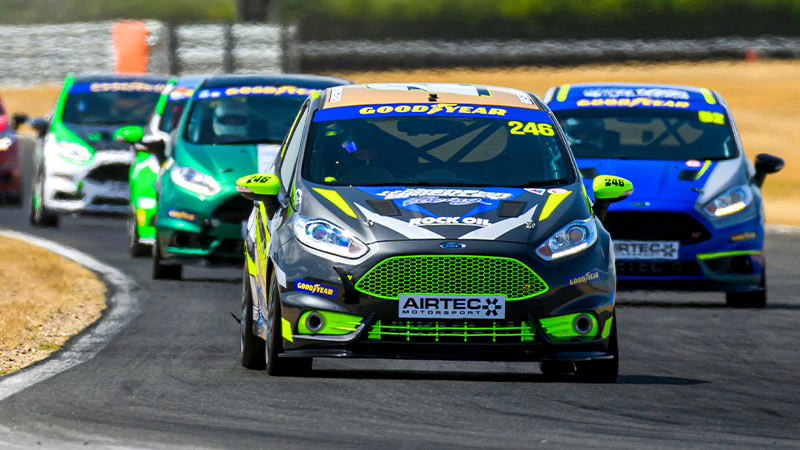 ---
BRSCC FIESTA JUNIOR CHAMPIONSHIP – A TRIPLE FOR LEE, BUT WEBSTER COMES CLOSE TO FIRST JUNIOR WIN
A 15-strong field of junior racers was primed and ready to get the first BRSCC Fiesta Junior Championship triple-header of the 2022 season with Sid Smith looking to try and extend his advantage heading to Norfolk. However, a technical infringement discovered during practice and qualifying meant that Sid not only had to start both Race 1 and Race 2 from the back of the grid, but also with a 10-second time delay each time. This was music to the ears of his main rival Thomas Jack Lee, who therefore lined up on pole for Race 1 with teammate Albert Webster alongside.
Webster in fact got the better start from lights out and managed to keep Lee at bay in the opening couple of laps, showing some of his best pace to date in the championship since he debuted in 2020. Albert managed to keep Thomas at bay for practically half the race until the move was made at Wilson hairpin to swap positions, the pair making slight contact in the process. Webster found a way back past a lap later at the same spot, before the pair duelled frantically over the next lap and a half before Lee completed the move to repass and stayed there to the flag. Taking his third win of the year, Lee held off Webster by 0.3 seconds in the end, while George Foxlow was promoted to his first FJC podium in 3rd after on-road podium finisher Luke Hilton was one of five drivers penalised for a jump start.
Webster swept round the outside of Lee again to lead at the start of Race 2 with his Race Car Consultants teammate slotting in behind him, in what was quickly looking like a carbon copy of Race 1. Lee wasted no time taking the lead on Lap 2, but this time the pair had company in the form of Archie Handy and Lewis Hodgin, making it a breakaway quartet at the head of the field. But pretty soon Lee was in a race of his own as Webster dropped back into the clutches of Handy, who tried his hardest to prise 2nd from his grasp but to no avail. Lee made it two from two with Webster again in P2, with Handy delighted at his first FJC podium finish in 3rd in his strongest drive to date.
Then came the race that Albert Webster will look back on as the one that got away. Yet again from the front row he was first into Riches and into the lead as Lee dealt with the fast starting cars behind him, but in just a few moments he was on Webster's tail as usual. However this time Albert proved a lot tougher to pass and throughout the 15-minute encounter he bravely held on and fended off all attacks from his teammate. It looked like his first Fiesta Junior win was on the cards, but the last lap would prove to be an ultimate twist of fate. Lee made a big dive into Wilson hairpin which saw both drivers made contact, allowing the fast-approaching Sid Smith (looking for a good result after a tough weekend) to get involved. Lee took the lead while Smith attacked for 2nd, and when Webster ran wide exiting Oggies it was Sid's place to take. Despite pushing so hard he ended up on two wheels over the kerb at Nelson, Webster had to settle for 3rd as Lee completed the hat-trick and Smith rounded off a rough meeting with 2nd place.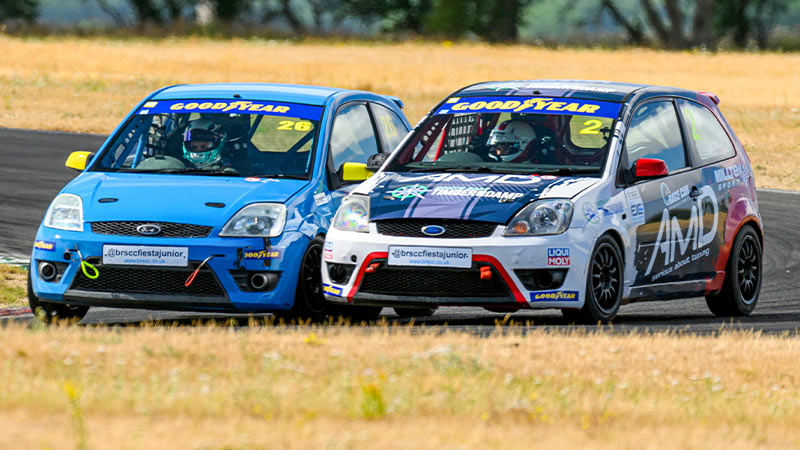 ---
AVON TYRES NATIONAL FORMULA FORD CHAMPIONSHIP – DEMPSEY BOUNCES BACK, BUT ROMANEK DENIES HIM A TRIPLE
The Avon Tyres National Formula Ford Championship has seen quite the back and forth between the top three drivers in the points battle so far this year. Heading into the weekend, Colin Queen was on top by just a couple of points from long-time leader Jordan Dempsey, while Lucas Romanek was coming back strong after a tough couple of weekends prior to Anglesey. Snetterton gave them all a chance to stake their claims.
Dempsey made the most of his chance straight away with pole in qualifying and a dominant display out in front in Race 1. From start to finish, he was simply never headed and took victory by an impressive 9 seconds by the chequered flag. This left his rivals to fight amongst themselves over who would join Jordan on the podium, a fight that ended up being a three way scrap between Romanek, Jamie Sharp and Morgan Quinn. After braving a three wide move into Riches to move into 2nd late on, Romanek kept Sharp at bay to secure 2nd while the BM Racing driver rounded off the podium. Dempsey's Race 2 win also saw him also become the latest recipient of the Henry Rilett Trophy presented by the BRSCC East Anglian Centre.
The second race of the weekend on Sunday morning wasn't quite as straightforward for Dempsey as it had been the day before. This time Romanek made full use of his P2 starting spot to pressure the Irishman all the way throughout the 15 minutes, as the pair eventually broke away from Sharp who had driven well to stay with them initially. Romanek stayed glued to the gearbox of the Spectrum ahead of him, but there was no way through and Dempsey took his second win of the weekend in the end, albeit just a couple of tenths clear of the Oldfield Motorsport Van Diemen in his mirrors; Sharp was again in 3rd, having found himself in no man's land in the closing stages after moving clear of the titanic scrap for 4th, eventually won by Kevin Mills Racing guest driver Andrew Rackstraw.
The partially reversed grid for Race 3 threw out Andre Lafond onto pole for Ammonite Motorsport, but it didn't take long for Sharp to move his way into the lead by the end of the opening lap. Both Dempsey and Romanek followed suit not long after and pretty soon Romanek was all over the back of Sharp's Medina Sport car. Romanek cleanly passed into Brundle with Dempsey chasing them both, but when Dempsey took the lead heading onto the penultimate lap, Sharp's attempt to follow him through into Riches resulted in contact which sent the defending Formula Ford Festival champion spinning out onto the grass. As for the lead battle, Romanek stayed with Dempsey and his pressure paid off when Jordan ran wide exiting the final corner. Making the sprint to the flag together, Romanek's drive was enough to just pip Dempsey to victory by a mere 0.028 seconds! Lafond's consistent pace was rewarded too with a fine 3rd place.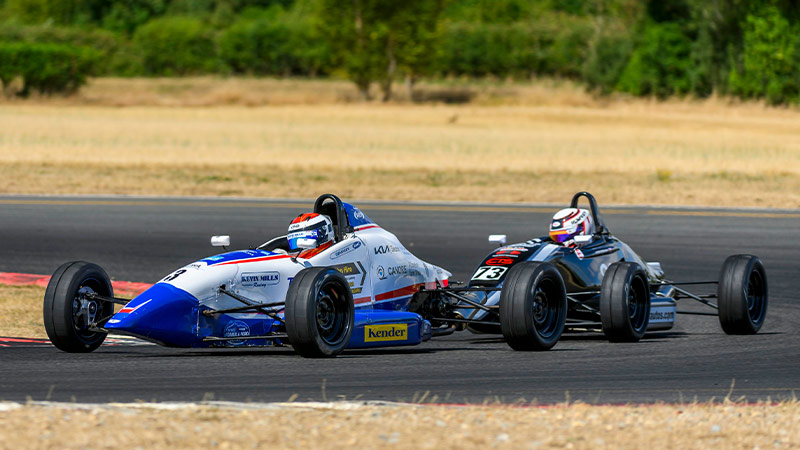 ---
NANKANG TYRE CITYCAR CUP – BLISS AND DYER SPLIT THE HONOURS BETWEEN THEM
It's been quite the contest so far in this year's Nankang Tyre CityCar Cup with the top four on overall points staying close and competitive all the way to this point. The Bliss brothers Stuart and Richard have had Andrew Dyer and Elliot Lettis for company practically all season since the beginning and it looked like it would be the same quartet controlling the show after all four drivers locked out the top four places, with Richard Bliss on pole ahead of Stuart.
Richard Bliss held on in front from the start while Dyer took 2nd from Stuart Bliss off the start and immediately began pursuing Richard, while Lettis held station in 4th as he gave chase with Christopher Mackenzie on his tail. Once Lettis dropped Mackenzie and joined the leading trio, the top four did their usual trick of leaving the rest behind to enjoy their own private scrap with the order remaining the same for the duration. The race was prematurely halted, however, when Paul Savage's Peugeot ended up inverted at Nelson after clipping the kerb into a soft rollover. Thankfully he and car were OK, while the declared result gave Richard Bliss the win from Dyer and Stuart Bliss. Andy Burgess was top of the Student Motorsport Challenge with victory for East Surrey College, while an excellent debut for Ben Creanor saw him score another 2nd place for Oxford Brookes and Dan Lockett took 3rd again for Coleg Gwent Blaenau.
Dyer made sure the outside of the front row was clean enough to help him challenge for the lead at the start of Race 2 as again the usual suspects took their places in the lead positions from the start. It wasn't until just before half distance that Dyer began making a challenge for 1st and after constantly putting him under pressure, Andrew was finally able to make Richard crack just before the final lap at Murrays. This put the two Bliss brothers into combat on the last lap, with Stuart managing to beat Richard to 2nd place this time, as Dyer ran away to victory just ahead of them. Andy Burgess took Easy Surrey College's second win of the weekend in the Student Motorsport Challenge, only this time joined by Richard Jepp with a stellar drive to 2nd for MET Motorsport and Dan Lockett again for Coleg Gwent Blaenau.
The scene was set for an excellent 3rd race with a partially reversed grid, but sadly it wouldn't last longer than half a lap as a stoppage was called due to Paul Savage once again overturning his Peugeot, this time after striking the barrier while heading onto the Bentley Straight. Due to the damage to the car, the barrier repair and inclement time constraints to finish the remaining races on the timetable, Race 3 was forced to be cancelled and is set to be rerun one of the remaining meeting this year. More details on this will be available in due course.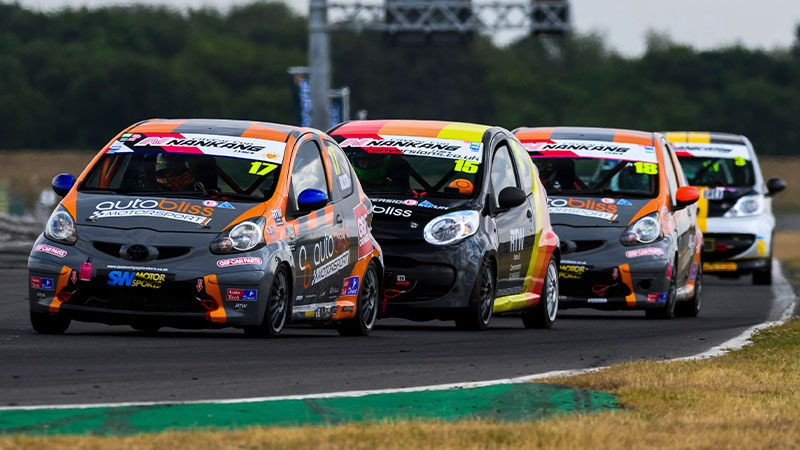 ---
MODIFIED FORD SERIES – DOMINATION FOR DAVE AND HIS COSSIE IN NORFOLK
With a stellar entry of over 30 cars in the line up for their return to Snetterton, the Modified Ford series was a trio of races that many up and down the paddock were very much looking forward to. With a mouth-watering array of Blue Ovals on display, Fords of all shapes and sizes took to the grid under the summer sun with some great racing in prospect.
The pole-sitting Escort Cosworth of Dave Cockell surprised no one when he entered Riches corner first, eagerly pursued by Jack Gadd's Mk1 Escort RSR and Simon Light's Cobra V8 engined Capri in his wake. Gadd initially did his best to keep up with the Cosworth, but his charge barely lasted a handful of laps before mechanical issues saw him pull off the road before Riches. This left Light in the Capri to be the main chaser and he pushed as hard as he dared to keep up with Cockell. But with several hundred horsepower under the bonnet, Cockell only pushed as hard as he needed to and had enough in reserve to keep Light at arm's length all the way to the end. Cockell added another win to his tally, with Light in 2nd and Ashley Shelswell bringing his Mustang V6 engined Sierra XR4i up to 3rd in the end. Cockell's Race 2 win also saw him as the latest winner of the Barn Ruche Trophy, also presented by the BRSCC East Anglian Centre.
The second race on Sunday morning didn't appear to play out much different than the first had, as Cockell again jumped into the lead, drove as quickly as he needed to ensure the car got home in one piece and led every single lap once again to take another trouble-free victory. Simon Light's Capri again owned P2, while a different Sierra wound up 3rd this time as Dave Matthias took his RS500 Cosworth example to the overall podium. To round off the perfect weekend, Cockell once again drove error-free to keep Light at bay one more time and complete a hat-trick of wins from Snetterton. It was also three second places for Light in turn, while the third different driver in as many races took P3 overall as after a charging Jack Gadd's Escort once again faltered, series creator Paul Nevill was assured the pace aboard his Mk2 RS2000.
On behalf of Modified Fords, a big thanks to SHP Motorsport Engineering for sponsoring the series for this meeting.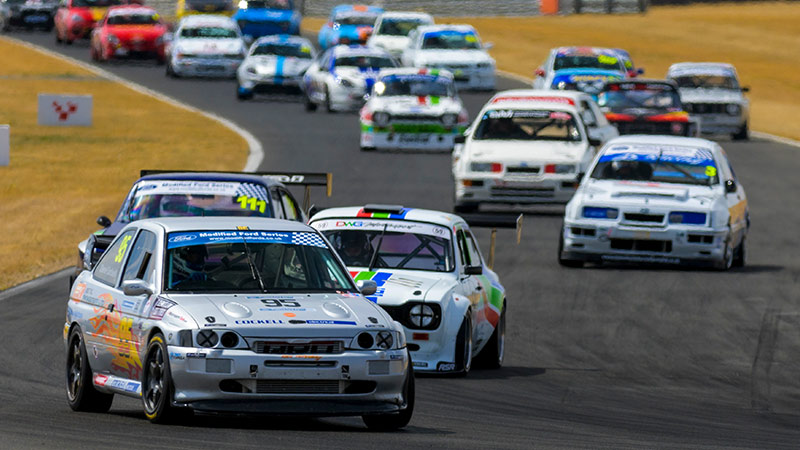 ---
BRSCC CLUBSPORT TROPHY – DICE FOR THE LEAD END UP BILIMORIA'S WAY
Another healthy contingent of cars were back on the grid for a second visit to Snetterton this year for the BRSCC Clubsport Trophy, and despite a slightly smaller entry than you might usually find, that took nothing away from the on-track spectacle that ended up playing out. Thanks to prior delays in the timetable because of barrier repairs and incidents, the ClubSport race had to be shortened from its usual 45-minute distance by 10 minutes to be completed before the circuit's 6:30pm curfew.
Overall pole had gone to the turquoise BMW M3 of Jasver Sapra, running in Invitation class and thus invisible in eligibility for the overall victory. However, starting from the pitlane left Kevin Talbot's Honda Integra Type R DC5 all on its own on the front row. But, the immediate cars around him swamped him off the start, dropping to 4th as Phiroze Bilimoria's VW Scirocco led from Paul Hinson's BMW and Olly Samways' Toyota MR2. Sapra, meanwhile, wasted no time in picking his way through the field and only needed three laps to get back to the front of the pack.
From here, Sapra was never headed and would go on to take the win on the road as top Invitation driver. This left Bilimoria, Hinson and Talbot to scrap over the ClubSport win within the regular classes and initially it looked as though the Scirocco had the race under control while the Integra and E36 Compact argued over 2nd. The pit window did play in favour of both Bilimoria and particularly Hinson, who ended up several seconds ahead of Talbot after the Honda was one of the last to make its mandatory 2 minute stop, while also getting closer to Bilimoria in the process. The gap between both cars went back and forth throughout the remaining minutes, but ultimately there was no change as Bilimoria came through to claim ClubSport victory with Hinson a close 2nd and Talbot 3rd, all in Class A.
As for the rest of the classes, Martyn Culley ended up untouchable as he claimed the honours in Class B in his SEAT Leon Cupra R, while Jeremy Crook was delighted with taking victory in Class C in his Honda Civic Type R. It was another Class D success for Gary and Craig Butterworth on their return in their Renault Clio 172, and the Adcocks were also thrilled with capturing the Class E win aboard their trusty BMW Compact.
Scott Woodwiss