TCR UK & BRSCC PROVIDE AN ACTION-PACKED DONINGTON PARK WEEKEND
CATEGORIES:
Some of the BRSCC's best and brightest championships and series took one step closer towards the climax of their 2023 campaigns at a hot and humid Donington Park in Leicestershire, as title battles continued to take twists and turns and key contenders either took valuable points or had weekends to forget. Nevertheless, the event certainly wasn't without plenty of talking points.
---
TCR UK TOURING CAR CHAMPIONSHIP
The penultimate rounds of this year's TCR UK Touring Car Championship at Donington Park certainly did much to shake things up in the title race, leaving all to play for at the finale at Brands Hatch next month. With a mixture of dry and damp conditions to contend with, opportunities arose for some drivers to score their best results of the season, while other established front runners struggled.
Jenson Brickley began the weekend in good form after he took pole in Saturday's qualifying session, while championship leader Carl Boardley had to make do with tenth on the grid after his fastest lap time was disallowed for track limits. Off the start of race one, Brickley and front row mate Adam Shepherd ended up banging doors exiting Redgate as they duelled over who would lead the opening lap, but the safety car was scrambled for just one lap after Darelle Wilson temporarily ended up in the gravel but was quickly pushed back out.
Brickley got the jump on Shepherd as racing resumed, while behind them Kent was tagged by Winfield at Redgate causing damage to Bradley's Veloster and forcing him out. As the top three continued out in front, Chris Smiley and Callum Newsham disputed fourth with Newsham's Hyundai squeezing past Smiley's Honda through Craner Curves as Boardley made steady progress up to sixth, passing Winfield in the process at the Roberts chicane.
It wasn't long before Boardley was on Smiley's tail for fifth and the place was his into Redgate. Out in front, Brickley had the race on lockdown with a three second lead heading into the final ten minutes. Late battles between Winfield, Smiley and Ley over fifth and Sumpton and Wilson over tenth and reverse grid pole entertained in the final minutes, but in front Brickley was untouchable as he took victory – on the road. Brickley overtaking under the safety car was deemed to gain him an unfair advantage, thus he was demoted to second as Shepherd was promoted to the win in his place. Constable completed the podium with third ahead of Boardley in fourth and Winfield in fifth.
A last minute rain shower sent teams scattering to change tyres and setups just moments before the start of race two, with Sumpton starting on the reverse grid pole before he was beaten to Redgate by Hutchinson at the start. Smiley went on the attack to try and steal the lead but after an initial attack he began to fade backwards from the CUPRA. The top two ended up in a race of their own, leaving Alistair Camp to defend third from Ley with Sumpton in the top five while championship contenders Boardley, Shepherd, Winfield and Brickley all found themselves floundering in and outside the top ten.
As the race wore on, the conditions began to steadily improve with drivers trying to make the most of their treaded tyres on a circuit which was ever changing. Out in front, Hutchinson's pace was something that it seemed no-one could match him out in front, but for second Camp was beginning to reel him back towards him. In the closing stages, Camp's Hyundai ended up all over the back of Smiley's Civic, applying pressure to the defending champion. Brickley would also suffer mechanical issues and retire in the final minutes.
For Hutchinson, he took the flag first but once again the victor would change post-race. Both Hutchinson and Smiley were found to have failed the ride height check after the finish, disqualifying them both in the process. That promoted Alistair Camp to his first TCR UK win ahead of Shepherd and Ley on the podium, with Joe Marshall and Sumpton in the top five. Now the title fight heads to Brands Hatch in October where it's Boardley's lead to lose – can he wrap up the touring car title in Kent?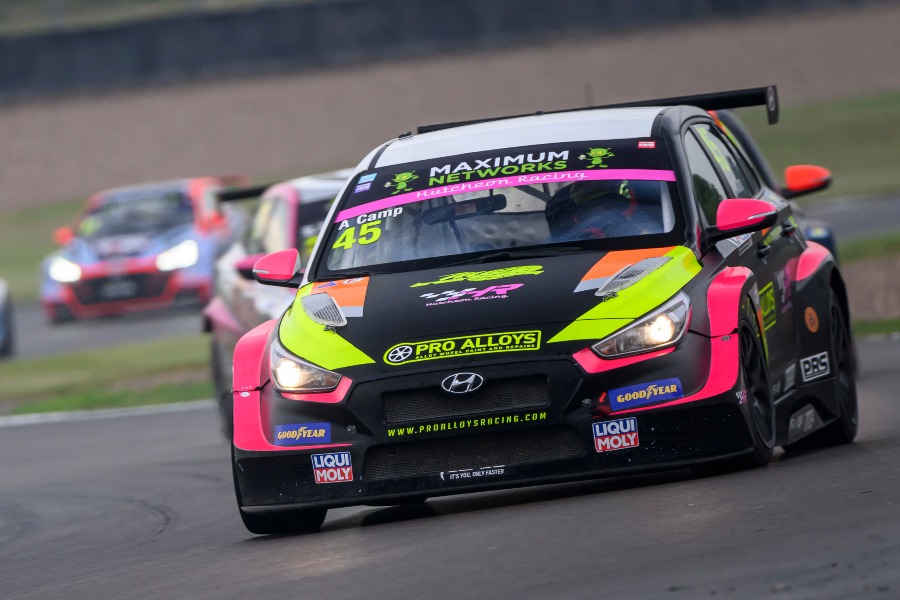 ---
FUN CUP ENDURANCE CHAMPIONSHIP
The Fun Cup Endurance Championship headed towards Donington Park for its second to last race weekend of the year as the battle for the 2023 title continued to take more interesting twists and turns. Heading to Donington, PLR Racing led the way on total scores, while Team Olympian were ahead once dropped scores were factored in. As it would happen, fortuned smiled on Olympian as they pulled out pole position in the random grid draw, while Silverstone winners Team Viking/ Ursus Capital started last by default for the championship's landmark 100th race in the UK.
Olympian led the field away despite a slower than usual approach to the lights than normal, but by the end of the first lap it was the #195 JPR hire car with Mazda MX-5 youngster Ted Bradbury at the wheel who ended up opening a lead of over four seconds after just two laps. This left a scrap for second downwards, which was quickly taken up by the evergreen frontrunners UVio/ Hofmann's Motorsport followed by GCI Racing, Signature Motorhomes and Team Greenheath while others made progress forwards. The safety car made its first appearance just nine minutes in for a stranded car at the chicane.
UVio moved to the lead past the #195 JPR machines shortly after the restart but Bradbury ensured he stuck right on their tail and ended up swapping the lead several times before the first pit window. Axiametrics were in a lonely third, as GCI and Signature scrapped over fourth ahead of Greenheath and PLR Racing. In time a large battle pack formed for fourth place downwards, interrupted by Racelogic getting stuck at the chicane and losing them positions and laps before they were pushed out.
The lead went to UVio after stops were completed with Axiametrics moving to second ahead of JPR #195, and shortly after the first window closed the safety appeared again for Team easy2reach stuck in the Old Hairpin gravel. Olympian and GCI began to move forwards heading into hour two, while PLR were forced to pit with mechanical issues. Exiting the second pit window, UVio maintained their advantage over Olympian with MJ Tec moving to third ahead of GCI and Viking, before Olympian had to stop again mid stint due to a penalty for passing by the stranded Signature Motorhomes car a little too closely while it was stationary at the Old Hairpin.
The order remained unchanged after the third pit window, before the next safety came just before ninety minutes to go when MJ Tec was dumped out of fourth place by the easy2reach car at MacLeans. Racing resumed as the penultimate pit window opened with Axiametrics moving into the top five as a result of MJ Tec's retirement. Going into the final hour, there was a real chance for Olympian to still take victory with Riley Philips ready to take over to try and make it happen.
Once the final stops were completed, Riley had a 12 second margin to close down on UVio but in typical Olympian fashion he managed to take chunks of time out of the lead throughout the final twenty minutes. With five minutes left, the gap was down to just two seconds and a couple of laps later he made his first attempt to pass at MacLeans to no avail. Thankfully his second attempt into the Old Hairpin worked, before UVio's car began to falter with an electrical issue just a lap and a half from home.
Philips and Olympian were delighted to take their fourth win of the season and a definitive lead in the championship, while UVio managed to limp home and still secure second place. GCI Racing claimed the final step on the podium, with Axiametrics taking fourth and Viking/ Ursus Capital completing the top five. Now the season finale double-header at Oulton Park in October awaits to see who claims the 2024 FunCup title!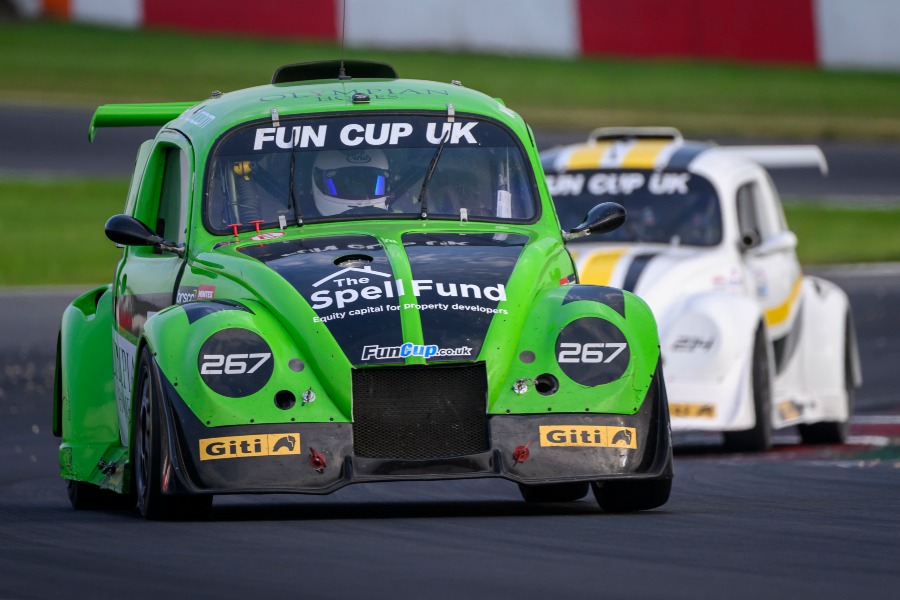 ---
BRSCC FIESTA JUNIOR CHAMPIONSHIP
After the highs of a superb weekend of racing at Silverstone with a new record entry of 26 cars, the same number of entrants turned out for the latest Fiesta Junior Championship rounds at Donington Park. Among most of the regulars as well as many returning rookies from Silverstone, four new drivers also made their championship debuts with Jenson O'Neill-Going, Josh Watts, Charlie Ellis and Tom Brown all appearing for the first time.
Misfortune befell the first race on Sunday when the first start was red flagged after Marcel Laczycki and then Luke Hilton fell foul of the tyre stack at the Roberts chicane, forcing a second start. It was on that second start that Jenson O'Neill-Going was then caught up in a drama of his own at the Craner Curves, the subsequent incident requiring another stoppage. Due to timetable restrictions, the first race sadly couldn't be restarted.
Race two was considerably more drama-free in comparison, as Jacob Hodgkiss managed to grab the lead from pole ahead of teammate and championship leader Ben Mulryan, as the pair pulled away from the rest of the pack in the early stages. Heading into the second half of the race, third placed Ben Doughty began closing in on the top two with guest racer sensation Finn Leslie trying to follow him in fourth. Both set fastest laps in their efforts to catch them and with just a couple of laps to go, they were on their tail and joined by Daniel Lewis.
Mulryan began attacking for the lead which only served to bring Doughty and Leslie into play and with Lewis also quickly joining them, it produced a superb five car fight for the final couple of minutes. An amazing three-wide moment between Hodgkiss, Doughty and Mulryan gave Doughty second for a moment before Mulryan retook it with Leslie following him through for third, and heading onto the final lap it appeared as though Hodgkiss was clear in front. However…
On that final lap, Mulryan quickly closed in once more and decided to pounce at Coppice. However as both cars ran out wide, Leslie took full advantage to dive past them all into the final chicane and incredibly steal away his second career win, following up from his incredible Silverstone debut success. Doughty claimed second in the end from Hodgkiss, Lewis and Mulryan shuffled back to fifth, the top five covered by just 1.3 seconds in the end. In the Mk6 ranks, victory went the way of Ronnie Smith from Lucas Hayden and a stirring drive from Luke Hilton who drove from the back of the grid to third in class and 9th overall.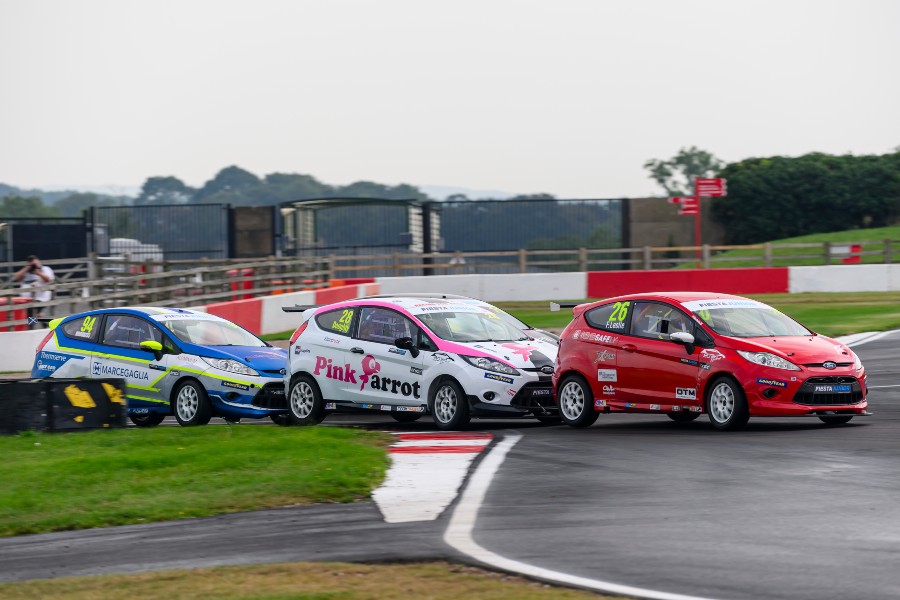 ---
GAZ SHOCKS MAZDA MX-5 CHAMPIONSHIP
With one of its biggest entries of the season, the GAZ Shocks Mazda MX-5 Championship touched down at Donington Park for its penultimate weekend of the 2023 season, with Steve Foden hoping to maintain his advantage at the top of the standings. As it turned out, he would have a more eventful weekend than he'd wished, but still came away with as many points as he could while one driver finally made a winning breakthrough.
A great lap in qualifying gave Ted Bradbury pole position ahead of Foden, but he was shuffled down to third by the end of lap one by a fast starting Adam Sparrow and Foden. At the Old Hairpin on lap two, Foden was elbowed out of the way by both Callum and Jason Greatrex and at the end of the lap a mechanical issue arose which frustratingly forced him out of the race, losing him valuable points in the process. Out on front Bradbury moved to the front with Sparrow, the Greatrexes and Ali Bray forming a frantic five car scramble for the lead, which only grew in size as the first half of the race played out.
The order at the front seemed to shuffle and change practically every corner with some superb racing on display throughout the group. Bradbury, Sparrow and Callum Greatrex swapped the lead between them in the scrap for the top spot, but Bradbury's chances of a win were scuppered by a time penalty for track limits. Then with seven minutes to go, a late safety car was called for a car stranded on the exit of the chicane.
The restart left just a one-lap shootout for victory, but despite the result on the road, it would change post-race. Initially, it was a Greatrex 1-2 but both Callum and Jason were disqualified from the race and subsequently the event for incidents both on and off-track. It was Adam Sparrow that took the win instead as he claimed valuable points on Foden, ahead of Noller in second, Graham in third, Pullen in fourth and Bradbury in fifth after his track limits penalty.
Sunday's first race remained dry as Sparrow got the jump from pole with Noller slotting in behind while Pullen leapt into third in a matter of corners. Sparrow made an early break from the opening lap but it wasn't long before was chasing him down in a bid to take his first ever win, while team boss Bray and teammate Bradbury were effectively rear gunners in third and fourth. Pullen made the pass to lead at Roberts chicane, which set off Sparrow beginning to slip backwards as he lost out to Bradbury and Bray while also defending from Noller and Graham.
AB Motorsport then began to play the team game with Pullen and Bradury pulling away while Bray played rear gunner for his drivers in third place while Sparrow slipped back further into the clutches of Graham, Mills, Steve Bartlett and Tim Dore. A recovering Foden also put himself into the mix, reaching the top ten by half distance from the back of the grid. Minutes later, a duel between Bray and Noller ended with the pair touching on the approach to Old Hairpin, with Noller left stranded and Bray only just avoiding Sparrow as he ran through the gravel but recovered down the order.
Out in front, Pullen and Bradbury were in a race of their own and left to decide who would take victory between them. Nose to tail for the final minutes, Bradbury pushed as hard as he dared but Pullen had an answer for every advance in the end. Taking a success that had been a long time coming, Luke Pullen finally claimed his first MX-5 Championship race win and a popular one too, with Bradbury equally as happy for him while finishing second. Amazingly, third was stolen on the line by Foden who completed his charge from the back of the grid to a podium finish, ahead of Sparrow in fourth and Graham in fifth.
Race three brought damp conditions with a sprinkle of rain falling as it got underway, with Sparrow picking up the lead from Pullen while Bradbury and Foden disputed third early doors. As a handful of drivers had their own dramas back in the pack, a top four of Bradbury, Pullen, Sparrow and Foden quickly formed and soon enough Owen Mills also joined them to make it five for the lead. Pullen made a pass on Bradbury to lead at Coppice, but a lap later he was then defending from Sparrow on the outside line.
It ended up being a shootout between Pullen, Sparrow and Bradbury at one stage as the three cars jostled and scrapped over the lead in some superb racing. Foden threw himself into the mix too with Bradbury slipping back to fourth, but by that time it was Pullen versus Sparrow out in front. The two cars were nose to tail for the remaining seven minutes, but try and Sparrow might, he just couldn't find a way past. Pullen again defended superbly to take his second win of the day with Sparrow second, while Foden again salvaged more solid points with third place ahead of Bradbury and a sensational drive from Jack Noller to take fifth from the back of the grid.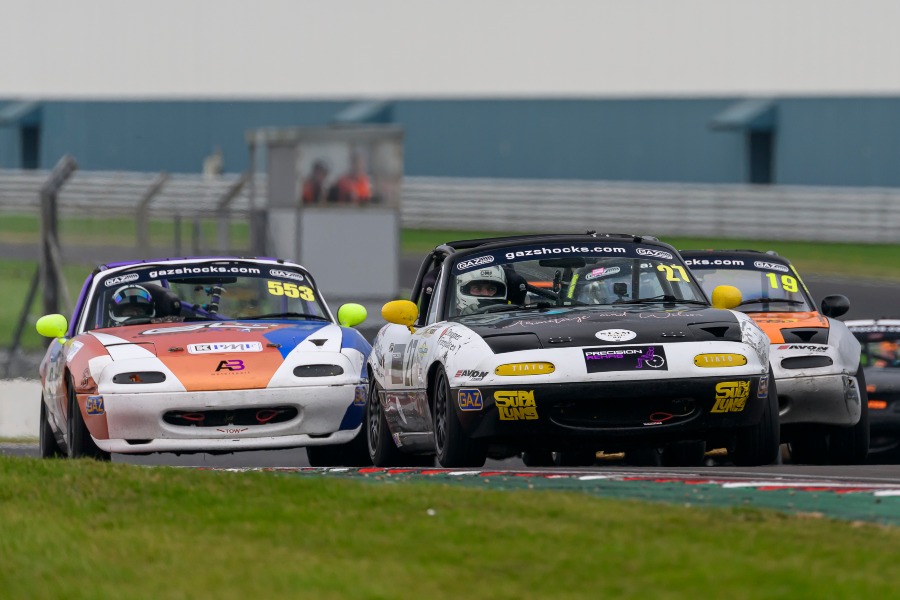 ---
DOWNFORCE RADIO MAZDA MX-5 CLUBMAN CHAMPIONSHIP
A sensational 40-car entry turned out for the second to last race weekend for the 2023 Downforce Radio Mazda MX-5 Clubman Championship this season, and with such an incredible turn out, close and exciting racing was virtually guaranteed. The battle at the top of the standings was still in Matt Fletcher's favour, but this was another weekend in which his rivals would put him to the test.
A quick start to race one saw Fletcher back into his almost customary position at the head of the field, already gaining a cushion over Jon Pethick and Beau Parry by the end of the opening lap. Pethick and Parry seemed more fussed battling each other which gave Fletcher a further break and allowed Jordan Pimley to slip past both to take second place. By half distance, Pimley was on Fletcher's tail an challenging for the lead and a few moments later Parry was up with both drivers too.
Pimley tried a pass for the lead at Redgate, but entering the corner too hot put him in a scrap with Parry over second in the end, but that in fact turned into the battle for the win in the end. Fletcher's chances of a win were scuppered when he was hit with time penalties for track limits which pushed him off the podium and down to fifth, while Pimley was also hit with the same too. In the end, Parry finished third on the row but inherited the victory with Pethick picking up second, Pimley's penalty demoting him to third ahead and Harry Deane taking fourth ahead of Fletcher.
Later in the day, race two was shortened to just ten minutes after earlier incidents and time constraints on the timetable. Parry was beaten off the line by Pethick who held the lead into Redgate, but Beau got it back by the time the pack reached MacLeans for the first time. Parry held firm with Pimley, Fletcher and Pethick in hot pursuit with Deane soon joining them to make it five for the lead. Fletcher forced his way to the front and let the cars behind occupy themselves scrapping for second.
Fletcher cross the line to take a victory he would keep this time, extending his championship lead ahead of Parry in second, Pimley in third, Pethick in fourth and Deane in the top five. Now the finale at Silverstone International awaits next month!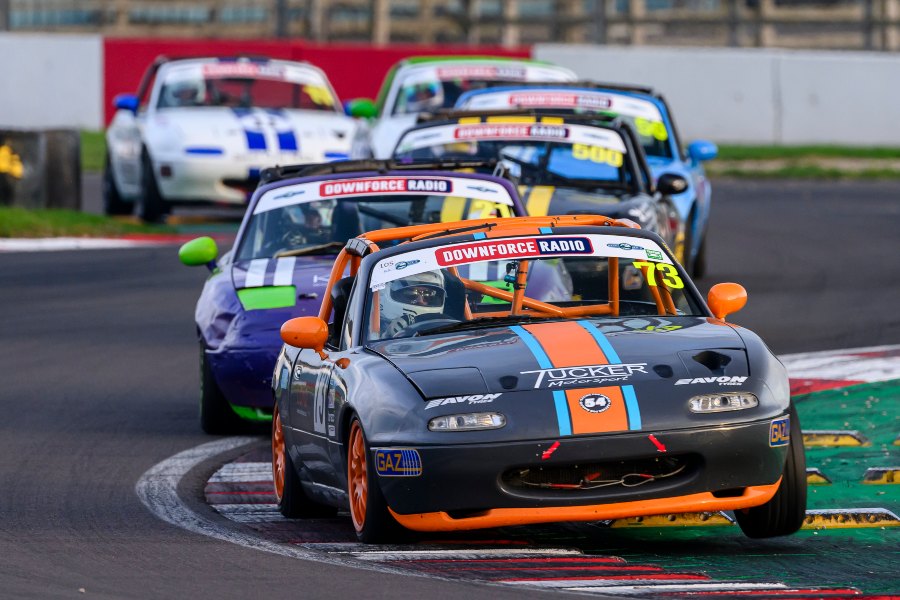 ---
CLAPHAM NORTH MOT MAZDA MX-5 SUPERCUP
There's just no let up in the competition levels of this year's Clapham North MOT Mazda MX-5 SuperCup, and that statement was strengthened further at Donington Park in Leicestershire for the latest rounds of the 2023 season. Pro, Club and Masters honours are all still up for grabs and each of those three title battles took very interesting turns come the end of the weekend.
Patrick Fletcher took pole for race one with James Cossins lining up alongside, while Pro points leader Aidan Hills couldn't better six fastest. Fletcher and Cossins ran side by side into Redgate and through Craner Curves with the latter completing the move as both Joe Wiggin and a quick starting Hills quickly followed suit behind them. Fletcher tried to retaliate at Redgate starting lap two and made the move stick with Hills also squeezing past his teammate for second place, and before long a frantic battle pack formed for the lead including Wiggin, Oliver Allwood, Leigh Britten and Will Blackwell-Chambers.
Fletcher and Cossins then dropped the chasing cars behind as they dueled for the lead, leaving several cars trying to be third in some amazing back and forth racecraft. This eventually broke up by mid race as Hills and Britten elected to work together in a bid to catch the top two ahead of them. Out in front, Cossins was chasing his first win of the season and put Fletcher under major pressure until he found a way to slip past. Now with roles reversed, Cossins had to defend hard from Fletcher's retaliations and despite Patrick's best efforts he just couldn't make James budge. Cossins was elated to finally take his first SuperCup win of the year with Fletcher holding second and James' team boss Hills completing the podium with third place, followed by Tom Griffiths and Oliver Allwood in Pro class.
In Club class, Robert Way had to track through the gravel at the start which lost him time and places initially, but after picking his way back up the order, he took the first class win of the weekend to further extend his points lead, ahead of Bruce Robinson in second place, Liz Walton with a brilliant third place, Alex Jones in fourth and Chris Ginn in the top five.
Cossins and Fletcher went toe to toe at the start of race two on Sunday morning, with Fletcher making the pass into Roberts chicane at the end of the first lap. Cossins then got put back to fourth behind Hills and Britten. Between these four they would be the definitive lead group with Wiggin also trying to go with them in fifth, and they had the pace over the second group of cars for sixth, led by Tom Griffiths.
Going into the final five minutes, Wiggin had dropped away and Cossins had reclaimed the lead, but the race would end up finishing prematurely. Exiting the old hairpin, the leaders came up on Liz Walton and Cossins safely put a lap on her, Hills passed a little too close and ended up tagging her, sending him spinning at Starkey and collecting Fletcher in the process. Both were deemed non-finishers and with the race being red flagged and declared, it gave Cossins his second win ahead of Britten and Griffiths on the podium and Allwood and Fenwick in the top five.
For Club class, Wilbur Tiley recovered from a race one retirement to pick up the class win from Way in second place and Aimee Watts taking her second Club podium of the season, followed by Clive Powles and Max Merritt in the top five.
Josh Morris and Scott Wright took up the front row for race three after the top ten was reversed, but Wright ended up in the Redgate gravel before an incident at Roberts chicane left Tom Seldon sideways in the track before Liz Walton was left with nowhere to go and collected Tom seconds later. The red flag was thrown to complete the clear-up before racing could resume. On the shortened five minute restart, Wright suffered more drama when he ran wide and spun exiting Old Hairpin, sending a handful of cars scattering to avoid him.
With little time to fight for the lead, Cossins was challenged by first Griffiths and then James' teammate Alex Stott, the pair ending up in a scrap over second as Cossins continued in front. Despite their best efforts, James put his car in all the right places and completed a perfect hat-trick to his utter delight, with Griffiths collecting second in the end and Stott equally overjoyed with his first SuperCup podium in third; Oliver Allwood took fourth with Wiggin fifth in Pro class but sixth overall.
This was because Wilbur Tiley put in his best drive to date to win Club class again and take a sensational fifth overall in the order, while there was further cause for celebration at Patrick Watts Racing as Aimee Watts made it a 1-2 for the team in class with second place. Robert Way also completed a trio of podiums, ahead of Chris Ginn and Alex Jones.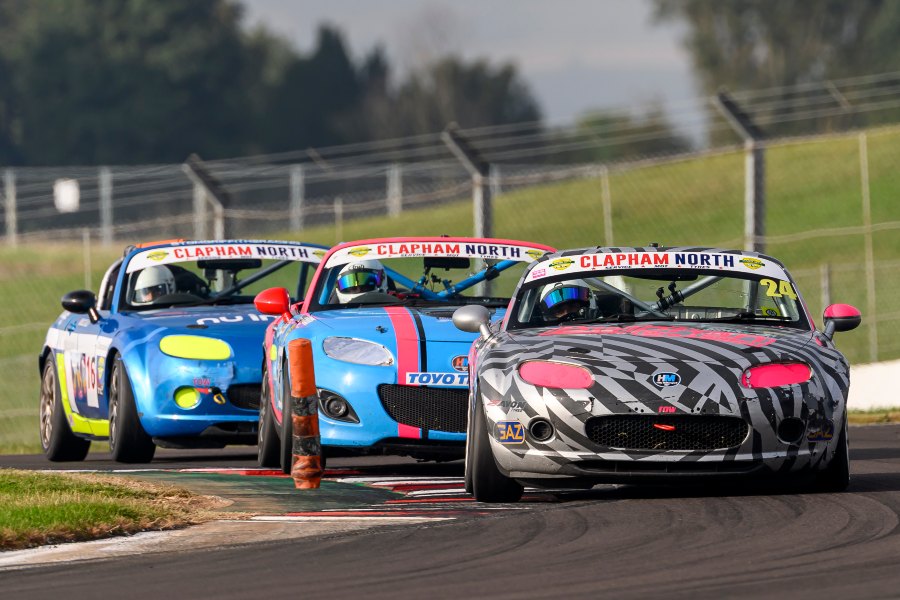 ---
NANKANG TYRE CITYCAR CUP & STUDENT MOTORSPORT CHALLENGE
Elliot Lettis continued to close in on imminently provisionally sewing up the Nankang Tyre CityCar Cup Championship for 2023 as he and the rest of the grid headed to Donington Park in Leicestershire for the penultimate weekend of competition. Stuart Bliss and co would be out there to try and make his life a little more difficult, while the Student Motorsport Challenge was also beginning to fall in Team Northbrook's favour, on the cusp of potentially wrapping it up.
There was a surprise in qualifying when from out of nowhere, Joe Moss popped up at the top of the times to take his first pole position of his CityCar career. His task of trying to hold off points leader Lettis alongside him on the front row was always going to be a tough one, but a strong start to race one saw him hold on and lead the pack. Unfortunately, he would only do so for half a lap when incidents at the Old Hairpin forced the race to be stopped.
On the second start with just five minutes on the clock, Lettis tried again to depose Moss but found himself again having to hold second ahead of Stuart Bliss at the start. It wasn't long before rain started to fall making the circuit a little greasy for the drivers to contend with. Heading onto the last lap, Moss did everything he could to hold back the three cars behind, with Lettis running wide exiting Redgate and spinning onto the infield grass as a result. On the final run down the back straight, Stuart got the push from brother Richard to put both past Moss before the final chicane, giving the Bliss brothers a 1-2 finish and Moss settling for third place. Jackson and Liam Browning completed the top five with Lettis recovering from his spin to finish tenth.
In the Student Motorsport Challenge, Browning's fifth place overall also gave him SMC victory for Boston College, with Jack Wheeler taking second for East Surrey College and Richard Jepp taking another podium finish for points leaders Team Northbrook Racing. Haydn Payne for West Suffolk College and Arthur Simondet for Queen Ethelburga's rounded off the first five in the Challenge.
The Blisses took up the front row for race two which was shortened to ten minutes due to time constraints and while Stuart took off out in front, Richard managed to defend from Moss for second. However, a rapid Liam Browning was pushing up towards the front for Boston College and by the end of the third lap he was jostling with Stuart and Richard Bliss to try and take the lead. Moss got himself back into the mix and it was this four car group that ended up battling all the way to the flag.
In the end, Stuart was once again followed home by rear gunner Richard for another Bliss 1-2, with Moss taking another podium with third, Browning in fourth and Christopher Mackenzie completing the top five this time. Lettis, meanwhile, couldn't make sufficient progress up the order and had to settle for eighth place. Browning also confirmed a second win of the day in SMC for Boston College, with Jepp taking second this time for Northbrook Racing, Wheeler third for East Surrey, Payne fourth for West Suffolk and Simondet fifth again for Queen Ethelburga's.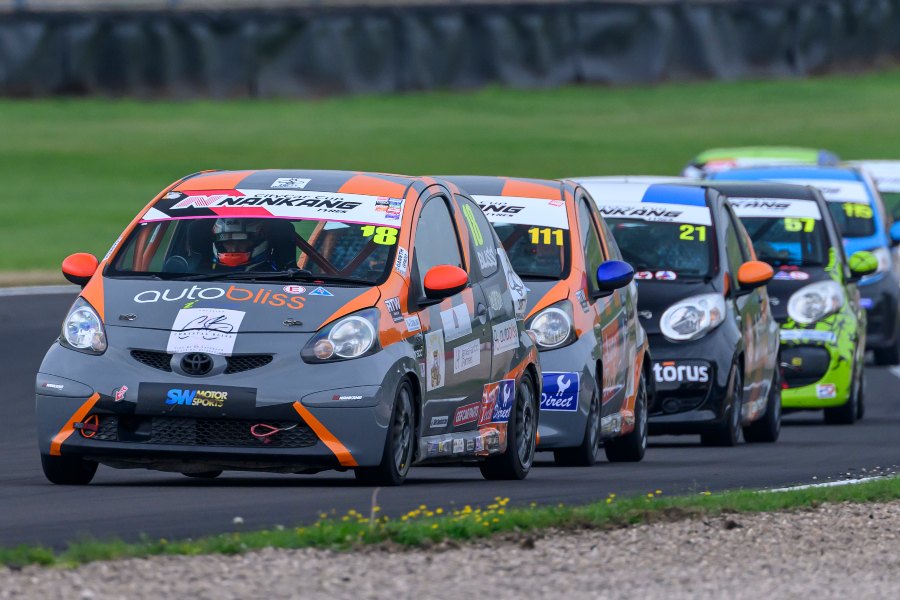 ---
SW MOTORSPORTS CLUBSPORT TROPHY
As is usually the case within the series, the SW Motorsports ClubSport Trophy produced another bumper entry with a full grid of fourty cars present to compete on their second visit to Donington Park, this time supporting TCR UK. With more strong competition expected across all five classes, it was set to be another fascinating affair.
Initially the race had to be shortened to fourty minutes due to timetable constraint from stoppages and incidents earlier in the day and while the first start did get underway, the race quickly took a nosedive for some at Redgate. Several cars ended up in a first corner incident, which left the officials with no choice but to stop the race to perform the clear-up. Once racing was ready to get back underway again, the race had to be shortened again to thirty minutes in order to ensure other races could be completed.
When racing got underway proper on the second start, James Alford took the lead in his VW Golf from pole man Scott Parkin's Audi TT Cup Racing car with another TT driven by Andrew Dyer holding third from David May's Nissan 370Z and Steven Summers' Lotus Elise. May was able to make some progress up the order, passing the Lotus and both Audis to set off after leader Alford's Golf within the first five minutes and looking to repeat his Silverstone win. It wasn't long before May caught and passed the VW and began to break away in front.
Despite pulling a gap initially, May was caught once more by both Alford and Parkin and the three cars circulated together for a few minutes out in front. Alford was first to dive in once the pit window opened at the ten minute mark, followed by May on the next lap while Parking chose to stay out for a longer period of time. During this period, May threw away a potential victory after spinning the Nissan into the Coppice gravel and out of the race, as the Audi then pitted seconds later from the lead.
After Shay Kavanagh's Honda Civic was one of the last to pit, that handed the outright lead back to Alford, and while he remained trouble free until the chequered flag to win Class A, he wouldn't be the outright victor on the road. He, along with a handful of other drivers, was penalised for a short mandatory stop, demoting him to second outright as a result and giving Parkin and the Audi the overall win as well as his Class B honours.
Andrew Dyer made it two Audi TTCR cars on the podium overall in third ahead of Steven Summers' Lotus and Joanthan Hunter's VW Scirocco, while other class victories went the way of Stuart Kilroy's Peugeot 207 GTi in Class C, Jared Coulson's Renault Clio in Class D and Chris Fantana's Mazda MX-5 Mk1 in Class E.
Scott Woodwiss