TCR UK & CO PRIMED FOR MEGA BRANDS HATCH TITLE DECIDER
CATEGORIES:
Alongside the 52nd running of the BRSCC's prestigious Formula Ford Festival at Brands Hatch this weekend, the event will also see four more championships conclude with titles on the line in each. Headlining this quartet is the final rounds of this year's TCR UK Touring Car Championship with as many as six drivers still in contention to be crowned number one, while there will also be titles decided in the Civic Cup, Fiesta Junior Championship and the Mini 7 Racing Club's special Winter Series too. This promises to be an incredible timetable full of exciting action on-track all weekend!
---
TCR UK TOURING CAR CHAMPIONSHIP

In 2023, the TCR UK Touring Car Championship has taken a real step up in profile and popularity, after rejoining the BRSCC portfolio and attracting new teams and drivers to its grid across the season. Now it heads to its season finale at Brands Hatch in Kent on the Indy circuit, where there's a title battle to be settled in what's sure to be two of the most intense and nail-biting races of the season.
Heading to Brands Hatch, Carl Boardley is in control with a margin of 47 points in the lead of the championship. The CBM with Hart GT driver has been supreme this season at the wheel of his CUPRA with five wins to his name across the season, and ever since Nick Hart and his expertise has come on board, Boardley's speed and pace has been thoroughly transformed. Boardley now stands of the brink of claiming the TCR UK title at his first attempt, an achievement both he and the team can be immensely proud off if he can go on and get the job done.
Second in points is Adam Shepherd, who has done wonders in his Area Motorsport-prepared Hyundai i30 N TCR despite running on a limited budget. A consistent string of top five results and podiums through the bulk of the season was further strengthened with a victory at Donington Park and that, plus another second place that same weekend, have helped into P2. He could have been closer had bad luck not befallen him at Silverstone, but he'll be racing hard to stay in contention right down to the final lap of the weekend.
Bruce Winfield earmarked himself as an early favourite for the title after an emotional victory and a third place at Snetterton helped him leap to the top of the standings. Since then, Bruce has only taken one further win at Oulton Park and a third place at Silverstone while his pace in other races has fluctuated, as have his fortunes. A solid weekend at Brands Hatch will be enough to help him stay on the championship podium.
Both Jenson Brickley and Jac Constable currently sit fourth and fifth respectively. Jenson has really shown progress off the back of consecutive Fiesta Junior and Fiesta ST240 titles before his inaugural TCR UK season and has been able to collect a win and three podiums to date. His performances have been mighty impressive for a driver still in his teens, and it's certain he's only set to get stronger. Jac too has a win to his name from Croft and has also taken regular podium finishes throughout the year, as well as being a regular presence within the top ten all season. The Rob Boston Racing Audi has been in excellent form all year and Jac will wish to round off 2023 with a satisfying result.
Alex Ley is another Fiesta Junior graduate that has been able to flex his muscles on more than one occasion, taking to the top step at both Knockhill and Silverstone and would love to add some more winner's silverware to his collection from Brands Hatch as well as cementing sixth in points. Joe Marshall has looked rapid more often than not in his Rob Boston Audi RS3, but he's also been plagued by bad luck which means his result don't really reflect just how quick he's shown himself to be. Brad Hutchison did win at Donington on the road in a CUPRA, but was disqualified afterwards on a technicality, meaning he'll have to try and bid to victory again aboard his regular Audi in Kent this weekend.
Meanwhile, defending champion Chris Smiley has had a rather character building season aboard the new FL5 Civic Type R TCR with Restart Racing. The new car hasn't quite given him the results he'd been hoping for, and Chris' sights have already been set on 2024 while he uses the remainder of the season to carry on the FL5's development further. A good result at Brands Hatch will certainly be a silver lining. Matthew Wilson completes the top ten so far in his CUPRA, hoping to match his second place from Silverstone's second race and take another trophy back home too.
The rest of the entry for Brands Hatch could spring one or two surprise results amidst the championship battle. Callum Newsham has shown flashes of brilliance at points, but awful luck with reliability has hampered him more often than not, so he'll be desperate to end 2023 on a high note. Oliver Cottam has also had similar fortunes, and he too will wish for something to savour from Brands Hatch aboard his Audi, as will Scott Sumpton in his older FK7 Civic Model in a bid to better his P5 finish from Donington.
The Vauxhall and Opel Astras of Darelle Wilson and Jeff Alden will wish to finish their seasons with credible points, especially Jeff in his third weekend in TCR UK ahead of a full campaign next year, while the CUPRAs of  Mark Smith and Rick Kerry and the sole Hyundai Elantra N of Luke Sargeant will wish to make further progress to add to that made throughout 2023 in their sporadic appearances. Plus, there's a welcome return to George Jaxon to the grid as he reappears this time aboard a Gen 1 Audi RS3 for the season finale.
It's been an amazing season for TCR UK and with next year's calendar, support package and news of the Gen 1 Cup for older cars all confirmed, 2024 looks set to be even bigger and better than before!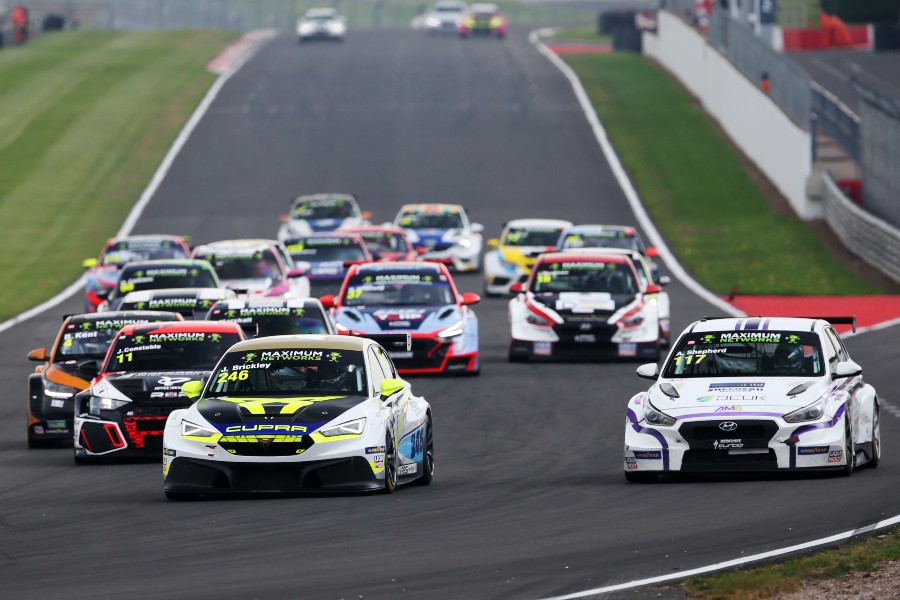 ---
MILLTEK SPORT CIVIC CUP

In one of its most competitive and entertaining seasons to date, the Milltek Sport Civic Cup appears to have found another gear and reached levels not seen before in terms of competition, action and incredible racing. Proving itself as TCR UK's feeder series and producing the platform for both current and future touring car drivers to hone their skills, it's no wonder that there's already plenty of talents eyeing a step up to the TCR ranks within the next few seasons from the Civic paddock.
Brands Hatch marks the season finale for 2023 with three drivers up for the cup – Dan Thackeray, Max Edmundson and Alistair Camp – and two races to settle in who it goes home with for the year. After the final triple header of the season at Silverstone, where the championship literally changed hands between all three men on the same day, Dan Thackeray came out on top courtesy of two victories and this now gives him a fifteen point lead heading into this weekend. What's also important to note is that neither of the two races can be used as dropped scores, meaning every single point must count towards the final total.
That means Thackeray will need to keep his wits about him and drive smart to ensure he doesn't get involved in incidents or fall backwards too far to allow Edmundson and/or Camp to outscore him by enough to be knocked off top spot. Dan has really taken a step up in 2023 with fives wins to his name this year, more than anyone else in the field, so he'd be in line to become champion on countback should there be a tie at the end of the weekend.
Edmundson, meanwhile, really has matured a lot since the start of the season when some of his driving and racecraft could be described as erratic at best. Having cooled his head on his young shoulders, Max has driven smarter and better as the season has progressed and actually goes to Brands Hatch having scored more points outright than anyone else in 2023 to date. That includes two wins from Knockhill and Cadwell Park, and he would love to add two more from this weekend in Kent to try and steal the crown from Thackeray's grasp.
Then there's former champion Alistair Camp. He headed into the Silverstone race day as points leader, but mechanical issues in qualifying and during the races hampered his points haul, leaving him in third some 41 points back. Mathematically, it's still possible for him to become champion, but he'd really need results to go his way and to go into the final race less than 41 back to stand any remote chance. Even so, Campy is a fighter and will carry on battling until the very end to give himself the best possible chance.
Others will certainly be out to try and spoil the party too in the conclusion of a season that's seen no fewer than eight different race winners, proving just how competitive it's really been. Ryan Bensley is another that's been brilliant all year and really deserves a good result to round off his up and down season, as too would Will Redford whose battled all year to remain competitive despite his own bad luck at times. Harvey Caton is far overdue a maiden win and will be desperate to achieve it here, Knockhill winner Liam McGill is back for the final round, and so too is double TCR UK champion Lewis Kent after his Silverstone cameo. Brands Hatch also welcomes Charlotte Birch and Fiesta Junior graduate Harry England to the Civic Cup ranks for the very first time too, hoping for solid performances first time out.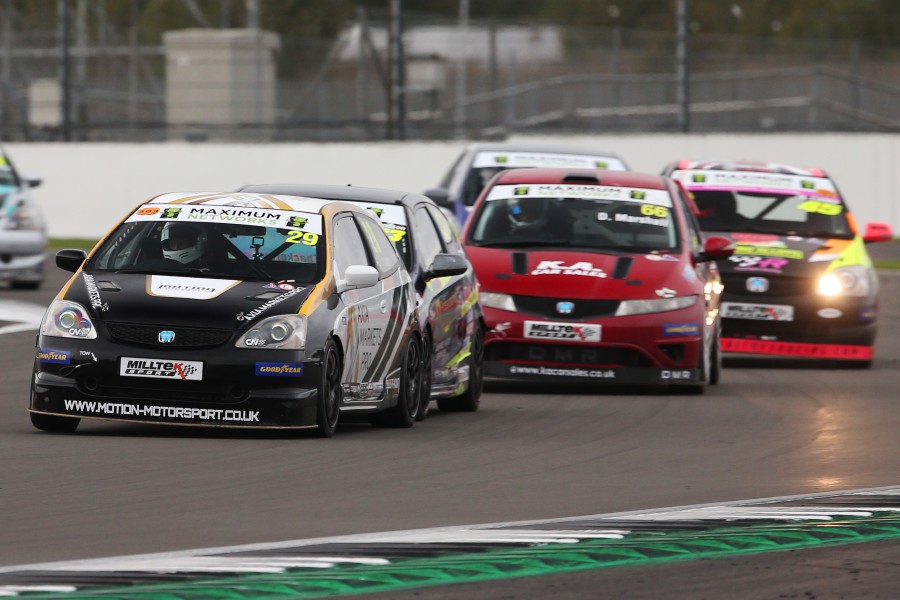 ---
BRSCC FIESTA JUNIOR CHAMPIONSHIP

The curtain is about to fall on what will go down in history as the most successful season to date for the BRSCC Fiesta Junior Championship, as it heads this weekend to Brands Hatch for the final rounds of the 2023 campaign. In a season that's seen record grid number, more of the new Mk7 next-gen FJC cars than ever before and a whole host of new names and faces in the paddock, it all comes to a close at the Formula Ford Festival.
The end of 2023 also marks four years since the championship began its revival, when it concluded here with just three cars on the grid. Fast forward to the beginning of this season at Snetterton and the grid had grown to a record 22 cars, before being topped at Silverstone and Donington Park with 26 entries, the largest FJC entries to date. This has been helped by the championships status as the official junior series for TCR UK, supporting it throughout the year at every round and enjoying its enhanced profile and status.
Heading to the final rounds of the championship, it's Ben Mulryan in control at the head of the standings. His current lead is 42 points after dropped scores and this weekend at Brands Hatch will be key as there's no ability to use either of the races as dropped rounds, meaning both must count towards each driver's final totals. Ben has a chance of provisionally wrapping up the title as early as the first race if he can outscore second placed Dan Lewis by at least nine points, but he'll need other results to go his way as well. Ben's had a superb year in the Mk7 Fiesta with three wins and a further four podiums, and that has put him in good stead to go for the title this year.
Dan Lewis has also stepped up and showed great pace in his switch to a Mk7, having managed to rise to P2 overall despite not winning a race outright. He will have it all to do to try and overhaul Ben's points lead, but he's certain to be up for the challenge. Third down to fifth in the standings is a fairly close affair too with Luke Hilton, Jacob Hodgkiss and Sam Neser separated by just ten points, but with Hilton now progressing to senior racing, it leaves Hodgkiss and Neser to battle it out for third, with Neser also in line to claim the Mk6 class honours for the season too.
This season has also seen some amazing performances from several of the many rookie drivers competing in Fiesta Juniors this season, with no less than six of them featuring in the current top ten standings. Along with Hilton, Hodgkiss and Neser, impressive runs from Ronnie Smith, Ben Doughty, Wesley Swain and Jensen Bell have seen them all show great form over the course of the year, which will put them in good stead for 2024 should they return next year.
The BRSCC is also set to run its first ever Fiesta Junior Scholarship for the 2024 season, due to take place at Blyton Park on February 13-15 2024. This will be an incredible opportunity for eligible young drivers to participate, with one set to win a fully funded season in a Mk7 Fiesta Junior race car with a prize package worth over £65,000.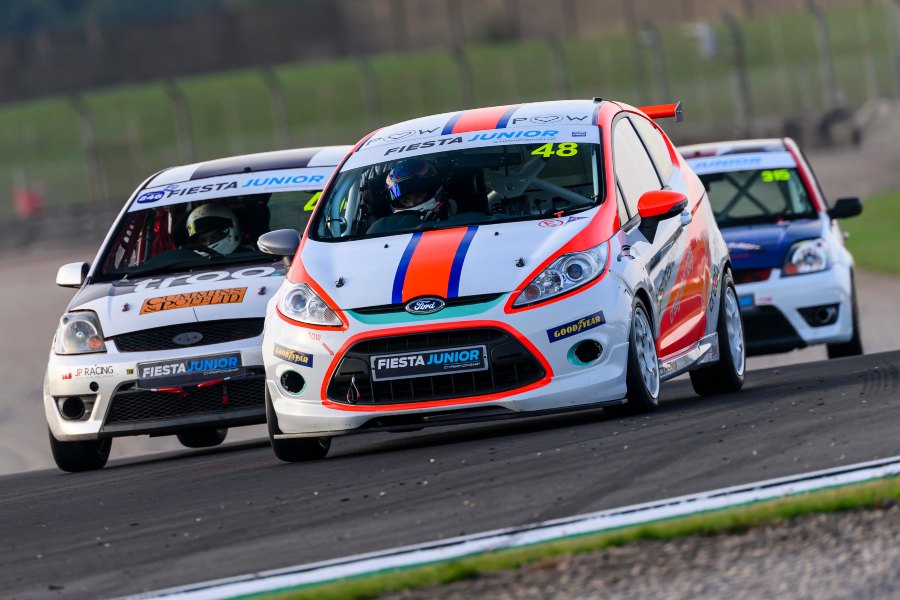 ---
MINI 7 RACING CLUB WINTER SERIES – written by Stephen Colbran
With the 2023 National titles decided two weeks ago at Silverstone, the Mini 7 Racing Club returns home to complete its seven-round Winter Series…
When the Mini Se7en race series first began here at Brands Hatch in 1966, who would have imagined these iconic little machines would still be competing almost 60 years later, let alone still breaking lap records. Yet here we are, with racing development of these classic cars continuing at pace, and three new class lap records set earlier this season at the Brands Hatch Mini Festival.
Racing is frantic from lights to flag, with battles throughout the field to keep you enthralled over three 20-minute outings. Relatively low power outputs and a rather brick-like aerodynamics keeps the playing field level, so it's unusual for any one driver to dominate the proceedings. Look out for the experienced drivers holding back in the top-five places until the very last lap, and a mad dash to the finish!
The Winter Series consists of seven rounds, with drivers able to drop their two lowest scores, and this weekend all four classes will be competing together on the same grid, so expect a lot of action!
Phil Bullen-Brown currently leads the standings in the fastest 1293cc Mini Miglia series, and will hope to keep up his momentum from a win last time out. Also look out for multiple Miglia champion Rupert Deeth, whose brand new (and rather stealthy) car is very much on the pace after a few rounds of development.
In the original 998cc Mini Se7en series, Joe Thompson currently leads the points, and will be keen to stay in front of provisional National Champion Mike Jordan to take a share of the top trophies. Ross Billison and Spencer Wanstall will be there at the sharp end too, on a weekend that traditionally throws in some surprise winners.
The entry-class Mini Se7en S-Class continues to provide bumper grids, with Matt Ayres holding a comfortable points advantage before drop scores, but provisional Champion Jonathon Page will no doubt be as quick as ever. If Frazer Hack and Michael Winkworth are having a good day, both will be contenders for a win.
We also have the Mini Libre series, an invitation class for more wild A-Series power units competing alongside the Mini Miglia grid. Craig Edgecombe not only won his class last time out, but overtook all the Mini Miglia cars too – twice! Let's see who comes out on top at a tighter circuit that tends to favour cornering speed over all-out horsepower.
Scott Woodwiss/ Stephen Colbran