TCR UK DELIGHTS AS BRSCC AND CO ROCK SILVERSTONE NATIONAL
CATEGORIES:
At the home of British motorsport, the BRSCC and TCR UK brought two days of racing that produced a spellbinding weekend of action on track, as championship battles tighten up, records were broken, and some drivers even made an instant impact on their debuts. Seven championships and series filled the Silverstone timetable, each telling their own entertaining stories.
---
TCR UK TOURING CAR CHAMPIONSHIP
With Carl Boardley in control of the TCR UK Touring Car Championship standings heading to the Silverstone National circuit for the first time since 2020, the focus now was on maintaining as high a points haul from each of the remaining weekends in order to stay in prime position for the title. On a circuit that naturally invites close racing, overtaking and slipstreaming, all on the grid knew that holding the advantage would be much easier said than done.
A superb effort from Adam Shepherd saw him place his Hyundai on pole position in qualifying, only just ahead of Area Motorsport teammate and fellow i30 N TCR racer Brace Winfield as he bid to claw his way back to the top of the table after an up and down couple of recent weekends, followed by a best qualifying for Scott Sumpton with third and Boardley starting in fourth.
Shepherd claimed the lead towards Copse while Winfield struggled off the line and dropped to fourth by Becketts, as the top three made a rapid jump off the line. Boardley wasted no time in claiming second at Brooklands to be in pursuit of the lead ending the opening lap, as Winfield retook third as they crossed the line first time. The first few laps saw the leading group of cars essentially remain in status quo, but evenly matched in lap time as the pack remained close together.
Winfield then pitted with a left rear suspension issue which immediately forced him out of the race, which in turn ignited the fight for third between Sumpton, Oliver Cottam and Jenson Brickley which resulted in Cottam hung out to dry on the grass exiting Luffield; Brickley then competed the pass on Sumpton to rise into a podium place. Sumpton then tapped Brickley into a slide at Becketts, setting off an incredible multi-car battle also including Joe Marshall and Bradley Kent with both working their way ahead of them all.
Then it was Shepherd's turn to fall out of the race as he sadly fell back with a mechanical issue of his own and out of the lead, leaving Boardley clear in front with both of his main championship rivals failing to score. Marshall and Kent went into combat over second with Brickley also forcing his way into the mix, incredibly passing both through Copse as Kent slipped back to fifth also behind Constable too before he too was forced out with a left front puncture.
For Boardley, there was no troubles as he reeled off the final minutes to claim his fourth race win of the year to remain in control of the championship, joined on the podium by Joe Marshall in second, Jenson Brickley in third and the top five completed by an excellent fourth for Oliver Cottam and Chris Smiley in fifth. 
Race two only got as far as the first couple of laps before it was red flagged, after a tangle between Hutchinson, Smiley and Newsham exiting Becketts left the latter two out on the spot, forcing a restart. Sumpton led off the 15-minute start, but was tagged by Ley at Brooklands and spun down to tenth as Wilson, Cotton and Boardley headed the initial pursuit of the leader. Cottam pinched second from Wilson, but big drama took place five minutes in.
Distracted by a challenge from Bradley Kent, Brickley nerfed Boardley at Brooklands to send the championship leader spinning down to tenth place but was quick to get back on the pace. Moments later, teammates Winfield and Shepherd tangled at the same spot, damaging Shepherd's left rear wheel and forcing him out. Up front, Kent caught Ley and Cottam just past half distance and took second from the Audi into Luffield, but at Becketts a lap later a loss of control left him in the tyres and out of action too.
A recovering Boardley got stuck in with Winfield over fifth place with four minutes to go, but then dropped back again to eventually finish in seventh. Then Cottam's luck ran out when he slowed on the penultimate lap, denying him a first podium finish in cruel fashion with a mechanical issue. Ley, meanwhile, drove home to claim race two victory while Brickley finished second on the road before being penalised for the contact with Boardley. This turned Matthew Wilson's third place into second, with Winfield taking a crucial podium in P3 ahead of Hutchison and Darelle Wilson.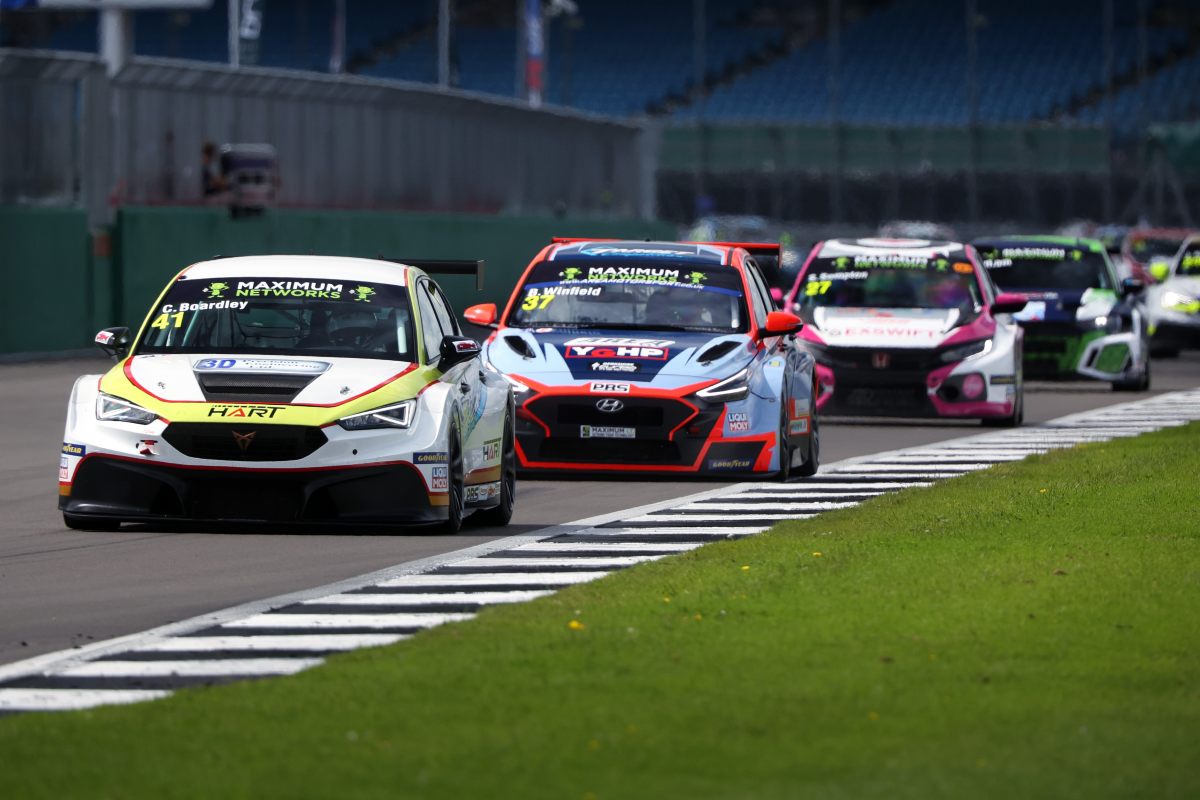 ---
BRSCC FIESTA JUNIOR CHAMPIONSHIP
There are moments in a championship's history that stick out in everyone's minds and can even come to define it, and the latest rounds of the BRSCC Fiesta Junior Championship at Silverstone served to become one of those landmark moments. For on this weekend, the championship pushed the needle further forwards with a new record grid of 26 entries, once again the largest in its history and a phenomenal achievement for all involved. 25 cars would in fact take the start, when newcomer Luke Sintler sadly suffered an engine failure in practice which brought his weekend to a premature end.
On the front row for race one, pole sitter Luke Hilton was joined by rapid newcomer Finn Leslie, taking a second place start for his first ever car race and best of the Mk7 class Fiestas too. But neither would get their nose into Copse first at the start, as Rashan Chigorimbo beat them both to the punch before Hilton took it back into Becketts. Luke managed to make an early escape, leaving Leslie to battle Chigorimbo and Hodgkiss for second place, but racing was neutralised and red flagged at one third distance after incidents at Brooklands and Copse.
Hilton jumped Leslie when the restarted eight minute race got underway, before Finn was swamped by Chigorimbo and Hodgkiss at Becketts and slipped back to fourth. But it didn't take long until Leslie was back past Chigorimbo to third, before pursuing Hodgkiss for several laps until picking his moment at Becketts to steal the place. As for Hilton, he was untouchable in the lead to pick up the win overall as well as Mk6 class honours in fine style. Impressing everyone on debut, Leslie took P2 outright and the Mk7 class win, but as a guest it meant Hodgkiss took the points instead finishing behind in third. Ben Mulryan and Ryan Micallef completed the top five as well as taking class podiums respectively, with Marcel Laczycki rounding off the Mk6 podium just behind in sixth.
Hilton and Leslie again took up the front row, ahead of a personal best ever qualifying for Flame Airikkala starting third alongside Dan Lewis on the second row. Hilton again got the jump on everyone to hold the lead as Leslie dealt with a challenge from Lewis and fended him off to keep second. Hilton managed to create another gap as before in the early laps, but before long Leslie was managing to chip away at the advantage and by the second half of the race he was on Hilton's tail.
After pursuing for a lap, Leslie pounced on a wide line from Hilton through Becketts to draw alongside, before a switchback move saw both cars saw both cars touch lightly but enough to knock the tyre off Hilton's left front, forcing him to the pits with a puncture. This left Leslie out in front only needing to keep calm and collected to score an incredible result in only his second ever race – and that he did. Finn Leslie scored a sensational victory on his debut weekend, joined on the overall and Mk7 podium by Daniel Lewis and Jacob Hodgkiss, with Ben Mulryan, Ben Doughty and Flame Airikkala ensuring Mk7s locked out the first six overall places.
As for the Mk6s, George Foxlow was delighted to score his first win in class, taking victory ahead of Ryan Micallef in second and Rashan Chigorimbo claiming a well earned third place too.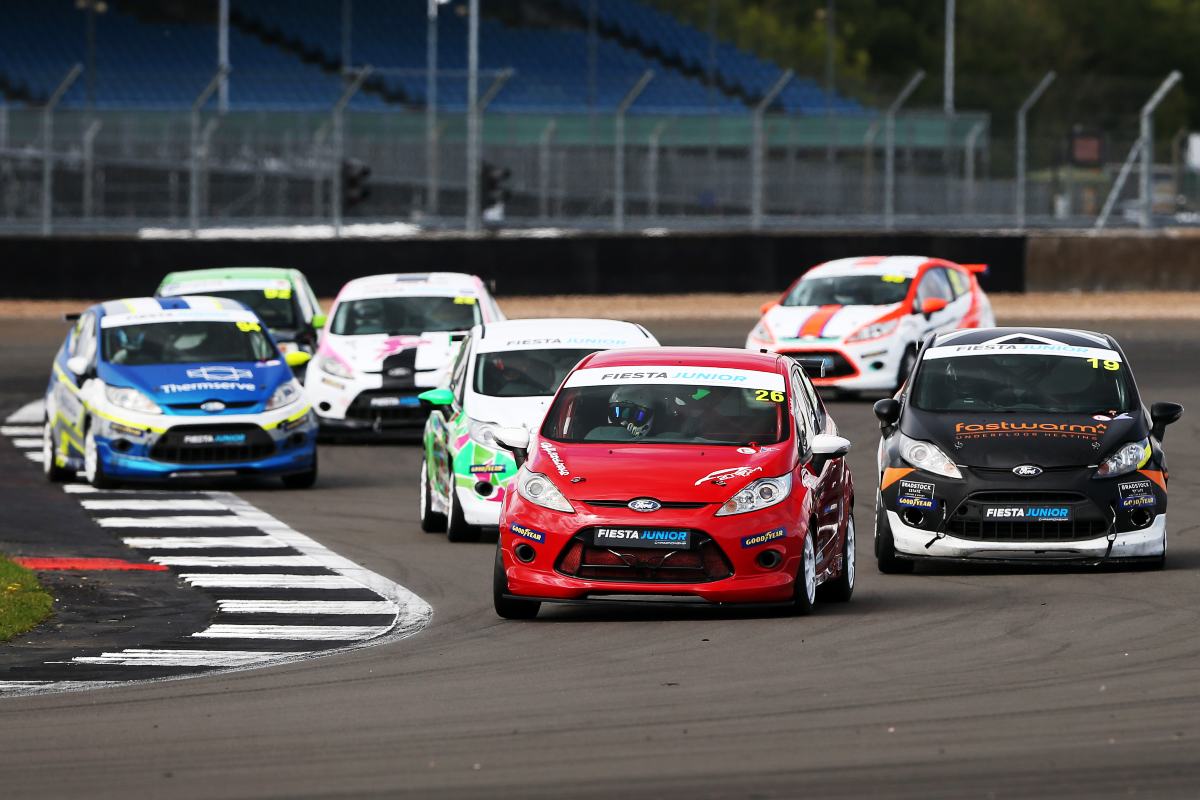 ---
FUN CUP ENDURANCE CHAMPIONSHIP
The 2023 season has been quite the back and forth affair in the Fun Cup Endurance Championship as the latest round at Silverstone arrived, with the biggest grid of the season in attendance as some 24 teams prepared to do battle. To this point, it had been Team Olympian and UVio/ Hofmann's Motorsport that had owned the top step between them ahead of Silverstone, but with defending champions GCI Racing, returning former champions Racelogic and new teams such as DW Motorsport on the grid, anticipation that this would be one of the more intriguing races of the year was high.
The grid draw favoured PLR Racing as they drew pole position alongside newcomers Britain West Racing on the front row for their FunCup debut, while Olympian started at the back by default thanks to their victory at Oulton Park in the previous race. PLR held the lead as the race began, while the likes of Viking/Ursus Capital and UVio were quick to take up third and fourth respectively. An early tangle between EDF Motorsport and Seed Data at Luffield left the latter shedding its rear bodywork as a result of the damage sustained, before pitting to fix it.
PLR didn't get long to enjoy the lead, before Marcus Clutton took the Gulf-liveried Signature RV car in front for a second, before UVio briefly took their turn as a mammoth lead pack broke out into an all-out skirmish in the early stages. Clutton quickly got back through and managed to make a break for a while, joined after a short while by Axiametrics and UVio. The three cars traded places between them, leaving everyone else to fight over fourth place downwards.
Drama befell Olympian before the half hour mark when contact with DW Motorsport left them out at Becketts with rear suspension damage, prompting the first safety car of the race. Axiametrics were shuffled to the front after the first pit window from Signature RV, UVio, Team Greenheath and GCI Racing, with UVio moving up to second and PLR into third before long and Viking/ Ursus Capital also broke back into the top five before the end of the second stint.
Throughout the third stint, UVio rose up to the lead while Racelogic were rolling back the years battling with Viking/Ursus Capital over second midway through. By time the fourth stint arrived, UVio were back down to fifth as Axiametrics reclaimed the lead, but they would find themselves scrapping hard with PLR, Viking/Ursus Capital and Racelogic in the front four. This quartet plus UVio diced for lap after lap once more with plenty of positions swapped between them all the way to the next pit window.
A retirement for MJ Tec prompted the safety car once more with just over an hour to go with Viking leading Signature RV on the restart, but it wasn't long before Red River Sport's stranded car in the Copse gravel prompted another. Through the final pit window, Racelogic found themselves in contention for victory against Viking/Ursus Capital and exited their stop in fourth as Viking led from UVio and Greenheath. However, it didn't take long for Racelogic to regain third and immediately chase the two in front.
What followed was twenty minutes of some of the hardest Fun Cup Endurance racing for a long while, as Viking and Racelogic endlessly traded places at almost every single corner for the remainder of the race, a constant back and forth between them putting on a magnificent show of racecraft between them. Viking managed to hold a consistent lead with five minutes to go, but Racelogic's endless advances kept the pressure on, and it was anyone's guess heading to the final lap.
Racelogic took the lead into Becketts before Viking fired back down Wellington straight, and on the final sprint to the line it was almost a dead heat at the flag. Incredibly Viking held on by just 0.090 second in one of the closest finishes in recent FunCup history. Racelogic were still delighted with second place, while it was all action for third behind them. UVio dropped out late in the race after contact damaged their rear suspension leaving GCI Racing in the final podium spot, but they hadn't counted on Axiametrics charging back from a lap down to steal third place on the final lap in a phenomenal performance. GCI and Greenheath completed the top five in one of the best races of the season so far!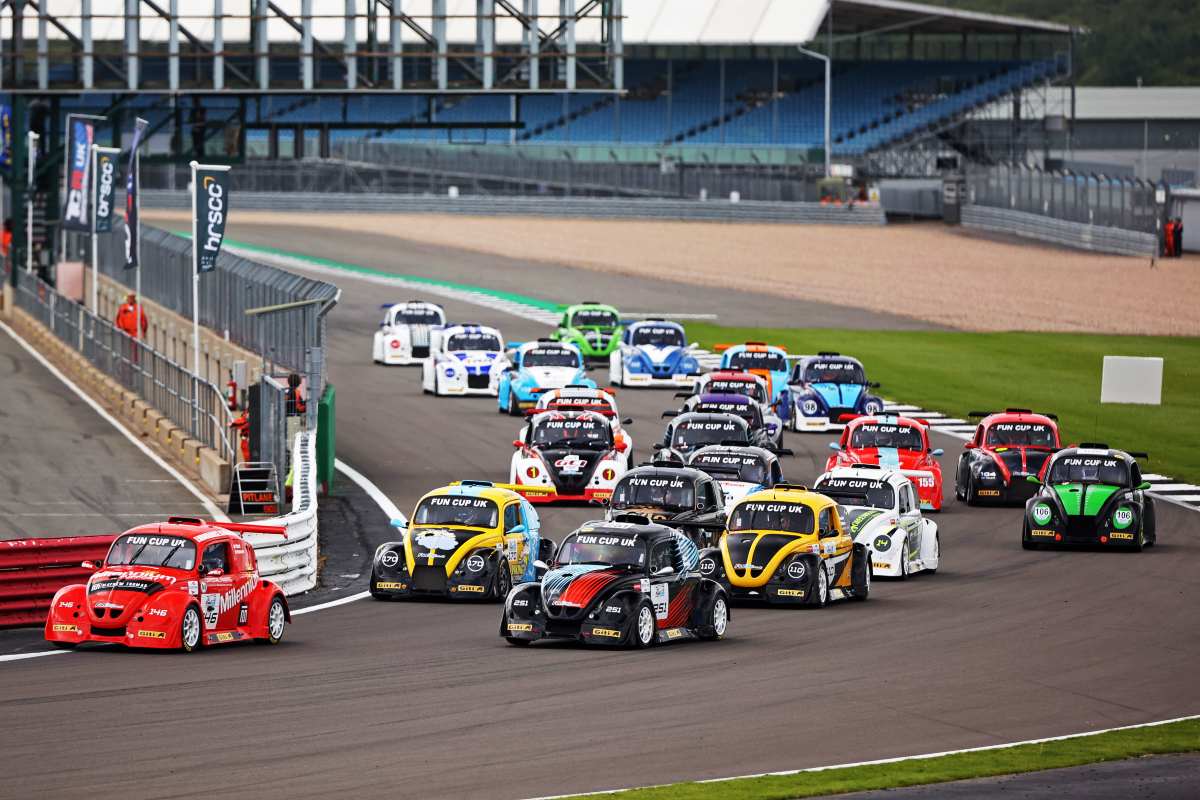 ---
AIRTEC MOTORSPORT FIESTA ST240 CHAMPIONSHIP
The contest for the AIRTEC Motorsport Fiesta ST240 Championship between top Pro class runners Alastair Kellett and Albert Webster took their fight to the Silverstone National circuit to see if either could take a big step towards the coveted championship crown. As it happened, one certainly managed to while the other will have rued missed opportunities.
Both Kellett and Webster locked out the front row together for race one on the Saturday and right from the outset, the pair were in a race of their own from the word go. Both cars were locked together in a battle for the lead with Webster throwing everything he could with every opportunity presented to him. In the early stages, Kellett was pushing hard enough to lift his car onto two wheels as Webster remained locked onto his rear bumper.
The two drivers steadily pulled away in their own private battle, and as their main Pro class rivals tried to give chase there was a fine battle developing for the Club class win between Adam Clark and Archie Johnson, with Johnson sending a move inside at Brooklands to grab the lead. From here, Johnson was able to pull away and even put a challenge on Joseph Knight for position as the race wore on. 
Webster continued to push as hard as he could, but at the flag he had to settle for second as Kellett added another victory to his tally and more points towards his championship lead. Behind the top two, Matt Luff collected another podium with third place followed by John Cooper and Joseph Knight in the Pro Class top five, while an impressive sixth overall for Archie Johnson supplemented his first Club class win ahead of Clark, Kidd, May and Marco Ricci.
On to Sunday's first race, where fortunes for Kellett suddenly took a sharp nosedive. From the start, Kellett's race was looking good as he led from pole with Webster in pursuit again and Cooper, Luff and Zach Lucas tussling over third. However, Webster managed to power his way past on the outside of Brooklands on the opening lap to the lead and moments later it was evident that he was suffering with a problem. A pit lane visit confirmed this, now putting him out of the race early.
This now left Webster on his own out in front in a race he would command from start to finish, as he let those battling for second place backwards fight amongst themselves. Cooper held the place from the early laps and ended up unchallenged all the way to the end too, so the main fights ended up for third and for Club class honours. Miller and Lucas would go back and forth for a few laps before the Irishman took the position as Lucas started to slip backwards. As for Club class, Morgan Kidd managed to pass Caitlin May after a few laps and even began to challenge the Pro class cars ahead of her.
However, nothing was going to deny Albert Webster from taking his second win of the season and finally a victory in which he took the chequered flag first after inheriting his Oulton Park success from a penalty to Simon Horrobin. Cooper and Miller brought their red ST240s home to second and third as Luff and Knight completed the top five, while Morgan Kidd took another Club class win to maintain his grip on the class lead ahead of May, Connor Blackburn, Ricci and Christopher Blackburn.
The reverse grid draw brought an all Club class front row for race three as Connor Blackburn and May lined up together, with Blackburn getting the best jump to lead the race from the outset as the Pro class cars squabbled to try and catch him. Deep in the pack, Webster was elbowed wide at Becketts pushing him behind the recovering Kellett, who started at the back after his DNF and ended the opening lap in seventh. His progress continued to fifth past Luff and then Lucas, but trying to take fourth from Knight he spun himself across the nose of Joseph's car exiting Becketts and down the pack with Webster the main benefactor as he managed to pick off Knight moments later.
Out in front, Blackburn was doing a fine job to lead the race overall with Gary Miller in hot pursuit, but it wasn't long before Webster had despatched May behind them for third and quickly caught the top two in a matter of minutes. Miller made the pass to lead at Becketts, but by this time Webster was right on their tail and ready to pounce. Shooting down the outside of Blackburn for second entering Becketts, he did it again to Miller a few corners later to complete his charge to the front – but not before Miller sent one back past him and forced Albert to repass yet again to get it done once and for all a few laps later.
Once in the lead, Webster wouldn't be touched and reeled off his third win of the year whilst taking another big step towards catching Kellett's points lead in Pro class, with Miller a fine second and Connor Blackburn impressing many with third overall as well as a dominant Club class win. Knight, Cooper and Luff completed the Pro top five, as May and Johnson joined Blackburn on the Club podium ahead of Ricci and Kidd..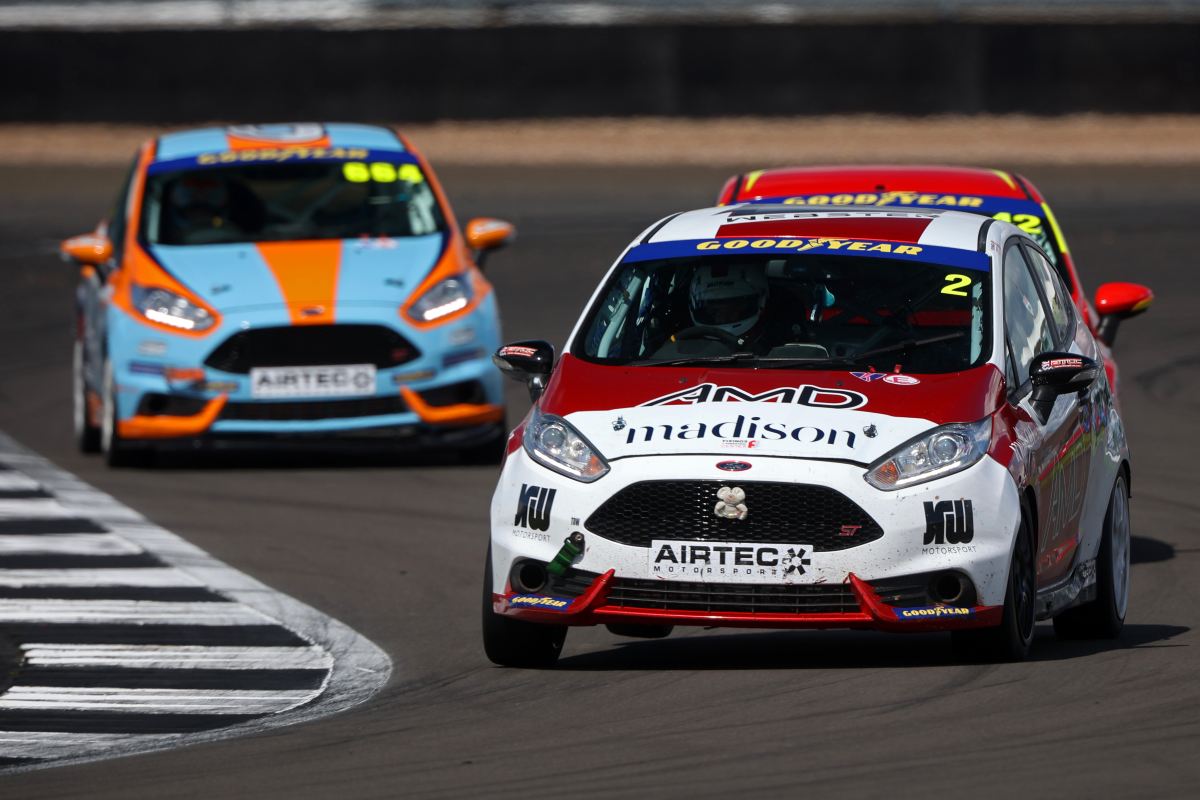 ---
SUPER CLASSIC PRE '99 FORMULA FORD CHAMPIONSHIP
Making a popular trip to the home of British motorsport, the Super Classic Pre '99 Formula Ford Championship made the visit to Silverstone's National circuit for their latest rounds of the 2023 season, sporting an excellent 22 car entry with a number of drivers making their first appearances of the year while most of the class points leaders hoped to extend their leads further.
Jacob Tofts made the dash from Oulton Park the day before to take pole in qualifying ahead of the first race, but he couldn't hold back front row mate Alex Ames who beat him to Copse but conceded the place back again into Brooklands before the first lap was complete. A lead group consisting of Tofts, Alex Ames, Ollie Roberts, Lewis Fox and Andrew Ames quickly form out in front, although Roberts would sadly drop out on the exit of Copse with mechanical issues, splitting the remaining quartet into two pairs. Andrew Ames worked quickly to relieve Fox of third into Brooklands, with a slow starting Morgan Dempsey also moving to fifth past Paul Mason.
Andrew Ames signalled to Fox mid race to work together to catch the top two during their battle over P3, their task made easier by Alex Ames dropping back from leader Tofts ahead of them. They were joined by Dempsey who woke up in the second half of the race to join in the fun, and heeventually passed Fox for fourth as the Ames family members caught each other to battle over second place. 
The four cars were together as the final lap began and even though Alex Ames almost lost out on a podium, he was able to battle his was to third behind Andrew, as Tofts took a comfortable win by over five seconds. Dempsey and Fox brought their Duckhams liveried Van Diemens into the top five, with class wins going the way of Tofts in Super Classic B, Alex Ames in Super Classic A, Simon Hadfield in Super Classic C and Ian Fernihough in Super Classic D after Scott Rawlinson dropped out on the opening lap.
Race two started identically to race one with Alex Ames stealing the lead from Tofts into Becketts, but this time keeping it for the remainder of the lap as both Tofts and Dempsey quickly gave pursuit. Tofts only needed to chase for a couple of laps before regaining the lead at Brooklands, only for Ames to reclaim it a couple of corners later and this went back and forth for a few more laps. It also brought Dempsey, Andrew Ames and Fox into play once more, as the same five cars were grouped together out in front.
Lewis Fox dropped out just before two thirds distance, as Tofts retook the lead to leave Alex Ames under pressure from Dempsey for second. Morgan found a way past with less than four minutes to go and from there, the order remained fixed. Tofts clinched his second win of the day ahead of Dempsey and Alex Ames on the podium, with Andrew Ames and Gaius Ghinn rounding off the top five. Tofts and Dempsey were respective class winners in SCB and SCA, while Hadfield and Rawlinson were victorious in SCC and SCD.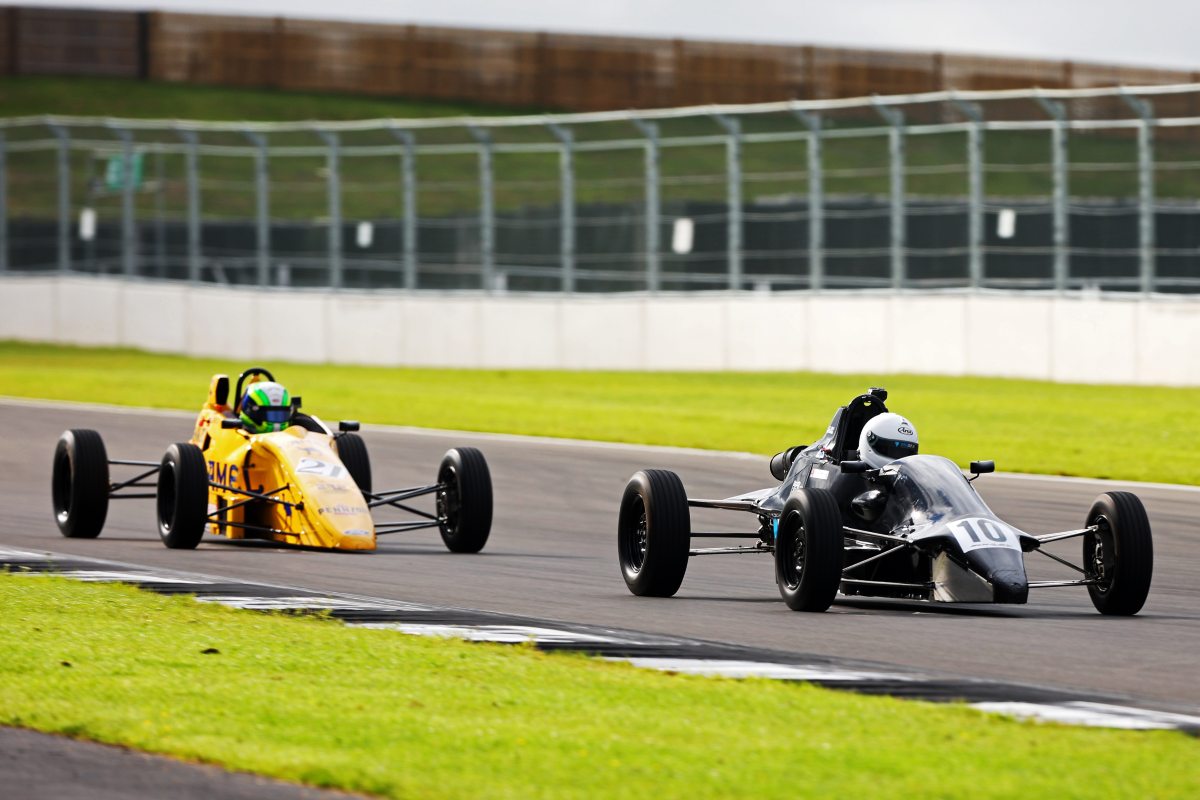 ---
SW MOTORSPORTS CLUBSPORT TROPHY
It was no surprise to see another packed out grid for the latest round of the SW Motorsports ClubSport Trophy on the Silverstone National circuit. With another 45 minute pit stop race ahead of them, the drivers and teams were raring to go for more battles amongst the five classes.
David May made a welcome return to the grid in his Nissan 370Z and promptly put the car on pole position in qualifying, and was set to be joined on the front row by the BMW M3 of Matthew Bolton, although the BMW was absent from the grid come the race start. May almost lost the lead from the outset as the fast starting Audi TT Cup Racing car of Luke Handley, but he was then passed by Phiroze Bilimoria's VW Scirocco before the opening few laps began to allow the field to initially settle and spread out.
As the top three of May, Bilimoria and Handley held on to the overall podium spots, Scott Parkin brought his Audi TTCR up to fourth ahead of Mark Jones' VW Golf and the Honda Civic of Civic Cup star Ryan Bensley, sharing the car with BTCC ace Josh Cook on this occasion. Plenty of inter-class battles took place as the minutes ticked down towards the pit window opening, and when it did it was May and Bilimoria that stopped first from the leaders. The VW beat the Nissan out of pit lane when completed, but it only took a couple of laps for May to catch and repass Bilimoria on track on the pit straight.
The two Audi TTCRs pitted while this was happening, and both exited second and fourth respectively as Handley split the lead battle between May and Bilimoria. Phiroze didn't need long to reclaim the place from the Audi and quickly swept past once more, before the pair began a race long chase between themselves all the way to the chequered flag.
As for May, in a Nissan 370Z that had always proven quick but troublesome in terms of reliability, he finally completed a drama-free race to take ClubSport Trophy victory at Silverstone, both overall and in Class A. Bilimoria and Handley continued their chase to the end with the Scirocco beating the TT, although Handley was still Class B winner with third outright. Other class wins up and down the field went to Jonathan Hunter's VW Scirocco in Class C, Andrew Stephens' MINI Cooper in Class D and Paul Connell's VW Mk2 Golf GTi in Class E.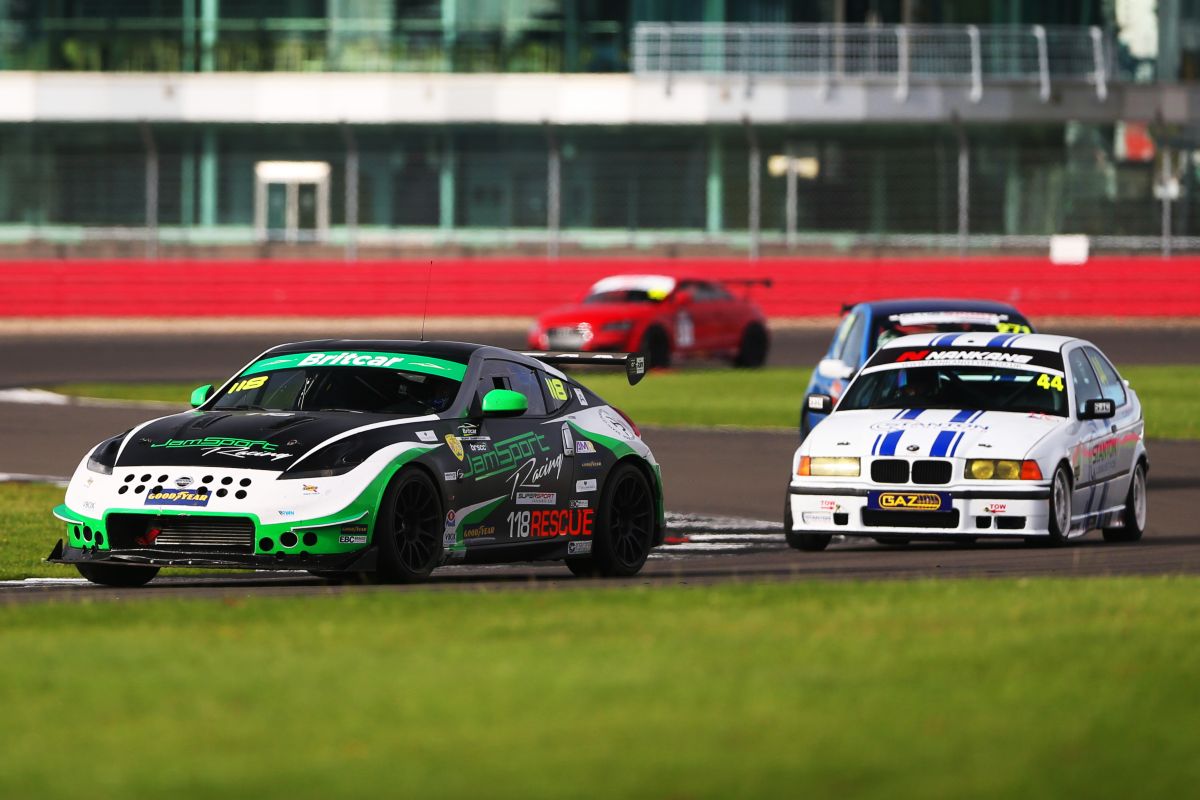 ---
WRDA WELSH SPORTS & SALOONS
Joining the Silverstone TCR UK timetable as a guest formula for the weekend, the Welsh Racing Drivers Associations' very own Welsh Sports & Saloons Championship sported a slightly smaller but very eclectic mix of machines on its grid, including a guest appearance from the Audi TT Cup Racing car of Scott Parkin.
Race one saw Nigel Mustill's Volvo S60 silhouette touring car take the lead from pole sitter Keith Butcher's Lamborghini Huracan GT3, with both also being pursued by the rapid bewinged Ariel Atom of Christian Douglas. These three cars would define the day's racing in the series as they ventured off into a race of their own and left the rest of the pack to fight for the best of the rest outside of the top three.
Mustill's pace was too much for even Butcher and Douglas to keep up with as the Volvo reeled off the laps across the fifteen minute race to claim a comfortable and easy win. Douglas managed to close in on Butcher's Lamborghini in the final minutes, but couldn't haul the Atom up to second on this occasion and settled for the final podium place, in the end finishing just half a second apart. Scott Parkin took his Audi to fourth overall, ahead of Wayne Spiller's Mazda RX-8 in fifth.
Sadly, Mustill's Volvo was unable to take the start of race two, leaving Butcher and Douglas to pick up where they left off from the finish of race one. This time Douglas got the start he needed and beat Butcher to Copse to lead from the outset, already 1.4 seconds ahead at the end of the first lap. Now it appeared that whatever Butcher tried to throw at the Atom, Douglas had a response for the Lamborghini, even passing and repassing as the race wore on.
Butcher then began to fade back into an unchallenged second place as Douglas was left to his own devices in the lead, comfortably claiming the win on this occasion by just over six seconds from Butcher. Scott Parkin had another trouble free run to take an overall third place, ahead of Gareth John's Ginetta G40 and Spiller's RX-8.
Scott Woodwiss