CADWELL PARK DELIGHTS AS BRSCC DELIVERS AN AUGUST THRILLER
CATEGORIES:
Cadwell Park in Lincolnshire produced another thrilling two days of competition with the British Racing & Sports Car Club, as sports cars and tin tops put on a great display of racing. While some championships made a step closer towards the conclusion of their seasons, one wrapped up its titles this weekend at a meeting that certainly will have been influential on the direction of several points standings.
BRSCC Mazda MX-5 Championship
Oliver Allwood managed to make the top step of the podium his own all weekend in the BRSCC Mazda MX-5 Championship and made strong gains on points leader Jack Brewer at the head of the table on dropped scores. The first race was something of an AB Motorsport racing demonstration as he led teammates Fraser Fenwick and Brian Trott to lock out the podium ahead of main championship rival Brewer, who managed to capture all three fastest lap points over the weekend as he claimed 4th in the opening encounter. Allwood jumped back into the lead from the start of Race 2 and once again held on to win from the front, but he was closed down in the final laps by a charging Brewer who worked his way into 2nd place with a few minutes to go; Fenwick would take the final podium spot. Just before the safety car was called to clear up an incident in the opening laps, the final race of the weekend saw Brewer managed to take the lead from Allwood, but a classy switchback move at Park Corner allowed Allwood to reclaim it on the penultimate lap before pulling away to win, while Brewer held off Trott's late advances to pick up 3rd.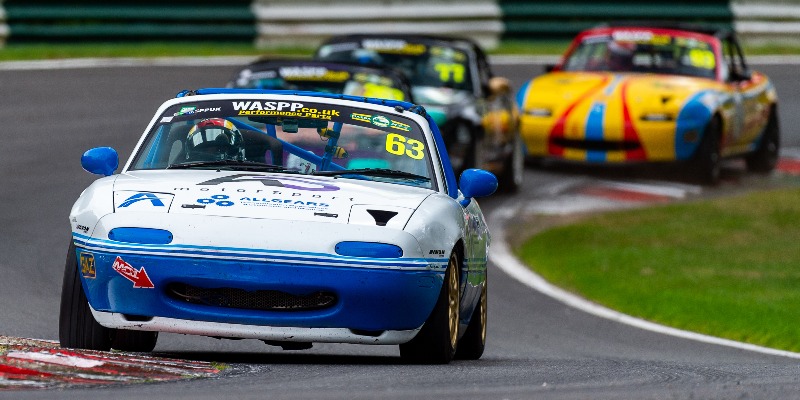 BRSCC Mazda MX-5 Clubman Championship
The one-day Mk1 counterparts of the Mazda MX-5 Clubman Championship saw a new race winner come to the fore as Kevin Dengate justified his return to Mazda racing with an excellent pair of performances to capture a double victory. Kevin resisted pressure from points leader Harry Storer (back from his absence from Snetterton) all race to clinch his first Clubman win, managing to cross the line first by 1.5 seconds with Neil Chisnall claiming his second podium finish with 3rd place. A strong start to the second race later that day gave Dengate a strong gap to begin with, while Chisnall briefly tried to steal 2nd from Storer before he took it back again before the opening lap was through. Storer managed to close in onto Dengate's bumper in the final minutes and made a daring pass outside into Coppice to take the lead. However, Dengate stayed close and on the final lap repassed Storer at the top of the circuit to sensationally confirm the double, leaving Storer and Chisnall to fill out the podium.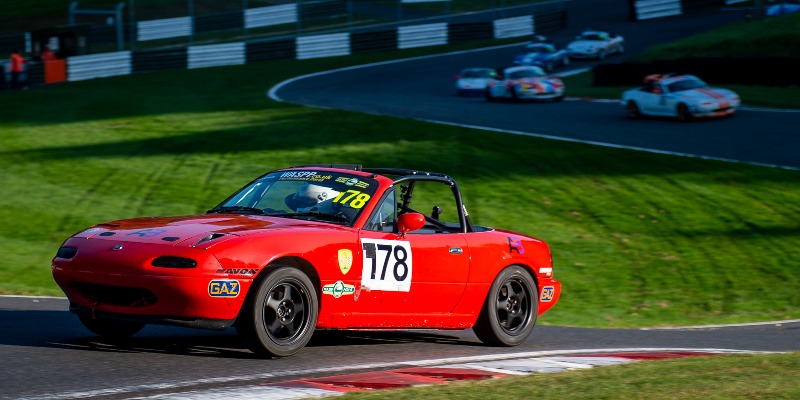 BRSCC Mazda MX-5 SuperCup
Samuel Smith managed to maintain his points lead on dropped scores for the Mazda MX-5 SuperCup with another brace of victories in Cadwell Park, although once again his main rivals made it very difficult for him to relax for any given moment. Both Jack Harding and Adam Bessell remained on his tail all the way throughout the first race which remained trouble free until an incident at Barn saw a car end up upside down, although the driver appeared to escape the accident unscathed. This brought out the red flag to all the race to an early finish with Smith winning from Harding and Bessell on the podium. Smith powered away from the line to lead the second race while Harding quickly picked off Bessell for 2nd to chase him Sam down. The pair quickly pulled away from the rest, but with six minutes to go Harding muscled his way through at Park to take the lead. Smith retaliated into Coppice, but contact was made dropping him back and while he did close the gap back down again, Harding had enough advantage to remain in front on the road. After the race, Harding's contact initially landed him a five second penalty, handing a second win of the weekend to Smith with Bessell again in 3rd place, but this was later rescinded and the result reverted back to its original order, giving Harding the win once more.
The partially reversed grid for the third race gave James Cossins a chance to once again take an outright race win as well as top the Pro Class and he managed to do so despite late pressure from Harding, although Smith's Club Class teammate Richard Amos provided an unexpected helping hand by placing himself inbetween Cossins and Harding in a bid to take points away from Smith's main rival. Cossins would indeed win Pro Class for the second time this season from Harding, with Declan Lee managing 3rd in class behind. Amos and Kevin Silvain shared the spoils in the Club Class, splitting the three race wins between them with two in Richard's favour. Despite this, Silvain still tops the class points leaving Cadwell.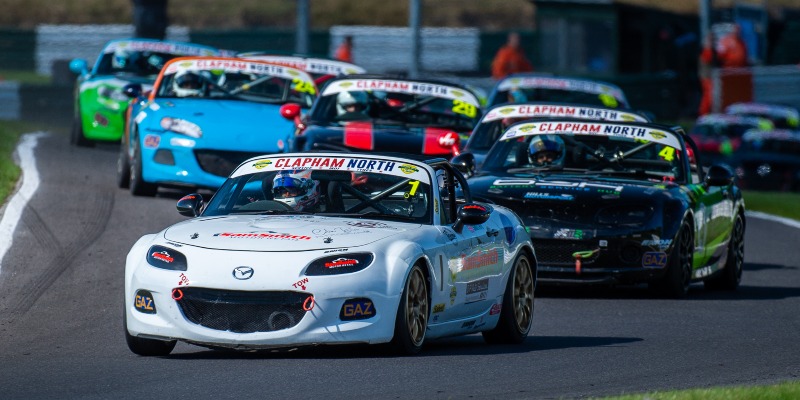 Motorsport UK British Superkart Championship
The final rounds of the Motorsport UK British Superkart Championship produced some incredible high speed action, including a brand new outright Cadwell Park lap record in the process set by Division 1 racer Sam Moss of 1m21.036. Lee Harpham set the pace initially with victory in Race 1 overall from Ross Allen and Andy Gulliford on Saturday, but Sunday would turn out to be Moss' day as he followed up his new lap record with victories in both of the encounters that day. Harpham and Allen would join him on the podium in each both overall and in Division 1, while Paul Platt and Lee Plain shared the F250 National honours, Charles Johnson and Garry Ward were top of F450 National and 125 Open wins were taken by Tom Riley, Paul von Gerard and Michael Parr. With the main championship season now complete, attentions will now turn to Donington Park for the all-important British Superkart Grand Prix!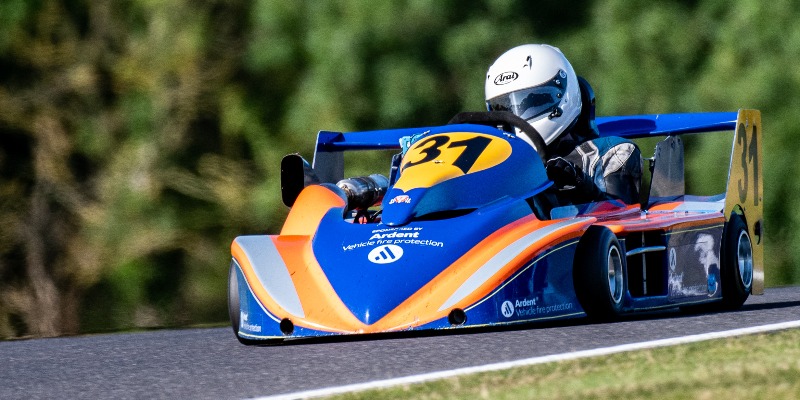 BRSCC Fiesta Championship
The BRSCC Fiesta Championship produced its 5th different overall winner of the season as former champion Alastair Kellett clinched the victory in Saturday's race in the ST240 class, working his way from 3rd on the grid to win from Zachary Lucas and Rob Smith. From pole in Sunday's first race, Kellett did it again to double up with Smith this time ahead of Lucas, while the final race of the weekend was stopped after just three laps competed after ST150 leader Ethan Rogers blew his engine and the resulting fluid dropped caused cars to go spinning at the Hall Bends, eventually seeing Briannie Davis take an unfortunate trip into the barriers. Because of time constraints, the third race was sadly declared null and void. In the ST150 ranks, 2020 Fiesta champion Samuel Watkins made a triumphant return with the #1 on the window, finishing top of his class in both races as Rogers, new FJC graduate George Davis and Marlo Cordell shared the podiums between them.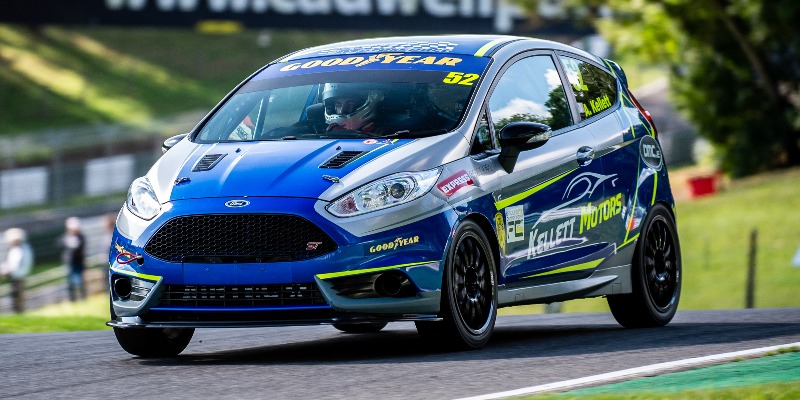 BRSCC Fiesta Junior Championship
There was a somewhat energetic finish to the first Fiesta Junior race on Sunday as a battle between title contenders Deagen Fairclough and Jenson Brickley boiled over on the final lap. The two drivers made contact at the final corner, resulting in both spinning into the barriers and as a result it would be Jake Triggs who jumped from 3rd place on the road to a surprise first win, stealing it from a recovering Brickley on the sprint to the chequered flag. Brickley and Fairclough would still end up on the podium in 2nd and 3rd given the sizeable gap back to the rest of the field. The second race was affected by two red flags, but through it all Fairclough went on to win ahead of James Wallis and Alex Ley.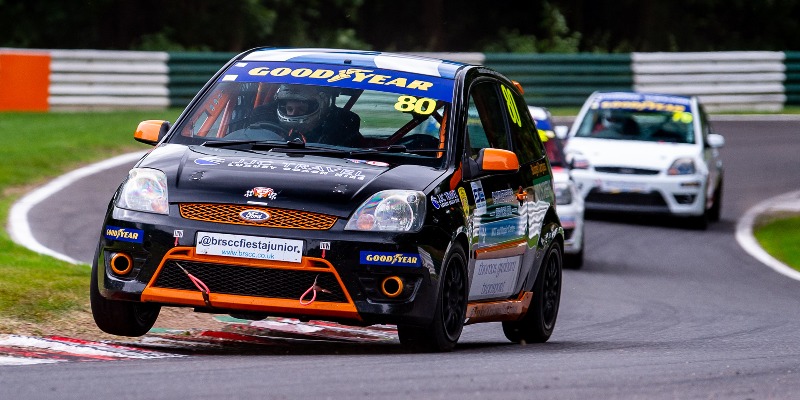 Nankang Tyre BMW Compact Cup
There was simply no stopping defending champion and points leader Steven Dailly in the Nankang Tyre BMW Compact Cup as he picked up another pair of wins in his quest for title number five. An early safety car for an incident at Coppice at the start allowed the pack to bunch up close, but once racing was underway Dailly slowly edged away to build a two second lead by the flag with Paul Maguire taking 2nd place and top Masters finish, followed by Mikey Doble in 3rd. A later safety car in Race 2 on Sunday put Maguire right on Dailly's tail in the final laps, leading to the Scot only claiming the win this time by a quarter of a second, with Ian Howes rounding off the podium with an excellent 3rd place. Two trips to Donington Park now await the drivers to close off the 2021 season.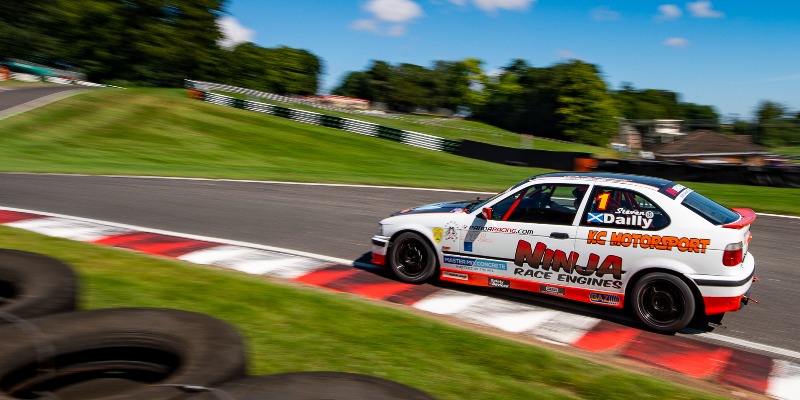 ETSL ST-XR Challenge
Such was the competitiveness of the ST-XR Challenge at Cadwell Park that it ended up producing three different winners across two different classes! While both Michael Blackburn and Chris Grimes shared the front row of the grid for the first race, neither of them would see the finish as both retired with mechanical issues despite showing great pace throughout. It was left to Lee Bowron to finally take an outright Class D win in his ST150 with Sam Beckett and Mark Robinson also securing some of their best results of the season so far with 2nd and 3rd place respectively, while further back Simon Robinson was back on form in the XRs ahead of Alex Causer and Paul Green. Robinson and Causer then experienced some glory of their own, as with the XRs placed at the head of the grid for Race 2 the pair were able to pull away in a race of their own, with Robinson driving superbly to claim Class A and overall race victory ahead of Causer in 2nd, while Green rounded off the class in 3rd place and 8th overall; Lee Bowron, meanwhile, was in control of Class D again, heading Michael Heath and Chris Jones this time at the flag.
Unfortunately, Bowron couldn't make it three from three as he retired on the opening lap, and a mid-race safety car bunched the pack up for the sprint to the finish to produce a thrilling final couple of laps. Blackburn managed to get the jump on the rest to take Class D and overall victory as Heath held off a charging Sam Beckett to settle 2nd and 3rd respectively, while the XRs came home in an identical top three once again with Robinson ahead of Causer and Green.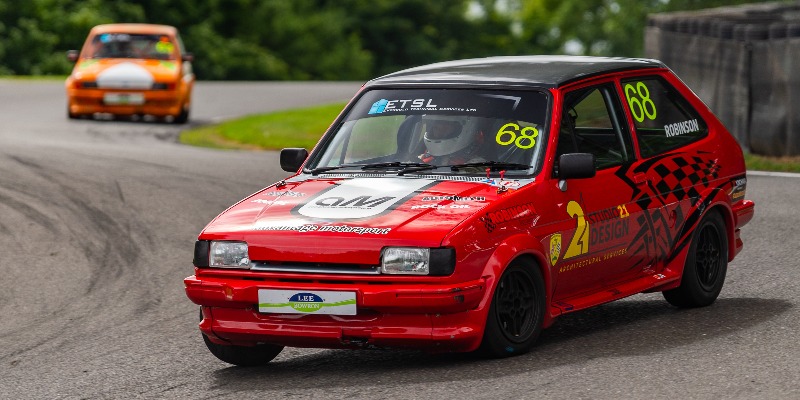 Track Attack Race Club
Making another welcome appearance on our timetable was the Track Attack Race Club with an fantastic mix of cars taking to Cadwell's twists and turns. Rich Hockley took his Honda Civic to the top step in Race 1 followed by David Shead's BMW Compact and the top Classic VW Cup drivers in Chris Adams aboard his VW Golf. The podium for Race 2 was a near carbon copy, as while Hockley and Shead took 1st and 2nd once more it was Ken Lark who would top the Classic VW Cup competitors in 3rd overall.
Scott Woodwiss