The BRSCC has another new centrepiece race meeting to add to its existing Formula Ford Festival and events such as the recent British GT Silverstone 500, the latter taking place on the very same circuit that this weekend's grand spectacle also runs. For the very first time, the club takes on the running of the ever-popular, beloved and exciting endurance spectacle that is the C1 Racing Club's Silverlake C1 24 Hours on the full Grand Prix circuit. With a thrilling support timetable also in place, this is certain to be a contender as one of the best events of the UK club motorsport calendar.
SILVERLAKE C1 24 HOURS – CITROENS READY TO RUMBLE TWICE AROUND THE CLOCK
The headline main event of the weekend will see another grid packed full of the delightful little Citroen C1s ready to put themselves to the ultimate test once more. After a incredible strong start to life under the Club at Snetterton a few weeks ago with the biggest C1 grid ever to line up in Norfolk since the series began, Robin Welsh and his team now look to carry on that momentum as they get ready to handle more than 60 teams competing for one of the most sought after titles in British club endurance racing.
The highest placed returning team from last year's result is established champion Mazda MX-5 team AB Motorsport, who finished runner up to winners Hybrid Tune – Full Circle racing in 2021 and will be looking for a trouble-free run to try and take the top spot this time. The third-placed finishing car is also back too, as #312 spearheaded by Graham Coomes will also have ambitions of securing victory. As for those that were heading the field at the Snetterton opener, the top two finishers of that race (Ardcor Modelmakers and Oakley Motorsport) do not appear on the entry list at the time of writing this, however 3rd placed squad emax Motorsport certainly do as they are one of a number of teams running multi-car efforts.
Including the podium finishing #345 car, emax bring three cars to Silverstone in their bid to be first across the line on Sunday afternoon and they're not the only ones counting on strength in numbers. Other three-car entries come from BH Motorsport/ SCK Motorsport, Riverside Performance, JW Bird Motorsport and the title sponsors of the series and the event Silverlake Racing, while others that are certain to try and push themselves into contention include established race teams Team HARD and SVG Motorsport, regular Caterham squads SPY Motorsport and CTS Motorsport, plus other well known club racing teams such as Fiesta stalwarts Kellett Motorsport and regular Alfa racers Bianco Auto Developments.
Then of course, you have to count in other established C1 entries that will be out to take the glory for themselves. Patrick Watts Racing, led by the BTCC legend himself and daughter Aimee, have two cars ready to race as do WRC Developments, plus you also have to count into contention the likes of Misty Racing, Clapham North MOT, Scuderia Pollo Rosso, Fightingtorque, Jelly Snake Racing, T O F Racing and Team Norway/ Asia overseen by Rob Gaffney's Amigo Motorsport team, plus one squad will also feature Olympic gold medal-winning cyclist turned racing driver Sir Chris Hoy too. There are more teams alongside that, but too many to mention just here!
Whatever happens and whoever comes out on top, the C1 24 Hours is guaranteed to be full of drama, excitement, amusing and memorable moments as the latest chapter in this beloved endurance race prepares to be written for the very first time alongside the BRSCC!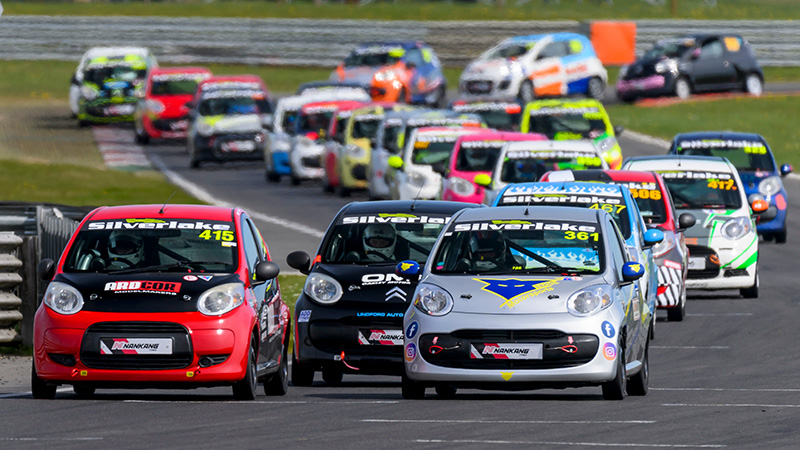 ---
BRSCC MAZDA MX-5 CHAMPIONSHIP – FENWICK READY TO CONTINUE GOLD RUSH AT SILVERSTONE
With the main event covered, let's now check out the support timetable that's guaranteed to tee things up nicely for the endurance action starting on Saturday afternoon. It's mainly dominated by a phalanx of Mazda MX-5s, starting with the Mazda MX-5 Championship where the man everyone needs to beat right now is Fraser Fenwick. From the first six races across Silverstone on the International circuit and Snetterton 300, he's taken four wins and never finished off the podium so far. This has helped him to already manage a lead of nearly 20 points heading back to the Home of British Motorsport, but while Fraser dominated in Norfolk, it was Silverstone in March where he failed to grab the hat-trick.
The two wins he missed out on were taken by the Greatrex siblings Jason and Callum and they have remained strong as they constantly hovered around the podium at Snetterton too. Jason currently sits 2nd in points and Callum in 4th, split by fellow regular front runner Mike Comber who has two podiums to his name this year, while Tom Smith (brother of double MX-5 SuperCup champ Sam) has shown his class too with 5th in points so far including a 2nd place in Snetterton's first race.
The rest of the top 10 contains more strong drivers with Michael Knibbs, Sebastian Fisher, Luke Pullen, Oliver Graham and Adam Craig all showing great ability over the first two weekends, and when you also add impressive rookie Jack Noller, you have around a top dozen drivers in points that all have a legitimate chance of scoring a genuine podium finish. This is amongst an entry list that consists of another large grid of almost 40 cars once more, meaning that while it's the full Grand Prix layout in use, it will still be busy out there on track. Additionally, rather than the regular three 20 minute races, this weekend the championship will run two 30 minute races instead. Let's see if the extra 10 minutes per race might change the complexion of the field in the later stages.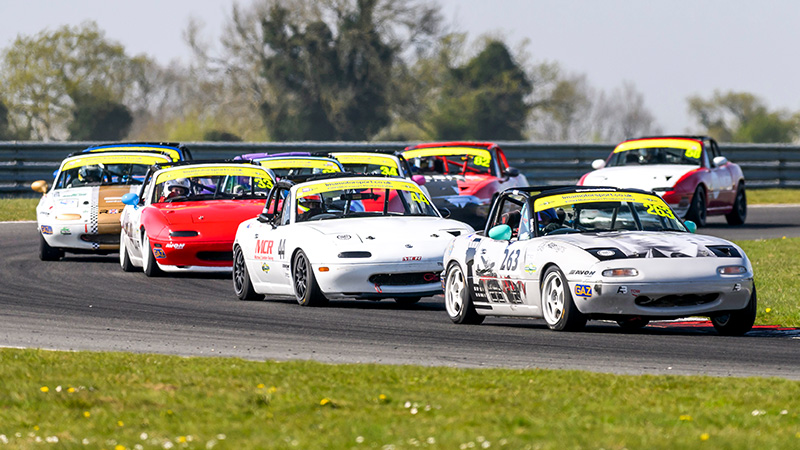 ---
BRSCC MAZDA MX-5 CLUBMAN CHAMPIONSHIP – FLETCHER & MCDONNELL TAKE UP CHARGE TO CLAIM STORER'S TITLE
Snetterton proved to be rather interesting for Harry Storer in the Mazda MX-5 Clubman Championship as the defending champion finished off the podium both times on the road and in the result after guest drivers were taken into account, as Harry could only manage a best of 4th place. Given that it was a relatively new circuit for Storer after he missed last year's visit, he made the most of it and scored the points he could.
Taking up the mantle at the front of the field that day and picking up where Storer left off from Silverstone International, were Matthew Fletcher and Declan McDonnell. Fletcher took the top score from Race 1 finishing behind guest driver Thomas Langford, while McDonnell drove well to claim the second race win from P1 on the road. Both drivers have now moved ahead of Storer in the points at this early stage and it's Fletcher that leads McDonnell by three with Storer dropping back to 11 points from the top in 3rd. Harry does not appear on the entry list at the time of writing, but Fletcher and McDonnell both do, with Declan seeming to begin to change his mind about only running a part-season now that he's already at the sharp end of the championship!
The rest of the pack trying to close them down is also in attendance for the GP Circuit, with Jon Pethick and Chris Dawkins currently making up the top 5 and looking to make gains on the trio in front where possible, while Alan Hawkins, Charles Boniface, Nick Le Doyen, Kevin Bird and Graham Rumsey all comprise the rest of the top 10 and are also going to be looking for some strong results. Also keep an eye on the likes of Neil Chisnall, George Grant, Rob Greensmith, William Breame and David Waters as they look to make gains early on across both races.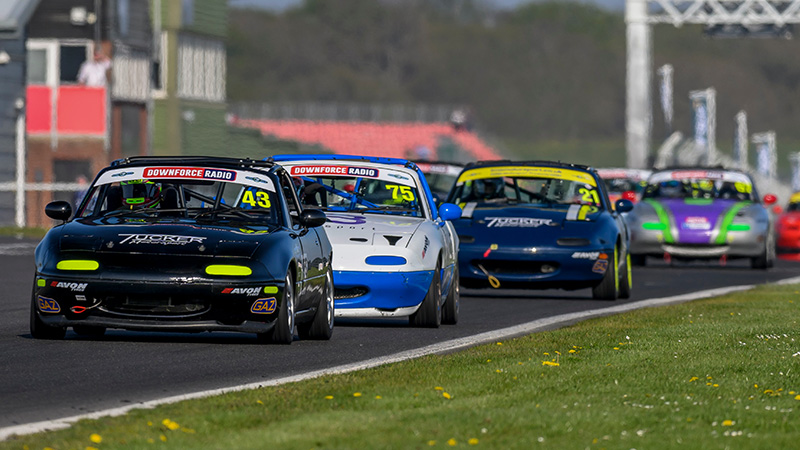 ---
MAZDA MX-5 SUPERCUP & SUPERCUP CLUBMAN – AMOS HEADS THE WAY, BUT THE CONTENDERS ARE LINING UP
We've already seen from the first two race meetings of the year for the Mazda MX-5 SuperCup that the levels of competition have gone through the roof with racing that has been closer and more intense than it has been for a long, long time, if ever. The battle for victory in each of the three races (more so for the 100 points in the result at Silverstone International behind guest winner Aidan Hills) at both meetings has been frantic, and with the return to Northamptonshire and the bragging rights of winning on the full GP circuit in the mix, we're sure there's going to be no let-up in the action.
Currently leading the way with four maximum scores is Richard Amos, having taken two each from the first two weekends. His season start has been very similar to that of Fraser Fenwick in the MX-5 Championship, having never finished off the podium in terms of points scoring results so far and looking to keep up that record. So far, he's certainly doing a superb job for his new team Paddock Motorsport and pushing them into contention for what would be their first Mazda MX-5 title since they formed. All throughout Snetterton, he was kept honest by several drivers and that's surely going to be the case this time.
Heading back to Silverstone in 2nd place is former double Mk1 MX-5 champion Will Blackwell-Chambers who has now found the groove with Mk3 MX-5 racing and come desperately close to his first SuperCup win on more than one occasion this year so far. His pace could put him in contention to finally take that much sought after victory, but he knows with so many strong drivers around him that getting into the lead and staying there are two different challenges. The other drivers that have also taken the win, be it via points or on the road outright so far are Patrick Fletcher and Adam Bessell, both of which took their first last season and have come out of the blocks swinging. Neither has totally had all the luck they'd hoped for, but it's still looking good for them early doors.
There are so many other top drivers behind the top four that will be gunning for victory and podiums including (deep breath): James Cossins, John Langridge, Leigh Britten, Alex Miller, Colin Bysouth, Nic Grindrod, Tom Griffiths, Jack Brewer, Michael Knibbs, Declan Lee, Brayden Fletcher and Ali Bray. Throw in a guest appearance from a former MX-5 SuperCup champion (we won't tell you who here just to make it a surprise), an exciting Club class battle shaping up to be a duel between Stephen New and Scott Wright ahead of a chasing contingent, the continuation of the Masters points battle and a second appearance from the MX-5 SuperCup Clubman Championship drivers sharing the grid and you've got a recipe for two 30 minute races that might have the potential to steal the show!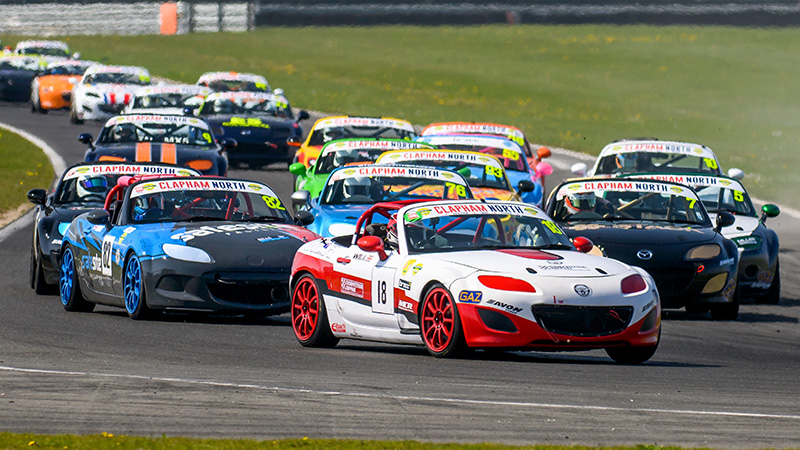 ---
BRSCC CLUBSPORT TROPHY – HISTORY IN THE MAKING
The grid capacity for the Silverstone Grand Prix circuit is 61 cars for any non-purpose built racing and sports racing cars. Given its size, being able to fill it sounds like a tall order and in many ways it is – although no-one seems to have told the BRSCC Clubsport Trophy this, because they prepare to make their GP circuit debut here with what's set to be the largest grid in the series' history since it began in 2019.
The series as a whole has been a revelation for the BRSCC and has inspired many club racers to take part and sample it and this venture onto the Silverstone GP circuit certainly will be a landmark moment in its relatively short lifespan so far. As usual, there is a fantastic mix of cars taking to the grid here, with notable entries including Nathalie McGloin in her specially adapted Porsche Cayman S, regulars David Shead & Malcolm Edeson in their M3-engined BMW E36 Compact, Scott Ferguson's supercharged Mk1 MX-5, Liam Crilly's BMW Z4, a Ford Fiesta ST240 in the hands of Andy Baylie, David Fender's unique Caterham 21 and Martyn & Barrie Culley in a pair of SEAT Leon Cup cars.
Amongst it, there's the typical and usual mix of Mazda MX-5s, Honda Civics, Toyotas, Renault Clios, plus other unique cars like Daniel Cogswell's Nissan Almera, a pair of Mazda 2s and the Steve Andrew/ Luke Herbert Mazda RX-8 that debuted at Snetterton. The regular Clubsport drivers will also be joined by the Mazda MX-5 Mk4 Trophy cars once again, with Ben Palmer and Aaron Bunning set to represent them too.
It's certainly going to be a magnificent sight seeing this mammoth field of cars charge towards Copse, wind its way through Maggotts, Becketts and Chapel and then launch onto the Hangar Straight together – that will certainly be a set of photos any trackside photographers definitely need to get a shot of!
Scott Woodwiss