SATURDAY LIVE STREAM

SUNDAY LIVE STREAM

---
It's felt like such a long off-season, and the cold and arduous winter won't have helped the feeling that it would be an age before racing would begin again. But thankfully, having made it through to the other side, the British Racing & Sports Car Club is ready to lift up the shutters, put fingers to engine start buttons and peel out of the garages at long last to get its 2023 club racing season underway.
The venue couldn't be more fitting, as the Home of British Motorsport beckons for all those contesting this first weekend of competition. Silverstone is the circuit that play host to the first race weekend of the year, and it's the full GP layout in use on this occasion. That means lots of long straight and fast, sweeping corners to allow both drivers and cars to really stretch their legs and shake off the cobwebs with plenty of top racing in store.
It won't just be the quality of the racing that will impress, but the sheer number of cars turning up to compete too. Across all championships and series attending, that figure is only a handful shy of some 350 cars, a phenomenal number to achieve for the opening meeting and one of the largest and best supported BRSCC race weekends in recent years! There's both sprint and endurance racing on the agenda, something that will certainly be a regular occurrence throughout 2023 timetables, so let's delve into our first event preview of the new season and find out what we can expect.
---
MAZDA MX-5 CHAMPIONSHIP
What season opener would it be for the BRSCC without a healthy dose of Mazda MX-5 racing, as one of its best supported paddocks gets set to rumble once again. Last season, the charge of young talent Fraser Fenwick helped him clinch the MX-5 Championship after a superb winning start to the year followed by solid performances to maintain his top stop. Fraser has now moved up into the MX-5 SuperCup this year and with a couple more usual front runners also departing the championship either to take a break or for a new challenge, it once again means there's plenty of potential for a new champion to step up and be crowned.
The favourite going into the new season surely has to be the man who ran Fenwick close in the end last season – Steve Foden. His form in the second half of 2022 was dangerously strong and this could give an indication on what to expect from him this year. Hitting the ground running with victory at Silverstone will certainly be the objective, but be assured that he won't be the only one chasing the chequered flag.
The highest-placed returnee to the grid from last year's standings behind Foden is Jason Greatrex, who romped to the Masters title last year and also took a single race win to his credit too. He'll be joined in the leading group by Adam Craig, Oliver Graham, the 2022 rookie of the year Jack Noller and Luke Pullen, all drivers who finished the season either in or just outside the top 10 in points last year. Others who are sure to be on the pace include Tom Smith, as well as Courtney Milnes and Adam Sparrow to name a couple more. Expect more fierce competition from the outset on this grid.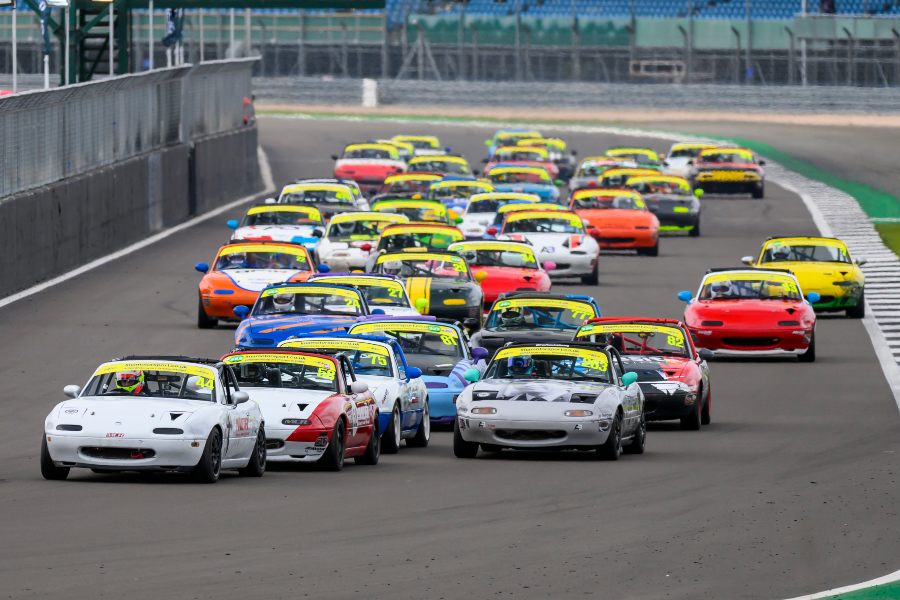 ---
MAZDA MX-5 CLUBMAN CHAMPIONSHIP
While one Mk1 MX-5 grid looks set to be a superb contest from the outset, so too does the other in the Mazda MX-5 Clubman Championship. The one-day format of this more recently established BRSCC MX-5 series has quickly grown in popularity over its first two seasons and heads to Silverstone with just over 30 cars on its entry list to begin 2023.
Last year's champion Declan McDonnell has left to pastures new and so to has 2021 champion Harry Storer who is now on the Mazda MX-5 Championship grid this year, leaving just one of the top three drivers from 2022 left on the grid. Jon Pethick proved his pace on many occasions last year with two victories to his name to show for it, and as the highest placed driver from last season returning to the grid this year, he will be keen to maintain this level of performance from the outset.
Closest competition to Pethick is again likely to be those staying on from last year that finished high in the points, with Kevin Bird, Matthew Fletcher, Del Paice, Graham Rumsey and Rob Greensmith all back to improve on their 2022 efforts. There are also one or two newcomers who could make an impression off the bat, particularly Brad Jones who moves across from the MX-5 Championship where finished in the top 10 in points last season. This could be a signal that he has what it takes to be a possible title contender this year in the Clubman ranks, so perhaps Brad could be 2023's surprise package.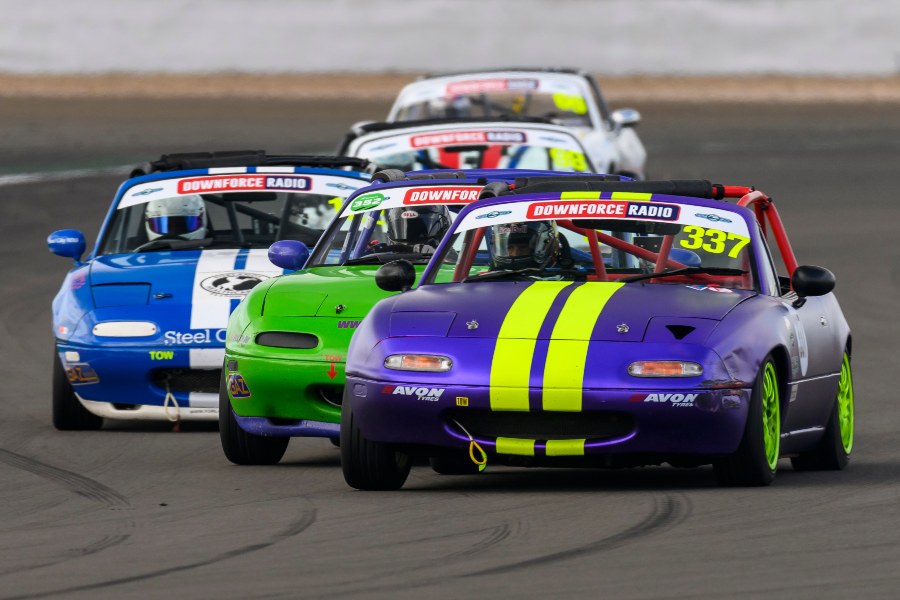 ---
MAZDA MX-5 SUPERCUP
The 2022 edition of the Mazda MX-5 SuperCup ended the year once again with one of the best average grid sizes across the Club's formulae portfolio. Alongside this, the competition levels were at an all time high, and many thought it would be tough to beat in 2023. However, looking at the entry list we have for this season, incredibly there's every chance that could happen.
Defending champion Will Blackwell-Chambers once again gets to experience life with a #1 on the door of his car, but he will know more than anyone else that keeping it this time in this championship is anything but simple. Aside from last year's runner-up Colin Bysouth and Will Morris, the rest of the Pro Class top 10 are back on the grid this year with James Cossins, John Langridge, Michael Knibbs, Masters champion Nic Grindrod, Leigh Britten, Richard Amos and Tom Seldon all leading the charge. But they're not the only names to throw into the mix.
There's formidable returnees such as Aidan Hills, Patrick Fletcher, Tom Griffiths, Martin Tolley, George Grant and Jack Brewer, and then there's the inclusion of former BRSCC Mazda champions such as Oliver Allwood, James Blake-Baldwin and Joe Wiggin to really spice up the entry list even further. This means that heading into the Silverstone GP opener, the feeling that coming remotely close to picking a definitive favourite is once again nigh on impossible just as it was this time last year. What is for certain though is that this overwhelming feeling of unpredictability should make the opening three races of 2023 will be very, VERY interesting to watch play out.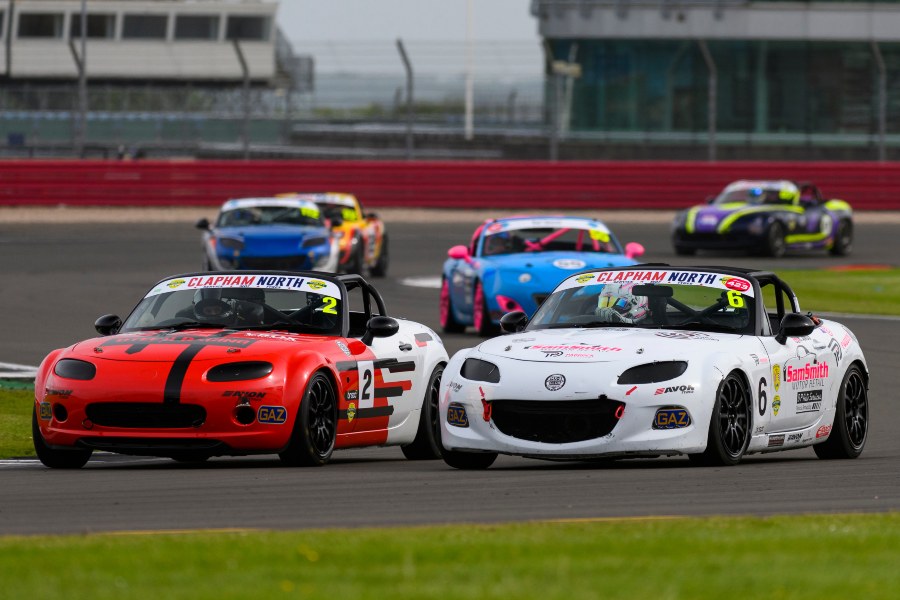 ---
SILVERLAKE C1 ENDURANCE SERIES
2022 saw the incredibly successful partnership between the BRSCC and the C1 Racing Club blossom all the way through the season, with particular high points at every stage of the calendar including bumper grids at the opening race at Snetterton, the C1 24 Hours at Silverstone, the special "Into The Night" races at Anglesey and many more. Now the second season together gets set to rumble into life with an exceptional entry of just over 60 teams ready to kick off 2023 on the GP circuit, a perfect warm-up before the 24 Hours in May.
There are plenty of teams which will be notable to look out for both this weekend and across the entire C1 Endurance season, especially race-winning teams such as Team Trojon with their two car effort, Ardcor Modelmakers (winners at last year's Snetterton season opener) and late season chargers Emax Motorsport who are always formidable and bring no less than five cars to Silverstone this weekend. Others are always in the hunt for victory, such as #blessed, JW Bird Motorsport who have two cars this weekend, WRC Developments, Scuderia Pollo Rosso, Silverlake, Quattro Formaggio and the Mac Tools Racing team featuring BTCC stars Josh Cook and Jade Edwards in its driving strength.
Other squads to keep an eye on include renowned Mazda squad AB Motorsport, Team BRIT with a superb four-driver lineup and Red Sky Racing. This will certainly be a great test for all drivers and teams involved as they use this season opener as the perfect preparation for the C1 24 Hours. Watch how this race plays out and which teams come out on top, as it might give an indication of who has the package required to win the series' biggest race of the year in a couple of months' time.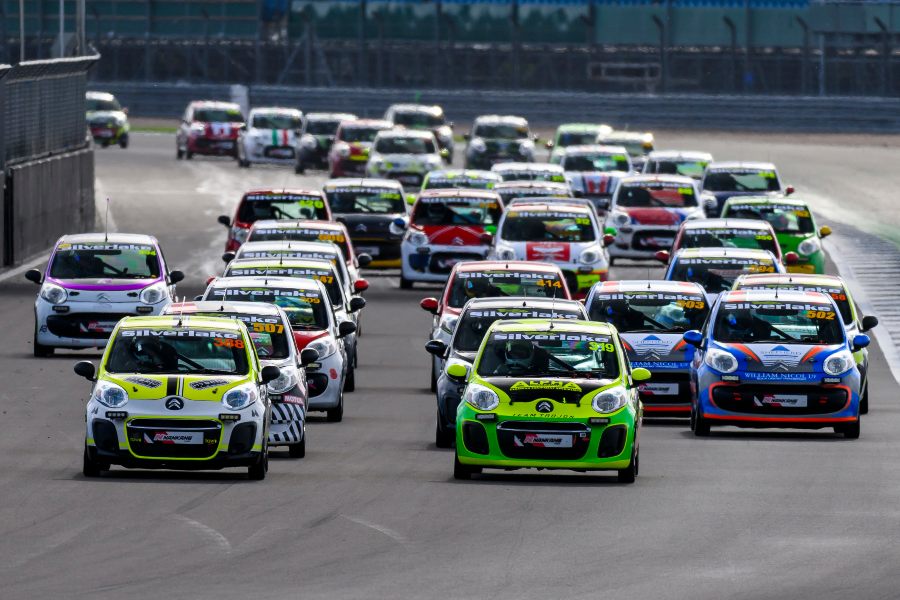 ---
BRSCC CLUBSPORT TROPHY
There's been a lot of attention and build-up heading into the new BRSCC ClubSport Trophy season for 2023, especially after it reached new heights in 2022 which included a record grid at the Silverstone GP circuit of no less than the maximum of 61 cars. It's a series that inspires so many driver and car combinations to turn out and given that there's been over 120 registrations for the 2023 edition to date, it proves that ClubSport Trophy fever is well and truly catching on.
Amazingly just as it had back in May last year, the Silverstone GP circuit has attracted yet another sold-out grid of 61 cars, a phenomenal achievement for all involved. The top of the grid in Class A is expected to feature cars such as the VW Scirocco of Phiroze Bilimoria, Matthew Bolton's BMW M3, Alistair Lindsay's SEAT Leon, the Porsche Boxster of Bruce Robinson, James Alford's VW Golf. There's more SEATs, Honda Civics, MINIs and BMW present in Class B, while Adam Read and Brendan Murphy in their BMW Compacts look ready to go against Stuart Kilroy's Peugeot 207 GTi, Jonathan Salem's Mini R53 and a whole host of Civic Type Rs too in Class C.
Class D looks likely to be the domain of several Mazda MX-5 racecars from the BRSCC paddock including those from Luke Herbert Racing and Paddock Motorsport, plus a mix of Ford Fiesta ST150s, more BMWs including two Z4s and Ivor Mairs' 325ti, and a Peugeot 106 Rallye entered by Jonathan Hobbs. As for Class E, the evergreen Mazda2s are back out in force once again and ready to battle with the BMW Compact of David Drinkwater, Matthew Footman's Ford Puma, a trio of Hyundai Coupes and a MINI Cooper for good measure. Trying to pick an outright winner will be tough enough, but working out who tops each of the five classes will prove nigh-on impossible too!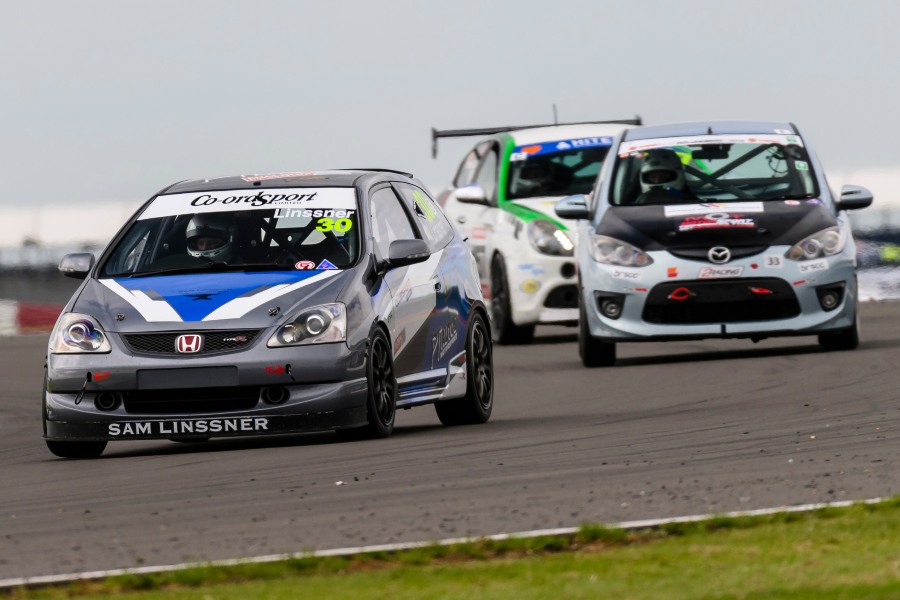 ---
MODIFIED FORD SERIES
It's been an incredible sensation over the last couple of seasons – watching the Modified Ford Series continue to grow and prosper in the way it does is a joy to behold for many club racing fans, and thankfully it starts 2023 as it means to go on from last year. A near capacity grid of over 50 cars heads to Silverstone this weekend, with the entry list display yet another wonderful variety of Ford models and specifications spanning a vast period of the Blue Oval's history of machines.
Some of the fastest cars in the entry are likely to come from the Super A and Super B classes, which are now the home of all four wheel drive cars in the series. An overwhelming favourite has to be Dave Cockell's ultra-fast Escort Cosworth which has proven nigh unbeatable on many occasions it's turned out, but he's sure to be chased by Lloyd Jamieson's own Escort Cosworth, along with Simon Light's V8-engined Capri, Wesley Mott's Sierra Sapphire Cosworth 4×4 and Richard Rudd's Mk1 Escort "RSR" to name a handful; Matthew Brennan is also the sole Super B class car in one of a vast array of Mk2 Escorts on display.
There's no less than four Sierra Cosworth RS500s present in Class A, along with three Sierra Sapphire Cosworths, James Allen's mighty ex-Time Attack Focus RS and Rory Jose's distinctive bright pink Mk2 Focus ST as the main contenders here. Class B is mostly the domain of the Fiesta ST150 with no fewer than eight lining up this weekend alongside the likes of Neil Jessop's striking Zakspeed Mk2 Escort, Harry Hardy's incredible little Puma and Rob Lewis in his Focus ST170. Class B+ is mostly own by Mk2 Escorts with five in the entry list, sharing the class with Wayne Crabtree's Mk1, a trio of Ecoboost-powered Fiesta ST150s and Josh Payton's wonderfully unique Mk2 Cortina as a welcome addition. Finally, Class C is an all-Fiesta affair with five in total, each more unique than the last. Watch for Alex Boam, Jimmy Neophytou and Dave Barrett to be the main contenders here.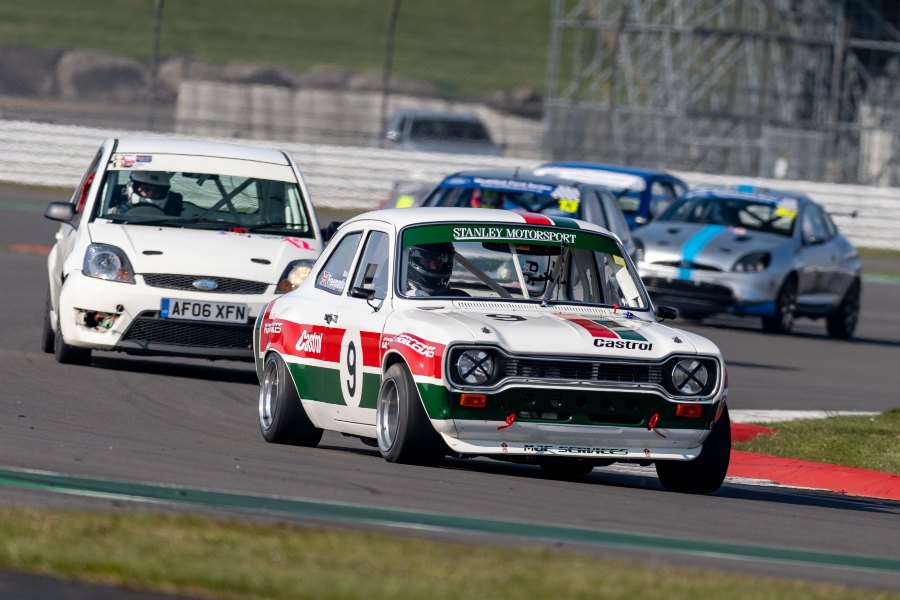 ---
MINI SE7ENS & MIGLIAS
To round off our opening timetable of the 2023 season, we thought we'd welcome back a collection of cars and drivers that thrilled us several times last year and are thoroughly delighted to welcome back once again to host their opening rounds of the year. The simply spectacular Mini 7 Racing Club never fails to put on an incredible show wherever it races and we anticipate that more of the same will be on the way this weekend.
Both the Mini Se7ens and Mini Miglias will share the same grid together, and the entry list today showcases a combined line-up just shy of 60 cars that will be on track at the same time. Defending Se7en champion Connor O'Brien is back to try and keep the #1 on his door for another 12 months, but will once again find familiar competition from his main rivals from 2022 in Mike Jordon, Joe Thompson, Jo Polley and Glen Woodbridge and we expect this quintet and many others to be scrapping for victories again this year, along with others such as Spencer Wanstall. In the accompanying S Class, last year's champ Damien Harrington has moved up into the main Se7en class this year, meaning the path is clear for 2022 runner-up Matthew Ayres to make a play for the title this season. He will still have strong competition from Frazer Hack, Chris Prior and Dave Rees though, so Matthew won't expect an easy passage to clinching the S Class honours.
Over on the faster Miglia grid, every one of the top 10 finishers last year's championship is ready for more Mini-based japery and incredible on-track battles. Rupert Deeth has a crown to defend after stealing it from 2021 champ Andrew Jordan, but the ex-BTCC king will ensure he fights tooth and nail to get the #1 back by season's end. Fellow touring car expat Jeff Smith will want to be in on the fun too, as will Aaron Smith, Ben Colburn, Kane Astin, Colin Peacock, Mark Sims, Phill Bullen-Brown and Ashley Davies. In the Libre ranks, the champion is back here too as Richard Colburn looks set to face off against Les Stanton, Philip Harvey, Peter Hills and Peter Harries.
Scott Woodwiss