For the final time in 2022, the BRSCC heads North West to the awesome Oulton Park circuit for a race day that will conclude three more championship seasons in the Club's expansive portfolio. With one already provisionally wrapped up, the other two will be hard fought until the end to settle over and class honours. It's certainly going to be an entertainment-filled day with the final FunCup Endurance Championship race of the season headlining a timetable also featuring Northern & Super Classic Formula Fords and the ST-XR Challenge!
---
FUN CUP ENDURANCE CHAMPIONSHIP
Out of the three championships competing on Saturday, one of them has already seen the provisional champions decided. Back at their previous round at Donington Park, the FunCup Endurance Championship saw GCI Racing score 3rd place to be crowned provisional title winners for the season. Even though the top prize is settled, there's still the podium places in the final standings to decide and that could prove to be just as exciting with arguably as many as five teams still in contention to claim 2nd or 3rd.
After GCI's current insurmountable points advantage up top, current runner's up spot is held by Team Viking who will head into the weekend knowing they have to start from the back of the grid. This is courtesy of their last-gasp race win at Donington after two of their rivals clashed on the final lap of the race – UVio/Hofmann's Lotus and Team Olympian (more on them in a moment). Their gap over 3rd place is 20 points on outgoing champions UVio, whose fortunes have been very much a rollercoaster having experienced highs of winning more races than anyone else this season, but the lows of also suffering mechanical issues and getting caught in incidents. While the #1 will leave them come season's end, they will still wish to end the year on a positive, perhaps with win number five of the 2022 season.
Next are Stobart Sport with two wins to their name this year and only nine points behind UVio, so a big enough swing in points could help them climb into 3rd place should UVio struggle and drop back. They are the lowest placed of the four teams that have taken all of the race wins for themselves, so it's likely that a winner this Saturday will come from any of this quartet. But as we know, FunCup races can be incredibly unpredictable, so nothing is guaranteed in the slightest. Tied in 5th are PLR Racing and Vapeclub with EDF Motorsport, the former being one of the most experienced teams on the grid while the latter has made incredible strides in their form and pace over the last 12 months. PLR has one podium while Vapeclub haven't bettered 4th all season, but should the two teams happen to end up on level points, this fact may or may not prove decisive depending on race results from Oulton.
It's sure to be another day of exciting competition to round off the 2022 FunCup season, especially with guest drivers like the returning John McGuinness back on the grid for the finale. Whatever transpires in the final endurance test of the year, it's certain to be a fine spectacle from start to finish.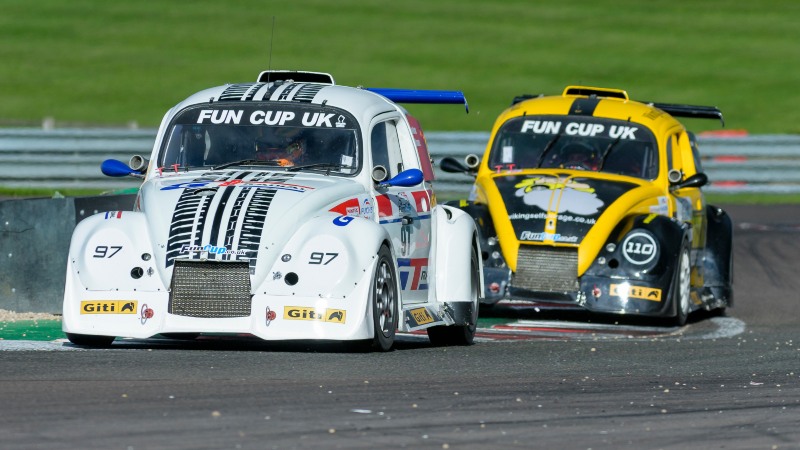 ---
AVON TYRES NORTHERN & SUPER CLASSIC FORMULA FORD CHAMPIONSHIP
Many of their contemporaries may well be across the country in Kent for the legendary Formula Ford Festival this weekend, but for the dedicated souls of the Avon Tyres Northern & Super Classic Formula Ford Championship, there's still one more day of racing left for them to complete at Oulton Park where class champions will be provisionally decided. It's been a very entertaining season thus far with visits to Oulton Park, Anglesey, Croft and Donington Park throughout the year and now the championship heads back to Cheshire to complete another campaign with two more races left to run.
Super Classic A will be a straight fight between John Murphy and Neil Hunt with Murphy looking set to round off a successful year with class honours on this final outing of the season, although Neil will be keen to keep up with John and push him as hard as possible all day. Super Classic B is without doubt the most competitive of the three classes represented on the day with no less than eight cars ready to battle it out for the final points of the season, especially with Nick Barnes, Andrew Schofield and Garath Buckingham all looking to try and finish the year on the championship podium. Barnes has the advantage in terms of points, but he knows that both Schofield and Buckingham are quick on their day so expect these three to be near the front from the outset. Watch for Colin Williams, Richard Ketterman, Doug Crosbie, Richard Freye and Trevor Morgan within the class too.
As for Super Classic D, Phil Nelson looks as though the honours will be his for the season, but he'll still be keen to enjoy a battle with Raimund Fein in his Lotus 61 as he makes his first appearance of the season to match up against Phil's Hawke. After a great year of action, the Northern & Super Classic Formula Ford season comes to another excellent conclusion!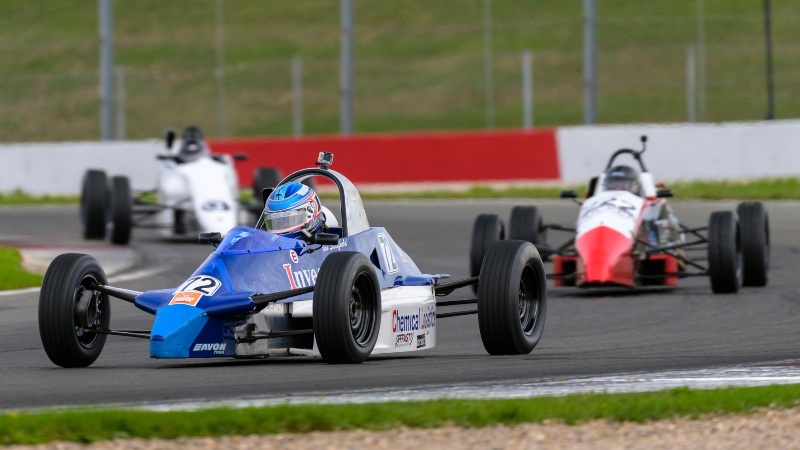 ---
VINYL DETAIL ST-XR CHALLENGE
Having battled their way up and down the country at Oulton Park, Anglesey, Croft, Snetterton, Donington Park throughout another exciting season, the 2022 Vinyl Detail ST-XR Challenge wraps up for the year with a return to Oulton Park with a championship battle that's looking likely to be a nail-biter all the way to the final chequered flag.
After the last rounds at Croft, plus taking driver penalty points into account, Mike Blackburn still retains the championship lead in the standings but only by a slender margin – just two points currently separate Blackburn and 2nd placed man Sam Beckett heading to Oulton on Saturday. Should both drivers end on the same points after racing finishes, Blackburn is in the better position as he would take the countback on race wins with six going into the weekend over Beckett's two. Both will be hoping that their pace is strong enough to outrun the other, but they know the competition all round is strong so they will need to bring their a-game from the word go.
Mark Blunt is currently in 3rd place and sits 24 points off the lead at this stage, but his chances of moving any higher will need to rely on the top two hitting problems in order to make that happen. Nonetheless, he's put in some stellar drives this year and definitely has had the pace to take a victory or two had fortunes gone his way a little more. Expect him to be one to watch next season if he returns, but right now he has another chance to take that first ST-XR win of the year. Outgoing champion Chris Jones will also be back on the grid and has to be seen as another favourite for race victory too. While he hasn't completed a full season, he has taken at least one race win at every race weekend he's appeared, so he'll wish to keep this run up on the final day.
Others who will certainly want to put themselves amongst the front runners include Paul Dobson, Chris Rowlands, Daniel Cooper, Ron Loffstadt, Chris Flynn, Tony Mumford, Richard Steele and Aiden Vickers, all of them are also present on this weekend's entry list. We're sure this little lot will put on a superb display of racing to finish off another season!
Scott Woodwiss