TCR UK's third event of the 2023 season takes place at Oulton Park in Cheshire for a one-day tin-top extravaganza, with the touring cars ready for two more races, as well as the Milltek Sport Civic Cup also ready to provide some amazing support. Also on the timetable, there's a feast of Ford Fiestas with the BRSCC Fiesta Junior Championship also taking up its regular TCR support slot, plus the next rounds of their faster brethren in the AIRTEC Motorsport Fiesta ST240 Championship and the Vinyl Detail Fiesta ST150 Challenge! Let's delve into what we can expect from each.
---
TCR UK TOURING CAR CHAMPIONSHIP
We've had Snetterton, we've had Croft and now as we move on to Cheshire for Rounds 5 and 6 of the 2023 TCR UK Touring Car Championship with the competition levels already proving to be red hot. From the first four races, we've seen four different race winners and looking at how close it still is in the championship at this early stage.
So far, victories have gone the way of championship leader Bruce Winfield, Lewis Brown, Jac Constable and Jenson Brickley, but each winner has had its own story to tell. Winfield took the opening race at Snetterton with assistance from rear gunner Josh Files, Brown picked up his win in that weekend's second race courtesy of Files' engine blowing, Constable was victorious in the first Croft race after Carl Boardley was handed a five second penalty for track limits, and Brickley survived a mid-race safety car to claim his maiden touring car win since moving up from his Fiesta days.
These three, with Brown now a TCR Europe driver, will be back in action to try and add to their tallies, but there are also plenty of others who will be bidding to make their first top step visit of 2023. Highest placed of those drivers is Joe Marshall, whose pace in the Rob Boston Racing Audi RS3 Gen 2 is undoubtable but hasn't quite had the luck of the draw to this point. Just under 30 points off the top and sitting in 3rd, he's also taken advantage of the troubles of other front runners to score when it counts.
Adam Shepherd barely made it onto the grid at Croft thanks to a late sponsor deal, and his commitment was rewarded with a podium finish in the second race that weekend and being named Driver of the Weekend for the event too. He's another drive whose speed is evident, but needs results to go in his favour more. Alex Ley and Bradley Kent are two more drivers whose first win of the season is definitely a matter of when it happens rather than if. Both have shown ultimate pace and speed to content for victory, but like others their luck just hasn't fallen their way. They will certainly be in the mix too and don't count them out for a second when its comes to more potential race winners.
Elsewhere, Luke Sargeant makes his TCR UK debut in his Hyundai Elantra N, the same car that Josh Files was loaned for the Snetterton opener which has now had its engine rebuilt and is raring to go. Also on the grid this weekend are Jonathan Beeson and George Heler, two drivers running in the Paul Sheard Racing camp with Heler back ont the grid in another Audi RS3 while Beeson gives the VW Golf TCR its first championship appearance of 2023.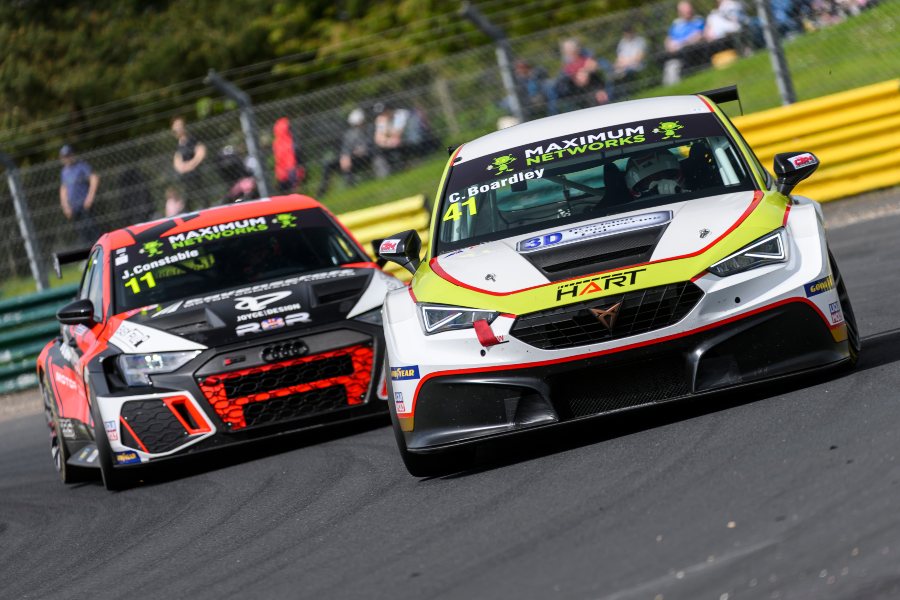 ---
MILLTEK SPORT CIVIC CUP
It has been a very lively and competitive start to the season for the Milltek Sport Civic Cup in 2023, with plenty of frantic, exciting and nail-biting racing from the opening two weekends at Snetterton and Croft already. With lots of talking points to digest heading to the next rounds this Saturday at Oulton Park, this is a championship is already proving to be rather unpredictable in the best possible fashion.
Jack Harding currently holds the lead having one win, one 3rd place and finished in the top five in all of the first four races, something which certainly proves that consistency is key in a championship as closely matched as the Civic Cup. It's that consistency which has already helped him open up a 13 point lead over 2nd place, but Jack will know from his experience in the MX-5 SuperCup (a championship that's equally as competitive and unpredictable) that staying at the top is no easy task and one he'll have to be on his a-game to maintain.
Dan Thackeray currently sits in that 2nd place spot having picked up two wins from the four races run and the only driver to win more than once so far this year. A win apiece from Snetterton and Croft have only been offset by a 7th and a 8th, hence his current standing behind Harding. Thackeray will want to once again showcase his space and win again to make it three from the first three meetings, so expect him to be on the pace from qualifying.
Former champion Alistair Camp's season has had a steady start, as he currently lies in 3rd place but already almost 40 points off the top with plenty of work to do to claw that gap back. He's one of a few drivers that have had very up and down fortunes from the outset and will be hoping to use Oulton Park as a chance to claw some of that points deficit to leader Harding back again.
They include last year's vice champion Morgan Bailey, impressive young gun Harvey Caton, Will Redford who appears to have won the race against time to get on the grid after a large shunt at Croft almost threatened to end his season there and then, and Ryan Bensley who managed to also nick a win in Croft's first race after a frenetic final two laps completely shuffled the running order several times.
Also keep an eye out for Danny Hobson, Louie Capozzoli and Max Edmundson, the latter of the three having proven himself to be one of the faster drivers in the field but needs to tone down his on-track enthusiasm, which has led in the opening two weekends to a time penalty and a disqualification in the process and lost him valuable points in the process.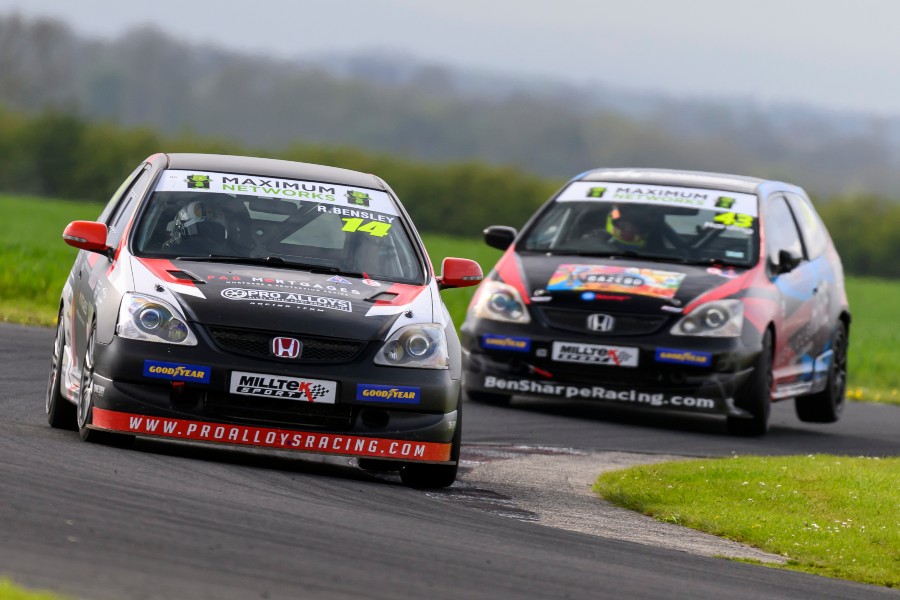 ---
BRSCC FIESTA JUNIOR CHAMPIONSHIP
There's been some great racing within the first two weekend of this year's BRSCC Fiesta Junior Championship, with its biggest ever field to date having already enjoyed visits to Snetterton and Croft and showcased the talents of some fine young drivers looking to make their way up the racing ranks. This Saturday, they now head to Oulton Park in Cheshire and while it may not be the championship's first ever trip to this circuit, it will be the first outing on the Island layout.
Right now at the head of the points table is something that has never happened before until now since it was introduced – a new Mk7 next-gen Fiesta Junior race car sitting pretty at the top of the standings. This is courtesy of Ben Mulryan, who showed an incredible turn of pace at Croft to now only dominate free practice and qualifying, but also clinch both race wins, also the first time ever for the new car. Ben's determination to build on his 2022 season is strong and he's already come out of the gate swinging with some very strong results. It's no wonder, then, that he heads to Oulton as top Mk7 and also with a thumping 29 point lead already over 2nd place. No doubt he'll be brimming with confidence and keen to build on that.
Daniel Lewis in 2nd place is also sporting a new Mk7 next-gen FJC car and has allowed consistency and clean driving to help him bank plenty of points from the opening four races. His pace is also looking strong now that he's feeling more at one with the new car and will be keen to make further progress this weekend. However from 3rd place backwards down to 10th, it's looking a little more unpredictable.
This is because 20 points separates the next eight drivers in the standings behind Mulryan and Lewis. This is down to both the mixed fortunes of everyone contained within that group, but also proof that this year's Fiesta Junior field is especially competitive and talented. Currently in 3rd despite not even scoring a podium yet is Jensen Bell, followed by Lucas Hayden in 4th and then Ronnie Smith in 5th who has a 3rd place to his name so far this year, but also a DNF.
Then there's Sam Neser who looked strong at Snetterton with two podiums, but misfortunes at Croft left him scoring just 20 points all weekend. Rashan Chigorimbo proved both qualifying and race pace at Croft and took a 3rd place for his troubles, JamSport Scholarship winner Maks Solarski almost took a win on his first race start at Snetterton, and Hadley Simpson is 9th with more solid points despite retiring from Croft's second race.
In fact you have to look as far back as 10th to find Luke Hilton, one of the pre-season favourites and winner of the opening race at Snetterton. He seemed off the pace at Croft and also didn't score in the second race that weekend, meaning he now sits 86 points behind leader Mulryan. His task to climb back up the table isn't impossible and dropped scores aren't even a factor yet, but Luke has to return to the head of the field at Oulton to stay in contention.
Others who will want to make further progress include Jacob Hodgkiss, Benjamin Doughty, Jenson Mason, Billy Blockley, Flame Airikkala (grand daughter of the late rallying legend Pentti Airikkala), George Foxlow and Jasmine Shaw. The latter two drivers have had their own share of bad luck with George suffering two DNFs and Jasmine also retiring from the second Croft race in what had been her best performance in terms of speed up to that point. She'll want to take that pace and the confidence it will bring and utilise that moving forwards to Oulton Park.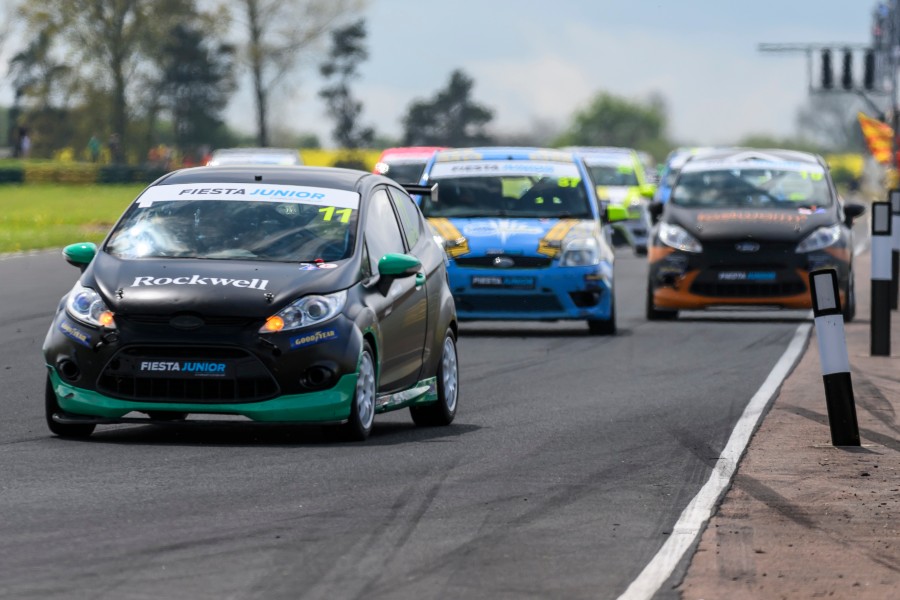 ---
AIRTEC MOTORSPORT FIESTA ST240 CHAMPIONSHIP
At this early stage of the AIRTEC Motorsport Fiesta ST240 Championship, the opening five races of the season from Snetterton and Silverstone have certainly given us a little taste as to what we can expect for the rest of the campaign in terms of the main contenders. Some that thrived at Snetterton had a tough time at Silverstone and vice versa, and now heading to Oulton Park for another double header, it could be about to take another interesting turn.
So far at this stage, the main man in contention for the title is 2016 Fiesta champion Alastair Kellett. Ever since the ST240s came into the championship as a class in 2021 (now solely dedicated to the ST240s from this season onwards), Alastair has been a contender for the championship, narrowly missing out two years in a row. However, two podium and then three wins from the last three races have helped him build a healthy 41 point lead after two weekends already. He'll want to do nothing but build that lead further this Saturday and will surely be on the pace straight away.
Currently second in the standings is Albert Webster, enjoying his first year of Fiestas at senior level after graduating from Fiesta Juniors. Silverstone was a special occasion as he bagged his first pair of senior podium finishes with two 2nd places, and there were some that even said he had the pace to potentially beat Kellett had safety cars not interrupted proceedings in both races. Having missed out on a win at junior level, surely he is on the cusp of that first senior victory. It has to be a matter of when rather than if it happens.
Zachary Lucas finds himself in 3rd place, with two weekends in the books that had very different fortunes. Snetterton saw him clinch two race wins and his pace suggested he could be the early favourite. However, mishaps and mechanical issues have hampered him in the previous three races including both at Silverstone. His pace is evident, no doubt about that, but his dip in fortunes and reliabilty both need to rebound quickly, and Oulton could be the place to do that.
Joseph Knight and Simon Horrobin complete the top five overall and in Pro class, with Knight making a decent start to his first season in an ST240 while Horrobin has already racked up two podium to his name this year but had a mixed bag of results at Silverstone. Spencer Stevenson has also rocketed up the table thanks to three podiums on the bounce including a brace of P3s at Silverstone, so watch out for him here too.
Two more drivers who are sure to be contenders once their efforts bear fruit are Olly Turner and Matt Luff. Olly hasn't quite had the start he'd envisioned, as he's found himself yo-yoing between running in the top five and looking quick in pre-weekend testing and getting caught in other people's incidents along with his own misfortunes. As for Luff, last year's Civic Cup champion is maybe finding the transition to a turbo tin top a little tougher than expected, but his all round pace and speed are undoubted and it will only be a matter of time before he's running up there with the established challengers regularly.
Over in the Club class, decent scores from Morgan Kidd allowed her to remain as the top driver in class in the overall standings, sitting 15 points ahead of Marco Ricci in 2nd place and then Adam Clark, Caitlyn May and Connor Blackburn in the top five. The competition here looks equally as feisty, so be sure to also keep your eyes on this group of drivers all day too.
Finally, we're happy to welcome Barry-John McHenry to his first ST240 outing of 2023 as he prepares to debut for his new team 20Ten Racing, while Barry-John's old team Kellett Motorsport will give experienced Irish rally and Irish Supercars racer Graeme Colfer his first taste of a turbo Fiesta too, after compatriot Ulick Burke impressed many on his guest outing at Silverstone.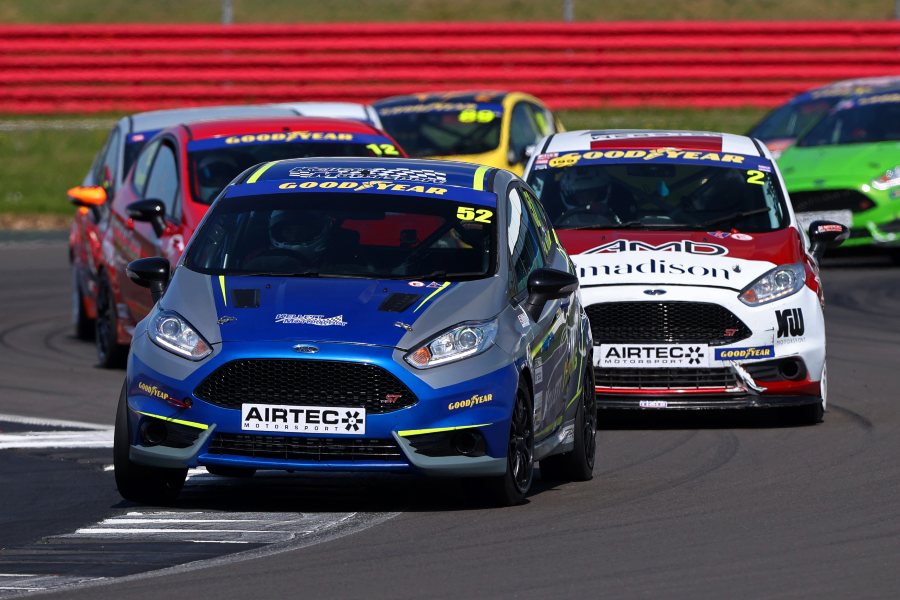 ---
VINYL DETAIL FIESTA ST150 CHALLENGE
The Vinyl Detail Fiesta ST150 Challenge has so far has a rather interesting and insightful opening pair of race weekends in its new format across Snetterton and Silverstone, with the field looking nicely balanced and already producing the kind of racing that has us excited for the rest of the season. Oulton Park marks the next stop on the calendar with the competition already beginning to get a little more intense.
It's testament to the hard work over the winter behind the scenes to ensure the field is competitive as possible in the championship's new era, as four race winners from the opening five races shows it's set to be pretty open between several drivers. So far Matthew Pimlott, Thomas Ikin, Sam Watkins and Ethan Rogers have visited victory to date this year, but the championship table doesn't quite reflect those results. Both Pimlott and Ikin currently stand tied on points in the lead on 222 each, with Pimlott never off the podium so far and Ikin having taken a win, two 2nd places, a 3rd and 4th to make Matt's tally. Both look as strong as each other pace wise, but there's plenty of others trying to the same.
Through their consistency, Dan Robinson and Paul Dobson have been able to rise to 3rd and 4th respectively, and likewise Sam Beckett to 5th despite a DNF in the first Snetterton race. You have to scan down to 6th place to find the next race winner this year in Sam Watkins, although up to that point he'd had a DNF, disqualification and 5th and 2nd place before scoring victory in Silverstone's second encounter.
Then come Chris Chisnall and last year's champion Michael Blackburn who's also had his own struggles before we get to Ethan Rogers. Had a mechanical issue not dropped him out of Snetterton's final race and his Race 1 result at Silverstone become a DQ due to a technicality, there's every reason to believe he could have at least been with Pimlott and Ikin at the top of the standings, but he has some rebuilding to do from 9th starting this weekend.
Other names you certainly also need to keep an eye on include Mark Blunt, Matthew Morton, Aiden Vickers, Jade Goodwin and Jason Hennefer, all of which bring their own mix of experience and will be hoping Oulton Park is good to them. Scoring strong points for each will certainly be the bare minimum expectation, and Blunt in particular will be seeking that long awaited first win after coming so close at Snetterton but just missing out with a 2nd place in Race 3. Will it be his turn this weekend?
Scott Woodwiss