MG METRO CUP JOINS BRSCC FORMULAE ROSTER FOR 2023
CATEGORIES:
The British Racing & Sports Car Club is delighted to announce a new partnership with the organisers of the MG Metro Cup, that will see the iconic championship racing within the BRSCC portfolio for 2023 and beyond.
Started in 1992, the MG Metro Cup is one of the UK's longest-running single make racing championships, and due in part to the low purchase and running costs of race cars combined with tremendously close racing, grids have remained healthy through this long history. The championship caters for various specification of Metro's, ranging from naturally aspirated Rover 100 versions, right through to genuinely quick and entertaining MG Metro Turbo models. The championship has remained successful by maintaining its objective of providing an easy way into motor racing for drivers with a limited budget, and it is a perfect place for those who are perhaps considering returning to racing after a break, looking to reduce their motorsport costs, or for those looking for a first foray into club racing.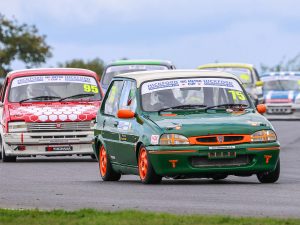 Speaking on behalf of MG Metro Cup upon the announcement of this new partnership, David Javes said,
"Drivers in the Metro Cup have enjoyed racing with the MG Car Club for many years, and have experienced some great racing with them. However, we now consider it is the right time to move to the BRSCC which will open up a more varied choice of venues and challenges to our drivers. Having raced with the BRSCC numerous times over the years we have seen their organisation first hand and consider we have chosen the best team to help us fulfil our ambition to increase the number of Metros on track and continue to offer some of the lowest cost racing available in the UK".
Responding on behalf of the BRSCC, Chief Operating Officer Paul McErlean said, "I'd wager that anyone who has spent time following UK circuit racing, will at some point have enjoyed seeing the MG Metro Cup on track. These little cars deliver some of the most exciting racing you'll find anywhere, and the championship has a dedicated following. One of the key reasons for their longevity in such a tough marketplace, is that the championship offers genuinely low costs of getting involved. The paddock atmosphere amongst MG Metro racers is also very friendly and vibrant, and we look forward to working with them to help the Metro racing community secure their racing future for a good few years to come".
MG METRO CUP WEBSITE – https://mgmetrocup.co.uk/
MG METRO CUP FACEBOOK PAGE – https://www.facebook.com/hickfordconstructionmgmetrocup/
MG METRO CUP FORMULAE PAGE – https://brscc.co.uk/formulae/mg-metro-cup/