BRSCC LAUNCHES FORMULA FOUNDATION-E ELECTRIC SERIES FOR 2023
CATEGORIES:
BRSCC Formula Foundation-E is a ground-breaking fully electric single seater racing programme that has been well over a year in development, and the stunning FF-E1 electric race car has been conceptualised, designed, engineered and built in the UK.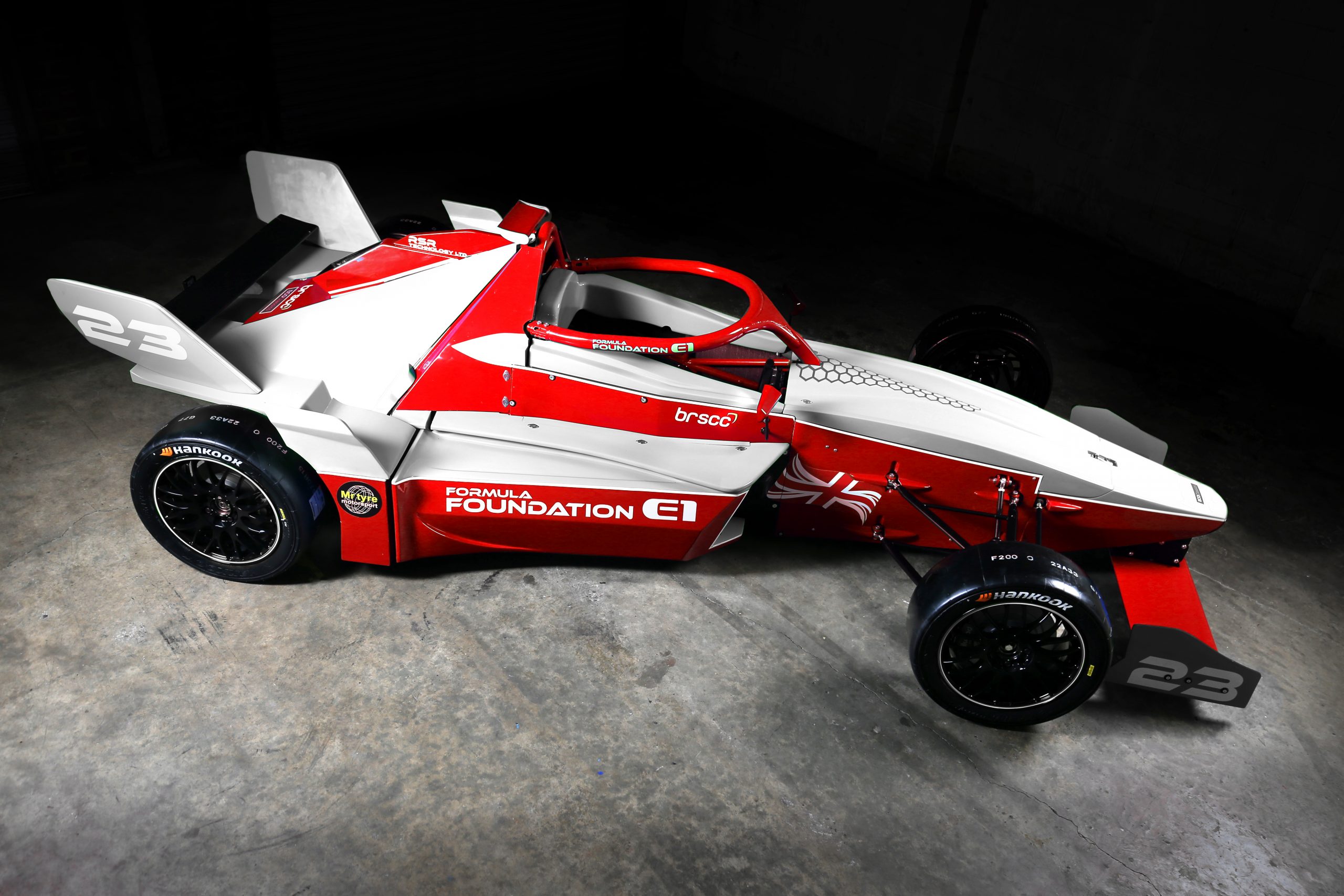 Introduction
Formula Foundation-E is a hugely exciting and significant project for the BRSCC and their partners RSR Technology Ltd, with the series aimed at delivering the world's first club-level single seater Electric Vehicle (EV) racing opportunity. Formula Foundation-E is focused not only toward attracting privateer drivers who have a passion for EV racing, but also race teams looking to provide a credible EV racing option to drivers who may be interested in developing a career in this rapidly growing sector.
The British Racing & Sports Car Club is one of the most innovative and influential UK racing clubs and is a main driving force in the domestic motor racing industry. Today, with around 30 race meetings and 25 championships under the BRSCC umbrella annually, the Club plays a leading role in the British motor racing scene, organising both club race meetings and FIA sanctioned international events.
RSR Technology Ltd is a company owned by Steve Wills and Richard Huddart, both of whom share a passion for safe and competitive single seater racing. After being business partners for over 10 years, RSR Technology was founded to further their goal of creating a brand new affordable single seater programme, this culminating in agreeing a partnership with the BRSCC to bring the Formula Foundation-E project to market.
Heading up the engineering side of the Formula Foundation-E project, Steve has over 30 years of experience in building racing cars such as Formula Ford and RGB spec cars, and also has a long involvement with OEM manufacturers in developing and supplying bespoke parts for their hybrid and electric vehicle programmes.
The Marketplace
As is proven by the significant global visibility and rapid growth of EV racing series such as the ABB FIA Formula E World Championship, Extreme E, FIA ETCR, and with these to be joined by the forthcoming electric GT Championship and others, there can be little doubt even amongst sceptics that the foundation of EV racing is already in place, and the category is only going to expand further in future.
One only has to count the growing number of performance-based fully electric road cars on any motorway journey to appreciate that owners and drivers are placing their faith and finances into the EV category by personal choice. Speak to many of these EV drivers and you will hear about their enjoyment of the performance delivered by their machinery just as much as any green credentials they might deliver.
Many of these same owners and drivers (along with their sons and daughters) are motorsport enthusiasts, and yet in today's racing marketplace they are forced to accept that if they want to explore and develop their motorsport involvement, they have to do so in fossil-fuelled machinery.
Formula Foundation-E now gives this growing and highly influential category of drivers and future drivers an opportunity to become involved in competitive motorsport without compromising their motoring or lifestyle choices.
Chassis & Safety
The FF-E1 race car is built by Snetterton based RSR Technologies Ltd around an in-house designed and manufactured FIA spec T45 & ROPT CDS grade steel tubular space frame. With the highest levels of safety being the goal from its conception, the chassis has been designed to meet or exceed FIA Article 277 Appendix J Formula Free Regulations for dimensions, roll over structures and frontal, rear and side impact crash testing.
The FF-E1 chassis is also the world's first steel space framed race car to incorporate a "Halo" protection system. Due to the inarguable safety enhancements it provides, the Halo is fast becoming an absolute pre-requisite of modern single seater race cars, and the system fitted to the FF-E1 has also been designed to be easily removeable should the need to do so ever be required.
Further safety features include carbon front and rear impact boxes as well as carbon/diolen side impact panels, and to enhance safety even further the car also features F1 style 8-tonne rated Technora wheel retaining tethers on all 4 hubs.
Designed to F3 cockpit dimensions, the driving position, steering, suspension and braking system layout is as per "traditional" single seat race cars, with the purpose-built battery box and power pack positioned directly behind the drivers bulkhead, and the electric motor and power transfer case unit positioned slightly forward of the rear wheels to give optimum weight distribution. Weight of the FF-E1 car in full race trim is only 550kgs.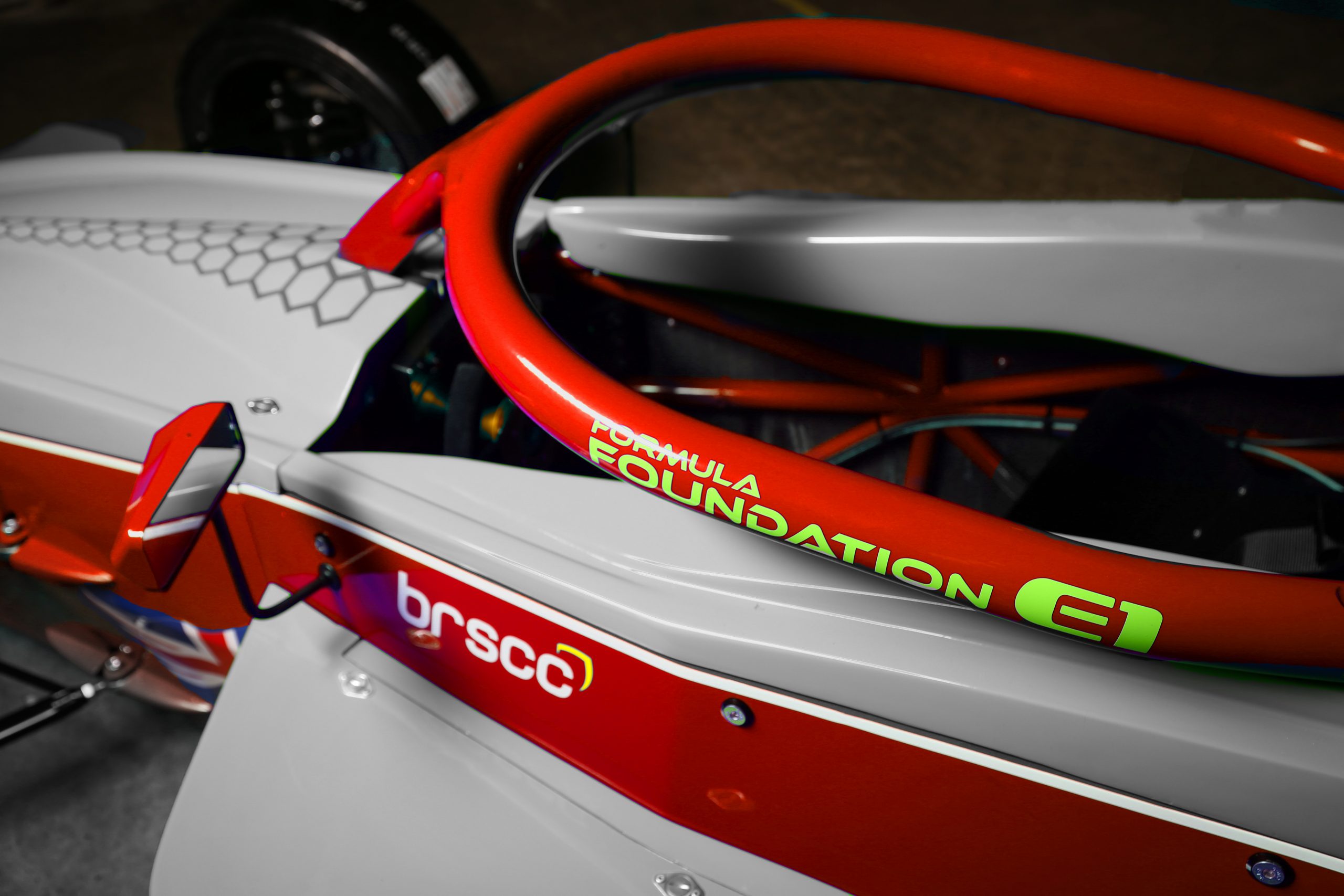 Electrical system
The complete electrical system, battery pack, motor and final drive system have been designed, developed and supplied by project partners ECOClassics, the company being owned and run by Dr Nick Mason. Nick has over 20 years of automotive OEM experience with Ford Motor Company, and was global Chief Technical Officer for the Transit van. Nick's final major programme with the company was to lead the development of the fully electric Ford E-Transit.
Whilst ECOClassics core business is geared toward designing and installing electric conversions for classic vehicles, their skills and understanding of the design and engineering of bespoke auto-electrification systems has made them an invaluable partner in the development of the FF-E1.
It should be noted that the system fitted to the FF-E1 is not an "off-the-shelf" kit, but a purpose designed and built system tailored to deliver maximum performance and durability for this unique race car.
By utilising a unique transfer unit between the electric motor and differential, the 120kW (circa 160bhp) electric power unit enables a seamless (gearbox free) 0-60mph acceleration time of around 3 seconds, with a theoretical top speed of +130mph. This level of performance has been chosen by the development team to deliver a genuinely quick single seat race car experience for drivers whilst retaining maximum durability and reliability of all mechanical and electrical parts.
Battery charging is by way of readily available 240v 32A outlets, with the option of a CCS DC fast charge system. The 350V DC Li-ion battery pack has an 18kWh useable capacity and has been engineered to be capable of delivering multiple "sprint race" sessions with no specialist recharging equipment or services required. It is also designed to meet stringent ECE R100 requirements.
To give buyers the maximum level of confidence, ECOClassics have designed all aspects of the electrical and power delivery system to be almost maintenance free and to deliver multiple years of racing use and reliability. Such is their confidence in the durability of the systems and parts fitted to FF-E1, they have given the battery pack, electric motor and final drive unit a full 2-year period of warranty against defects or failures.
Whether you are an owner driver of a race car or a professional race team delivering a service to your customers, you will be fully aware of the costs of having to repair, refresh or replace engines and gearboxes. When compared to the significant costs incurred related to these necessary and regular maintenance aspects of racing petrol engine car, the cost saving that the FF-E1 will deliver over a race season is substantial.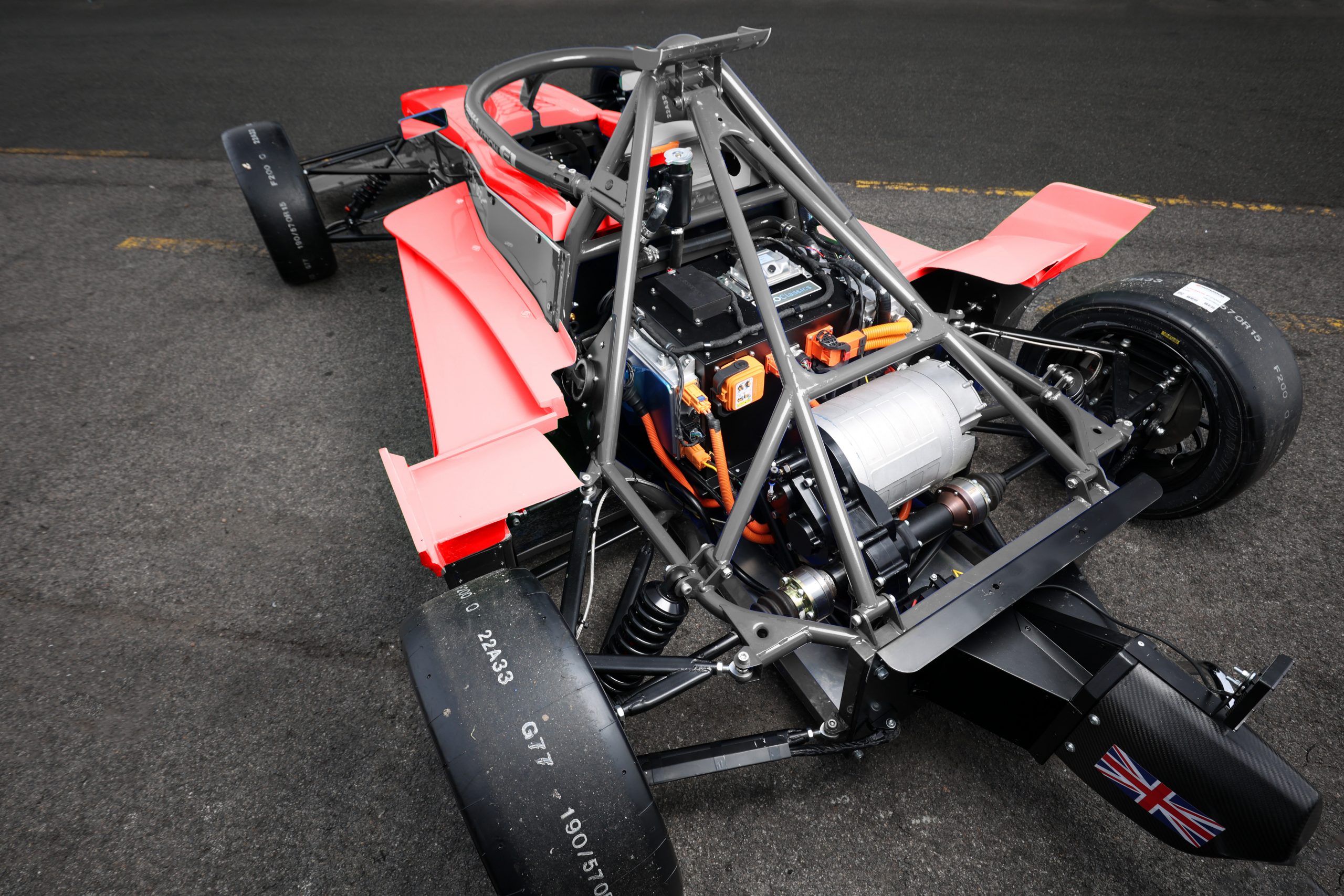 Suspension, Braking, Tyres
Where the goal of the FF-E1 development team was to create the most technically advanced power delivery system, the suspension and braking systems chosen for the car were done so with a clear focus on retaining simplicity and keeping replacement costs as low as possible for owners. As such, the suspension system fitted to FF-E1 is a "traditional" single seater set up and includes in-house designed and built oval wishbones all round, these coupled to top quality rose joints allowing a comprehensive range of adjustability. Dampers are Protech 600 Series 2-way adjustable units.
Braking is by way of readily available 290mm front discs and 4-pot Wilwood calipers, with the rear using 270mm rear discs and 2-pot Wilwood calipers. The car is fitted with an in-house manufactured stainless steel 2-pedal system, which is adjustable to suit drivers of varying size. The system includes braided stainless steel lines throughout and well as a cockpit mounted brake bias adjustment valve.
In a partnership facilitated by Mr Tyre Motorsport, Hankook Tire have kindly provided the tyres for the FF-E1 launch. At this early stage the Formula Foundation-E development team are working with Mr Tyre Motorsport and Hankook to further evaluate the optimum tyre options to suit the car. Current wheel size is 6.5 x 15, fitted with 190/570R15 Hankook Ventus racing slicks.
Hankook Tire's track and racing products are found globally on numerous top class racing series. The news that Hankook have recently been chosen as the 2023 control tyre for the pinnacle of EV racing, the ABB FIA Formula E World Championship, is a clear demonstration that EV racing delivers them a platform to advance and significantly influence the development of modern motorsport.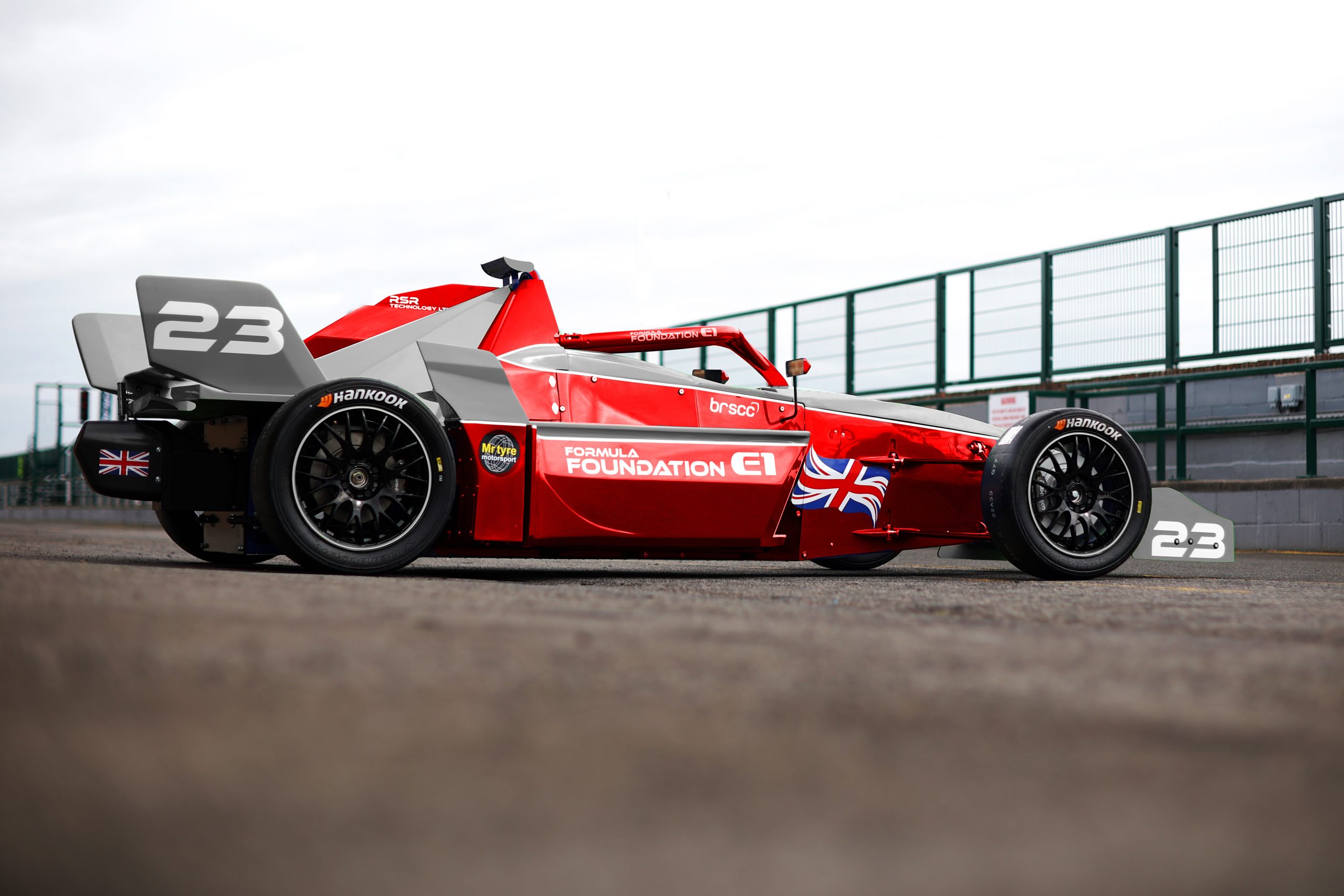 Additional Technical Aspects
In addition to the above described details, the FF-E1 race car is fitted with:
Collapsible steering column.
Lightweight aluminium steering rack.
FIA spec Lifeline electrically controlled gas fire extinguisher system.
Lifeline quick release steering wheel boss.
Lifeline FIA convex mirrors.
Lifeline HANS compliant safety harnesses.
Lifeline FIA rain light.
Customisable multi-function electronic dash system.
Styling and bodywork
The styling of the FF-E1 race car is clean, fresh and in tune with the modern engineering aspects that lie beneath the stunning bodywork. The GRP body itself is designed in several sections to help minimise costs should damage occur. The development team are also currently investigating an option to move production material from gel-coated GRP to a fully recyclable flax based composite material.
The FF-E1 incorporates front wing adjustability, with the rear of the car being designed to optimise straight line and lateral stability, as well as integrated air flow channels to assist cooling of the electrical motor and associated systems.
Driving the FF-E1
Whilst the core skillset required to drive a racing car to its limit of performance is similar whether driving petrol engined or electrically powered car, there are a great deal of technical driving differences between the two categories. Whereas in a petrol engined car the driver has the ability to use gearchanges and engine braking to optimise the performance of the car whilst on track, the FF-E1 gives a completely different experience in that the performance delivery is seamless from standstill to maximum velocity, with no need to consider optimising gearchanges.
To enhance the driving (and learning) experience for racers, the FF-E1 also includes a driver adjustable regeneration system that allows the balance of the car to be tweaked from the cockpit to suit track conditions, individual driving styles, or even to maximise performance through different track sectors.
Racing
The BRSCC have been in dialogue with Motorsport UK throughout the development of the project, and all parties have confirmed that Formula Foundation-E racing can take place within normal "petrol based" racing events.
For purchasers of FF-E1 cars, early 2023 will give an opportunity to deliver testing programmes to drivers, with the BRSCC committing to stand-alone single make Formula Foundation-E races within the 2023 season. For 2024 a full championship racing season is the goal for all parties.
The cars have been designed from the outset as a sprint racing formula, meaning the likely format of a 15-minute qualifying session, followed by either 2 or 3 x 20 minute races over either a single day or split over a race weekend.
Financials
The cost to purchase a complete and fully built, race ready Formula Foundation FF-E1 race car in your chosen colour scheme at current rates is £79,995 plus Vat.
RSR Technology Ltd and the BRSCC fully recognise that this is not an insignificant amount of money, however it should be accepted that the FF-E1 race car is absolutely unique in its specification and market position, and that it delivers not only a great opportunity for "owner-driver" EV racing enthusiasts, but also a brand new platform for race teams to attract and develop a completely new portfolio of drivers who are attracted by this brand new category of racing in the UK.
The minimum levels of maintenance required to run the FF-E1 must also be factored into any equation, along with the unique 2 year battery and motor warranty period.
Those that are experienced in most levels of racing will be fully aware that engines and gearboxes must be regularly refreshed, rebuilt or replaced at significant cost, often multiple times within the same racing season. The FF-E1 in comparison will require the differential oil to be replaced once per season, and the electric motor coolant to be replaced once every 2 years!
RSR Technology Ltd have also secured the facility of multi-year lease or HP deals against the FF-E1 car, this allowing owner-drivers or race teams the ability to spread the purchase cost over several years.
Support
As well as RSR Technology developing and carrying a full range of spare parts for the FF-E1, they have also committed to delivering a full season of race event trackside technical support to every purchaser of an FF-E1 car, and all as part of the purchase price of the car. Manufacturer support for testing and shakedown sessions can also be discussed on a case-by-case basis.
As part of the BRSCC's support and development package, the club have committed to supporting all aspects of the Formula Foundation-E project, and this will include developing a marketing programme, social media output, setting up discussion forums with interested parties, and providing an ongoing communication platform.
Build & delivery schedule  
RSR Technology Ltd have scheduled their first build run of 6 cars to enable customer delivery around April 2023, with their second 6 car build run scheduled for customer delivery in August 2023.
Launch
The first physical public viewing opportunity for the FF-E1 is scheduled to take place at the BRSCC Formula Ford Festival over the weekend of 22nd/23rd October 2022. The FF-E1 car will be on open display in the paddock, and the Formula Foundation-E team will be on hand to discuss the project and the car.
The FF-E1 will also give a live on-track demo on Saturday 22nd, this to be supported by full commentary and live online streaming.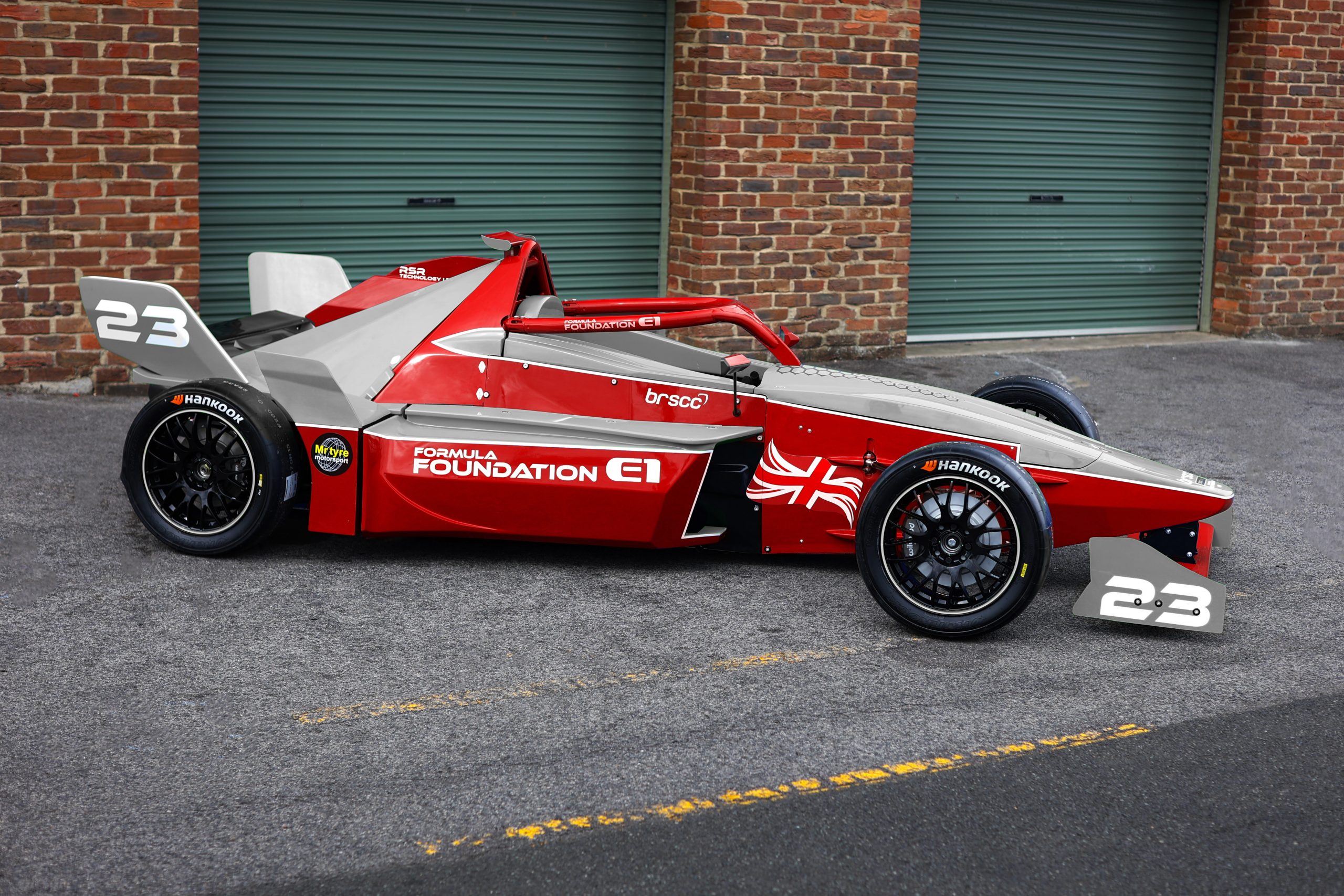 Enquiries and ordering 
For any questions or to discuss securing a car from the initial build runs, please contact the BRSCC's Head of Formulae Development Greg Graham in the first instance on,
Tel – 07920 096697
Email – greg@brscc.co.uk
FIND OUT MORE – https://brscc.co.uk/formulae/formula-foundation-e/